October 03 , 2016. EN. Sabancaya , Turrialba , Colima , Sheveluch .
October 03 , 2016.
Sabancaya, Peru :
Recent major activities in recent weeks:
Important events have taken place in recent weeks:
A / Temperature measurements on the north side of the volcano (5980 m): On 28 September 2016 a visit to the North flank region of Sabancaya were performed and temperature measurements were taken in the new fields of fumaroles, which shows with clarity that the north side is hot. The measurements performed with a Raytek thermal sensor, indicated a maximum temperature of 91 ° C.
B / Swarm hybrid events:
Since early September, the energy and the number of hybrid events are constantly increasing. September 27, between 4:00 to 7:00 pm UTC, the appearance of a swarm of hybrid events, the strongest recorded in 2016 was noted, reaching a total of 50 MJ that day.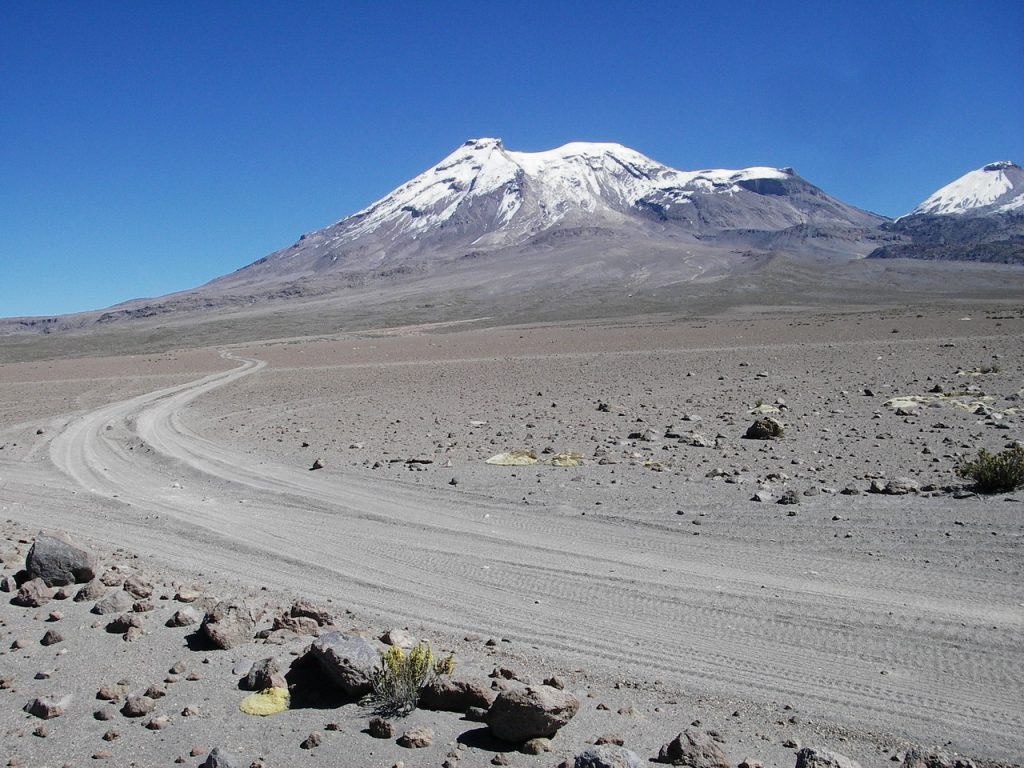 Seismic activity:
hybrid type of the events (HIB associated with the rise of magma material) show a significant increase in their number and energy for this period, averaging 23 HIB / day, whereas for the previous period were registered 14 HIB / day (Report No. 28-2016). Regarding energy hybrid events, these one shows a slight increase during this period, highlighting the appearance of a peak of 50 MJ September 27.
LP-type events (associated with volcanic fluid passage) are similar in number to the previous period, registering an average of 23 LP / day. As regards their energy it is still at low levels.
VTPS type of events (Volcano-Tectonic proximals, located less than 6 km from the crater), show a significant increase in number and in size from 6 VTP / day (Report No. 28-2016) to VTP 21 / day for the period. Similarly, their range has also increased, recording two events of magnitude M3.5  and M3. on 20 and 29 September, respectively. Tremor type of events (TRE) continue to maintain their level of occurrence, which is on average 20 TRE / day. As regards their energy it is still at low levels.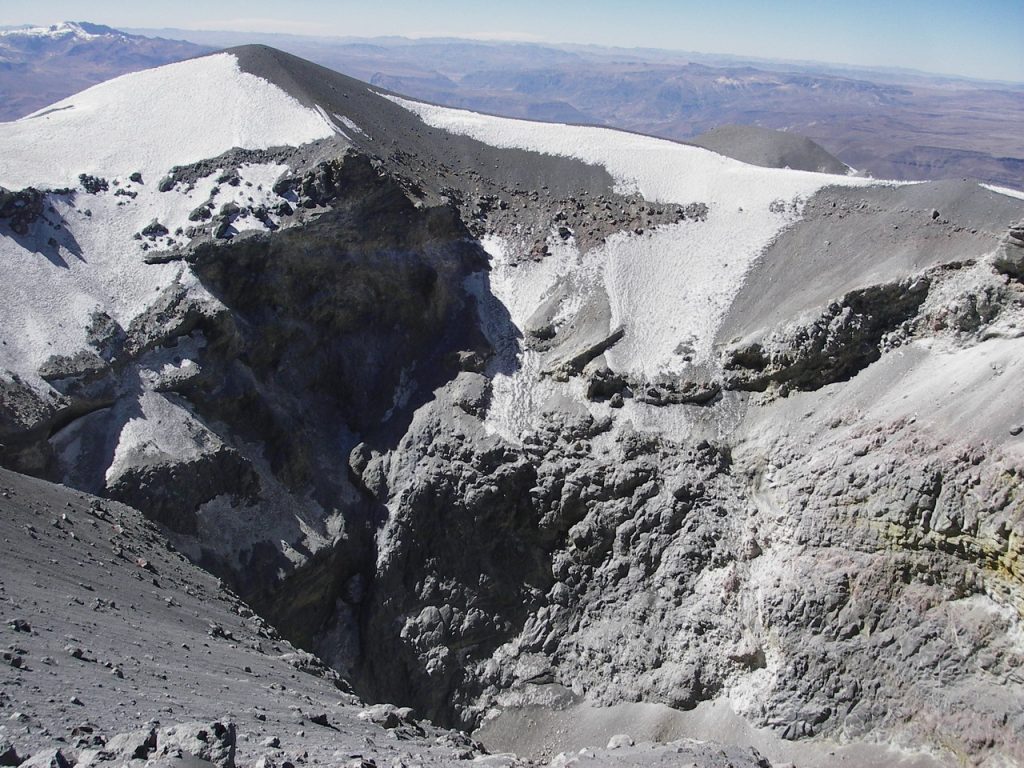 The distribution of fracture or distal type events VT (EDV) located and tracks still show 2 seismic foci: The first focus is located 14 km northeast of the crater Sabancaya, near the town of Maca. In this area, it is highlighted two events of M 3.6 and M 3.9, with a depth of 7 km and 9 km, recorded on 25 and 27 September, respectively. The second seismic home is located 25 km northeast of the crater area. This event group highlights an earthquake of M 3.6  , registered on 23 September, with shallow depth of 8 km.
VTPS type of events (Volcano–Tectonic proximals, located less than 6 km from the crater), were presented in greater numbers than in the previous period. Including the 2 events recorded on 20 and 29 September with magnitudes of M3.5 and M3,3, with 4 km deep and 17 km, respectively.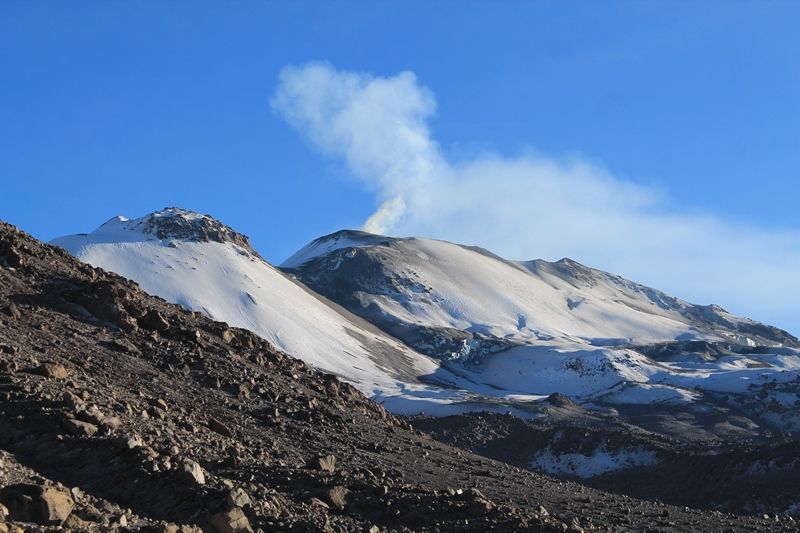 Fumaroles:
Frequency: During this period (16-30 September), fumaroles expelled by the crater of Sabancaya were consistent and medium to high density.
Colouring: As there are several months, emissions are mainly white (steam). However, in the last fortnight, he enjoyed more bluish gas corresponding to magmatic gases.
Height: On average, fumaroles reached a maximum altitude of 1000 m and 1200 m above the base of the crater.

Source : IGP
Photos : Archives
Turrialba , Costa Rica :
Report of the eruptive activity of the volcano Turrialba:
October 2, 2016, 5:00 p.m.
Eruptions and seismic activity:
The major eruptive events recorded in the last hours eruptions are accompanied by appreciable magnitude tremor. These eruptions sent plumes of ash and gas that are estimated not to exceed 500 meters above the summit of the volcano. After this eruptive activity, events occurred intermittently during the night of 1 and the morning of 2 October with columns of gas and ash to maximum heights estimated at less than 1000 meters above the crater. Prevailing winds dispersed the ash and gas to the West and mainly towards the South-West to the country's central Pacific. Then eruptive activity slowly declined from 9 am on October 2.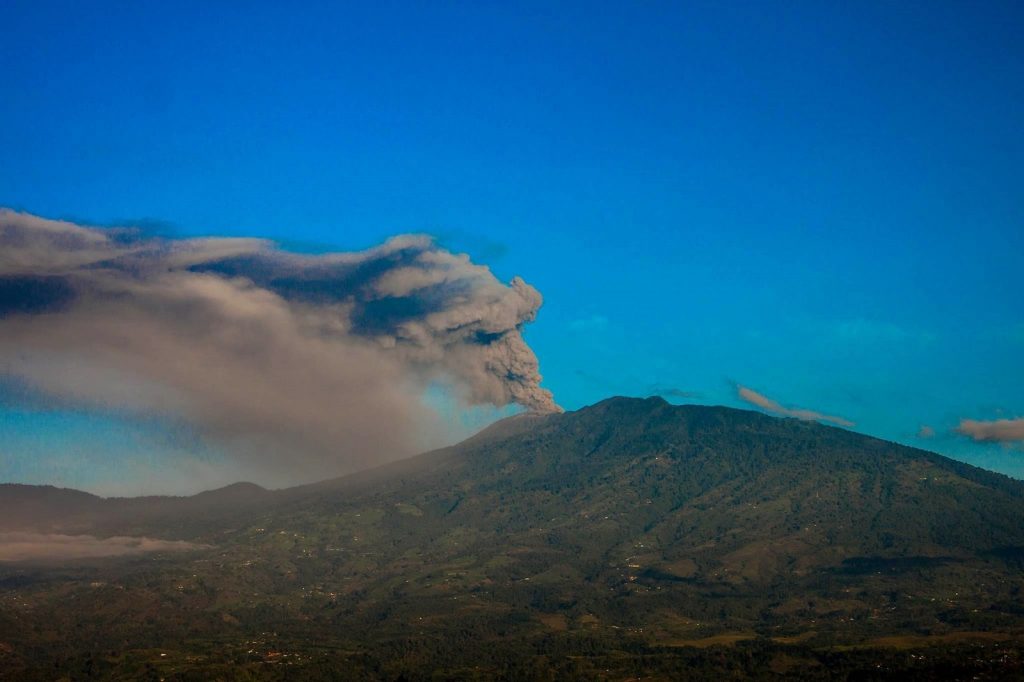 The volcanic tremor was maintained throughout the morning, but with low amplitude until 1:48 p.m. hours when he rose again accompanied by low emissions of ash, gases and aerosols. Throughout the afternoon, the tremor remained with varying intervals, but with a strong emission of gases and aerosols. Today on October 2, from 14:00 hours, the wind changed direction, carrying ash and gases from the Turrialba to the North-East, however, the plume does not rise more than 400 meters above the summit of the volcano. From 16:30 today, the direction of the plume continues mainly to South-West and its height, rich in gas and steam rises to less than 700 meters above the summit of the volcano.
Detection of fine volcanic acid particles that float in the air in Heredia:
Volcanic gas monitoring stations and aerosols of OVSICORI–A located on the Heredia National University campus on October 2 detected a moderate increase in levels of fine particles in atmospheric air, known under the name of PM10 particles (size equal to or less than 10 microns) and PM2.5 (size equal to or less than ± 2.5 microns), and the presence of gas sulfur dioxide acids (SO2). PM10 concentrations peaked at 50 ug / m3 before decreasing. On October 1, the PM10 and PM2.5 showed a slight increase in their concentration while SO2 recorded a significant increase in the afternoon, reaching maximum concentrations up to 63 ppm (parts per million)) .
Reports of ashfall  and smell of sulfur:
It was reported falls of ash and a smell of sulfur in the night of October 1 and the morning of 2 October in :
1) Alajuela: Río Grande de Atenas.; 2) Cartago: Tres Ríos,Alto de Ochomogo, Caballo Blanco, Cot, Aquiares, Cantón Central, Capellades,Pacayas, Cervantes de Alvarado, San Blas, Tejar del Guarco, Taras, Agua Caliente,Paraíso, Orosi, Dulce Nombre, San Rafael , Oreamuno, San Isidro del Guarco, LasVirtudes, La Pastora, Santa Cruz, Calle Vargas, Turrialba Cantón Central; 5) San José:San Antonio de Desamparados, Curridabat, Coronado, Cerro de la Muerte, Valle de LosSantos, Pérez Zeledón.
Source : Ovsicori
Photo : Alberto Alvarado, RSN .
Colima, Mexico :
ONGOING ACTIVITY of the COLIMA volcano.
The government of Jalisco through the Unit state for Civil Protection and fire indicates that according to the latest analysis of the behavior of the Colima volcano, the activity continues with the same parameters of extrusive activity accompanied by intense degassing and spills of lava blocks on the South and East sides of the crater.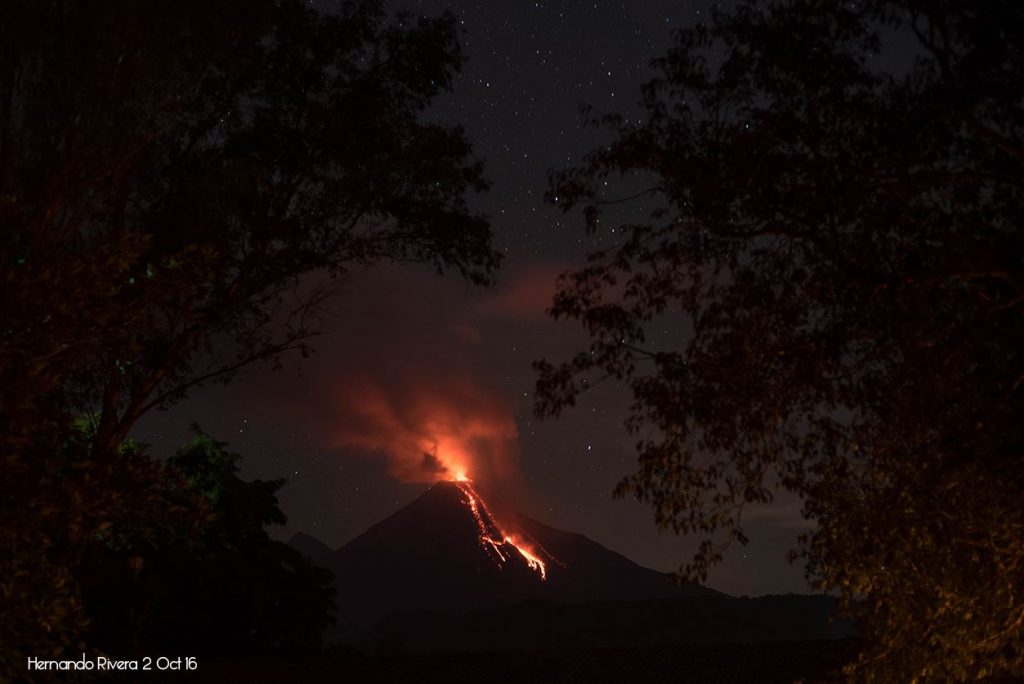 The UEPCB continued preventive operation carried out yesterday in surrounding communities and conducts monitoring visits and provides information to the public.
Last night at 21:30 hours, a coordination meeting with the authorities of the three branches of government in the premises of the regional headquarters of Ciudad Guzman was held, where it was noted the activation of protocols under the Plan The Colima volcano.
The staff of the UEPCB made the precautionary evacuation of 26 people from the community of Juan Barragan 17 of which are housed in temporary shelters in the community of San Marcos and assisted by municipal staff of DIF Jalisco.
For Jalisco, the exclusion zone of 7.5 kilometers around the volcano remains and we continue to urge people not to approach the slopes, ravines of the volcano, about the restricted zone established.
Source : UEPCB
Photo : Hernando Rivera
Sheveluch , Kamchatka :
56.64 N, 161.32 E;
Elevation 10768 ft (3283 m),
the dome elevation ~8200 ft (2500 m)
Aviation Color Code is ORANGE
Explosive-extrusive eruption of the volcano continues. Ash explosions up to 32,800 ft (10 km) a.s.l. could occur at any time. Ongoing activity could affect international and low-flying aircraft.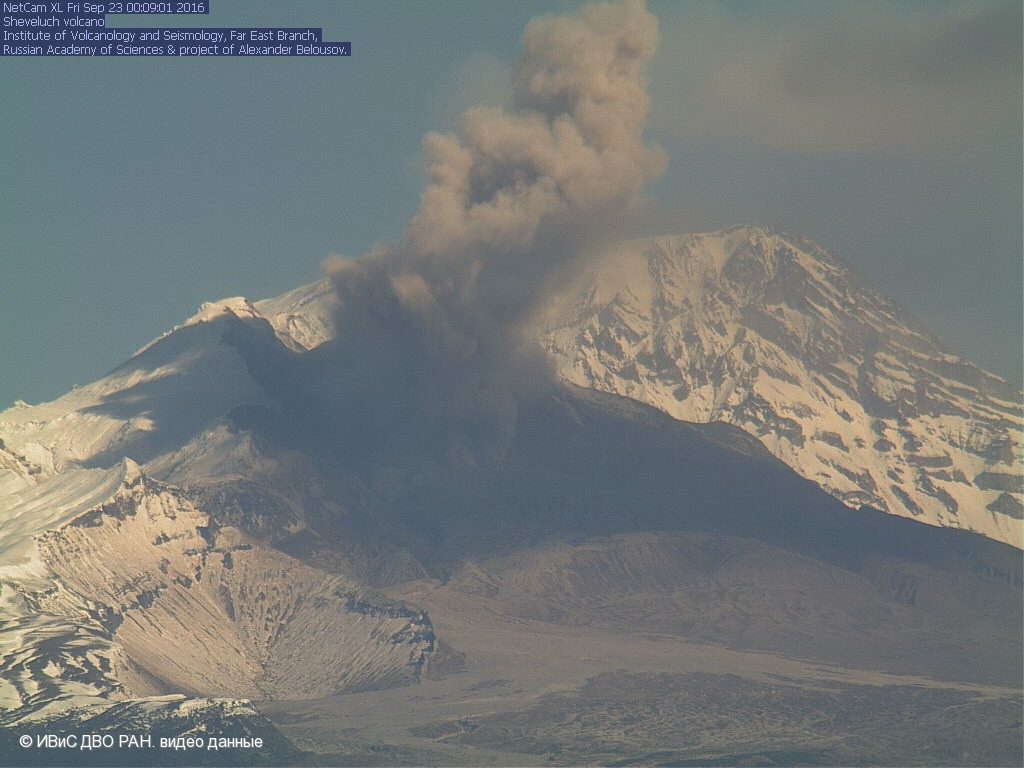 Explosive activity of Sheveluch volcano on 23 September, 2016.
A growth of the lava dome continues (a viscous lava flow reveal in the northern its part), strong fumarole activity, ash explosions, hot avalanches and an incandescence of the dome blocks and hot avalanches accompany this process. Satellite data by KVERT showed a thermal anomaly over the lava dome all week. According to video and satellite data, the plumes of resuspended ash blowing from the vicinity of Sheveluch area drifted for about 100 km to the south-east and east from the volcano on 28-29 September.
Source : Kvert
Photo : données vidéo. IVS RAS FEB