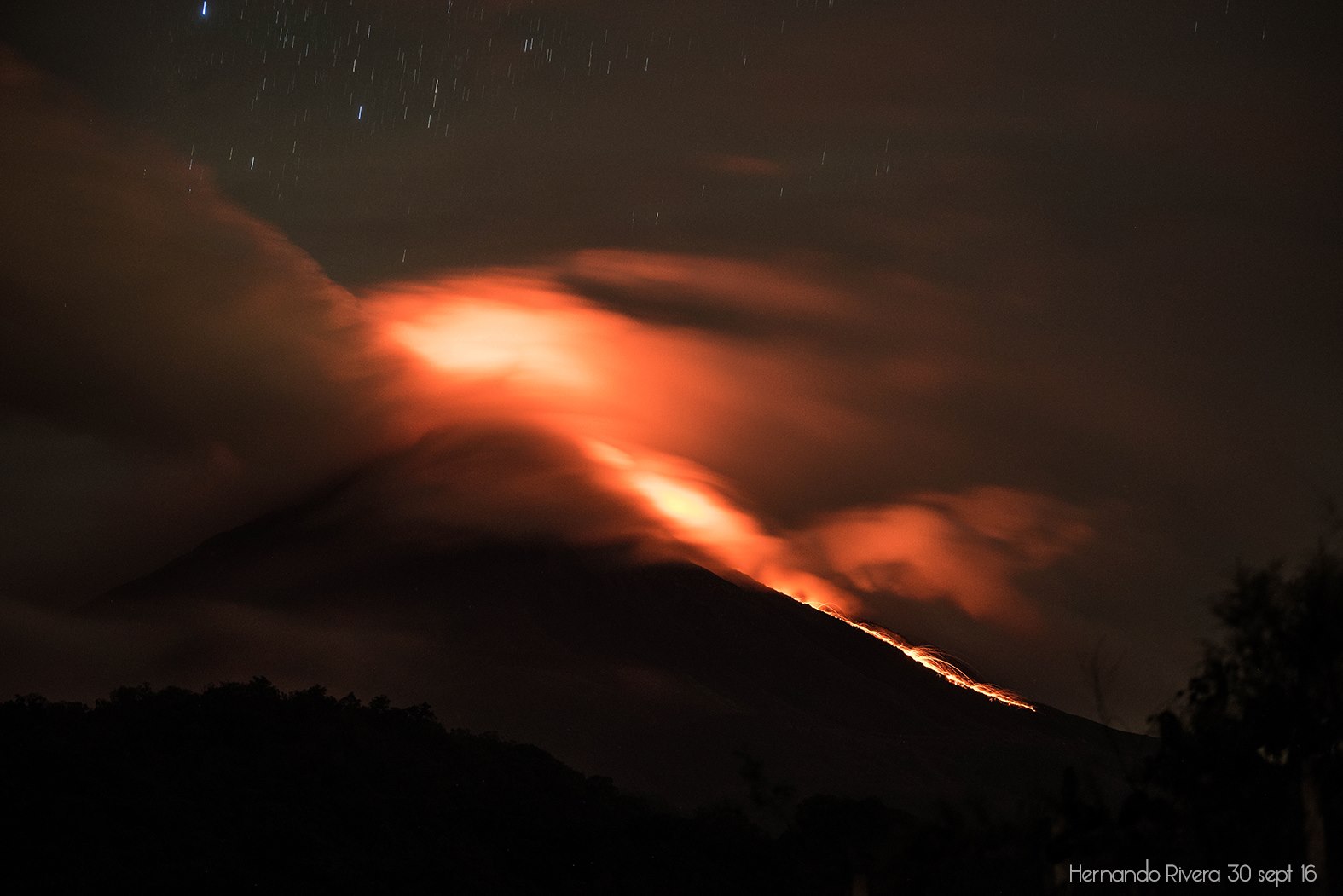 October 01 , 2016. EN. Katla , Turrialba , Ruapehu , Colima .
October 01 , 2016.
Katla , Iceland :
Seismic activity in Katla volcano, South Iceland, continues. No less than 200 tremors have registered there in the past 24 hours, Vísir reports. Three quakes in excess of magnitude 3 hit the volcano overnight, the largest one at 4:41 am, of magnitude 3.7. It was preceded by another one of magnitude 3.1 a minute earlier. The third one measured 3.2 at 2:43 am. All three were shallow. Sigurdís Björg Jónasdóttir, natural hazard specialist at the Icelandic Met Office, reported that the seismic activity was constant all night long.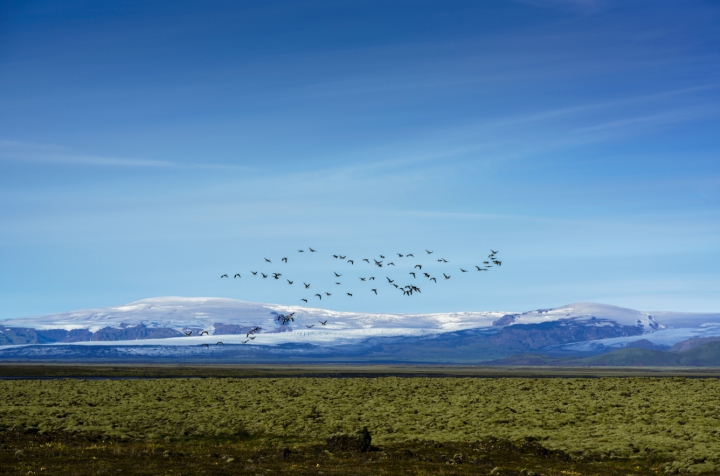 "It's been very lively in Katla overnight, but the tremors are all shallow, and there hasn't been any eruption activity or glacial outburst flood activity, so those of us who are on call are relatively calm, since the situation effectively hasn't changed since yesterday," Sigurdís stated.
Katla volcano is located under the icecap of Mýrdalsjökull glacier. It last erupted in 1918, but has, on average, erupted twice a century.
High seismicity, but no sign of Seismic tremor .
30 SEPTEMBER 2016. Nearly 200 earthquakes occurred at Katla last day. Three of them recorded over M3 during the night, the largest occurred at 04:41 and measured 3.7 in magnitude. Reports submitted to the meteorological services state that the large earthquake was at Langadal.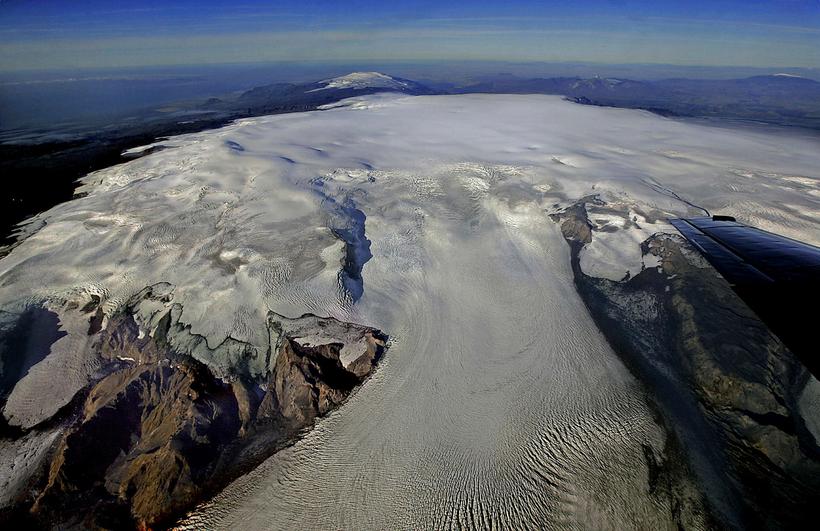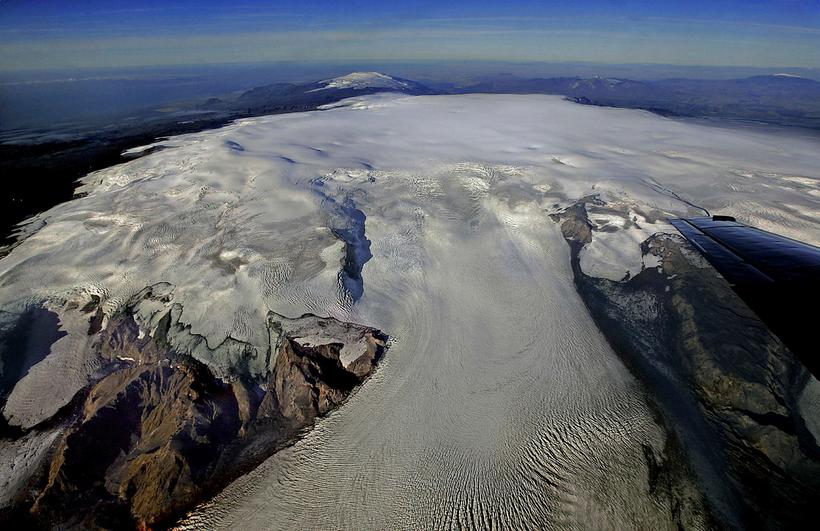 All events are shallow. Continuous seismic activity during the night with increased activity just after midnight and increased between 04:30 to 05:00 with major activity.
According to the Met Office, there is still no Seismic tremor recorded and no signs from the glacier. The Met will continue to monitor the position and review any alerts, after meeting today.
The level of Yellow Warning has been issued for the Katla volcano by the Icelandic Met Office, after more than 200 earthquakes in the last 72 hours, including three of M3 after 24:00 today. An eruption has not yet been confirmed.
Source : icelandreview , Visir .
Turrialba , Costa Rica :
Turrialba Volcano spews ash for fourth consecutive day .
29 SEPTEMBER 2016. Turrialba Volcano continued spewing ash and gases on Thursday in what the University of Costa Rica's National Seismological Network (RSN) volcanologist Mauricio Mora called one of its longest eruptive events this year.
The ash spewing at Turrialba, located some 50 kilometers (30 miles) northeast of the capital San José in Cartago province, began shortly after noon on Monday. Ash and vapor formed a column that varies in height from 500 meters to 2,000 meters (1,640 feet to 6,560 feet) above the crater, RSN reported.
Eruptions at Turrialba last week caused the Juan Santamaría International Airport in Alajuela, outside of San José, to close for nearly 24 hours. The airport has remained open this week although some flights were delayed Thursday morning. The National Meteorological Institute reported that wind is currently carrying ash mainly towards the northern areas of the Central Valley.

On Thursday, RSN received reports on its social media profiles of persistent ashfall in communities in the northern parts of Cartago, San José, Heredia and Alajuela provinces. The National University's Volcanological and Seismological Observatory of Costa Rica (OVSICORI) also noted that some people are reporting ashfall in various areas of the Caribbean province of Limón, mostly in Guápiles.
In addition to ashfall, people said they smelled sulfur in the air north and east of the capital, in Coronado, Moravia, Tibás, Zapote, Curridabat and Montes de Oca, and also in Cartago and Heredia provinces.
The RSN's Mora said that an increase in the size of the main crater at Turrialba, in both depth and breadth, is the reason for the high amount of materials being expelled by Turrialba in recent days. "This is part of the normal evolution from one eruptive cycle to another," he said.
Instruments at the volcano also recorded incandescent materials coming out of the crater and falling in areas close to the crater. Despite rumors to the contrary, experts said the material would not reach populated areas of the Central Valley. Volcanologist Guillermo Alvarado said it is possible that Turrialba continues to spew ash for an extended period of time, just as Irazú Volcano did between 1963 and 1965.
Flight delays.
Persistent ashfall so far this week has not prompted the closure of airports as it did last week. Some airlines, however, decided to delay flights in order to wait for improvements in weather conditions. Aeris Holding Costa Rica, the company that operates the Juan Santamaría International Airport (SJO), the country's largest international terminal, said Thursday that the airport is operating normally. AERIS spokeswoman Silvia Chávez said only two airlines, Copa and Delta, opted to delay flights on Thursday morning at SJO.
Source :  TICO TIMES
Ruapehu , New Zealand.
Mt Ruapehu Crater Lake: Steam plumes as lake heats
VOLCANIC ALERT BULLETIN: RUA – 2016/09
10:50 am Friday 30 September 2016
Volcanic Alert Level 1 (no change)
Aviation Colour Code: Green (no change)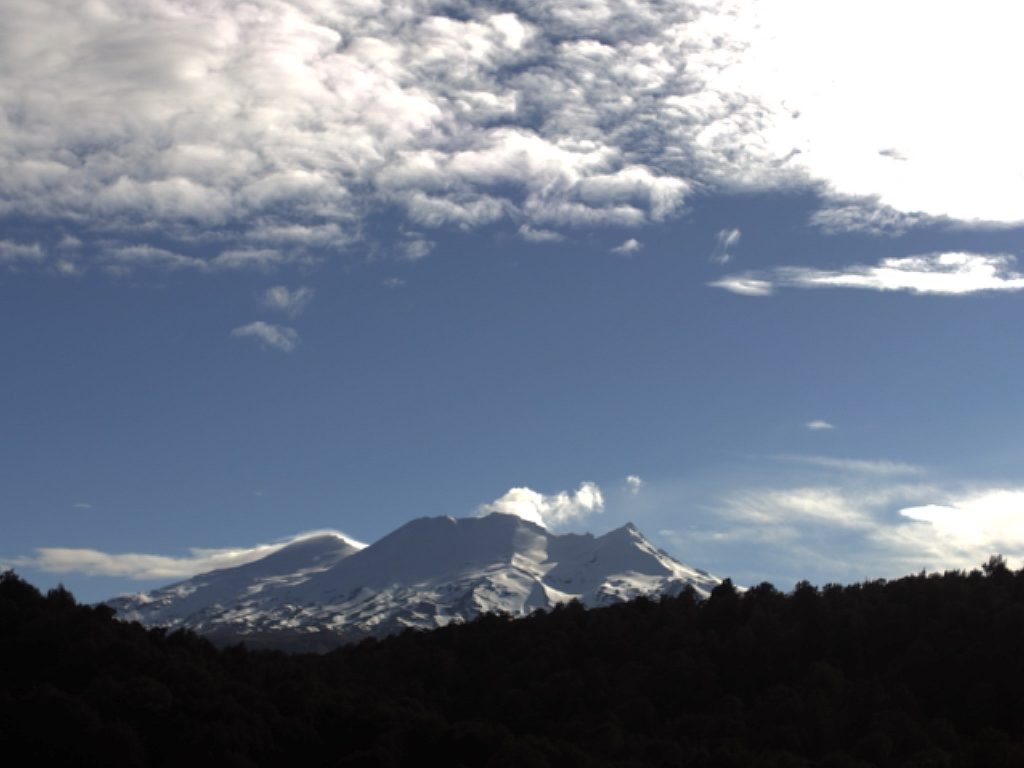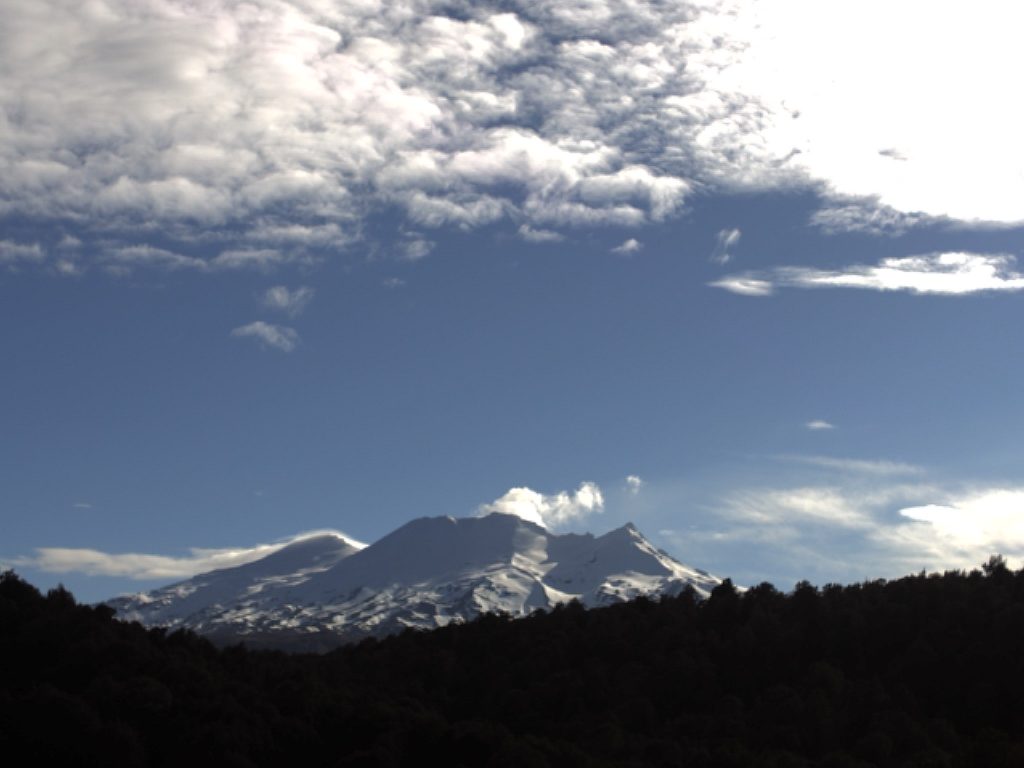 This morning, steam plumes have been visible above Mt Ruapehu's Crater Lake. The lake temperature is now 37 ºC as part of a heating episode that began around 2-3 September 2016. No seismic or acoustic activity has been recorded this morning, indicating the steam plume was not generated by activity in the lake. The Volcanic Alert Level for Mt Ruapehu remains at Level 1 (minor volcanic unrest) and the Aviation Colour Code also remains unchanged at Green.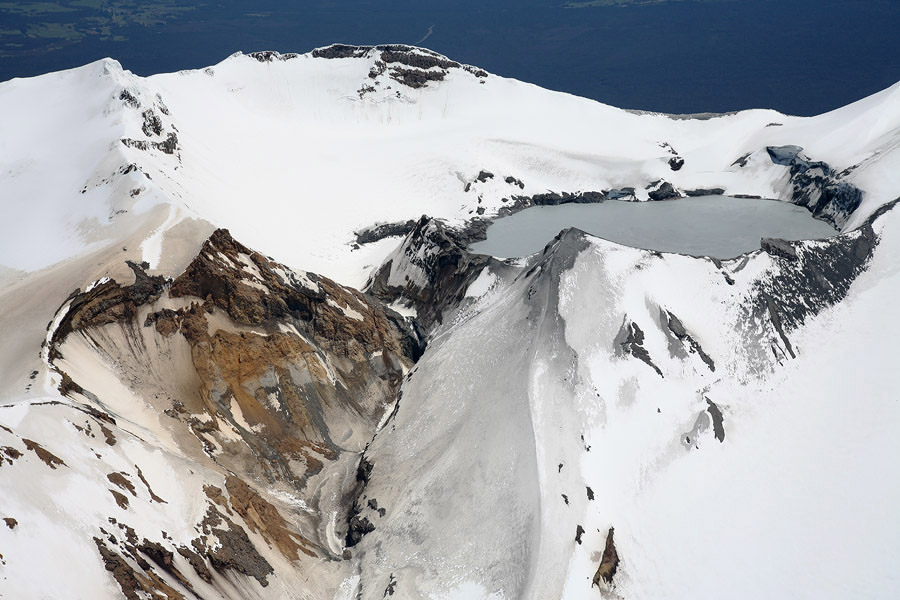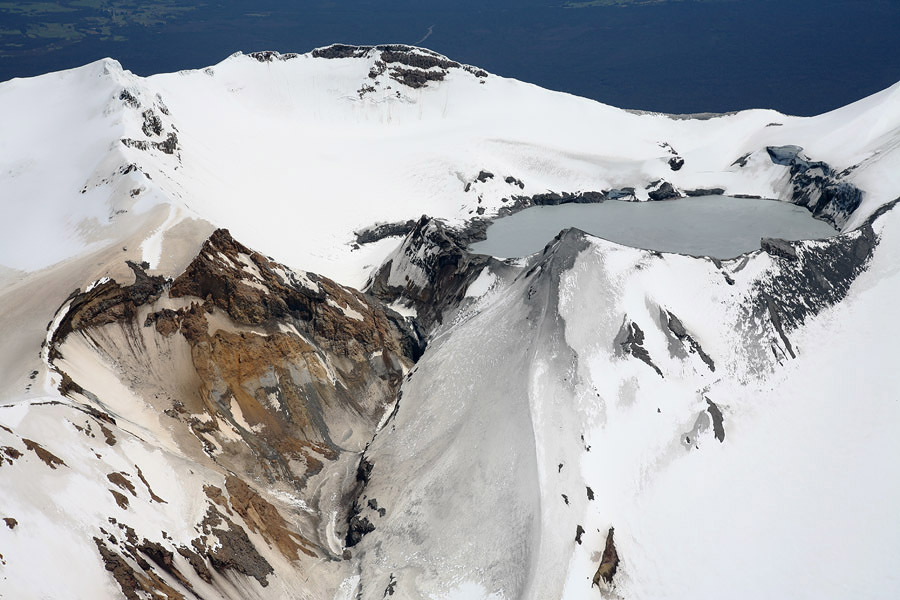 The active crater at Mt Ruapehu is occupied by Crater Lake. Crater Lake displays temperatures that typically range between about 15 and 40 °C and the phases can last between about 9 and 20 months. The lake cooled to a minimum of 12 °C in mid-August and then remained at 13-14 °C until early September when it started to heat again. Based on past experience, as the lake continues to heat up, more occasional steam plumes can be expected. This is often controlled by atmospheric conditions near the mountain.
There have been no local volcanic earthquakes or changes in the levels of volcanic tremor this morning on the GeoNet instruments at Ruapehu. GNS Science volcanologists continue to closely monitor Ruapehu through the GeoNet project.
Source : Geonet
Colima , Mexico :
Mexico's Colima volcano erupts, local communities evacuated .
30 SEPTEMBER 2016. Mexico's Colima volcano erupted on Friday, spewing a large plume of ash and thick black smoke into the sky and provoking the evacuation of two nearby villages.
The volcano is located in western Mexico between the states of Colima and Jalisco and is one of the country's most active.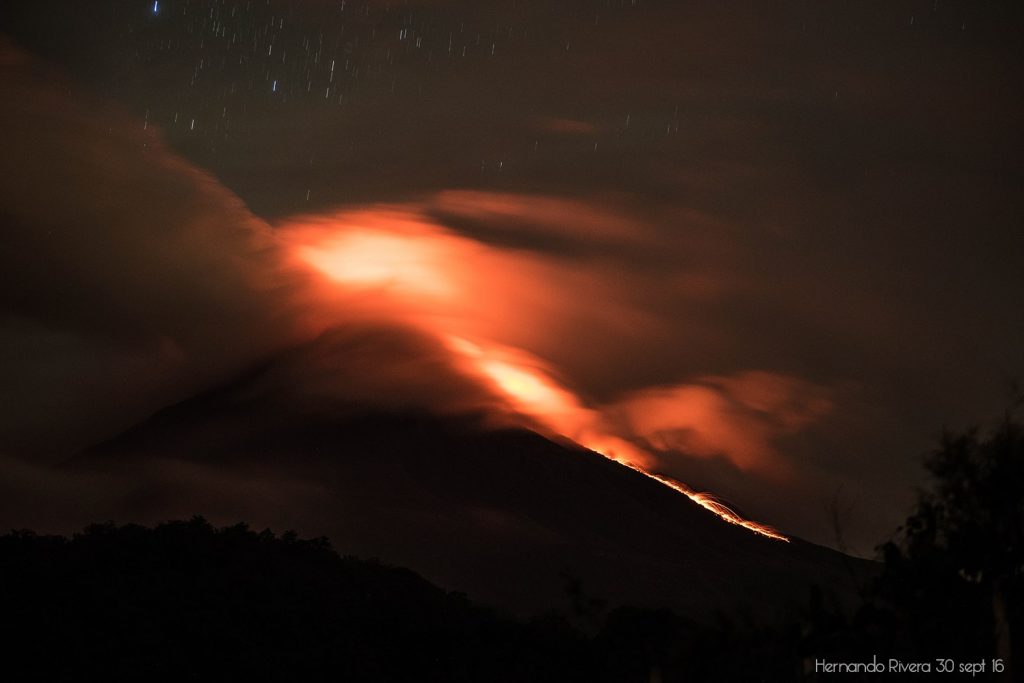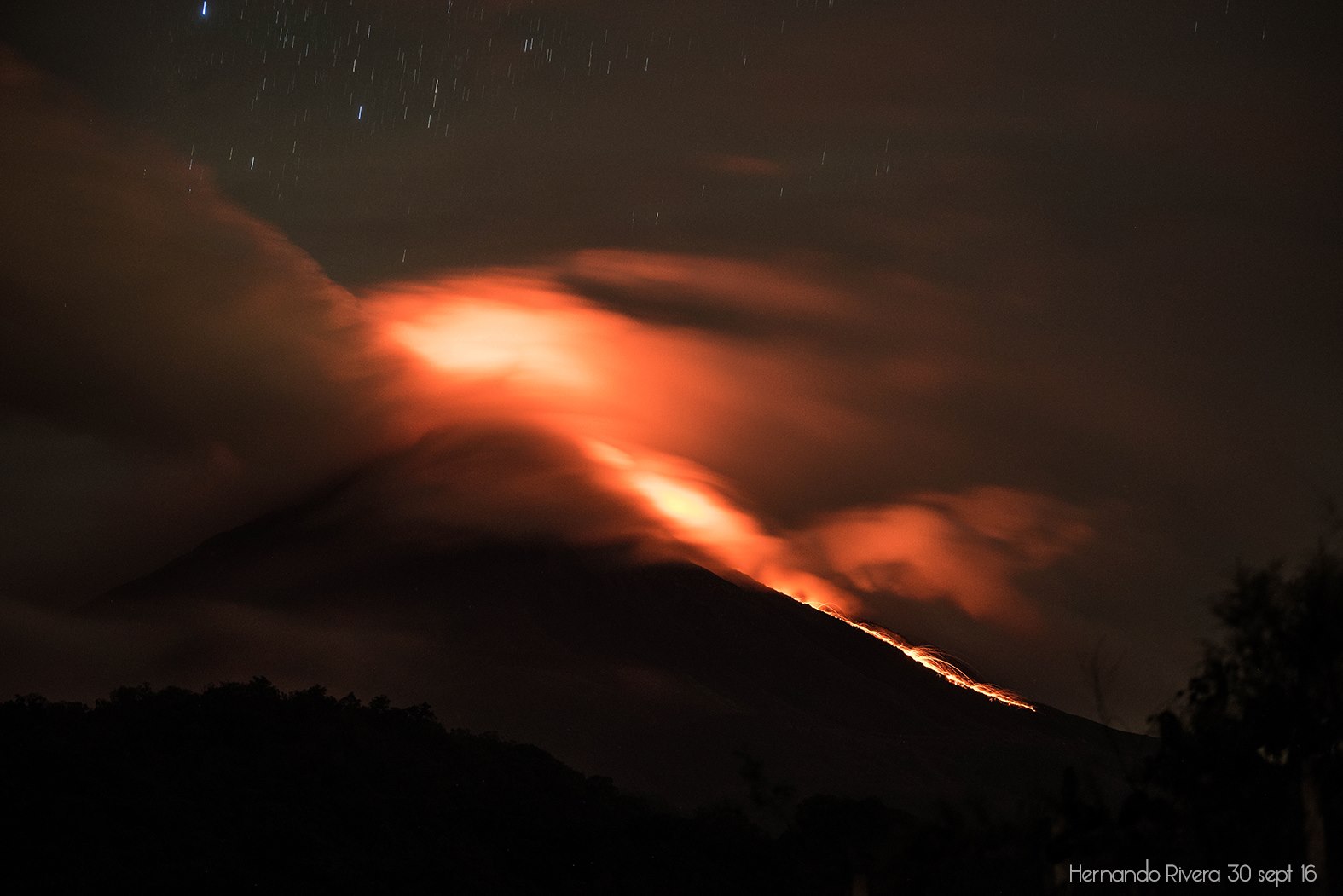 Colima Volcano, shortly before dawn today. the noise and the typical turbine effect is heard. Taken from the community of Yerbabuena in Comala.
Luis Felipe Puente, head of national emergency services, told Reuters that some 350 villagers living in the shadow of the volcano in the towns of La Yerbabuena and La Becerrera have been evacuated to a nearby shelter.
An exclusion zone of 7.5 km has been set up on the side of Jalisco and Colima 12 kms on the side.
An observation flight was conducted before the eruption.
 
The specialist of the State Unit of Civil Protection conducted an observation flight over the Colima volcano « to monitor and analyze the evolution of a new dome in the crater of the volcano, which began to develop on Monday 26 and   covered the crater. Also during the night of Wednesday 28, has began to be formed a new lava flow on the southern flank, reaching a length of about 300 meters.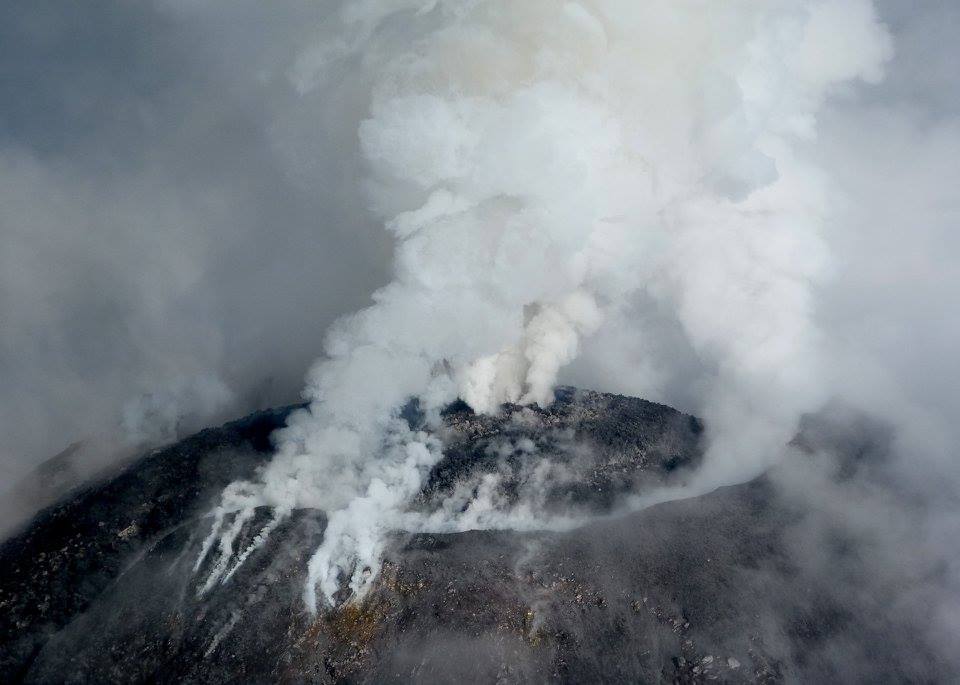 Note

that

the exhalations

,

the

effusive activity

and small

pyroclastic flows

that are generated

are a danger

to people and

activities in

the upper area

of the volcano

for which

the state of Colima

has extended

an exclusion zone

of 12 kilometers around the

crater.

In Jalisco

we maintain

the perimeter

at

a distance of 7.5

kilometers from the

crater.

Jalisco Civil Protection continued vigilance and constant monitoring of volcanic activity 24/24 by the Volcano Observatory located in the National Park of Nevado de Colima, and the officials are in constant vigilance in the village of Juan Barragan and surrounding communities located on the slopes of the volcano.
Source : 
REUTERS , Uepcbj.
Photo : Hernando Rivera