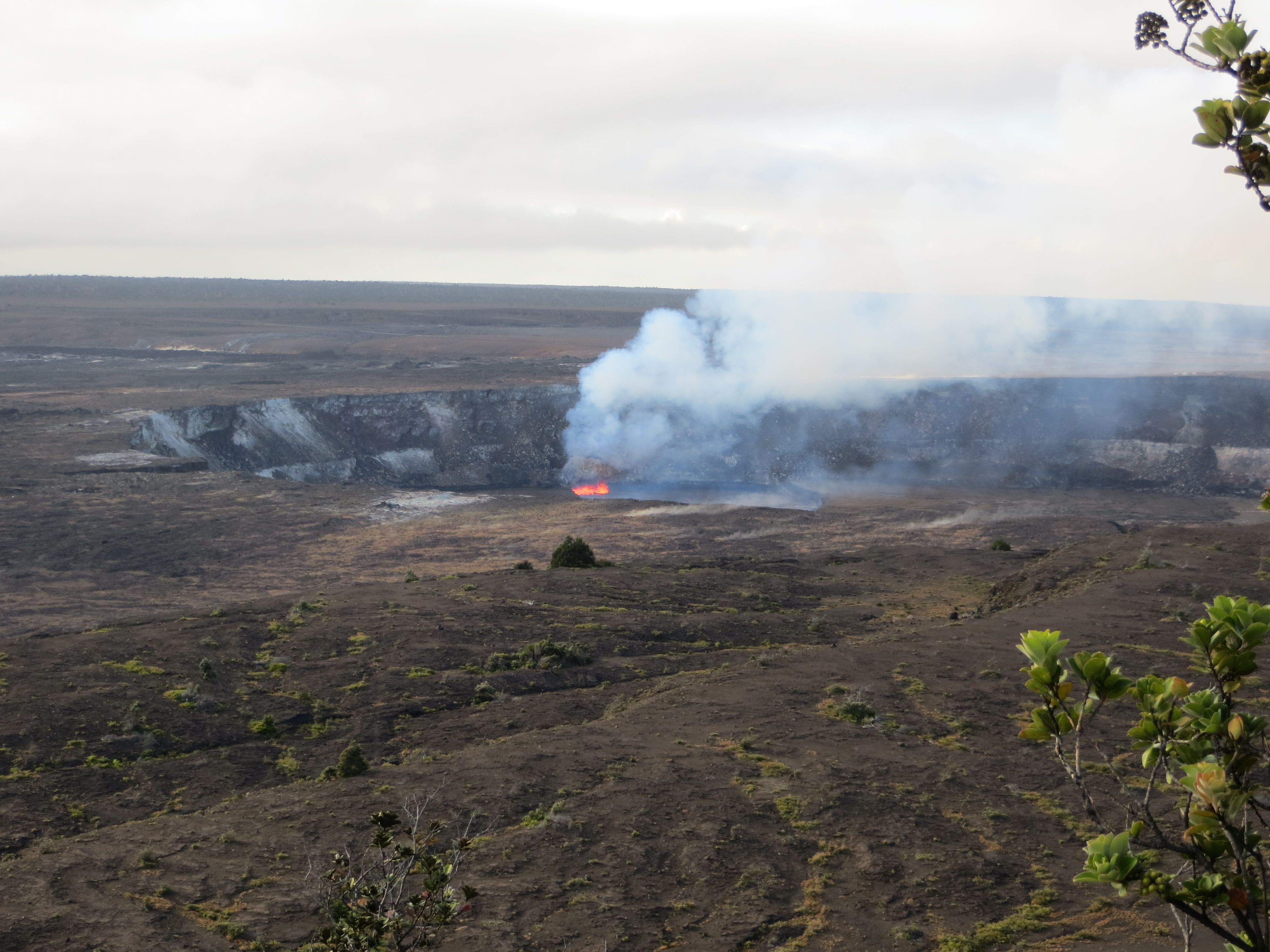 September 21 , 2016. EN. Kilauea , Mauna Loa , Turrialba , Planchon-Peteroa .
September 21 , 2016.
Kilauea , Hawai :
19°25'16 » N 155°17'13 » W,
Summit Elevation 4091 ft (1247 m)
Current Volcano Alert Level: WATCH
Current Aviation Color Code: ORANGE
Activity Summary:
Kilauea Volcano continues to erupt at its summit and from its East Rift Zone. Summit tiltmeters recorded continued inflationary tilt, and the lava lake rose slightly. The 61g lava flow fed from Pu'u 'O'o in the East Rift Zone has been entering the ocean at Kamokuna and there have been breakouts about 2 km (1.2 mi) inland from the coast. The 61g flow poses no threat to nearby communities.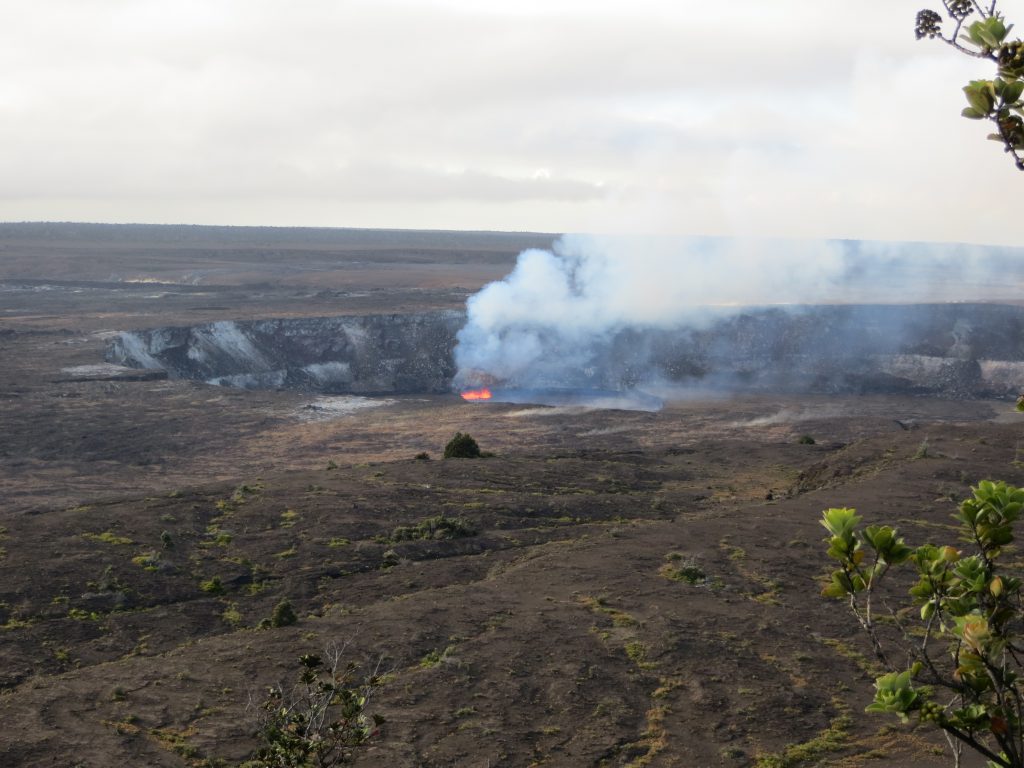 During recent summit deflation, the lava lake within Halema'uma'u Crater dropped out of view of overlooks in Hawai'i Volcanoes National Park. But since the switch to inflation early Sunday morning (September 18), Kilauea Volcano's summit lava lake has been rising again, bringing the lake surface back into view. This morning the lake level was measured at 12 m (39 ft) below the vent rim, with sporadic spattering visible from the Park's Jaggar Museum Overlook.

Summit Observations:
Summit tiltmeters recorded continued inflationary tilt over the past day. The lake surface rose over the past day, and was visible from Jaggar Overlook last night. The lake surface was measured at 12 m (39 ft) below the floor of Halema'uma'u this morning. Webcam views of the lava lake can be found at the following webpage: http://hvo.wr.usgs.gov/cams/region_kism.php.
Summit seismicity was at typical levels, while volcanic tremor amplitudes continued to fluctuate in association with lava lake spattering. Average daily summit sulfur dioxide emission rates ranged from 3500 to 6200 metric tons/day over the past week. GPS and InSAR data show continued long-term inflation of the summit magma reservoir complex, ongoing since 2010.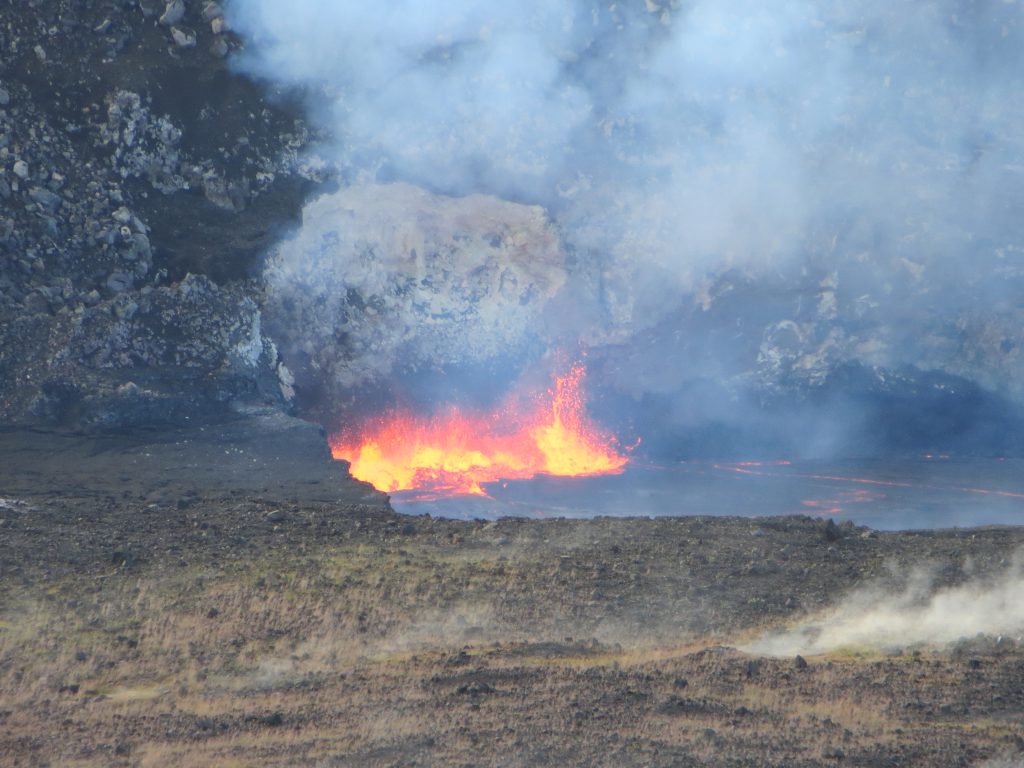 This telephoto image provides a closer view of the lava lake within Halema'uma'u Crater and spattering on the lake surface.
Pu'u 'O'o Observations:
There were no noteworthy geological changes at Pu'u 'O'o over the past day, nor were there any significant changes or trends in seismicity or surface deformation. The sulfur dioxide emission rate from all East Rift Zone vents was about 270 metric tons/day when last measured on September 7.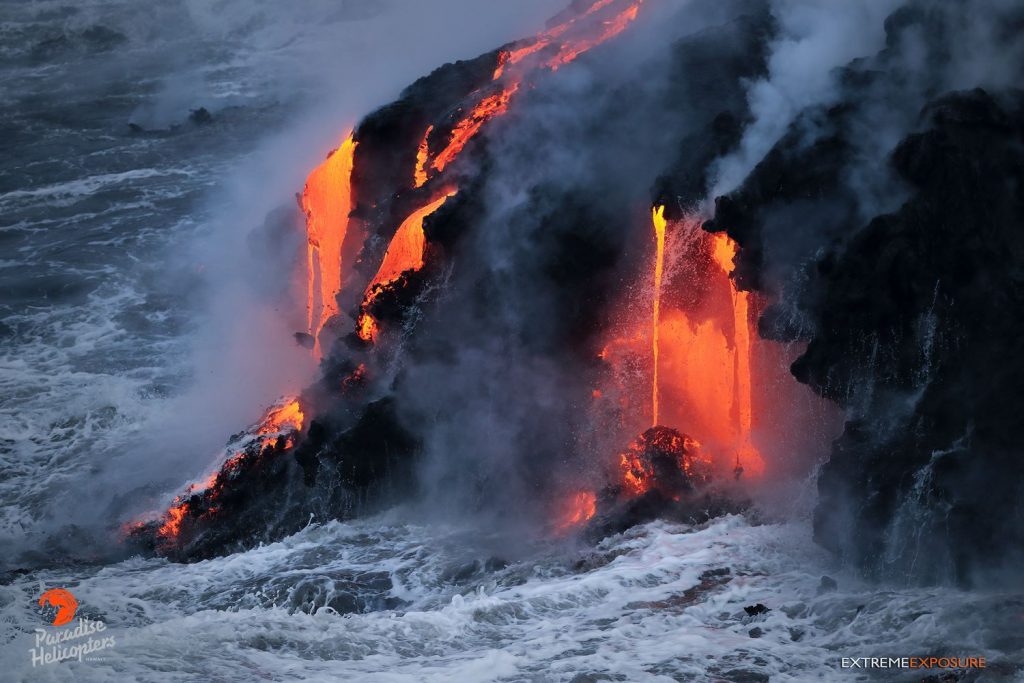 Lava Flow Observations:
The 61g lava flow, extending southeast from Pu'u 'O'o on Kilauea's south flank, continues to supply lava to the ocean near Kamokuna. A satellite image from yesterday confirms that active breakouts are present on the coastal plain, and remain about 2 km (~1.2 miles) inland from the ocean entry.
Source : HVO
Photos : HVO , Bruce Omori.
Mauna Loa , Hawai : 
19°28'30 » N 155°36'29 » W,
Summit Elevation 13681 ft (4170 m)
Current Volcano Alert Level: ADVISORY
Current Aviation Color Code: YELLOW
Activity Summary:
Rates of deformation and seismicity at Mauna Loa remain above long-term background levels.
Mauna Loa is not erupting. Global Positioning System (GPS) measurements continue to show ground surface deformation related to inflation of a magma reservoir beneath the summit and upper Southwest Rift Zone, with inflation occurring mainly in the southwestern part of Mauna Loa's summit caldera magma storage complex.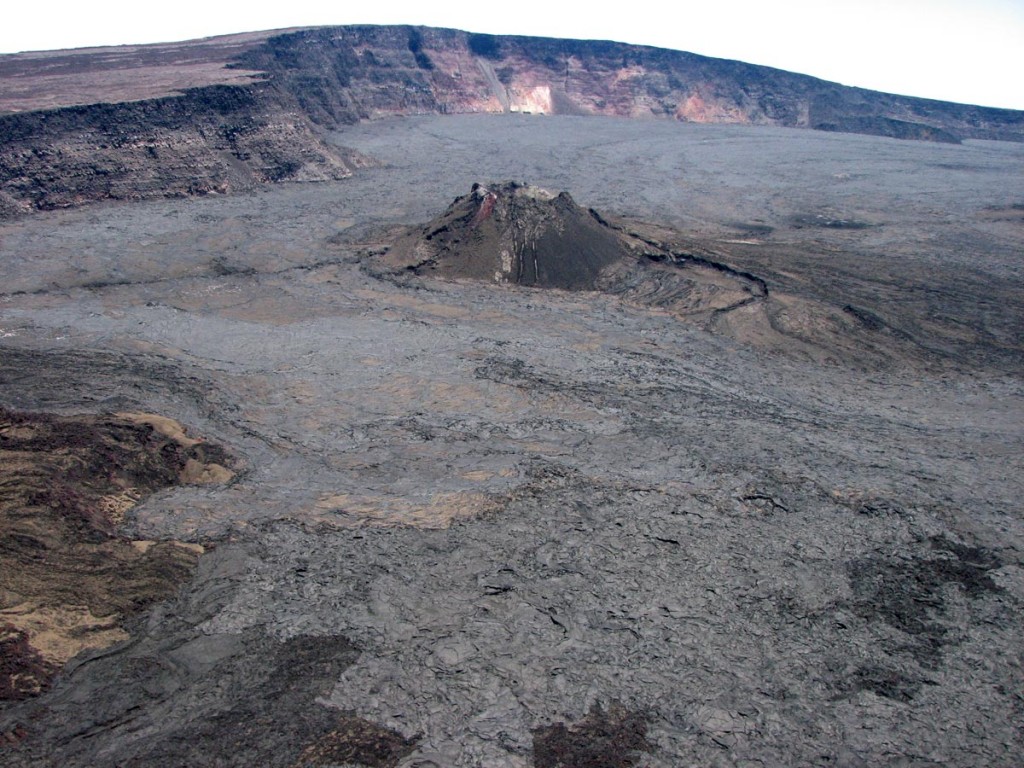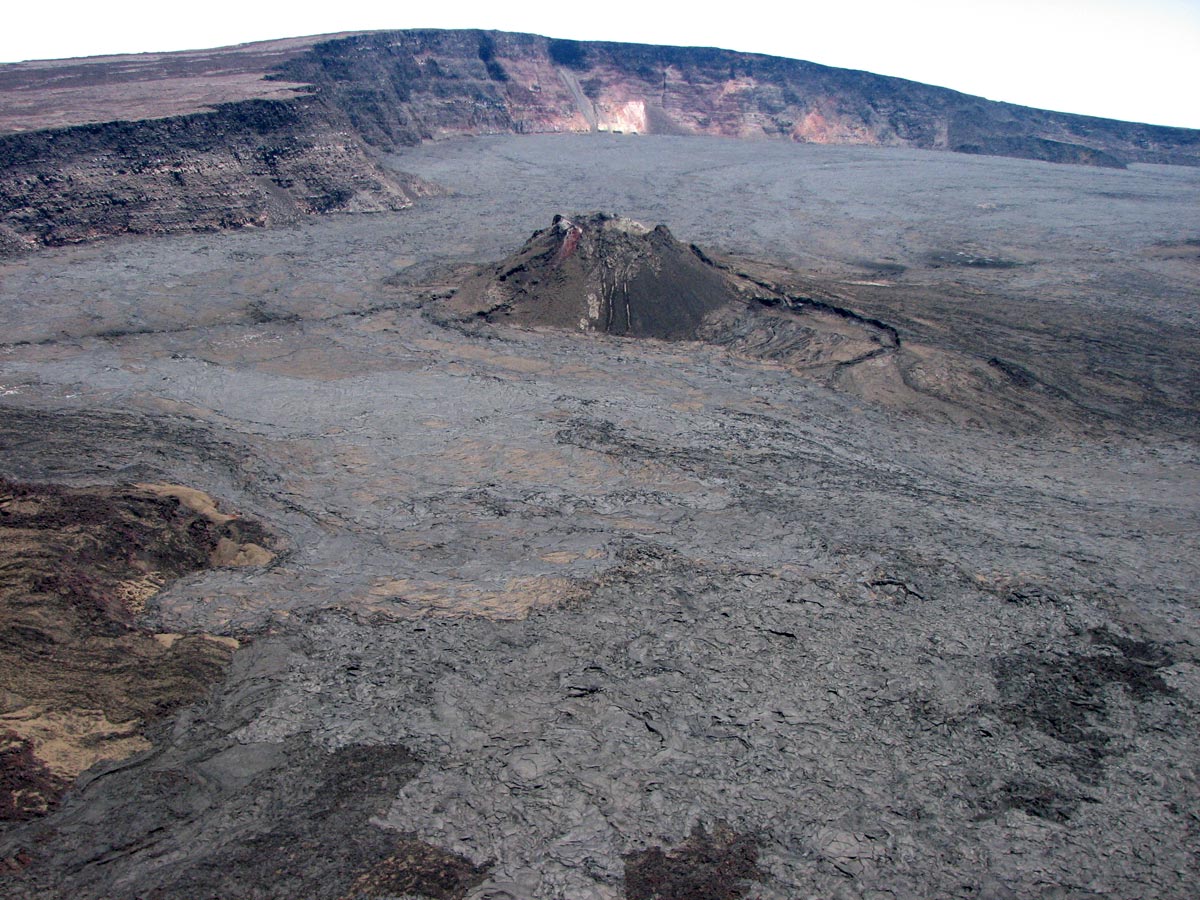 Shallow earthquakes, at depths less than 5 km (3 mi) beneath the south caldera and upper Southwest Rift Zone, continue to occur. This week, two magnitude 3.4 earthquakes occurred near the summit. Following these events, no significant changes were observed in other monitoring datastreams, and the Volcano Alert Level for Mauna Loa remains Advisory.
Measurements from a continuously-monitored fumarole site within the summit caldera showed relatively steady fumarole temperatures and no significant changes in either sulfur dioxide or carbon dioxide concentrations in volcanic gas emissions.
Source : HVO.
Turrialba , Costa Rica :
Activity report of the Turrialba volcano
September 20, 2016 17.00
Since September 20, 2016 9 am, intermittent emissions of ash, gas and steam from the active crater of the Turrialba volcano persist. During this period, seismic pulses on average 6 per hour, were present until 16:00, when the activity has decreased significantly,  ash column height hovering between 200 and 400 meters above the summit.
During the morning, winds dispersed the ash particles on the western and the southwestern communities, reaching as those located to the east of the Central Valley. In the afternoon the wind turned north and northeast, but the ejected ash volumes were low there is no ash fall reports.
16:03 to 17:00 pm today there was no emission of volcanic ash. Overall volcanic activity has now decreased significantly compared to yesterday.
RSN staff is in the vicinity of Turrialba volcano to collect samples of ash and to study the effects of eruptions from Monday 19 September.
The conditions of cloud cover that occurred have allowed the webcam of the Turrialba volcano, which is installed on the Irazu volcano, facing the Turrialba, to provide information on both the relative volumes of ejected ash and the height reached by eruptive columns.
Source : Ovsicori
Photos : RSN , Dr. Guillaume Alvarado.
Planchon-Peteroa , Chile :
Planchon–Peteroa volcanic complex (1-15 September).
The level of activity of the volcanic complex is at:
LEVEL YELLOW: changes in the behavior of volcanic activity.
During the recorded period, it was noted 1603 events in connection with a process of rigid materials fracturing, volcano-tectonic called (VT) with maximum local magnitude of M2.6, mostly located below the volcanic edifice, at depths between 2 and 8 km. The major event was located 4.2 km towards North-Northwest of the main crater at a depth of 3.8 km.
In addition, it was recorded 1141 events associated with the fluid dynamics within the volcanic edifice, called long period events (LP), presenting with an greater energy of reduced displacement values (DRC) of 8.7 cm2 located in the main crater at a depth of less than 5 km.
Using data provided by two (2) inclinometers, electronic measurement of the volcano surface deformation it was observed minor variations that do not allow to deduce that there is a direct relationship between the deformation of the measured surface and an internal activity of the volcano.
No abnormalities were reported in sulfur dioxide emissions (S02) to the atmosphere.
No thermal warning was reported in the area associated with the volcano , according to data released by the MODVOLC.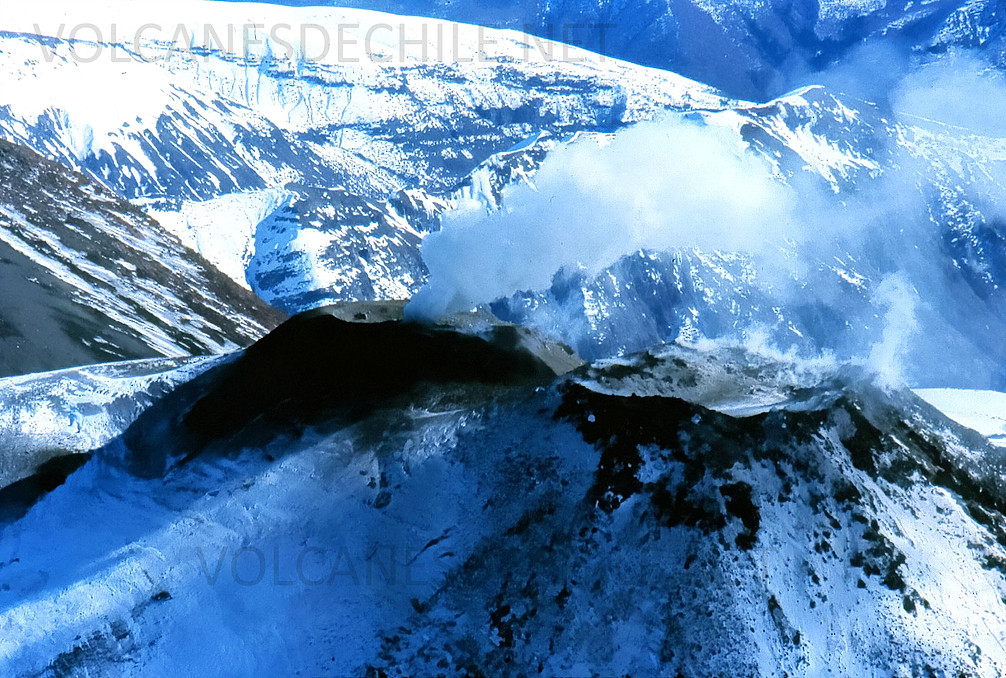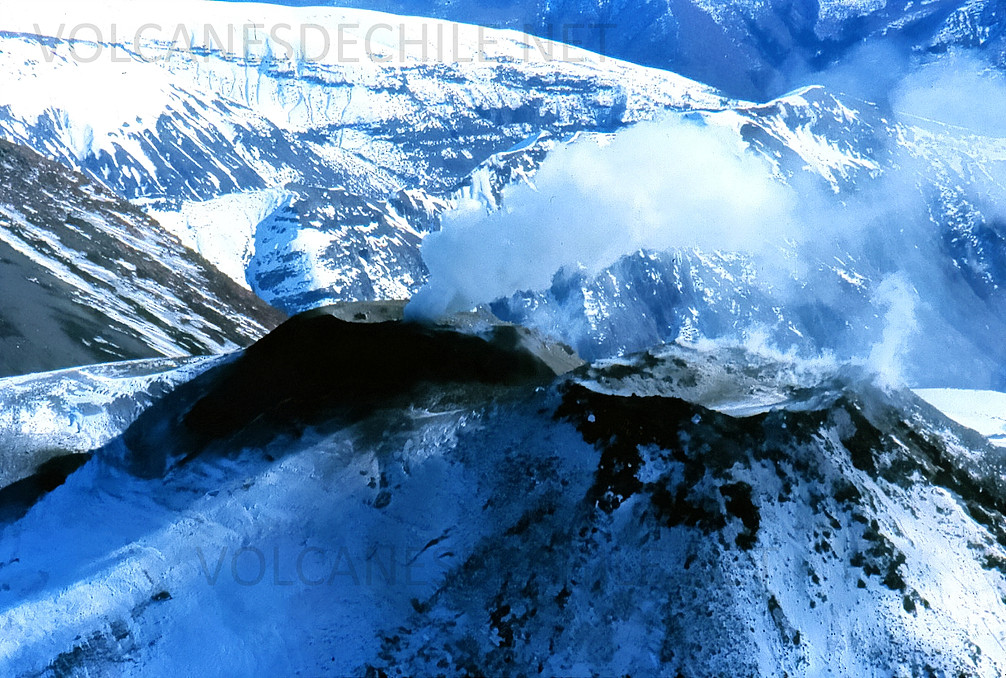 Monitoring parameters indicate that the volcanic system continues in depth with a dynamic which, although with low energy / moderate, reflecting an ongoing process that involves a magma body without real influence with the superficial system. In the current context of activity there is a possibility of development of a direct interaction between these two systems, which could generate explosive activity affecting areas near active craters and / or low ash emissions with moderate magnitude . Therefore, the volcanic alert remains in YELLOW and an exclusion radius is suggested for the population of 1 km around the active crater.

Source : Sernageomin
Photos : Volcanes de chiles.