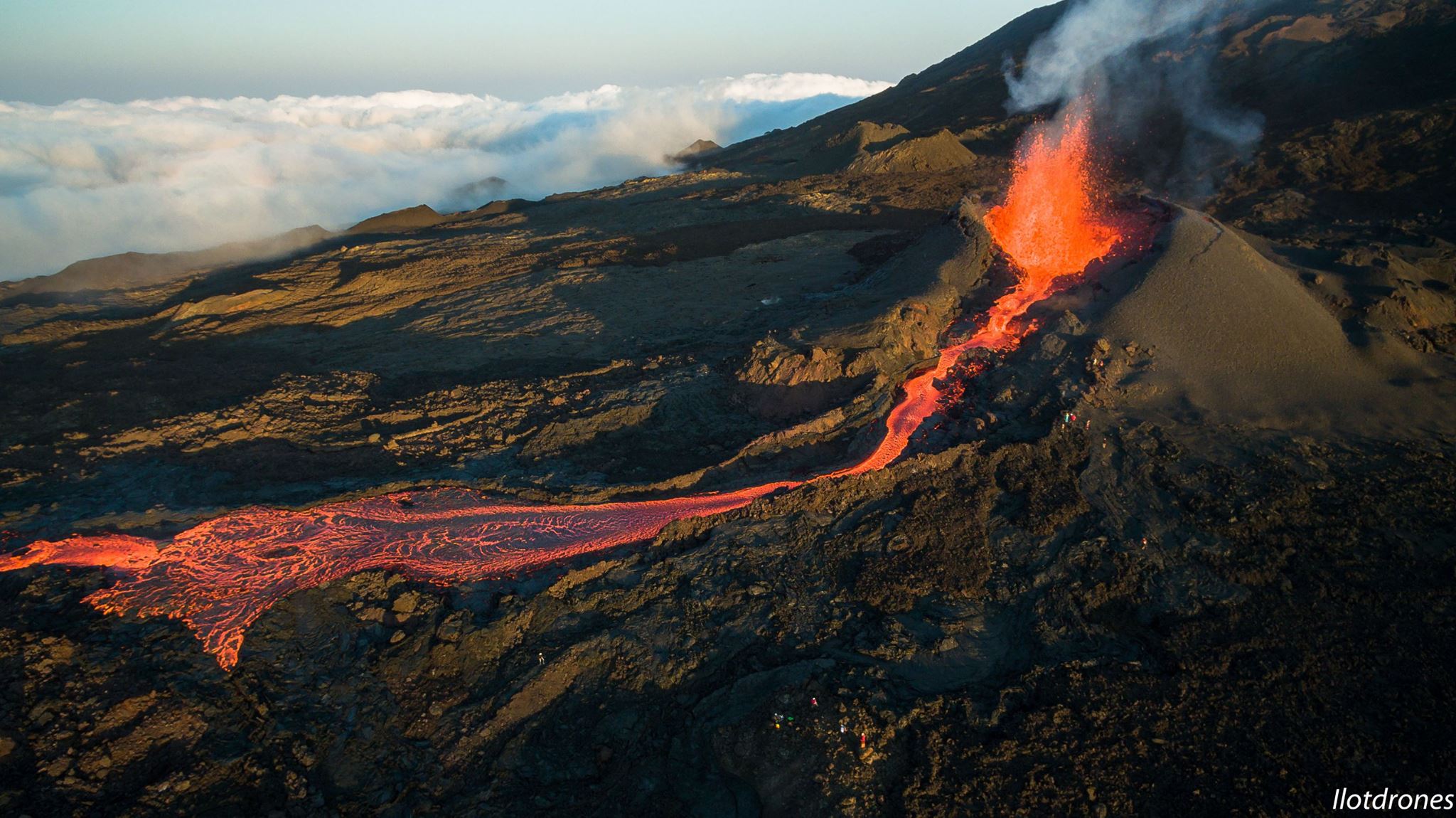 September 18 , 2016. Sabancaya , Piton de la Fournaise , Santiaguito .
September 18 , 2016.
Sabancaya , Peru :
Seismic activity:
The Hybrid type events (HIB associated with the rise of magma material) show a significant increase in their numbers for this period, averaging 14 HIB / day, while the previous period had recorded 03 HIB / day (report No. 27-2016). As regards their energy, it shows a slight increase for that period.
LP-type events (associated with volcanic fluid passage) show a decrease for this period, averaging 22 LP / day (Report No. 27-2016 = 27 LP / day). As regards their energy it is still at low levels.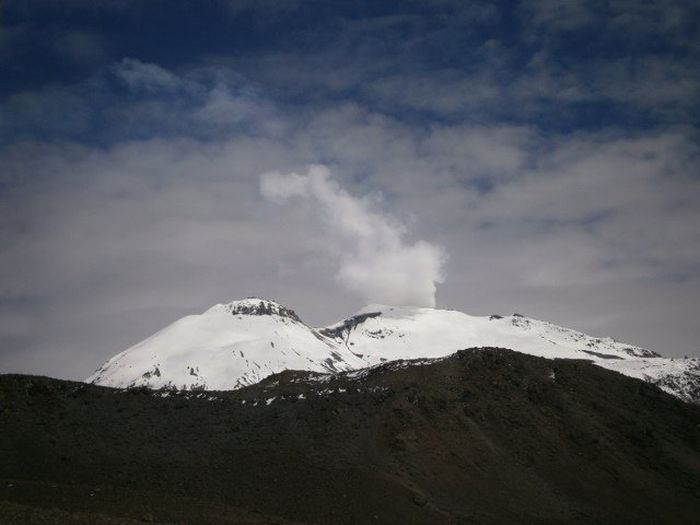 VTPS type of events (Volcano–Tectonic proximals, located less than 6 km from the crater), show a 50% increase in number from 3 VTP / day (Report No. 27-2016) at 6 VTP / day this period. The magnitude of these earthquakes has also increased, recording two events of M 3.0 and M 3.1 on September 03 and 04  , respectively. Tremor type of events (TRE) continue to maintain their level of occurrence, which is an average of 20 TRE / day. As regards their energy it is still at low levels.

VT fracture or distal type of events (EDV) situated and plotted , continue to present two seismic sources. The first focus is located 9 km southeast of the town of Maca and 14 km in the North East of  the crater of the Sabancaya. We must highlight a M3.9 event registered on 9 September with a depth of 8 km. The second seismic focus is located 25 km North-Est of the crater area, toward Ichupampa. In this area, it is revealed two earthquakes of M 3.7 and M 3.8, recorded the 03 and 11 September, respectively, to the low depth of 8 km. The VTPS events (proximal–Tectonic Volcano, located less than 6 km from the crater) were present in greater numbers than in the previous period. They include both the events recorded on 03 and 04 September , with magnitudes of M3.0 and  M3,1, with a depth of 9 km and 15 km, respectively.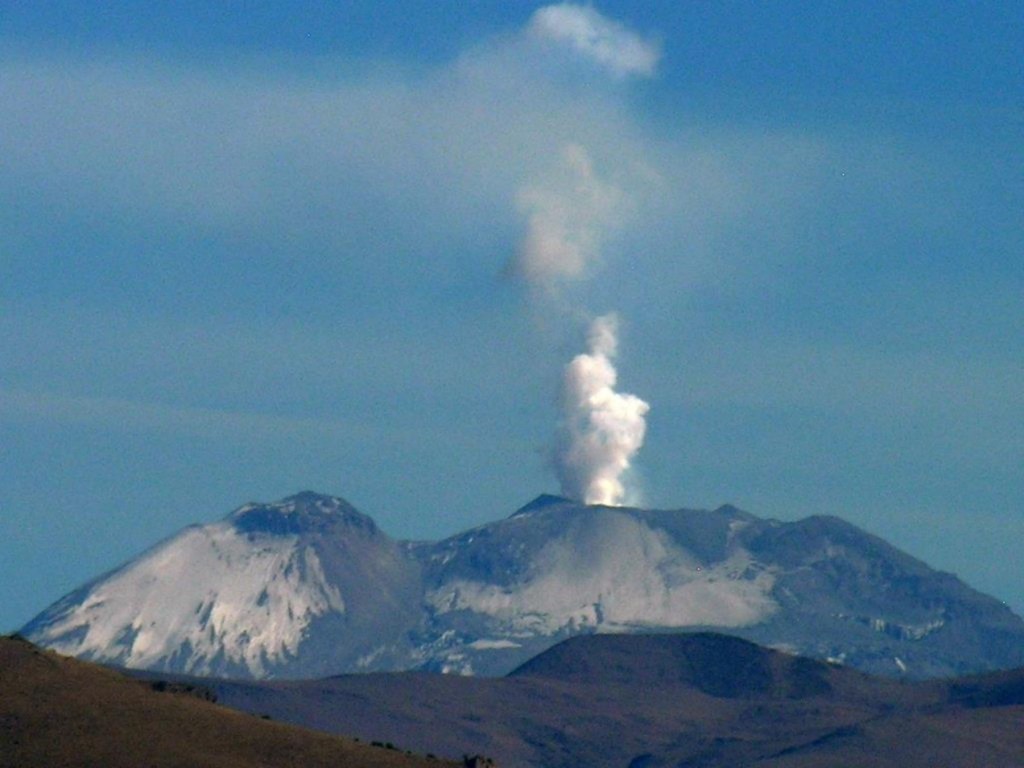 Fumaroles
Frequency: The emission of fumaroles was constant during this period (from 01 to 15 September). These fumaroles were low and medium density.
Colouring: Mainly emissions are whitish (water vapor). Sporadically colored bluish emissions (magmatic gases) low consistency were distinguished.
Height: The fumaroles expelled by the Sabancaya reached an average height of 1,500 meters above the base of the crater, which does not show a greater variation with that seen in recent weeks.

Source : IGP
Piton de la Fournaise , La Réunion :
Eruption underway in the Enclos Fouque at the level of the northern flank of the volcano.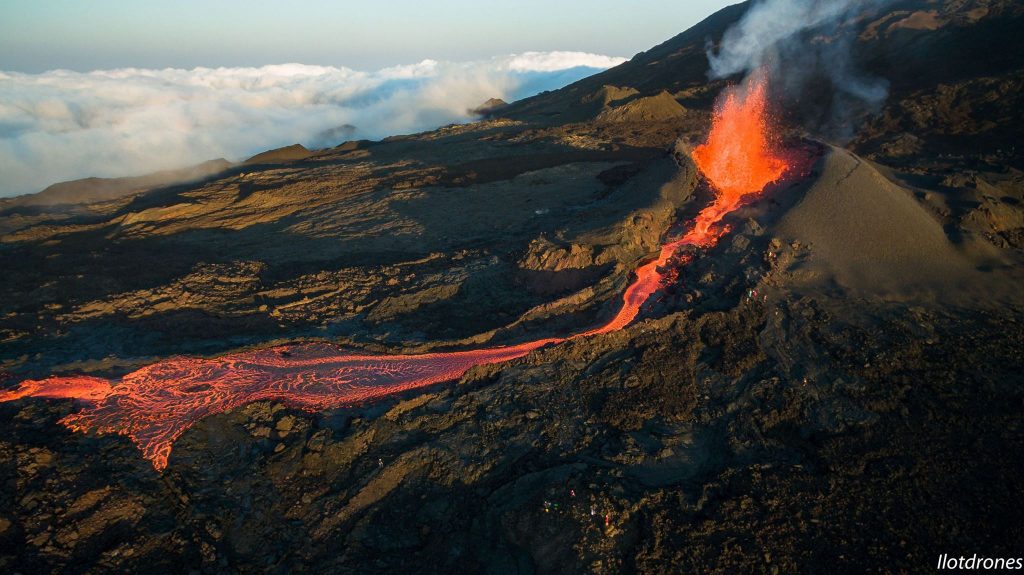 Information on September 17
Despite some fluctuations, the volcanic tremor (indicator of eruptive intensity surface) is relatively stable for 4 days. Remember that the evolution of this parameter downward as well as up, can change quickly depending on the depth supply variations.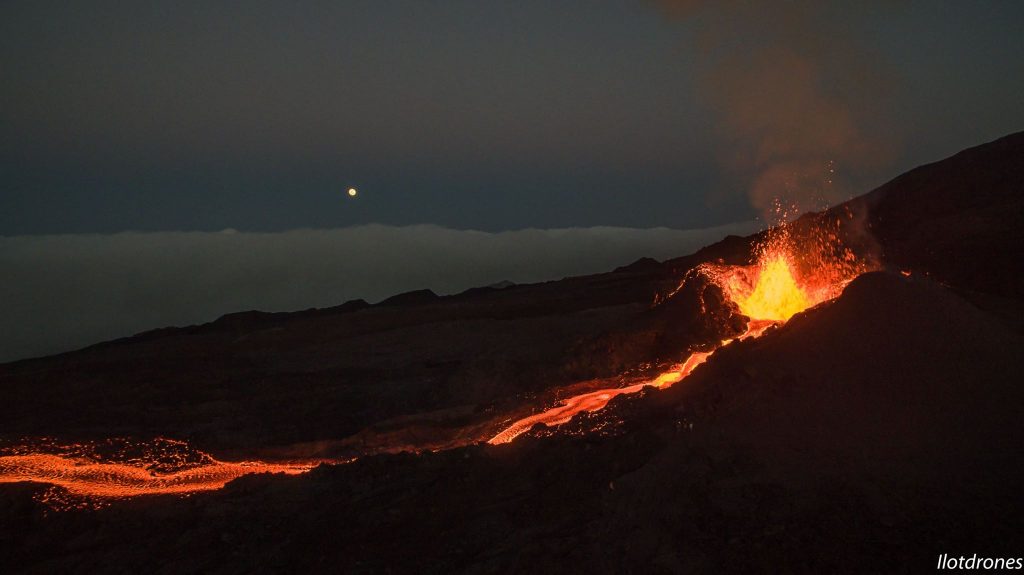 Observations of September 17, 2016
Observations show that the main cone continues to build around fountains of lava about fifty meters. The second cone with more modest dimensions, and fused upstream of the latter, has experienced a resurgence of activity today with the issuance of more ash plumes. Thus two lava fountain systems are visible. The main cone is broken on its northern side, and a flow escapes towards the northeast. The front of this flow, still lying under the cloud layer, could not be located.
Source : OVPF
Photos : Ilotdrones.
Santiaguito , Guatemala :
After several days without explosions, the observatory of Santiaguito volcano and the seismic stations Stg3, reported and recorded at 21:40 (local time) a strong explosion, Vulcanian accompanied by rumbling. The explosion generated a thick column of gray ash that reached 5,000 meters (16,404 feet), and moved in the southwest direction over a distance of 30 kilometers, but that, in the coming hours could pass over a greater distance and discharge his ashes on Coatepeque, Malacatán and other villages in the area. The probability of ash fall on the city of Quetzaltenango is not excluded.
This activity of the Santiaguito volcano, continue to generate such events, it is necessary to take precautions and avoid staying near the volcanic area. And to take precautions because these ashes contaminate drinking water and cause damage to health.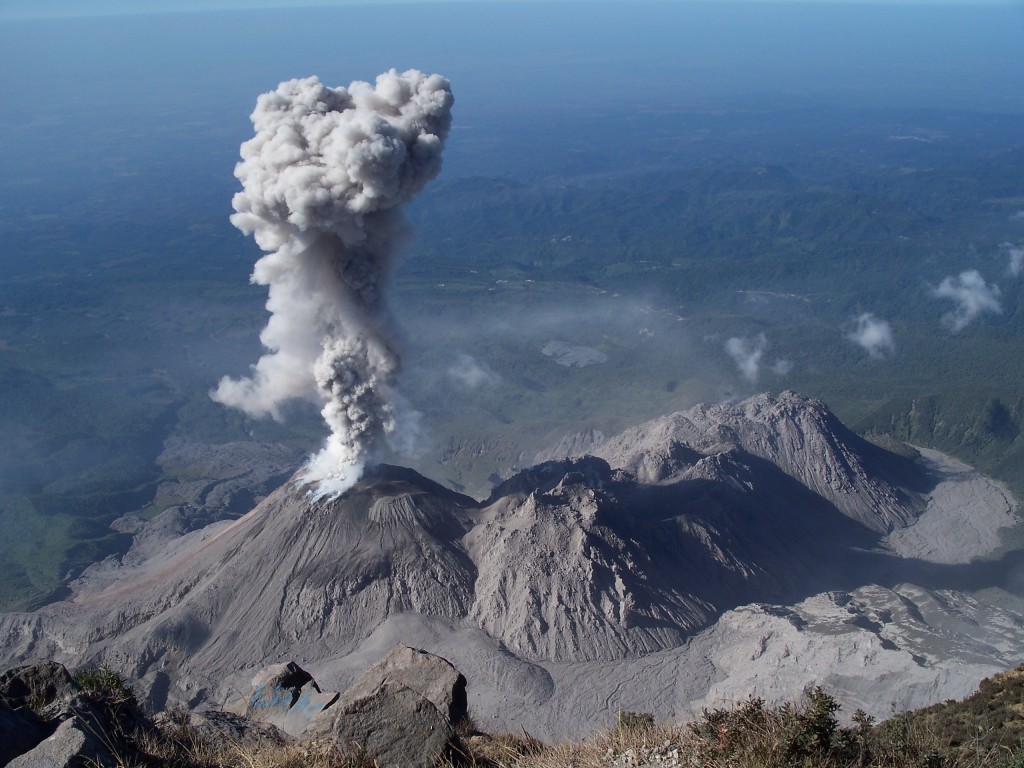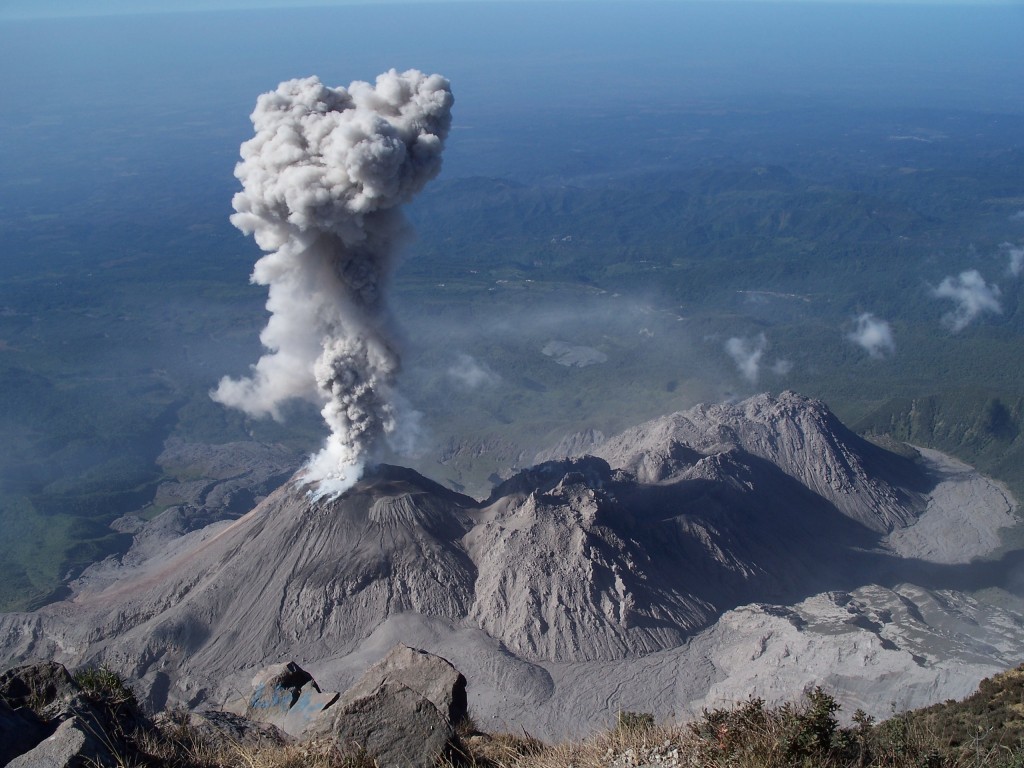 Therefore, the INSIVUMEH recommends:
At CONRED to take precautions, especially for the air near the volcanic complex, mainly due to ash falls that can contaminate water and cause respiratory problems.
At the Directorate General of Civil Aviation, to take precautions with air traffic as ash move in a direction West and Southwest, at a height of 5000 meters (16404 feet), over distances greater than 30 kilometers with opportunities for change in wind direction.
Source : Insivumeh