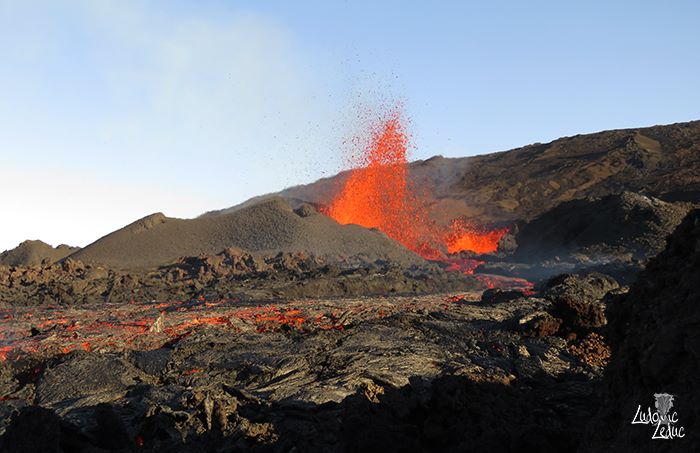 September 15 , 2016. EN. Piton de la Fournaise , Kilauea , White Island , Fuego .
September 15 , 2016.
Piton de la Fournaise , La Réunion :
ALERT LEVEL: 2-2 Alerts – ongoing eruption in the Enclos
Eruption in progress in the Enclos Fouque at the northern flank of the volcano.
Information September 14
The eruption started on September 11 at 8:41 (local time) continues. After increasing in the late afternoon on September 13 (14h – 20h UTC), the volcanic tremor (indicator of eruptive surface intensity) has stabilized again. No major changes were observed today. Remember that changing this setting down as well as up, can change quickly depending on the depth supply variations.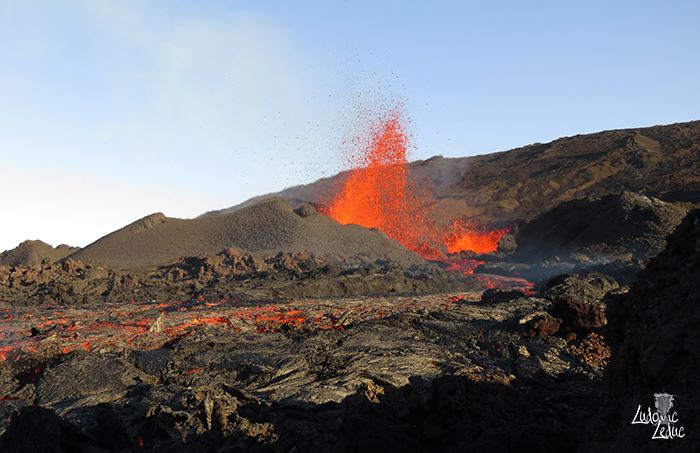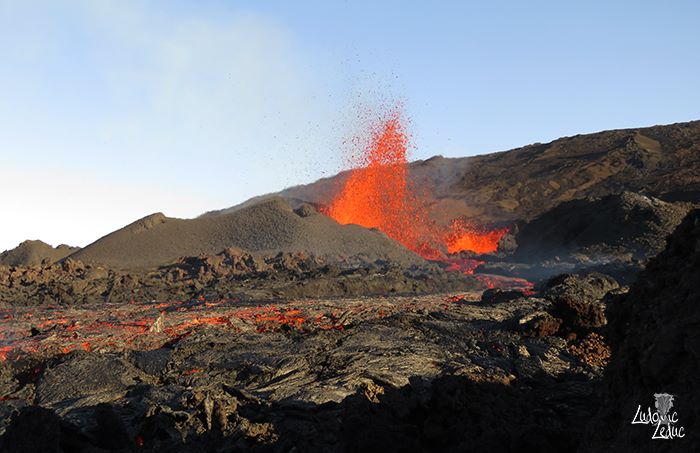 Field observations of 14 September 2016: Field observations made today by teams of OVPF show the construction of two volcanic cones on the lower part of the eruptive fissures that have opened on the 1st day. The northernmost cone is chipped northward where lava flows escape to the north northeast. The height of the lava fountains has been estimated at 20-30 m.
Source : OVPF
Photo : Ludovic Leduc
Kilauea , Hawai  :
19°25'16 » N 155°17'13 » W,
Summit Elevation 4091 ft (1247 m)
Current Volcano Alert Level: WATCH
Current Aviation Color Code: ORANGE
Activity Summary:
Kilauea Volcano continues to erupt at its summit and from its East Rift Zone. Summit tiltmeters recorded inflationary tilt, and the summit lava lake rose slightly. The 61g lava flow fed from Pu'u 'O'o in the East Rift Zone has been entering the ocean at Kamokuna and there were breakouts about 2 km (1.2 mi) inland from the coast yesterday. The 61g flow poses no threat to nearby communities.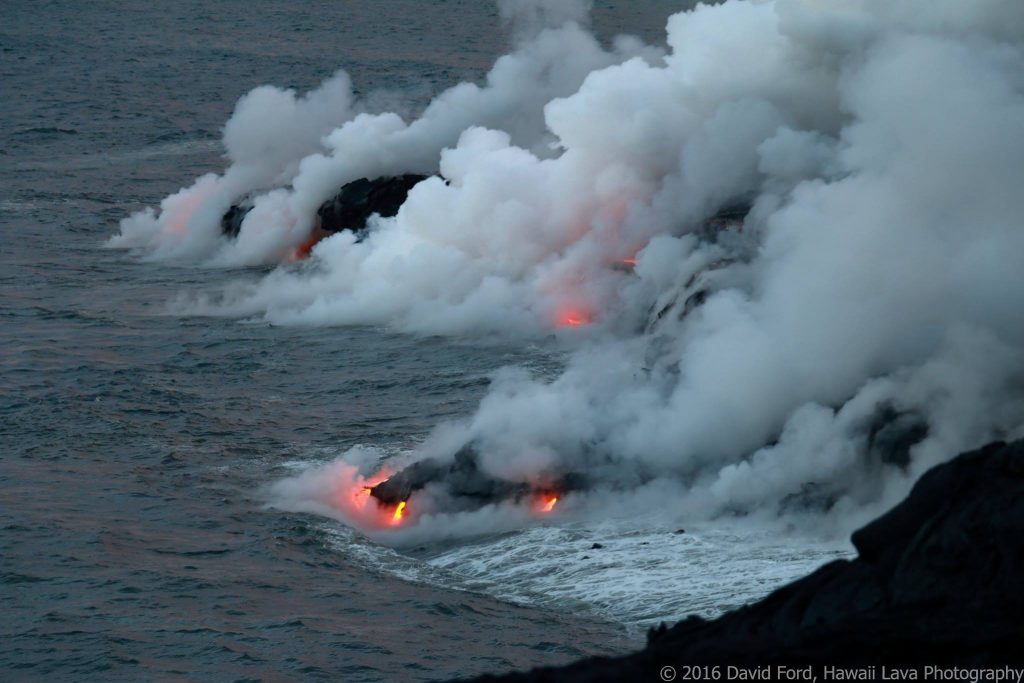 Summit Observations:
Summit tiltmeters recorded inflationary tilt over the past day, and the level of the summit lava lake rose slightly. The lake surface was about 11 m (36 ft) below the floor of Halema'uma'u this morning.
Summit seismicity was at typical levels, while volcanic tremor amplitudes continued to fluctuate in association with lava lake spattering. Average daily summit sulfur dioxide emission rates ranged from 4000 to 5700 metric tons/day over the past week. GPS and InSAR data show continued long-term inflation of the summit magma reservoir complex, ongoing since 2010.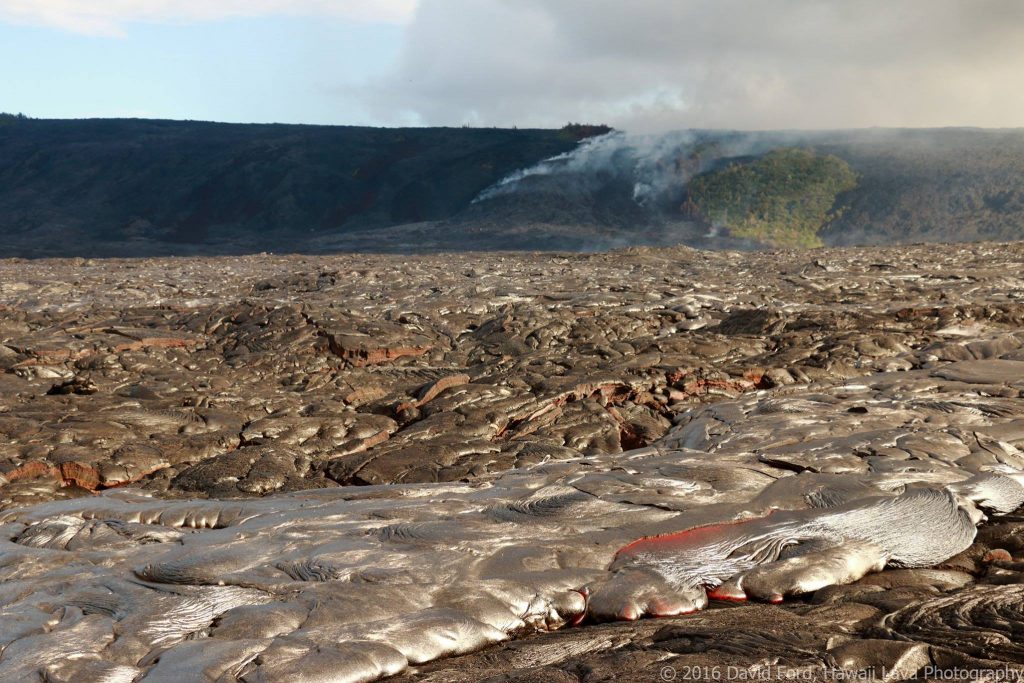 Pu'u 'O'o Observations:
There were no noteworthy geological changes at Pu'u 'O'o over the past day, nor were there any significant changes or trends in seismicity or surface deformation. The sulfur dioxide emission rate from all East Rift Zone vents was about 270 metric tons/day when last measured on September 7.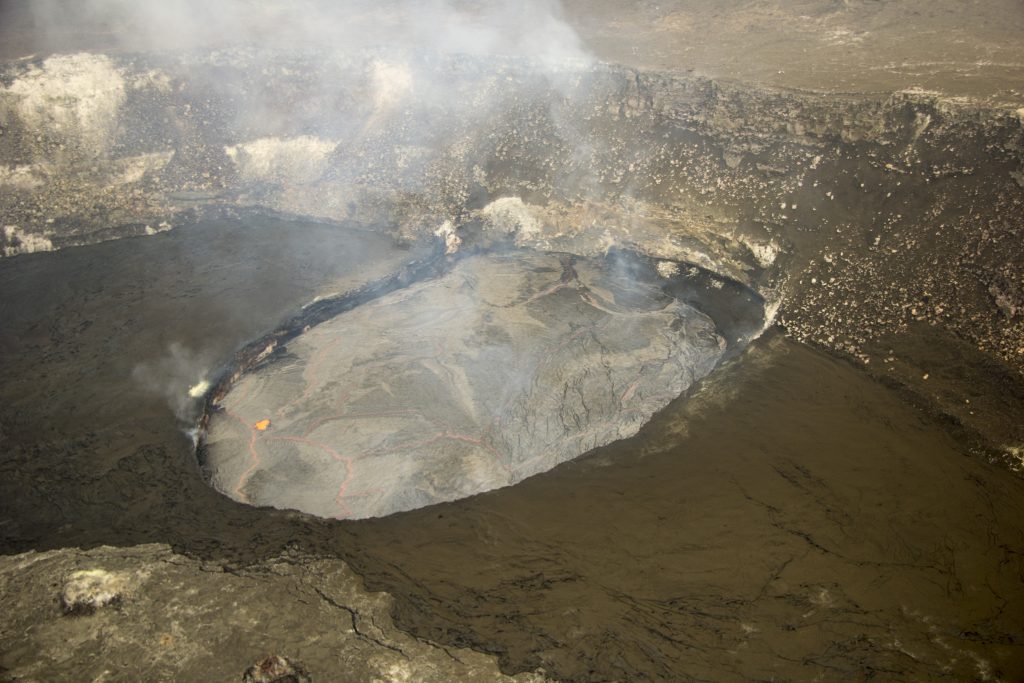 Lava Flow Observations:
The 61g lava flow, extending southeast from Pu'u 'O'o on Kilauea's south flank, continues to supply lava to the ocean near Kamokuna. Active breakouts were reported by University of Hawai'i geologists yesterday on the coastal plain about 2 km (~1.2 mi) inland from ocean entry.
Source : HVO
Photos : David Ford , HVO
White Island , New Zealand  :
Volcanic Alert Bulletin WI 2016/11:
12:15pm Thursday 15 September 2016; White Island Volcano
Alert Status:
Volcanic Alert Level is lowered to Level 2
Aviation Colour Code is lowered to Yellow
Observations from a visit to White Island on Wednesday suggest that the minor ash emission that occurred on Tuesday 13 September 2016 has ceased. The Volcanic Alert Level is lowered to 2, and the Aviation Colour code is lowered to Yellow.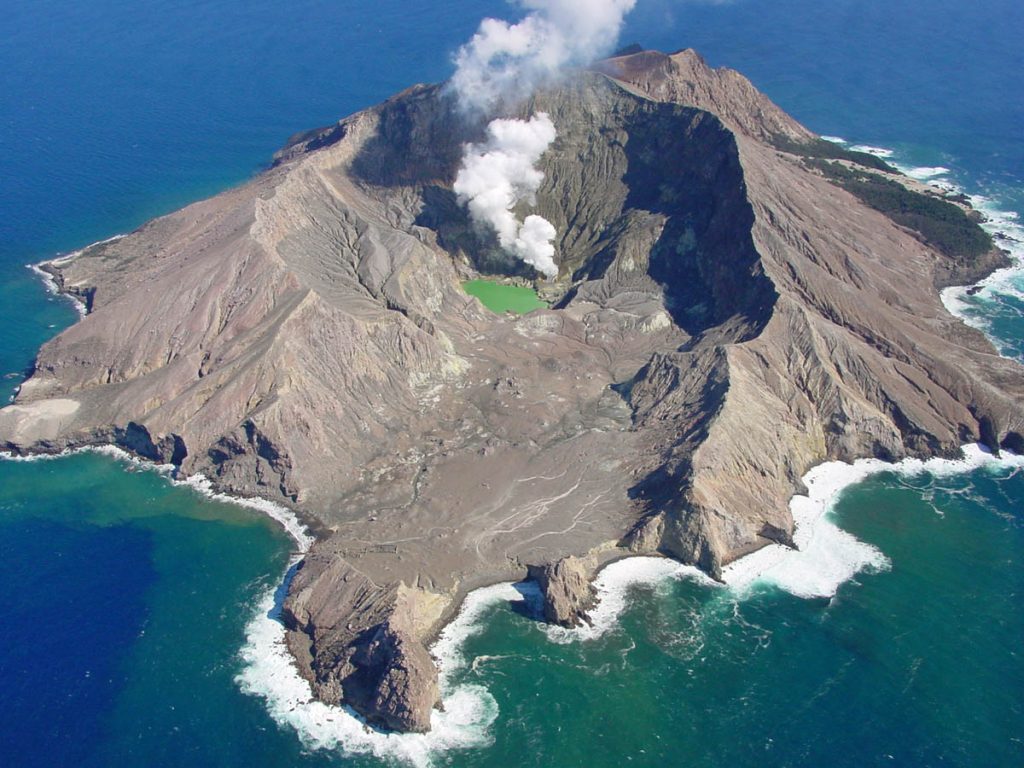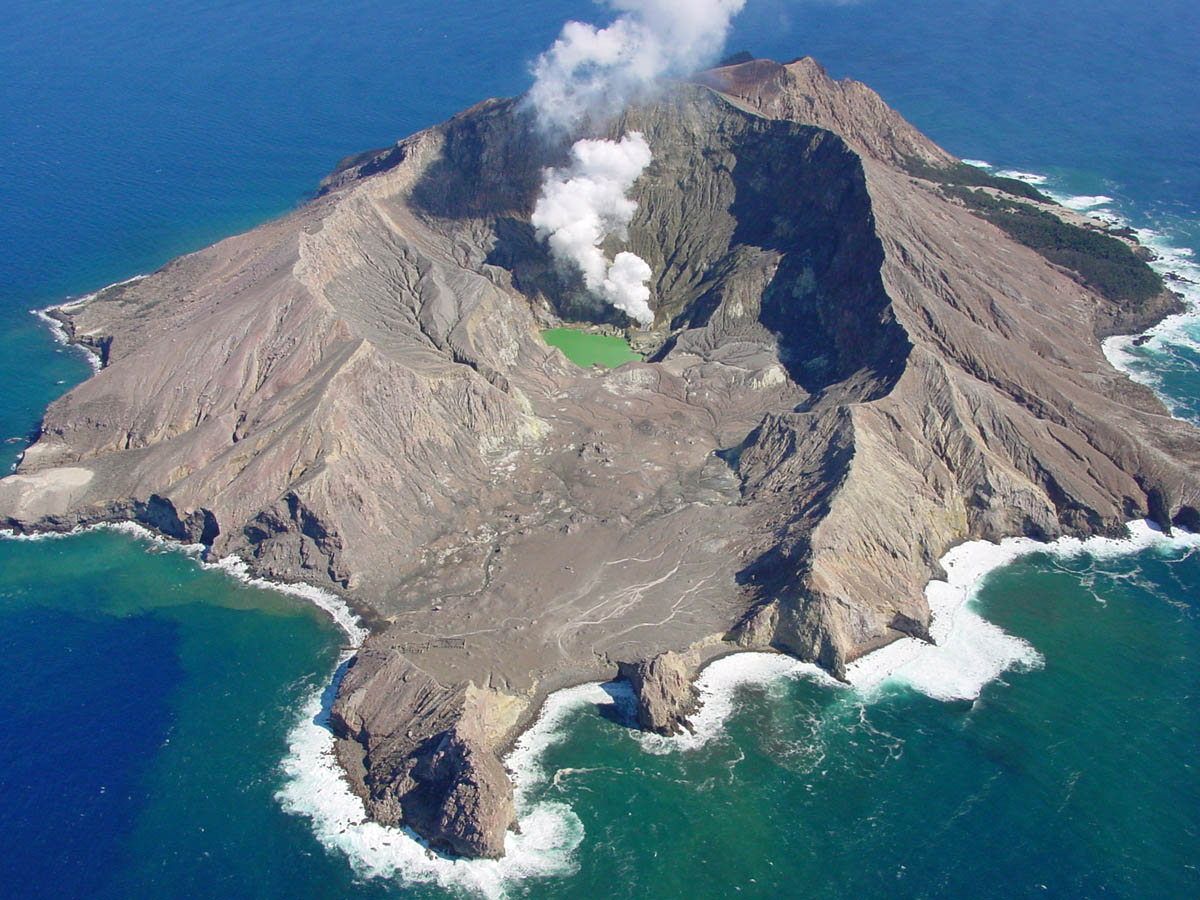 Analysis of ash collected on Wednesday shows no evidence that Tuesday's eruption was driven by new magma. Instead, gas flow dragged recently loosened material to the surface. Seismic and acoustic activity at remains low, and the gas flux from the island has not changed substantially since before Tuesday's eruption.
Although Tuesday's eruption has ceased, White Island is always capable of a new eruption at any time, without prior warning.
GNS Science continues to closely monitor White Island and our other active volcanoes through the GeoNet project. The Volcanic Alert Level ranges from 0 to 5 and defines the current status at a volcano. Aviation Colour Codes are based on four colours and are intended for reference only in the international civil aviation community.
Source : Geonet / Steven Sherburn

Photo : epod.usra.edu
Fuego , Guatemala :
Activity type : vulcanian
Morphology : composite stratovolcano
Geographical location: 14 ° N Latitude 28'54˝; W. Longitude 90 ° 52'54˝
Altitude: 3,763msnm.
Conditions: Clear.
Wind: East 5 km / h.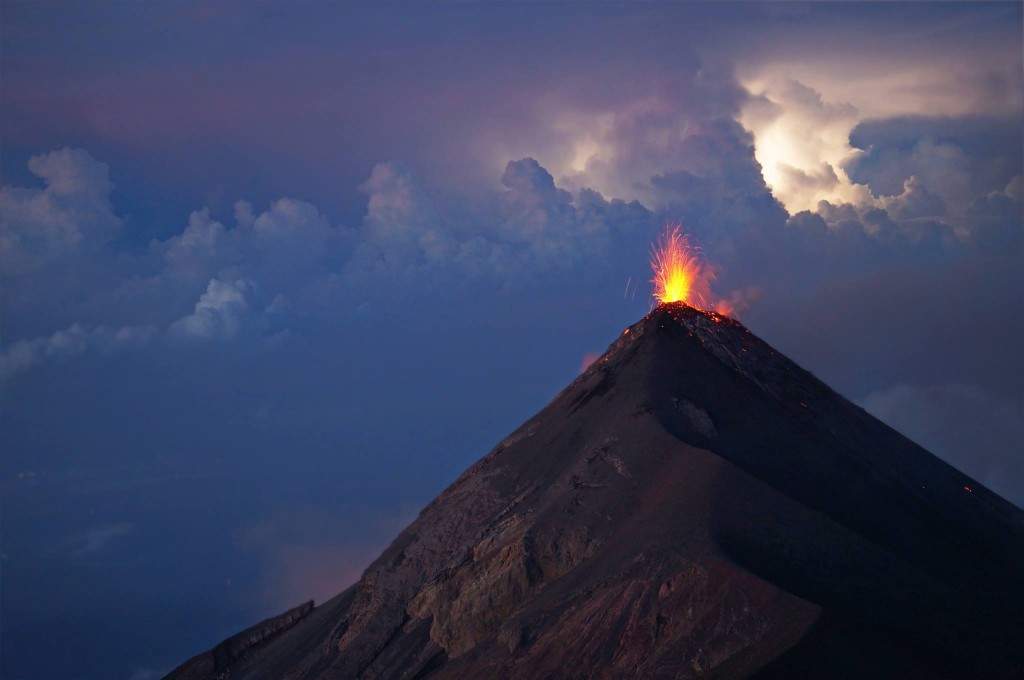 Activity:
In the crater, white and blue fumaroles, explosions, low to moderate, accompanied by columns of ash up to 4,500 meters (14.764 feet) were observed. They were scattered to the west and the southwest of the volcanic complex. Some explosions generated moderate rumblings. At night, glowing pulses were observed at 100 meters high, with avalanches of blocks   .
Source : Insivumeh.