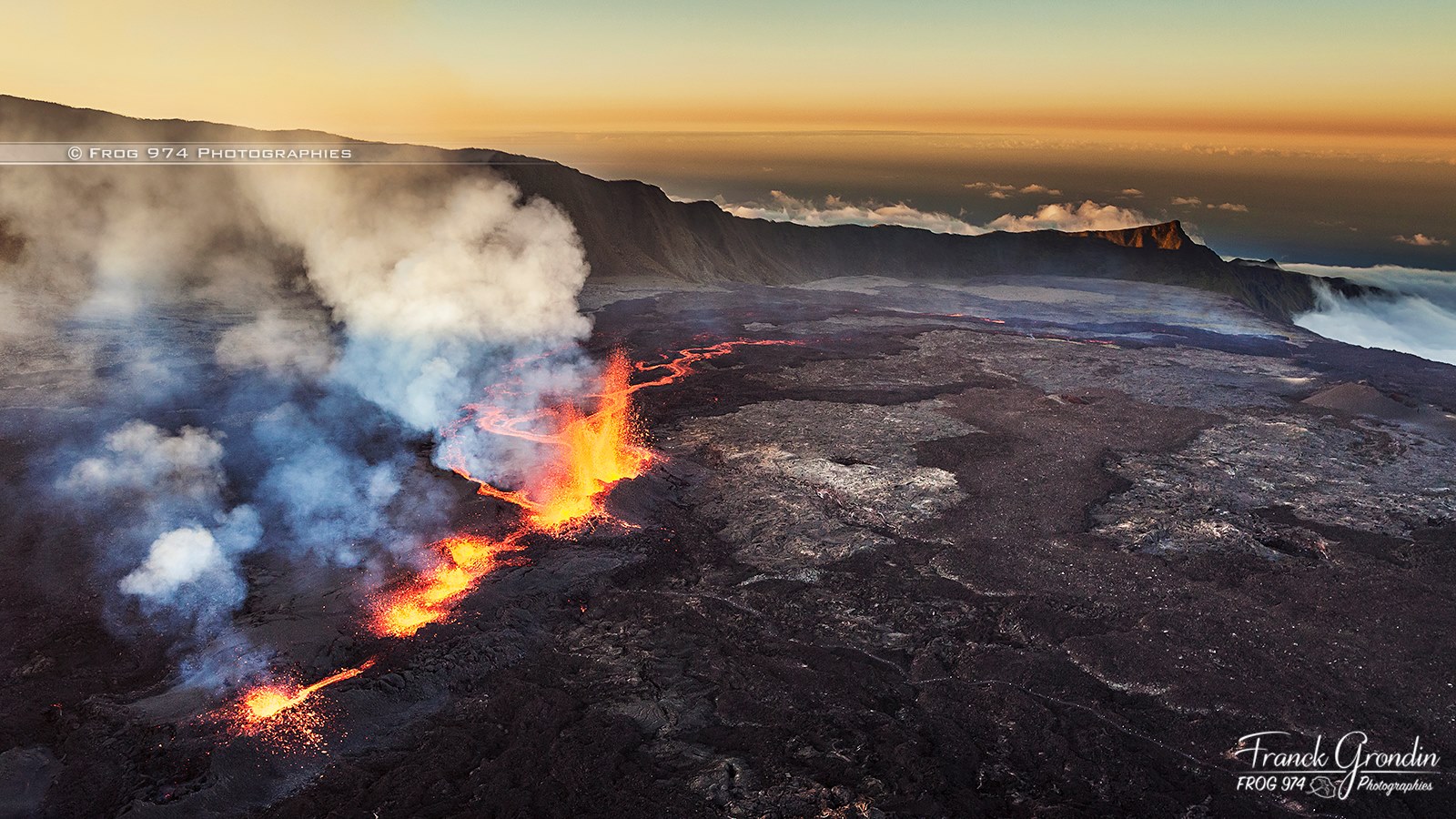 September 12 , 2016. EN. Piton de la Fournaise , Kilauea , Katla , Santiaguito .
September 12 , 2016.
Piton de la Fournaise , La Réunion :
09/11/2016.
ALERT LEVEL: 2-2 Alerts – ongoing eruption in the Enclos
Current eruption in Enclos Fouque at the level of the northern flank of the volcano.
After a seismic crisis started at 7:35 (local time), the eruption began at 8:41 (local time). Several eruptive fissures have opened on the northern flank of the volcano between the area Puy mid-coast and the eruption site of July 2015 (on the floor of Enclos Fouque). At 11:15, the observations made on the ground point to a dozen of active lava fountains (15-30m high) distributed over several hundred meters. The flow is currently moving towards large slopes.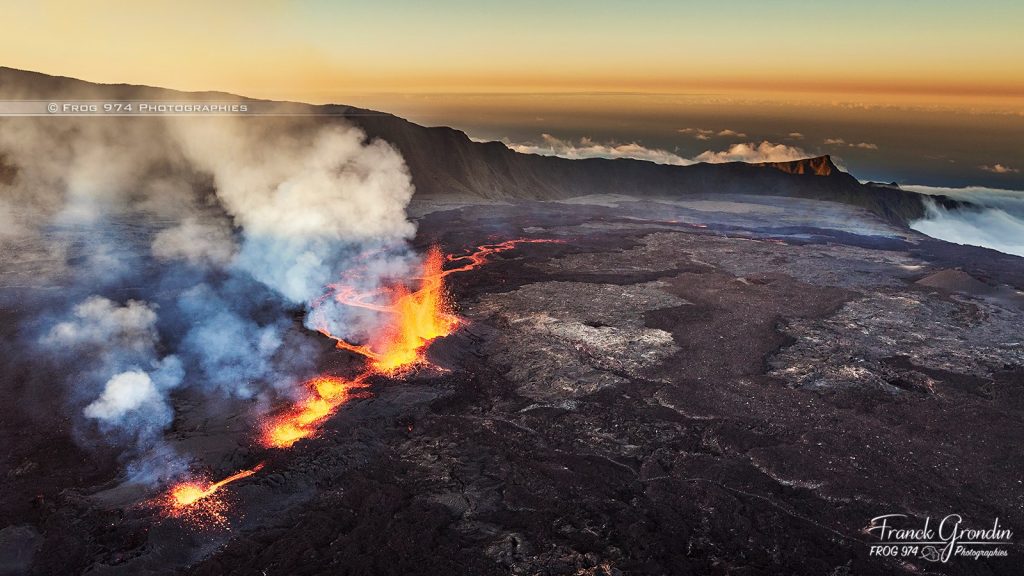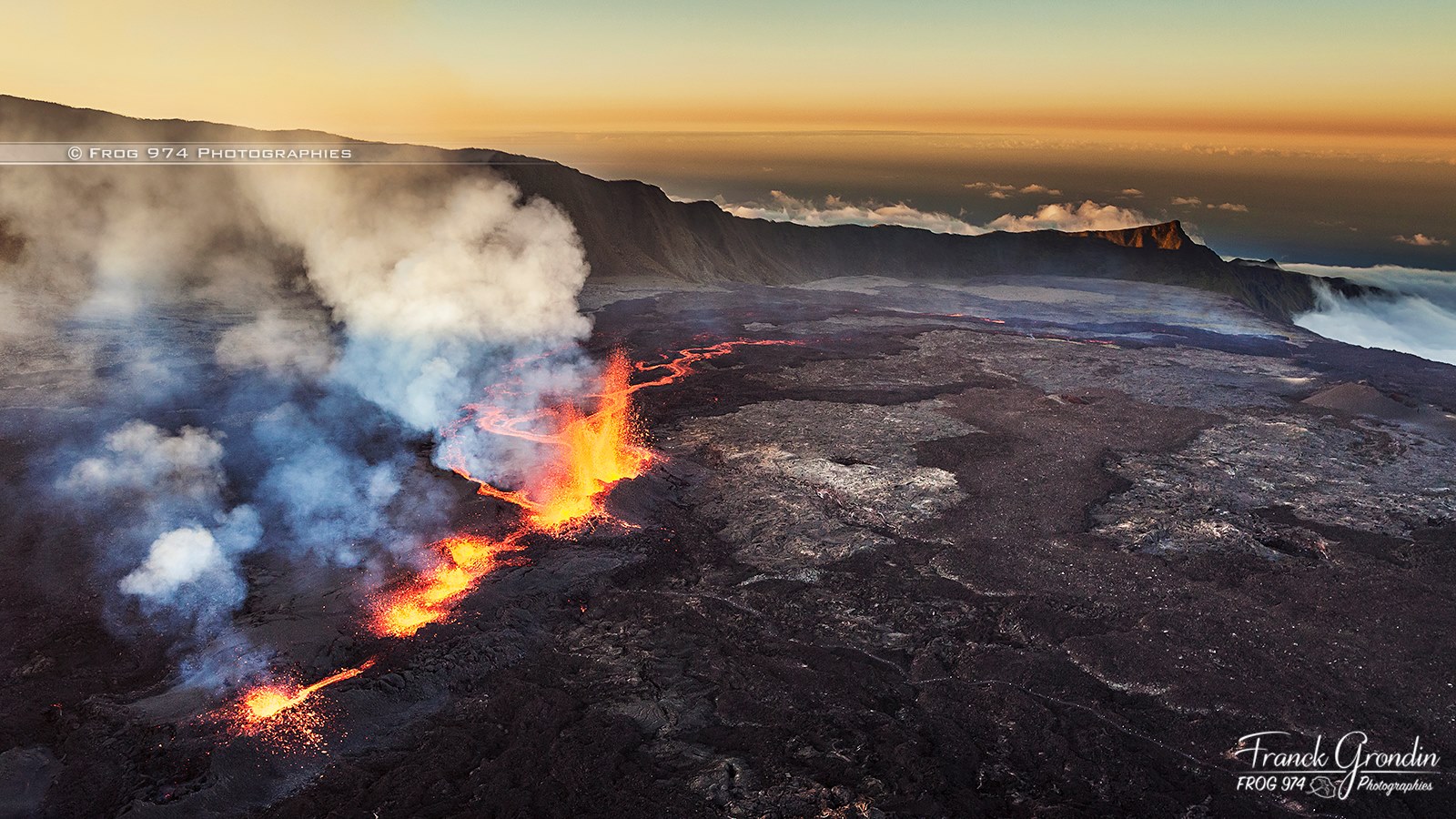 Seismicity
After a month's lull, seismicity has resumed on September 10 with dozens of earthquakes. On September 11, at 7:35 (local time), a seismic crisis started (several earthquakes per minute) and was followed at 8:41 by volcanic tremor synonymous of the arrival of magma at the surface and the beginning of the eruption.
Deformation
The seismic crisis that began at 7:45 was accompanied by deformation of the volcanic edifice confirming the injection of towards the surface.
Geochemistry of gas
An increase of SO2 emissions in the fumaroles of the summit was observed on 10 September.
Alert level Alert 2-2, Current Eruption in the Enclos Fouque, northern sector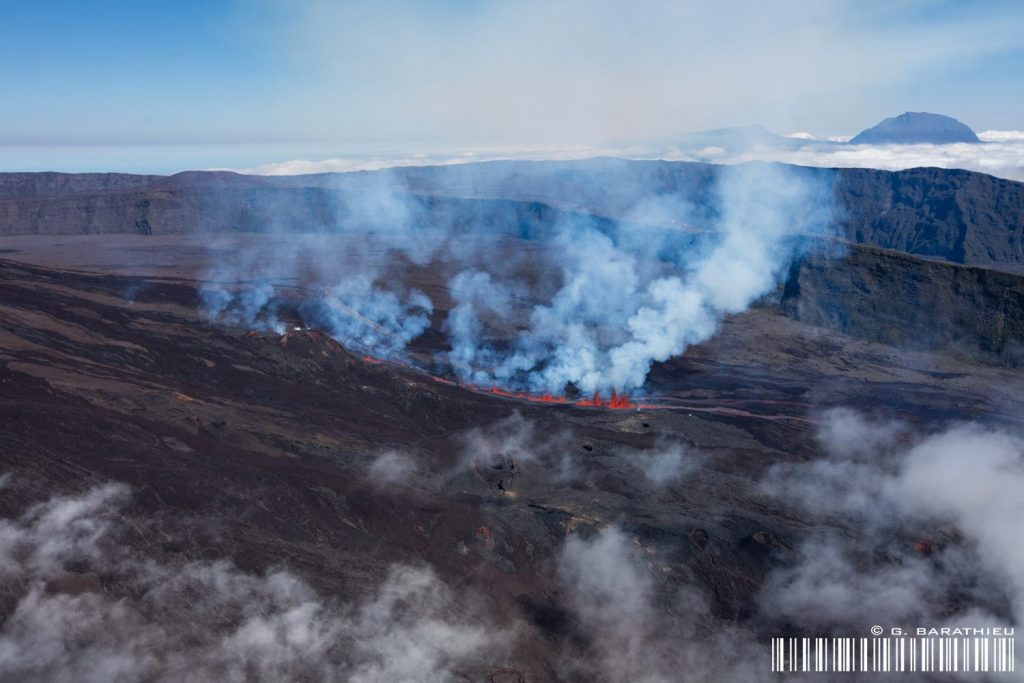 The early signs of this eruption were low. This is to link with the signals (including inflation) from June and late July. On these two periods an inflation and a volcano seismicity were recorded, indicating of the arrival of magma in the shallow magma chamber. These signals were not followed by eruption but showed that the magma had already been accumulated in the shallow magma chamber, explaining how quickly the occurrence of this eruption without precursors side.
The various surveys conducted by teams of OVPF on the ground and by helicopter have allowed us to establish a first map of location of cracks and the front of the flow, located at 17.30 yesterday about 250m to the broken of large slopes).
Location Map of eruptive fissures (white lines) and the flow front at 16: 54, September 11, 2016.
09/12/2016.
Activity level
The eruption that began yesterday at 8:41 (local time) continues. After decreasing by a factor of 4 in the day of yesterday, the volcanic tremor (indicator of eruptive surface intensity) has been stable since 9:00 p.m. yesterday (11 September).
Evolution of the RSAM (indicator of volcanic tremor and the intensity of the eruption) from 7.00 (3h UTC) on September 11 and 6:00 (2 hours UTC) on September 12 for the seismic station Faujas, located on the north side of the volcano .
The high deformations that accompanied the migration of magma towards the surface (between 7:30 and 8:41 on 11 September) halted at the opening of eruptive fissures.
The emission rate of SO2 recorded by the OVPF station at Piton Partage were close and sometimes superior to those of the most intense phase of the eruption of August to October 2015, be on the order of 10 kton / day.
Alert level: 2-2 Alerts – ongoing Eruption in the Enclos
No seismicity.
Source : OVPF
Photos : Franck Grondin , G Barathieu , Lionel Petit .
Kilauea , Hawai :
19°25'16 » N 155°17'13 » W,
Summit Elevation 4091 ft (1247 m)
Current Volcano Alert Level: WATCH
Current Aviation Color Code: ORANGE
Activity Summary:
Kilauea Volcano continues to erupt at its summit and from its East Rift Zone. Summit tiltmeters recorded deflationary tilt overnight, and the level of Kilauea's summit lava lake dropped 10–15 m (33–49 ft). The 61g lava flow fed from Pu'u'O'o in the East Rift Zone continues to enter the ocean at Kamokuna and there were minor breakouts on the coastal plain inland from the coast yesterday. The 61g flow poses no threat to nearby communities.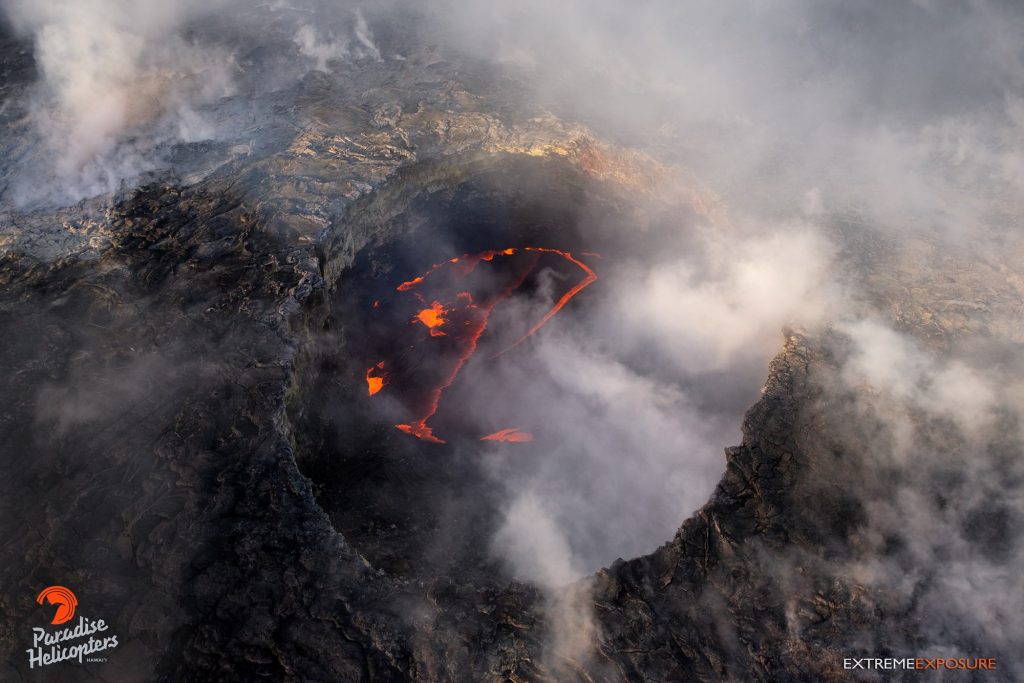 Summit Observations:
Summit inflation switched to deflation late yesterday afternoon. Deflation continued overnight and stopped this morning. The summit lava lake level, generally tracking the deflation, dropped to about 20 m (66 ft) below the floor of Halema'uma'u Crater by this morning. It is likely that the summit will begin to inflate, and the lava lake will begin to rise again, sometime today. Webcam views of the lava lake can be found at the following webpage: http://hvo.wr.usgs.gov/cams/region_kism.php.
There was an increase in summit seismicity during the day yesterday, probably in response to the relatively high summit pressurization, as illustrated by the high lava lake level. There was also a burst of seismicity, with one felt earthquake and several smaller events, early this morning along Kilauea's upper East Rift Zone. Volcanic tremor amplitudes continue to fluctuate in association with lava lake spattering. Average daily summit sulfur dioxide emission rates ranged from 4,000 to 6,300 metric tons/day over the past week. GPS and InSAR data continue to show long-term inflation of the summit magma reservoir complex, ongoing since 2010.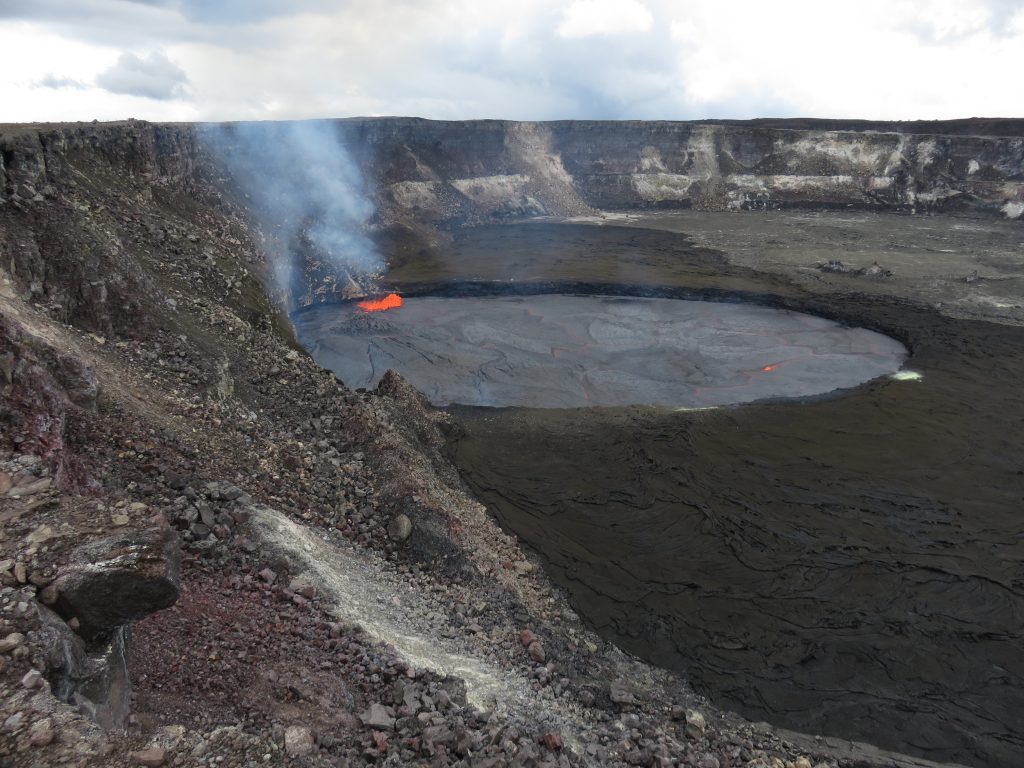 Kilauea's summit lava lake rose to within about 5 m (16 ft) of the floor of Halema'uma'u Crater this morning, before dropping back down slightly with the onset of spattering. This view, taken from the east edge of Halema'uma'u, shows spattering at the south corner of the lava lake.

 Pu'u'O'o Observations:
No noteworthy geological changes, or significant changes or trends in seismicity or surface deformation, were identified at Pu'u'O'o. The sulfur dioxide emission rate from all East Rift Zone vents was about 260 metric tons/day when last measured on September 1.
Lava Flow Observations:
The 61g lava flow, extending southeast from Pu'u'O'o on Kilauea's south flank, continues to supply lava to the ocean near Kamokuna. Small breakouts were active on the flow about 1.7 km (~1 mile) inland from coast yesterday morning.
Source : HVO
Photos : Bruce Omori , HVO.
Katla, Iceland :
Today, shortly before 14:00, a small earthquake swarm began in Mýrdalsjökull. The largest earthquakes of the swarm were of magnitude 3.3 and 3.0 at 16:12 and 15:57. More than 10 smaller earthquakes were detected in the swarm. All of the earthquakes were shallow and located in the caldera of Katla volcano. It is not unusual for seismic swarms of this type to occur in this area.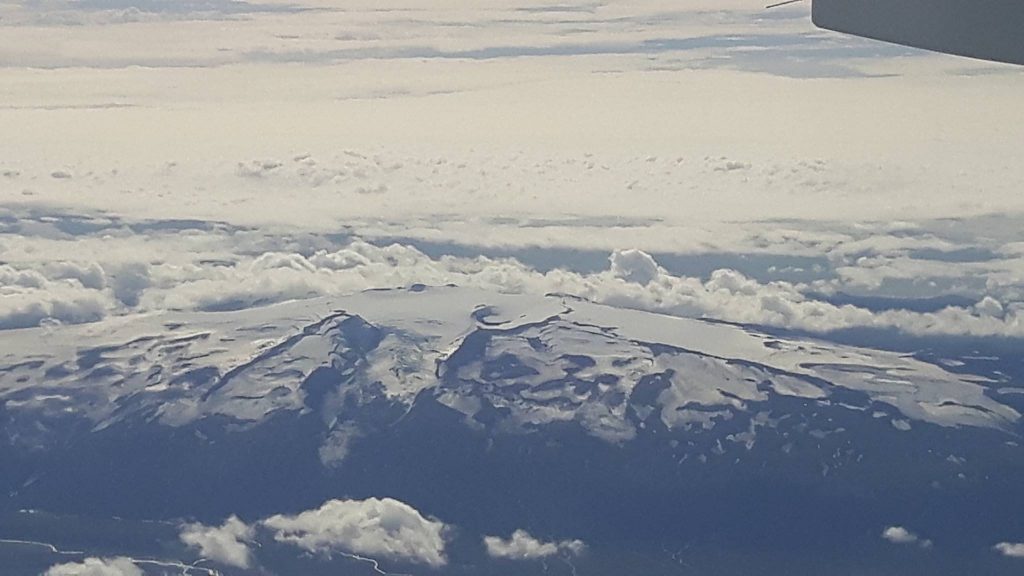 It is difficult to know if this earthquake activity was due to change in hydrothermal systems that exist in this area or due to magma or gas pressure changes. No harmonic tremor changes have taken place following this earthquake activity. Since the largest earthquakes happened the activity has quieted down considerably. This earthquake activity or a new one might start without warning in Katla volcano.

Source : IMO , Jón Frímann .
Santiaguito , Guatemala :
After several days without having an explosive activity, the observatory of the Santiaguito volcano and the seismic stations STG1, Stg3, reported and recorded yesterday September 11th, at 14h55,  a strong explosion, accompanied by rumblings. The explosion generated a thick column of gray ash that reached a height of about 5,000 meters (16,404 feet), directed towards West and South West , over a distance of 25 km, which ,  in the hours , could move over a greater distance. Ashes are likely to fall on Coatepeque, Malacatán and other cities in this direction, and we can not avoid the probability of ash fall on Quetzaltenango.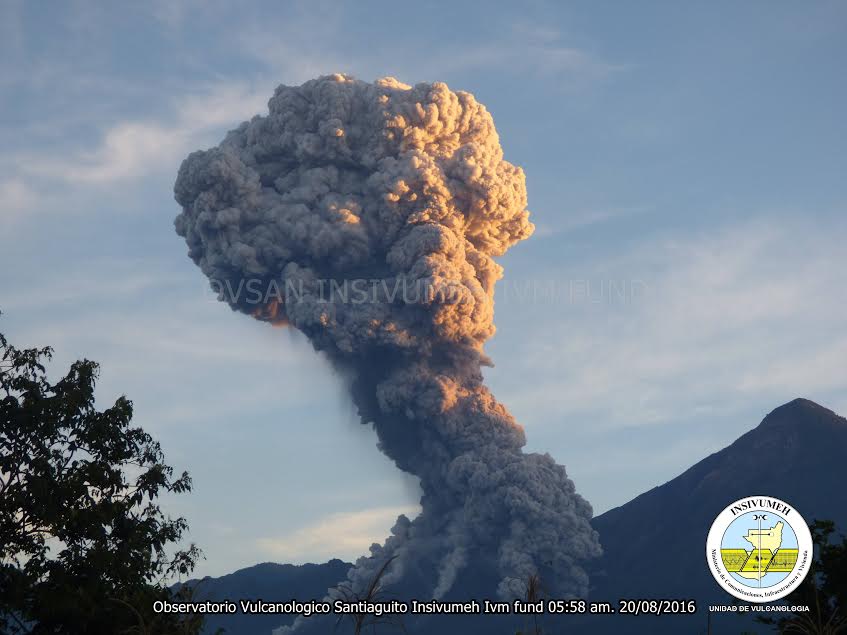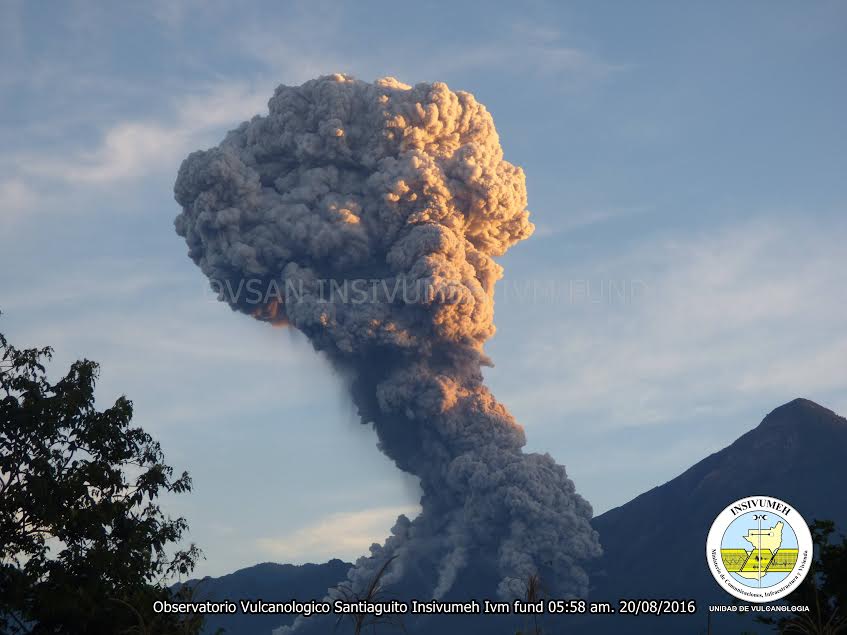 This activity of the Santiaguito volcano continues to generate such events, it is necessary to take precautions and avoid staying near the volcanic area. Also, take precautions because these ashes contaminate drinking water and cause damage to health.
Therefore, INSIVUMEH recommends:
At CONRED to take precautions, especially for the air near the volcanic complex, mainly due to ash falls that can contaminate water and cause respiratory problems.
At the Directorate General of Civil Aviation, to take precautions with air traffic because ash move to the West and south–west, at a height of 5,000 meters (16,404 feet) and over distances of more than 25 kilometers.
Source : Insivumeh
Photo : Archive insivumeh