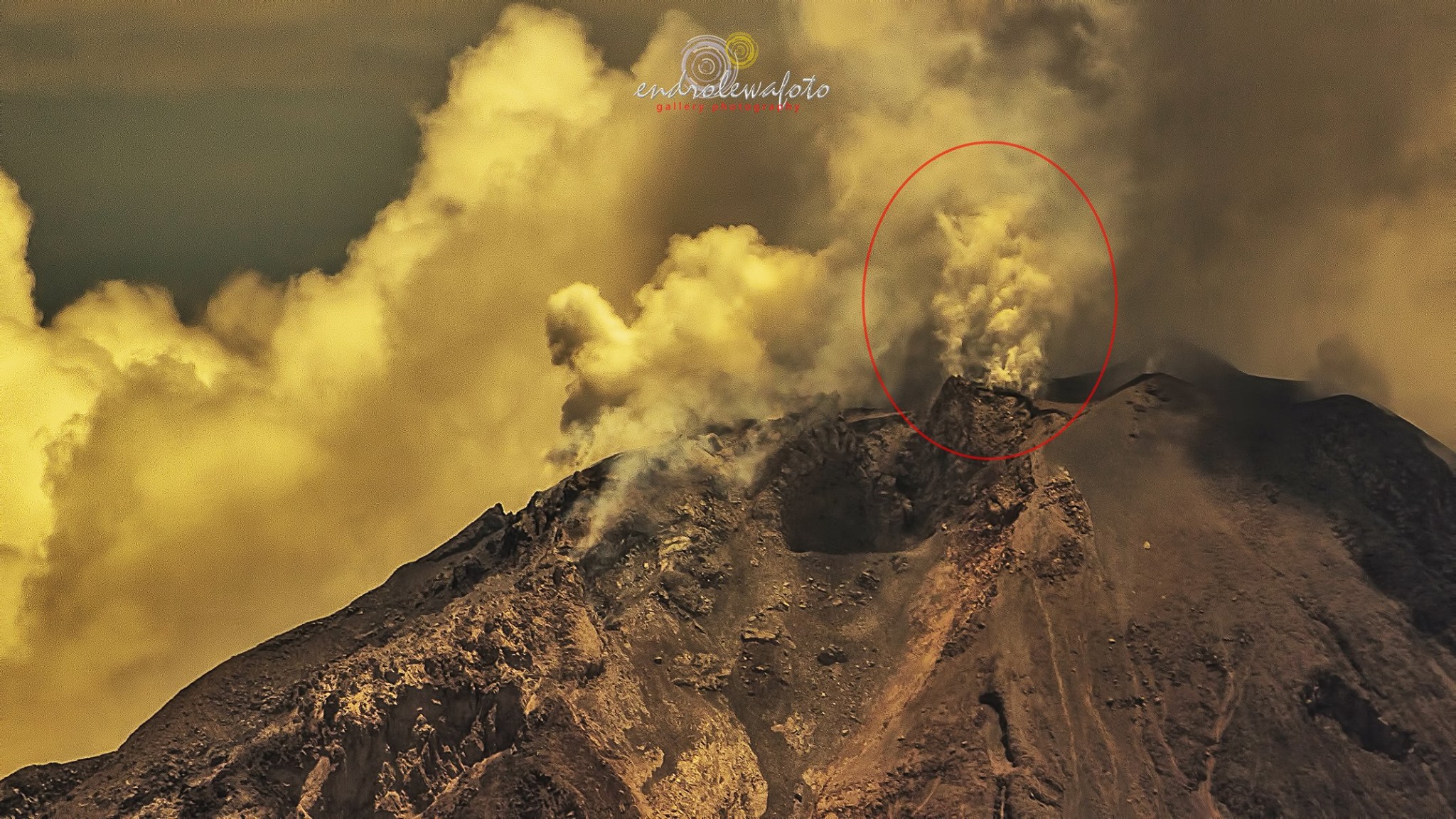 September 04 , 2016. EN . Ticsani , Kilauea , Cascades Range , Sinabung .
September 04 , 2016.
Ticsani , Peru :
Monitoring volcano – tectonics:
Earthquakes type VTS, associated with fracturing of rocks (less than 6 km from the crater), continue to be observed in decline, similar to the previous period, with an average rate of 12 VT / day.
Regarding the distal volcano-tectonic earthquakes (EDV), they decreased compared to the previous period, but they presented a seismic swarm with a total of 64 events on 25 August.
Tremor type of the events were observed sporadically. During this period, this type of earthquakes has accumulated a period of 10 minutes.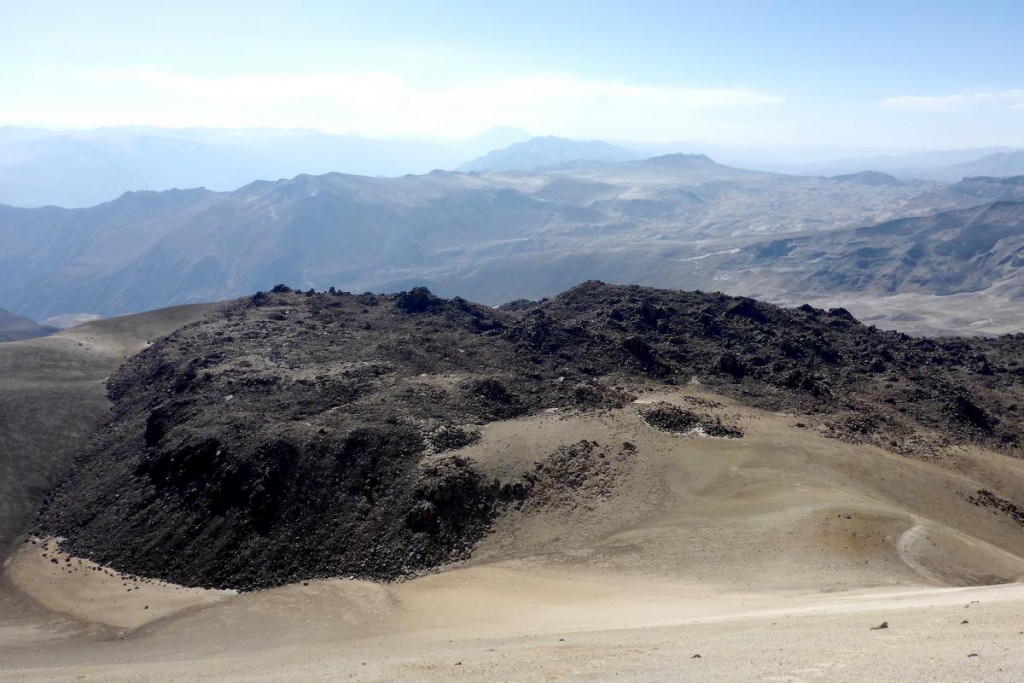 Location of event:
The spatial distribution of localized earthquakes (70 events) is mainly concentrated 6 km east of the volcano Ticsani.
This grouping was mainly recorded on 25 August. Fracture earthquakes have magnitudes between M 1.9  and M 3.5  , with depths of up to 11 km of the crater. During this period, it was highlighted the earthquake on August 25 at 3:25 local time (HL), which reached a magnitude of M 3.5 and was located in the East, 6.5km from the volcano Ticsani .
Satellite Surveillance:
Abnormalities of SO2:
The system satellite GSDM NASA   « EOS Aura » (http://so2.gsfc.nasa.gov/) recorded low density values of SO2 gas during this period.
Thermal anomalies:
The Mirova system (www.mirovaweb.it) did not detect thermal anomaly on the volcano Ticsani (VPR = 0 Mega Watts)
Source : IGP
Kilauea , Hawai :
19°25'16 » N 155°17'13 » W,
Summit Elevation 4091 ft (1247 m)
Current Volcano Alert Level: WATCH
Current Aviation Color Code: ORANGE
Activity Summary:
Kilauea Volcano continues to erupt at its summit and from its East Rift Zone. Summit DI cycling continues. The lava lake at Kilauea summit continues to circulate and spatter, with the surface of the lava lake as observed via HVO Webcams dropping to a slightly lower depth within the Overlook vent since yesterday. The 61g lava flow fed from the East Rift Zone continues to enter the ocean at Kamokuna. There have been no reports of significant changes across the flow field. The flow poses no threat to nearby communities.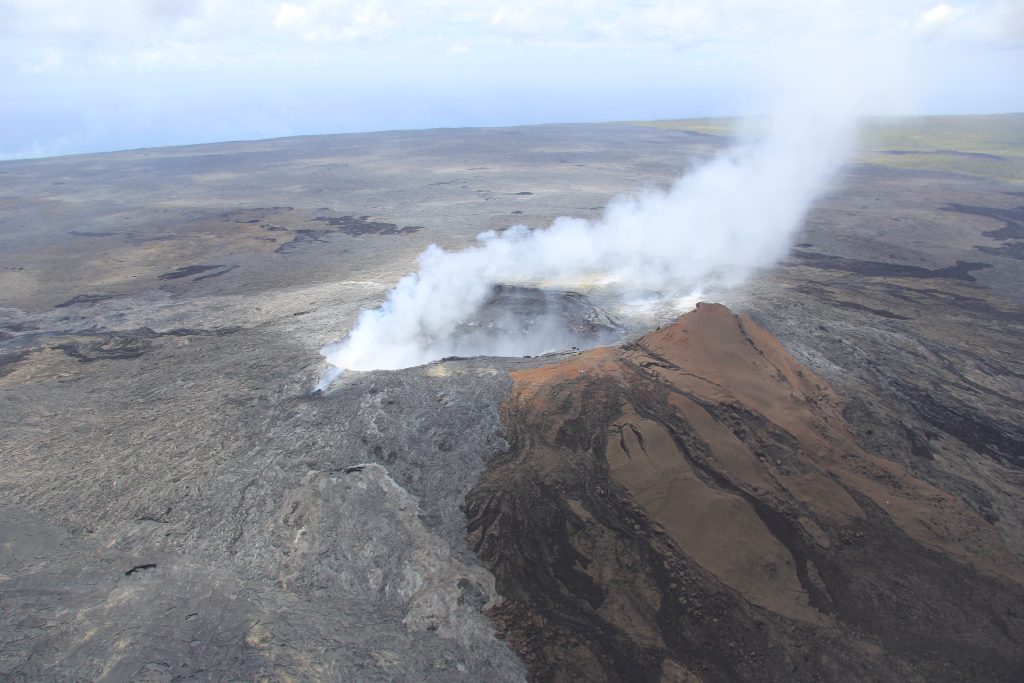 Calm after the storm . A beautiful day on Kilauea Volcano's East Rift Zone. Rain from Hurricane Madeline had little impact on Pu'u'O'o, shown here, or lava flow 61g.


Summit Observations:
Deflationary/Inflationary (DI) cycling at Kilauea summit continues. Summit tiltmeters abruptly reversed from the recent DI inflationary trend to show summit deflation, beginning yesterday at midday. The lava lake within the Halema'uma'u Overlook vent remains active and the lake surface within the vent appears to have dropped slightly from yesterday's reported measurement. No significant changes in seismicity are noted through the past day. Volcanic tremor amplitudes continue to fluctuate in association with lava lake spattering and circulation. Average daily summit sulfur dioxide emission rates ranged from 3,300 to 5,300 metric tons/day over the past week. GPS and InSAR data continue to show long-term inflation of the summit magma reservoir complex, ongoing since 2010.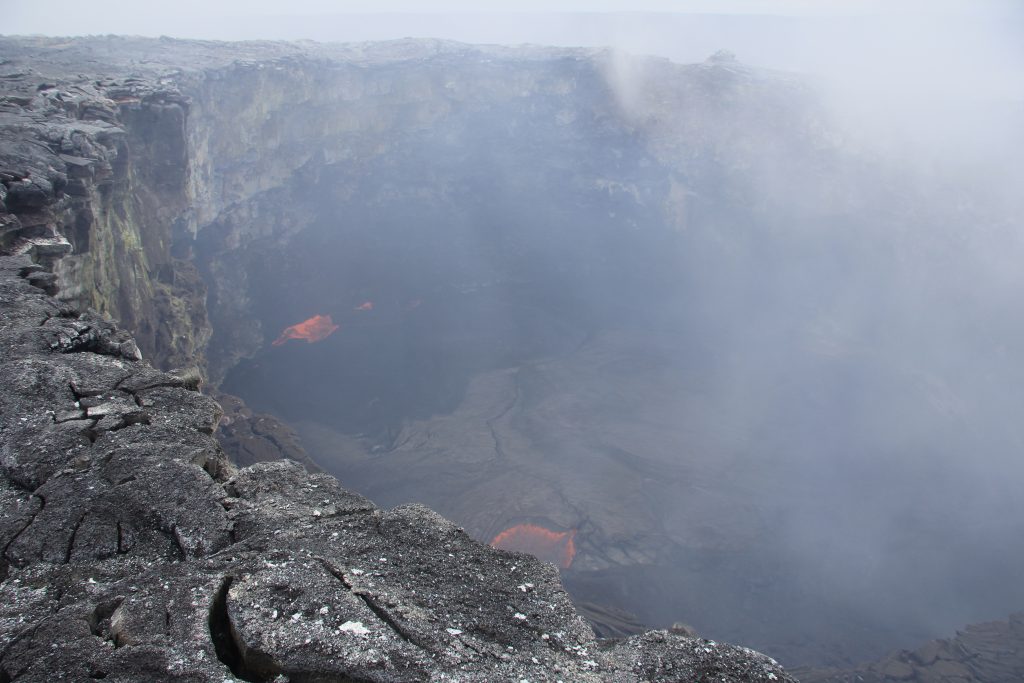 View of the lava pond within the Pu'u'O'o west pit crater, which is about 50 m (164 ft) across. Weak spattering on the lava pond surface, about 23 m (75 ft) below the crater rim, is visible through the thick volcanic gas cloud.
Pu'u'O'o Observations:
Webcams at Pu'u'O'o show no significant changes associated with the persistent sources of glow within the crater. Minor fluctuations in tilt are registering on the Pu'u'O'o tiltmeters, with possible suggestion of perhaps a weak connection to the DI cycling at Kilauea summit. No significant changes in seismicity are noted. The sulfur dioxide emission rate from all East Rift Zone vents was about 270 metric tons/day when last measured on August 25.

Lava Flow Observations:
The 61g lava flow, extending southeast of Pu'u'O'o on Kilauea's south flank, continues to carry lava to the ocean near Kamokuna. There no reports of significant changes in the flow field.
Source : HVO
Photos : HVO , Sean King .
Cascades Range , United – States :
Current Volcano Alert Level: NORMAL
Current Aviation Color Code: GREEN
Activity Update:
All volcanoes in the Cascade Range of Oregon and Washington are at normal background levels of seismicity. These include Mount Baker, Glacier Peak, Mount Rainier, Mount St. Helens, and Mount Adams in Washington State; and Mount Hood, Mount Jefferson, Three Sisters, Newberry, and Crater Lake in Oregon.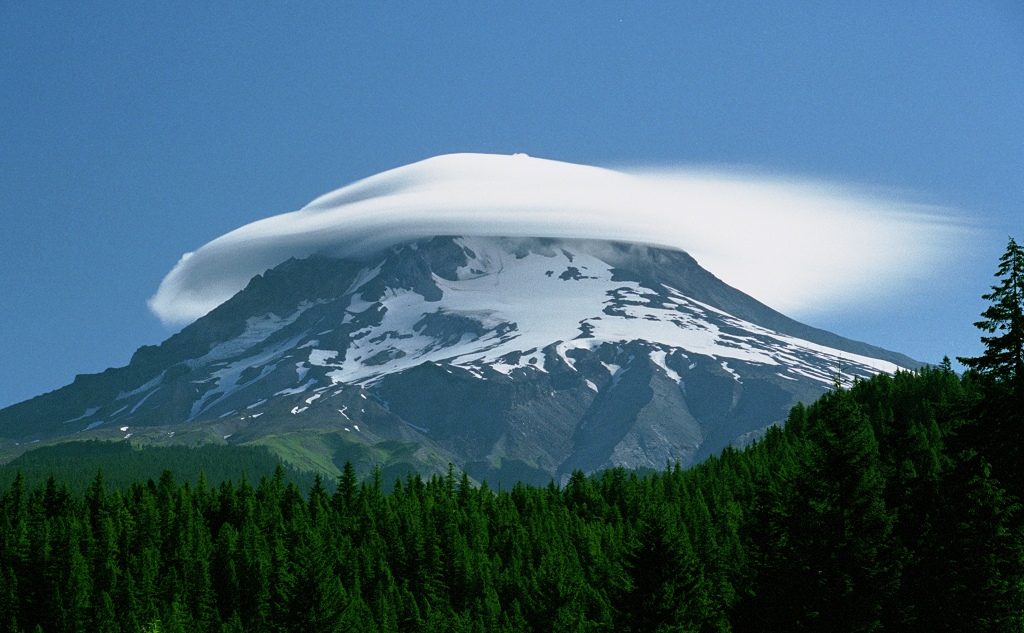 Mont Hood
Recent observations:
Cascade volcanoes were quiet this week, with minor seismicity recorded near Mount Rainier and Mount St. Helens. Field crews continued their geologic investigations at Glacier Peak volcano, recovered GPS stations that had been deployed earlier in the summer around Three Sisters, and conducted reconnaissance for potential new GPS sites at Crater Lake.
The U.S. Geological Survey and Pacific Northwest Seismic Network (PNSN) continue to monitor these volcanoes closely and will issue additional updates and changes in alert level as warranted.
Source : CVO
Sinabung , Indonésia :
3.17°N, 98.392°E
Elevation 2460 m
BNPB reported increased activity at Sinabung on 24 August. Observers at the PVMBG Sinabung observation post noted a marked increase in seismicity, and counted 19 pyroclastic flows and 137 avalanches from the early morning until the late afternoon. Foggy conditions obscured visual observations of the activity through most of the day, although incandescent lava as far as 500 m SSE and 1 km ESE was noted in the morning, and a pyroclastic flow was seen traveling 3.5 km ESE at 1546. The lava dome had grown to a volume of 2.6 million cubic meters. There continued to be 2,592 families (9,319 people) displaced to nine shelters. Activity remained very high on 25 August; pyroclastic flows continuously descended the flanks, traveling as far as 2.5 km E and SE, and 84 avalanches occurred during the first part of the day.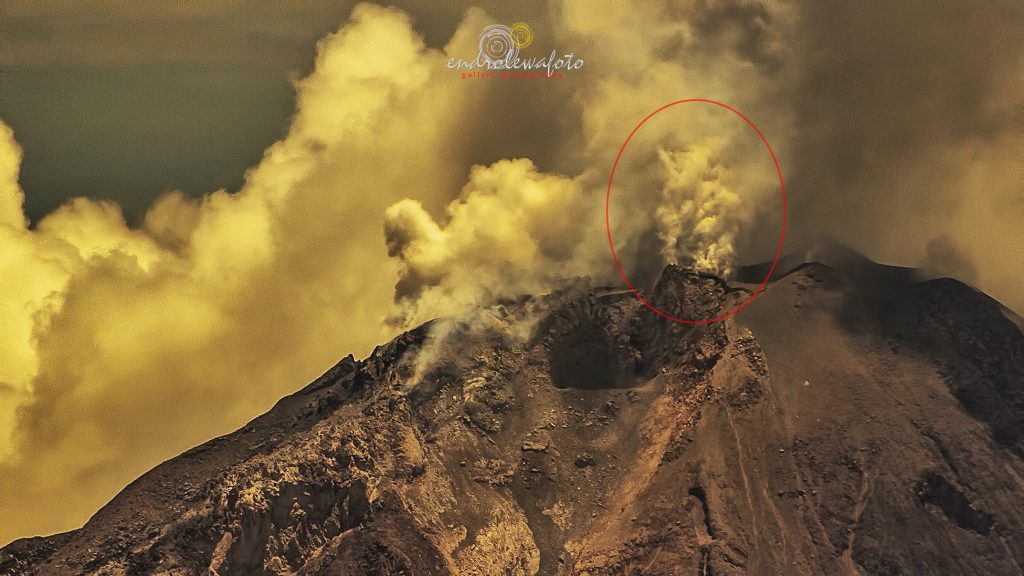 Based on satellite images and model data, the Darwin VAAC reported that on 26 August ash plumes rose to an altitude of 6.1 km (20,000 ft) a.s.l. and drifted NW and NNE. On 29 August ash plumes reported by ground-based observers rose to an altitude of 4.6 km (15,000 ft) a.s.l. and drifted ENE. The next day an ash plume rose to an altitude of 5.2 km (17,000 ft) a.s.l. and drifted NW. The Alert Level remained at 4 (on a scale of 1-4), with an exclusion zone of 7 km from the volcano on the SSE sector, and 6 km in the ESE sector, and 4 km in the NNE sector.
Alert level of the Sinabung volcano : AWAS
On the date of 03/09/2016 at 17h 23, there was an eruption of hot clouds glowing with ash column rising to 3200 meters to 3500 meters moving to the east-southeast, with a light wind to the east . Amplitude: 120 mm, 358 seconds of tremor.

Source : GVP , Pvmbg Cvghm
Photo : Endro Lewa