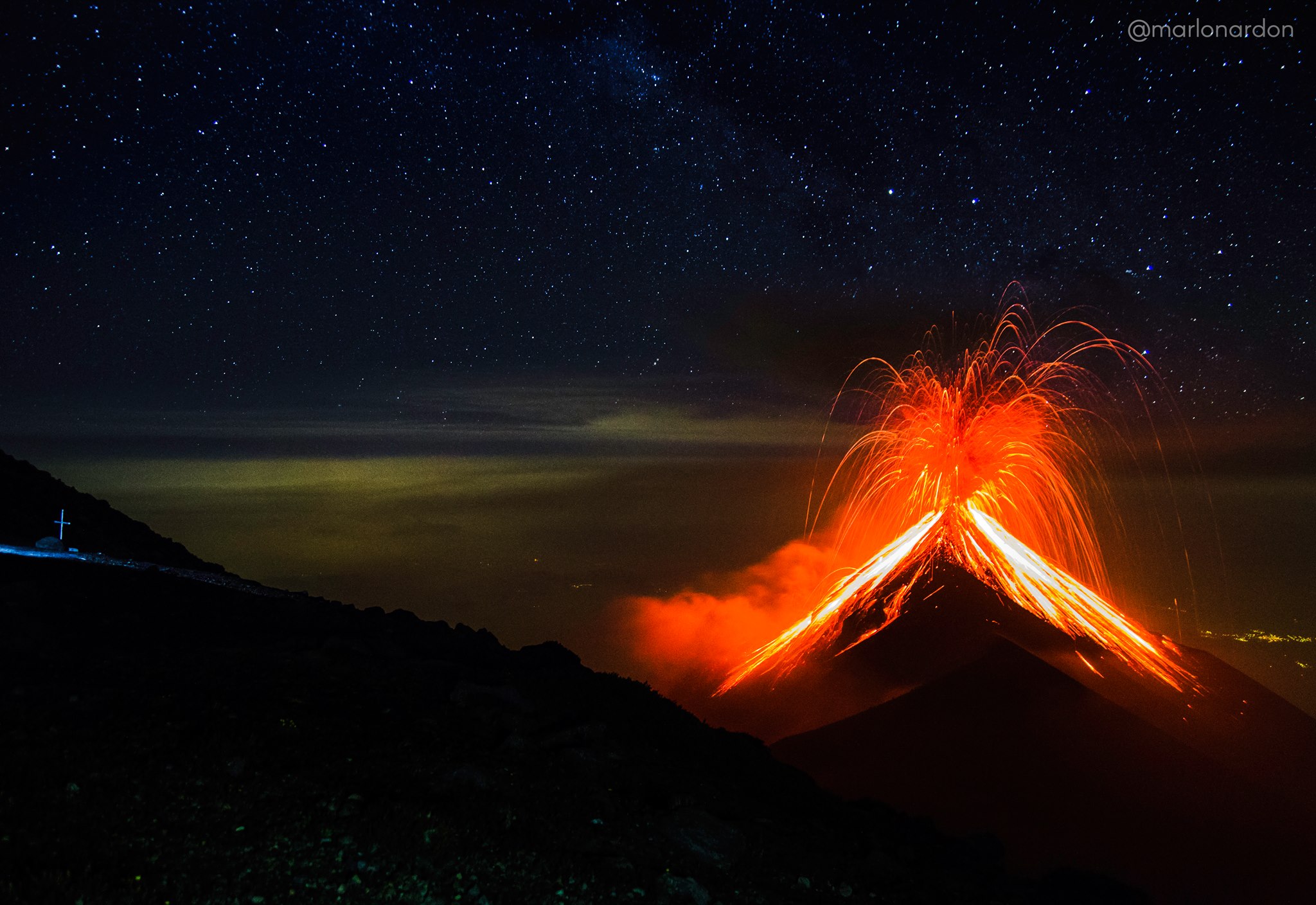 August 26 , 2016. EN. Klyuchevskoy , Fuego , Cotopaxi , Dukono .
August 26 , 2016.
Klyuchevskoy , Kamchatka :
56.06 N, 160.64 E;
Elevation 15580 ft (4750 m)
Aviation Color Code is ORANGE
Explosive-effusive eruption of the volcano continues. Ash explosions up to 26,240-32,800 ft (8-10 km) a.s.l. could occur at any time. Ongoing activity could affect international and low-flying aircraft.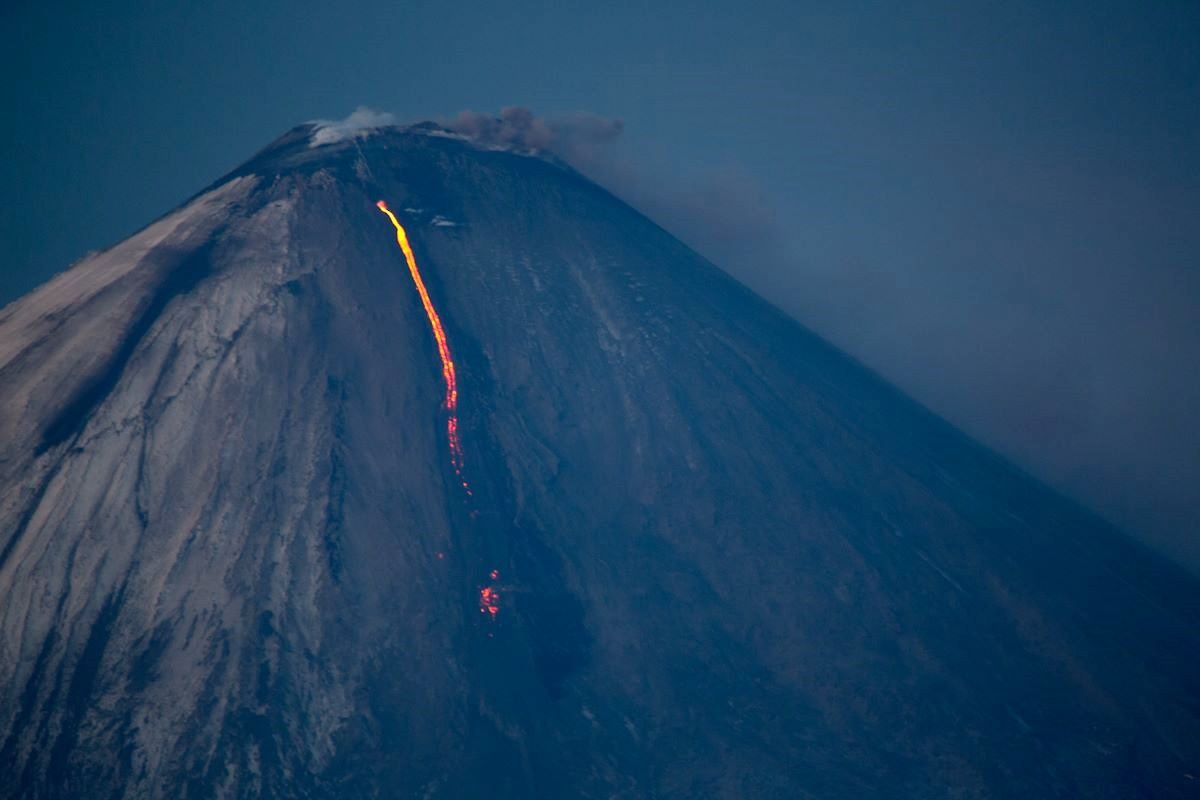 Summit degassing loaded into ash and flow of lava from the cone of the ravine Apakhonchich – photo Денис Будьков 08/25/2016

Explosive-effusive eruption of the volcano continues: there are bursts of volcanic bombs above the summit crater and above the cinder cone into Apakhonchich chute, and strong gas-steam activity of two volcanic centers with emission of different amounts of ash, and the effusing of lava flows along Apakhonchich chute at the south-eastern flank and south-west flank of the volcano. According to satellite data by KVERT, a large bright thermal anomaly was observed in the area of the volcano all week.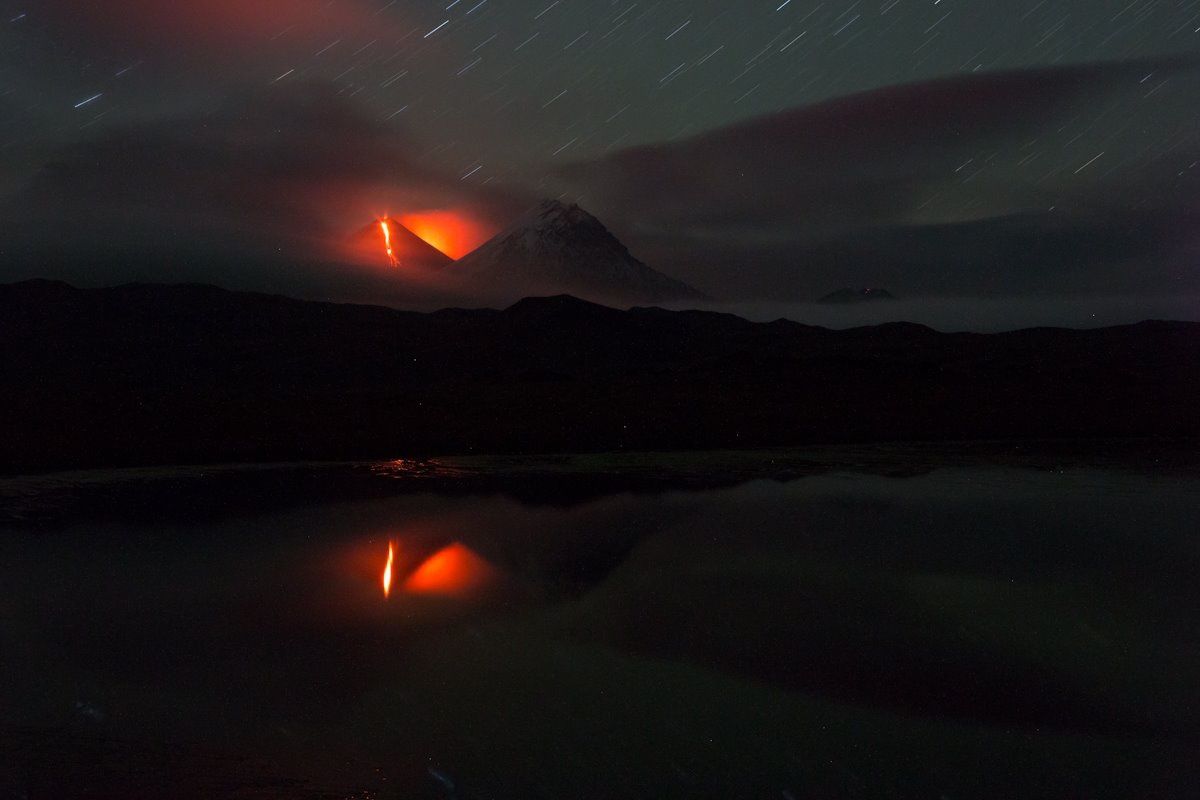 Explosive–effusive activity on 08.25.2016 – photo Денис Будьков
Klyuchevskoy (also spelled Kliuchevskoi) is Kamchatka's highest and most active volcano. Since its origin about 6000 years ago, the beautifully symmetrical, 4835-m-high basaltic stratovolcano has produced frequent moderate-volume explosive and effusive eruptions without major periods of inactivity. It rises above a saddle NE of sharp-peaked Kamen volcano and lies SE of the broad Ushkovsky massif. More than 100 flank eruptions have occurred during the past roughly 3000 years, with most lateral craters and cones occurring along radial fissures between the unconfined NE-to-SE flanks of the conical volcano between 500 m and 3600 m elevation. The morphology of the 700-m-wide summit crater has been frequently modified by historical eruptions, which have been recorded since the late-17th century. Historical eruptions have originated primarily from the summit crater, but have also included numerous major explosive and effusive eruptions from flank craters.

Source : Kvert , GVP
Photos : Денис Будьков / Bernard Duick
Fuego , Guatemala :
Conditions: Clear
Wind: 5 kmh
Precipitation: 0.0mm.
Activity:
Presence of a low outgassing of white fumaroles at a height of 4,200 above sea level (13.780 feet) that spreads to the West and Southwest.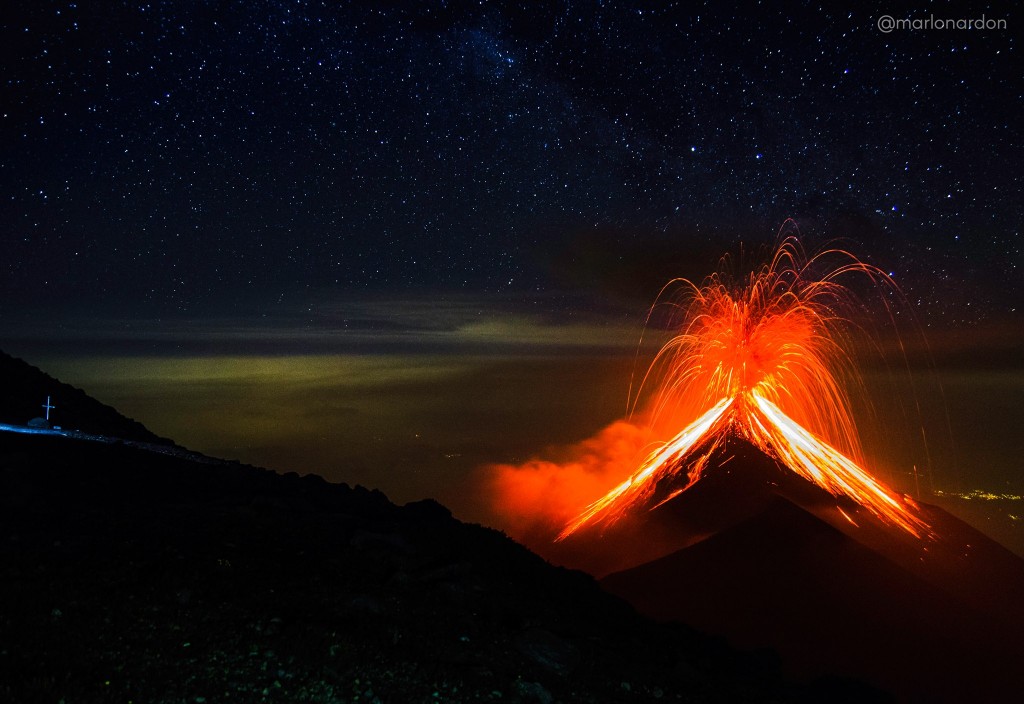 It was recorded 13 weak explosions that have issued gray column of ash to a height of about 4300-4500 meters (14.110 14,765 feet), which are scattered from 6 to 10 km to the South and Southwest. These small explosions generated rumblings. Incandescent pulse of 100 to 150 m tall, with light to moderate avalanches around the edge of the crater were recorded.
During the night and early morning noises similar to locomotives are heard, and low lights in the crater are noted.
Source : Insivumeh
Photo : Marlonardon
Cotopaxi , Ecuador :
Update of volcanic activity of Cotopaxi No. 6-2016
Since January 2016 until that date (24/08), the internal activity of the volcano Cotopaxi remained weak, characterized by some seismic events. On the activity of the surface, it appears as small intermittent gas emissions. In general, they remain at the level of the crater and only on rare occasions, exceeds 500 meters. Winds from August (3-10 m / s) oriented  East-West , mainly produce an aerodynamic effect due to the topography of the volcanic cone, this effect tends that emissions slide down the western flank of the volcano , remobilising volcanic materials (ash) deposited during the eruptive period from August to November 2015.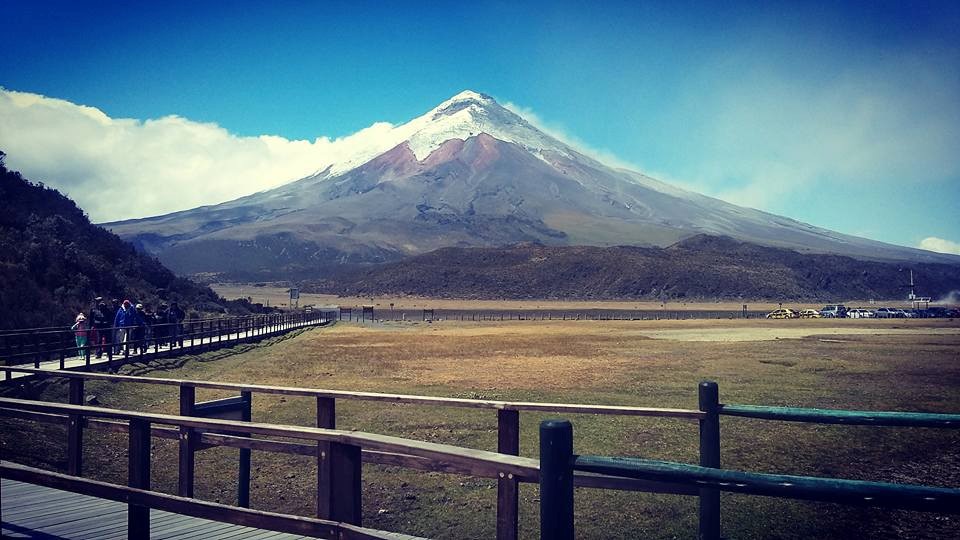 Figure 1. volcano Cotopaxi. water vapor and gas emission and volcanic ash cloud previously deposited in the months of August to November 2015. Photography recovered from social networks. Guadalima S. (21/08/2016).
Remobilization of these materials deposited previously produced a cloud of dust that was reported to IG-EPN by visitors to the Cotopaxi National Park and viewpoints of the region and is clearly visible on clear days (Fig. 1). The internal volcanic activity according to the parameters controlled by the Geophysical Institute of the National Polytechnic School remains at a low level.
Source : Igepn
Dukono , Indonesia :
1.693°N, 127.894°E
Elevation 1229 m
Based on ground reports from PVMBG, satellite data, and model data, the Darwin VAAC reported that during 17-24 August ash plumes from Dukono rose to altitudes of 2.4-3 km (8,000-10,000 ft) a.s.l. and drifted as far as 130 km NE, E, ESE, and SE.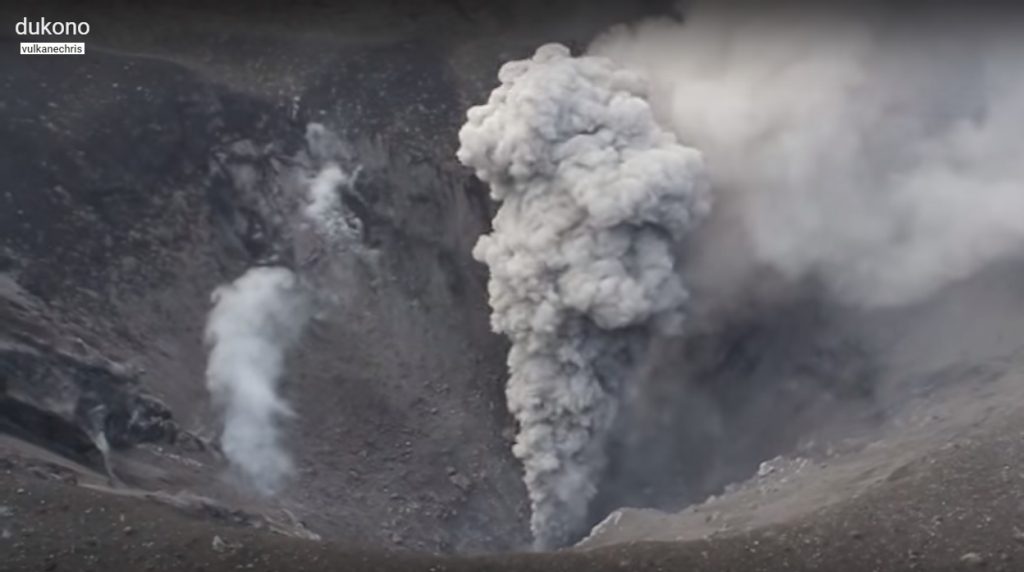 Reports from this remote volcano in northernmost Halmahera are rare, but Dukono has been one of Indonesia's most active volcanoes. More-or-less continuous explosive eruptions, sometimes accompanied by lava flows, occurred from 1933 until at least the mid-1990s, when routine observations were curtailed. During a major eruption in 1550, a lava flow filled in the strait between Halmahera and the north-flank cone of Gunung Mamuya. This complex volcano presents a broad, low profile with multiple summit peaks and overlapping craters. Malupang Wariang, 1 km SW of the summit crater complex, contains a 700 x 570 m crater that has also been active during historical time.

Source: Centre d'avis de cendres volcaniques Darwin (VAAC), GVP.
Photo : Vulcanechris