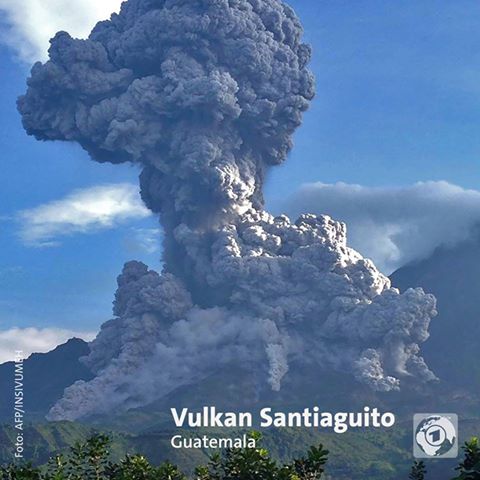 August 17 , 2016. EN. Sabancaya , Santiaguito , Popocatepetl , Ruapehu .
August 17 , 2016.
Sabancaya , Peru :
Seismic activity:
Hybrid events (associated with movement of hydrothermal fluids) are very sporadic (04 HIB / day) during this period.
As regards their energy it is still at low levels.
LP-type events (associated with a volcanic passage of fluids) show an increase for that period, averaging 20 LP / day (Previous report LP 16 / day). Regarding energy LP events, it remains low.
Earthquakes VTPS (proximal-Tectonic Volcano, located less than 6 km from the crater), show no change compared to those observed in the previous report, with an average of 8 VTP / day average recorded. Their maximum value reached 2.5ML (local magnitude).
Tremor type of events (TRE) continue to maintain their level of occurrence, which is on average 20 TRE / day.
Regarding energy, it remains at low levels, but there was a significant peak of 992.7 MJ of energy on August 8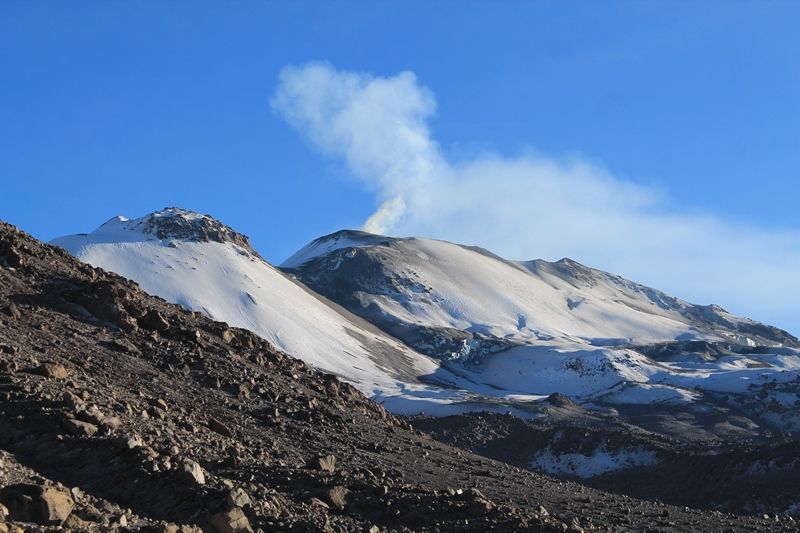 In this period, two seismic foci VTD were observed: A first earthquakes home of Volcano–Tectonic Distals events (EDV) was located 9 km southeast of the city of Maca (14 km northeast of the crater of the Sabancaya); this seismic focus has been active since the second week of February 2016.
A second and new source of earthquakes is located 25 km northeast of the crater, and it is the reactivation of a tectonic fault oriented northwest–southeast, passing very close to the city of Ichupampa . This region experienced a strong earthquake measuring 5.3 mlon 14 August 2016 to 21 h 58 local time.
These events were felt with intensity V and VI in the towns of Maca, Ichupampa, Achoma in the Colca Valley. 7 deaths and material losses (source Diario El Comercio) were recorded.
Furthermore, on 02 and August 9, VTD 2 important events occurred with magnitudes of M3.4 and M3,6, and depths of 21 and 7 km.
For VTPS events (proximal events located within 6 km from Sabancaya) does highlight only a small magnitude earthquake of 2.5ML on August 5, with a depth of 14 km.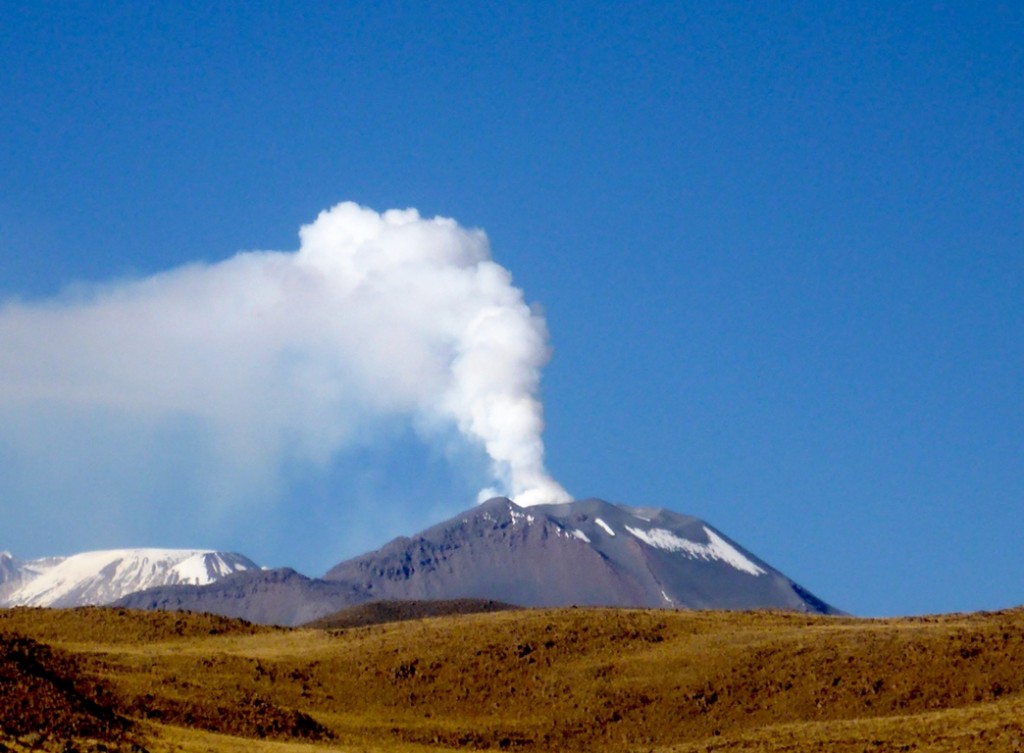 Fumaroles:
frequency:
In the first 15 days of August, water vapor fumaroles continued without interruption to be observed, with different densities throughout this period.
coloring:
As is characteristic since the beginning of the fumarole activity of this volcano, the main emissions are whitish. During this period, this trend has been maintained. Moreover, it continues to be recorded sporadic plumes of bluish tones (magmatic gases).
height:
There has been no great change from that setting. Fumaroles, mainly low density and consistency, reached up to 2 km from base of the crater. It should be noted that thicker fumaroles observed during this period were recorded between 09 and 12 August

Source : IGP
Santiaguito , Guatemala :
A powerful vulcanian explosion occurred at Santiaguito's Caliente lava dome at 12:58 UTC on August 16, 2016. The eruption produced a massive mushroom-shaped ash plume that eventually reached an estimated altitude of 6 km (20 000 feet).
The explosion showered the cone by volcanic blocks and bombs and generated pyroclastic flows on the west and southwest flanks that reached a distance of approximately 2 km (1.2 miles).
The explosion showered the cone by volcanic blocks and bombs and generated pyroclastic flows on the west and southwest flanks that reached a distance of approximately 2 km (1.2 miles).
The ash plume drifted to the west and southwest and caused significant ash falls in in areas as far as the border with Mexico (75 km / 46.6 miles). Loma Linda and San Marcos Palajunoj villages are the most affected by ashfall.
Light ash fall was even recorded in greater distances, e.g. the Mexican town of Soconusco located 145 km (90 miles) from the crater. It can well be that the volcano is currently entering a phase of particularly increased activity.
Officials said stronger eruptions are possible and are warning residents to take all necessary precautions.
Source : Conred
Popocatepetl , Mexico :
August 16 11:30 h (August 16 16:30 GMT)
In the last 24 hours the seismic records of the surveillance system at Popocatépetl volcano registered 98 low-intensity exhalations, with emissions of gas, steam and ash , and two explosions, yesterday at 14:16 h , and at 18:51 h; for this event emissions were not verified due to dense clouds. Also,the system registered 126 minutes of harmonic tremor, 443 minutes of exhalation trains and a volcanotectonic event with magnitude 1.7.

During most of the period covered by this report cloudy conditions prevailed around the volcano. At night incandescence was observed .
At this moment there is no visibility towards the volcano due to dense clouds.
Other monitoring parameters remain unchanged
CENAPRED emphasizes that people SHOULD NOT go near the volcano, especially near the crater, due to the hazard caused by ballistic fragments  .
This type of activity is included within the scenarios Volcanic Traffic Light Yellow Phase 2.
Source : Cenapred .
Video : Webcamdemexico
Ruapehu , New Zealand  :
Volcanic Alert Bulletin RUA 2016/08:
1:00pm Monday 15 August 2016; Ruapehu Volcano
Alert Status:
Volcanic Alert Level remains at Level 1
Aviation Colour Code remains Green
Last week a Crater Lake sampling and gas flight were completed by GeoNet staff at Mt Ruapehu. Observations and data from these activities confirm the Crater Lake is still cooling, but at a slower rate and there is volcanic gas passing through the lake. The temperature of the summit Crater Lake is now 13 ºC. The observations from the gas flight and sampling indicate the vent(s) on the lake floor are open, allowing gas, steam and water to vent into the lake. These are typical conditions for Mt Ruapehu.
The volcanic alert level for Mt Ruapehu remains at Volcanic Alert Level 1 (minor volcanic unrest). The Aviation Colour Code also remains unchanged at Green.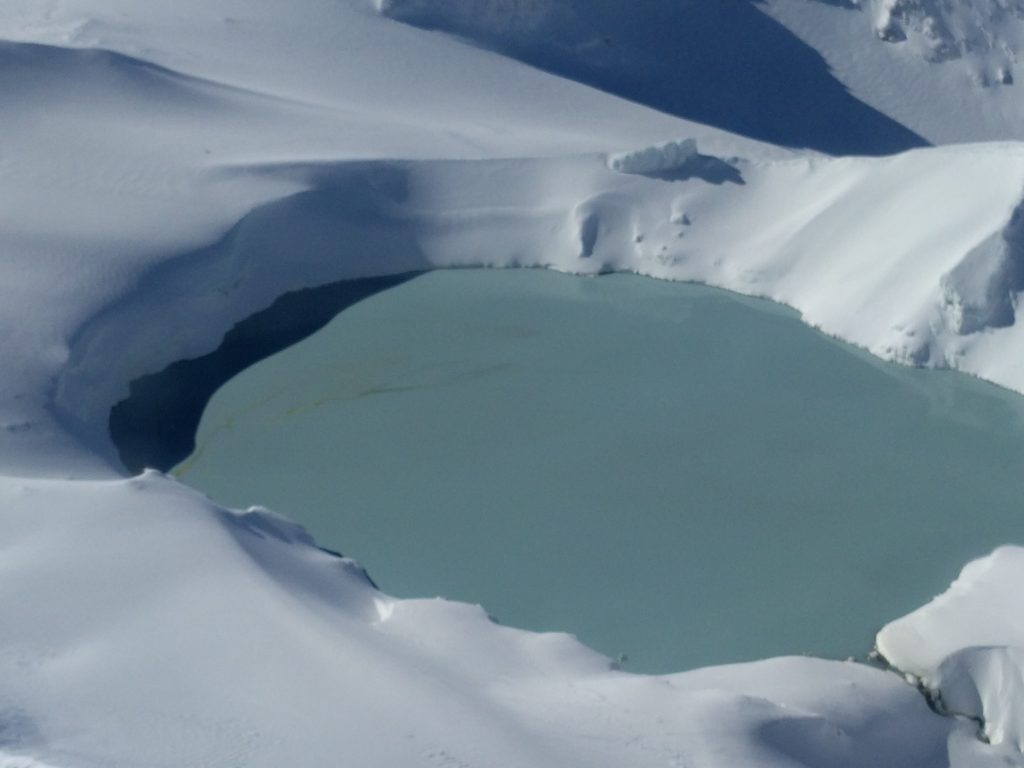 The gas flight completed on August 10 recorded the volcanic gas at levels typical of low-background output for Mt Ruapehu. Convection was noted in the lake. On August 11 a Crater Lake sampling for gas and water was also completed. Up welling was again obvious in the lake and was outlined by sulphur slicks, which are frequently seen when the lake is convecting. The lake was a dark green-grey colour and was overflowing. There was a fairly strong sulphur smell near the lake. The lake temperature was measured at 12.6 ºC, consistent with the data logger observations. Today the data logger reports a temperature of 12.9 ºC.
The level of volcanic tremor which was elevated to moderate levels in May-June has declined and is now at typical background levels. Data available at present indicates the level of volcanic unrest at Mt Ruapehu is low.
GNS Science continues to closely monitor Mt Ruapehu and our other active volcanoes through the GeoNet project. The Volcanic Alert Level ranges from 0 to 5 and defines the current status at a volcano. Aviation Colour Codes are based on four colours and are intended for reference only in the international civil aviation community.
Source : Geonet / Steve Sherburn