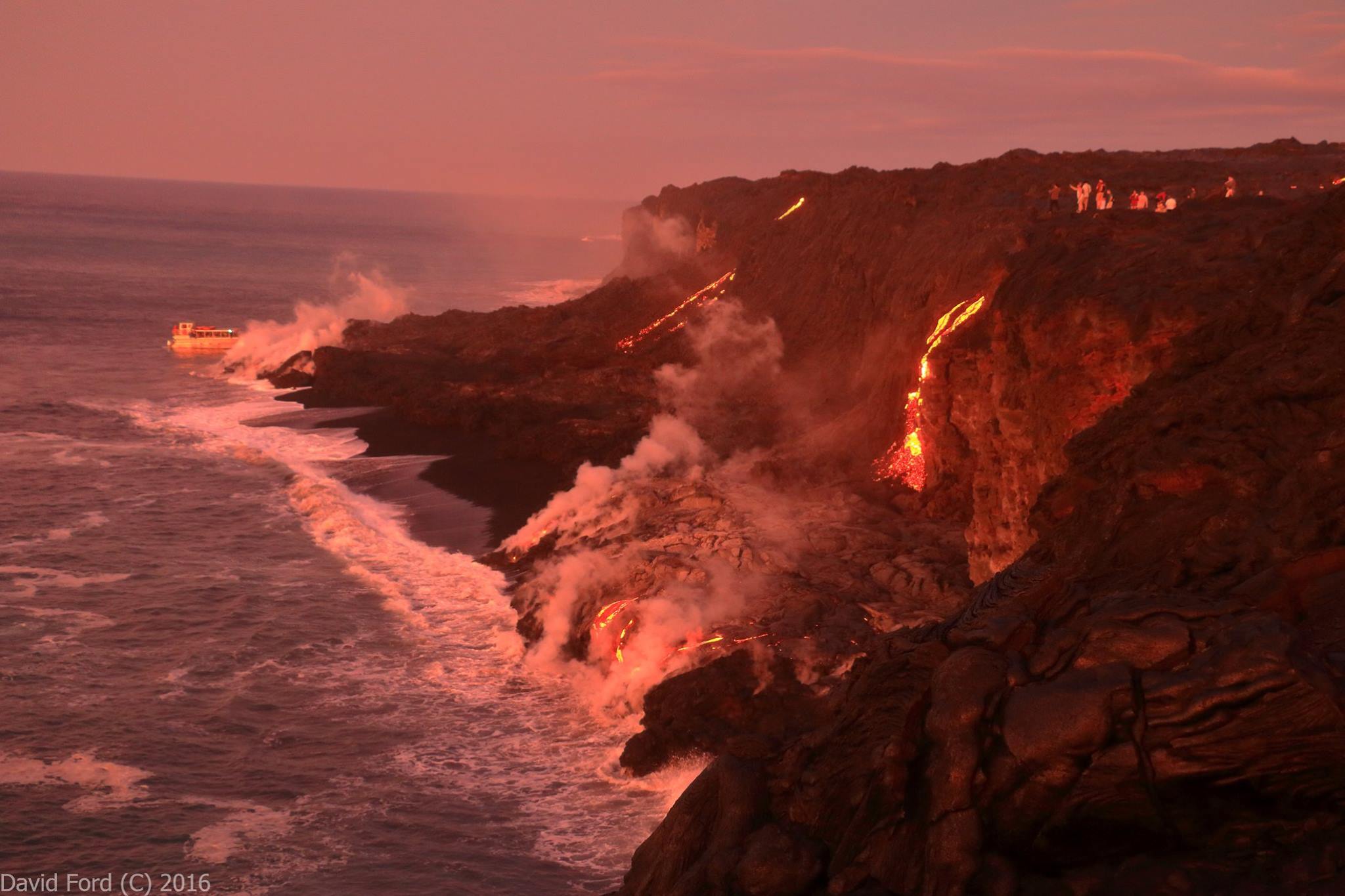 August 16 , 2016. EN. Kilauea , San Pedro-Tatara , Bulusan .
August 16 , 2016.
Kilauea , Hawai :
19°25'16 » N 155°17'13 » W,
Summit Elevation 4091 ft (1247 m)
Current Volcano Alert Level: WATCH
Current Aviation Color Code: ORANGE
Activity Summary:
Kilauea Volcano continues to erupt at its summit and from its East Rift Zone. The 61G lava flow continues to flow into the sea at Kamokuna and produce scattered breakouts on the coastal plain and pali. The flow poses no threat to nearby communities. The lava lake at Halema'uma'u Crater continues to be active with its surface about 32 m (105 ft) below the crater rim.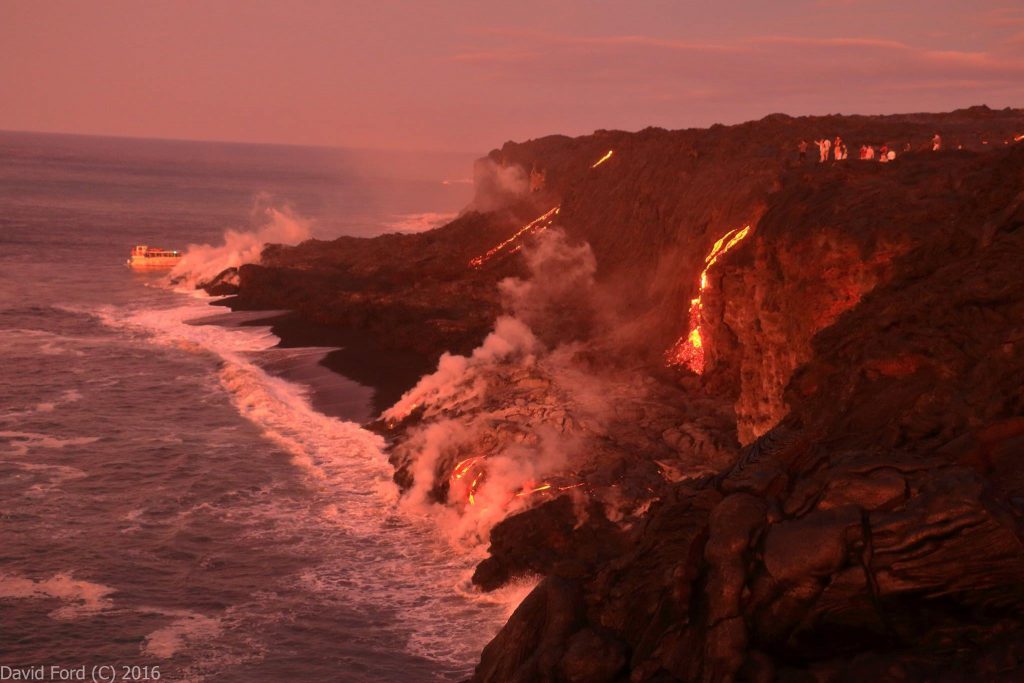 Summit Observations:
The lava lake within the Halema'uma'u Overlook crater remained active and circulating; its surface rose slightly to 32 m (105 ft) below the crater rim as measured this morning. Tilt of a summit was fairly flat (no inflationary or deflationary tilt) over the past 24 hours. Seismicity rates were normal, with tremor fluctuations associated with lava lake spattering. The average daily summit sulfur dioxide emission rate ranged from 1,100 to 7,500 metric tons/day over the past week.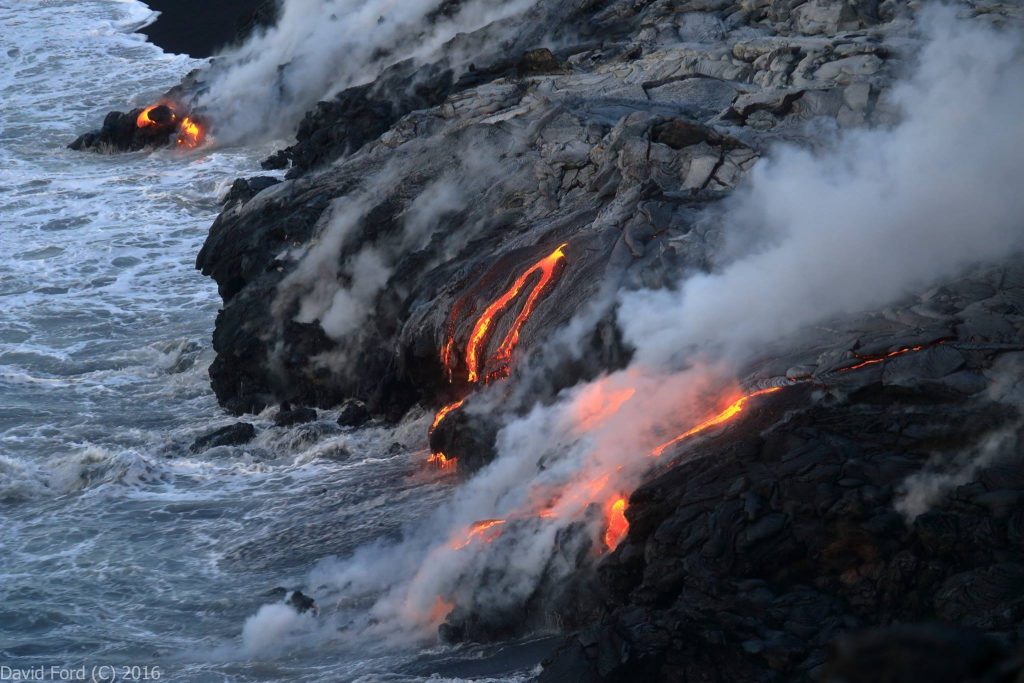 Pu'u 'O'o Observations:
No significant changes are visible on webcam images, with persistent glow continuing at long-term sources within the crater. Seismicity and tilt records also showed no significant changes in the past day. The sulfur dioxide emission rate from all East Rift Zone vents was about 400 metric tons/day when measured on August 10.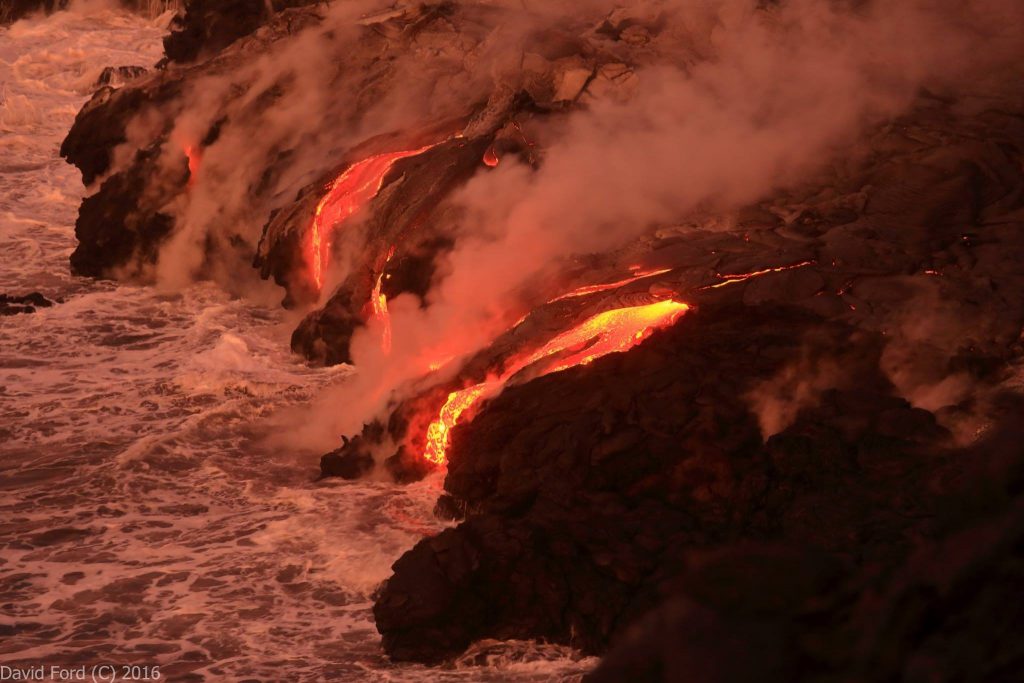 Lava Flow Observations:
The 61G lava flow, extending southeast of Pu'u 'O'o on Kilauea's south flank, continued to be active and to enter the sea at multiple places near Kamokuna (labeled 'ocean entry' on HVO maps). Scattered breakouts continue predominantly on the makai (seaward) portion of the coastal plain and on the pali. A small delta collapse occurred Tuesday afternoon which darkened the plume for a short time.
Source : HVO
Photos : David Ford.
San Pedro-Tatara , Chile :
Activity bulletin of SAN PEDRO -TATARA volcano.
The level of activity of the volcano is at:
LEVEL GREEN active volcano with a stable behavior, probably no immediate risk – time for an eruption: months / years.
A total of twelve (12) earthquakes were recorded, of which seven (7) were linked to rigid material fracturing process, called volcano – tectonic (VT),with a local magnitude (ML) equal to M 3 ,0 maximum (REAV Maule Region. July 27, 2016 6:40 p.m. local time).
The biggest of them was located 8.7km from the crater towards the South-South-West (SSO), with a depth of 4.7 km.
Similarly, five (5) events related to fluid dynamics  inside the volcano, called long-period events (LP), with a minor local magnitude (ML) of 2.1 and a lower displacement values (DRC) of 19cm2 were recorded.
The images obtained by the IP camera showed no surface changes associated with the volcanic system.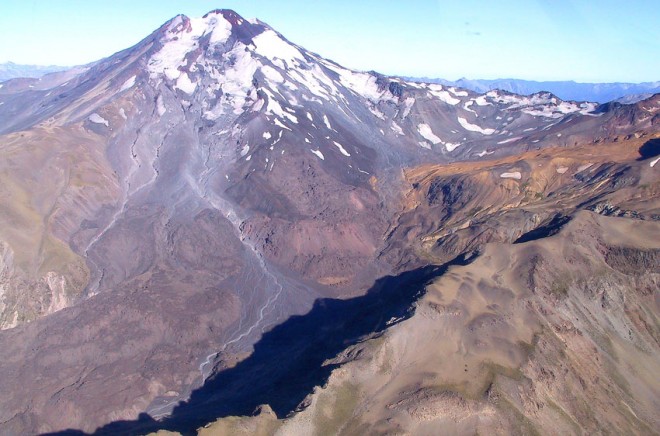 No abnormalities in sulfur dioxide emissions (SO2) into the atmosphere on the volcanic edifice were reported, according to data obtained by instruments monitoring of ozone, sulfur dioxide group of the IMO Group (http : //so2.gsfc .nasa.gov /) and NESDIS (National Environmental satellite), data, and information (http: //satepsanone.nesdis.noaa.gov).
No thermal warning was reported in the area associated with the volcano according to data released by the MODVOLC (Moderate Resolution Imaging Radiospectrometer) MODIS on its website (http://modis.higp.hawaii.edu/) and Mirova ( Middle InfraRed Observation, volcanic activity) on its website (http://www.mirovaweb.it/), two monitoring systems indicating major changes in the temperature at the surface of the earth.

There are no reports of local authorities or communities about anomalies related to volcanic activity.
The above parameters suggest that the volcanic system is stable. Therefore, the level of volcanic alert remains at the LEVEL GREEN
Source : Sernageomin
Bulusan, Philippines : 
BULUSAN VOLCANO BULLETIN 15 August 2016 08:00 A.M.
Bulusan Volcano's seismic monitoring network recorded two (2) volcanic earthquakes during the past 24 hours. Steaming activity could not be observed due to thick clouds covering the summit. Precise leveling surveys last 27 April to 5 May 2016 indicated slight deflationary changes of the edifice relative to February 2016, This is consistent with ground deformation measurements from continuous GPS data as of 01 August 2016 that showed deflationary trends since May 2016.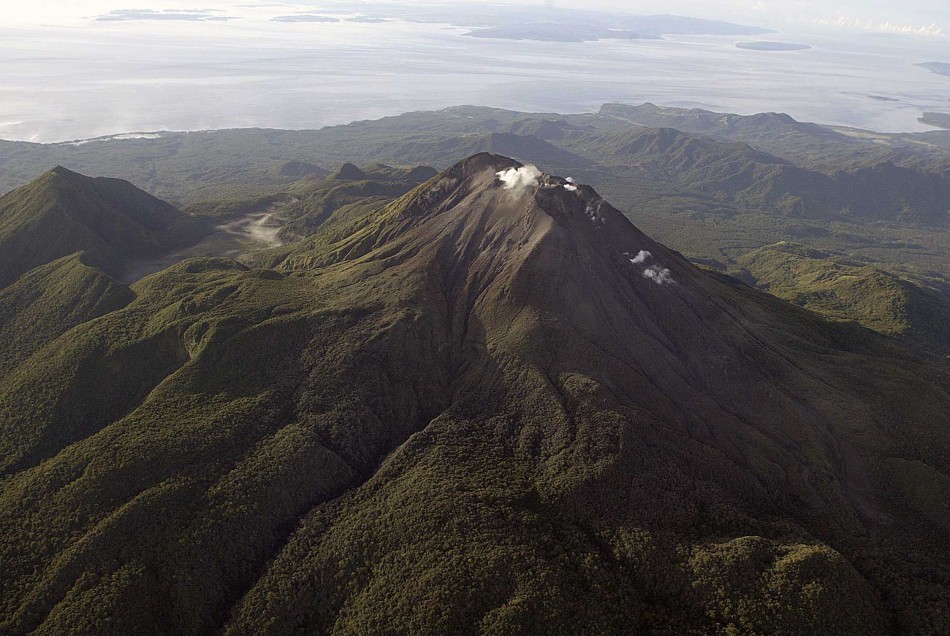 Alert Level 1 (abnormal) remains in effect over Bulusan Volcano. This indicates that hydrothermal processes are ongoing beneath the volcano that may lead to more steam-driven eruptions. The local government units and the public are reminded that entry to the 4-kilometer radius Permanent Danger Zone (PDZ) is strictly prohibited due to the possibility of sudden and hazardous steam-driven or phreatic eruptions.
Source : Phivolcs