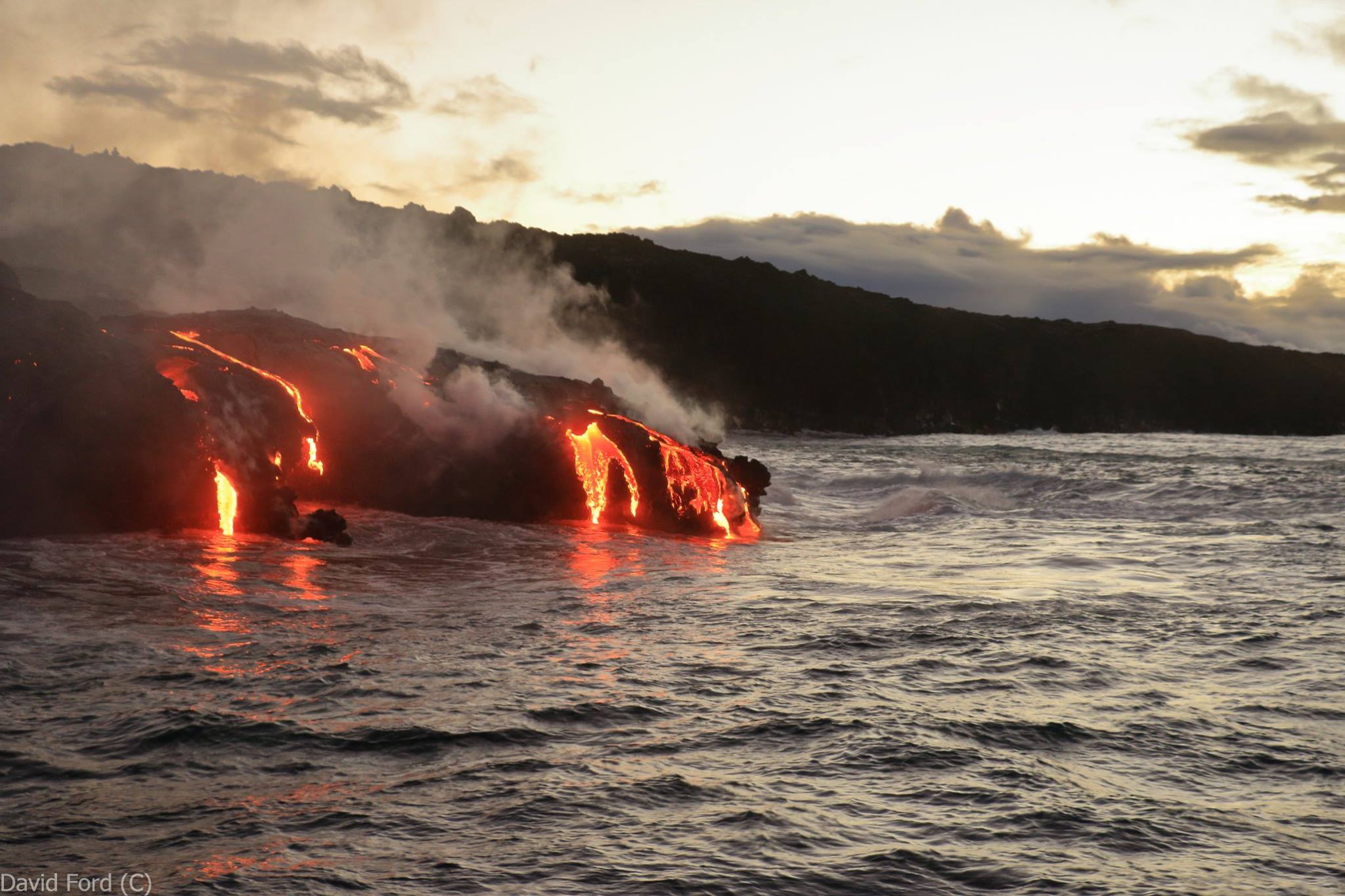 August 09 , 2016. EN. Villarica , Santiaguito , Kilauea , Bromo .
August 09 , 2016.
Villarica , Chile :
The level of activity of the volcano is a GREEN LEVEL: active volcano with a stable behavior – No immediate risks – likely time for an eruption: months / years.
It was recorded a total of 2801 earthquakes which in 2798 were classified as long-period earthquakes (LP) related to fluid dynamics inside the volcano, with small displacements reduced values (RDC) less than 8 cm 2. The type of volcano-tectonic events (VT) associated with fracturing of rigid material are also registered; three were classified (3); the biggest event featured a local magnitude (ML) of 1.1 and was located 8.1 km East-Southeast (ESE) from the active crater at a depth of 5.3 km.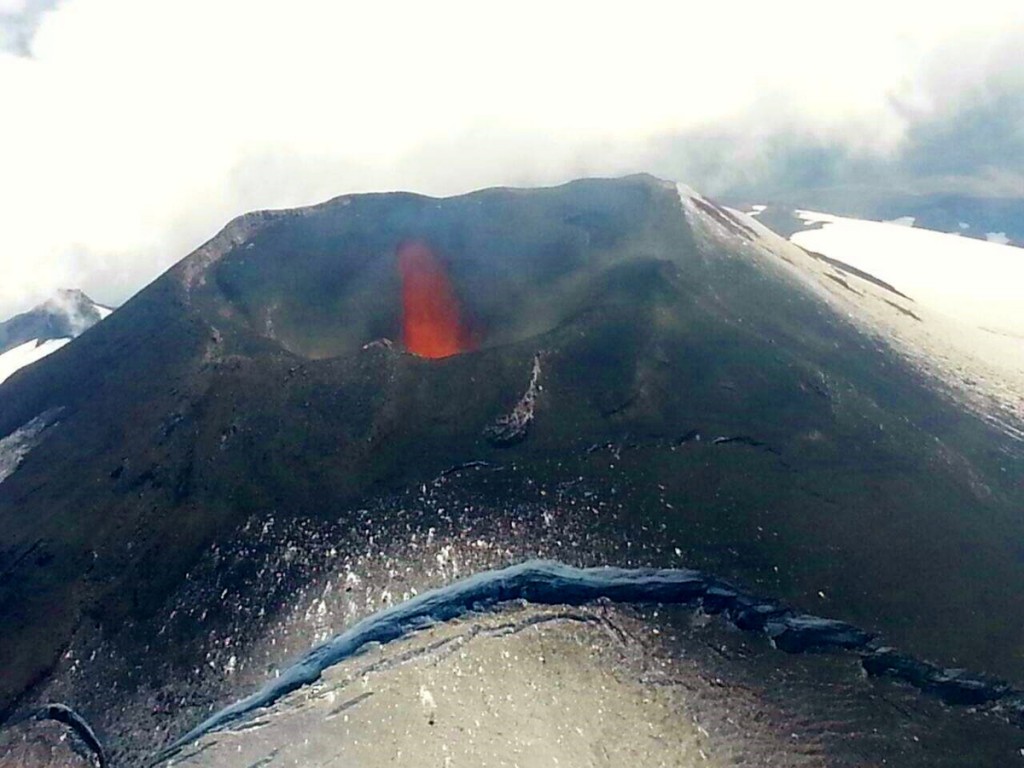 The energy of volcanic tremor (TR), seismic signal associated with the fluid dynamics inside the volcano showed a slight upward trend since July 11 with reduced displacements values (DRC) of 3cm2 on average , value considered low, while the dominant frequencies were maintained between 1.0 and 2.1 Hz.
The infrasound sensor installed 4 km from the volcano's crater, recorded explosive episodes associated with surface activity below 1 Pa, values indicating that this surface activity is lower.
Images recorded with IP cameras installed near the volcano, the days of clear or low cloud cover showed a degassing predominantly white with maximum heights column of about 500 m and a glow when weather conditions made it possible to observe the volcano.

According to data obtained from the four (4) GNSS stations that monitor the deformation of the volcano, no significant variation due to a massive internal dynamics was observed. Stations have stability in their horizontal and vertical components not exceeding the displacement rate of 0.35 cm / month in the horizontal direction and 0.25 cm / month in the vertical elements.
The data obtained by the Spectroscopy stations by differential optical absorption (DOAS), Station installed at Tralco Los Nevados 10 km to the east–northeast (ENE) and 6 km east -sud- East (ESE) of the active crater, respectively, recorded an average value of sulfur dioxide emissions (SO2) of 517 ± 82 tonnes / day with a maximum value of 925 ± 58 tonnes / day, reported on 25 July. Therefore, there is an increase in SO2 emissions compared to June, which could be associated with fluctuations in the surface activity.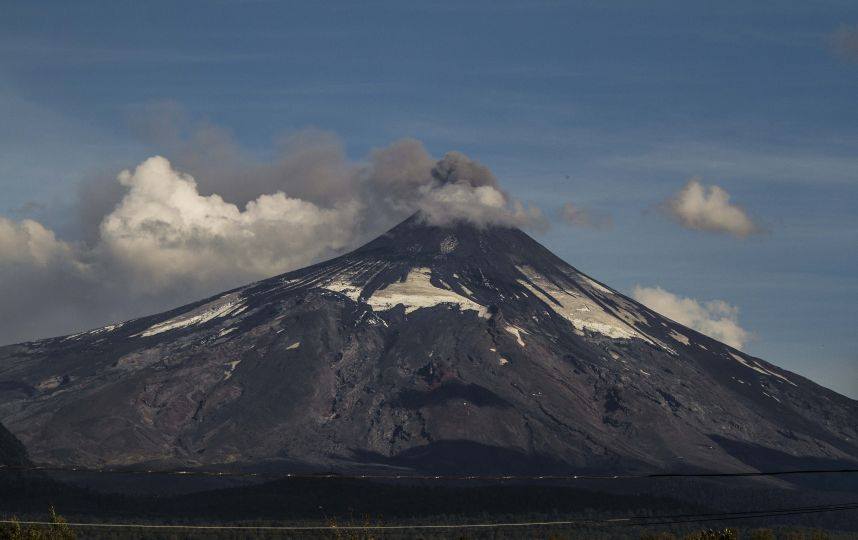 Three thermal alerts were reported in the area associated with the volcano. The largest took place on July 29 with a volcanic radiative power (RVP) of 18 MW, which is considered moderate, according to data released by Middle InfraRed Observation of volcanic activity (Mirova) on its website (http: //www.mirovaweb.it/), which is a hot spot detection system.
There are no reports of local authorities or community about abnormalities seen in the volcanic area. Monitoring parameters observed periodic increases in glow and degassing coinciding with a higher intensity compared to the month of June
However,activity remains around its base level and it is emphasized that, according to the « conduit open » of the Villarrica volcano, it is possible to have a rapid increases in activity and the possibility of occurrence of explosions minor with the subsequent danger associated with the fall of pyroclastic material in the area adjacent to the crater. For this reason, we recommend applying preventive restrictions on access to the proximal zone within a zone of 500 meters around the crater .
The level of volcanic activity remains at green.

Source : Sernageomin
Santiaguito , Guatemala :
Due to weather conditions that occur in the country and on the volcanic chain, from 17:01 hours, the seismic station Stg3 and the Santiaguito Volcano Observatory (OVSAN) reported the descent of a moderately dense lahar in the  Cabello del Angel river.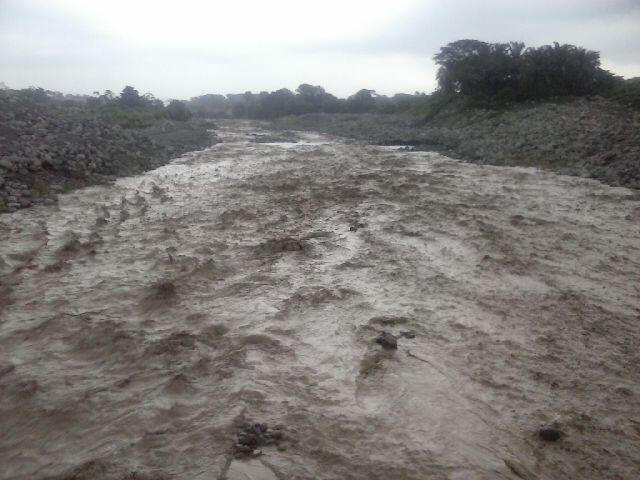 This lahar has dimensions of approximately 18 meters wide and 1.5 meters high, rolling volcanic materials fine to medium (blocks 40-60 cm thick), blocks up to 1.5 meters diameter, as well as branches and tree trunks at the front. Due to the constant activity of the Santiaguito, this lahar has moderate temperatures, with a faint odor of sulfur on its way downstream.
Source : Insivumeh
Kilauea , Hawai :
19°25'16 » N 155°17'13 » W,
Summit Elevation 4091 ft (1247 m)
Current Volcano Alert Level: WATCH
Current Aviation Color Code: ORANGE
Activity Summary:
Eruptions continue at Kilauea Volcano's summit and East Rift Zone. The 61G lava flow continues to flow into the sea at the Kamokuna ocean entry and produce scattered breakouts on the coastal plain. The flow poses no threat to nearby communities. The lava lake at Halema'uma'u Crater continues to be active with a current height of 46 m (151 ft) below the Overlook crater rim. Seismicity and deformation rates remain at background levels throughout the volcano.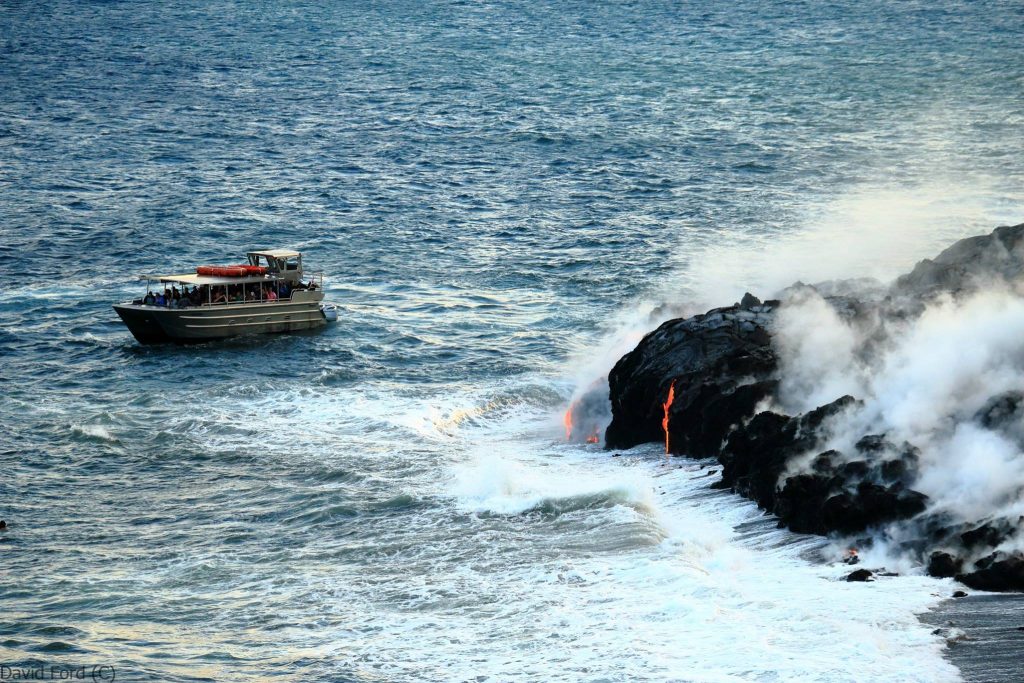 Summit Observations:
The lava lake within the Halema'uma'u Overlook crater remains active, with a current height of 46 m (151 ft) below the crater rim. An explosion late Saturday night, triggered by a rockfall, sent hot spatter onto the southeast rim of Halema'uma'u, producing a continuous carpet of volcanic debris over an 80 m (260 ft) by 50 m (165 ft) section of the rim. Minor deflationary tilt continued through yesterday, consistent with a summit DI event. The overall trend in summit tilt for the past week has been slightly deflationary. Seismicity rates continue to be normal, with tremor fluctuations associated with lava lake spattering. The average daily summit sulfur dioxide emission rate ranged from 4,000 to 5,500 metric tons/day over the past week.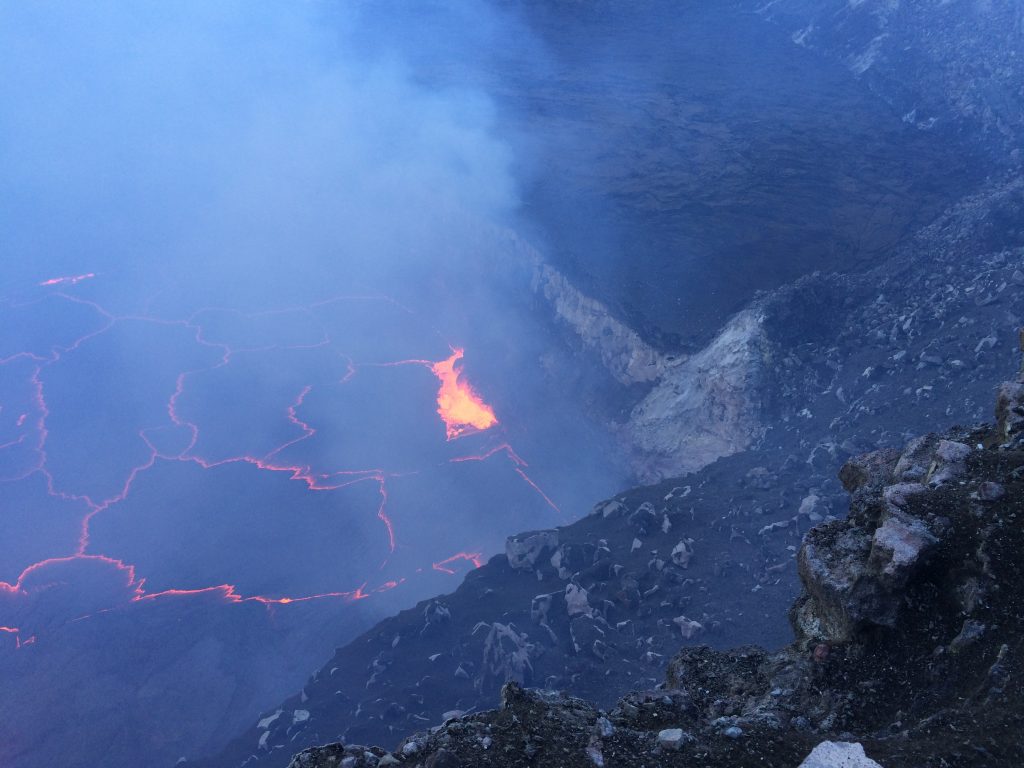 Pu'u 'O'o Observations:
Webcam images over the past 24 hours continue to show persistent glow at long-term sources within the crater, indicating no significant changes. Likewise, no significant change in tilt or seismicity was detected in the past day. The sulfur dioxide emission rate from all East Rift Zone vents was about 330 metric tons/day when measured on August 5.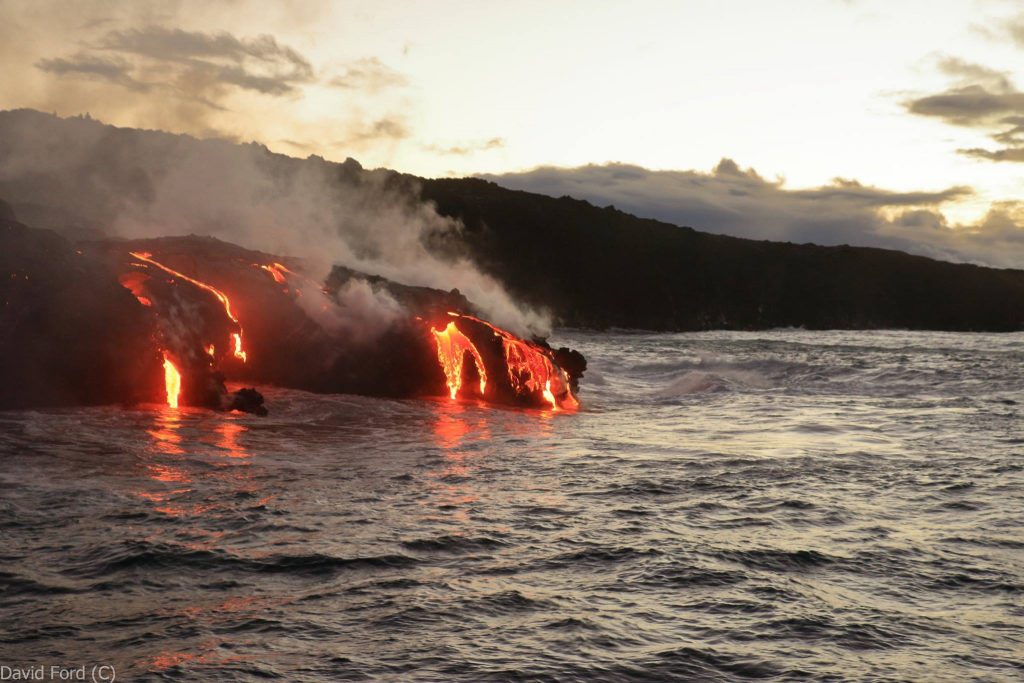 Lava Flow Observations:
The 61G lava flow, extending southeast of Pu'u 'O'o on Kilauea's south flank, remains active. Scattered breakouts continue predominantly on the makai (seaward) portion of the coastal plain. An active lobe on the western side of the flow field was observed to be about 21 m (68 ft) from the Emergency Access road last night and 300-400 m (980-1300 ft) west of the main flow margin. Lava continues to flow into the ocean at the Kamokuna ocean entry, which has spanned between 150-250 m (490-820 ft) over the past week.
Source : HVO.
Photos : HVO , David Ford.
Bromo , Indonesia :
Activity bulletin of the Bromo volcano August 9, 2016.
Visual: sunny–cloudy weather, wind calm, moderate, temperature 10-22 ° C
Mount Bromo appears clear. White smoke was seen coming out of the crater, sometimes gray / brownish, of low thickness. Emission of smoke altitude varies from 50 to 600 meters from the summit crater and spreading to the West – South – West. A low to high rumbling is noticed and the glass doors of the station Pga vibrate.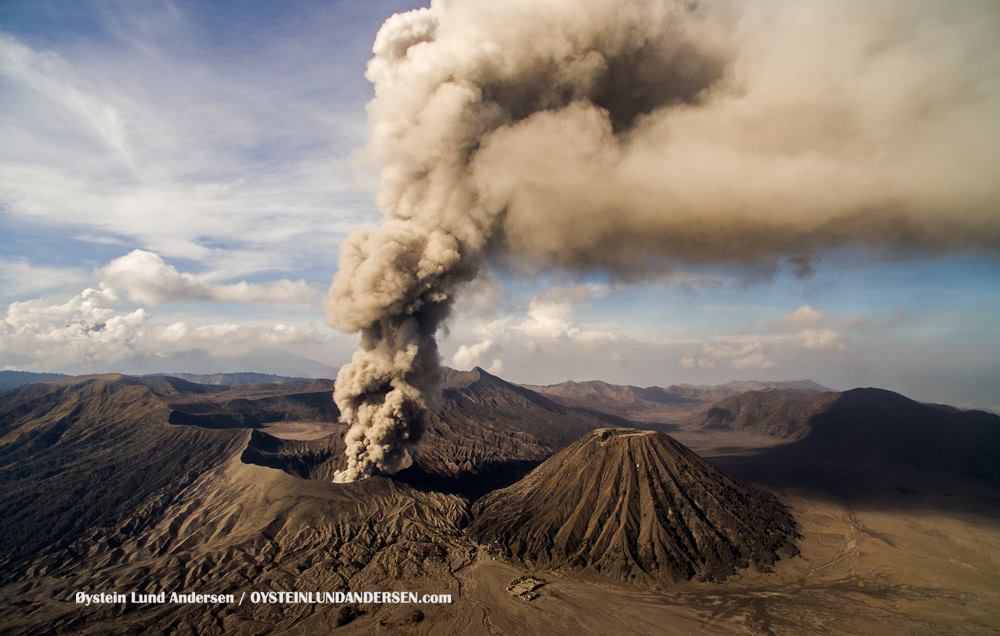 Seismicity: 08/08/2016
Tremor: max amplitude: 0.5 mm 2 to 20 mm dominant
1 x emission earthquake: Magnitude 33mm max Lg 29 seconds
Conclusion: The level of alert of Mount Bromo remains at ALERT (waspada)
Recommendations:
Following the Mount Bromo alert level , the surrounding communities and visitors / tourists / hikers are not allowed to enter the area with a radius of 1 km around the active crater of Mount Bromo.
Source : PVMBG.
Photo : Oystein Lund Andersen