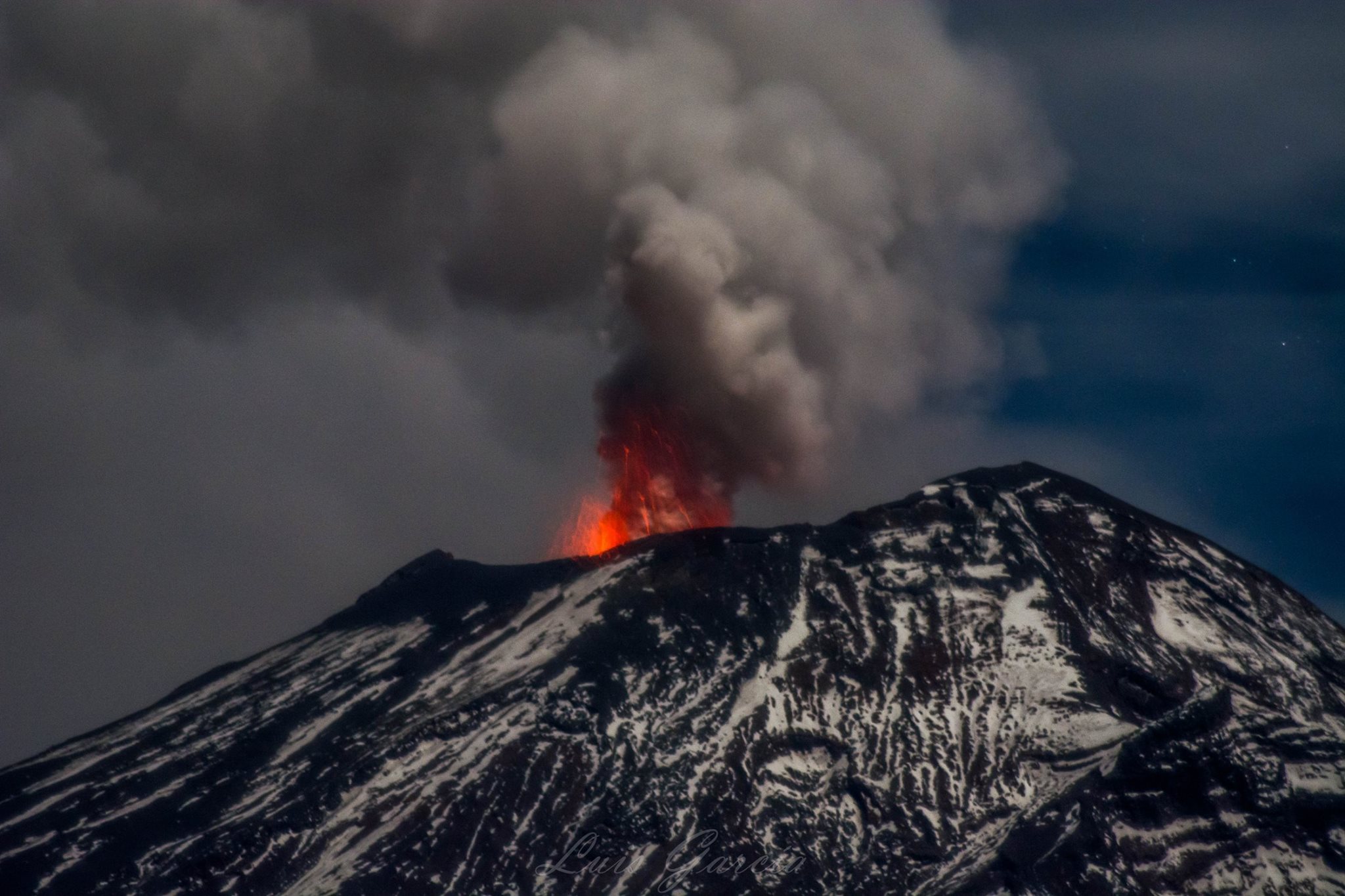 August 02, 2016. EN. Popocatepatl , Rinjani , Yellowstone , Sabancaya .
August 02, 2016.
Popocatepetl , Mexico :
Chronology of events :
July 31, 12:00 (17:00 GMT July 31)
In the last 24 hours, through the seismic records of the Popocatepetl volcano monitoring system 239 exhalations of low intensity were identified. In addition, it was recorded 46 minutes of harmonic tremor of low amplitude and two volcano-tectonic earthquakes of magnitude M1.6 and  M1,5.
At the time of this report, there is no visibility of the volcano, but in the early hours of the morning, this one was observed with continuous emission of water vapor and gases in a direction North- Where .
July 31st of 20:55 h (August 1st 1:55 pm GMT)
Around 6:50 p.m., through the seismic monitoring system that records the Popocatepetl volcano, it was detected increased levels of seismic activity, but due to cloudy conditions it was not possible to have visibility, but there is the possibility of ash emissions. Forecasts of winds to the northwest, so there could be falls of ash in the sector. At the time of this update, the activity continues. All changes will be reported in due course.
August 1, 00:20 h (August 1st 5:20 pm GMT)
An episode of strombolian activity started at 18:50 today and persists to this update. To 10:40 p.m., there has been a continuous emission of steam, gas and ash that the winds have scattered in West–Northwest direction. It is possible that occur ash falls in the villages located in this area.
Some of the explosions that characterize this type of activity, launched incandescent fragments that are deposited on the slopes to the north east of the volcano up to a distance of 1,000 meters from the crater, so the CENAPRED recommends not to approach the volcano and in particular the crater because of the danger of fallout from glowing ballistic fragments .
This type of activity is envisaged within the Semaphore Yellow Volcanic Alert Phase 2. Monitoring of the volcano is made continuously, changes in activity will be reported in due course.
The Semaphore Volcanic Alert Popocatepetl volcano is located in Amarillo Phase 2.
This morning, the site of CENAPRED is down  .

Source : Cenapred .
Photos :   S.. photografo  ,  Fotografía de volcanes y paisajes , Luis Garcia.
Rinjani, Lombok Island, Indonesia :
Mt. Rinjani eruption disrupts Bali flights
Badung, Bali | Mon, August 1 2016 | 07:27 pm
Mt. Rinjani eruption disrupts Bali flights Mount Rinjani has attracted many tourists since the 1990s thanks to its breathtaking view of its caldera called Segara Anak.
A number of domestic and international flights to and from Bali were canceled on Monday following the eruption of Mount Rinjani in Lombok, West Nusa Tenggara.
Three domestic flights from Bali to Lombok have been canceled, as the eruption forced the closure of Lombok International Airport on Monday afternoon, spokesman of I Gusti Ngurah Rai International Airport, Awaluddin, told The Jakarta Post.
« Three flights from Lombok to Bali were canceled, » Awalludin said.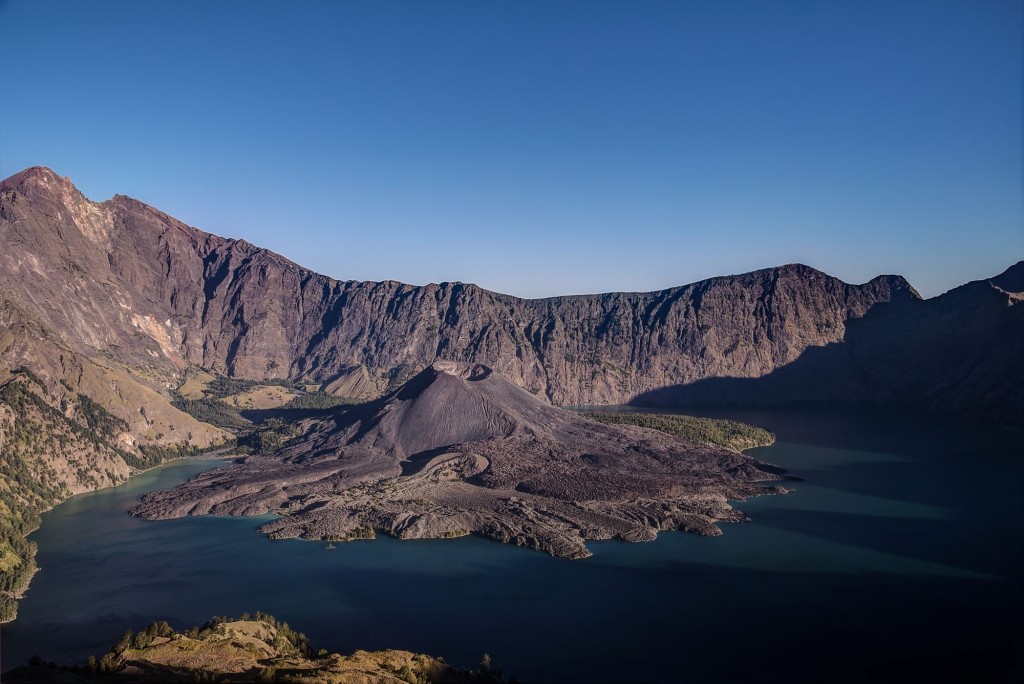 Meanwhile, five flights from Australia to Bali were canceled, three of which were Tiger Air and two Virgin Airlines flights.
« The canceled flights were from Australian cities Sydney, Brisbane, Melbourne, Perth and Adelaide, » he said.
From Ngurah Rai, two flights to Australia have also been canceled. The flights included one Tiger Air flight to Perth and one Virgin Airline flight to Brisbane, leaving at least 335 passenger stranded in Bali.
« The cancellations were decided for safety reasons, » Awaluddin said.
Chronology of the eruption of Rinjani
August 1, 2016:
1. The seismographic eruption was recorded on instruments. ash emissions occurred at 11:50 p.m., after shaking the surroundings of Mount Rinjani, including Sembalun district by a earthquake, on August 1, 2016 at 19.40, of magnitude M = 5.7 (BMKG). Visual observations were not performed in the morning or the afternoon because of fog which covered the mountains. The results of visual observation by air passengers shows that the height of the eruptive ash column reached about 2000 m above the top of Barujari. Satellite Himawari imagery shows  ash spread south of Mount Rinjani at an altitude of 6000m, so the Lombok International Airport has been closed by the Airport Authority.
2. A second earthquake was recorded with gusts of ash at 16:33 pm.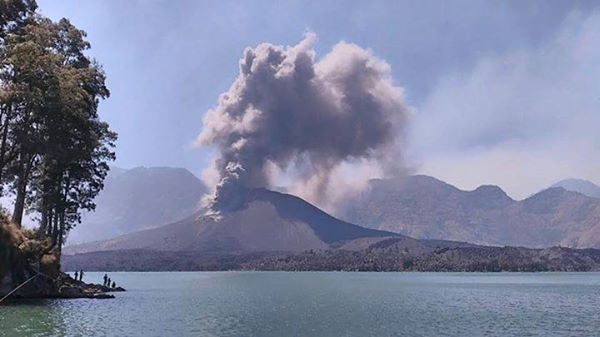 3. Visually, from the PGA post of Rinjani at 17:48 pm the mountain was discovered and he was not seen again ash plume.
4. seismogram from 06:00 until 18:00 does not seem to show volcanic earthquakes (VA), shallow (VB), and volcanic tremor.
5. It is presumed that the seismic shocks that have occurred are due to release pressure four hours earlier that freed surface residual stresses, since the eruption of September 25, 2015 to February 18, 2016, is unstable. And judging by the lack of VA and VB signals volcanic activity Rinjani seems less likely to lead to a larger eruption.
6. The level of activity is still maintained in NORMAL for Rinjani with recommendations for a while, not to enter the area of Puncak Barujari (R = 1.5 km around the summit of Barujari).
Source : Jakartapost, PVMBG.
Photos : Hazmar Nasir,
Yellowstone , Etats-Unis :
44°25'48 » N 110°40'12 » W,
Summit Elevation 9203 ft (2805 m)
Current Volcano Alert Level: NORMAL
Current Aviation Color Code: GREEN
Seismicity
During July 2016, the University of Utah Seismograph Stations, responsible for the operation and analysis of the Yellowstone Seismic Network, reports 71 earthquakes were located in the Yellowstone National Park (YNP) region. The largest event was a micro earthquake of magnitude 2.5 on July 01, 05:29 PM MDT, located 19 miles northeast of West Yellowstone, MT.
July seismicity included a small swarm of ten earthquakes occurring on July 28 (MDT). The largest swarm earthquake (magnitude 2.2) occurred July 28, 06:34 AM MDT, located nine miles north northeast of Old Faithful, YNP.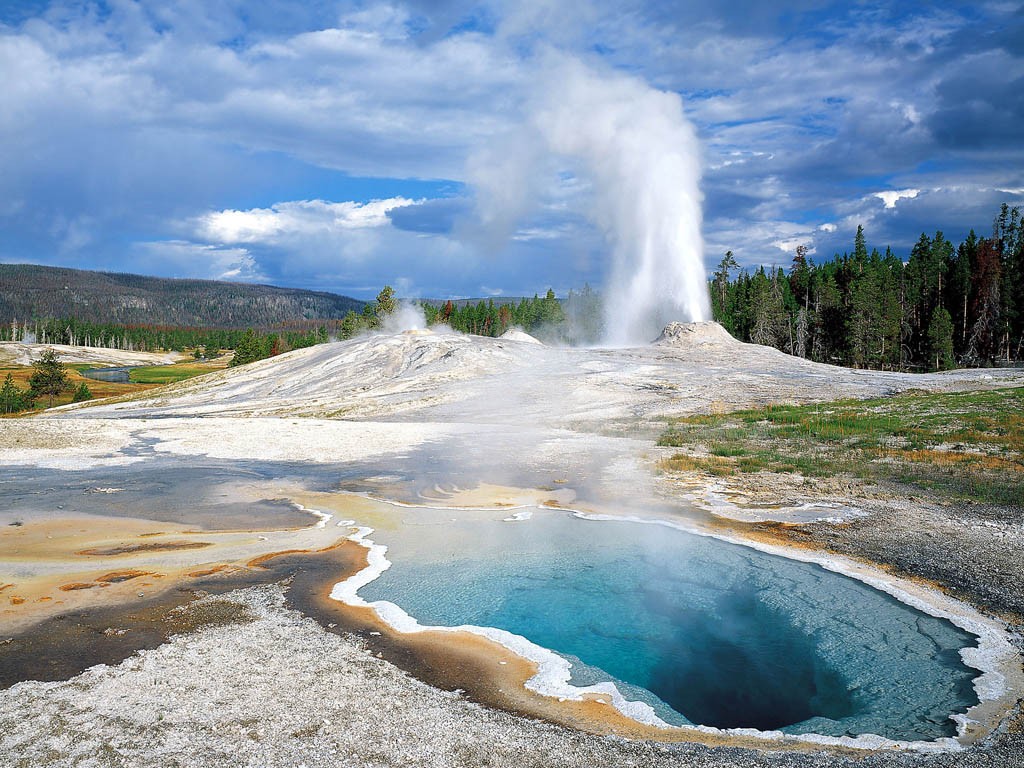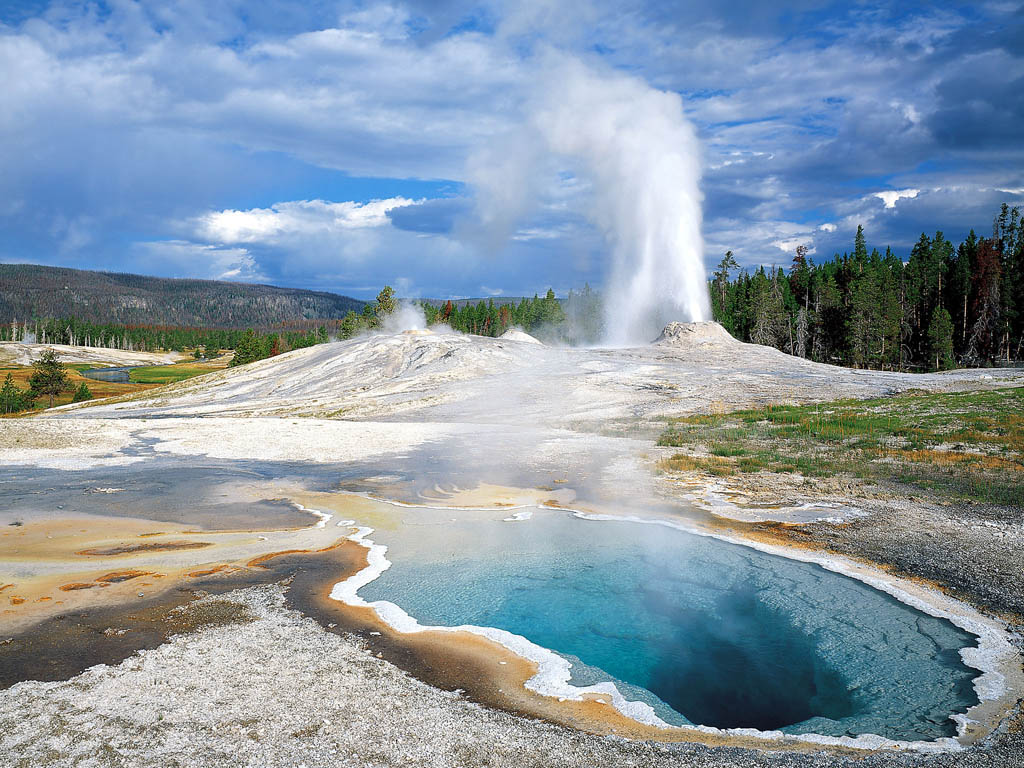 Ground deformation
Uplift at the Norris GPS station (NRWY), which began in early 2016, continues at a rate of ~5 cm/yr. Caldera GPS stations continue to record slow subsidence at a rate of ~1.5 cm/yr.
Current deformation patterns at Yellowstone remain within historical norms.
An example of GPS data can be found at http://www.unavco.org/instrumentation/networks/status/pbo/data/WLWY (click on Static Plots / Time Series)
The Yellowstone Volcano Observatory (YVO) provides long-term monitoring of volcanic and earthquake activity in the Yellowstone National Park region. Yellowstone is the site of the largest and most diverse collection of natural thermal features in the world and the first National Park. YVO is one of the five USGS Volcano Observatories that monitor volcanoes within the United States for science and public safety.
Source : YVO
Sabancaya, Peru :
The activity of Sabancaya for this time is low.
Registration of volcanic seismic events shows that on average, less on the events Hybrid (03 HIB / day) LPs (16 LPs / day) and Tremor type events (22TRE / day).
In addition, the distal volcano-tectonic events continue to be recorded in the northeast direction of the volcano, being located 14 km from it (Maca zone).
The VTPS events (proximal Volcano–Tectonic), located less than 6 km crater continue to occur and increased slightly in number (8 VTP / day) and magnitude. There is a M 3.1 event, recorded on July 19.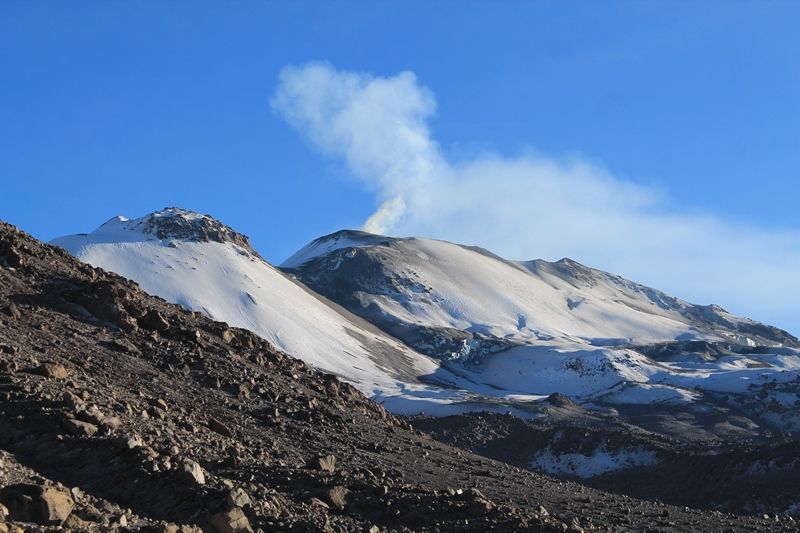 The fumarolics emission issued by Sabancaya volcano were primarily water vapor.
The maximum height reached by the fumaroles was 2000 meters above the crater, approximately.
The satellite monitoring, Mirova,  detected no significant thermal anomalies  values for this period.
Source : IGP