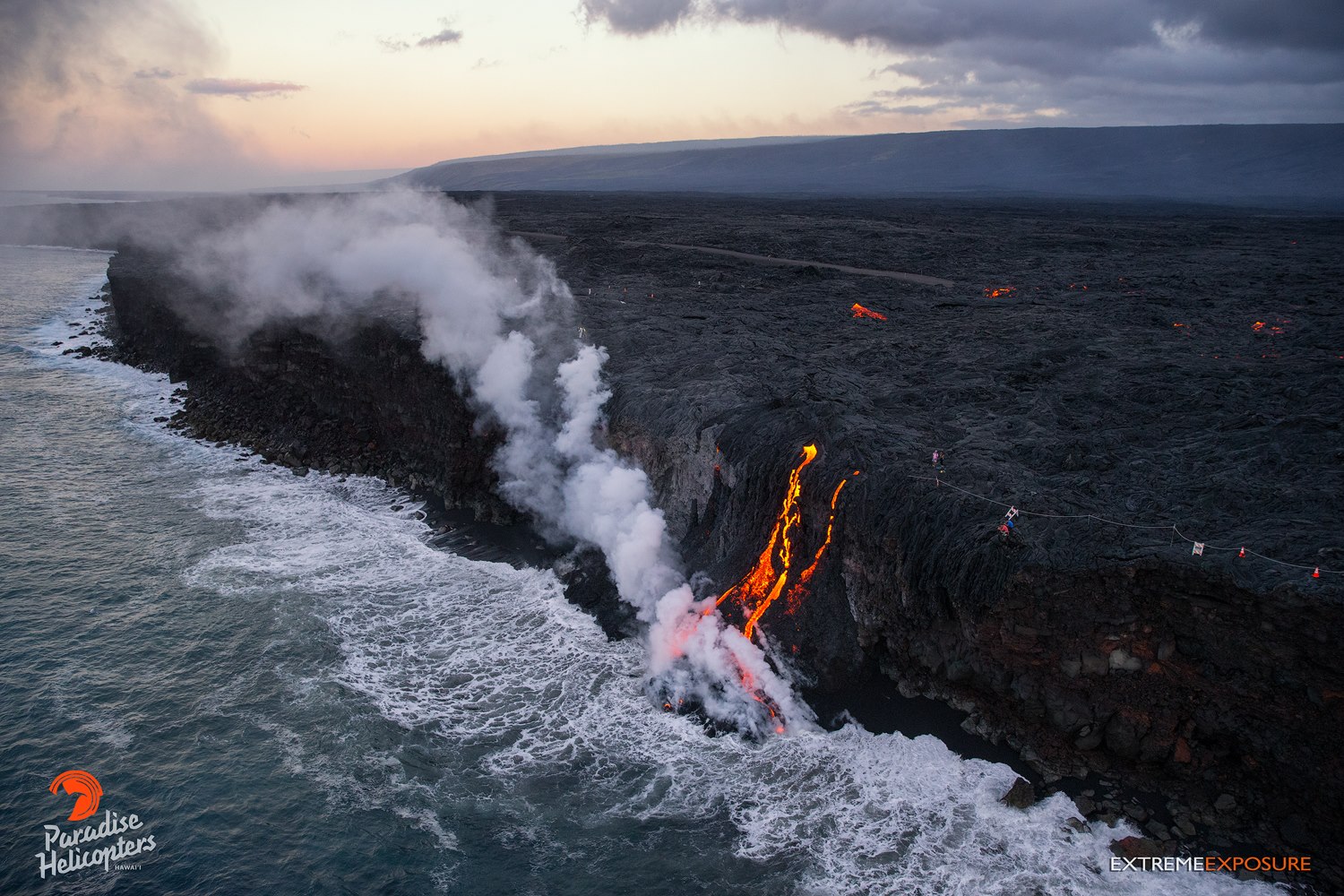 July 29 , 2016. EN. Kilauea , Piton de la Fournaise , Pavlof , Fuego .
July 29 , 2016.
Kilauea , Hawai :
Just for our eyes … Thank's Pele ...
19°25'16 » N 155°17'13 » W,
Summit Elevation 4091 ft (1247 m)
Current Volcano Alert Level: WATCH
Current Aviation Color Code: ORANGE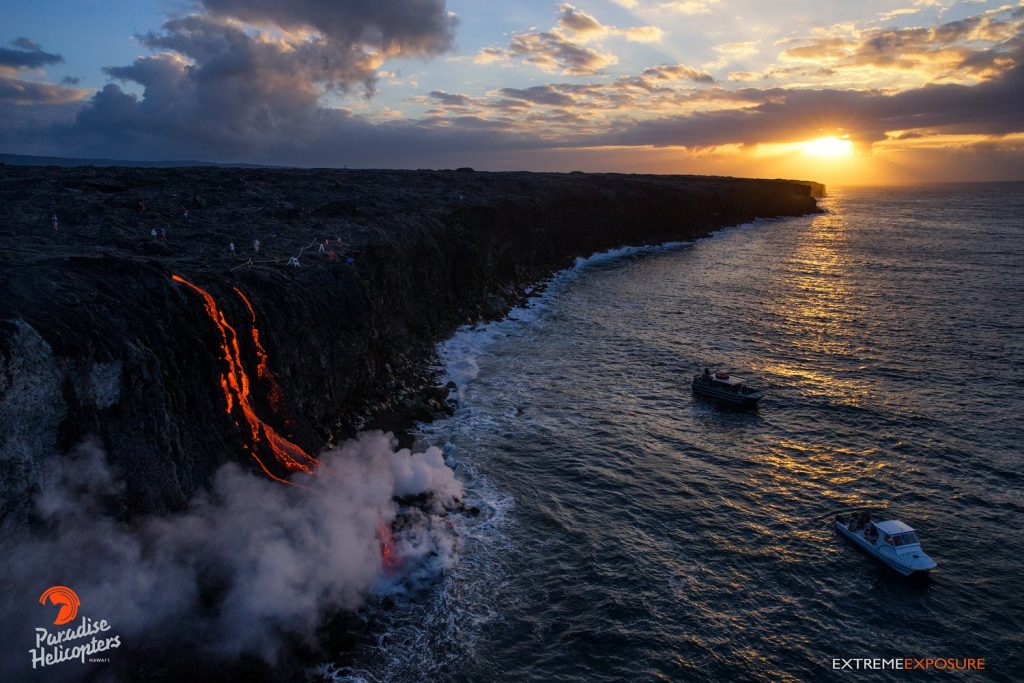 A day early, our regularly scheduled overflight was pushed up to document 61G's newly formed ocean entry. Low cloud cover almost made us opt for a straight shot at the coast, but an opening allowed us to get a peek at the active lava pond's bubbling and sloshing within Pu'u'O'o, and a look at source of 61G via the skylight high on the northeast flank. The ocean entry did not disappoint, as a robust lobe of molten lava cascaded down the sea cliff into the ocean, creating a small steam plume that rose into the early morning sky. The activity is slowly creating a little delta at the base of the cliff, as fresh black sand and rubble accumulate. Visitors were present to witness this spectacle of nature, by land, sea, and air.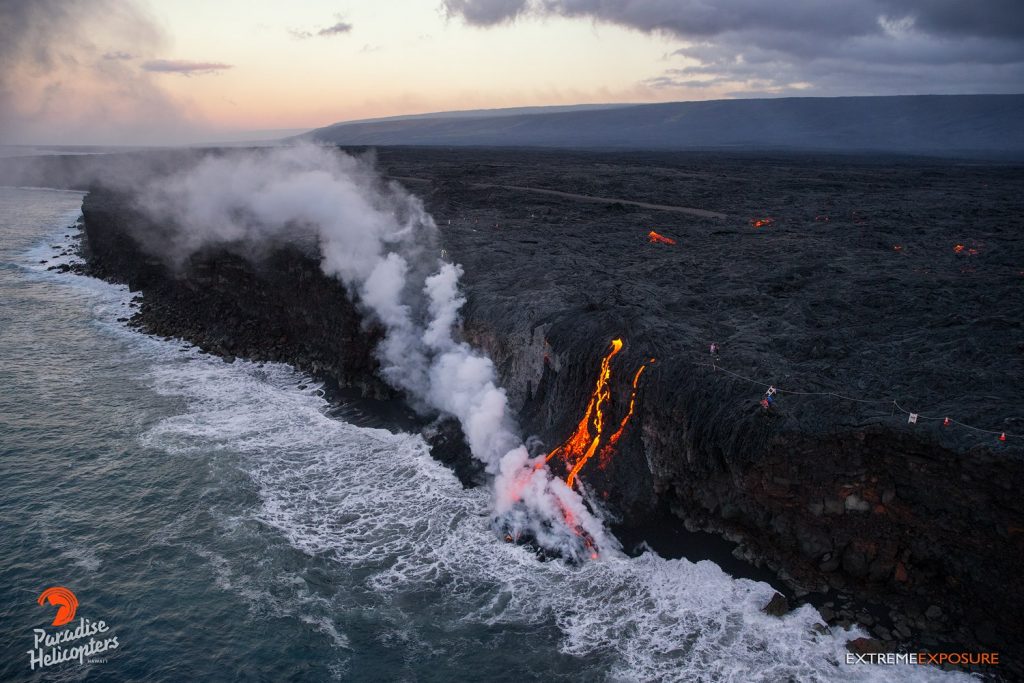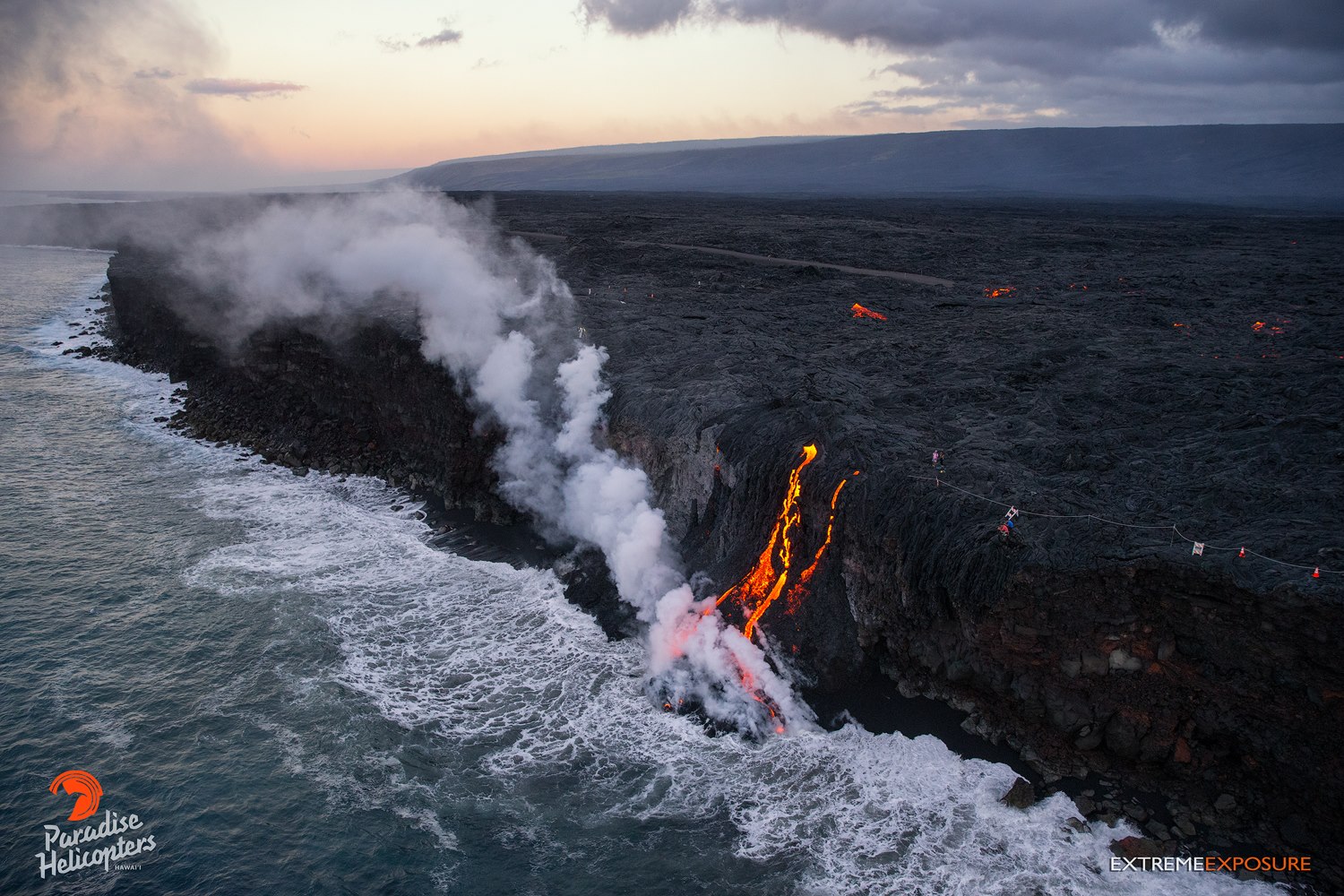 Activity Summary:
Eruptive activity continues at Kilauea Volcano's summit and East Rift Zone. The 61G lava flow extending southeast of Pu'u 'O'o continues its Kamokuna Ocean entry and poses no threat to nearby communities. The lava lake at Halema'uma'u Crater continues to circulate and intermittently spatter. Seismicity and deformation rates throughout the volcano remain at background levels.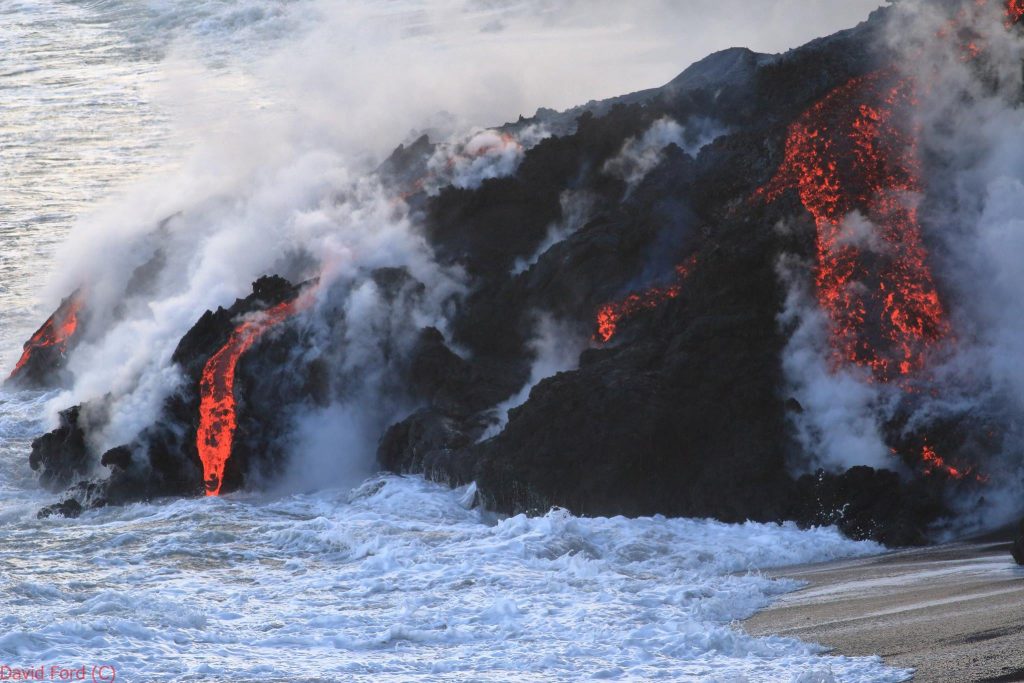 Summit Observations:
The lava lake within the Halema'uma'u Overlook crater remains active. The depth to the lake was estimated at 23.5 m (77 ft) below the crater rim, measured this morning. Tiltmeters at Kilauea's summit recorded flat tilt. Seismicity is within normal, background rates with tremor fluctuations associated with lava lake spattering. The summit sulfur dioxide emission rate ranged from 900 to 9,000 metric tons/day measured yesterday.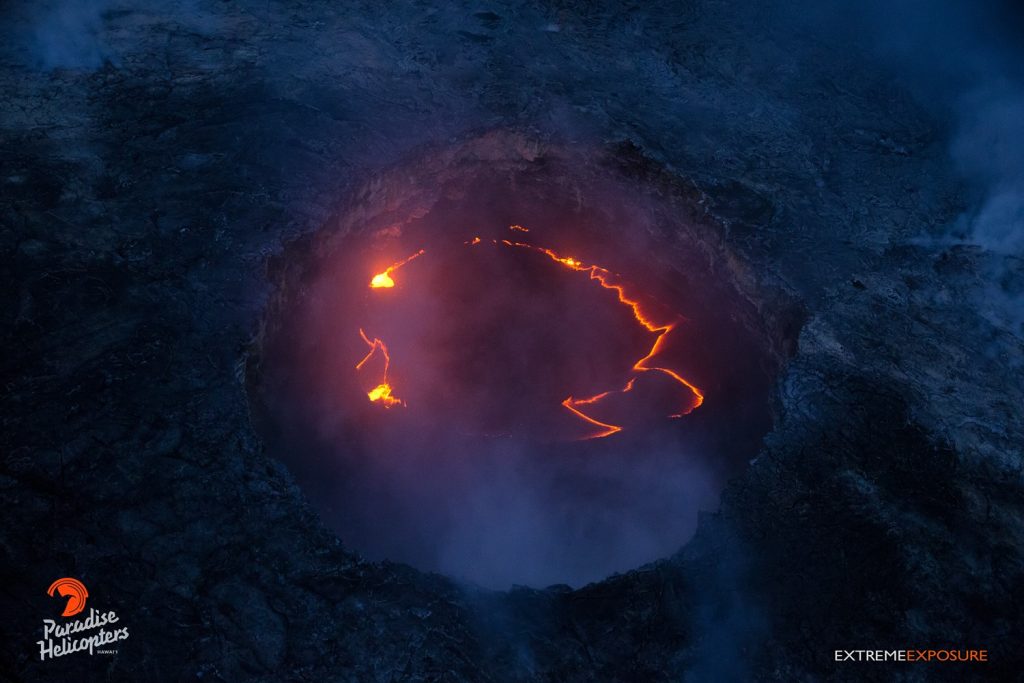 Pu'u 'O'o Observations:
Webcam images over the past 24 hours show persistent glow at long-term sources within the crater. There were no significant changes in seismicity or tilt over the past 24 hours. The sulfur dioxide emission rate from all East Rift Zone vents on July 27 was about 290 metric tons/day.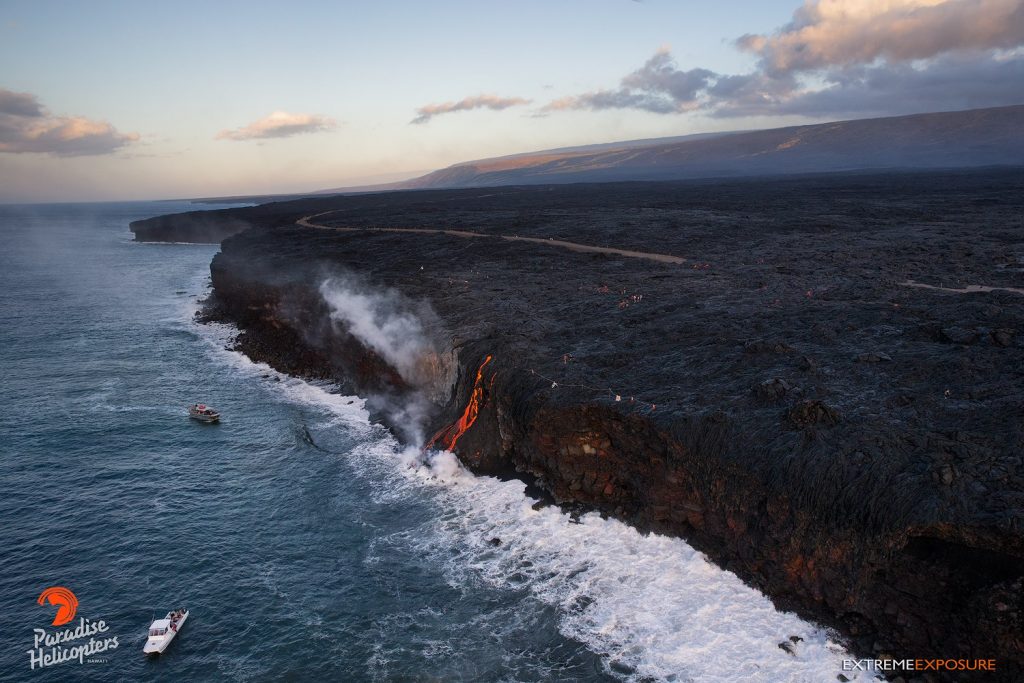 Lava Flow Observations:
The 61G lava flow extending southeast of Pu'u 'O'o towards the coastal plain on Kilauea's south flank remains active, and its ocean entry in the Kamokuna area continues. It is currently at least 20 m (66 ft) wide where it spills over the sea cliff. Another narrow lobe of the flow has advanced along the west margin of the main flow. Areas of incandescence remain visible in overnight webcam views of the active lava flow field, marking lava tube skylights and areas of active lava on the pali and along the flow as it extends towards the coast.
Source : Bruce Omori , HVO.
Photos : Bruce Omori , David Ford .
Piton de la Fournaise , La Réunion :
Bulletin of Thursday, July 28, 2016 – Piton de la Fournaise Volcano Observatory .
July 28, 2016. Since the resumption of seismicity July 13, 2016, the OVPF recorded total:
◾163 shallow volcano-tectonic earthquakes (0 2 km away under the surface) below the summit craters; with two main peaks the 19 July (19 earthquakes) and 26 July (33 earthquakes);
◾18 local earthquakes (in the island);
◾226 collapses (in the Dolomieu Crater, at the bulwark of l'Enclos Fouqué and on the flow of  August-October 2015).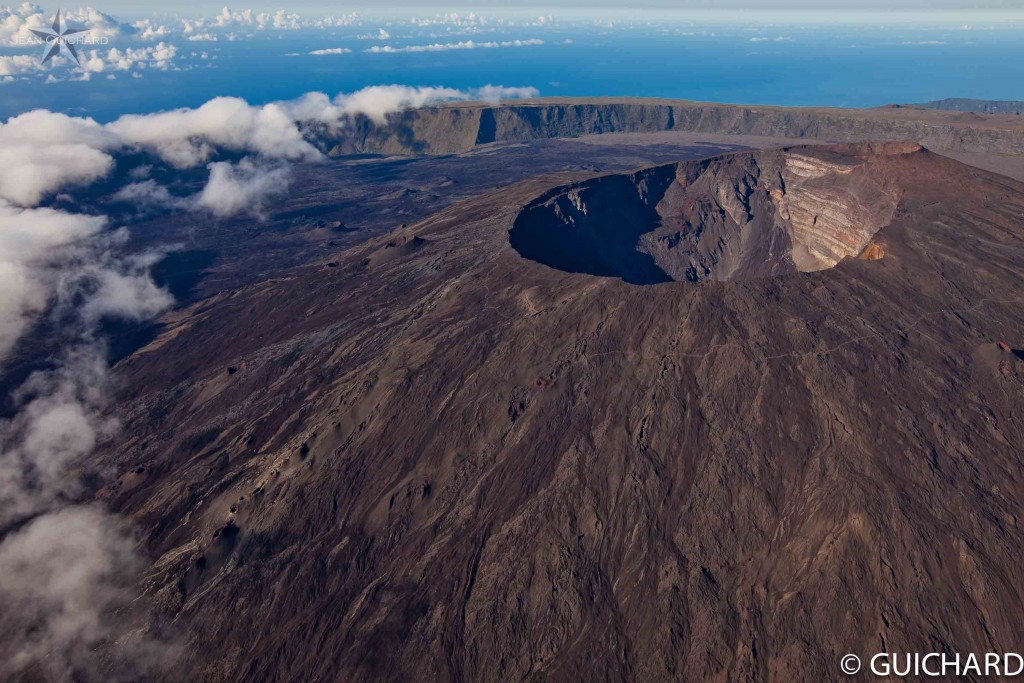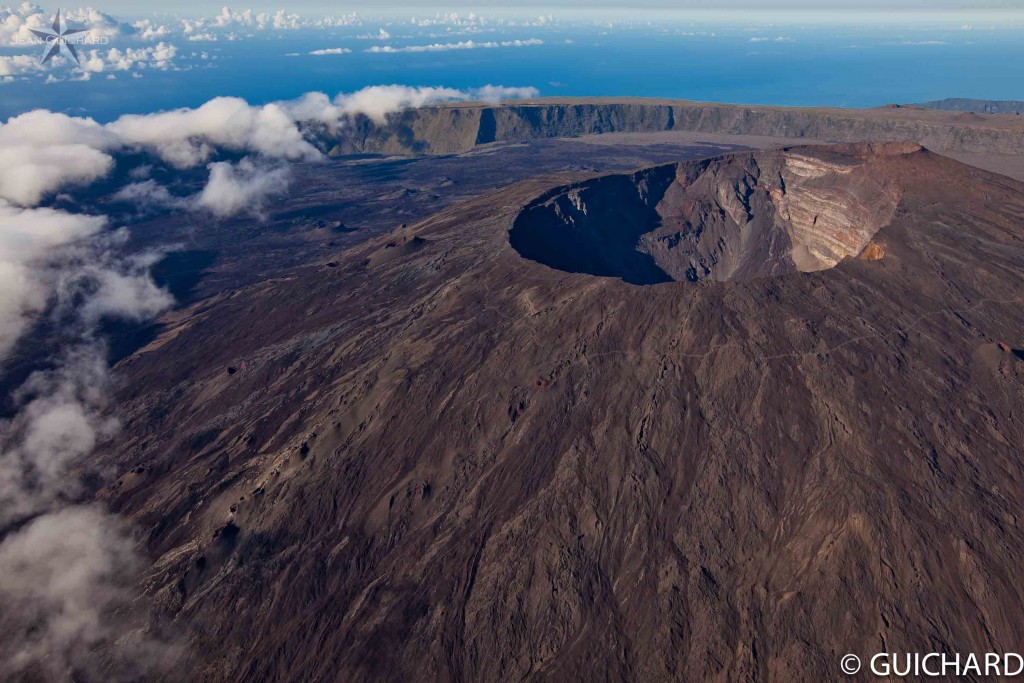 Deformation:
Since July 13, 2016, a pickup in inflation is recorded and continues at rates similar to those recorded before the eruptions of 2015 and 2016 (apex elongation of about 1 mm / day).
Geochemistry of gas:
Since July 21, a moderate increase in average concentrations of H2S is detected in emissions from the summit.
CO2 concentration in soil falls on distant stations (Plain of Kaffirs) could score deep magmatic transfer episodes to lower depths. This is in line with the recovery of seismicity and deformation.
Alert level: vigilance
Source : OVPF
Photo : Guichard
Pavlof , Alaska :
AVO/USGS Volcanic Activity Notice
Volcano: Pavlof (VNUM #312030)
Current Volcano Alert Level: WATCH
Previous Volcano Alert Level: ADVISORY
Current Aviation Color Code: ORANGE
Previous Aviation Color Code: YELLOW
Issued: Thursday, July 28, 2016, 11:55 AM AKDT
Source: Alaska Volcano Observatory
Notice Number: 2016/A82
Location: N 55 deg 25 min W 161 deg 53 min
Elevation: 8261 ft (2518 m)
Area: Alaska Peninsula
Volcanic Activity Summary: Low-level eruptive activity observed in web camera and satellite images of Pavlof. Vigorous, steam-rich degassing was observed in web camera images this morning. Recent satellite images and a pilot report provide evidence of minor ash emissions associated with the degassing. Seismic tremor continues at amplitudes similar to the previous several days. This unrest prompts AVO to raise the Aviation Color Code to YELLOW and the Volcano Alert Level to ADVISORY.
Activity is currently at relatively low levels. An increase in eruptive activity is possible and could occur with little or no warning. AVO will continue to monitor the volcano closely.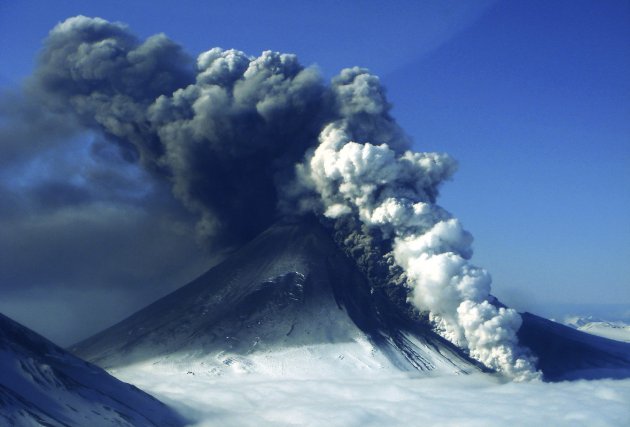 Recent Observations:
Volcanic cloud height: Maximum altitude currently below 15,000 ft msl
Other volcanic cloud information: Mixture of steam and ash. Satellite discrimination of ash and  steam/ash : PIREP  .
Remarks: Pavlof Volcano is a snow- and ice-covered stratovolcano located on the southwestern end of the Alaska Peninsula about 953 km (592 mi) southwest of Anchorage. The volcano is about 7 km (4.4 mi) in diameter and has active vents on the north and east sides close to the summit. With over 40 historic eruptions, it is one of the most consistently active volcanoes in the Aleutian arc. Eruptive activity is generally characterized by sporadic Strombolian lava fountaining continuing for a several-month period. Ash plumes as high as 49,000 ft ASL have been generated by past eruptions of Pavlof, and during the March 2016 eruption, ash plumes as high as 40,000 feet above sea level were generated and the ash was tracked in satellite data as distant as eastern Canada. The nearest community, Cold Bay, is located 60 km (37 miles) to the southwest of Pavlof.
Source : AVO.
Photo : AVO.
Fuego , Guatemala :
The tenth recorded eruption of 2 016 on the Volcan Fuego show low and moderate explosions generating a column of ash to a height of about 4,900 meters (16.076 feet) dispersing over 10 kilometers to the west and the southwest.
The explosions are accompanied by strong rumblings with strong shock waves sensitive to over 15 km in the volcanic perimeter and sounds similar to train locomotives.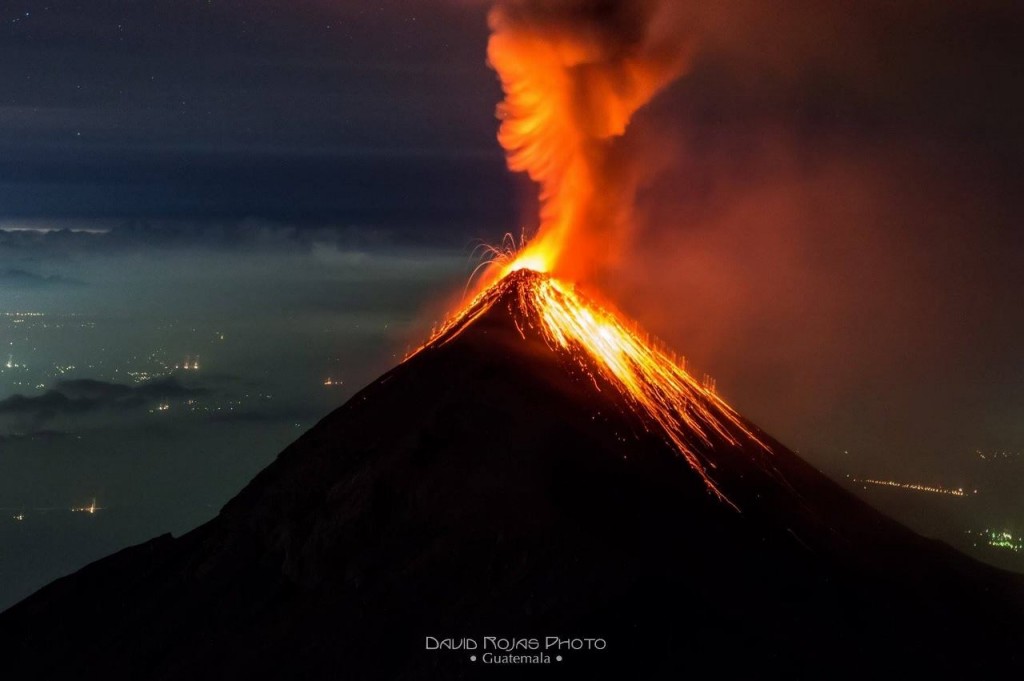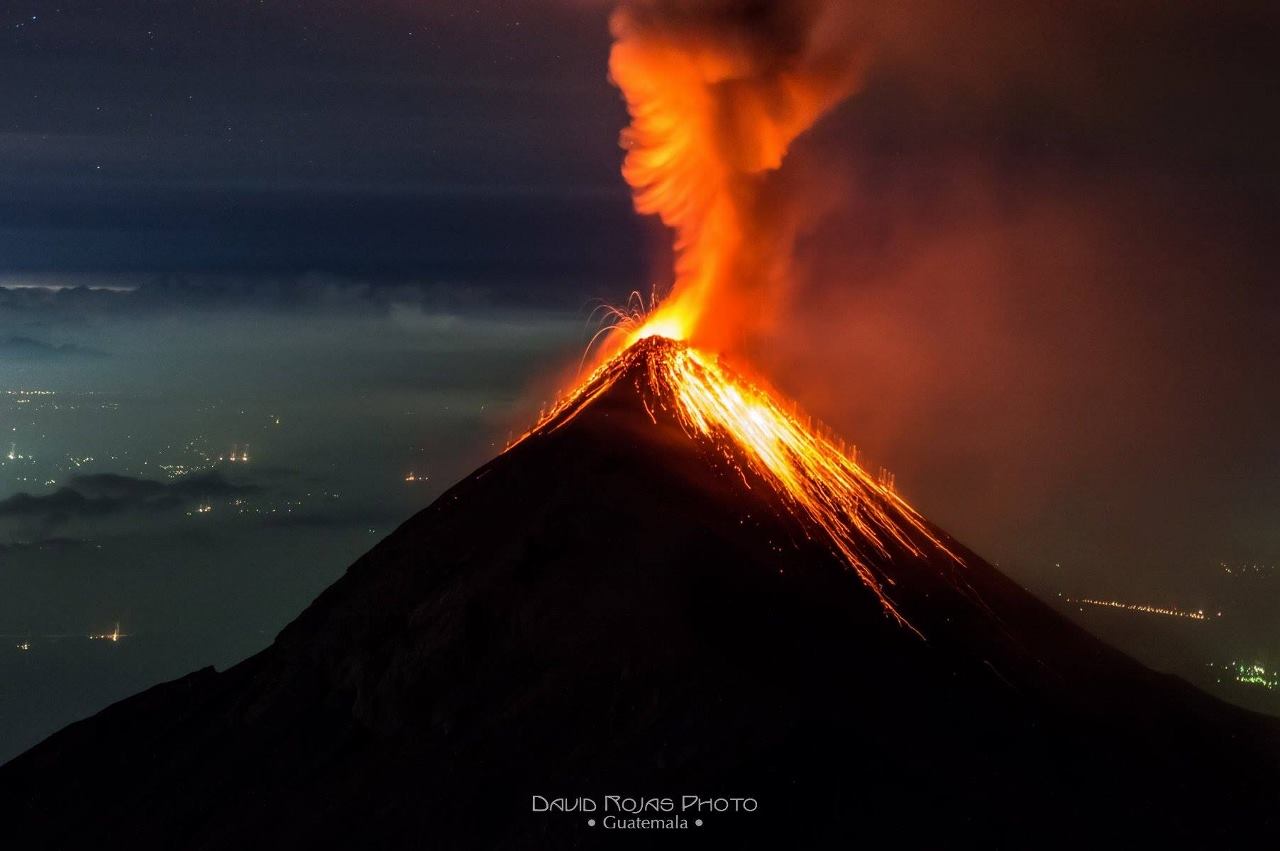 Incandescent pulse are observed at a height of 300 meters above the crater, feeding two lava flows, the first into the Canyon Santa Teresa, with a length of 1000 meters and the second into the Canyon Las Lajas, with a length of 1,500 meters, and causing moderate avalanches around the edge of the crater.
Ash falls are reported in the villages of Sangre de Cristo, San Pedro Yepocapa, and others located on the southwest flank.
This eruption show constant explosions and lava flows, however this activity can increase and generate pyroclastic flows mainly in ravines Las Lajas and El Jute.
Source: INSIVUMEH
Photo : David Rojas