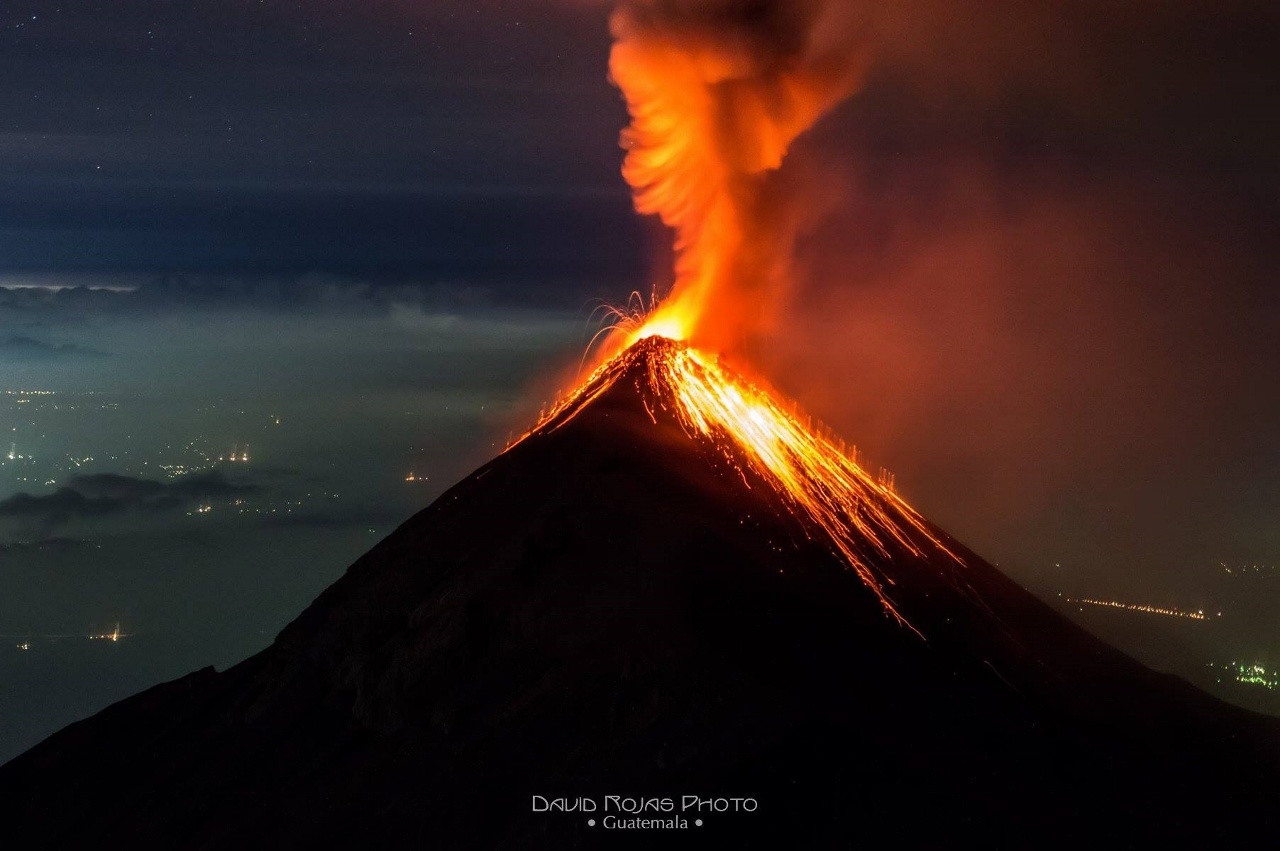 June 21, 2016. EN. Kilauea , Poas , Pacaya , Fuego , Kanlaon .
June 21 , 2016.
Kilauea , Hawai :
19°25'16 » N 155°17'13 » W,
Summit Elevation 4091 ft (1247 m)
Current Volcano Alert Level: WATCH
Current Aviation Color Code: ORANGE
Activity Summary:
Eruptions continue at Kilauea Volcano's summit and East Rift Zone. No strong changes to the eruptions are noted. The lava flow to the southeast of Pu'u'O'o continues to advance and spread. It currently poses no threat to nearby communities. The lava lake at Halema'uma'u crater continues to circulate and spatter, and the surface of the lava lake within the vent, while showing small fluctuations, remains roughly 30m (~100ft) below the adjacent crater floor. Low rates of seismicity are noted across the volcano, and long-term deformation trends show continued inflation beneath the summit and uppermost Southwest Rift Zone. The June 27th lava flow northeast of Pu'u'O'o is no longer active.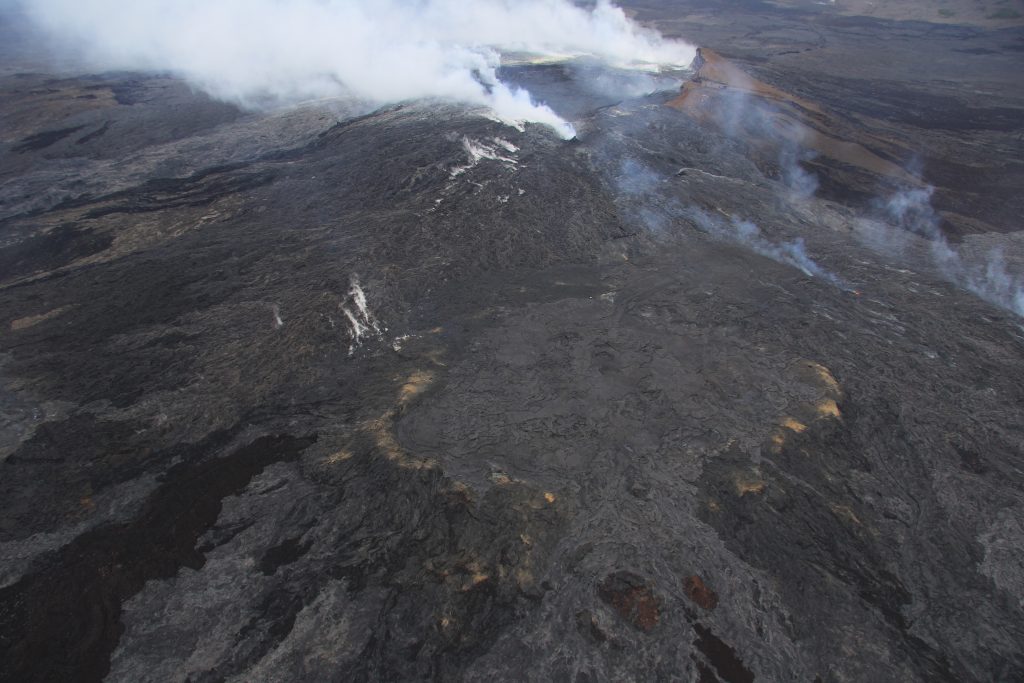 This photo, looking southwest, shows Pu'u'O'o in the background, with the northern breakout from May 24 extending to the right, with fume coming from a newly forming tube. The feature in the center foreground is a perched lava pond that formed in July 2014, but was refilled by new lava from the northern breakout in recent days. The breakout point of the eastern breakout is hard to pick out, if you don't know what to look for. It's the lighter colored lava at the left edge of the photo immediately below center.

Summit Observations:
Since yesterday morning at roughly 0800h Hst, Kilauea summit tiltmeters have been recording a deflationary trend that looks to be the deflationary stage of a summit DI event. Thus far, the Uwekahuna vault tiltmeters have registered ~2 microradians of deflationary tilt, and the rate of deflation looks to have slowed considerably this morning. The summit lava lake at Halemaʻumaʻu continues to circulate and spatter, and estimates derived from HVO webcams suggest a small drop in lava lake level associated with the ongoing deflation. HVO web cameras show the lake surface remaining roughly 30m (~100ft) below the adjacent floor of Halema'uma'u. Low rates of seismicity in the summit caldera region are noted, with minor fluctuations in amplitudes of volcanic tremor related to variations in lave lake circulation and spattering. VLP seismic excitation looks to be associated with apparent collapse of a small section of the south-southwest edge of the Overlook vent yesterday afternoon at 1526h Hst. Sulfur dioxide emissions from the summit vent over the past week ranged from 3,500 to 7,300 metric tons/day, with slightly increased levels recorded during the last two days.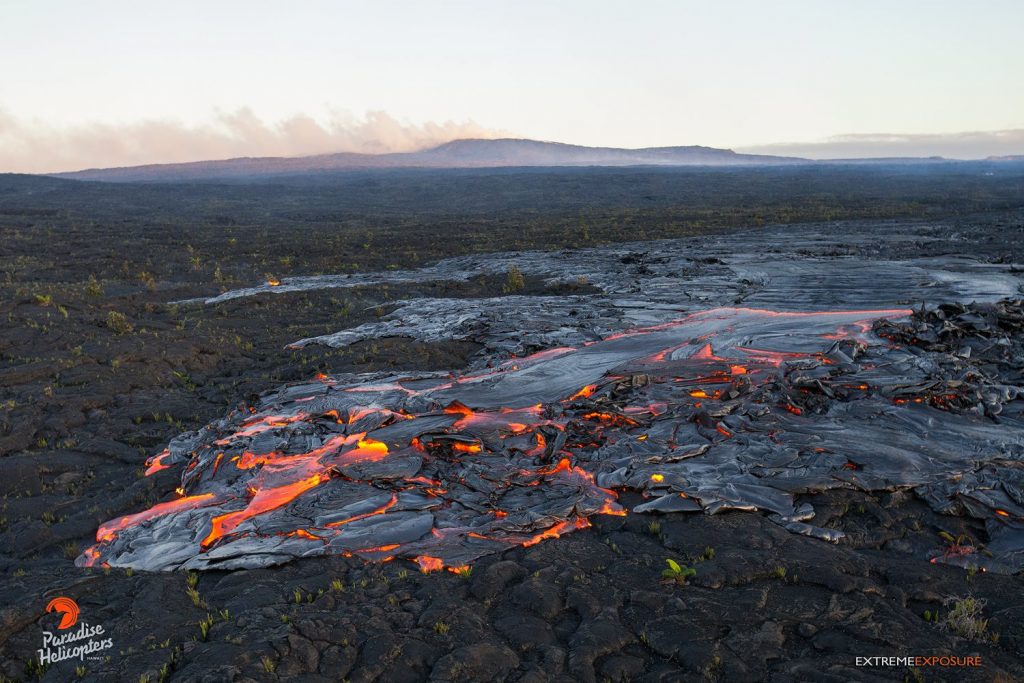 Pu'u'O'o Observations:
HVO webcams are showing persistent activity at Pu'u'O'o. There are no significant changes in ground surface deformation or seismic activity at Pu'u'O'o. Sulfur dioxide emission rate from all East Rift Zone vents when last measured on June 13 was about 390 metric tons/day.
Lava Flow Observations:
The active lava flow southeast of Pu'u'O'o continues to advance and spread. Bright incandescence is visible in the overnight webcam views of the active lava flow field, marking several skylights along the upper part of the tube system supplying lava to the front part of the flow, as well as surface activity farther away from Pu'u'O'o. The June 27th lava flow northeast of Pu'u'O'o is no longer active.
Source : HVO
Photo : HVO , Bruce Omori
Poas, Costa Rica :
Activity report of the Poas volcano
Three phreatic eruptions of low energy, June 19, 2016, updated at 6:00 AM.
This Sunday, June 19, 2016, in the morning took place 3 small phreatic eruptions in the lake ultraacide of the volcano Poas , at 6:03 p.m. and 18h03..
The ground ejecta columns on the lake (water, sediment, molten sulfur and fragments of altered rocks) are of small height, not exceeding 50 m.
The seismograph network of OVSICORI-A, which monitors seismic activity of the volcano Poas, clearly recorded three seismic signals associated with these small phreatic eruptions of very short duration (<5 seconds).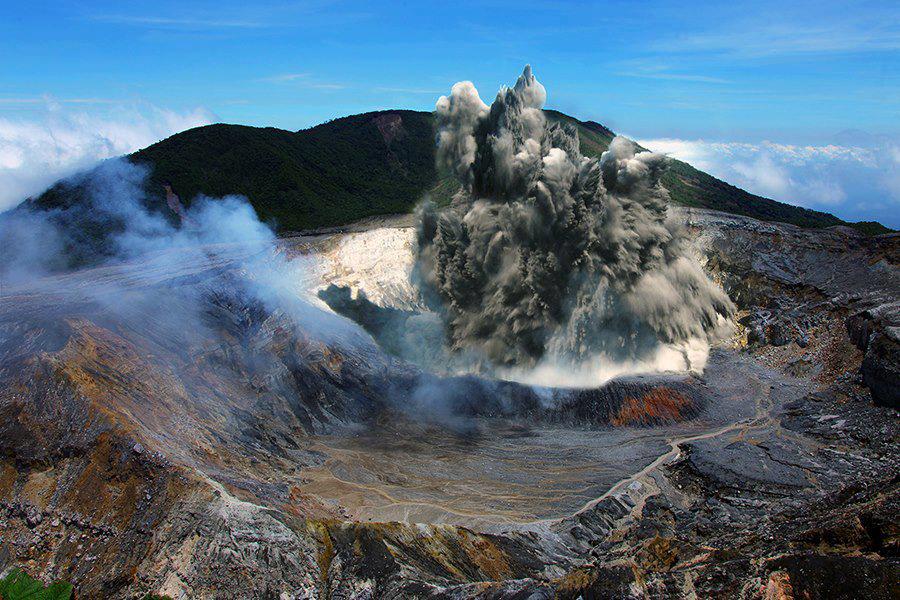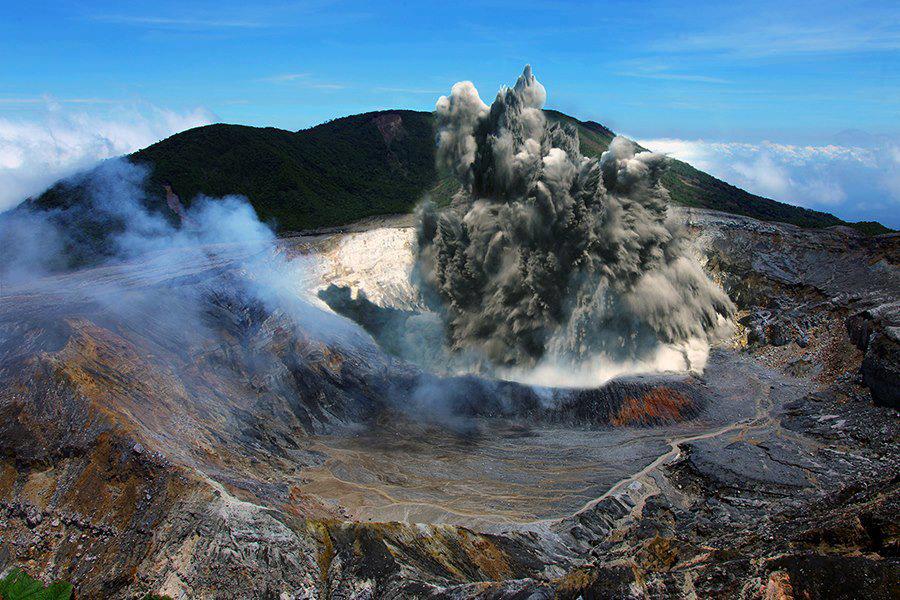 The Poas Volcano has shown since the beginning of April 2016 an increase in water vapor emission, gas and heat magma mainly by the lake, and several phreatic eruptions so far of small height ( maximum 100 m). Following the increase in vapor transport and gas from the magmatic hydrothermal system underlying the crater, there is the fact that the lake is milky gray color, with vigorous convection, evaporation and the abundance of molten sulfur on its surface. The actual temperature of the acid lake is approximately 50 degrees Celsius. In addition, in June 2016, it was recorded earthquakes VT (volcano-tectonic) near the Poas Volcano.
The OVSICORI-A will issue reports on the activity of Poas Volcano every time changes or relevant events will be recorded to inform the public, authorities and entities.
Definition:
Phreatic eruption:  Explosion of vapour and gas due to the sudden interaction between hot water or between water, magma and rock.
VT earthquakes: high frequency earthquakes that occur beneath the volcanoes at depths of 1-10 km depth and is associated with stress or rupture of the rock by the pressure exerted by fluids (water, liquids, or magma) .
  Source: OVSICORI-A Heredia Costa Rica
Photos: Poas volcanoparc
Pacaya , Fuego , Guatemala :
Pacaya Volcano:
Activity type Strombolian
Morphology : composite Stratovolcano
Geographical location: 14 ° 22'50 « N Latitude; 90 ° 36'00 » W. Longitude
Height: 2,552m
Conditions: Partly Cloudy
Wind: East, 6 kmh
Rainfall: 19.2 mm.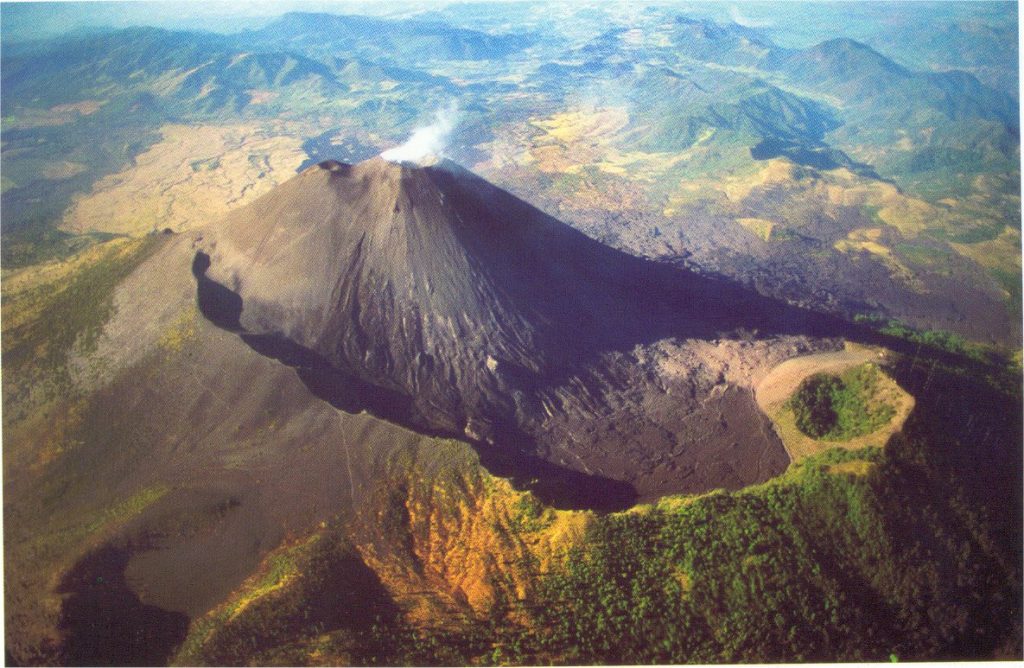 Activity:
Low to moderate fumarole activity is reported, at a height of 400 meters above the crater, to the west of the main cone Mackenney.
PCG station records a seismic tremor associated with an internal degassing and an increase in low explosions.
During the evening hours, it is possible to observe a faint glow.
In areas of the crater, small explosions accompanied by visible impact, only in this zone, are present.
Volcan Fuego:
Activity type : vulcanian
Morphology: composite Stratovolcano
Geographical location: 14 ° 28'54 « N Latitude; 90 ° 52'54 » W. Longitude
Height: 3,763msnm.
weather conditions: Mostly Cloudy
Wind: East, 2 kmh
Rainfall: 64.7mm.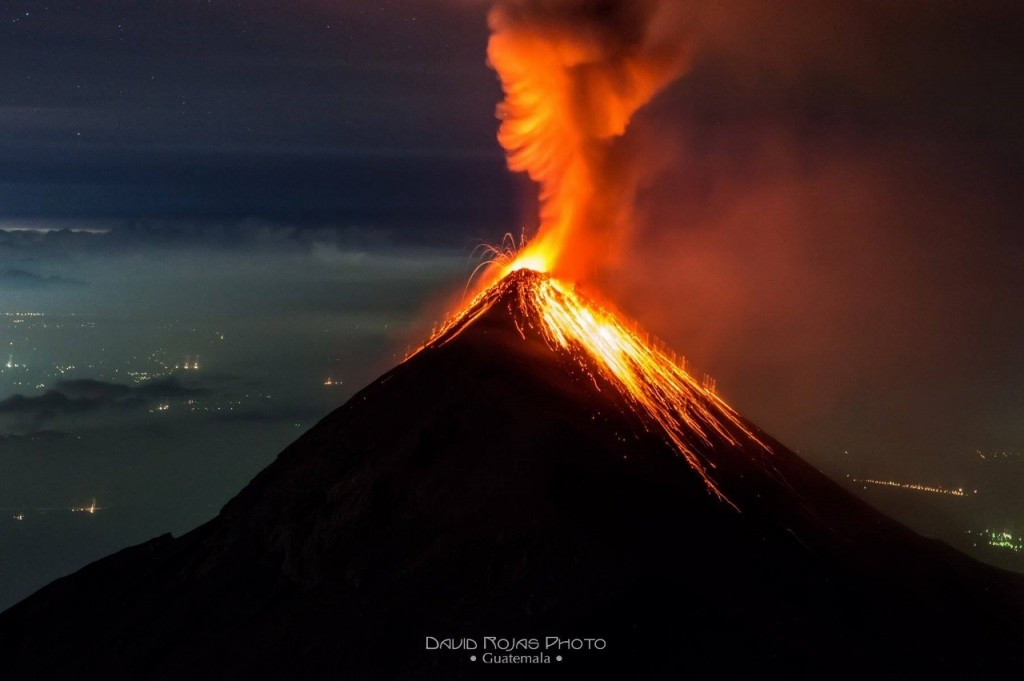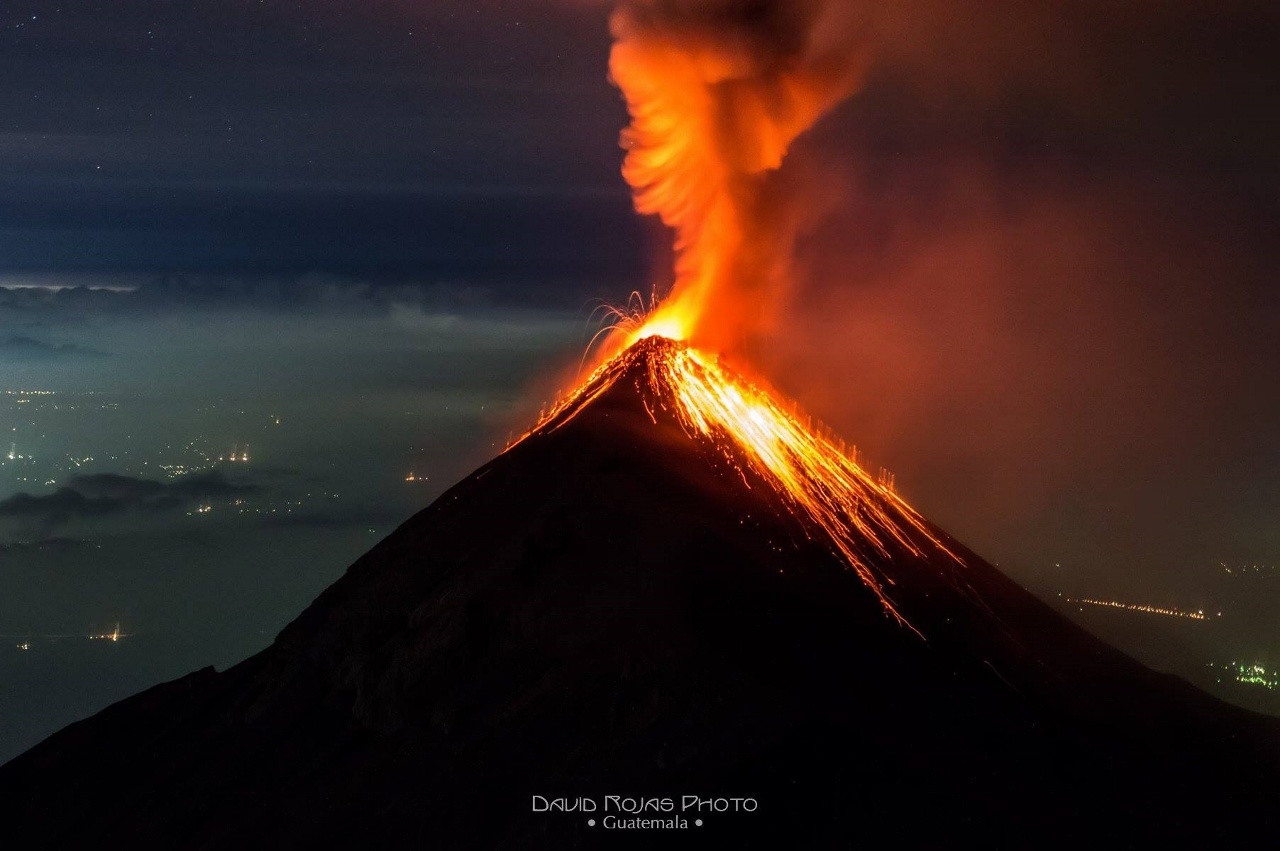 Activity:
The emission column remains white at a height of about 4300 meters (14.108 feet) in direction to the northwest to southwest. Were reported from 2 to 3 explosions per hour, with gray ash columns to a height of about 4200-4500 m (14,763 ft 13.780), spreading to a distance of 5 to 8 kilometers towards the North west southwest of the volcanic complex. The explosions were accompanied by low impact and sounds as the machine of a locomotive, at intervals of 2 to 5 minutes. Occasionally, there have been glowing pulses at a height of between 100 and 150 meters above the crater, generating light to moderate avalanches around the edge of the crater.
Source : Insivumeh.
Photos : Daniel Hernandez-Salazar, 2004, David Rojas.
Kanlaon , Philippines :
KANLAON VOLCANO BULLETIN 21 June 2016 08:00 AM
Kanlaon Volcano's seismic monitoring network recorded two (2) volcanic earthquakes during the past 24 hours. Moderate emission of white steam plumes that rose up to 500 meters and drifted northwest and west-northwest was observed. Ground deformation measurements from continuous GPS data as of 2 June 2016 indicated slight inflation of the Kanlaon edifice since December 2015.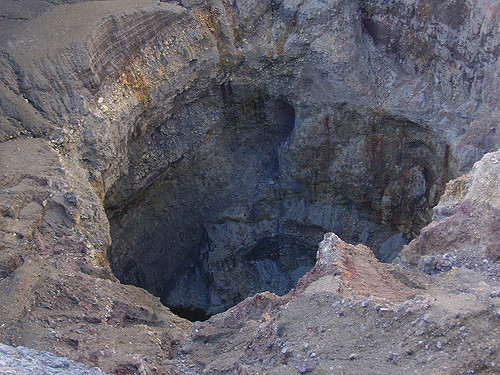 Alert Level 1 status remains in effect over Kanlaon Volcano, which means that it is currently in a state of unrest probably driven by hydrothermal processes that could generate more minor eruptions. The local government units and the public are reminded that entry into the 4-kilometer radius Permanent Danger Zone (PDZ) is strictly prohibited due to the further possibilities of sudden and hazardous steam-driven or minor ash eruptions.
Source : Phivolcs