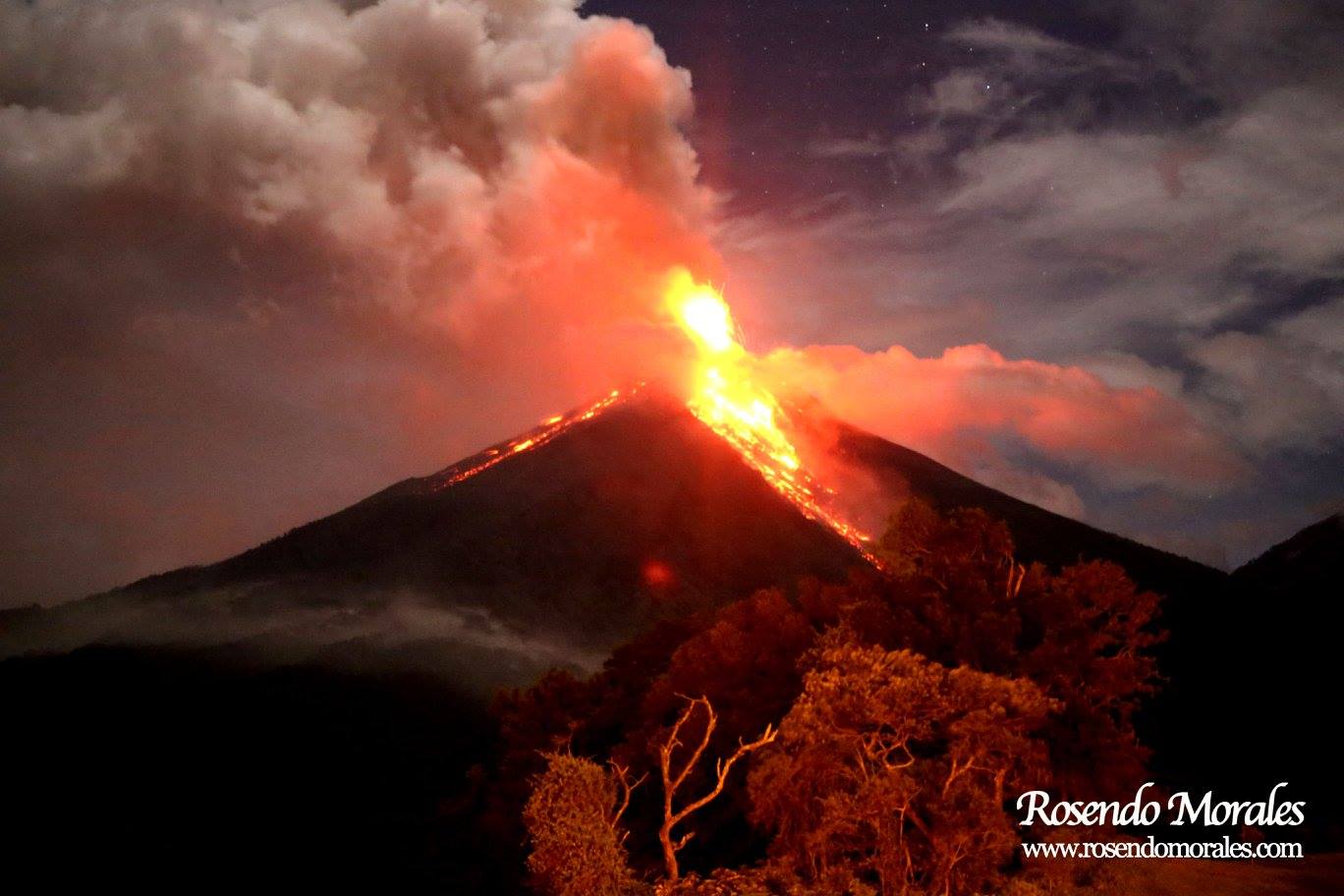 June 10 , 2016. EN. Popocatepetl , Fuego , Arenal , Aira ( Sakurajima) , Kilauea.
June 10 , 2016.
Popocatepetl, Mexico :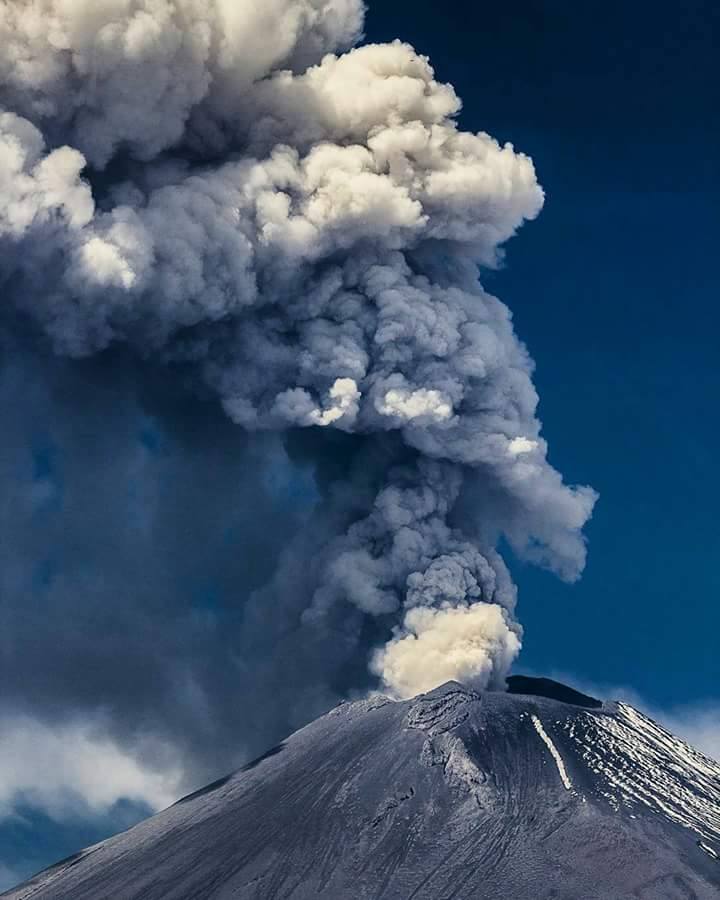 June 09 11:00 h (June 09 16:00 GMT)
In the last 24 hours the seismic records of the surveillance system at Popocatépetl volcano record 49 low-intensity exhalations, two explosions one yesterady at 20:32 and the other one today at 06:38 h, and 424 minutes tremor of low amplitude, that culminating in a train of exhalations that has been constant from 06:38 h until this report.
The cloudy conditions not allow observing the volcano continuously, but we observed a continuous emission of steam and gas that winds carried to the northeast . Along the night was observed incandescence, with a continually emission of steam and gas .
June 09 13:30 h (June 09 18:30 GMT)
The episode of long period earthquakes (LPs) that started at 06:30 h today, concluded at 11:30 h today, after which the volcano came back to its previous level of activity . The Popocatepetl volcano monitoring is performed 24 hours continuously. Any change in activity will be reported with opportunity.
CENAPRED emphasizes that people SHOULD NOT go near the volcano, especially near the crater, due to the hazard caused by ballistic fragments .
This type of activity is included within the scenarios Volcanic Traffic Light Yellow Phase 2.
 Source : Cenapred

Fuego , Guatemala :

Activity type : vulcanian
Morphology : composite stratovolcano
Geographical location: 14 ° 28'54 « N Latitude; 90 ° 52'54 » W. Longitude
Elevation: 3,763
Weather Conditions: Clear
Wind: 3km / h
Precipitation: 0.0mm.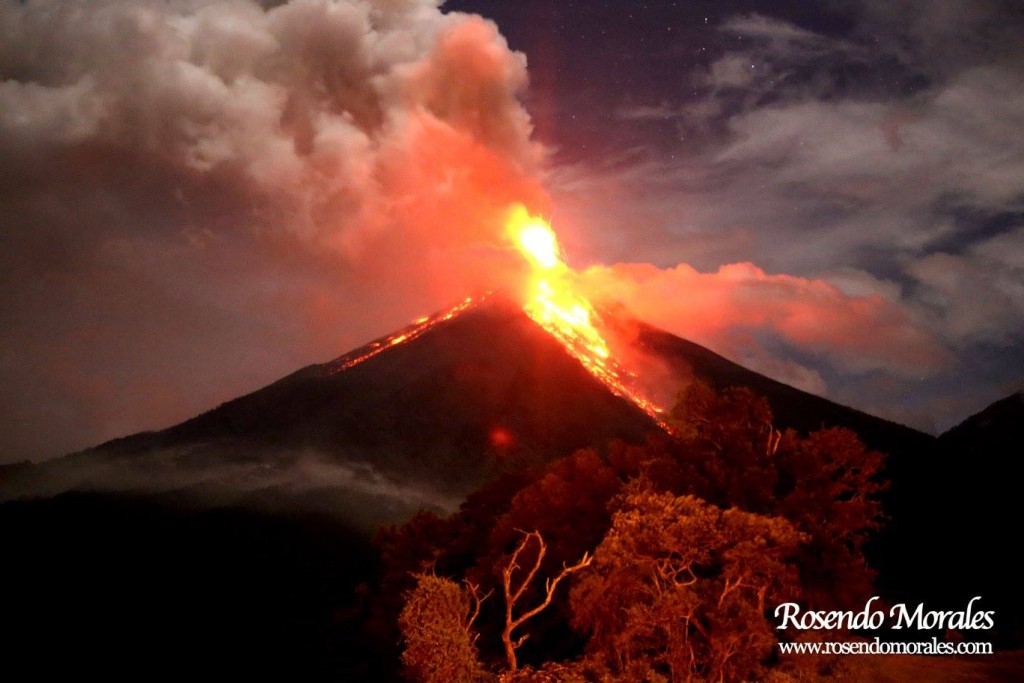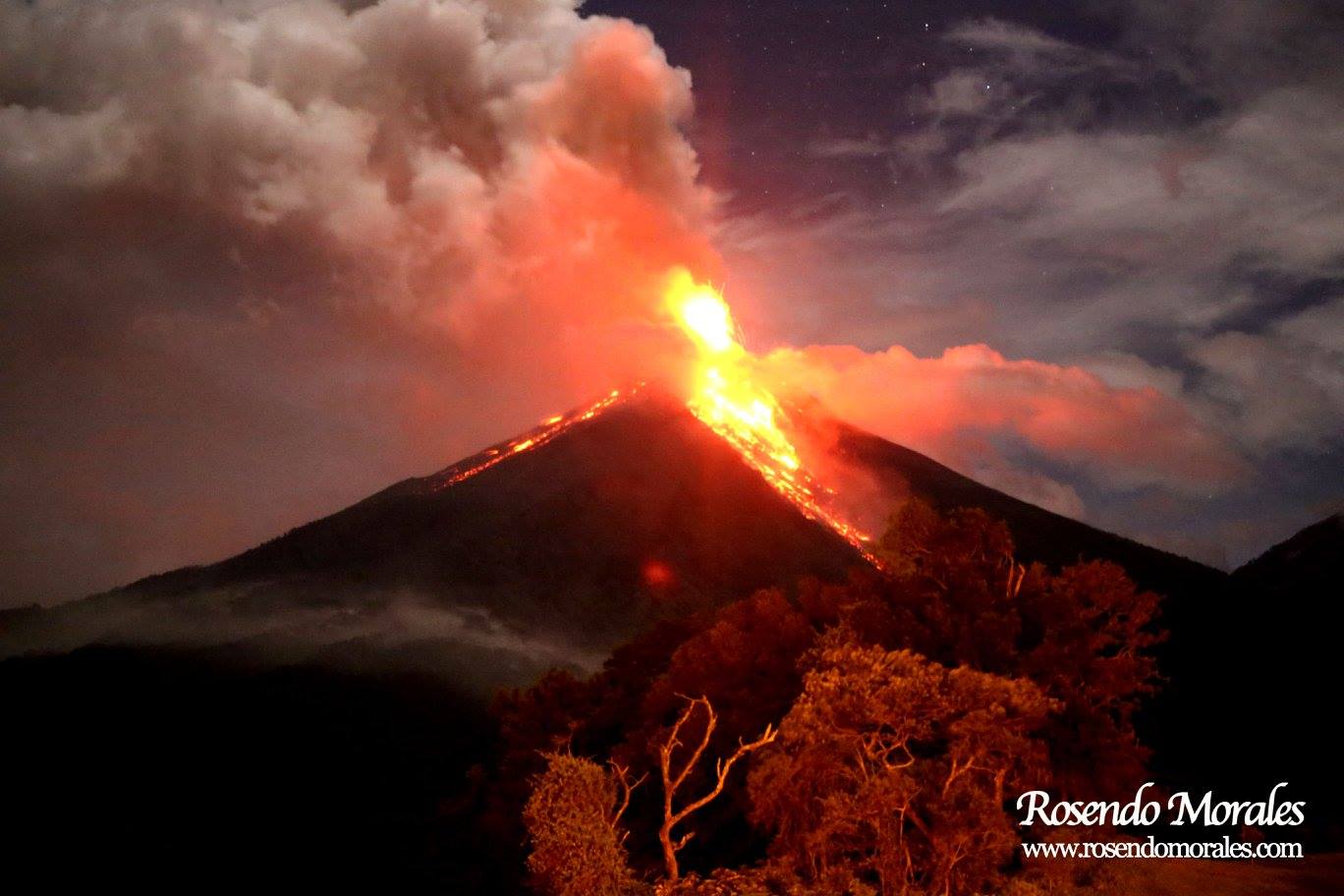 Activity:
Presence of white degassing fumaroles at a height of about 4300 meters (14,108pies) to spread to the South, West and Southwest.
It was recorded 2 to 5   moderate explosions per hour, with a gray column, rising to a height of 4.500 to 4.900 meters (14.764 – 16,076pies) to spread to the South, West and North of the volcano at a distance between 10 and 12 km. Some of these explosions were accompanied with moderate rumbling sounds similar to aircraft turbines in a time period of 2 to 5 minutes.
These explosions generated ash fall in areas of PanimacheI and II, Morelia, Hagia Sophia, Osuna San Andrés, La Rochela, Ceilan among others.
It has been observed incandescent pulses overnight with a height of 100 to 150 meters above the crater causing low to moderate avalanche in the contour of the crater.
Source : Insivumeh
Photo: Rosendo Moralès
Arenal , Costa Rica :
Saturday, June 4, many people were surprised to see three columns of steam rising from the top of the Arenal Volcano. These columns of steam are not the product of volcanic activity, but the result of the humidity ascent caused by the barrier of the volcano in the horizontal scrolling of this moisture. In this photo taken the same day to 4:55 pm by Gerardo Carvajal, on the road between La Fortuna and Chachagua, we note that this moisture in his ascension, is channeled through the gullies on the slopes of the volcano crater and exceeds in three different places: from the South (left), the East (in front) and West (back).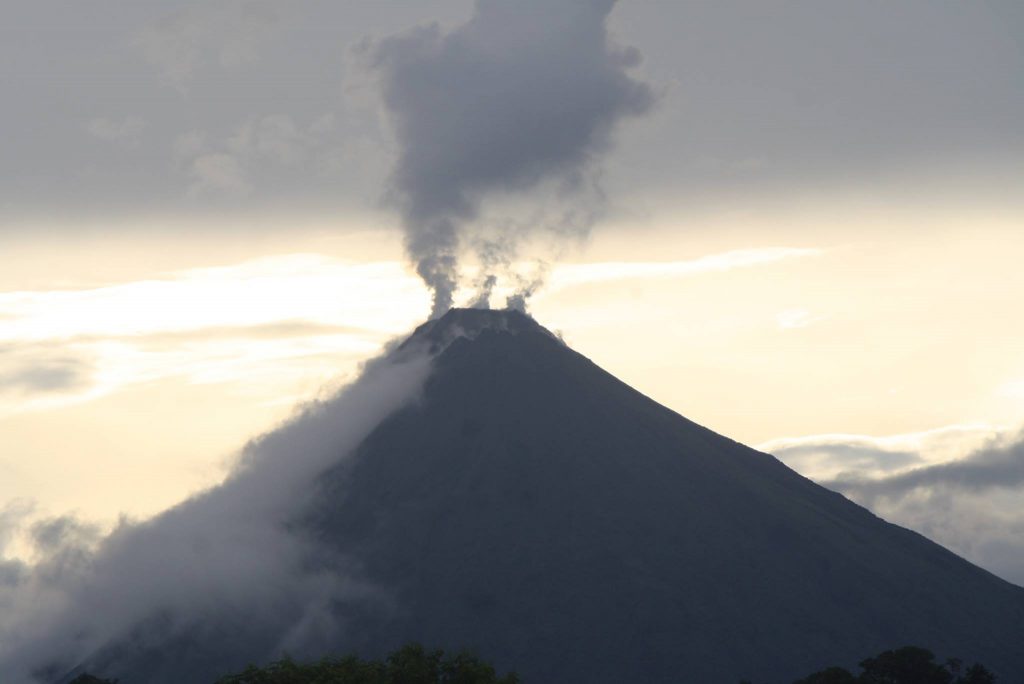 Conical Volcán Arenal is the youngest stratovolcano in Costa Rica and one of its most active. The 1670-m-high andesitic volcano towers above the eastern shores of Lake Arenal, which has been enlarged by a hydroelectric project. Arenal lies along a volcanic chain that has migrated to the NW from the late-Pleistocene Los Perdidos lava domes through the Pleistocene-to-Holocene Chato volcano, which contains a 500-m-wide, lake-filled summit crater. The earliest known eruptions of Arenal took place about 7000 years ago, and it was active concurrently with Cerro Chato until the activity of Chato ended about 3500 years ago. Growth of Arenal has been characterized by periodic major explosive eruptions at several-hundred-year intervals and periods of lava effusion that armor the cone. An eruptive period that began with a major explosive eruption in 1968 ended in December 2010; continuous explosive activity accompanied by slow lava effusion and the occasional emission of pyroclastic flows characterized the eruption from vents at the summit and on the upper western flank.
Source : GVP , Ovsicori
 Aira ( Sakurajima) , Japan :
31.593°N, 130.657°E
Elevation 1117 m
JMA reported that on 3 June explosions at Showa Crater (at Aira Caldera's Sakurajima volcano) generated an ash plume that rose 1.3 km above the crater rim, and a small pyroclastic flow that traveled 400 m SE.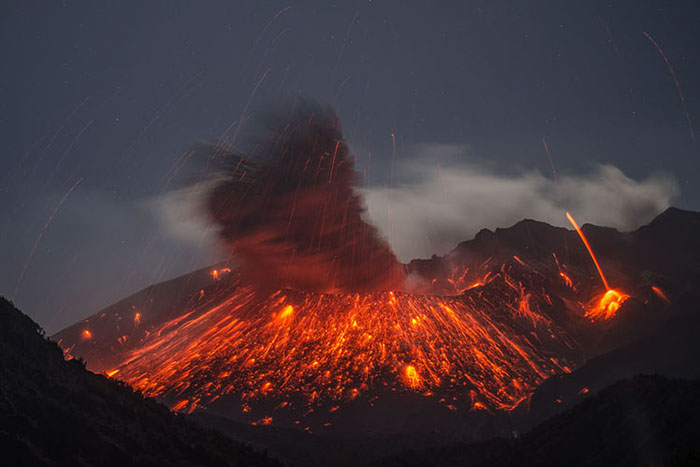 Tephra was ejected 800 m from the crater. A small-scale explosion occurred at Minamidake summit crater that same day; an ash plume rose 1.5 km above the crater rim. The Alert Level remained at 3 (on a 5-level scale).

Source: Agence météorologique japonaise (JMA) , GVP.
Photo : elpueblopresidente.com
Kilauea , Hawai :
19°25'16 » N 155°17'13 » W,
Summit Elevation 4091 ft (1247 m)
Current Volcano Alert Level: WATCH
Current Aviation Color Code: ORANGE
Activity Summary:
Eruptions continue at Kilauea Volcano's summit and East Rift Zone. The summit lava lake remains relatively high, its level fluctuating slightly with changes in summit pressure. At Pu'u 'O'o, only the lava flow advancing southeast appears to be active. The June 27th lava flow may have stopped. No Pu'u 'O'o lava flows currently pose a threat to nearby communities.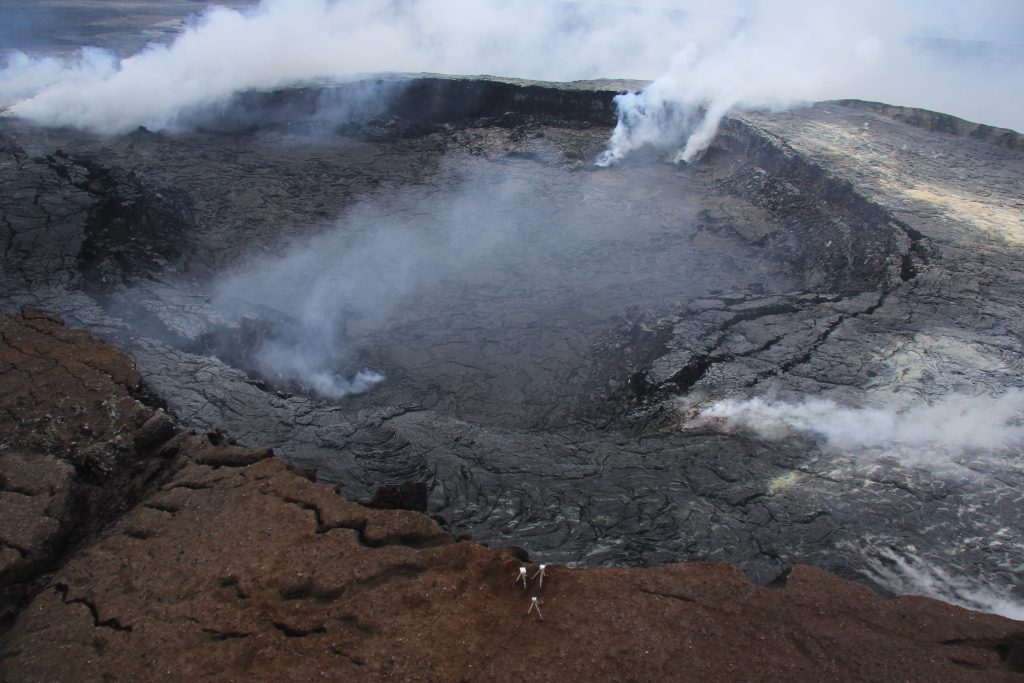 Pu'u 'O'o' s current crater subsided by about 10 m (33 ft) in the days following the May 24 breakouts. This view, looking southeast, shows the crater as it was today. HVO webcams are perched on the edge of the Pu'u 'O'o cone (an older crater rim) in the foreground.


Summit Observations:
Deflationary tilt started last night and continues this morning, following a classic DI event pattern. However, the broader trend recorded by summit tiltmeters over the past few weeks has been one of gradual inflationary tilt. The level of the summit lava lake remains relatively high, though is has fallen slightly with the deflation. Rates of seismicity are at background levels, with episodes of tremor associated with changes in the vigor of spattering within the Overlook vent. Sulfur dioxide emissions from the summit vent ranged from 4,200 to 4,700 metric tons/day when measurements were last possible during good trade wind conditions. Data from GPS networks and InSAR (satellite radar) show continued long-term inflation of the summit and upper Southwest Rift Zone magma reservoirs.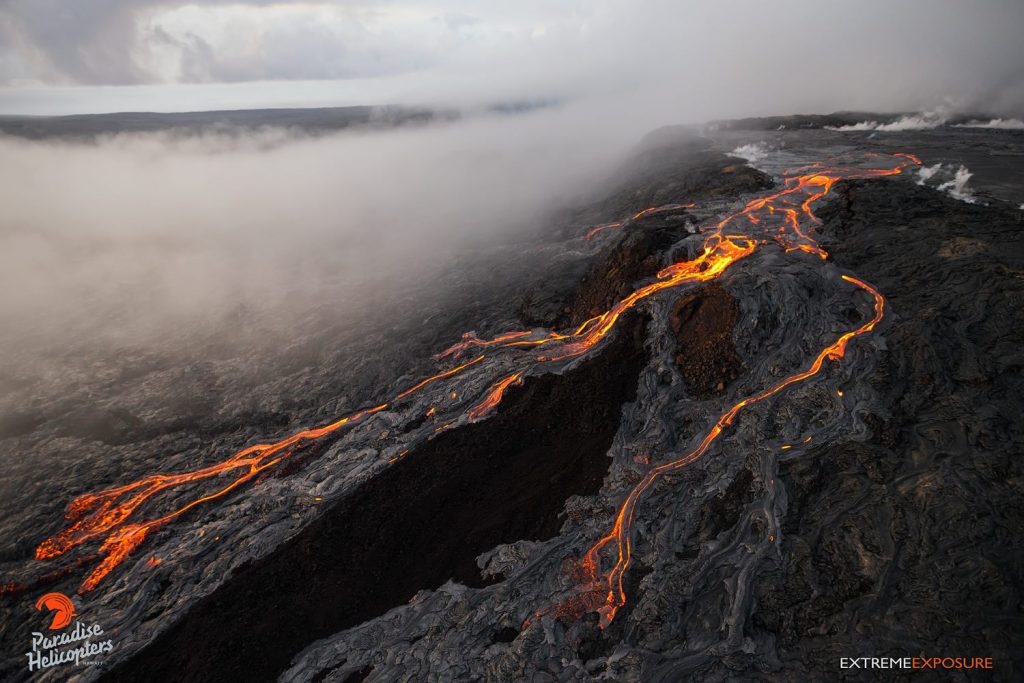 Pu'u 'O'o Observations:
A webcam on Pu'u 'O'o showed continued slow subsidence of the crater floor, which is consistent with the very gradual deflationary tilt recorded by the Pu'u 'O'o tiltmeter. Seismicity is at background levels, and the sulfur dioxide emission rate from all East Rift Zone vents was about 410 metric tons/day when last measurable on June 1.
Lava Flow Observations:
An HVO overflight yesterday found no active surface lava on the June 27th flow field north of the East Rift Zone, though some small breakouts may have been overlooked. HVO scientists will continue to watch this area over the coming days – the more time that passes without active lava in this part of the flow field, the more likely it is that the supply of fresh lava to the June 27th flow has ceased. Only the pāhoehoe lava flow that emerged from the east flank of Pu'u 'O'o on May 24 was active yesterday, and it continues to advance southeast. The flow was 2.7 km (1.7 mi) long yesterday afternoon, meaning it has made it roughly half way to the top of Pulama pali. An HVO webcam has been deployed to monitor the flow (Mobile Cam 3, on HVO's website).
Source : HVO.
Photo : Bruce Omori