June 04 , 2016. EN. Cleveland , Turrialba , Ticsani , Sheveluch .
June 04 , 2016.
Cleveland , Alaska :
AVO/USGS Volcanic Activity Notice
Current Volcano Alert Level: ADVISORY
Previous Volcano Alert Level: WATCH
Current Aviation Color Code: YELLOW
Previous Aviation Color Code: ORANGE
Issued: Friday, June 3, 2016, 11:12
Source: Alaska Volcano Observatory
Location: N 52 deg 49 min W 169 deg 56 min
Elevation: 5676 ft (1730 m)
Volcanic Activity Summary:
No major activity has been observed at Cleveland Volcano since satellite data confirmed the eruption of a small volume lava dome within the summit crater on May 18. Weakly elevated surface temperatures have been detected in satellite data from the past day that are consistent with cooling lava and are not considered to be indicative of new activity. Seismic activity has remained low since explosions were detected in infrasound (pressure sensor) and seismic data on May 5 and May 10. Based on seismic levels remaining low and no observations nor reports of continued eruptive activity, AVO is reducing the Aviation color code to YELLOW and the Volcano Alert Level to ADVSIORY.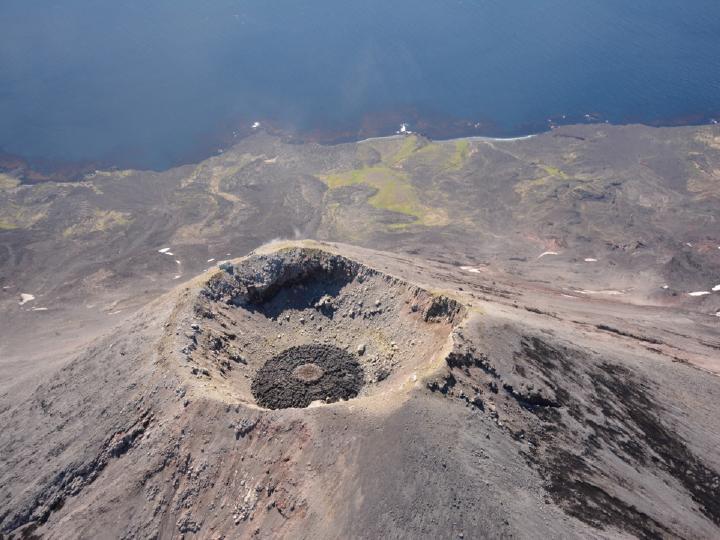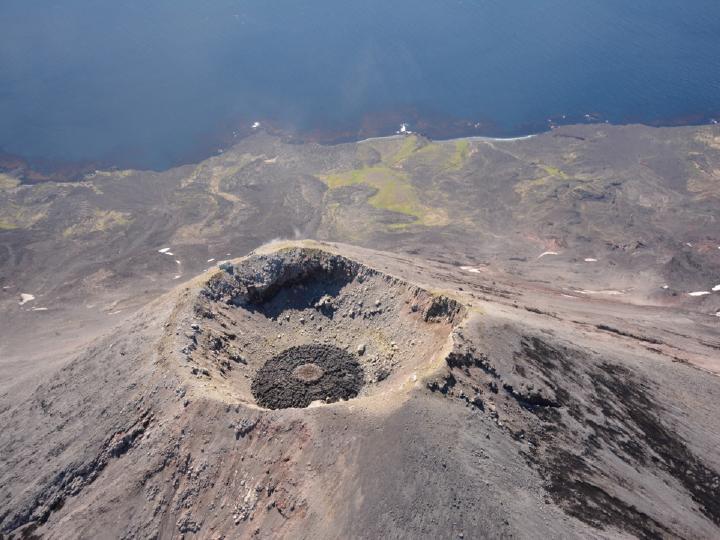 Remarks:
Cleveland volcano forms the western portion of Chuginadak Island, a remote and uninhabited island in the east central Aleutians. The volcano is located about 75 km (45 mi) west of the community of Nikolski, and 1500 km (940 mi) southwest of Anchorage. The most recent significant period of eruption began in February, 2001 and produced 3 explosive events that generated ash clouds as high as 39,000 ft above sea level. The 2001 eruption also produced a lava flow and hot avalanche that reached the sea. Since then, Cleveland has been intermittently active producing small lava flows, often followed by explosions that generate small ash clouds generally below 20,000 ft above sea level. These explosions also launch debris onto the slopes of the cone producing hot pyroclastic avalanches and lahars that sometimes reach the coastline.
Source : AVO
Photo : Lyons, John; Schmitt, Joe ( 2015)
Turrialba , Costa Rica :
Activity report of the Turrialba volcano
June 3, 2016, 5:00 p.m.
Today eruptive activity continues, with passive ash emissions, and some major impulses that took place at: 10h35, 11h20, 13h55 and 15h20.
The seismic activity is characterized by a spasmodic tremor (variable amplitude) which began at 22:10 on June 1, with a downward trend today as compared to the night of 1 to 2 June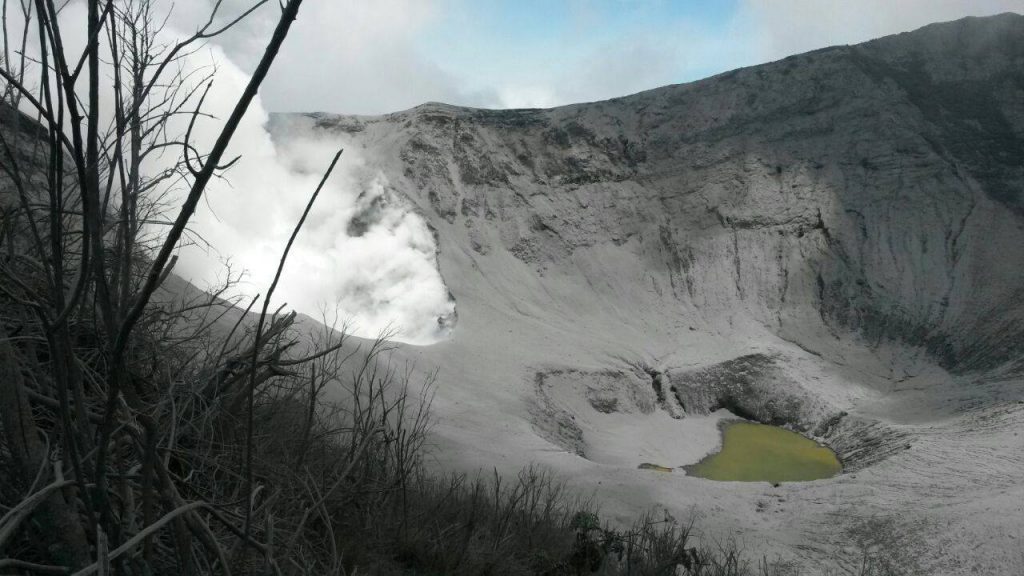 Ash deposits in the crater (12 May 2016)
Field observations indicate that the plume reaches 1000m above the volcano in the morning. The models AERMOD and Ash3D anticipate dispersion of ash to the North and the Northeast.
Ash falls were reported in:
Limón Cariari, Pococí, Jiménez, Siquirres, Guácimo, Limón Centro.
A slight smell of sulfur is felt in the Siquirres region  , Pococí, Guápiles, Guácimo.
A flyby of the Turrialba volcano evidences the disappearance of flora on the slopes of volcano due to ashfall. The grass, plants and trees that used to be on the west side of the Turrialba volcano no longer exist. A change in wind is now beginning to affect the south side as well.
.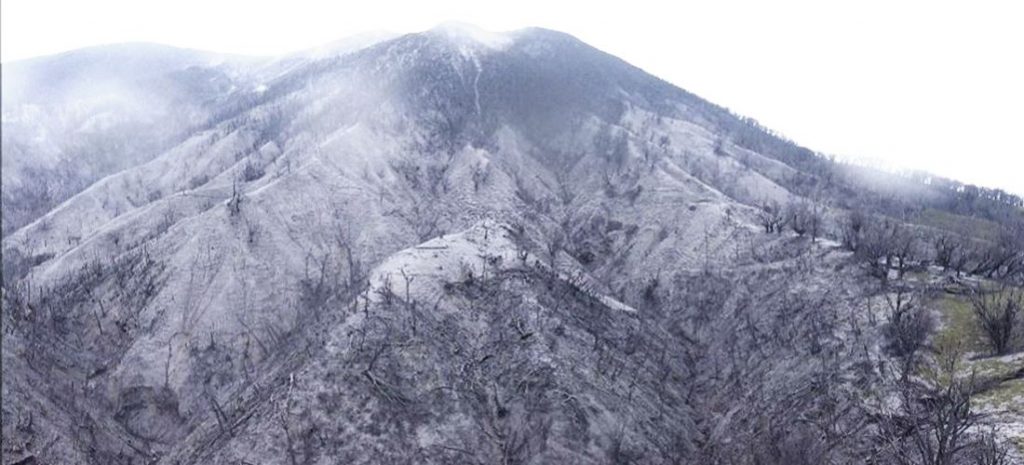 The ash and gases expelled by the volcano since 2010, when the volcano reactivated for the first time, until recent weeks, caused the disappearance of the flora. This was corroborated by a flyby by the National Emergency Commission (Comisión Nacional de Emergencias – CNE) on Saturday, May 28.
Source : Ovsicori, QCOSTA RICA
Ticsani , Peru :
Earthquakes related to rock fracturing (VT) increased slightly over the last two weeks of May. The average rate for the period was 72 VT / day (Report No. 04-2016, VT 61 / day). In addition, a seismic swarm four hours long on May 26, was observed.
The hybrid-type earthquakes recorded a total of nine events with energies below 2 MJ. This type of seismicity is associated with magma movement inside a magma chamber.
LP type of events associated with a fluid movement remain rare, with only five events observed and very low energy (less than 0.2 MJ).
Tremor type events continue to show low activity. In this period, they accumulated 17 minutes of recording. These events occur sporadically and are generally short, with low levels of seismic energy.

Location of events.
During the month of May, it was recorded a total of 377 earthquakes related to fracturing of rocks. These events have presented a magnitude between M 1.3 and M 3.7. The epicentral distribution of seismicity occurs mainly in the volcano's crater and extends east to three kilometers. The depth distribution of localized events is between 2 km and 13 km under the Ticsani.
In addition, on June 1, there were two major events that have been reported as earthquakes felt by the population (intensity IV). The earthquake of greater magnitude reached M 4.4 (Local Magnitude) and was generated at 19:01 local time the same day.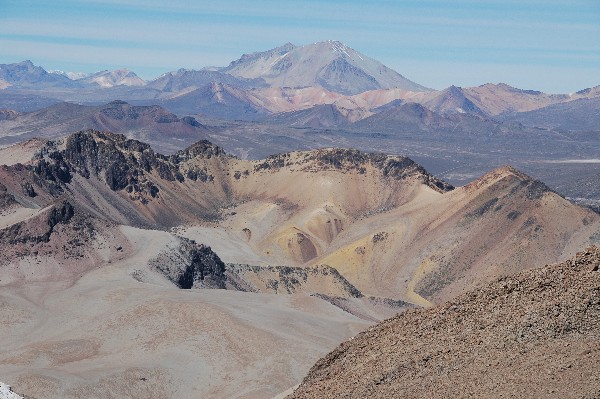 Satellite Surveillance:
SO2 anomalies: The satellite system « EOS Aura » GSDM–NASA (http://so2.gsfc.nasa.gov/) recorded low density values of SO2 gas in this period.
Thermal anomalies: The Mirova system (www.mirovaweb.it) not detected thermal anomalies on the Ticsani volcano (VPR = 0 Mega Watts).

Source : IGP
Photo : Mapio , Thierry Dockx.
Sheveluch , Kamchatka :
56.653°N, 161.36°E
Elevation 3283 m
KVERT reported that during 20-27 May lava-dome extrusion onto Sheveluch's N flank was accompanied by strong fumarolic activity, dome incandescence, ash explosions, and hot avalanches. Satellite images showed an intense daily thermal anomaly over the dome.
Satellite data by KVERT showed an intensive thermal anomaly over the lava dome on May 26-29; the volcano was obscured by clouds during other days of the week.
The Aviation Color Code remained at Orange.
Sources: Kamchatkan Volcanic Eruption Response Team (KVERT) , GVP.
Photo : Yu. Demyanchuk, IVS FEB RAS, KVERT (2015)
                                                                 Katia et Maurice Krafft : 25th Anniversary !!!
Yesterday was the twenty fifth anniversary of the deaths of Maurice and Katia Krafft. Maurice Krafft (1946-1991) and Katia (1942-1991) were killed instantly in a pyroclastic flow from Mount Unzen, Japan on June 3, 1991.