May 26 , 2016. EN. Piton de la Fournaise , Santiaguito , Nevado Del Ruiz , Turrialba .
May 26 , 2016.
Piton de la Fournaise , La Réunion :
ALERT LEVEL: 2-2 Eruption Alert underway
The prefect of Reunion has triggered today at 8:30 am the alarm 2-2 Plan « ORSEC * Volcano«  eruption in progress.
Public access to the Enclos Fouqué, either from the path of the Pas de Bellecombe or from any other path as well as the helicopter landing in the volcano area is prohibited until further notice.
ACTIVITY RECORDED BY THE VOLCANOLOGICAL  OBSERVATORY :
From 8:05 today (Thursday, 26 May 2016), the Volcanological Observatory recorded a volcanic tremor whose strongest signal is recorded on the Chateau Fort station (southeast of the Enclos). This signal is characteristic of an ongoing eruption.
This signal indicates that one or more crack (s) has opened near  the cone of Chateau Fort .
The eruption was preceded by a seismic crisis that began à23h40 on May 25 (local time). This seismic crisis was accompanied by deformation resulting of an intrusion of magma towards the surface. This intrusion was also located in the southeast flank of Piton de la Fournaise (crater sector Château Fort).
This rapid increase followed a rise in inflation observed in recent days.
Activity

bulletin of

Thursday, May 26, 2016

at

09:45

(

local time

):
Since 8:05 this morning, the volcano observatory recorded volcanic tremor whose strongest signal is recorded on the station Chateau Fort (southeast of the Enclos). This signal is characteristic of an ongoing eruption.
This signal indicates that one or more crack (s) eruptive have opened near the cone of Château Fort  .
Due to bad weather (70 mm of rain recorded in this area in the last 12 hours) no visual confirmation could be made.
Source : OVPF
Photo : Archive
Santiaguito , Guatemala :
Explosion with pyroclastic flows.
Activity type : Peléenne
Morphology: dacitic dome complex.
Geographical location: 14 ° 44 '33 ̋ Latitude N 91 ° 34'13 W Longitude ̋
Altitude: 2,500msnm.
As was said in the previous report, the Santiaguito volcano keeps explosive activity, that with enough energy.
Today at 8:04 and 9:18, the Stg3 seismic station recorded two strong explosions that raised a cloud of ash mushroom at an approximate height of 5000 meters above sea level, which is dispersed to West South-West of the volcanic complex and reached a distance of 40 Km.
These explosions generate pyroclastic flows on the flanks of the dome to the east, south and west, in the rivers San Isidro and Cabello de Angel , with a length of ~ 2 km.

Fall of ash particles (~ 1 mm) in El Nuevo Palmar, San Felipe Retalhuleu, Aldeas Las Marias, Loma Linda, San Marcos Palajunoj Finca El Faro, La Florida, Patzulin El Patrocino and others are reported. There is a possibility that the ash remains dispersed in the environment and continues to fall in the coming hours.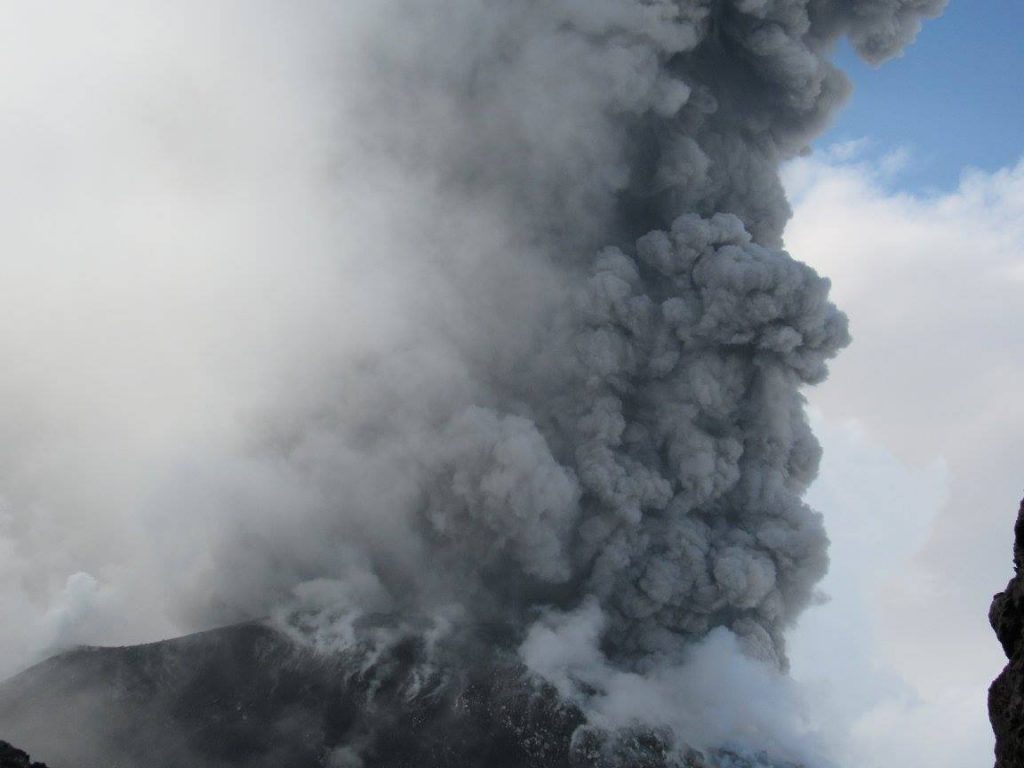 Therefore, the INSIVUMEH recommends:
At the SE-CONRED:
Considering that the activity of Santiaguito continues in a very dangerous line, do not exclude the occurrence of similar events of magnitude or more. It is therefore necessary that they deem appropriate precautions must be taken.
At the Ministry of Health:
Note that the Loma Linda and San Marcos Palajunoj villages are the most affected by the ash fall, which can cause respiratory and eye problems. And in places where they are sporadic.
At the Directorate General of Civil Aviation:
Take precautions with air traffic, explosions raise the column of ash to a height of about 5000 meters above sea level, there are ashes scattered in the atmosphere over a distance of ~ 40 km west, southwest and south of the volcanic perimeter, which can reach a greater distance. Do not rule out changes in the wind profile.
Source : Insivumeh.
Photo : Emilie Poudroux
Nevado Del Ruiz, Colombia :
Subject: Activity Bulletin Nevado del Ruiz volcano.
The level of activity continues at:
Yellow activity level or (III): changes in the behavior of volcanic activity.
Regarding the monitoring of the activity of the Nevado del Ruiz volcano, the Colombian Geological Service reports that:
During the last week, the Nevado del Ruiz volcano has shown seismic activity primarily related to fluid dynamics in volcanic conduits, characterized by the appearance of long period earthquakes (LP) and very long period (VLP ) and ongoing volcanic tremors episodes, low energy levels, as well as pulses of tremor, with different energy levels.
Some of these signals are associated with the gas and ash emissions. These events were mainly located in the southeast sector of the volcano and near the Arenas crater. registering new seismic signals of this type with high energy levels and ash emissions in the atmosphere are not excluded.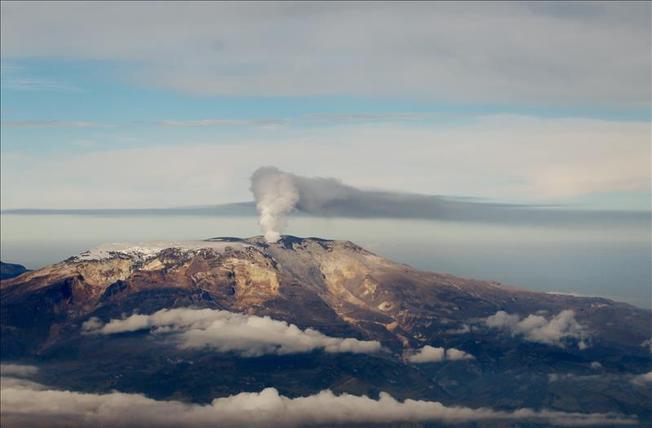 Further seismic activity associated with the fracturing of rocks within the volcano, which shows an increase in the number and energy released from previous weeks was recorded. Earthquakes are located mainly in the Southwest sector and to a lesser extent in North distal areas, the Northeast, Southeast, East compared to the Arenas crater and around the crater itself. The maximum magnitude recorded during the week corresponds to the earthquake registered on 23 May at 6:57 p.m. (local time) with a magnitude of 2.5 ML (local magnitude) at a depth of 3.52 km, 1.3 km north-east of Arenas crater.
The volcanic deformation measured from electronic inclinometers, global navigation satellite systems (GNSS) and satellite images to track changes in the tilt, the position and shape of the volcano (respectively), continues to show changes .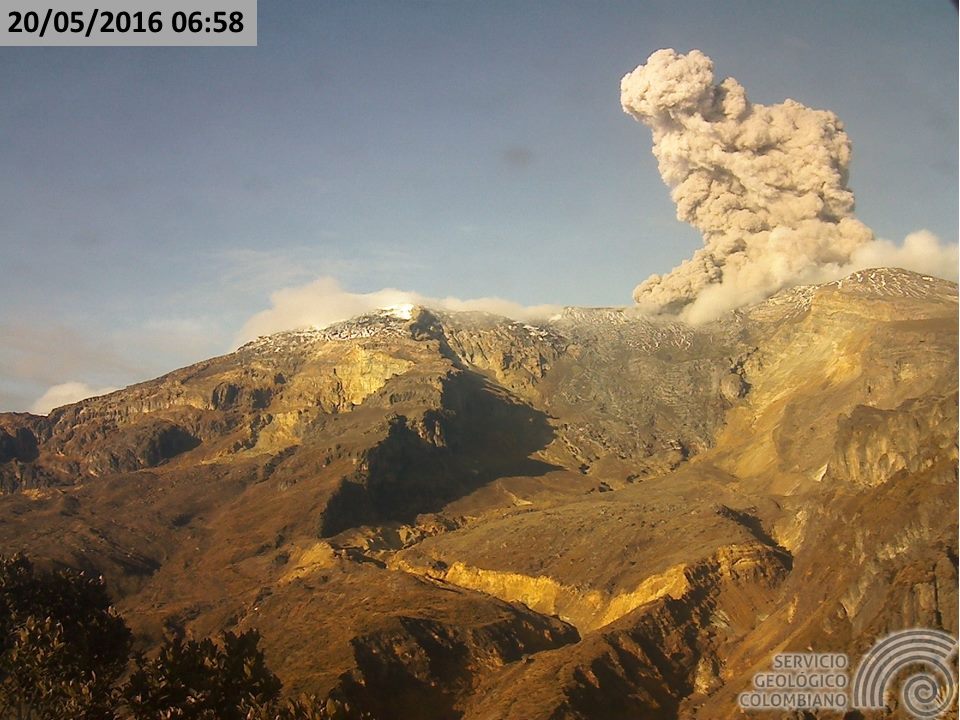 The volcano continues to emit into the atmosphere large amounts of steam and water gas, including sulfur dioxide (SO2), as it was felt by the permanent stations SCANDOAS installed in the Volcano area and satellite imagery.
On monitoring of the satellite images provided by the site Mirova, no thermal anomalies were reported during the period.
The column of gas, steam and ash reached a height of 2500 m measured from the top of the volcano, on May 22 The direction of the dispersion of the column was in line with the prevailing wind in the area, which, during the week showed the predominant direction towards the west and the northwest of the volcano.
Source : SGC
Turrialba , Costa Rica :
10.025°N, 83.767°W
Elevation 3340 m
OVSICORI-UNA reported that starting at about 1800 on 17 May the seismic network at Turrialba began recording very-long-period earthquakes, followed by sustained volcanic tremor with significant amplitude that began at 2200. At 1120 on 18 May an ash plume rose 600-700 m above the summit area and drifted SW. At 1430 tremor amplitude decreased, along with the emissions. A gas-and-vapor plume with low ash content rose as high as 300 m and drifted WNW. On 19 May vigorous gas emissions were observed, alternating with ash emissions at 0600, 0938, 1111, and 1405.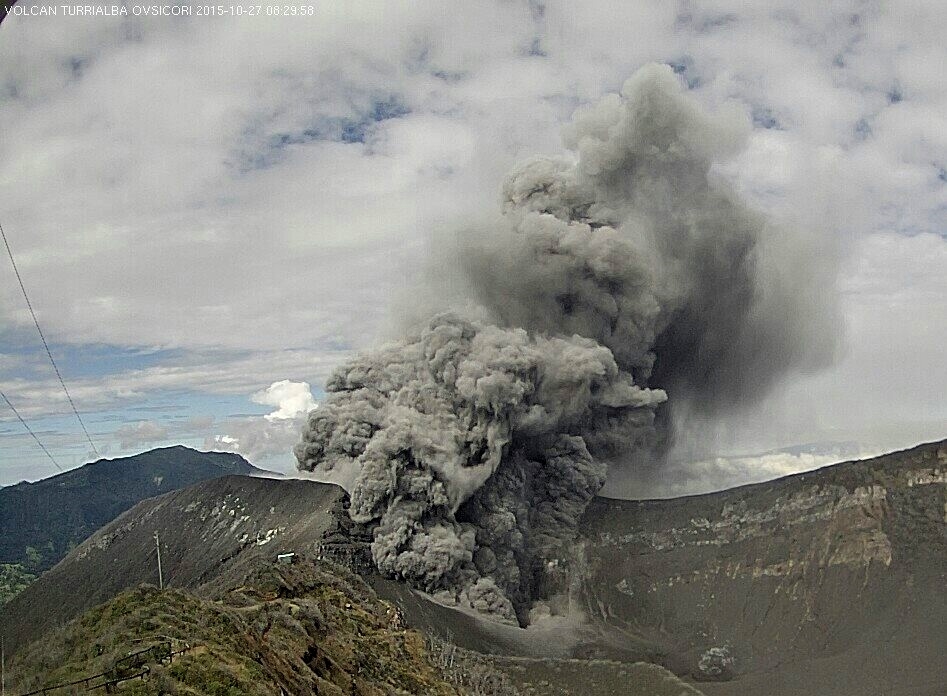 The plumes rose 300-700 m and drifted S, SW, W, and NW; ashfall was reported in areas of Valle Central, including in Coronado, Guadalupe, and Heredia (38 km W). Tremor increased slightly at 1550 and an ash plume rose 1 km and drifted NNW. On 20 May at 0720 a Strombolian phase began, producing an ash-and-gas plume that rose 3 km and drifted W. The eruptive column collapsed, generating pyroclastic flows that reached the nearby ranches of La Silva and La Picada, Irazu volcano, and the Cráter Central. According to a news article, some airlines have canceled or delayed flights into the Juan Santamaría International Airport (48 km W).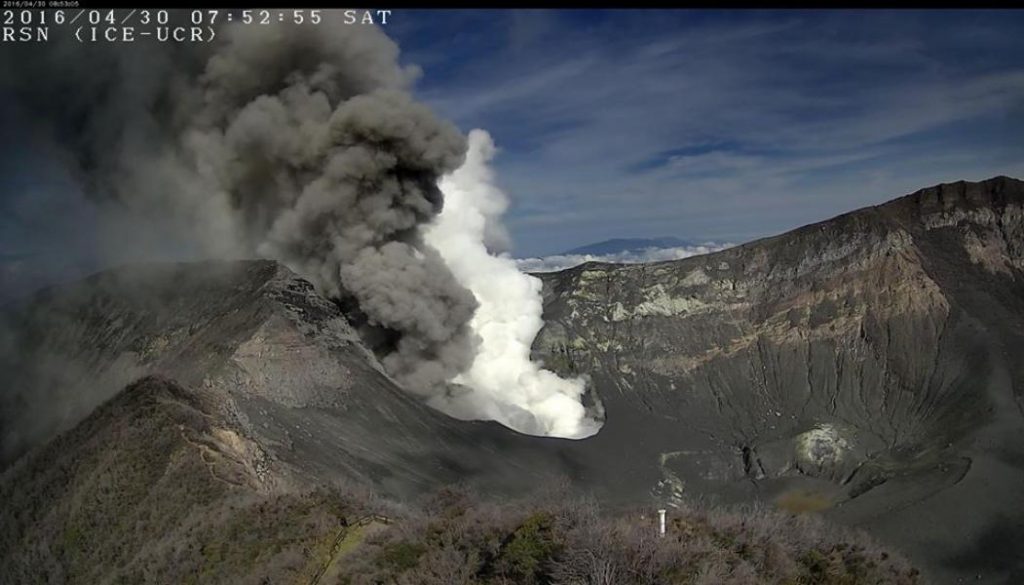 Gas-and-ash emissions continued during 21-22 May; plumes rose as high as 600 m above the summit. Villagers reported ashfall in areas of San José (70 km W), Cartago (25 km SW), Alajuela (49 km W), Heredia (38 km W), Puriscal (65 km WSW), and Jaco (100 km SW). During 22-23 May tremor amplitude decreased. Ash plumes rose as high as 1 km and drifted W and SW on 23 May, causing ashfall in areas downwind including Tapezco (Zarcero-Alfaro Ruíz, 70 km WNW), Guácima de Alajuela (55 km WSW), Cartago (25 km SW), Alajuela, Heredia, Barva (39 km W), Finca Lara (17 km W), Finca Laguna (23 km WNW), Grecia, and Naranjo. Seismic tremor amplitude significantly decreased on 24 May, and ash was no longer visible in the emissions. Gas-and-steam plumes rose 500 m above the volcano.
Sources: Observatorio Vulcanologico y Sismologico de Costa Rica-Universidad Nacional (OVSICORI-UNA), Tico Times, GVP

Photos : Archives