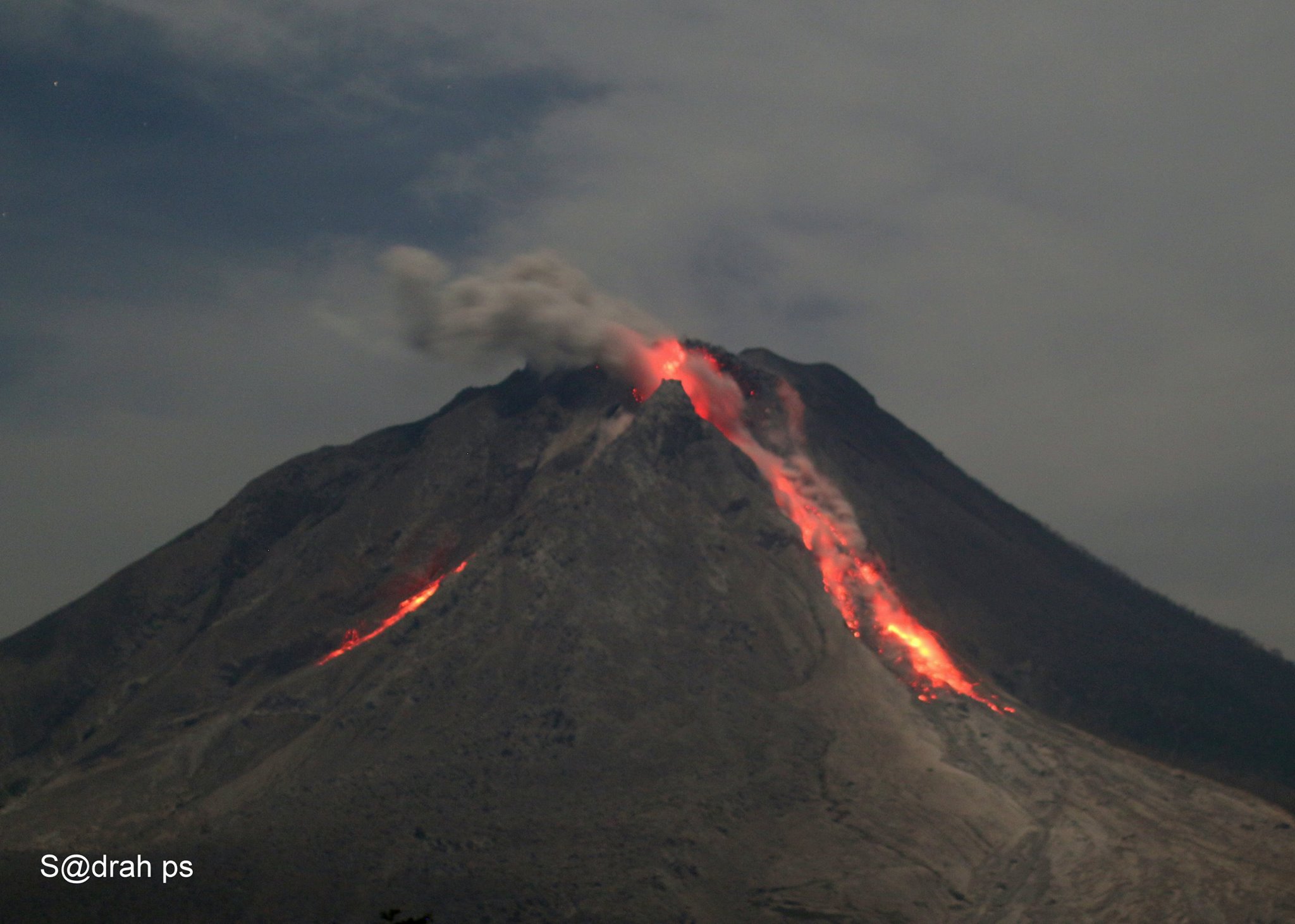 May 22 , 2016. EN. Sinabung , Popocatepetl , Sangay , Turrialba .
May 22 , 2016.
Sinabung , Indonésia :
Three persons killed in volcano eruption in Indonesia
In a volcanic eruption in Indonesia three people were killed. Four others were seriously injured according to authorities, when Saturday, Sinabung in Sumatra issued hot ash and gas. According to civil protection providing surveillance of the volcano, a tall column of three kilometers and a cloud of ash that descended over 4.5 km.
The victims were farmers who cultivated the fields in the area evacuated for safety reasons, so-called « red zone » four kilometers from the crater.
The Sinabung had woken up in 2013 of a sleep of 400 years. In February 2014, 16 people died when they were hit by a pyroclastic flow of Sinabung.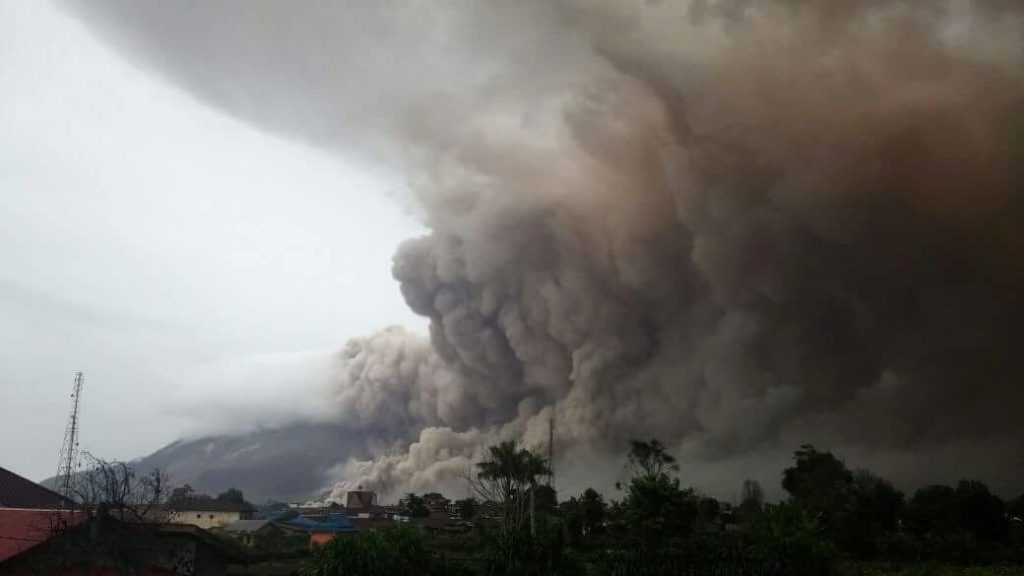 PVMBG report this morning:
Visual on 22 May, 2016. 8:49 p.m., report on the on Sinabung volcano.
Visual: sunny–cloudy weather, calm wind, air temperature 17-18 ° C. The volcano is clear with a thin white smoke 50 meters high. Eruption occurred 1 (a) with large columns of ash to 2,500 meters.
Seismicity:
1 x Tremor eruption , amplitude: 32 mm, Lg 316 seconds.
14 x Earthquake of  avalanches , amplitude : 5-18 mm, Lg: 25-127 seconds.
5 x Earthquake long  frequency  , amplitude: 3-12 mm, Lg: 8-10 seconds.
2 x Hybrid Earthquake , amplitude: 4-7 mm, Lg: 7-11 seconds.
2 x Earthquake VA Type , amplitude: 9-13 mm, Lg: 6-8 seconds.
The tremor signal type is constant with an amplitude of 0.5 to 2 mm (0.5 mm dominant).
Conclusion: the alert level of Sinabung volcano in Red / AWAS
Recommendations: The community and visitors / tourists should not not perform activities in a radius of 3 km from the summit, within 7 km in the south sector, less than 6 km in the South-East sector, and less than 4 km in the North   – Northeast sector of G. Sinabung and evacuate to a safe place. People who live near rivers that discharge from Mount Sinabung must stay alert to the threat of lahars.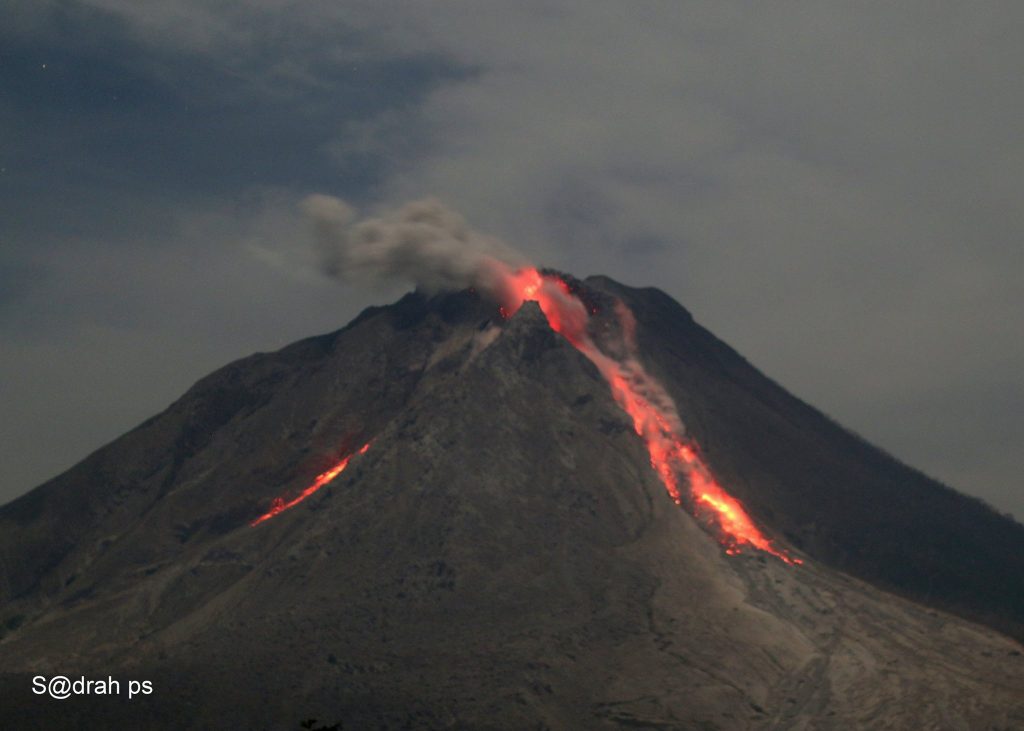 Pyroclastic flows fatal to on Sinabung:
Pyroclastic flows have followed one another in waves on Sinabung this May 21, 2016. The BNPB reported four episodes respectively at 14:28, 3:08 p.m., 4:48 p.m. and 4:39 p.m. . The ash plumes reached 3,000 meters, and pyroclastic flows have displaced over 4.5 km., and reached the river Lao Baurus on the west of the volcano.
According Sutopo Purwo Nugroho, data information manager and public Relations of BNPB, seven people were exposed to the clouds, three have died and four in critical condition, were evacuated. Victims Research continues.
Source : donaukurier , Pvmbg , Blog B. Duick ( http://www.earth-of-fire.com/2016/05/coulees-pyroclastiques-mortelles-au-sinabung.html)
Photos : Pvmbg ,  Sadrah Peranginangin.
Popocatepetl , Mexico :
May 21 11:00 h (May 21 16:00 GMT)
In the last 24 hours the monitoring system of Popocatépetl volcano registered 83 long period earthquakes (LPs) . Also were registered 420 minutes of harmonic tremor of low amplitude.
At night webcam images shows some glow sources within the crater .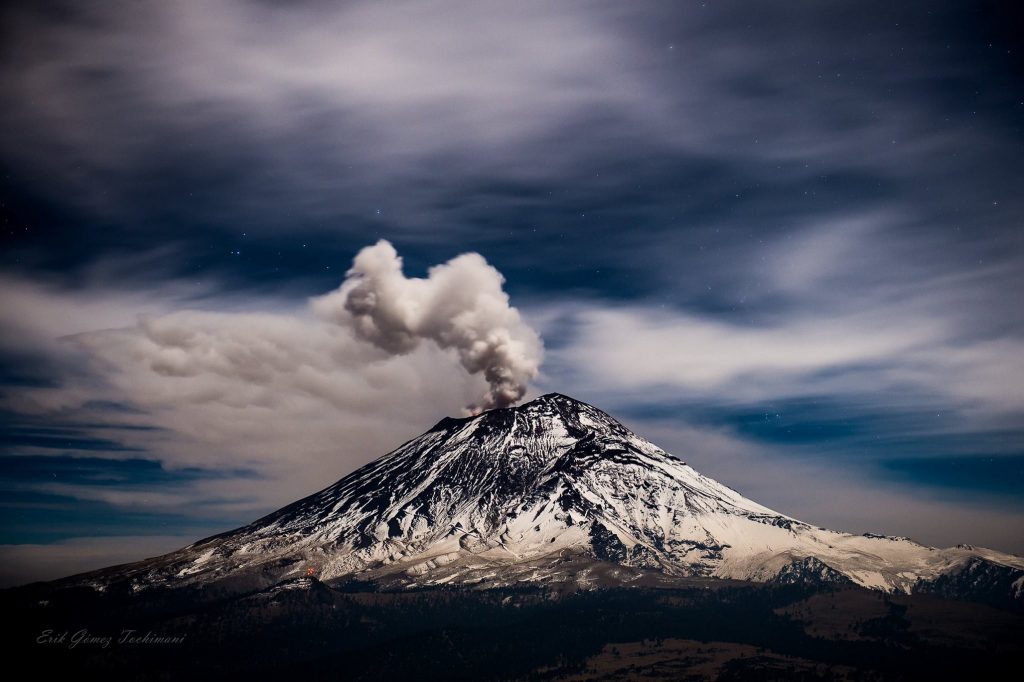 At the time of this report we cannot see the volcano due to weather conditions .
CENAPRED emphasizes that people SHOULD NOT go near the volcano, especially near the crater, due to the hazard caused by ballistic fragments .
This type of activity is included within the scenarios Volcanic Traffic Light Yellow Phase 2.
Source : Cenapred .
Photo : Erik Gómez Tochimani Fotógrafo
Sangay , Ecuador :
2.005°S, 78.341°W
Elevation 5286 m
IG reported that at the beginning of March Sangay began a new phase of activity which continued through at least 12 May without significant changes. The number of tremor events and long-period earthquakes were slightly higher in March as compared to the number recorded in April and May, and the number of explosions was slightly higher in April and May. Surficial activity was characterized by frequent ash emissions generated by explosive activity. Thermal anomalies on the flanks were also detected, mostly within 5 km of the summit crater, which possibly corresponded to short-range pyroclastic flows and lava flows. No abnormal sulfur dioxide emission were detected.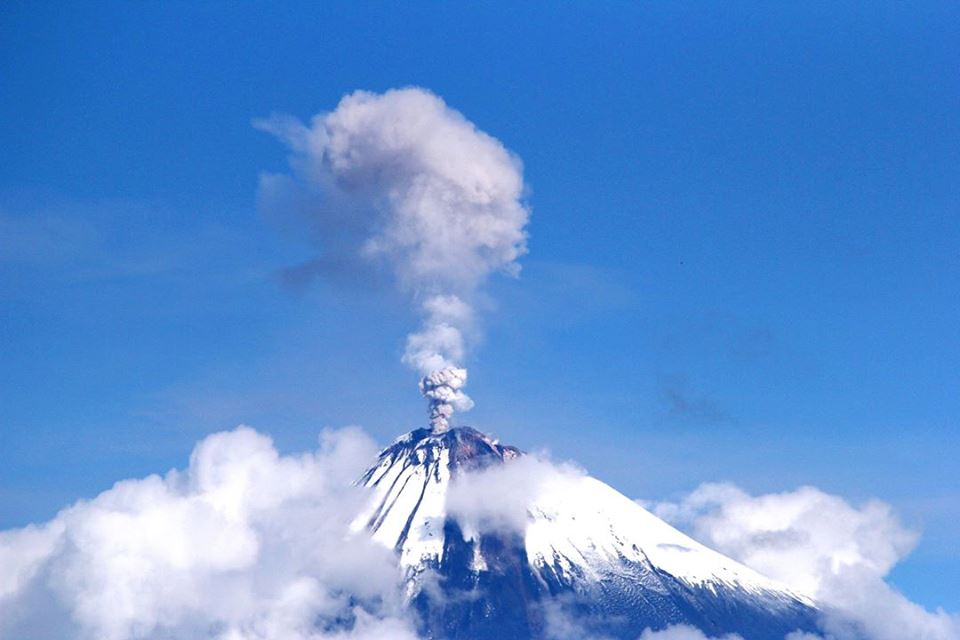 The isolated Sangay volcano, located east of the Andean crest, is the southernmost of Ecuador's volcanoes, and its most active. The dominantly andesitic volcano has been in frequent eruption for the past several centuries. The steep-sided, 5230-m-high glacier-covered volcano grew within horseshoe-shaped calderas of two previous edifices, which were destroyed by collapse to the east, producing large debris avalanches that reached the Amazonian lowlands. The modern edifice dates back to at least 14,000 years ago. It towers above the tropical jungle on the east side; on the other sides flat plains of ash have been sculpted by heavy rains into steep-walled canyons up to 600 m deep. The earliest report of a historical eruption was in 1628. More or less continuous eruptions were reported from 1728 until 1916, and again from 1934 to the present. The almost constant activity has caused frequent changes to the morphology of the summit crater complex.

Source: Instituto Geofísico-Escuela Politécnica Nacional (IG), GVP.
Photo : Cristian Jara
Turrialba , Costa Rica :
Report of the activity of Turrialba volcano: May 21, 2016 to 17 hours.
The activity of the volcano Turrialba to 17 pm May 21, 2016 showed no significant change from the one shown at 9 am today. The tremor continues with a large amplitude , not vary much, and is accompanied by a passive and continuous emission of gas and ash with moderate volumes. Between 9 am and 17 pm today, increases were recorded in the emission of ash and eruptive activity over short time intervals. The main events took place from 11h00 to 11h50 , between 12h 20 am and 13h20 , and from 15h00 p.m. to 15h30 p.m. . When the conditions of low cloud cover , it was possible to estimate the height of the cloud emission through the webcam, it was possible to see that it did not exceed 600 meters above the summit of the volcano.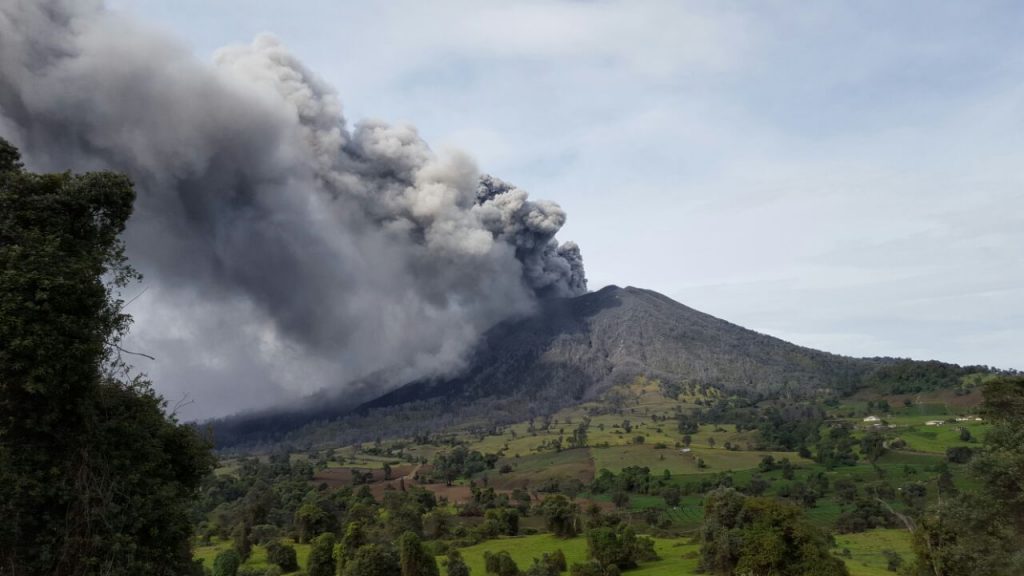 At the time of this report, the winds are directed to the Southwest, with a moderate dispersion of ash directed toward Herradura (Central Pacific), San José, Heredia, Alajuela, Puntarenas. Throughout the day, villagers reported through social networks, slight ash falls in the following places:
San Jose Guadalupe, Moravia, Uruca, Coronado, San Pedro Coronado, Tibás, Santa Ana, Pavas, San Pedro de Montes de Oca, Zapote, Sabanilla Montes de Oca, Hatillo, San Rafael Abajo de Desamparados.
Cartago Llano Grande, Irazu
Alajuela Airport, Plum, Grecia, Atenas, Guácimo, El Roble.
Heredia San Antonio de Belen, Heredia center
Starting today and during the following days, there will be sending two reports of daily activities of the Turrialba volcano, 9 hours and 17 hours to inform the public, institutions and authorities.
Source : Ovsicori
Photo : Volvan Turrialba Lodge