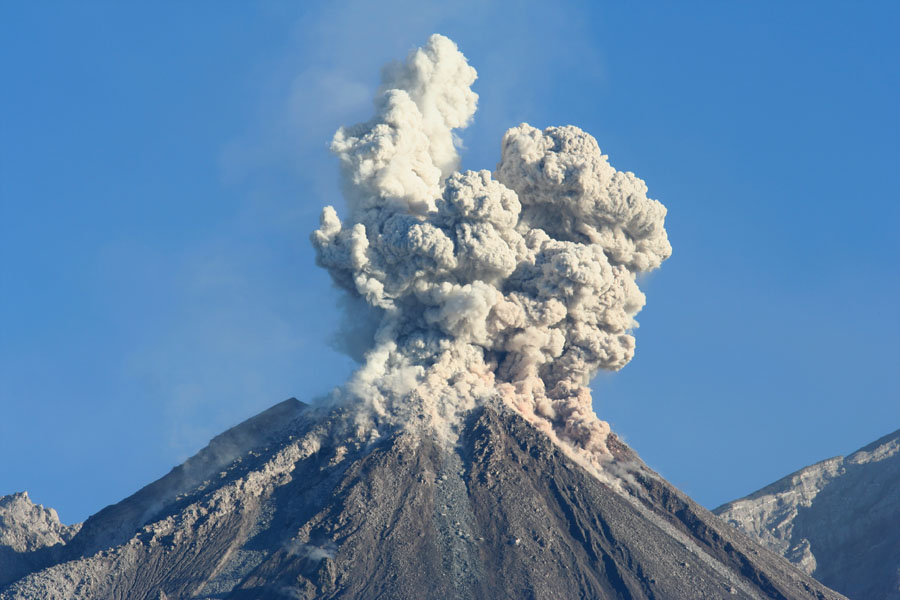 May 17 , 2016. EN. Pavlof, Santiaguito , Ruapehu , Mount St Helens .
17/05/2016.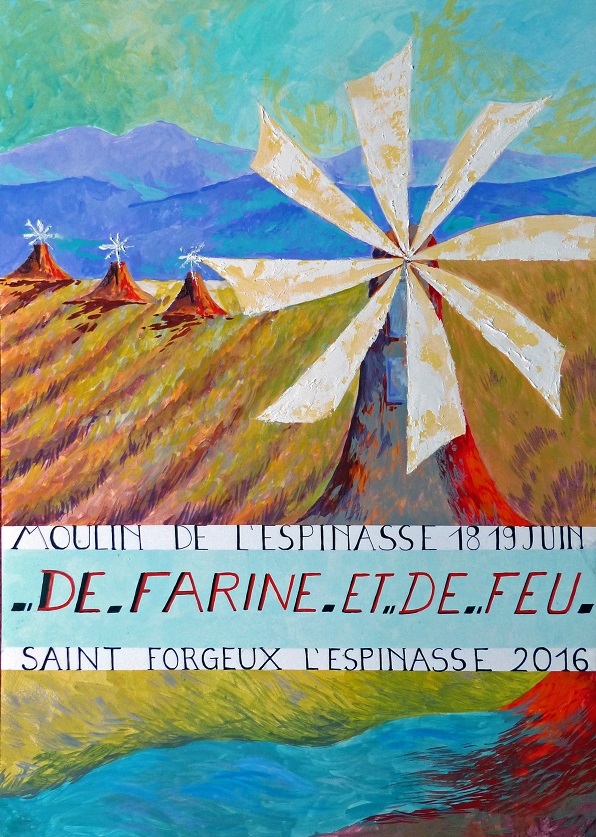 Ah … I'm back. I missed you.
Now , I must catch up the delay and start the preparation for Expo.
What has happened in the world of volcanoes during those rainy holiday … .. (Grrrrr).
Pavlof , Alaska :
55°25'2″ N 161°53'37 » W,
Summit Elevation 8261 ft (2518 m)
Current Volcano Alert Level: WATCH
Current Aviation Color Code: ORANGE
Minor ash emissions at Pavlof Volcano were observed by local observers and in web camera views yesterday evening from about 19:27-21:07 AKDT (3:27-5:07 UTC). The diffuse ash plume reached heights of 15,000-18,000 feet above sea level and did not travel far and remained in the general vicinity of the volcano. Since early last evening, the volcano has been relatively quiet and no additional ash emissions have been observed. Clear satellite views of the volcano obtained over the past day have not indicated any ash plumes or thermal signals until about 8:50 AM AKDT(16:50 UTC) this morning, when elevated surface temperatures were observed in satellite data.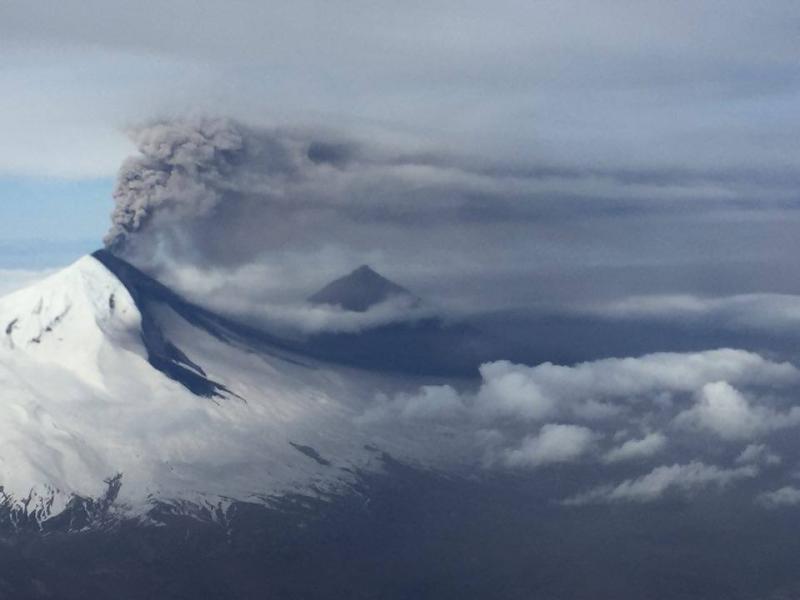 Photo by Petty Officer Austin Torres, flight engineer, taken from Coast Guard 1713, a HC-130H Hercules based at Air Station Kodiak

Thermal signals at Pavlof are typically associated with lava effusion and it is possible that low-level lava fountaining may have been temporarily occurring this morning. Seismic activity remains elevated and above background levels. AVO will continue to monitor Pavlof closely as the present levels of seismicity indicate that the volcano remains in a restless state and additional ash emissions and lava effusion at the summit may resume with little or no warning.
Source : AVO.
Santiaguito , Guatemala :
Volcano Special Bulletin.
Activity Type: Peléenne
Morphology: Complex of dacitic domes
Geographical location: 14 ° 44 '33 « N Latitude 91 ° 34'13 » W longitude
Height: 2500 m
On

the eruption of

Santiaguito

volcano

at 17:45

,

the

OVSAN

reported

a loud explosion

,

accompanied

by columns

of thick

ash

up to

5,000 meters

, which

is directed to

the east,

south west

over a distance

of

40 km

,

as happened

previously

, causing

ash fall

on

San

Felipe

Retalhuleu

,

Pueblo

Nuevo,

El

Nuevo

Palmar,

Las

Marias

, Village

Loma

Linda,

San

Marcos

Palajunoj

Fincas

El

Faro,

La Florida

Patzulin

El

Patrocinio

and others

on this

flank.
These explosions generated audible sound rumbling to more than 30 kilometers and pyroclastic flows that came down the crater of Caliente Dome on the east flanks, South and West, and in rivers Cabello  Angel and San Isidro and possibly Nima II over a length of 2 km.
It is necessary to mention that the recorded eruptions observed in recent days, are violent, with the expulsion of ballistic projectiles of different sizes at a distance of 3 km.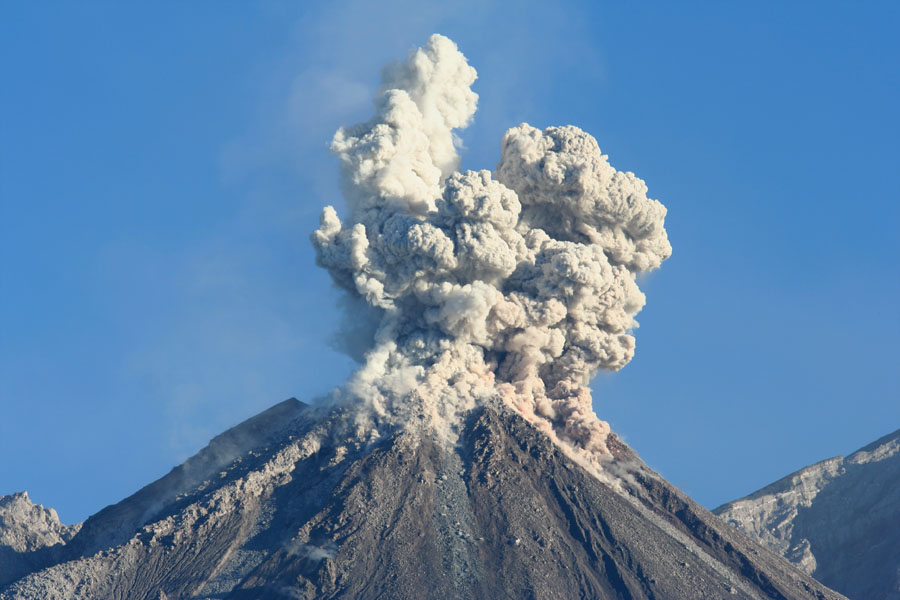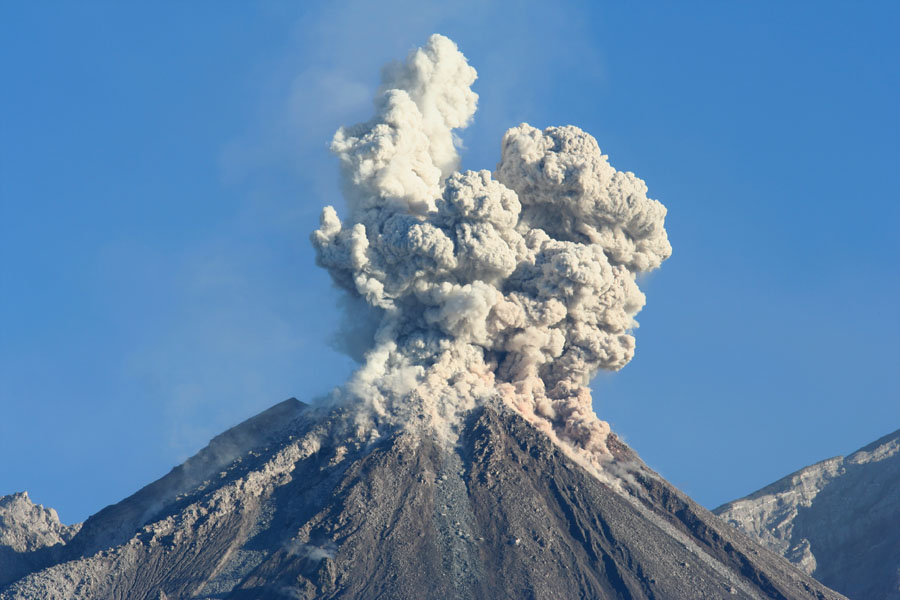 Because of the violence of the explosions, it is possible to know crisis similar or superior to that of May 9, 2014.
Therefore, the INSIVUMEH recommends:
A CONRED, taking into account the activity of the Santiaguito volcano remains powered, with the ability to generate similar or more violent eruptions, it is necessary to take all measures deemed necessary precautions and keep alert .
Also for Loma Linda and San Marcos Palajujoj villages that are most affected by ash fall, constants, which can cause problems for the respiratory tract, stomach and affect the view of the people.
At the Directorate General of Civil Aviation, to take precautions with air traffic, as there is ash in the atmosphere over a distance of 40 kilometers to the southwest, south and east, in the Santiaguito volcanic perimeter at the height of 5000 above sea level, with opportunities to be transported further.

Source : Insivumeh.
Photo : Austin Arkin
Ruapehu, New Zealand :
Volcanic gas output increases at Ruapehu, Volcanic Alert Level raised to Level 2
VOLCANIC ALERT BULLETIN: RUA – 2016/04
Alert Status:
Volcanic Alert Level is raised to Level 2 (change from 1)
Aviation Colour Code raised to Yellow (change from Green)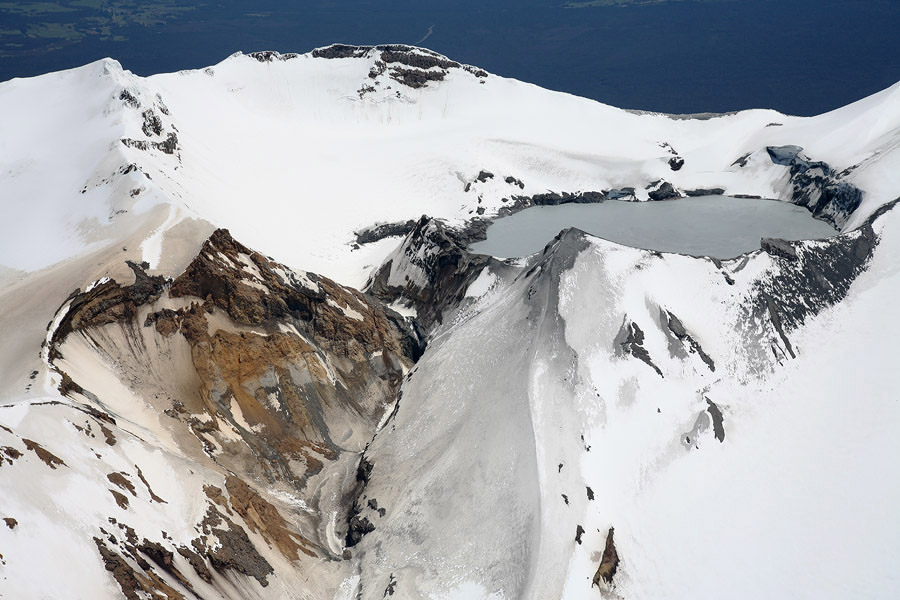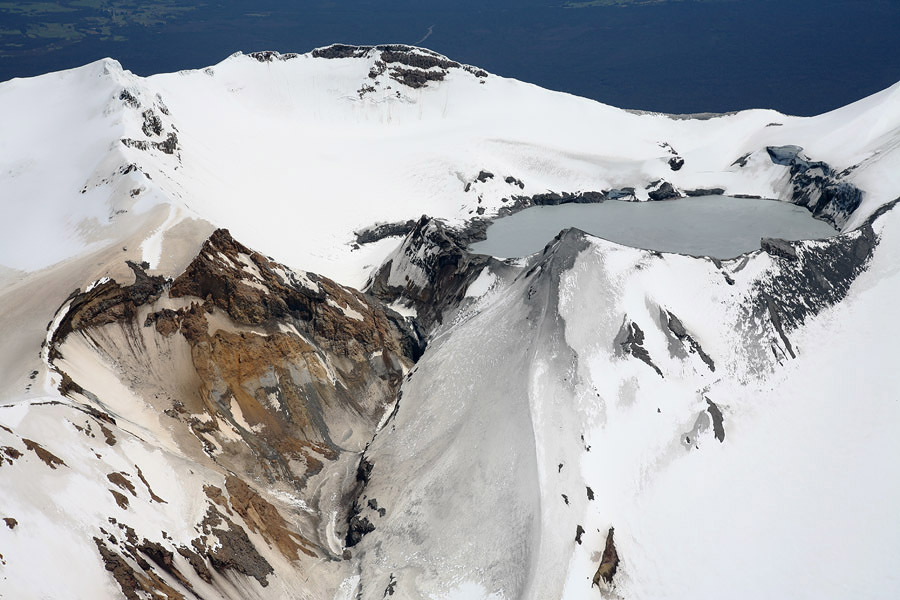 Recent visits to the volcano have confirmed an increase in the output of volcanic gas from Mt Ruapehu's Crater Lake. Moderate levels of volcanic tremor continue and the lake temperature measured by the outlet data logger is 45 ºC. The increase in gas output, the high lake temperature and continued seismicity suggest that Ruapehu is at a higher level of volcanic unrest. As a result, GNS scientists revise the Volcanic Alert Level to Level 2 (moderate to heightened unrest). The Aviation Colour Code is also changed, from Green to Yellow.
We made two monitoring visits to Mt Ruapehu yesterday, one was a gas flight to measure the gas output and the other was to sample the Crater Lake water and make additional ground based gas measurements. Volcanic gas measurements indicate an increase in the amount of both carbon dioxide (CO2) and sulphur dioxide (SO2) output. The ground based gas measurements were complimentary to the airborne data.
Seismic activity at Mt Ruapehu is usually dominated by volcanic tremor. Since the volcanic earthquakes in late April the seismicity has been dominated by volcanic tremor at varying levels. The level of tremor has increased but is not exceptional in terms of the last few years.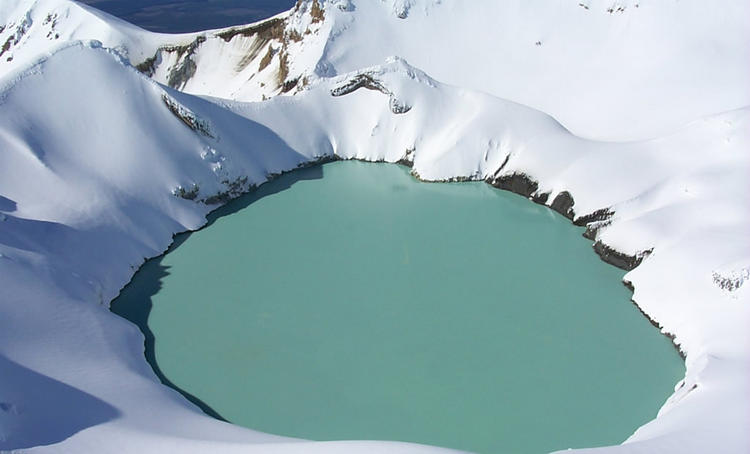 The temperature of the Crater Lake as measured by a data logger near the outlet has been rising and since mid-April 2016 and has risen from 25 °C to 46 °C. For the last couple of days it has ranged between 45 and 46 ºC.
Taken together these data now indicate more volcanic unrest at Mt Ruapehu. The increased gas output coupled with high heat flow and volcanic tremor imply a higher likelihood of activity. At this time these changes at Ruapehu are considered sufficient to change the Volcanic Alert Level. The volcanic alert level for Mt Ruapehu is now raised to Volcanic Alert Level 2 (moderate to heightened unrest). The Aviation Colour Code has also changed, from Green to Yellow.
GNS Science volcanologists continue to closely monitor Ruapehu through the GeoNet project.
 Source : Geoff Kilgour
Duty volcanologue
Mount St Helens , United  States :
Small magnitude earthquake swarm continues at Mount St. Helens.
Beginning March 14, 2016, a number of small magnitude earthquakes have occurred beneath Mount St. Helens, at a depth between 2 and 7 km (1.2 to 4 miles). Over the last 8 weeks, there have been over 130 earthquakes formally located by the Pacific Northwest Seismic Network and many more earthquakes too small to be located. The earthquakes have low magnitudes of 0.5 or less; the largest a magnitude 1.3. Earthquake rates have been steadily increasing since March, reaching nearly 40 located earthquakes per week. These earthquakes are too small to be felt at the surface.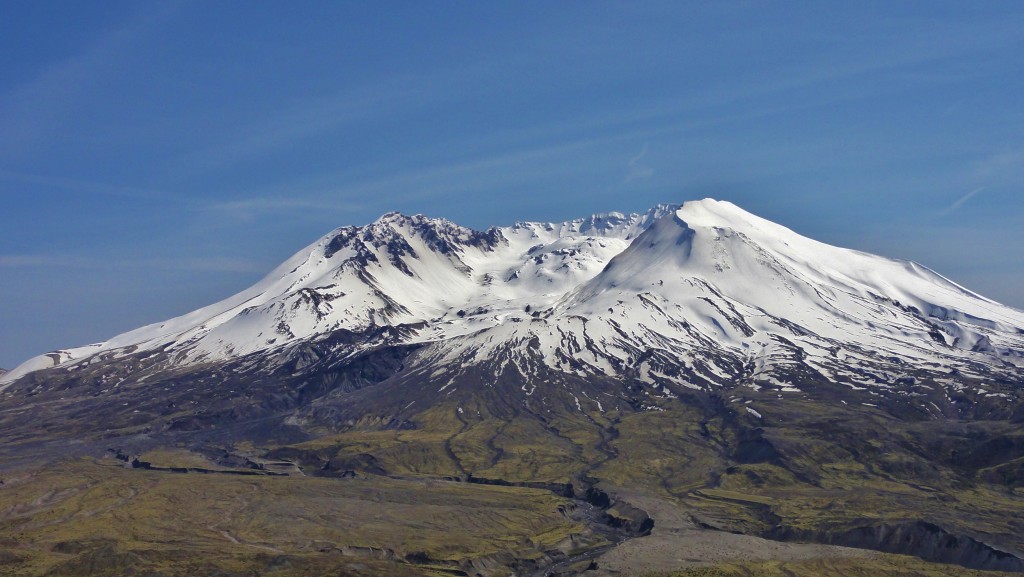 The earthquakes are volcano-tectonic in nature, indicative of a slip on a small fault. Such events are commonly seen in active hydrothermal and magmatic systems. The magma chamber is likely imparting its own stresses on the crust around and above it, as the system slowly recharges. The stress drives fluids through cracks, producing the small quakes. The current pattern of seismicity is similar to swarms seen at Mount St. Helens in 2013 and 2014; recharge swarms in the 1990s had much higher earthquake rates and energy release.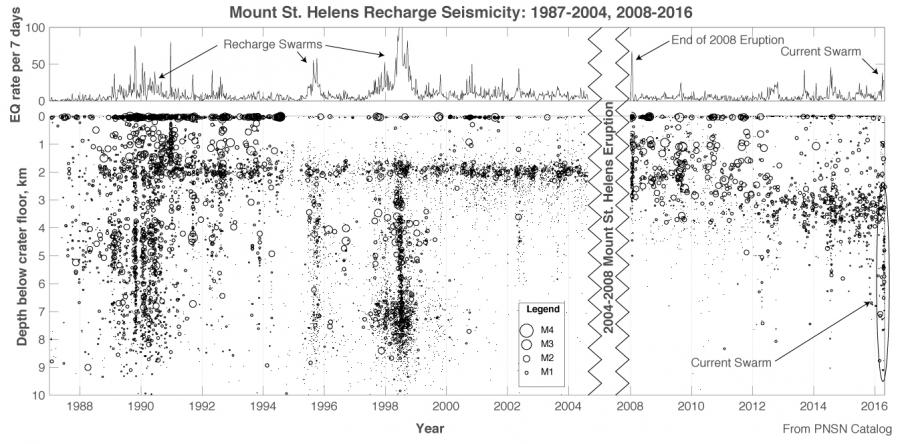 No anomalous gases, increases in ground inflation or shallow seismicity have been detected with this swarm, and there are no signs of an imminent eruption. As was observed at Mount St. Helens between 1987-2004, recharge can continue for many years beneath a volcano without an eruption.
Source : CVO