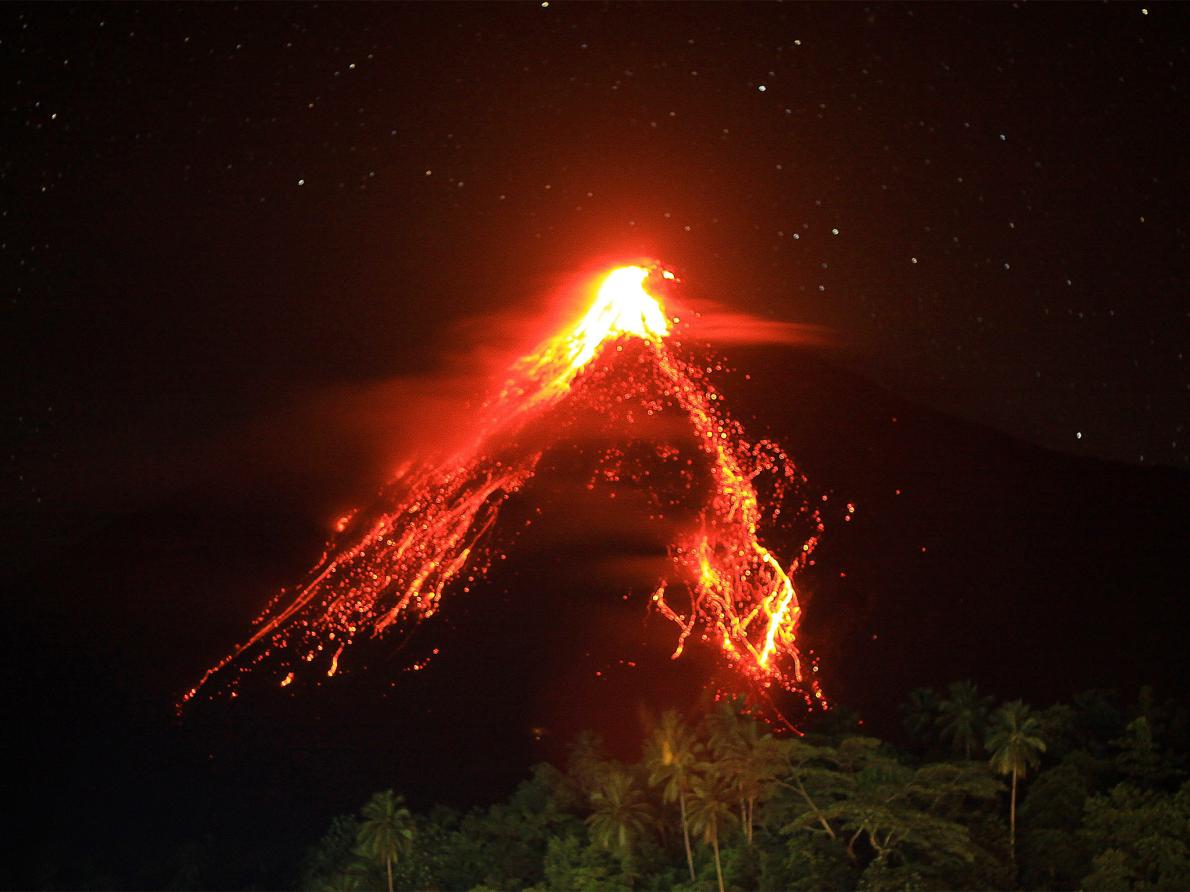 April 29 , 2016. EN. White Island , Karangetang , Ruapehu , Soufrière Hills , Turrialba.
April 29 , 2016.
White Island , New  Zealand :
Volcanic Alert Bulletin WI 2016/03:
6:45pm Thursday 28 April 2016; White Island Volcano
Alert Status:
Volcanic Alert Level is lowered to Level 2
Aviation Colour Code remains Orange
Based on new observations, the Volcanic Alert Level for White Island has been lowered to 2 from 3. This indicates that the volcano is not erupting anymore but remains in a state of moderate to heightened unrest. The Aviation Colour Code remains at Orange.
An eruption occurred at White Island at about 9:50 pm yesterday (Wednesday, 27 April 2016). No further eruptive activity has been observed since yesterday evening. Seismic activity remains low and new gas emission data for today show a SO2 (sulphur dioxide) flux level similar to that prior to the eruption. As a consequence of the continued lack of activity since the eruption on Wednesday evening, the Volcanic Alert Level has been lowered to Level 2.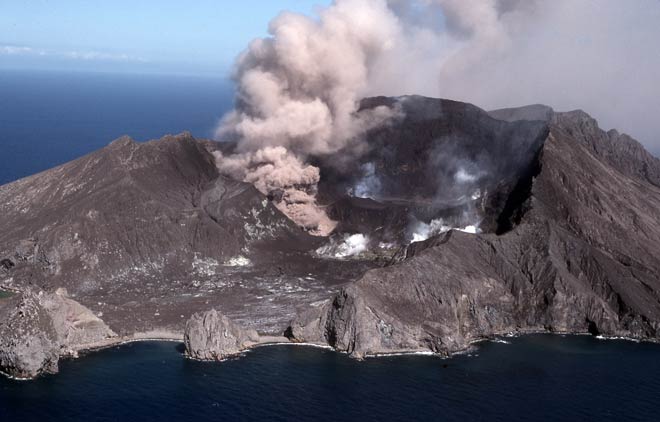 A more precise time for the eruption, about 9.50 pm, has been inferred from a combination of data from yesterday evening's seismic activity, a MetService rain radar image, and data from a GPS receiver on the island.
GNS volcanologists flew over White Island this afternoon to assess the impacts of last night's eruption. A dark-green ash deposit from the eruption covers at least 80% of the floor of Main Crater, and up the sides of the crater wall on both the north and south sides. At a distance of 500 m from the eruption site the ash deposit is about 5 mm thick. The green colour is due to minerals on the ash.
There is currently no indication that activity may be building up at White Island. However, GNS Science staff will not be visiting the main crater floor until further notice due to the heightened state of volcanic unrest. GNS Science volcanologists are continuing to monitor the volcano 24/7 using existing instrumentation on the island and occasional measurements made from safe distance. Further bulletins will be released as required.
Source : Geonet , Agnes Mazot
Duty volcanologue
Photo : teara.govt.nz
Karangetang , Indonesia :
North Sulawesi's Mount Karangetang, which erupted on Wednesday, has continued to emit ash into the sky on Thursday.
The volcano, located in Siau Tagulandang Biaro ( Sitaro ) Islands regency, North Sulawesi, sent hot lava as far as 2 kilometers from its crater when it erupted around 5 p.m. local time on Wednesday.
"Mt. Karangetang has erupted again. There had been no volcanic activity in the last few days before it erupted on Wednesday afternoon," said Abed Anthoni, a resident of Bebali subdistrict, East Siau district.
He said East Siau residents did not consider yesterday's eruption to be out of the ordinary, but remained alert in carrying out their daily activities.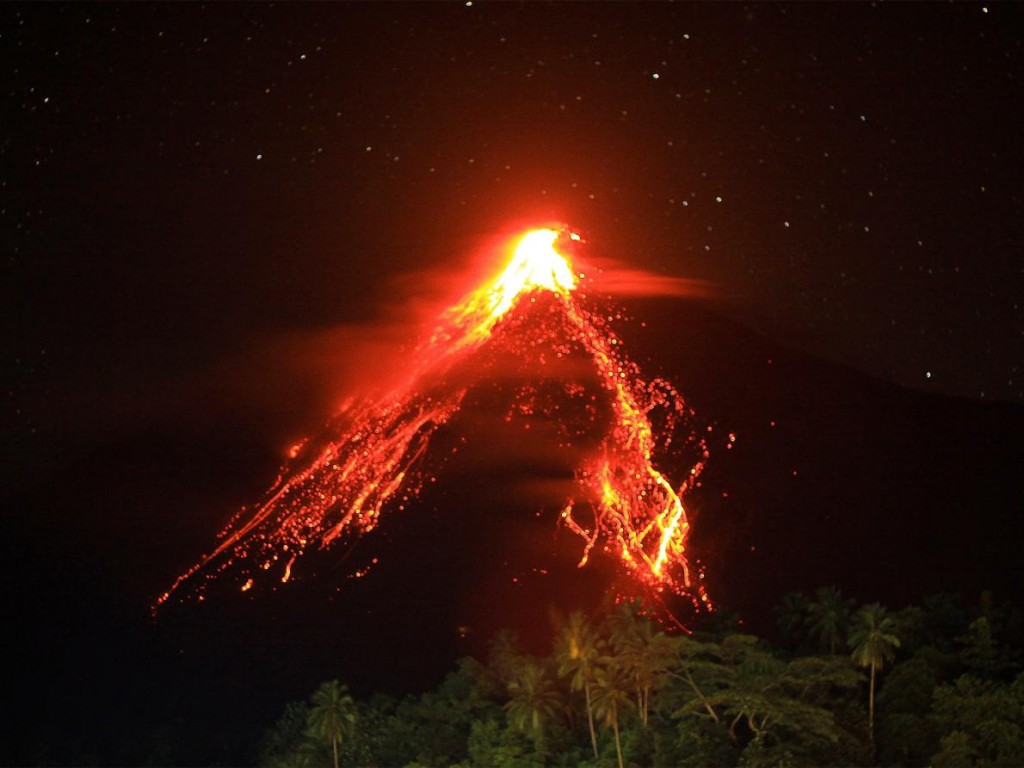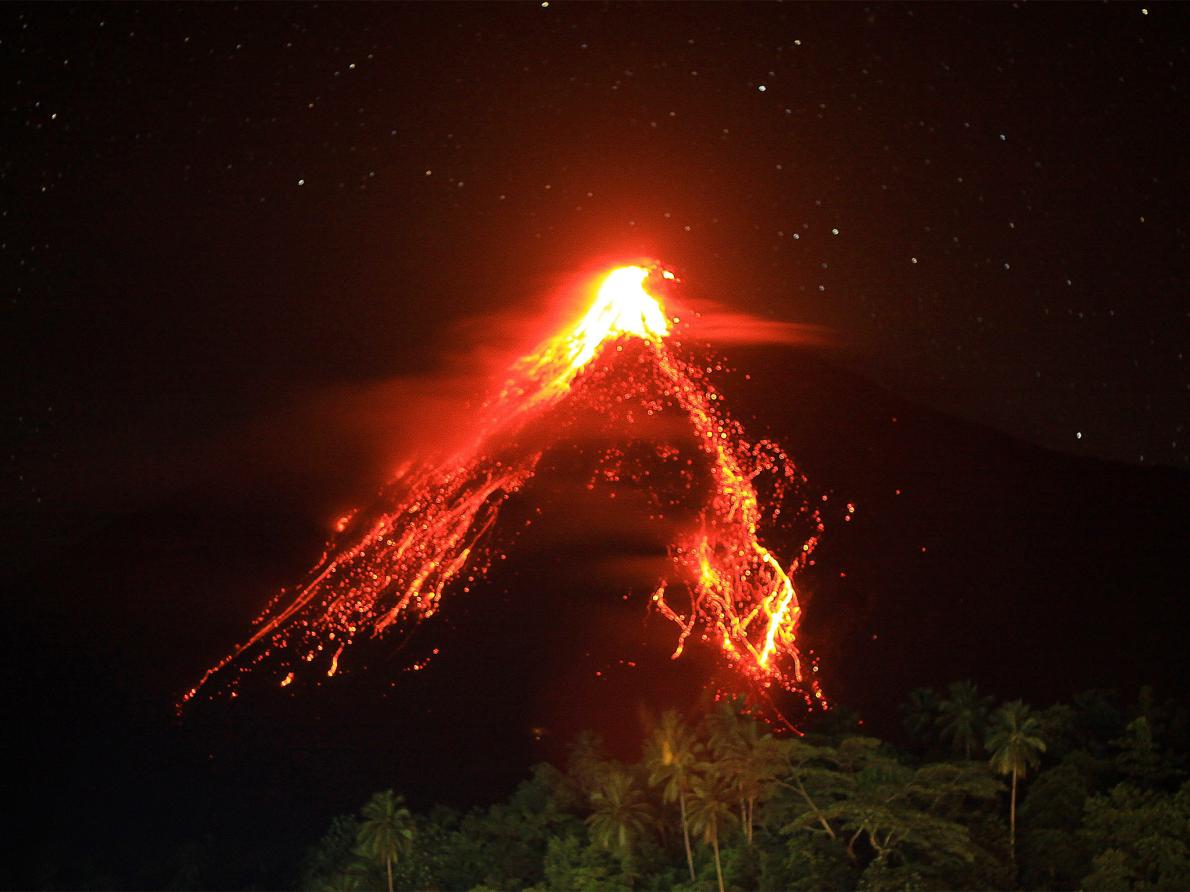 "I told my wife and our children that we have to anticipate the potential for greater eruptions," Abed said.
Sitaro Disaster Mitigation Agency ( BPBD ) head Bob Chalton Wuaten said the lava from Mt. Karangetang started flowing at around 5 p.m. on Wednesday. "It went toward the Kahetang River, around 2,000 meters from the crater. The new dome on its peak collapsed during the eruption, causing the hot lava flow," he said.
Bob added that Mt. Karangetang's volcanic alert status remained at Level 2, indicating the need for caution, despite Wednesday's eruption.
"We call on all residents in Boro, Tararone subdistrict, East Siau district, to stay alert because the potential for the volcano to spew pyroclastic clouds is still huge. The peak of Mt. Karangetang cannot be monitored visually because it is still shrouded with thick ash plumes," said Bob.
 Source : The Jakarta Post.
Photo : Nationalgeographic
Ruapehu , New Zealand :
Volcanic Alert Bulletin RUA 2016/01:
3:30pm Friday 29 April 2016; Ruapehu Volcano
Alert Status:
Volcanic Alert Level remains Level 1
Aviation Colour Code remains Green
Over the last few days there has been a volcanic earthquake swarm at Mt Ruapehu. The Crater Lake temperature is now 40 °C. Mt Ruapehu remains at Volcanic Alert Level 1 (Minor volcanic unrest).
Since April 26 we have been recording a volcanic earthquake swarm beneath the Crater Lake of Mt Ruapehu. Swarms of volcanic earthquakes like these are uncommon on Ruapehu in recent years. Seismic activity at Mt Ruapehu is usually dominated by volcanic tremor.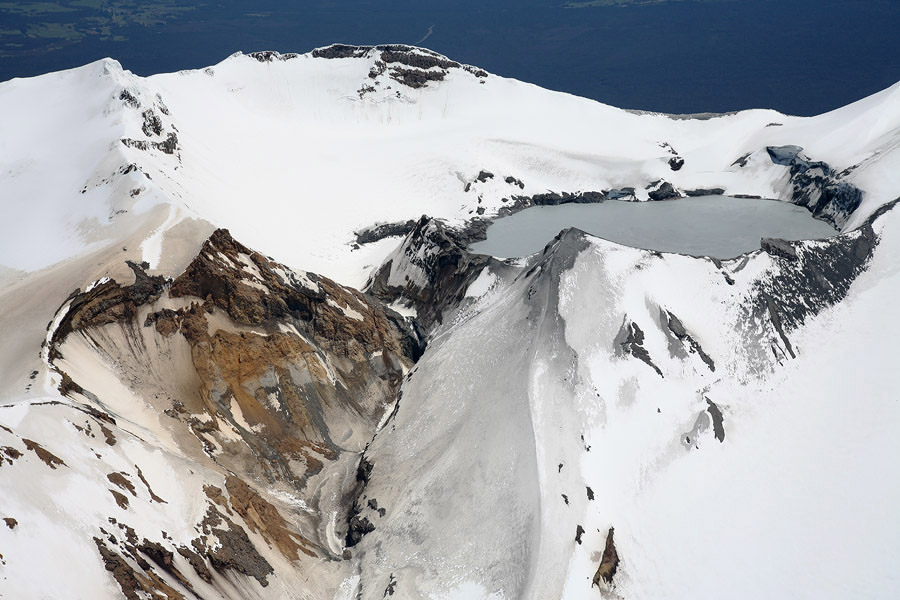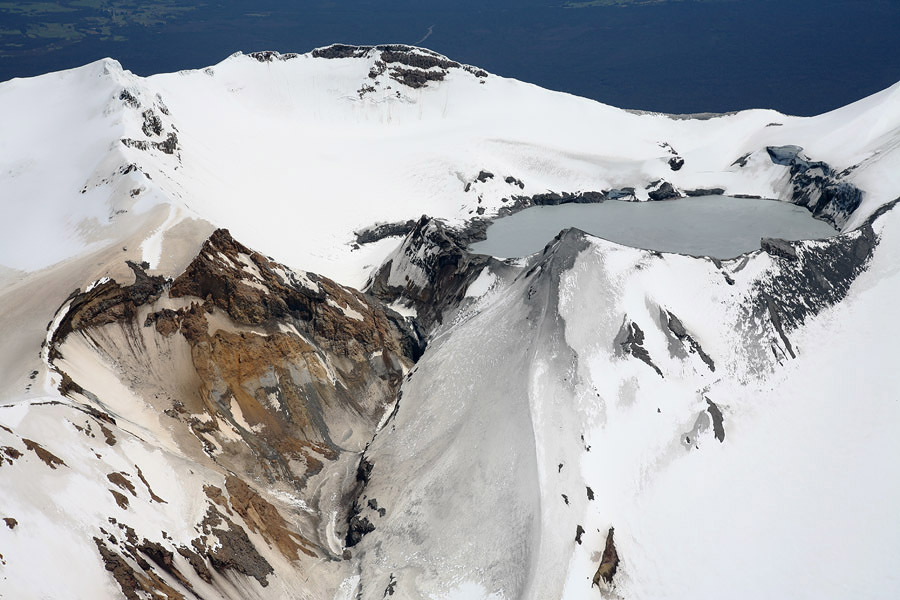 The temperature of the Crater Lake has been rising since late 2015 and since mid-April 2016 the Crater Lake temperature has risen from 25 °C to 40 °C. Similar temperatures and rate of temperature increase were observed in March 2011, April 2014 and February 2015.
We have not noted any changes in other monitored parameters like volcanic gas, lake chemistry or lake overflow. A gas flight was performed on March 30 and the Crater Lake was sampled on April 14.
Currently we are uncertain of the implications of the recent observations. However at this time these changes at Ruapehu are not considered sufficient to change the Volcanic Alert Level.
GNS Science volcanologists continue to closely monitor Ruapehu through the GeoNet project.
The changes at Mt Ruapehu are not related to the volcanic eruption that occurred at White Island on Wednesday 27 April.
Source : Geonet , Agnes Mazot
Duty Volcanologist
Photo : Photovolcanica.
Soufrière Hills , Montserrat :
Activity at the Soufrière Hills Volcano remains low.
The seismic network recorded three rockfalls and five volcano-tectonic earthquakes this week. The rockfalls occurred following the heavy rains on 18th and 19th April and were most likely located inside the 2010 collapse scar.
Sulphur-dioxide measurements were not possible during the reporting period. The gas plume was blown northwards over inhabited areas at times during the week and the smell of volcanic gases was noticeable.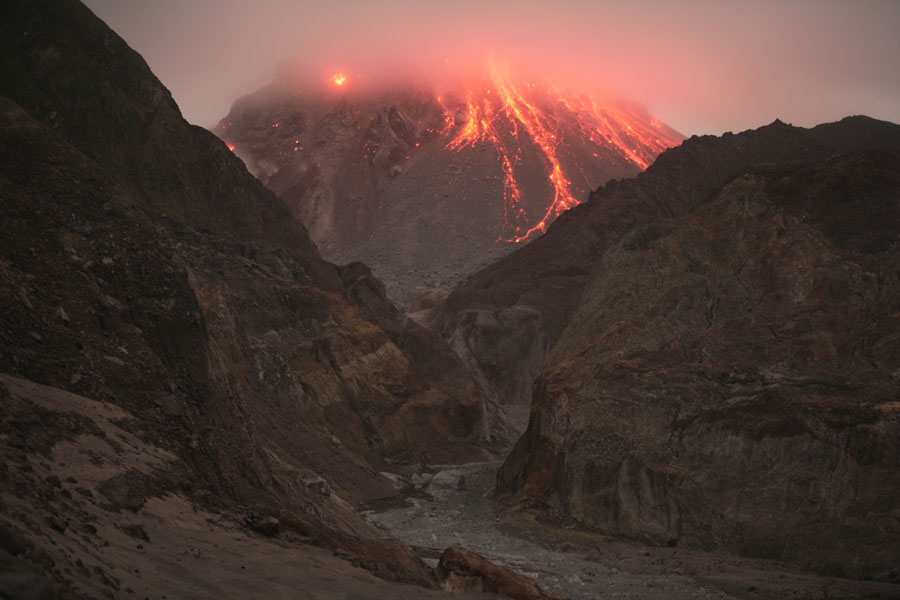 Nighttime view of Soufriere Hills lava dome with Tar River Valley in the foreground, March 2006, 6 weeks before May 2006 dome collapse.
Following heavy rain on 18th and 19th April, there were lahars in the Belham Valley and other valleys draining the flanks of the Soufrière Hills Volcano.
Pyroclastic flows can occur at any time without warning on any side of the volcano, including Gages from where they can travel rapidly into Plymouth. Tracks across the Belham valley are frequently destroyed or heavily modified by flash flooding or lahars, and caution should be exercised crossing the valley during and after rainfall.
The Hazard Level is 1. There is no public access to Zone V, including Plymouth. Maritime Zones E and W are daytime transit only between sunrise and sunset (boats may sail through the zone but must not stop). Anyone who ignores these restrictions is liable to be prosecuted.
Source : HVO
Photo : Photovolcanica.( 2006)
Turrialba , Costa Rica :
Activity Increases at the Turrialba Volcano in Costa Rica.
28 APRIL 2016. Residents of the Turrialba canton in the province of Cartago woke up this morning to find a white steam column atop the summit of their eponymous volcano. According to an early morning press conference given by the Observatory of Volcanology and Seismology of Costa Rica (Spanish acronym: OVSICORI), seismic activity has been on the rise at the Turrialba Volcano since the early morning hours of Thursday.
The strongest tremors recorded by the seismographs and other instruments in place at the volcano have not been strong enough to be felt by local residents, unless they happen to be hiking near the crater or on the higher skirts. To this effect, the highest seismic reading was recorded at 5:30 am, and OVSICORI geologists have explained that the seismicity has continued since.
As previously reported by The Costa Rica Star, the OVSICORI detected a series of 75 small earthquakes recorded over 12 hours between Saturday night and Sunday morning the Turrialba and Irazu volcanoes. The strongest of these seismic disturbances were recorded at magnitude 3, which would be felt if someone was standing on a shallow epicenter.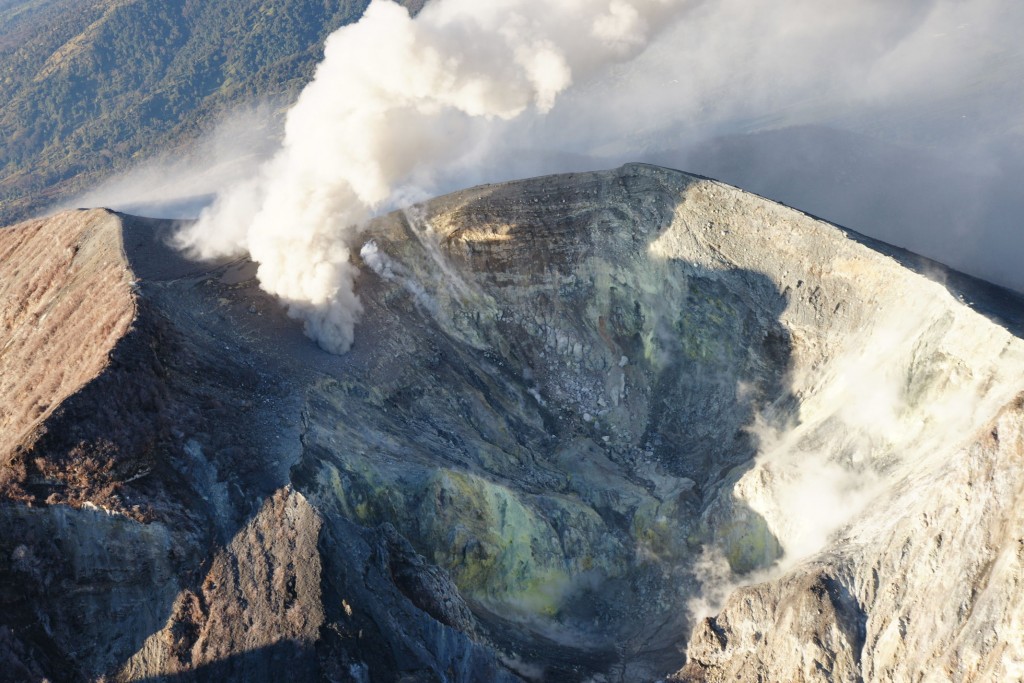 It so happens that the seismicity recorded over the weekend is related to an earthquake cluster region and not directly associated with the Turrialba volcano.
OVSICORI scientists have pointed out that the current activity at the Turrialba is normal and not indicative of imminent eruptions. No external changes have been recorded by the geodesic monument, which is a magma detection instrument installed on the skirts of the colossus. This instrument connects to the Global Positioning System (GPS) satellite network and measures minuscule terrain changes for the purpose of assessing future eruptions.
The steam column atop the Turrialba can be explained by recent, heavy rainfall that creates phreatic (ground water) conditions at the central and western craters.
  Source : Ovsicori , COSTA RICA STAR
Photo : Ticotimes .