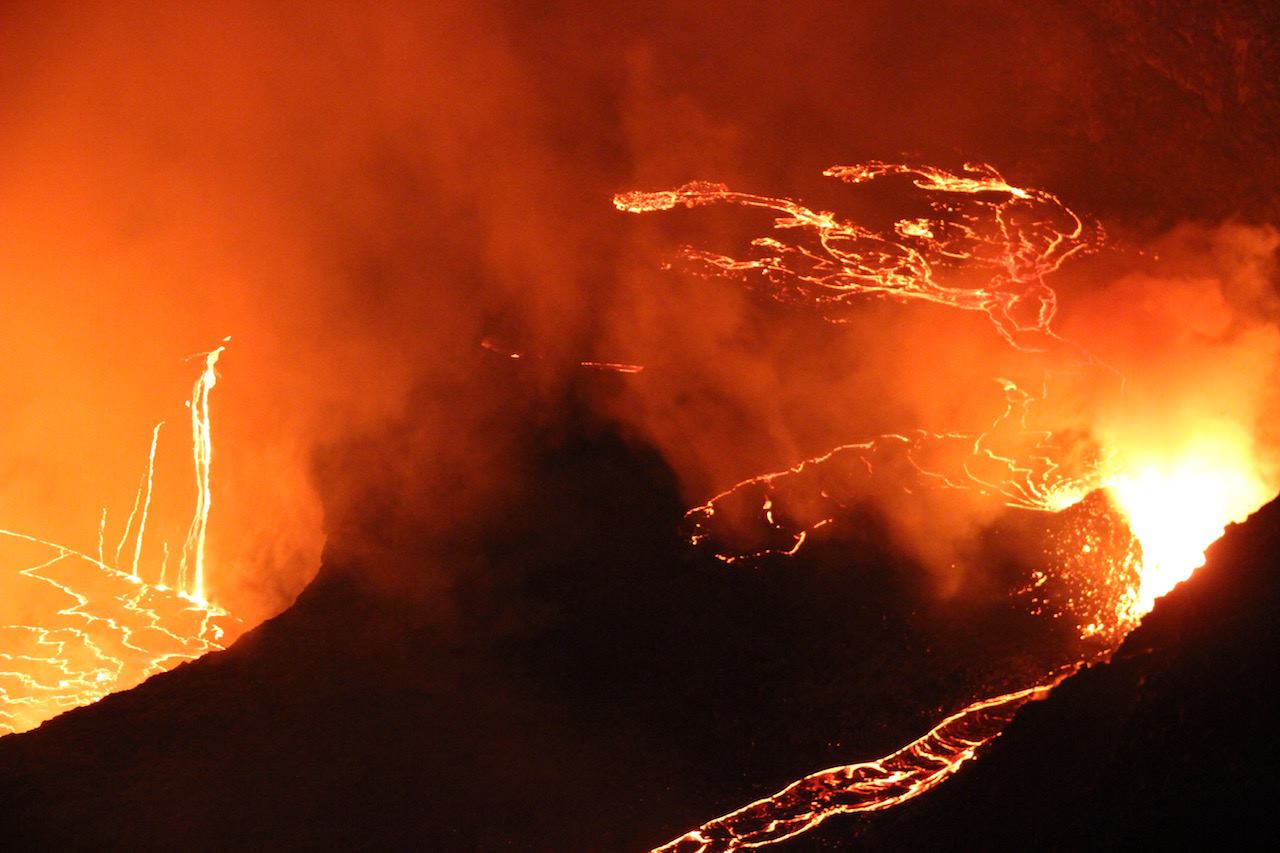 April 23, 2016. EN. Nyiragongo , San Cristobal , Kerinci , Pavlof .
April 23, 2016.
Nyiragongo ,

Democratic Republic of Congo

:
Complete report of the situation bulletin of the Nyiragongo volcano by the Volcanological Observatory of Goma.
The Volcanological Observatory of Goma (OVG) informs the population of Goma, Gisenyi and elsewhere as instrumental data acquired during the period from April 4 to 12, 2016 indicate that:
Overall, volcanic earthquakes are concentrated between the two Virunga volcanoes (Nyamulagira and Nyiragongo) and along the fracture connecting them.
-From Nyamulagira volcano: It should be noted that observations on the ground of its assets pit on 6 April 2016 show a decrease in activity and a decrease in the level of its lava lake.
– From Nyiragongo volcano: its activity was characterized by the following facts.
* Volcanic earthquakes located in the central crater.
* A less abundant nocturnal red glow.
* A large plume of gas oriented mainly towards the East and West
The geochemical and geodesic data indicate no significant changes compared to previous data.
Moreover, OVG would point out that the green color of the observed waters of Lake Kivu since April 8, 2016 is simply due to a biological phenomenon. There was rotation of the deep waters to the surface, carrying with them nutrients (phytoplankton) and other micro – organisms.
– From information center on volcanoes: The center welcomed 146 visitors in total made up of pupils, students and independent.

NB. –The Population of Goma, Gisenyi and surrounding villages of Nyiragongo and Nyamulagira are required to observe strict hygiene by washing vegetables, covering foods and keeping them inside houses, while attention to rainwater.
– In addition, anyone wishing to have more information on the state of our volcanoes are asked to contact the OVG which is the only institution to provide information in this regard.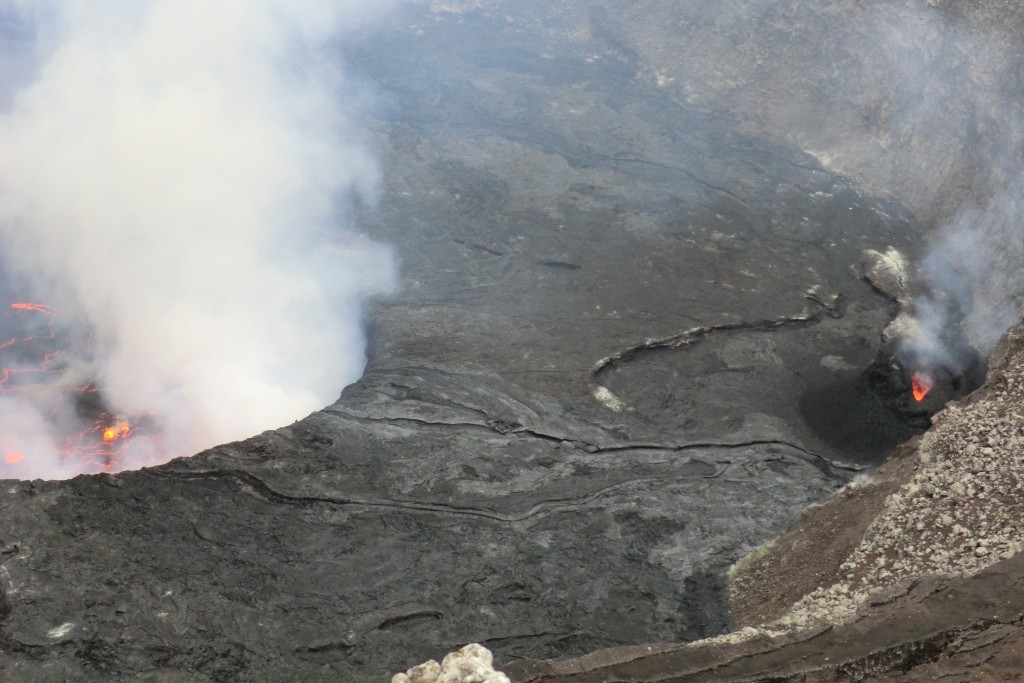 Conclusion:
The instrumental data acquired by OVG indicate a sustained activity in the camps of Nyamulagira and Nyiragongo volcanoes. However, this activity shows no concern for inhabited areas.
The alert level of the volcano Nyiragongo remains at Yellow: Vigilance.
Source : OVGGoma .
Photos : Jeremie Franchitti , OVGGOMA 19 avril 2016.
San Cristobal , Nicaragua :
The San Cristobal volcano, located in the department of Chinandega, recorded three explosions Friday morning, according to experts in volcanology.
The first, and strongest, at 10:20 am The other two explosions occurred at 10:22 and 10:25, according to an expert.
Surveillance cameras in the Nicaraguan Institute of Territorial Studies (INETER) showed the exact time of the explosion.
The highest column issued by the San Cristobal volcano, when he ejected ash and gas reached two thousand meters high. There were also 10 other smaller scale explosions than 10:20, according to information provided by the spokesman of the government, Rosario Murillo.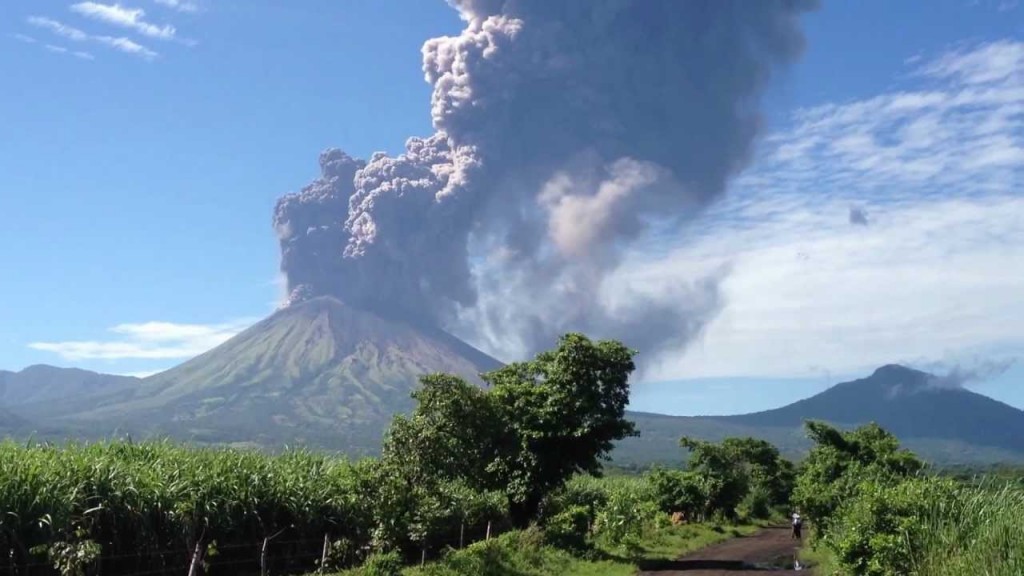 Because gas and ash issued by the volcano, the authorities have asked surrounding towns to seal drinking water to prevent further damage due to toxic materials that may contain the ashes issued.
In February, the volcano showed significant activity, its last explosion took place on February 24.
The San Cristóbal volcanic complex, consisting of five principal volcanic edifices, forms the NW end of the Marrabios Range. The symmetrical 1745-m-high youngest cone, named San Cristóbal (also known as El Viejo), is Nicaragua's highest volcano and is capped by a 500 x 600 m wide crater.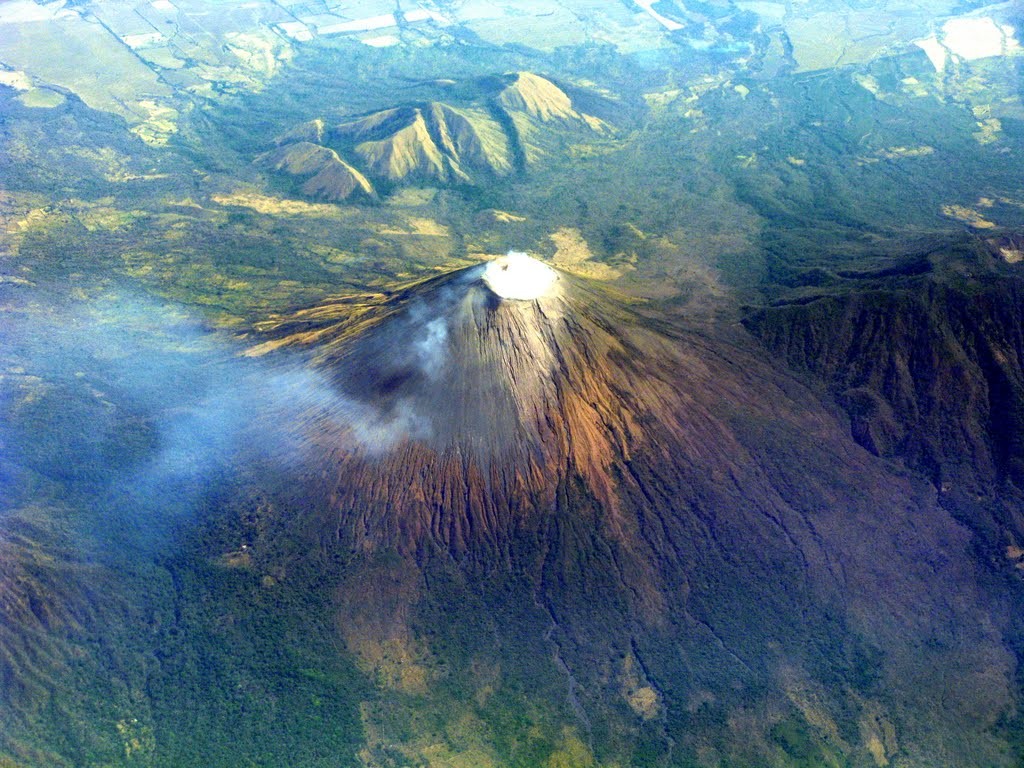 El Chonco, with several flank lava domes, is located 4 km W of San Cristóbal; it and the eroded Moyotepe volcano, 4 km NE of San Cristóbal, are of Pleistocene age. Volcán Casita, containing an elongated summit crater, lies immediately east of San Cristóbal and was the site of a catastrophic landslide and lahar in 1998. The Plio-Pleistocene La Pelona caldera is located at the eastern end of the complex. Historical eruptions from San Cristóbal, consisting of small-to-moderate explosive activity, have been reported since the 16th century. Some other 16th-century eruptions attributed to Casita volcano are uncertain and may pertain to other Marrabios Range volcanoes.
Sources : Elnuevodiario , laprensa.com.ni , GVP .
Photos : La Prensa , omontealegre/Panoramio .
Kerinci , Indonésia :
Evacuation prepared as seismic activity of Mount Kerinci volcano rises in Indonesia
1.697°S, 101.264°E
Elevation 3800 m


JAKARTA, April 22
Authorities are preparing routes and shelters for evacuation as seismic activity of Mount Kerinci volcano in Kerinci district of Jambi rises, officials of the country's disaster agency and volcanology agency said on Friday.
Over 10,000 people living on the slope of the volcano are vulnerable to eruption risks, Ansari, senior official of disaster agency at the district revealed.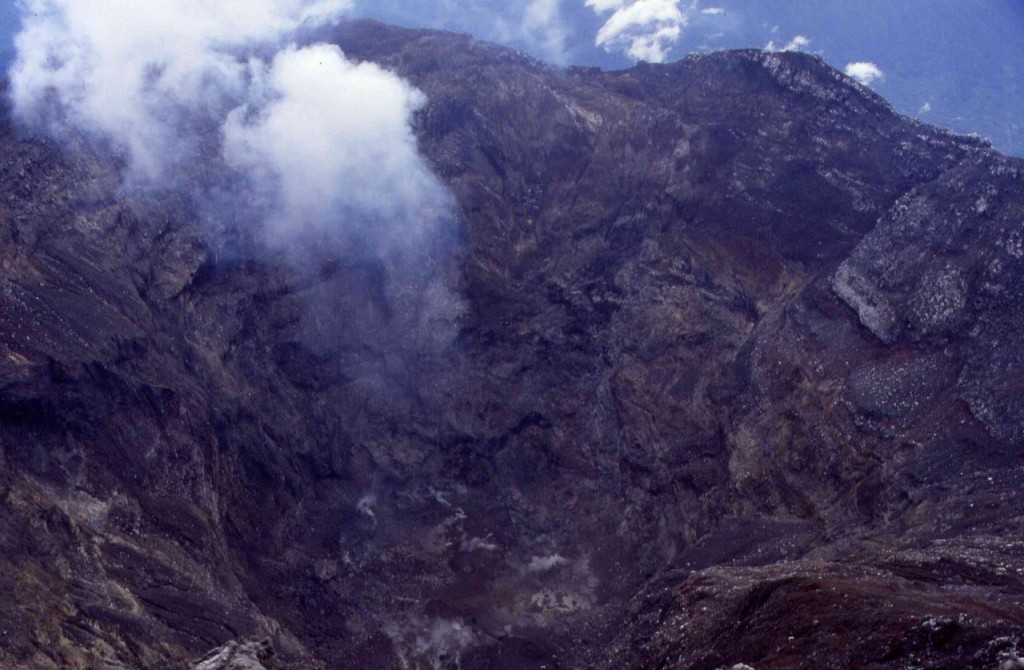 « The activity of the volcano has been rising in recent days. So we must anticipate it, » he told Xinhua by phone from the district.
Coordination among the authorities at the district and those at the provincial level has been boosted to counter the possible impacts of eruption, Ansari added.
Mount Kerinci of 3,805 meters high in Sumatra Island has witnessed small eruptions recently, Henda Gunawan, head of observation at the national volcanology agency said on Friday.
« And its eruption has been intense since the last two weeks, » the volcanologist told Xinhua over phone from West Java.
« The volcanology agency has recommended people not enter the area in the radius of 3 kilometers from the crater, » said Gunawan.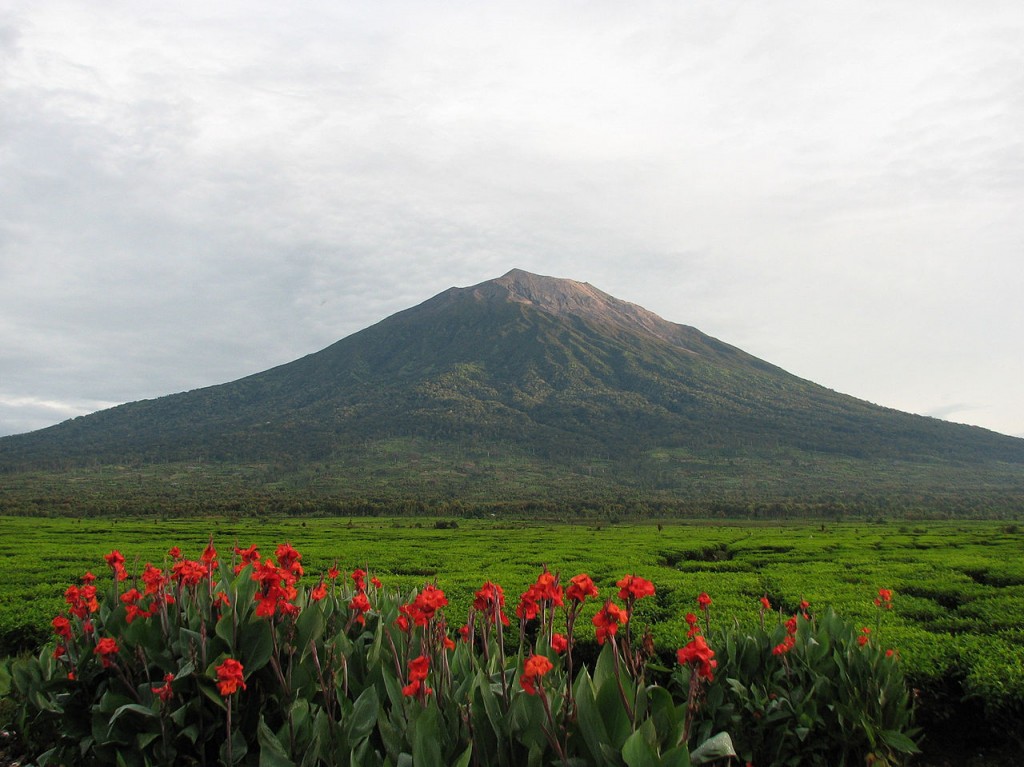 Based on reports from PVMBG, the Darwin VAAC stated that on 16 April ash plumes from Kerinci rose to an altitude of 4.6 km (15,000 ft) a.s.l. and drifted E.

The 3800-m-high Gunung Kerinci in central Sumatra forms Indonesia's highest volcano and is one of the most active in Sumatra. Kerinci is capped by an unvegetated young summit cone that was constructed NE of an older crater remnant. The volcano contains a deep 600-m-wide summit crater often partially filled by a small crater lake that lies on the NE crater floor, opposite the SW-rim summit of Kerinci. The massive 13 x 25 km wide volcano towers 2400-3300 m above surrounding plains and is elongated in a N-S direction. The frequently active Gunung Kerinci has been the source of numerous moderate explosive eruptions since its first recorded eruption in 1838.

Sources : shanghaidaily.com , GVP.
Photos : Wikipedia
Pavlof , Alaska :
AVO/USGS Volcanic Activity Notice
Current Volcano Alert Level: NORMAL
Previous Volcano Alert Level: ADVISORY
Current Aviation Color Code: GREEN
Previous Aviation Color Code: YELLOW
Location: N 55 deg 25 min W 161 deg 53 min
Elevation: 8261 ft (2518 m)


Volcanic Activity Summary: Seismic activity at Pavlof Volcano has continued to decrease over the past two weeks and no anomalous activity has been detected in satellite data since weakly elevated surface temperatures were seen on April 8. AVO is therefore lowering the aviation color code to GREEN and the Volcano Alert Level to NORMAL.
Pauses in eruptive activity lasting days to weeks have occurred during past eruptive episodes of Pavlof Volcano. A return to robust eruptive activity remains possible and could occur with little or no warning. AVO will continue daily routine monitoring efforts using seismic, infrasound (pressure sensor) and satellite data.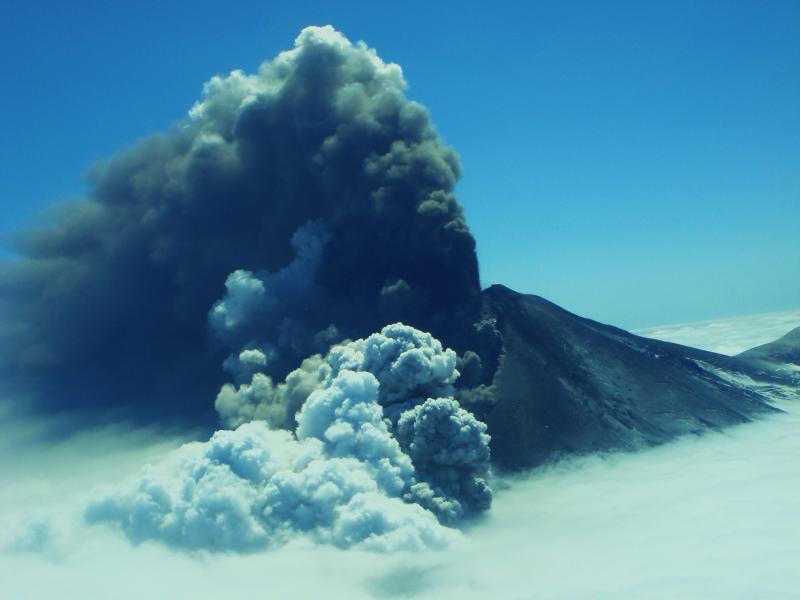 Remarks: Pavlof Volcano is a snow- and ice-covered stratovolcano located on the southwestern end of the Alaska Peninsula about 953 km (592 mi) southwest of Anchorage. The volcano is about 7 km (4.4 mi) in diameter and has active vents on the north and east sides close to the summit. With over 40 historic eruptions, it is one of the most consistently active volcanoes in the Aleutian arc. Eruptive activity is generally characterized by sporadic Strombolian lava fountaining continuing for a several-month period. Ash plumes as high as 49,000 ft ASL have been generated by past eruptions of Pavlof, and during the 2013 eruption, ash plumes as high as 27,000 feet above sea level extending as much as 500 km (310 mi) beyond the volcano were generated. The nearest community, Cold Bay, is located 60 km (37 miles) to the southwest of Pavlof.
Source : AVO
Photo : May 18, 2013 12:00 AM ,   Chesley, Theo