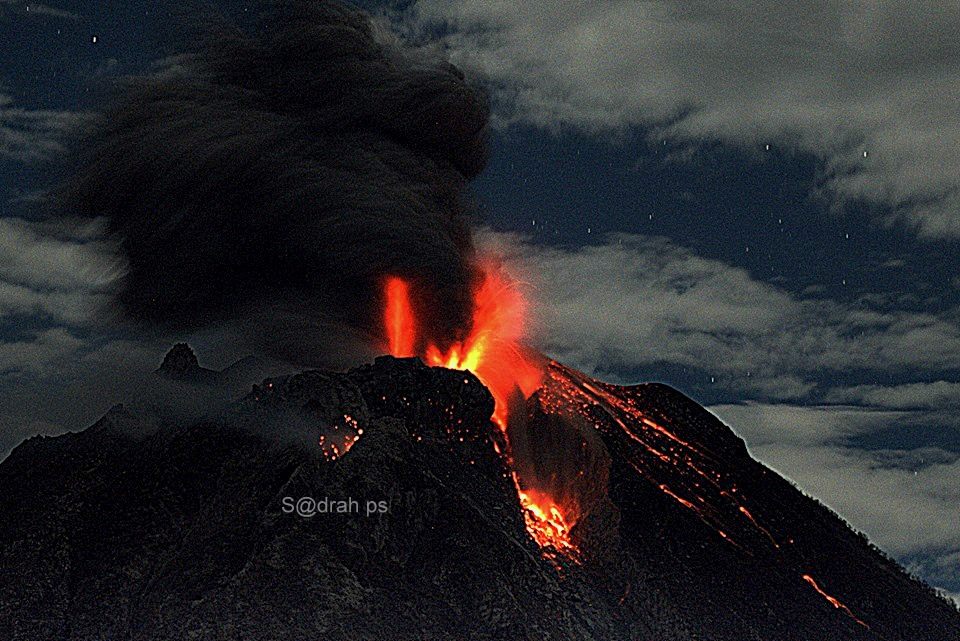 April 14 , 2016. EN. Sinabung , Reventador , Kilauea , Sakurajima ( Aira) .
April 14 , 2016.
Sinabung , Indonésia :
3.17°N, 98.392°E
Elevation 2460 m
Based on satellite images and information from PVMBG, the Darwin VAAC reported that during 6, 8-10, and 12 April ash plumes from Sinabung rose to altitudes of 3.3-4.8 km (11,000-16,000 ft) a.s.l. and drifted SW, W, and WNW.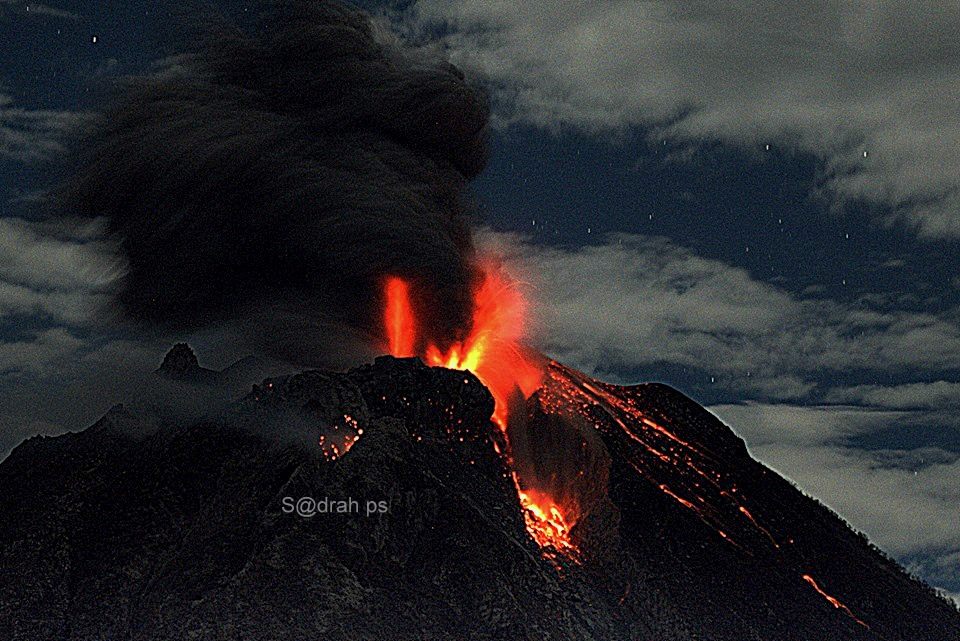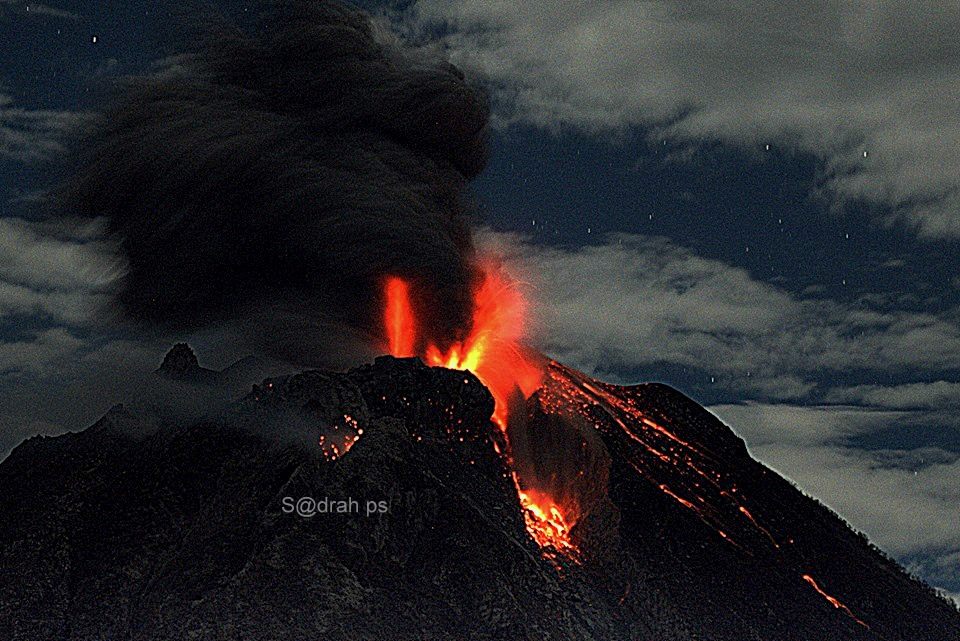 On 10 April BNPB reported that the eruption at Sinabung has not shown any signs of ceasing since the onset of activity in September 2013. Activity remained high, characterized by almost daily lava extrusion and pyroclastic flows, and high levels of seismicity.

Four events on 10 April generated ash plumes that rose as high as 2 km. BNPB noted that although there were no new evacuees that day, 9,322 people (2,592 families) remained in 10 evacuation centers.
Many families awaited relocation; 1,212 people had already been permanently relocated to new homes. The Alert Level remained at 4 (on a scale of 1-4); the public was reminded to stay outside of a 3-km radius. People within 7 km of the volcano in the SSE sector, within 6 km in the ESE sector, and within 4 km in the NNE sector should remain evacuated.
Gunung Sinabung is a Pleistocene-to-Holocene stratovolcano with many lava flows on its flanks. The migration of summit vents along a N-S line gives the summit crater complex an elongated form.
The youngest crater of this conical, 2460-m-high andesitic-to-dacitic volcano is at the southern end of the four overlapping summit craters.
An unconfirmed eruption was noted in 1881, and solfataric activity was seen at the summit and upper flanks in 1912. No confirmed historical eruptions were recorded prior to explosive eruptions during August-September 2010 that produced ash plumes to 5 km above the summit.
Sources: Volcanic Centre Darwin Ash Advisory (VAAC),  PVMBG, GVP.
Photos : Sadrah Peranginangin
Reventador , Ecuador :
 
SUMMARY OF THE ACTIVITIES OF VOLCANO
The activity of the volcano remains high.
During the night, a glow was observed in the crater, and in the morning pyroclastic flows were recorded, down to 1,000 meters below the crater with an emission column that reached 2000 meters above the crater.
ANNEX TECHNICAL AND OBSERVATIONS
Seismicity:
From 11:00 (TL) yesterday until 11:00 (TL) today, 60 explosions (EXP), 33 events long period (LP), 9 episodes of tremor emission (TREM) were recorded.
Observations emissions and ashes:
During the hours of the night a glow was registered at the summit , in the morning today, the descent of pyroclastic flows was recorded on the eastern flank, up to 1000 meters below the crater safely for the population, an emission of steam and gas was observed up to 2000 meters above the crater with moderate ash content. Then the volcano was cloudy all this day.
Rain and lahars:
No rain in the surrounding areas have been recorded.
GENERAL INFORMATIONS
This report on a daily basis will be published at 12:00 (TL) and when the Volcano activity level requires.
In the case of an increase or a change in the behavior of the volcano , it will be issued a special report immediately.
Source : IGEPN
Photo : Juan Carlos Diaz
Kilauea , Hawai :
19°25'16 » N 155°17'13 » W,
Summit Elevation 4091 ft (1247 m)
Current Volcano Alert Level: WATCH
Current Aviation Color Code: ORANGE
Activity Summary:
Kilauea continues to erupt at both the summit, where there is a circulating lava lake, and from its East Rift Zone, where surface lava flows are active northeast of the Pu'u 'O'o vent. The East Rift Zone lava flow currently poses no threat to nearby communities. The summit inflationary trend continued during the past 24 hours; earthquake rates and seismic tremor have not changed significantly in the past day.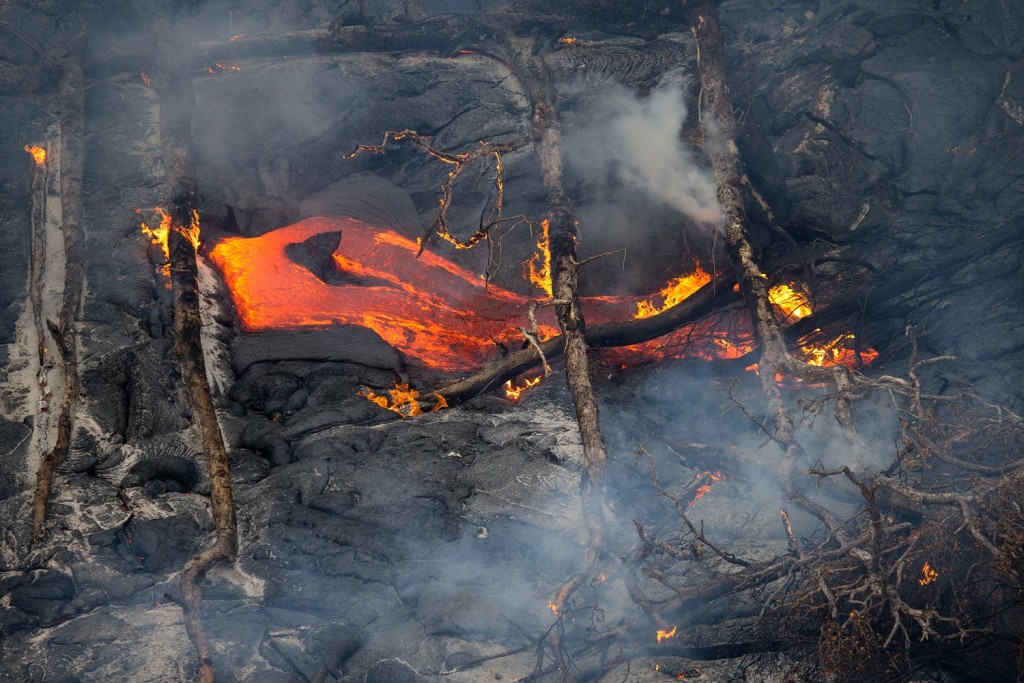 Summit Observations:
Summit tiltmeters continued to record an inflationary trend during the past several days, and the summit lava lake level rose slightly overnight. Between April 8 and 12, the lake level rose about 22 m (72 ft); when measured yesterday morning, the level was 35 m (115 ft) below the floor of Halema'uma'u Crater. Last week's 4-day long summit deflationary period interrupted the longer-term inflationary trend of the summit, similar to previous deflation events. Seismic activity across the volcano has not changed significantly during the past day. Fluctuations in summit tremor amplitudes are related to spattering along the edges of the lava lake. The average sulfur dioxide emission rates during the past week ranged between 1,800 and 1,200 metric tons/day; the most recent average emission rate on April 12 was 1,200 metric tons/day.
Pu'u 'O'o Observations:
There were no observable changes at Pu'u 'O'o during the past day. Outgassing continues from the spatter cones on the crater floor. A tiltmeter on the north flank of Pu'u 'O'o continued to record slight inflationary tilt during the past day. For the past several months, GPS instruments that span Pu'u 'O'o had shown the cone was spreading, which suggests the magma system beneath the vent was pressurizing; last week's deflationary trend has interrupted this longer term trend. The sulfur dioxide emission rate from all East Rift Zone vents was about 300 metric tons/day when last measured on April 6.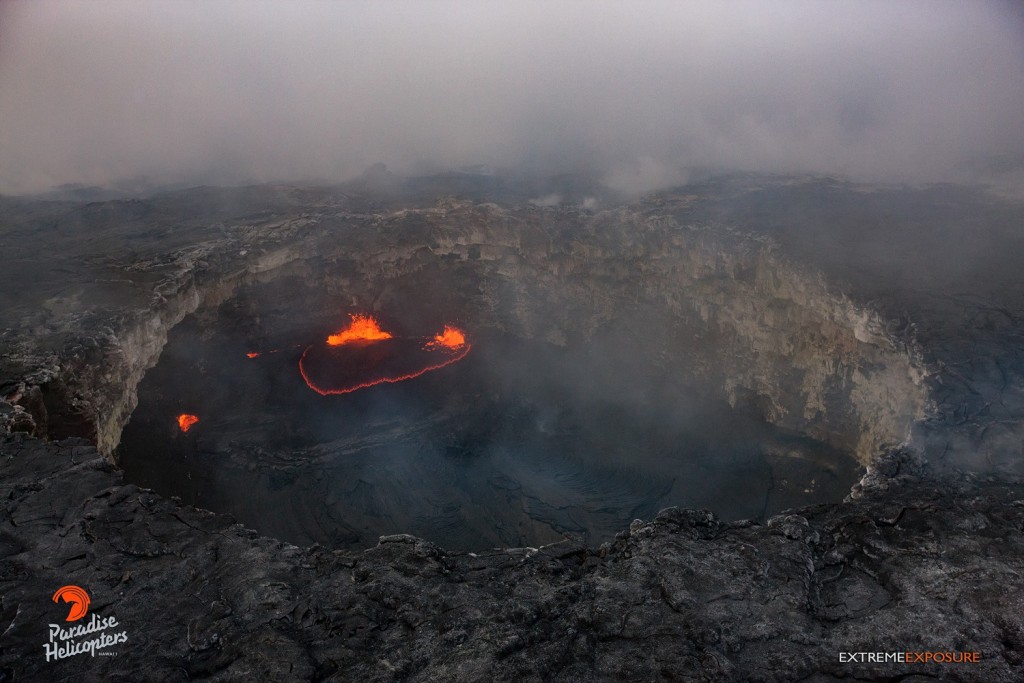 June 27th Lava Flow Observations:
The webcam shows small breakouts scattered northeast of Pu'u 'O'o, where they have been occurring for the past several months. This observation was confirmed by a field crew visiting the flow field yesterday, witnessing very minor expansion of the northern edge of the flow field since the last visit weeks ago. A satellite image from April 3 showed the most distal of these breakouts was 7.6 km (4.7 mi) northeast of Pu'u 'O'o.
Source : HVO
Photos : Bruce Omori
Sakurajima ( Aira) , Japan :
31.593°N, 130.657°E
Elevation 1117 m
JMA reported that during 4-8 April the seismic network at Aira Caldera's Sakurajima volcano detected four explosions at Showa Crater, generating ash plumes that rose as high as 3.5 km above the crater rim.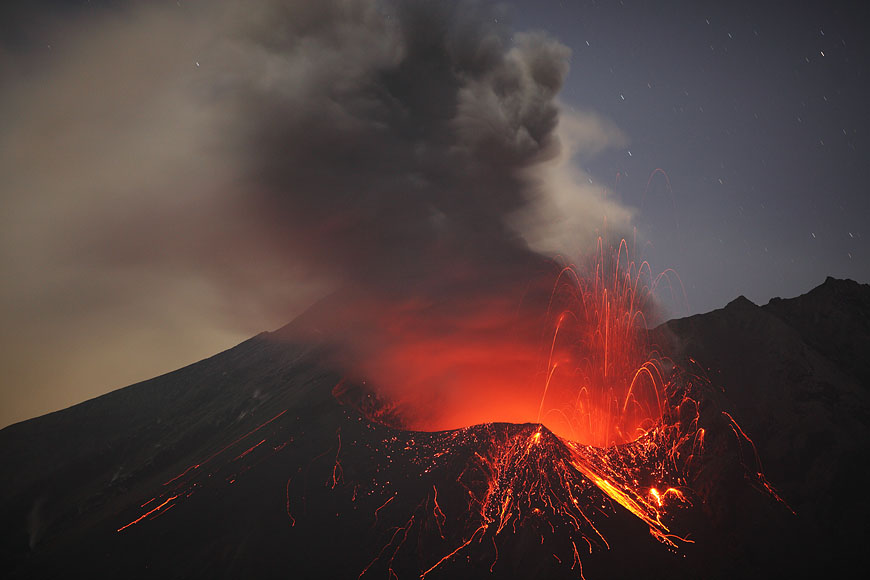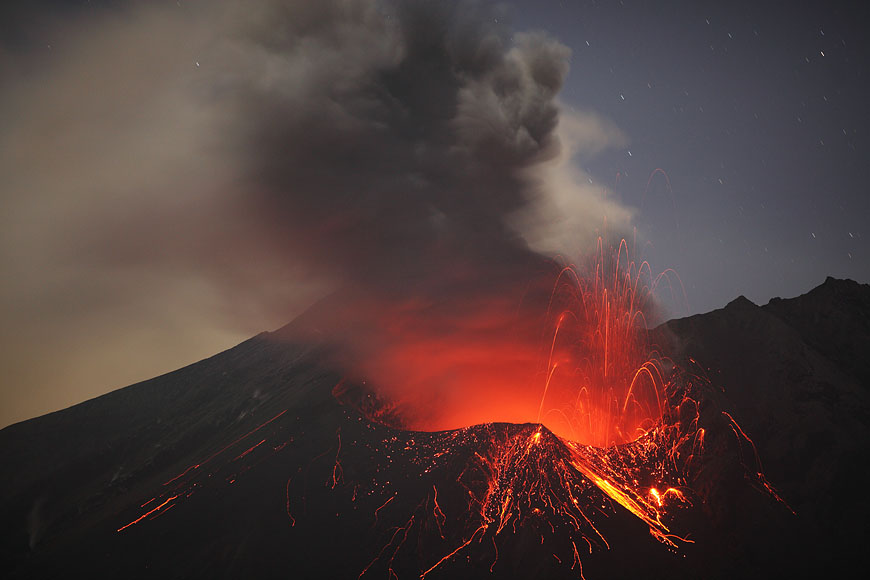 One of the explosions, recorded at 1333 on 6 April, produced an ash plume that rose 3.5 km. An explosion at 1922 on 8 April generated an ash plume that rose 3.7 km and ejected cinders as far as 1.3 km away. Small-scale explosions occurred at Minamidake summit crater on 5, 6, and 9 April. The Alert Level remained at 3 (on a 5-level scale)

Source: Japan Meteorological Agency (JMA)
Photo : Martin Rietze