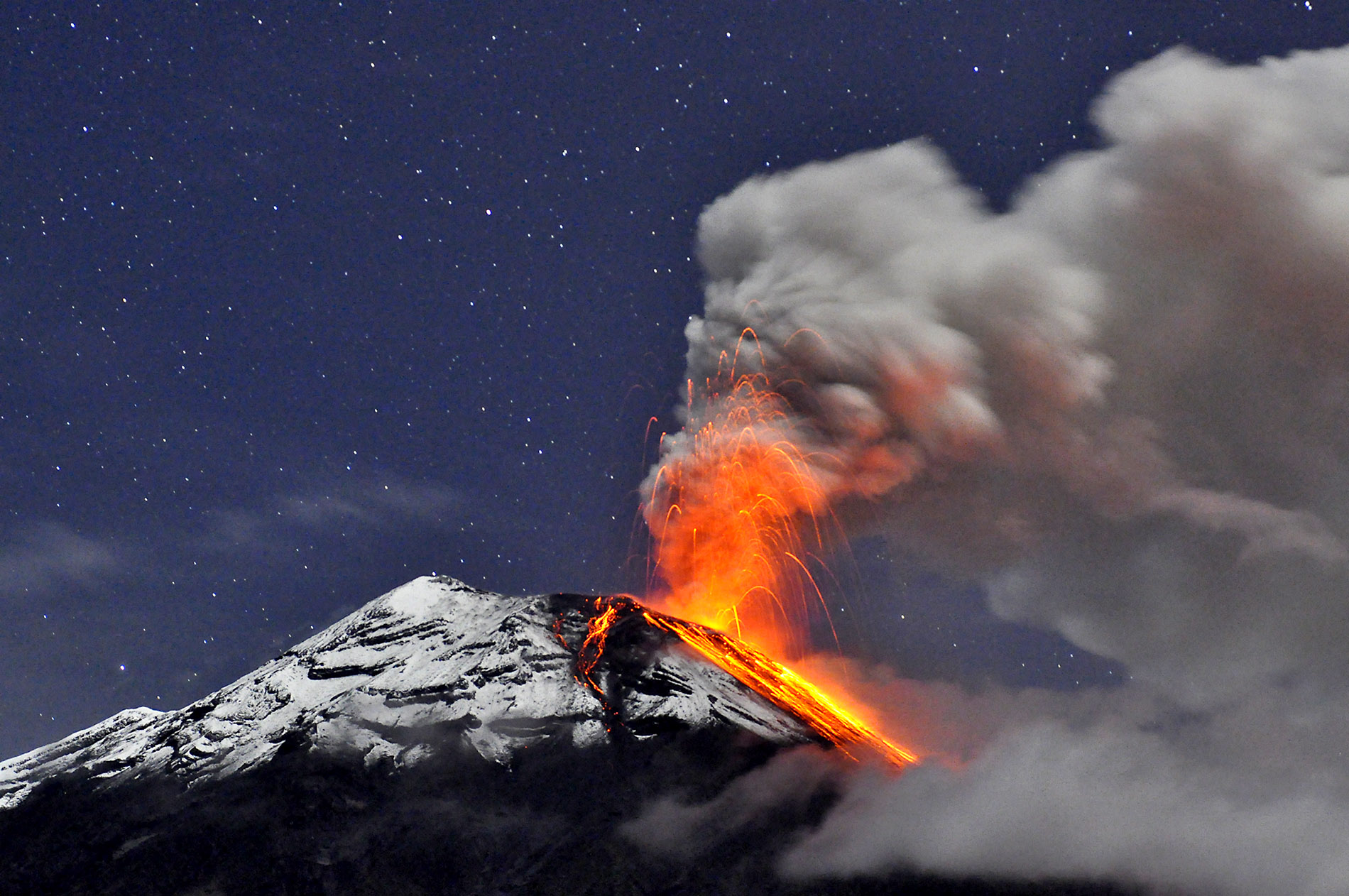 February 28, 2016. En. Tungurahua , Momotombo, Sabancaya , Kirishima / Io.
February 28, 2016.
Tungurahua, Ecuador :
Updating and scenarios of the eruptive activity of the Tungurahua volcano. February 27, 2016 (12h15TL)

After reactivation in November last year, the volcano during the past three months showed low activity, with an average of 10 earthquakes per day in the last month
Yesterday, February 26, at about 11:05 (TL), we began recording a small earthquake swarm, including fracture type events (VT) and fluid movements (LP). These events were located in the upper part of volcanic conduit. This information was promptly reported by radio and telephone to the secretary of the risk management and the viewpoints of the region and   the local authorities.
At 12:11 (TL), a first explosion took place, small, but that generated a plume of ash that reached 5 km above the summit. This explosion was followed by numerous seismic events, tremors and new explosions at 12:39, 12:47 and 12:52. These explosions were larger and generated columns up to 7 km in height. At 1:33 p.m. a new explosion sent a column of emission 8 km higth, with the presence of small pyroclastic flows halfway up the cone, without reaching inhabited areas.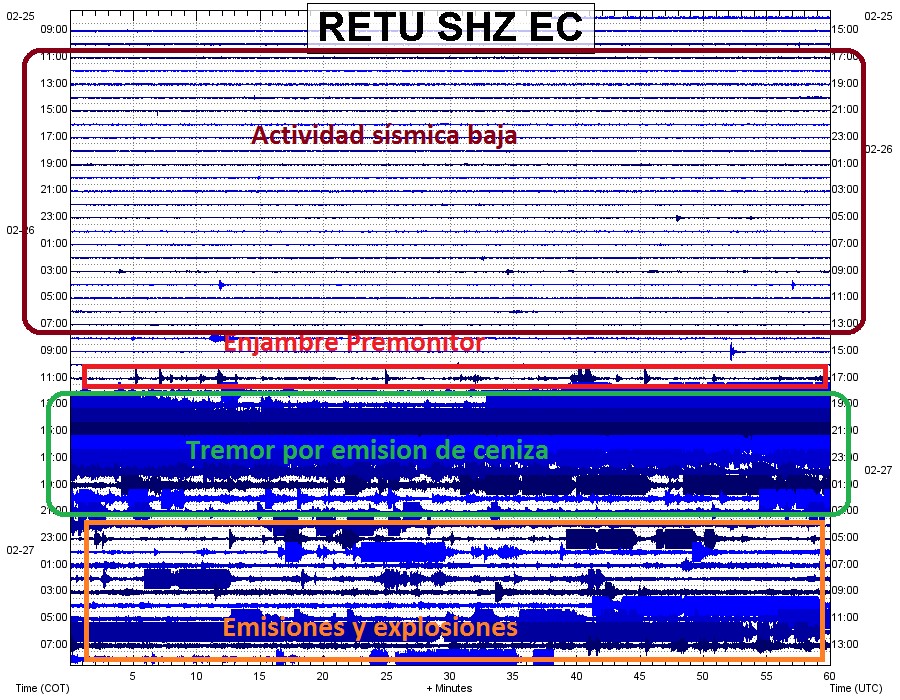 Fig. 1 seismogram of Retu station. the low activity is observed until 11:05 yesterday, followed by a swarm precursor, continuous tremor generated by the emission and the phase of explosions and ash emissions.

After this activity a continuous emission of ash and coarse material, gravel type, is presented. The most intense part of this emission lasted five hours and was accompanied by a high magnitude earthquake. This led to a fall of ash which affected the cities of El Manzano, Choglontús, Pillate, Tisaleo, Cotaló, Quero, Ambato and Riobamba. These ash falls have always found on the west side of the volcano. The thickness of the ash deposited in the Choglontús sector until the early hours this morning was about 2 mm.
At 3:35 p.m. (TL) took place a new pyroclastic flow that descended from the top down gullies Mandur, Hacienda and Cusúa. This flow is also down to the middle slopes of the volcano and was not caused by an explosion but by a phenomenon known under the name of « boiling over », which corresponds to a discharge of a small amount of magma and / or debris from the crater, from the edge of sector West and northwest of the crater.
After 1:33 p.m. and until the end of this bulletin, there were 29 explosions, small to moderate, and the tremors associated with intermittent emissions of ash and gas.
In the evening, it was possible to observe a strombolian activity, with blocks emitted up to 1500 m below the summit. Around 22:00, for a short period, he could be seen a lava fountain, which reached 500 m above the summit.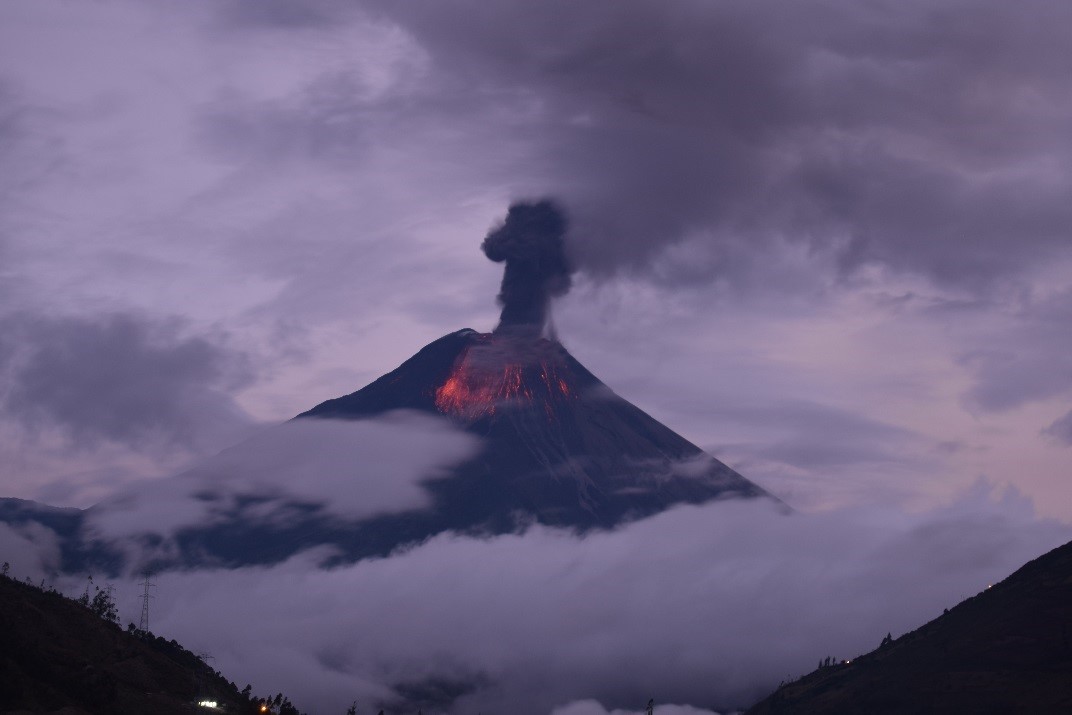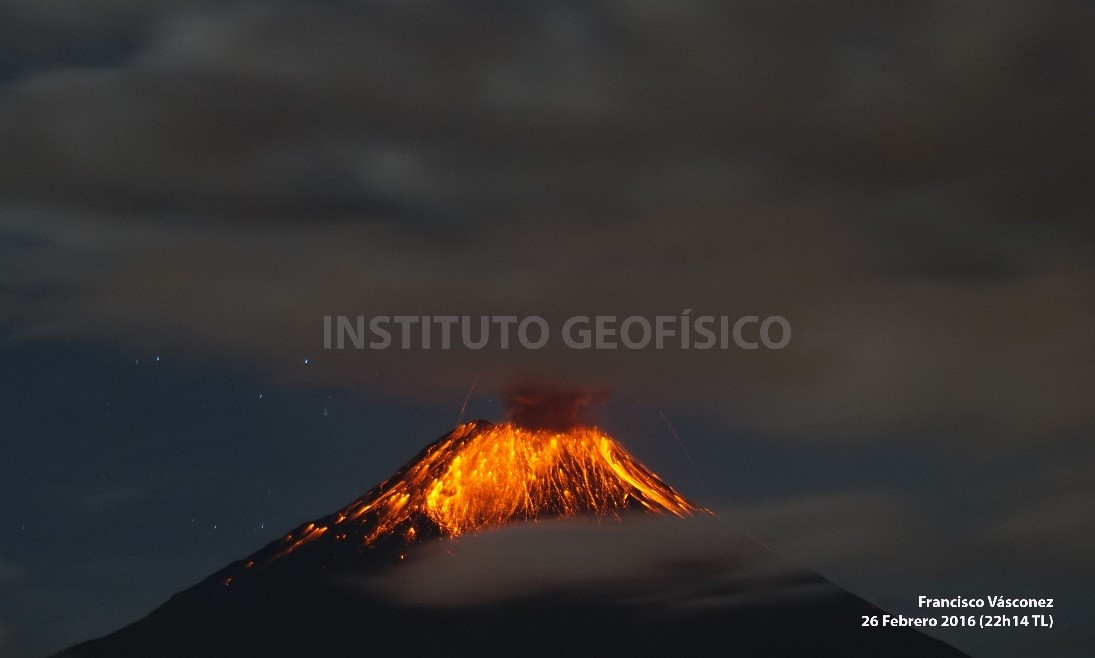 Fig 2 :. Image 2a incandescent projections produced after an explosion, photo taken from the OVT at about 7:00 p.m. (TL). 2 b. Strombolian activity observed at 22:14 TL, blocks down to about 1500 m below the summit (Source OVT).

This activity corresponds to the breaking of rock plug of volcanic vent blocking the exit of gas and magma. This event is highlighted by the falls of « gravel » of various colors that were filed in Choglontús and Pillate. The ash deposition measured hitherto, is an intense event for a short period of time.
The monitoring network of deformation variations on the flanks of the volcano shows no significant change, particularly in stations on the base of the volcano, so it is considered that the magma ascending volume was small.
In addition, the seismic data so far do not indicate a new power supply, nor a deep magmatic intrusion of a large volume.
In this context, the current activity is related to a magmatic intrusion low volume and thus the proposed scenarios for the next few weeks are:
Scenario 1, most likely. The volcano's activity continues with explosions, emissions and ash fall, which can sometimes be more intense. In addition, it can produce small pyroclastic flows, limited in the mid flanks of the volcano, similar to those that took place yesterday. These events can occur in the next two to three weeks.
Scenario 2, less likely. A new magma migration to the surface occurs with a large volume and causing paroxysmal eruption similar to that of August 2006.
In cases where significant changes occur in the monitoring parameters, the Institute of Geophysics will update the scenarios that have been proposed.
Geophysical Institute staff continue to work 24 hours a day in the Tungurahua Volcano Observatory (OVT) and Terras Center (Treatment Centre, volcanic and seismic information and early warning).
Source : AA, BB, PM, MR
Instituto Geofísico
Escuela Politécnica Nacional
Photos : IGP ( Francisco Vasconez ), Lou Jost ( 2013).
Momotombo, Nicaragua :
Strong eruption of the Momotombo volcano, felt in western Nicaragua Saturday, February 27th.
The people of Leon and Chinandega departments reported a loud explosion and the cameras of the Nicaraguan Institute of Territorial Studies (INETER) caught at 9:01 p.m., images of the ejection  of glowing materials from the Momotombo volcano.
On social networks, people in Corinto, El Viejo and Chichigalpa, Chinandega and several others in the city of Leon, commented hearing the roar that could be caused by the shock wave of the eruption of the volcano , according to the Seismological Network of Nicaragua.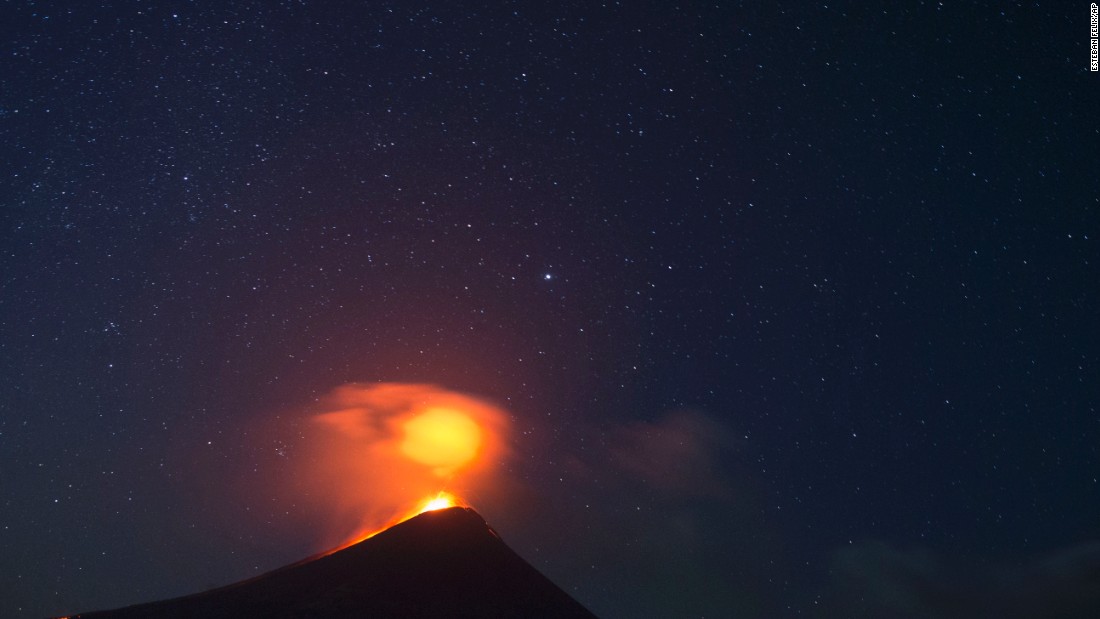 In the community of Momotombo and La Paz Centro, at 21.40, ash falls were reported.
At the same time, through official media, Rosario Murillo, First Lady of Nicaragua and coordinator of the Communication and Citizenship Council , recommended to remain calm and said that these natural phenomena can not be predicted.
Based on webcam views and satellite images, the Washington VAAC reported that on 19 February ash emissions rose to an altitude of 3.6 km (12,000 ft) a.s.l. and drifted SW and WSW. The next day ash emissions drifted SW. On 21 February ash plumes drifted about 80 km W and 25 km E.
Source : La Prensa . GVP.
Photo : Cnn
Sabancaya , Peru :
During this period, earthquakes LP type (associated with fluid passage) were slightly lower average, recording a rate of 14 LP / day (previous period = 17 LP / day); while energy remains at low levels. Regarding hybrid type events (associated with the ascent of magma material), there was a single event.
The VTPS events (proximal–Tectonic Volcano, distant less than 6 km from the crater), fell significantly, from 17 VTP / day (last week) to 6 VTP / day (this week).
The VTD events recorded (distal Volcano Tectonic) during this period, have increased significantly. On February 20, a swarm, which debuted with a M4.2 earthquake at 00:40 hours UTC and continued with a M5,4 earthquake registered at 2:05 pm was recorded . The average reached this week was 335 VTD . These events were felt with an intensity of III and V (Modified Mercalli scale) in Maca area where property damage were reported on houses, this mainly because of poor construction materials used (land and stubble ).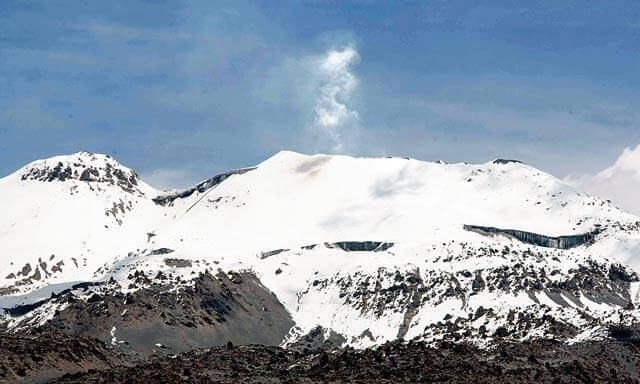 Tremor type of events (TRE), during this period experienced a slight decrease in their average, reaching 18 TRE / day; while in the previous week 21 Tre / day were recorded. A peak of 36 tremors stands on 19 February 2016. On the other hand, energy is still at low levels.
It is observed that the events are distributed primarily in an area 13 km northeast of the crater. 8 VTP events (called proximal), located within less than 6 km are also located. Earthquakes are distributed primarily in the direction North-East, based on the crater of the Sabancaya .In the midst of VTP event stands out a major event with an amplitude of M2,9, registered on February 21 at 3:58 p.m. UTC, with a depth of 18 km beneath the volcano.
Seismicity VTD localized (distal seismicity) reached a total of 667 events, and is distributed by forming a pronounced focus on the Northeast area of the volcano's crater. Three events of M 5.4, M4.2 and M4.1 are distinguished. The first two recorded on February 20 at 2:05 and 0:40 respectively with 7 km deep; while the third event (4.1 ML) was registered on February 22 at 20:29 to a depth of 8 km.
Fumarolic activity:
• Frequency: water vapor emissions have been constant in the last week. Amid the nebulosity occurred with more intensity, sometimes we could see high density vapor columns emitted from the crater of the Sabancaya.
• Colouring: During the few moments of visibility, it could be distinguished whitish emissions corresponding to the hight density emissions of steam vents.
• Height: The maximum height of the emissions observed on the Sabancaya between 16 and 22 February was 600 meters above the base of the crater, approximately. It should be noted that weather conditions were not favorable to the view of the volcano during much of this period.

SO2 anomalies: The satellite system « EOS Aura » GSDM–NASA (http://so2.gsfc.nasa.gov/) shows no significant change in value of the density of SO2.
Thermal anomalies: The Mirova system (www.mirovaweb.it) has not detected  thermal anomalies in this period on the Sabancaya.
Source : IGP
Photos : La Republica , Peru21.
Kirishima / Io , Japan :
Volcanic eruption warning issued for Mt Io in Kyushu
Feb. 28, 2016 – 03:30PM FUKUOKA
The Japan Meteorological Agency warned Sunday of a possible small eruption at Mt Io, which straddles the southwestern prefectures of Miyazaki and Kagoshima, after observing an increase in volcanic earthquakes.
The local government in Ebino city declared a 1-kilometer no-entry zone around the crater of Mt. Io, part of the Kirishima mountains.
Volcanic activity has intensified at the 1,317-meter volcano since last year.
The agency said no visible signs of eruption or crustal movement have been observed, but there have been 37 volcanic temblors by midday Sunday.
Volcanic activity has intensified at the 1,317-meter volcano since last year.
The agency said no visible signs of eruption or crustal movement have been observed, but there have been 37 volcanic temblors by midday Sunday.
Sources : Japantoday .
Photo : Mount Shiretoko Io (Shiretoko Iozan)