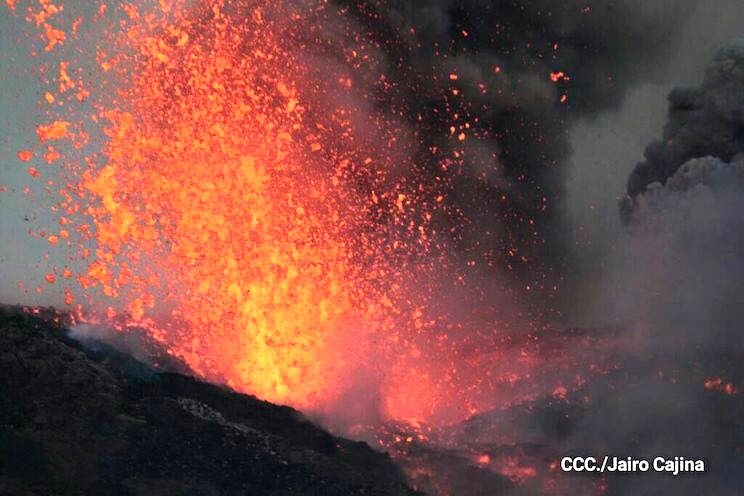 February 23 , 2016. EN. Bulusan , Momotombo, Kilauea , Alaid .
February 23 , 2016.
Bulusan, Philippines :
BULUSAN VOLCANO ADVISORY 22 February, 2016 18:00 P.M.

At 5:01 today, the Bulusan volcano (12 ° 46.2'N, 124 ° 03'E) has ejected a column of steam and gray ash that drifted into the West–East direction. Two successive minor eruptive events occurred on a crack in the west–northwest of the summit of Bulusan, which produced a grayish ash plume followed by a plume of steam and ash about 500 meters high. Based on seismic records, the signal of the eruption was composed of two (2) earthquake events, a rock fracturing event, followed a few seconds later by an earthquake explosion type , of a total duration of four minutes and twenty-one seconds. Before the ejection of ash, Bulusan seismic network detected a total of twelve (12) volcanic earthquakes.
Alert Level 1 remains in effect over Bulusan Volcano.  The public is reminded not to venture inside the 4-kilometer radius Permanent Danger Zone (PDZ) because the area is at risk to sudden steam and ash explosions.  Due to the prevailing wind direction, residents located in the northwest and southwest sectors of the volcano are advised to take precautions against ashfalls. Civil aviation authorities must also warn pilots to avoid flying close to the volcano's summit as ejected ash and volcanic fragments from sudden explosions may pose hazards to aircrafts. Furthermore, residents near valleys and river/stream channels should be watchful against sediment-laden stream flows and lahars because ash and other loose volcanic materials may be remobilized during heavy and prolonged rainfall. DOST-PHIVOLCS is closely monitoring Bulusan Volcano's activity and any new significant development will be immediately relayed to all concerned.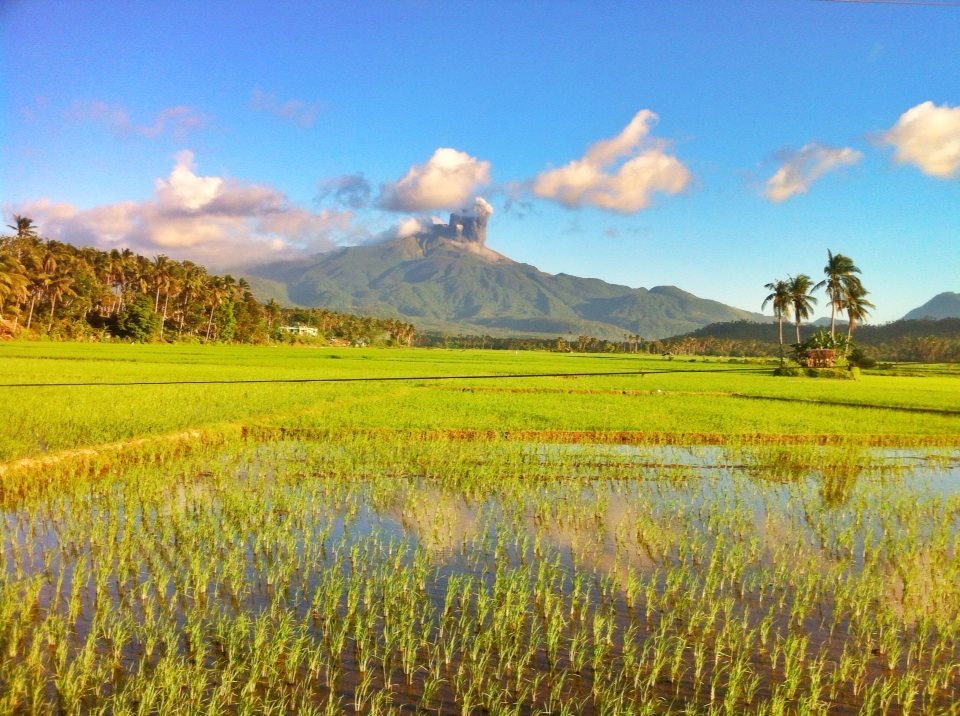 BULUSAN VOLCANO BULLETIN 23 February 2016 8:00 A.M.
Bulusan Volcano's seismic monitoring network recorded six (6) volcanic earthquakes during the past 24 hours that included a minor eruption at 5:01 P.M. yesterday. The eruption generated a short steam and ash column approximately 500 meters high from the west-northwest fissure vent of the volcano summit and was recorded as a high frequency earthquake followed by a low frequency earthquake lasting four minutes twenty-one seconds. The explosions were accompanied by a rumbling sound reportedly heard at Puting Sapa, Juban and Bolos, Irosin. Prior to the eruption, the Bulusan seismic network detected no volcanic earthquake, although increased seismicity was recorded on 20-21 February. Traces of volcanic ash were reported in Brgys. Puting Sapa, Sagkayon, and Caladgao in Juban and Brgy. Bolos in Irosin. Presently, moderate emission of 50 meter-high white steam plumes towards southwest occurs at the west-northwest vent while weak emission of steam from southwest summit vent can be observed. Precise leveling survey results from December 2-7, 2015 indicated slight inflationary changes of the volcano's edifice relative to September 2015, consistent with ground deformation measurements from continuous GPS data since August 2015.
Source : Phivolcs.
Photo : Thoni Huang , jaimessincioco  .

Momotombo, Nicaragua :
Nicaragua's Momotombo Volcano still putting on a show
22 FEBRUARY 2016. By all appearances, Nicaragua's formerly sleeping giant Momotombo ain't going back to bed just yet.
The picturesque stratovolcano, located near the city of León, continued erupting Sunday morning when these pictures were taken. Momotombo, on the northern edge of Lake Managua, about 40 kilometers northwest of Nicaragua's capital, erupted for the first time in 110 years on Dec. 1, 2015, sending geologists and local townspeople into a tizzy. In fact, there's been so much volcanic and seismic activity in Nicaragua lately that experts from the United States, the United Kingdom, Nicaragua and Costa Rica are carefully studying and observing the situation.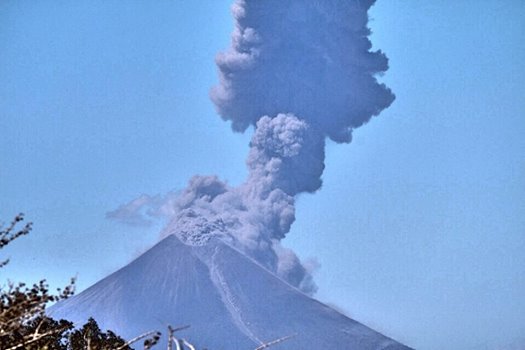 According to the AFP, citing Nicaragua government spokeswoman and first lady Rosario Murillo, geologists from the U.S. Geological Survey and other institutions announced last week that they are studying and assessing risks from Momotombo and other active volcanoes in the country, including Télica and Masaya. In an unexpected and simultaneous event, Momotombo, Télica and Masaya began eruptive processes at about the same time, and another location, Cerro Negro, experienced ongoing seismic activity last week.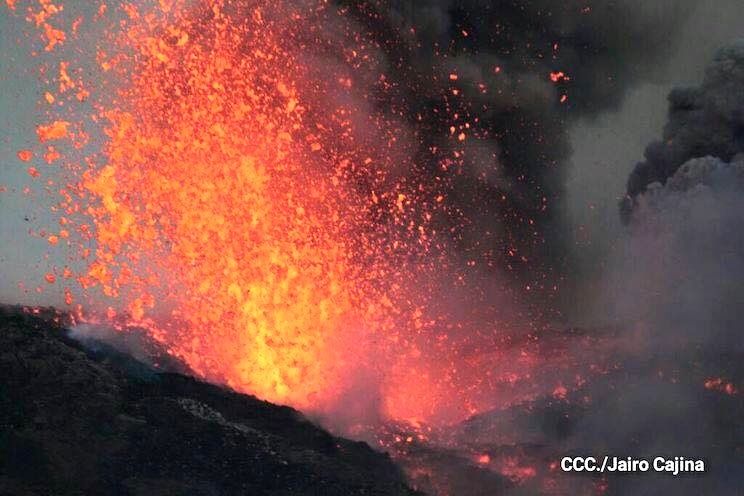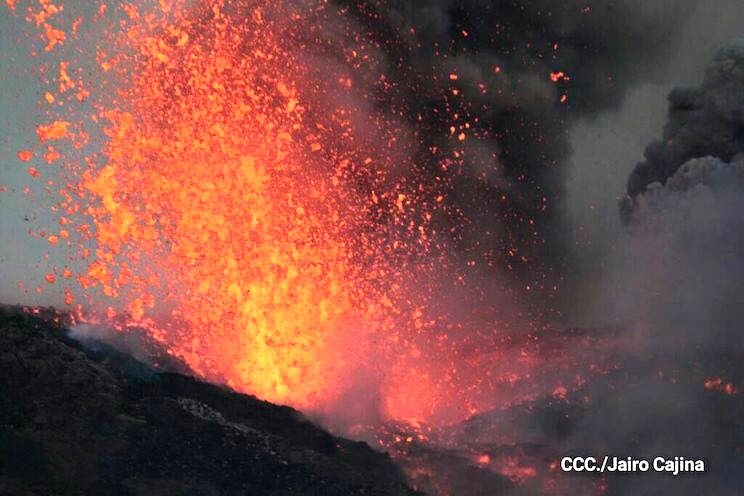 To date, the 1,297-meter-tall Momotombo hasn't placed any nearby residents in danger, but that's not to say it couldn't. In 1610, a Momotombo eruption forced residents of the then-Spanish city of León to relocate 50 km to the west.
"The danger of this seismic activity is because it's from Plinian eruptions, which are characterized by a high level of explosiveness," Nicaragua's Seismology Network said in a statement. Plinian eruptions are the largest of all types of volcanic eruptions. We'll continue to keep an eye on the situation.
Source : TICO TIMES
Photos : Álvaro Sánchez , Jairo Cajina.
Kilauea , Hawai :
19°25'16 » N 155°17'13 » W,
Summit Elevation 4091 ft (1247 m)
Current Volcano Alert Level: WATCH
Current Aviation Color Code: ORANGE
Activity Summary:
Kilauea Volcano continues to erupt at its summit and from its East Rift Zone. Scattered surface flows remain active on the 'June 27th' flow field within 6.0 km (4 mi) of Pu'u 'O'o and do not currently threaten any nearby communities. Seismicity and deformation are within normal levels throughout the volcano.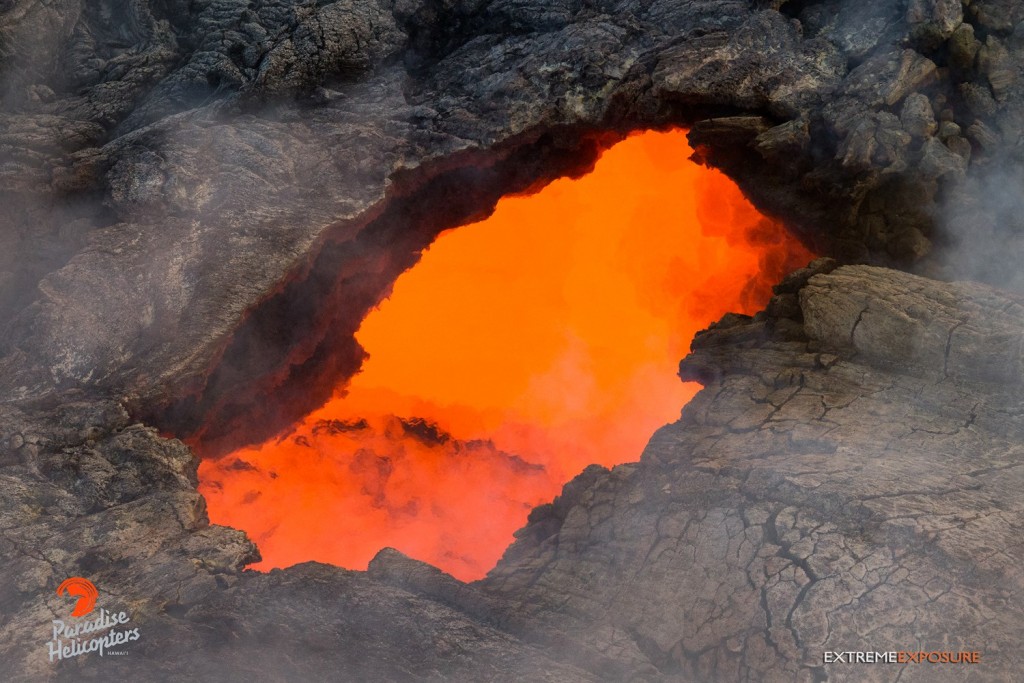 The new skylight high on the northern flank of Pu'u 'O'o seems to have grown in size a little, offering a better view into its fiery depths… Thermal distortion gives a sense of the incredible amount of heat rising through it.

Summit Observations:
Kilauea Volcano continues to host a lava lake at its summit; with a current height of approximately 50 m (165 ft) below the rim of the Overlook crater. Tiltmeters continued to record slightly inflationary tilt, though two apparent excursions at one tiltmeter early this morning were determined to be due to instrumental noise. Rates of seismicity continue to be normal, with periods of tremor associated with spattering within the Overlook vent. A moderate-size collapse of the crater wall into the summit lava lake early yesterday was visible on summit webcams and sent a sprinkling of ash to the caldera rim. When last measured by vehicle in late January, the summit sulfur dioxide emission rate averaged 5,300 metric tons/day.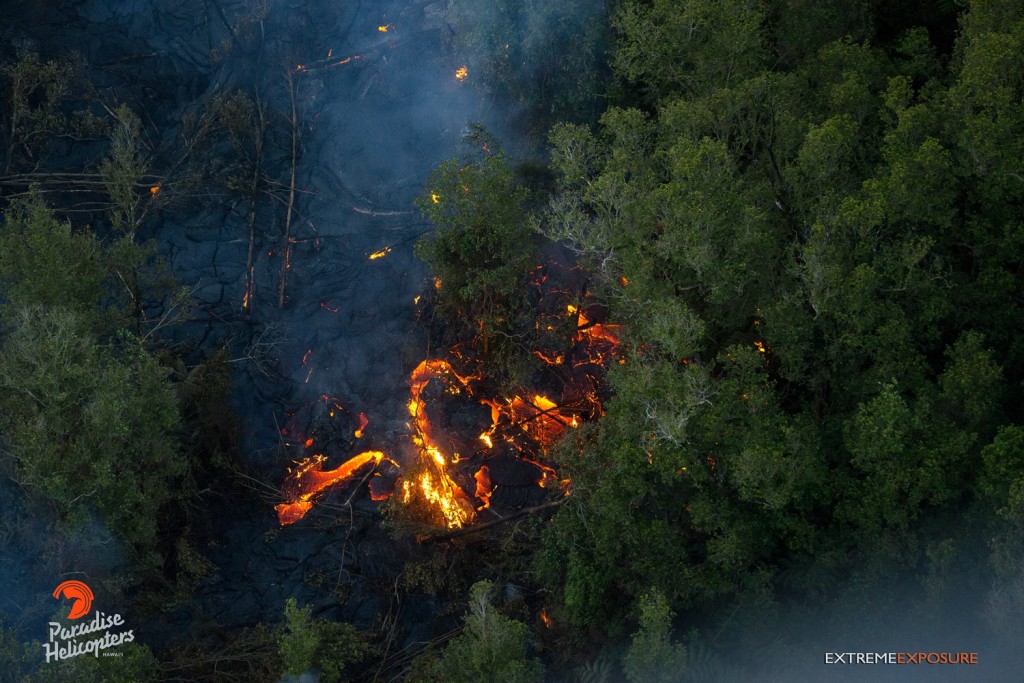 Another breakout pushes into the Wao Kele o Puna Forest Reserve.

Pu'u 'O'o Observations:
No significant change in the incandescent vents is visible on thermal webcam images of Pu'u 'O'o crater. Minor deflationary tilt continued through the past day and seismic activity was at background rates. The sulfur dioxide emission rate from all East Rift Zone vents was about 300 metric tons/day when it was last measured on February 16, 2016.
June 27th Lava Flow Observations:
Webcams continue to show scattered surface flow activity on the 'June 27th' flow field. All active flows are within 6 km (4 mi) northeast of Pu'u 'O'o and do not currently threaten any nearby communities.
Source : HVO
Photos : Bruce Omori .
Alaid , 

Northern Kuriles, Russia :
An intensive thermal anomaly was detected over Alaid volcano on February 20, 20:00 UTC (AVHRR 19) and on February 21, 00:56 UTC (NPP). Weak ash emission extended about 50 km to the east from the volcano was observed on satellite image (FY-3A) on February 20, 22:29 UTC.
Weak eruptive activity of the volcano continues. Ash explosions up to 19,700 ft (6 km) a.s.l. could occur at any time. Ongoing activity could affect international and low-flying aircraft.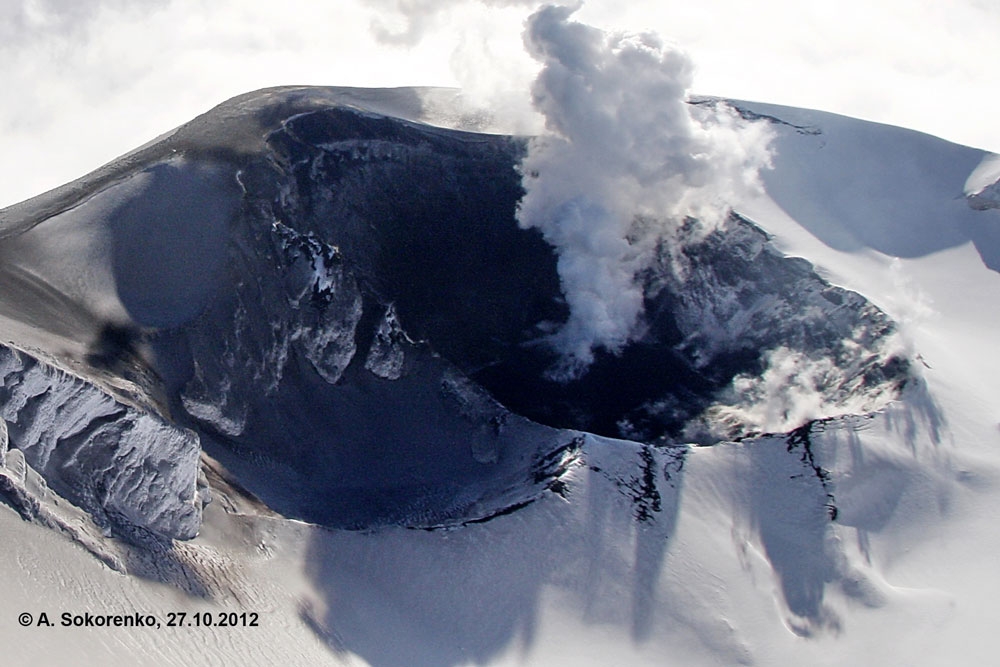 Alaid – the volcano-Island, the most northern in the Kurile archipelago, is situated at a distance 30 km north-west from Paramushir and 70 km south-west from Kamchatka. Alaid exposes high potential hazard to the aircrafts flying over Kamchatka and the Northern Kuriles because its eruptive clouds can rise to a height of 10-15 km above the crater and extend for hundreds of kilometers (up to 1500 km) and the duration of eruptions can exceed a few months. Last eruption was in 2012.

Source : Kvert.
Photo : A. Sokorenko, IVS FEB RAS ( 2012)