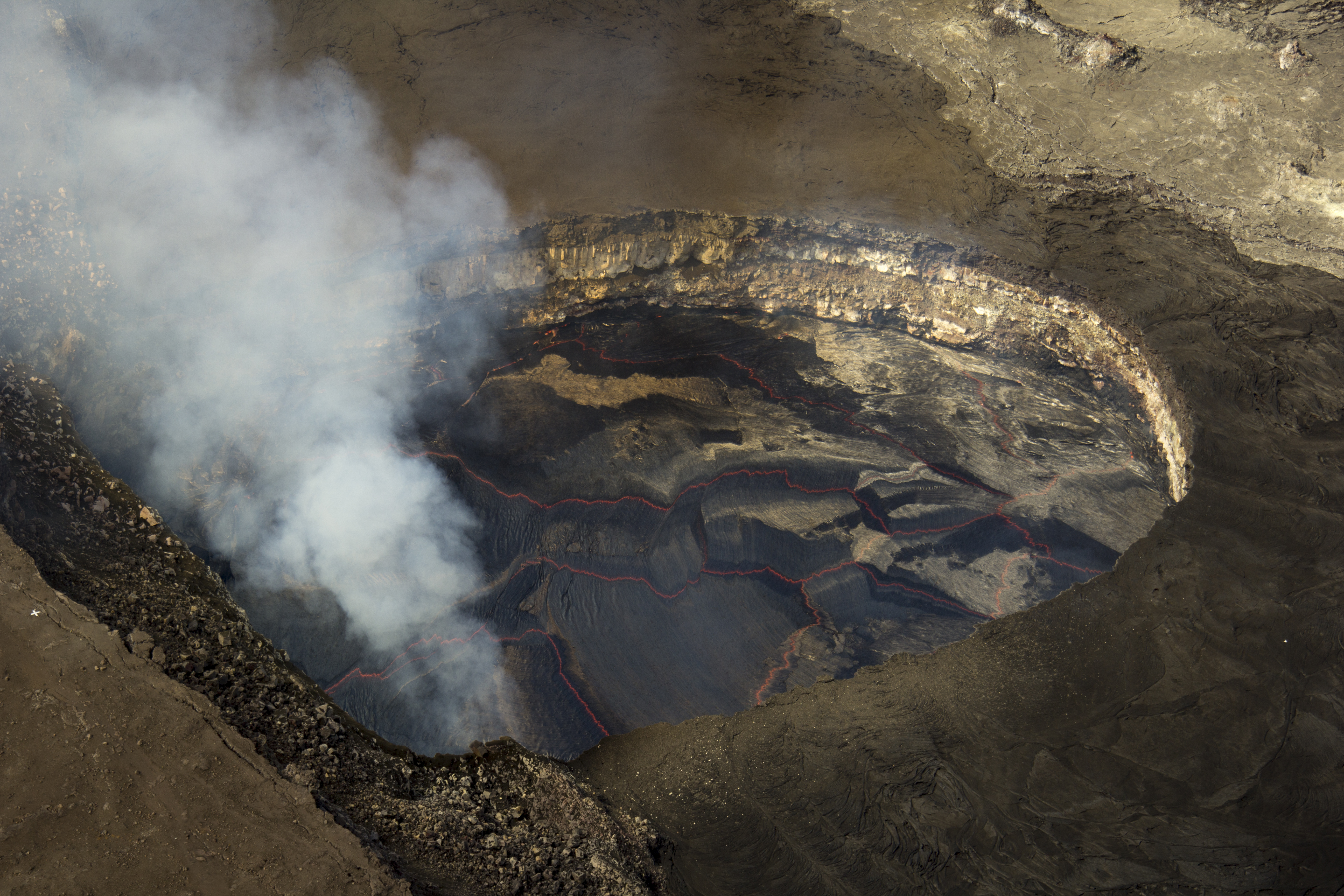 February 13, 2016. EN. Kilauea , Momotombo, Masaya , Nevados De Chillan .
February 13, 2016.
Kilauea , Hawai :
19°25'16 » N 155°17'13 » W,
Summit Elevation 4091 ft (1247 m)
Current Volcano Alert Level: WATCH
Current Aviation Color Code: ORANGE
Activity Summary:
Eruptive activity continues at Kilauea Volcano's summit and along the East Rift Zone. Seismicity and deformation rates across the volcano remain at background levels. Scattered lava flow activity continues on the June 27th lava flow field within about 6 km (4 mi) northeast of Pu'u 'O'o. These flows currently pose no threat to nearby communities.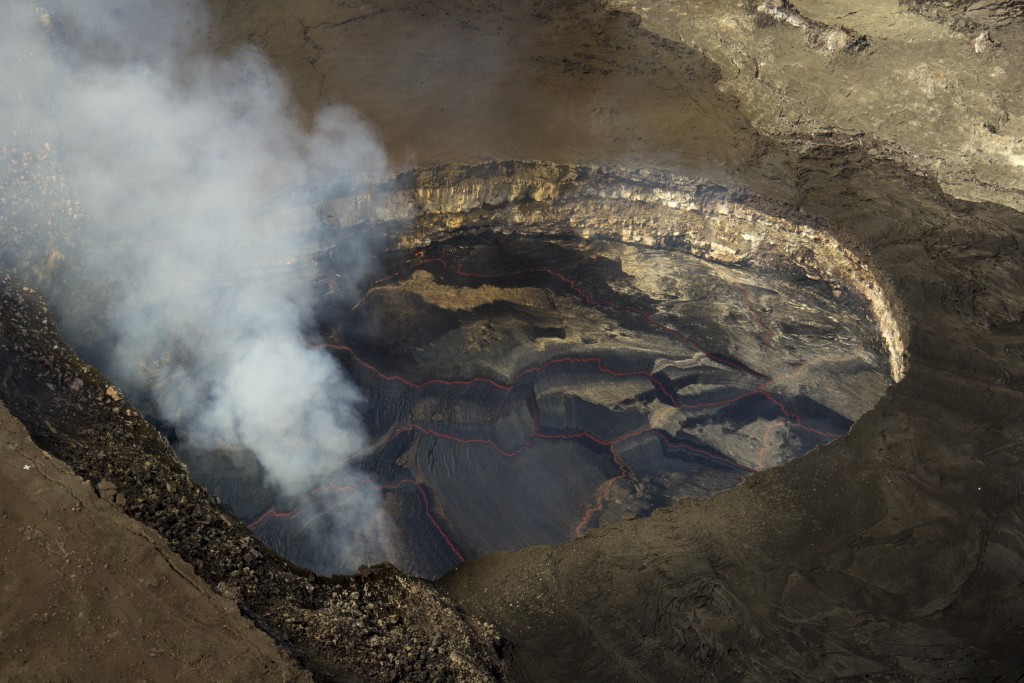 The summit lava lake level has continued to rise over the past week with inflation, and was about 30 meters (roughly 100 feet) below the Overlook crater rim.
Summit Observations:
The lava lake within the Halema'uma'u Overlook crater remains active. On this beautiful clear morning, the lake surface is 30 m (98 ft) below the crater rim. Tiltmeters at Kilauea's summit have shown very slight inflationary tilt over the past 24 hours. HVO seismometers are recording typical tremor fluctuations associated with lava lake spattering. When last measured by vehicle in late January, the summit sulfur dioxide emission rate averaged 5,300 metric tons/day.
Pu'u 'O'o Observations:
HVO geologists are visiting Pu'u 'O'o today to gather observations of current activity. Webcam images over the past 24 hours show persistent glow at long-term sources within the crater and from skylights in the lava tube on the northeast flank of the cone. Seismicity remains low at Pu'u 'O'o. A tiltmeter on the cone recorded no significant change in tilt over the past day. The sulfur dioxide emission rate from all East Rift Zone vents was about 345 metric tons/day when it was last measured on February 2, 2016.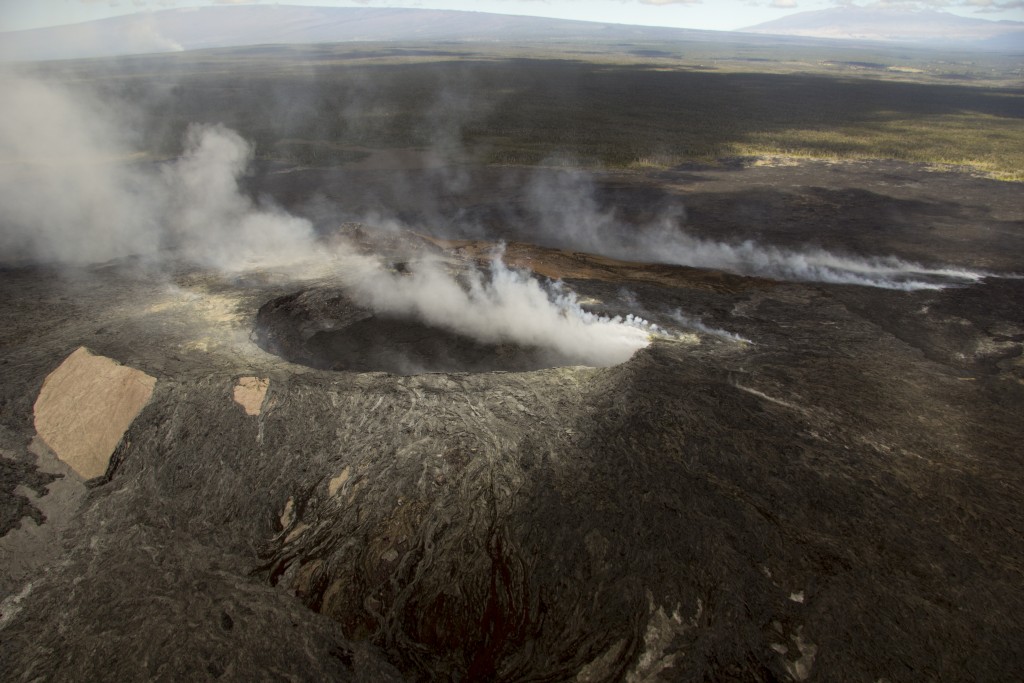 A closer view of Pu'u 'O'o, looking northwest. The vent for the June 27th lava flow is at the right edge of the photograph, near the source of white fume. Mauna Loa (upper left) and Mauna Kea (upper right) are visible in the distance.

June 27th Lava Flow Observations:
Webcam images show continued surface flow activity on the June 27th flow field, with smoke plumes where lava is igniting forest. The active flows are confined to within about 6 km (4 mi) northeast of Pu'u 'O'o and are not currently threatening any nearby communities. HVO plans an overflight of the flow field on Friday.
Source : HVO
Momotombo , Nicaragua :
The Momotombo volcano explosion occurred at 11:12 a.m. on Friday. It was a small explosion with an earthquake of low intensity, as reflected in real-time monitoring of the Nicaraguan Institute of Territorial Studies, INET.
The quake registered 1.8 on the Richter scale and had a depth of 0.3 kilometers. The cameras that monitor the volcano, captured the moment of the explosion, which produced no major incidents. The Volcano of 1,297 meters has been experiencing explosions since last December 1, 2015 when it erupted lava.
At 2:03 today, a new gas explosion, medium size, was recorded, with the expulsion of a small amount of ash and incandescent material that are deposited mainly on the northern and southern slopes.
Seismic amplitude in real time (RSAM) remained unchanged during the explosion this morning and is currently at low to moderate values of between 70 and 460 units.
At this time, the release of volcanic gases is moderate , the seismic activity background, linked to the flow of fluids under the volcano continues.
Source : Elnuevodiario , Ineter .
Masaya , Nicaragua :

On Friday 12 February new tremors occurred at Masaya volcano in Nicaragua, which were associated with increased activity that started last December.
At least three shallow earthquakes with magnitudes between 2.1 and 2.8 Richter were recorded Friday morning by the Nicaraguan Institute of Territorial Studies (INET).
Residents of the towns surrounding the volcano, Masaya, Nindirí and Ticuantepe, reported feeling earthquakes. Authorities reported no casualties or damage due to the earthquakes.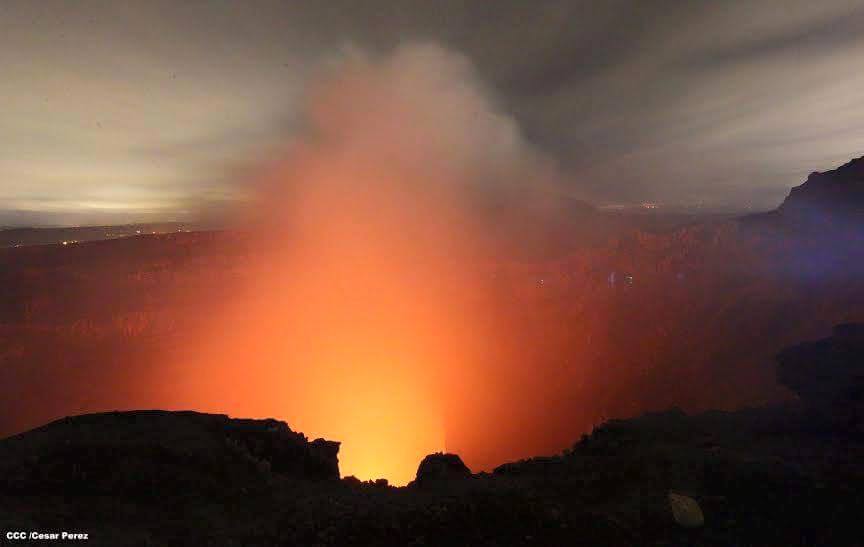 That same day, a 4.1 magnitude earthquake alarmed the populations of Managua, Masaya, Nindirí and Ticuantepe, and classes were suspended in the three municipalities.
The Disaster Operations Center (CODE) national is active in Nicaragua, while the government has warned the population about the history of Masaya volcano, this could take several years to erupt.
Nicaraguan authorities maintain a campaign on how to act in case of earthquakes and conduct a mock disaster in all schools in the country on Tuesday.
Between 1:44 ET 5:41 am, three earthquakes were recorded in the northwest of the caldera of Masaya volcano, where an earthquake of magnitude M 4.1 degrees occurred on 9th February.
In the analysis by specialists from the INETER, it is stated that seismic activity has the characteristics of the activity of local faults induced by Masaya volcano.
Currently, the volcanic gas emission is moderate, with volcanic tremors with a seismic amplitude in real time (RSAM) moderate to high, to high levels between 180 and 1,000 units.
Sources : La Prensa , Ineter .
Photo : Cesar Perez .
Nevados De Chillan , Chile :
Special report of volcanic activity, Bio Bio Region
February 11, 2016, 07: 20 HL

The National Service of Geology and Mining (SERNAGEOMIN) – Observatorio Volcanológico de los Andes del Sur  (OVDAS) announces:
Today Thursday, February 11, 2016 at 6:35 local time (09: 35GMT), the monitoring stations near the volcanic complex of Nevados de Chillan, recorded one (1) earthquake associated with rock fracturing (Volcano -Tectonique ), located approximately 5.3 kilometers to the southeast (SE) of Chillán volcano.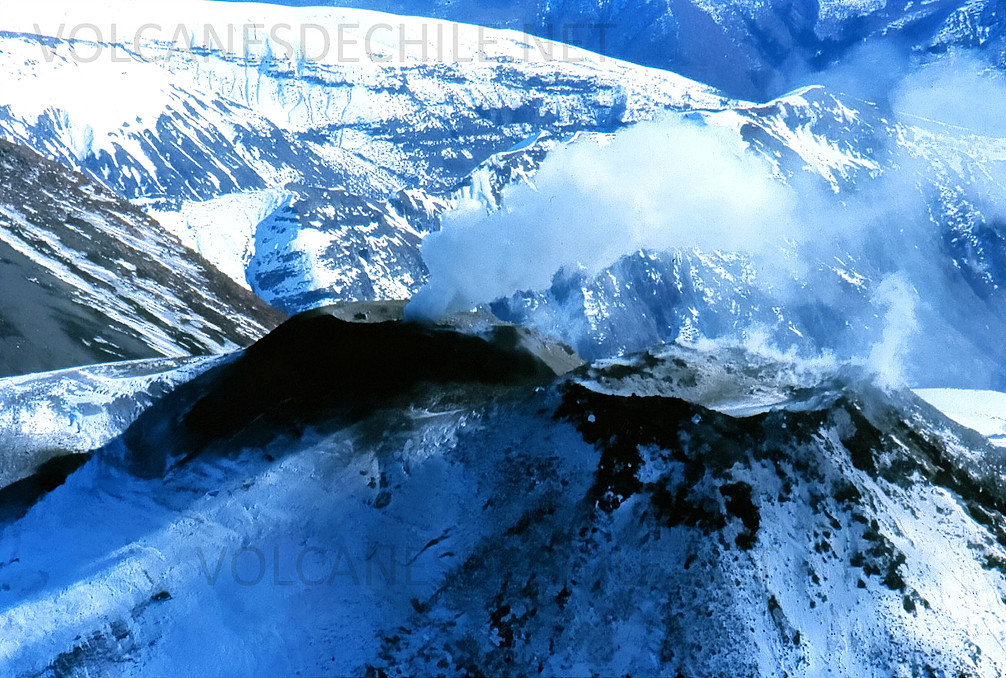 The location obtained was as follows:
Origin time: 06: 35 hl (GMT -3)
Location: 36 ° 53'84 « South Latitude 71 ° 20'12 » West Longitude.
Depth: 1.0km
Local Magnitude: 3.2 M (ML)
OBSERVATIONS:
There are no reports from the authorities on the perceptions by communities in neighboring areas.
No changes were recorded in the surface activity due to the event.
The level of technical volcanic alert level remains at yellow.
SERNAGEOMIN -OVDAS continuous online monitoring and report timely to the changes in volcanic activity in the region.
Source :SERNAGEOMIN -OVDAS
Photo : Cidvc Volcan de Chile