February 12 , 2016. EN. Fuego , Lokon-Empung , Ubinas , Karymsky .
February 12 , 2016.
 Fuego , Guatemala :
END of the eruption of the Fuego volcano.

Type: Vulcanian.
Morphology : composite stratovolcano.
Geographical location: 14 ° 28 '54 « North Latitude
                                                  90 ° 52.' 54″ West Longitude
Height: 3,763m.

The third year of the eruption of Fuego volcano ended at 18.30 yesterday, but he persists few explosions, small for most, expelling ash to 4,200 meters (1,280 feet) traveling to the North and Northeast over a distance of 10 kilometers.
She leaves a lava flow 3 kilometers long in the canyon of Las Lajas, south east and another in the Trinity Canyon, south of the volcanic complex.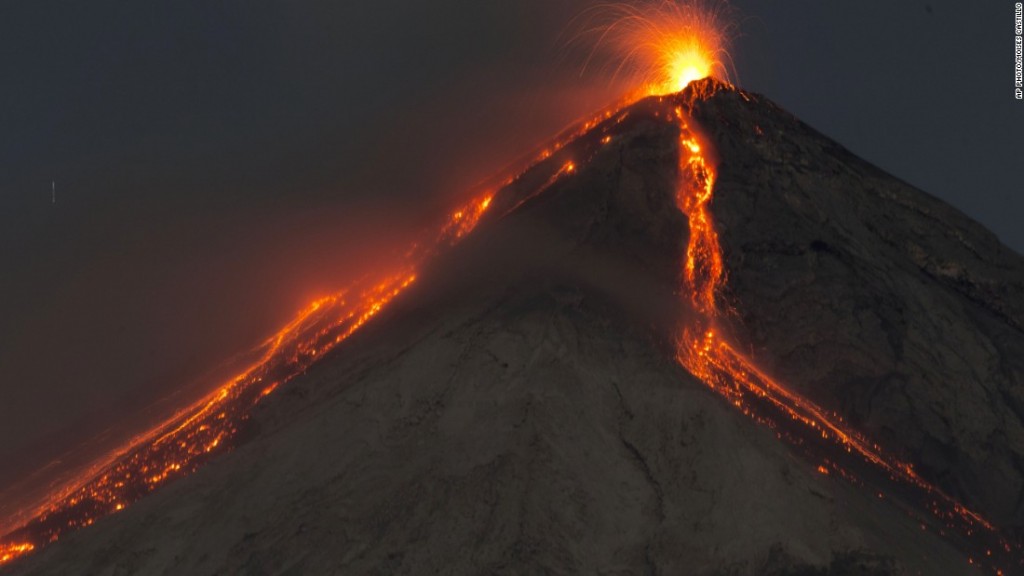 The eruption is over but nevertheless, there is still suspended ashes mainly on the North and Northeast flanks, which will disappear during the night.
The INSIVUMEH recommends:
To CONRED:
lower the level of alert and continue to monitor the development of the activity of the volcanoes Fuego, Santiaguito and Pacaya.
At CIVIL AVIATION
To continue to apply the precautions to air traffic because there are still suspended ash on the North and Northeast flanks. Those are disappearing at night.
Source : Insivumeh
Photo : CNN
Lokon – Empung , Indonesia :
Evaluation :
The volcanic activity of Lokon, in 2016, visually showed no significant increase in volcanic or changes in the crater. The activity is now dominated by tall columns emissions of about 250 m above the crater.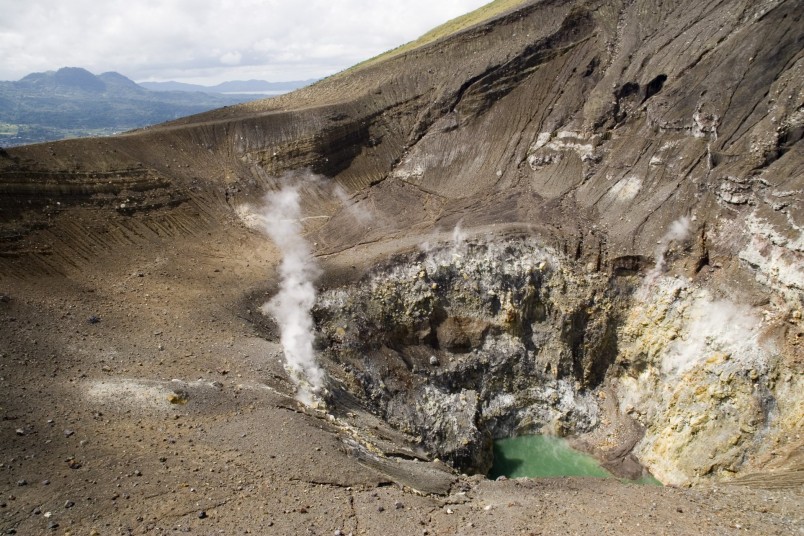 Based on the seismic data, an eruption during the period from September 2015 to January 2016 never took place. Registration of volcanic earthquakes decreases in numbers. Records of volcanic energy calculations show that the activity of the volcano in 2016 show no increase of energy, with a tends to decrease, as well as for cumulative energy, which showed a trend relatively linear. For Tremor type of vibration, they are still being recorded, but also show a decrease of maximum amplitude, generally greater than 10 mm, and is now below 7 mm.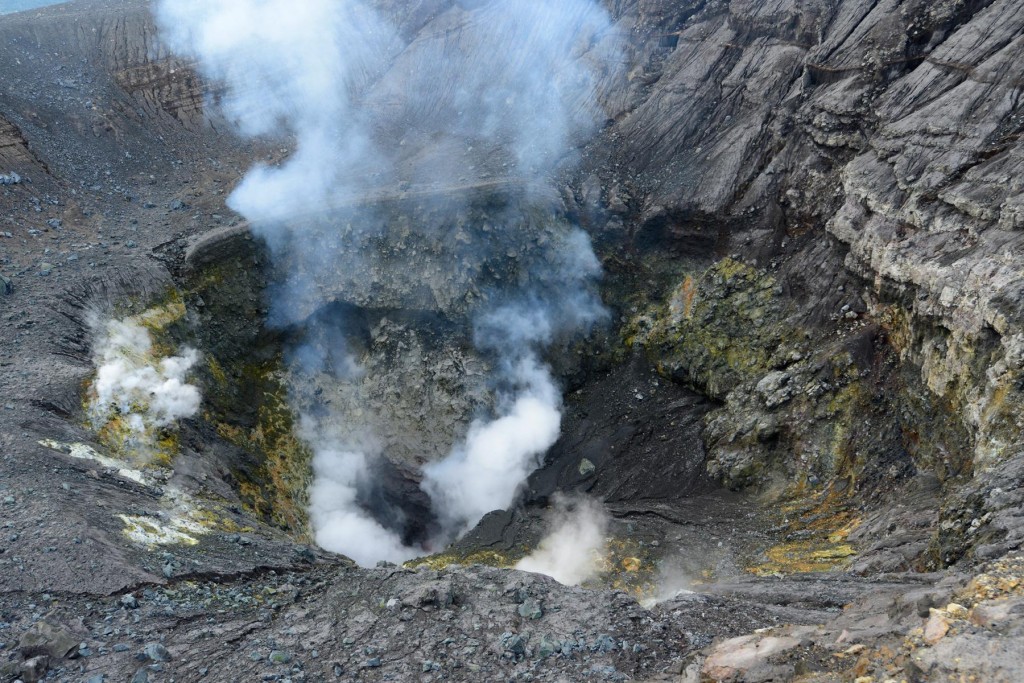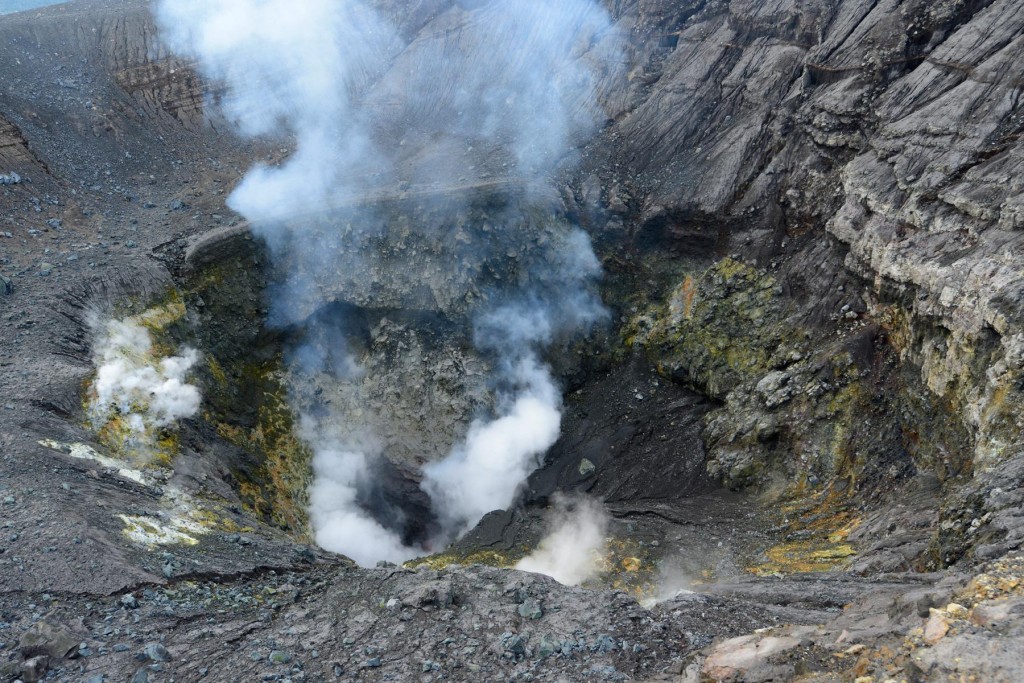 Volcanic activity of G. Lokon, during the month of January 2016 was characterized by shallow volcanic earthquakes (VB). So it is always possible that a phreatic eruption occurs suddenly, especially because of heavy rainfall. The energy equivalent since December 17, 2015 showed no amplification, as shown by the seismic amplitude spectra (SSAM). The deformation also showed no increase in inflation, and even a relatively flat model for the Y axis (crater) and was little changed for the X-axis (perpendicular crater).
 CONCLUSION:
The risk of a potential phreatic eruption (steam eruptions) is still there, but no one knows when or with what intensity.
Based on visual evaluation, seismic and deformation of G.Lokon during January 2016, this evaluation showed a decrease, so the level of activity of Lokon changes from LEVEL III (Siaga) to LEVEL II (Waspada) this from February 5, 2016 at 15:00 pm.
Source : VSI.
Photos : Tirawa , Philippe Crochet.
Ubinas , Peru :
The recorded seismic activity under the volcano Ubinas, during the analysis of this week, showed low levels of activity, but the events with large seismic characteristics confirm that the process of  current eruption continue .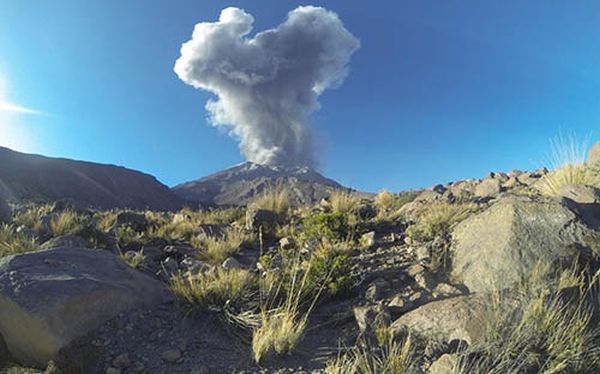 The long period events (LP), associated with fluid movement , show an increase in activity in the last two days of analysis (07 and 08 February  ). These LPs events continue to be generated in very shallow areas and mainly concern the rainfall infiltration (water).
Regarding the fracture type of earthquakes (VT), during this period, there have been two significant peaks in activity. They were held on 02 and 05 February and generate 98 and 35 megajoules respectively. Energy VT observed for this type of event is considered as high.
Thermal anomalies: The Mirova system (monitoring hot spots on the surface of the crater – www.mirovaweb.it) for that period, detected a small thermal anomaly  on February 5, of 1.0 MW.
SO2 anomalies: The satellite monitoring system (monitoring the density of SO2 gas – http://so2.gsfc.nasa.gov/) « EOS Aura » GSDM–NASA has not recorded large abnormalities in values density of SO2 gas during this period.
The nebulosity in the volcano area, present during the previous period, continued and even intensified last week. Despite this, the control of the images obtained by the camera Campbell Scientific of IGP has distinguished emissions of fumaroles  and bluish gas, which reached a maximum height of 1100 meters above the base of the crater.
This week he was not registered expulsion of ash or  exhalations and / or explosion
 Source : IGP
Photos : Diarionoticias. Ovi .
Karymsky , Kamchatka :
54.05 N, 159.44 E;
Elevation : 4874 ft (1486 m)
Aviation Color Code is ORANGE
According to satellite data by KVERT, ash plume extended about 40 km to the east from the volcano at 0048 UTC on 12 February, 2016.
Moderate eruptive activity of the volcano continues. Ash explosions up to 19,700 ft (6 km) a.s.l. could occur at any time. Ongoing activity could affect low-flying aircraft.
Distance of ash plume/cloud of the volcano: 31 mi (50 km)
Moderate eruptive activity of the volcano Karymsky. Fumarolic activity of the volcano on 9 December 2015.
A moderate explosive eruption of the volcano continues. Satellite data by KVERT showed a thermal anomaly over the volcano all week; ash explosions were registering all week and ash plumes extended for about 170 km to the east and south-east from the volcano.
Source : Kvert.
Photo : G. Volynets. Kamchatka Adventures ( 09.12.2015)