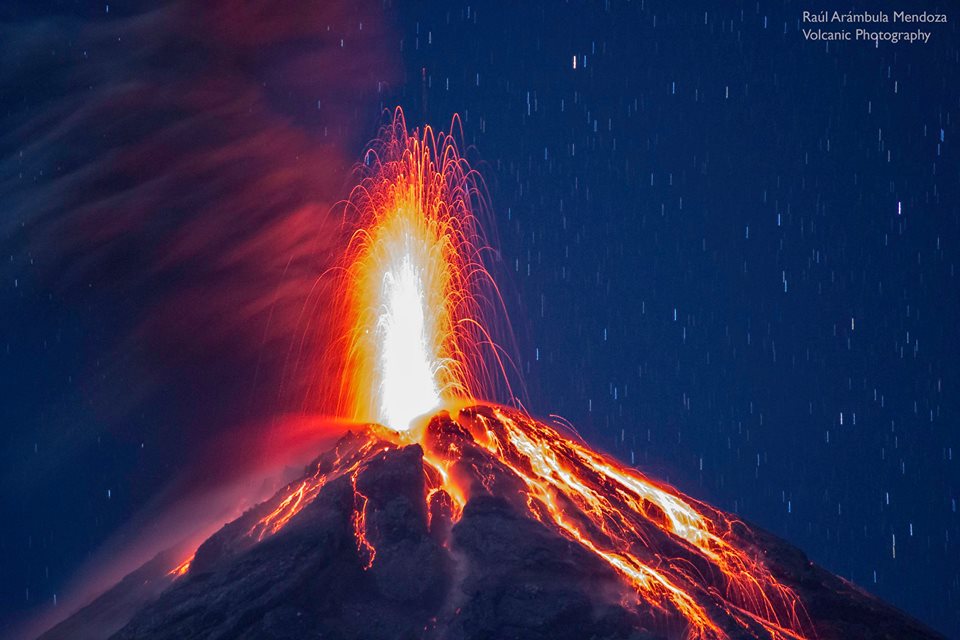 February 10 , 2016. Fuego , Bromo , Kirishima , Piton de la Fournaise .
February 10 , 2016.
Fuego , Guatemala :
Activity type : Vulcanian.
Morphology : composite Stratovolcano
Geographical location: 14 ° 28 ' 54″ North Latitude  ;
                                                  90 ° 52′ 54 « West Longitude.
Height: 3,763 m.

After nearly six hours after the start of the eruption of the Fuego , the volcano observatory (OVFGO) reports that moderate to heavy explosions continue, rising to an altitude of 4800 m. Incandescent lava fountains rise 500 meters above the crater, the column of ash to a height of 4800 meters.
Currently, this one moves to the West and North, over a distance of 25 km, could extend further, according to the evolution of the eruption. It was reported falls of ash in Chimaltenango, Zaragoza, accompanied by the smell of sulfur in some areas of the department.
The eruption produced lava flows towards the canyons Trinidad, Las Lajas and Santa Teresa reaching between 800 and 2000 meters. Explosions rumble and generate shock waves, causing vibrations in the roofs and windows more than 25 kilometers from the volcano.

This eruption, like the previous ones, can generate pyroclastic flows through canyons Las Lajas and El Jute and other around the volcano. So it is necessary to take precautions and not to remain near or in canyons.
Source : Insivumeh.
Video : Nelomh
Photo : Raul Arambula Mendoza
Bromo , Indonesia :
Enjoy the latest news from our friend Oystein Lund Andersen, who treats us with its sumptuous pictures and his wise comments. ( http://www.oysteinlundandersen.com/bromo-volcano-eruption-february-2016/ )
Activity of the Volcano
Update:13:53 local time february 08 :
First eruption of the day was heard around 10:57 local time, accompanied by a short period of ash-emission. Plume reached around 600-800m in height.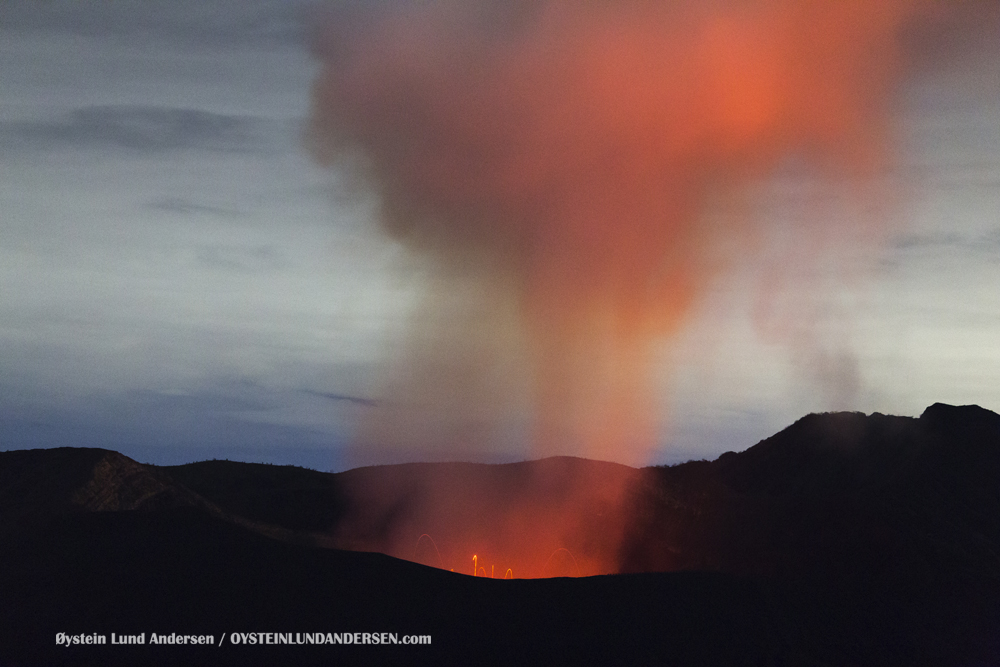 Update: 00:00 local time
During the afternoon and evening degassing continued, accompanied by medium to strong rumbling sounds, and periodically strong crater-glow. The crater-glow seems to be caused by super-heated gas. Incandescent material was seen ejected from the crater at 20:31 during a small eruption, that saw a few rocks been thrown out of the crater area. Later in the evening incandescent material was also seen, but landed within the crater area. Ash-emissions only occurred in a short period after the 10:57 eruption, and not in the afternoon or evening.
Kirishima , Japan :
Kirishima Iozan , plateau Ebino   : L'enquête de terrain a été menée, les fumerolles sont observables sur le côté Sud-Ouest et le versant Sud du cratère Iozan.
Durant l'observation par le dispositif infrarouge d'imagerie thermique il a été constaté une anomalie thermique dans le talus du côté Sud-0uest du cratère  Iozan, qui s'élargit  sur le côté Nord. L'anomalie thermique  de 70 degrés le 8/9 février et était à 80 degrés le 22 janvier
En outre, dans la périphérie du Iozan, il a été confirmé l'importance de l'odeur du sulfure d'hydrogène.
Le 7 février, il y a eu  des secousses volcaniques de petite amplitude, accompagnées par un léger renflement dans l'inclinomètre. Aujourd'hui (09), les tremors volcaniques n'ont pas été observés. Le niveau d'alerte reste au 1.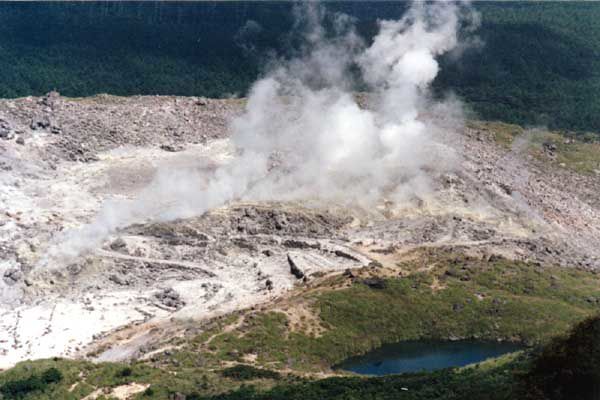 Kirishimayama is a large group of more than 20 Quaternary volcanoes located north of Kagoshima Bay. The late-Pleistocene to Holocene dominantly andesitic group consists of stratovolcanoes, pyroclastic cones, maars, and underlying shield volcanoes located over an area of 20 x 30 km. The larger stratovolcanoes are scattered throughout the field, with the centrally located, 1700-m-high Karakunidake being the highest. Onamiike and Miike, the two largest maars, are located SW of Karakunidake and at its far eastern end, respectively. Holocene eruptions have been concentrated along an E-W line of vents from Miike to Ohachi, and at Shinmoedake to the NE. Frequent small-to-moderate explosive eruptions have been recorded since the 8th century.

Source : Gvp , Jma .
Photo : Y .Yoshitsuru
Piton De La Fournaise , La Réunion :
REPORT for the period from 1 November 2015 to 9 February 2016:
Seismicity:
Seismicity has remained at a fairly high level until mid-November 2015 with 11 summital earthquakes (~ 0.5km – 1.5km above sea level) and 4.5 deep earthquakes (~ 2km under the sea level) average per day then it stabilized at 2 summital earthquakes per day when no deep earthquake was detected.
Figure 1: Total of seismicity at Piton de la Fournaise since the end of the eruption from August 24 to October 31, 2015
Deformation
Following the end of the eruption from 24 August to 31 October 2015, the distortion data showed initially a rise in inflation of the volcano relatively fast (up to 1.5 cm dilation of the summit area in a month). During the month of December a significant slowdown was observed until mid-January 2015 (less than 0.5 cm dilation of the summit area in a month and a half).
Since 24 January 2016, the GPS network recording a new acceleration of inflation (up to 1cm expansion of the summit area in 15 days).
Originally the pressure source of that inflation is currently located at 1500-2000 m below the crater Dolomieu. Note that the inflation rates are comparable to those observed before eruptions of July and August 2015.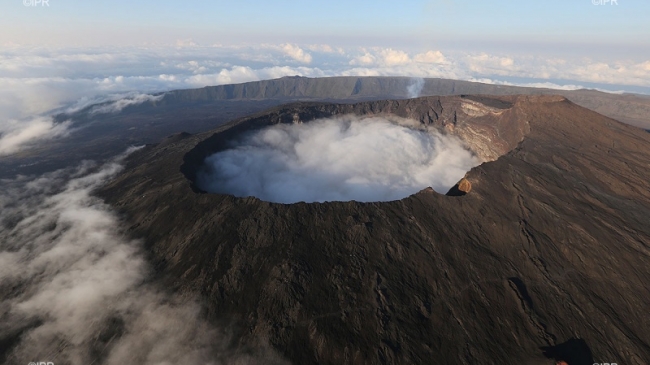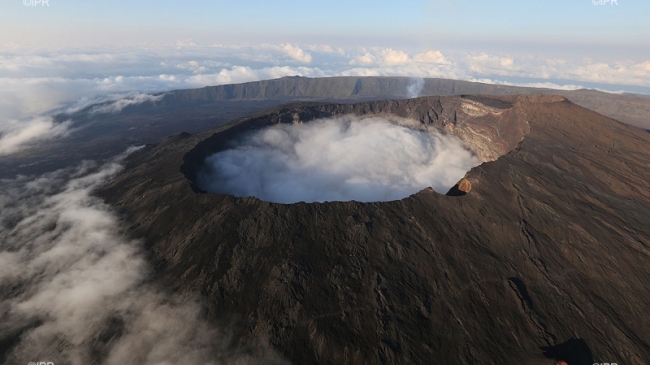 Volcanic gases
The evolution of volcanic gas stream is synchronous with that of the deformations. Gas geochemistry data showed initially a reduction in both CO2 flux measured in the soil away from the summit and sulfur emissions at the summit of the volcano.
Since late January 2016, the network geochemical of OVPF reported moderate increasing trend of CO2 flow through the ground at the distal stations and increased sulfur emissions (SO2 and H2S) and CO2 at the level of summital fumaroles.
Source : Ovpf