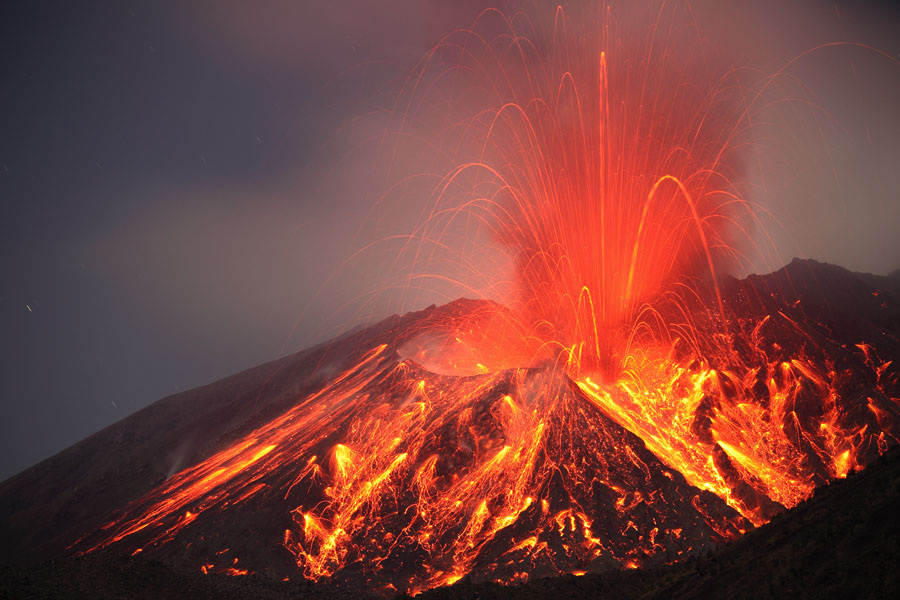 February 06 , 2016. EN. Sakurajima , White Island , Reventador .
February 06 , 2016.
Sakurajima , Japan :
Sakurajima volcano erupted this Friday, February 5 in the early evening in southern Japan. The Japan Meteorological Agency issued a warning level at 3 of 5 while public television broadcast dramatic images of projection of glowing lava high into the sky . Powerful lightning visible through the lava explosions recall the phenomenon of volcanic storms.
The agency said on its website that this eruption off the coast of the port city of Kagoshima, located about a thousand kilometers southwest of Tokyo, began around 19h (local time). No damage or injuries were immediately deplored.
Pyroclastic flows, made of gas, ash and rock fragments may be projected within a radius of two kilometers. Access to the site was restricted following the warning issued by the Meteorological Agency. However, the order was not given to some 4,000 residents of this island to evacuate.
The volcano, which rises to 1,117 meters, is located about fifty kilometers from the Sendai nuclear power plant ,whose reactors 1 and 2 were recently restarted.
Since 2009, Sakurajima knows 500-1000 small eruptions every year. In August 2013, a spectacular eruption had scattered ash across the region.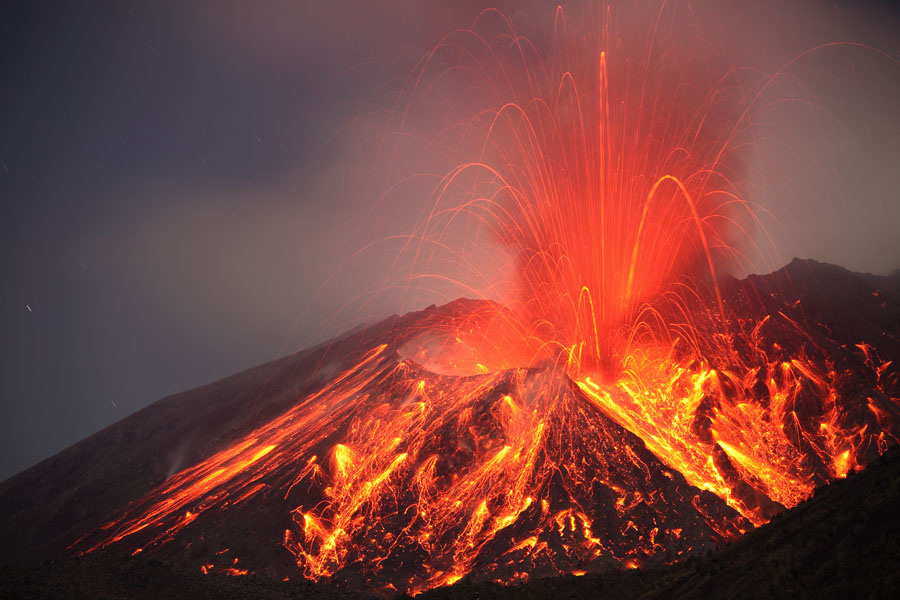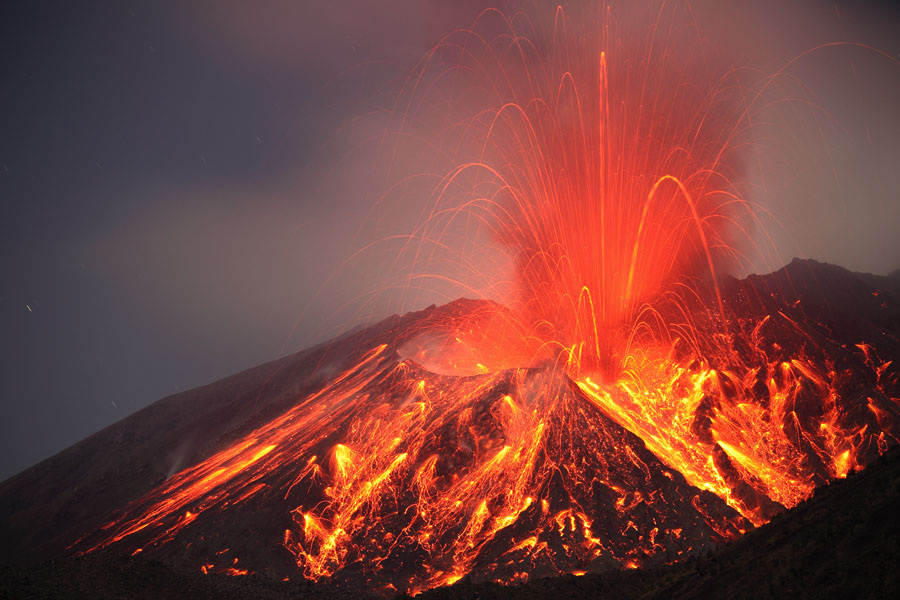 Kazuhiro Ishihara, professor emeritus at Kyoto University and an volcano expert, was quoted by NHK as saying that the eruption was unlikely to have an immediate serious impact on nearby residential areas because the live video images appeared to show rocks flying only 2 km from the mountain's top.
Friday's eruption, while dramatic, was average compared to Sakurajima's past eruptions, Ishihara told NHK.
At a news conference in Tokyo, an agency official said Sakurajima's volcanic activity is likely to continue, adding that Friday's eruption is probably a resumption of the previous eruptions that had continued until the mountain's last major eruption in September.
Local residents appeared rather calm.
Source : huffingtonpost.fr , japantimes.co .
Photos : KYODO , sakurajima-volcano.weebly.com .
 White Island , New Zealand  :
Summer weather finally allows for White Island (Whaakari) gas flight
The shorts and t-shirt weather many have been experiencing may have been great for tan lines but the humid and cloudy conditions in the Bay of Plenty have not helped us with our monitoring flights for White Island (Whaakari). However yesterday the weather finally did allow for a monitoring flight to White Island. The gas output from the volcano hasn't changed much. This great weather also gave us unparalleled views of the Crater Lake, which also remains unchanged.
About our monitoring flights
We use several techniques to monitor and evaluate the volcanic gas output from White Island.
About once a month we plan to make airborne measurements of sulphur dioxide (SO2), carbon dioxide (CO2) and hydrogen sulphide (H2S) outputs from the volcano. The recent humid conditions in the Bay of Plenty have challenged us, however yesterday we made a successful flight.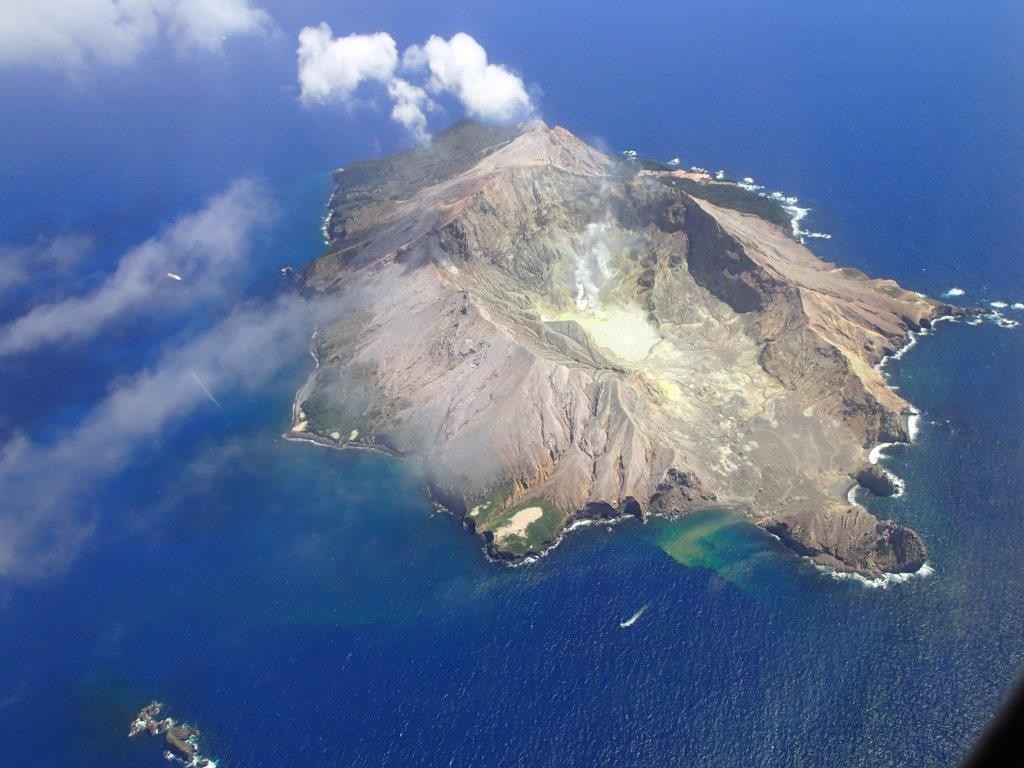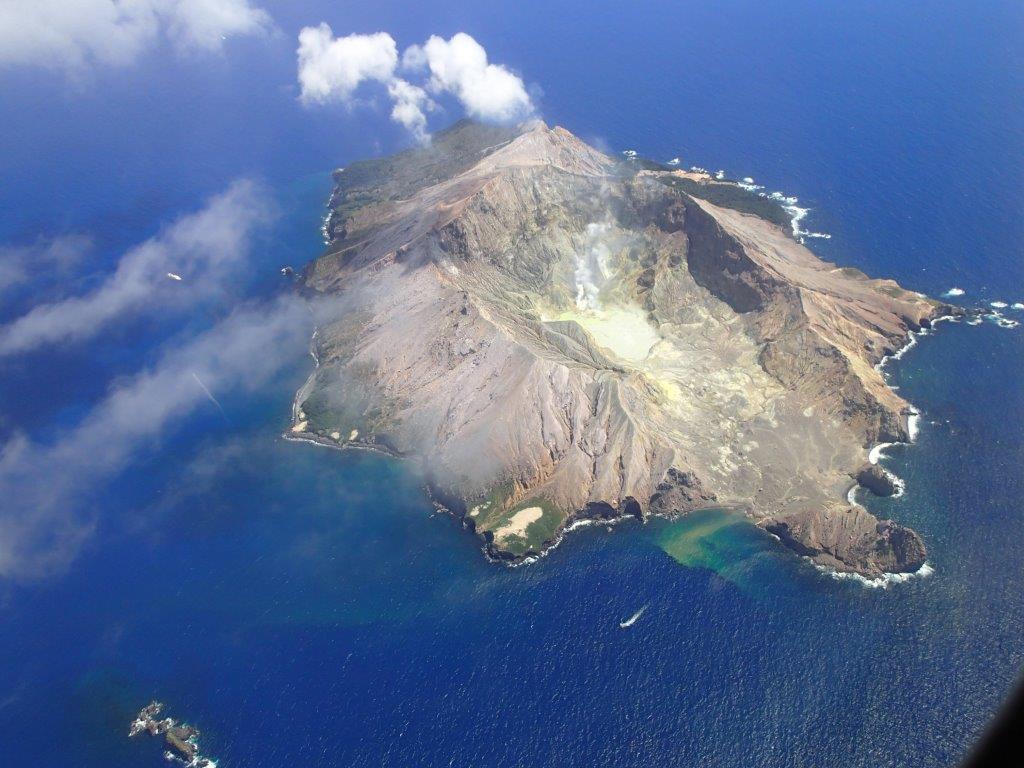 To put some context around what White Island is currently doing, late last year the gas output averaged about 370 tons per day for SO2, 2100 tons per day for CO2 and 20 tons per day for H2S. During our flight yesterday (February 4) we measured 450 tons per day of SO2, 2100 tons per day of CO2 and 20 tons per day of H2S. These results are all very similar to our other recent measurements.
Two DOAS SO2 gas spectrometers are also installed on the island and under favourable conditions measure the sulphur dioxide (SO2) gas output. This has averaged around 300 tons per day in 2015, ranging from 120 to 750 tons per day. During January- February 2016 it has ranged 180-670 tons per day.
We are crossing our fingers that the good weather holds for the next gas monitoring "fly by".
Source : Geonet / Brad Scott.
Reventador

, Ecuador :
On 28 January, with the logistical support of an airplane of the company Alas de Socorro del Ecuador (ADS), a survey was held from the airport of the city of Shell to the Reventador volcano.
Visual observations:
During the approach to the Reventador volcano, it was observed that, in clear weather, this one showed pulsatile fumaroles and also small explosions, which emissions have shown a low to moderate content of ash, which are directed to the west. He could be seen scattered deposits of pyroclastic flows through the flanks of the volcano descended not over long distances and are limited only to the foot of the current cone. Currently the volcano emits lava flow from a vent located in the North and aligned in north-south direction from the central crater.
This new

lava

flow

on

the north

flank of the volcano

, has not yet

reached the foot

of the current

cone.

The central

crater

for this flight

is characterized by

the

generation of small

explosions.

At the foot

of the volcano

has been

observed many

ballistic

product coming from

stronger

eruptions

(which

were not

recorded

on this visit

).

In addition, it

could

be

felt a strong

odor

of

sulphurous

product

,

produced in large quantities

and

dispersed into the environment

.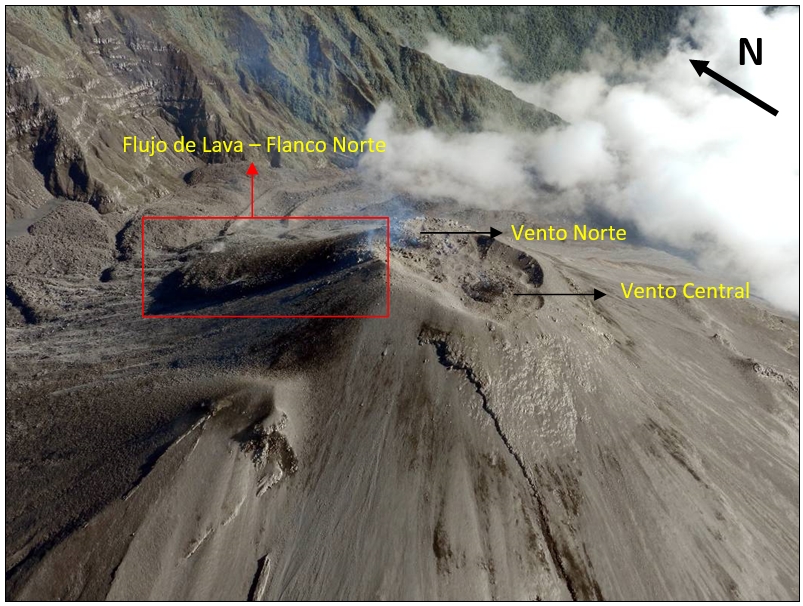 Photo of southwestern flank of the volcano, an emission of gas without ash is observed, in addition to new vents and lava flow on the north side. (Photo: M. Almeida, IG / EPN).
Thermal monitoring:
Weather conditions were appropriate for imaging thermal anomalies. The apparent maximum temperature (TMA) correspond to the vent 1 with a value of 501 ° C, followed by the vent 2 with a 372,8ºC value, and North lava flow with a value of 324.6 ° C.

Thermal image showing the values of TMA on the volcano. Besides, the image shows low emissions which are directed to the West (Image: P. Ramón / Photo: M. Almeida, IG-EPN).

No other significant abnormalities were recorded on the volcano.
Source : IGEPN
Photos :  P. Ramón  , M. Almeida, IG / EPN