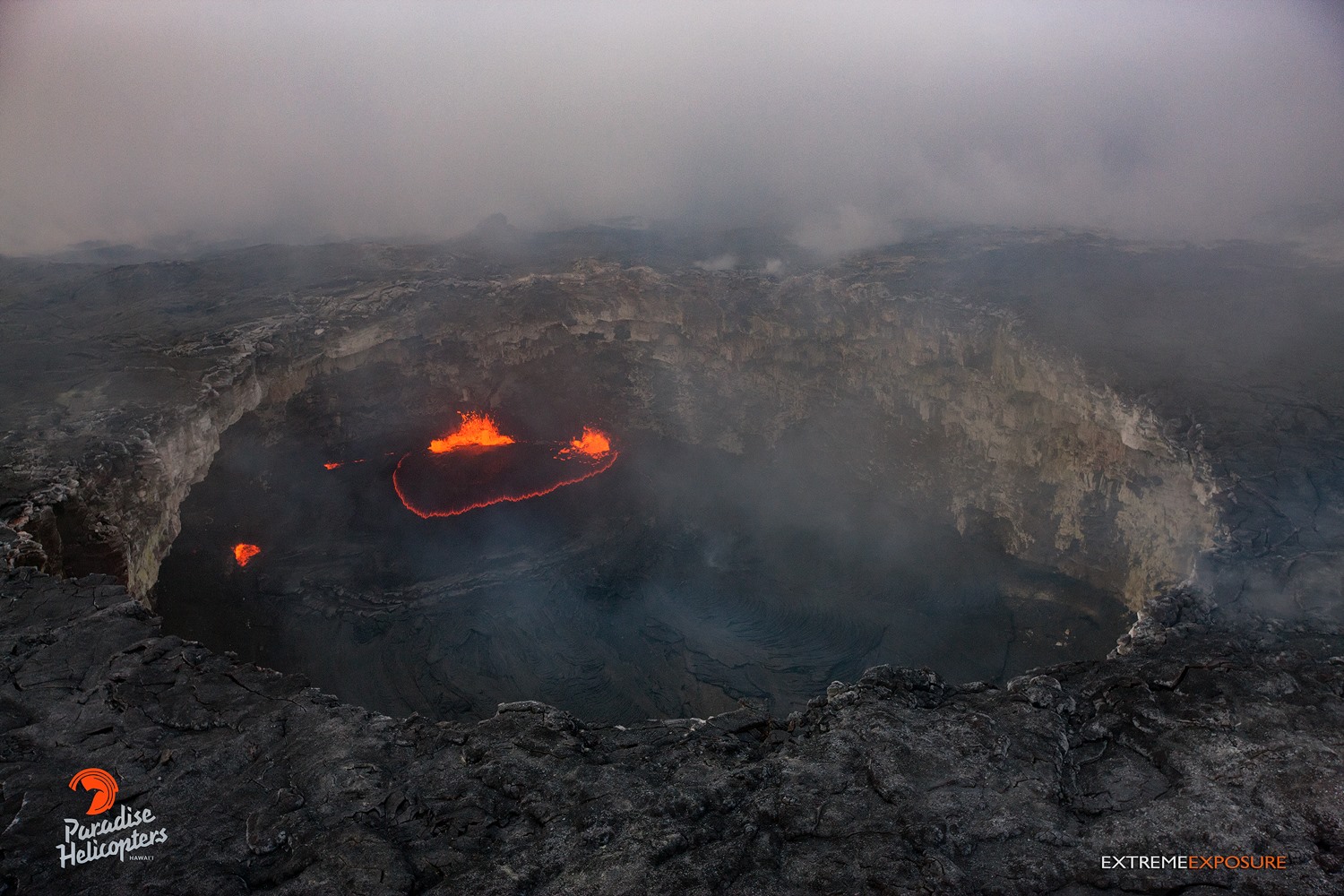 January 26 , 2016. EN. Bromo , Ubinas , Kilauea .
January 26 , 2016.
Bromo, Indonesie :
TEMPO.CO, Probolinggo – Mount Bromo began erupting lava on Tuesday morning, January 26, 2016, as reported by the Volcanic Observation Post. The post also reported ashes and tremor activities in the area.
However, the Volcano status remains at alert level 3.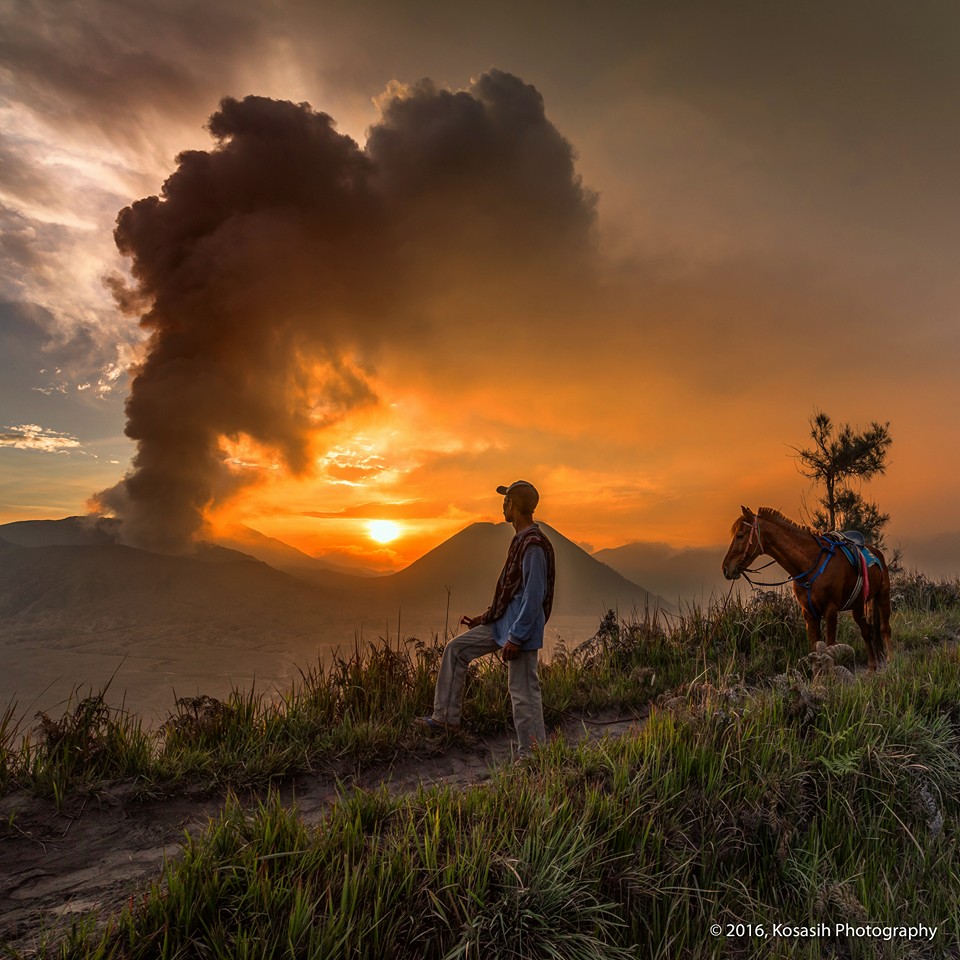 Head of Bromo Tengger Semeru National Park, Ayu Dewi Utari, said that Bromo is cleared from people's activity, be it in caldera or in the sea of sand.
Meanwhile, Head of the Center for Volcanology and Geological Disaster Mitigation, Edi Prasojo, said that Bromo has entered an eruption phase. « We have seen a number of volcanic activities inside Mount Bromo, » he said.
Source : Tempo.
Photo : Andry Kosasih
Ubinas , Perou :
LP type Earthquakes associated with a fluid movement increased in number and energy during the past week. On average, 357 LP / day were observed.
Similarly, the energy of this type of seismic activity increased slightly. An energy of 7 MJ / day was observed.
Hybrid seismic activity, linked to the rise of magma, presented an average of seven Hybrid per day, less than the number detailed in the previous report (18 Hybrid / day–Report No. 02-2016). In addition, the energy of this type of event is at a low level.

The type of VT seismicity (earthquakes associated with the fracturing of rocks) in this period showed a decrease in the number of observed earthquakes, averaging 143 VT / day (Report No. 02-2016 indicated 212 VT / day). Similarly, the values of average energy VT are low. However, a peak was observed, than 32 MJ, the 17/01/2016.
Also in this period an explosion with an energy of 11 MJ was recorded. It took place at 12:53 local time on 15/01/2016.
However, hours before (6:40 local time) an exhalation of 19 MJ of energy was also recorded.
During the last week, there was another explosion of Ubinas volcano, an event that had not occurred since November 5, 2015, when, at 12:15 local time a column of ash 2 km high was generated.

This time, on January 15, the four telemetric seismic stations of the OVS, located on the volcano recorded at 12:53 local time, which was confirmed immediately with images obtained in real time by the camera Campbell Scientific. The ash plume rose to a height of 3 km above the base of the crater being dispersed to the South and Southwest of the massif. OVS, as a member of the Scientific Committee of permanent surveillance, published the respective ash alert for the villages of Querapi, Ubiñas, Tonohaya, San Miguel, Anascapa, Huatagua, Sacohaya. It should be noted that on the same day, within hours of the day earlier, at 6:40 am local time, an exhalation, which reached a maximum height of 500 meters was recorded.
Thermal anomalies:
The Mirova system (monitoring of hot spots on the surface of the crater -www.mirovaweb.it) detected in this period two thermal anomaly on the volcano Ubinas, registered on 13 and 15 January with values of 1 and 4 MW respectively .
Abnormalities of SO2:
The GSDM satellite « EOS Aura«  system – NASA (monitoring of SO2 gas density: //so2.gsfc.nasa.gov/) did not notice any major abnormalities in SO2 gas density values during this period.
Source : IGP Perou.
Photos : IGP. Ingemment /AFP , lainfo.es/ EFE.
Kilauea, Hawai :
19°25'16 » N 155°17'13 » W,
Summit Elevation 4091 ft (1247 m)
Current Volcano Alert Level: WATCH
Current Aviation Color Code: ORANGE
Activity Summary:
Eruptive activity continues at Kilauea Volcano's summit and East Rift Zone. Seismicity and deformation rates throughout the volcano remain at background levels. Scattered lava flow activity continues on the June 27th lava flow field within about 6 km (4 mi) northeast of Pu'u 'O'o . These flows currently pose no threat to nearby communities.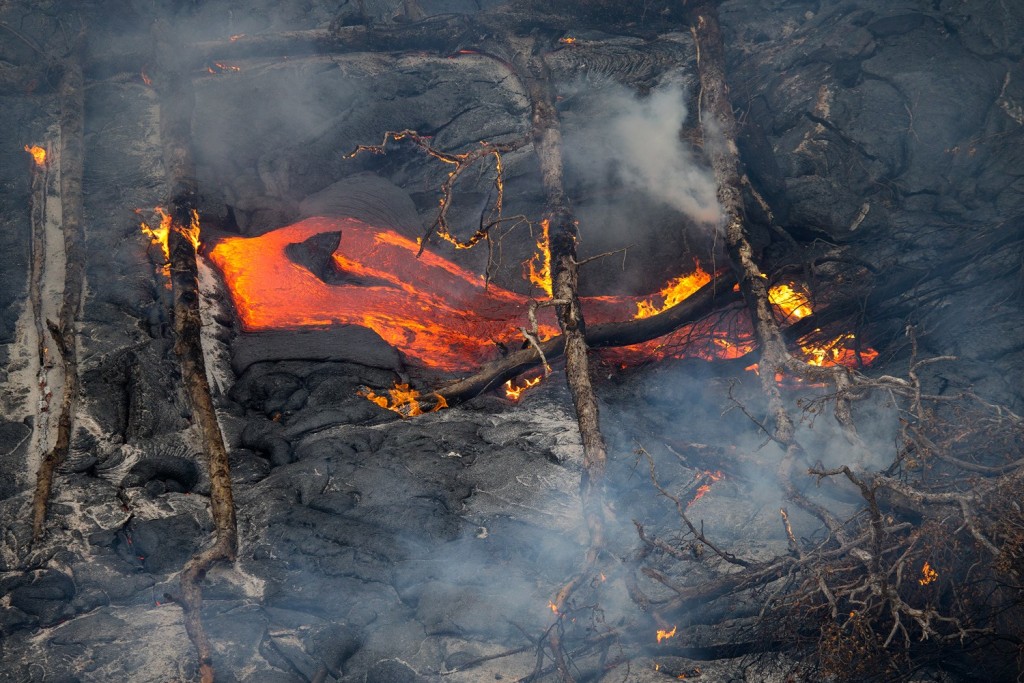 Summit Observations:
The lava lake remains active within the Halema'uma'u Overlook crater. The lake surface height fluctuated slightly over the past day during spattering and non-spattering intervals but remains approximately 35 m (121 ft) below the crater rim this morning. No significant tilt was observed at summit tiltmeters over the past day. Seismicity is within normal, background rates with tremor fluctuations associated with lava lake spattering. The summit sulfur dioxide emission rate averaged 5,300 metric tons/day on January 21 and 22.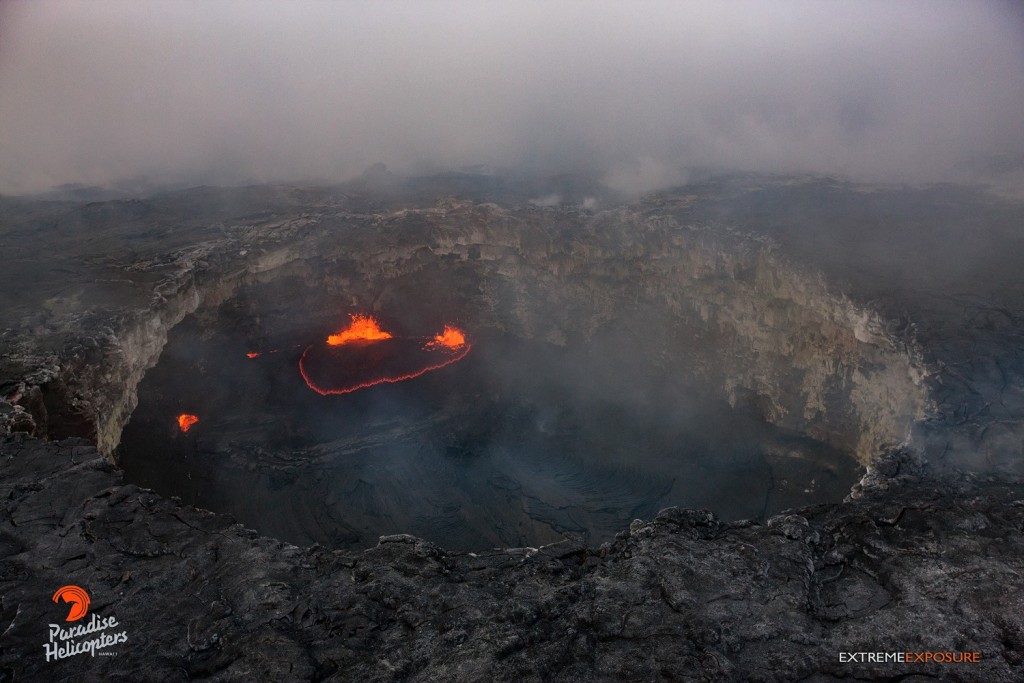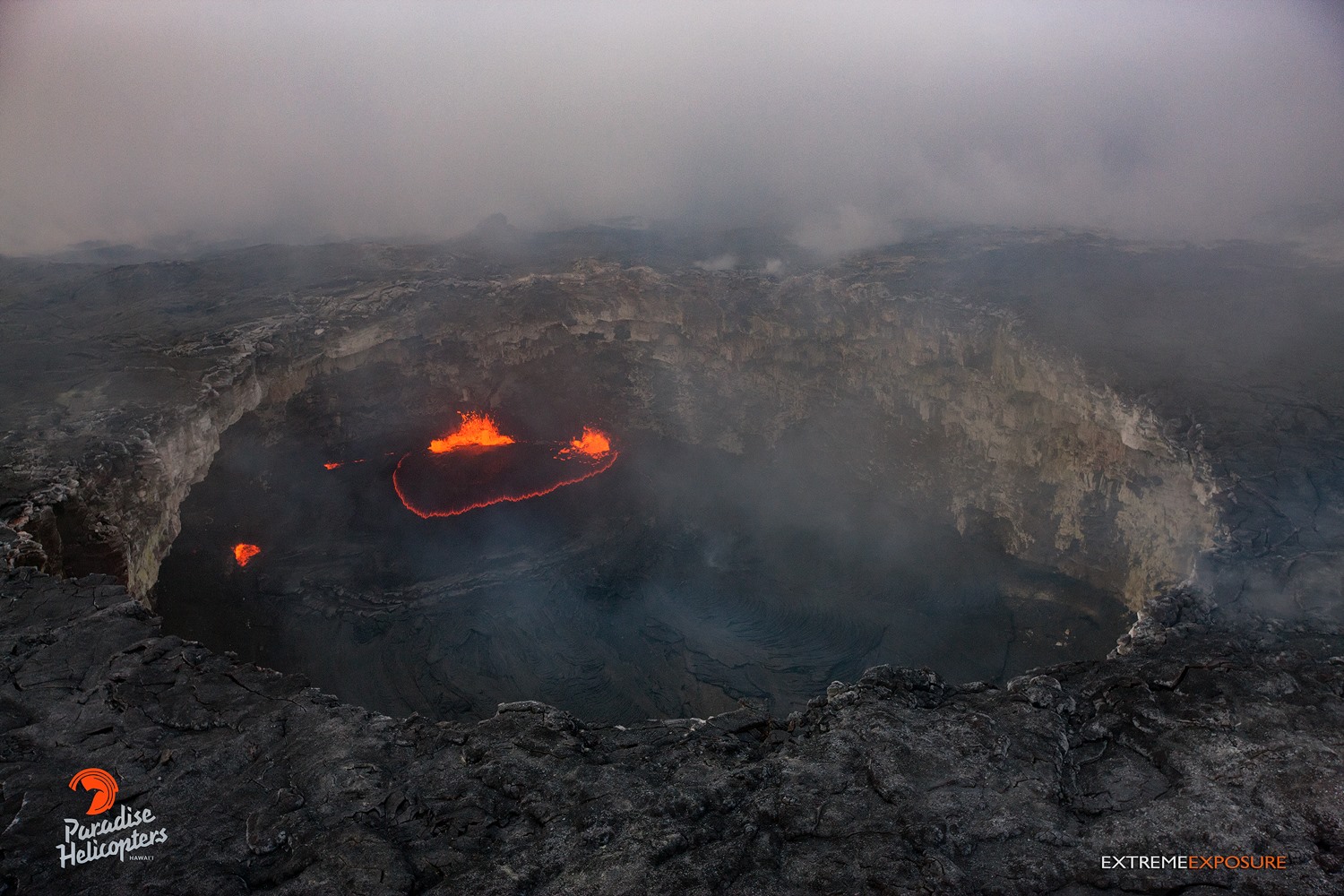 Pu'u 'O'o overflight: The lava pond within Pu'u 'O'o  's collapse pit was quite active with spattering along its southern wall

  Pu'u 'O'o Observations:
Webcam images over the past 24 hours show persistent glow at long-term sources within the crater and high on the northeast flank of the cone. Seismic activity remains low at Pu'u 'O'o. A tiltmeter on the cone has recorded steady, gentle deflationary tilt change over the past several days. The sulfur dioxide emission rate from all East Rift Zone vents was about 220 metric tons/day when it was last measured on January 21.
A closer view of Pu'u 'O'o, just above the center point of the photograph. View is towards the southwest. In the foreground, the circular lava pond that was active in July 2014 is visible. The lava tube feeding the active flows on the June 27th lava flow is evident by the line of white fume sources extending off the right side of the photograph.

June 27th Lava Flow Observations:
Webcam images show continued surface flow activity on the June 27th flow field, with smoke plumes where lava is igniting forest. Yesterday's HVO field crew verified that active flows are within about 6 km (4 mi) northeast of Pu'u 'O'o and are not currently threatening any nearby communities.
Source : HVO
Photos : HVO , Bruce Omori.