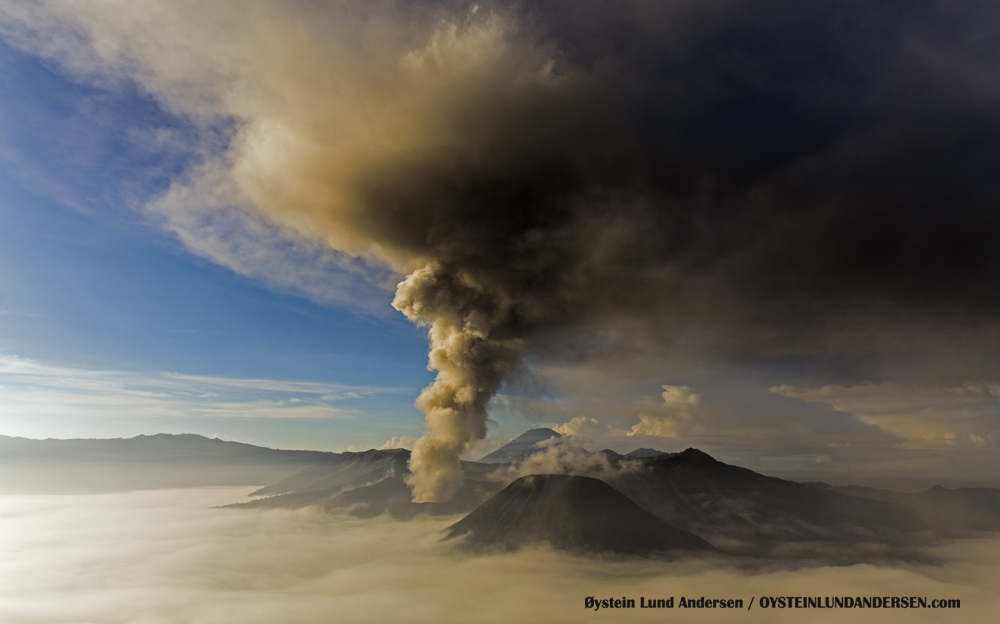 January 18, 2016. EN. Egon , Chaparrastique , Bromo .
January 18, 2016.
Egon, Indonesia :
More than 1,200 people were evacuated from three villages in Egon Gahar, Matitara district, Sikka, East Nusa Tenggara, on Sunday morning, as the alert status of Mount Egon in the regency was raised to siaga (high alert).
"Thousands of people from three villages, namely Baukrenget, Lere and Welinwatut, have been evacuated. The evacuation started at 7 a.m., local time, on Sunday, using 21 trucks. The evacuation was conducted because sulphur smells emanating from Egon had been getting stronger," Sikka Natural Disaster Mitigation Agency (BPBD) head Silvanus Tobi told journalists in Maumere on Sunday.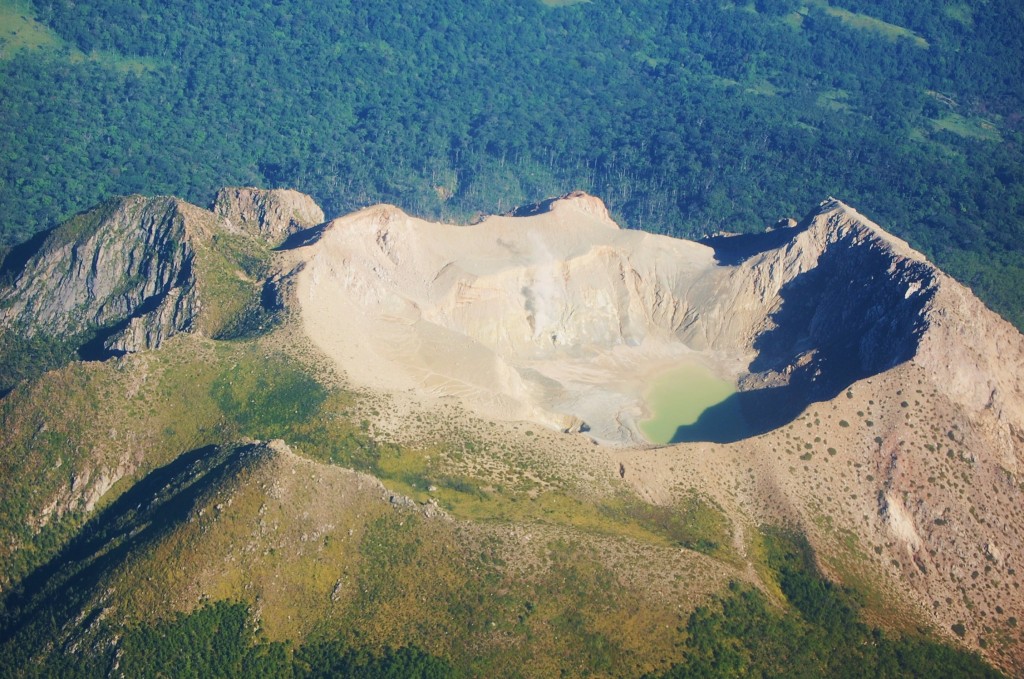 He further explained that the local residents who had been evacuated were currently being accommodated at the Natakoli market hall and at the hall of the Matitara district head office. Currently, he said, BPBD officers, Matitara district officials and security personnel were preparing Egon evacuees. Around 2,000 masks had been distributed to local residents who were still holding out in areas on the southern part of Mt Egon.
Silvanus said the BPBD was still waiting for instructions from the Volcanology and Geological Disaster Mitigation Center (PVMBG) in Bandung, West Java, before conducting a more sizable evacuation.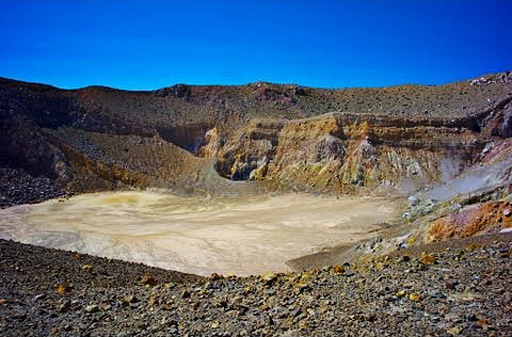 "We are on full alert and ready to carry out evacuations at any time," he said.
Silvanus said that among the activities the agency had yet to complete included the construction of toilets at temporary shelters located in the village market and at the Matitara district head office.
The alert level of Mt Egon, which is located on the border of the Matitara and Waigete districts in Sikka regency, East Nusa Tenggara, was raised at the beginning of this week, forcing local administrations to make various preparations for the evacuation of local people.
According to PVMBG recommendations, areas within a radius of three kilometers from the crater must be emptied.
Source : Jakartapost
Chaparrastique , El Salvador :
Sunday, January 17, 2016 11:40
During the early hours of Sunday, January 17, images captured by the surveillance camera located on Cerro Pacayal showed that the volcano continued to emit low gas. The height reached by these emissions does not exceed 150 meters. This continued until the time of publication of this report.

During the last 24 hours the values of the seismic vibration of the volcano fluctuated between 362 and 279 units RSAM averaged over an hour, with an average of 311 units. There was a gradual decline in the data recording. This indicates that the internal system of the volcano is unstable and may remain so for the next few hours or days. No increase in activity can not be ruled out, with the possibility of new issues of volcanic ash and even the presence of magma at the surface, which is typical for an active volcano.
Including the eruption of December 29, 2013, there were a total of 23 similar eruptive episodes.


The MARN continues its  online monitoring, maintains close communication with the General Directorate of Civil Defense and local observers. The MARN called journalists and individuals not to approach the summit of the volcano, because of the degree of danger due to this activity, due to the possibility of sudden explosions and emissions of gas and solids  that may occur.
Source : Marn
Photos : lesmoutonsenragés ( 2013), Marn .
Bromo , Indonésia :
Dated on January 14, 2016, 18:00
It was recorded one (1) eruption earthquake with a maximum amplitude of 36 mm, a length of 12.4 seconds. One (1) volcanic earthquake (VA) with a maximum amplitude of 36 mm, 8.64 seconds, a constant tremor with a maximum range of 3-23 mm (dominant 4mm).
During the period from January 7 to 14, 2016 it was recorded volcanic earthquakes (VA), shallow volcanic earthquake (VB), local tectonic earthquakes (TL) and distant tectonic (TJ) and the dominant presence a constant tremor with a range of maximum amplitude of 2 to 36 mm.
The seismic measurements in real time of RSAM amplitude until the date of January 14, 2016 show the energy fluctuations observed in the period from 7 to 14 Jan 2016.
EVALUATION
Visually, the activity of the Mount Bromo was shrouded in fog. Large emissions from white to brown / gray, ash and smoke were observed with great thick column of smoke and ash up to 1,800 meters above the top or 4129 meters above the level of the sea.
Recording of the earthquake were dominated by constant fluctuation with a maximum amplitude in the range of 2 to 36 mm, with a dominant 5 mm. Volcanic earthquakes (VA), a local tectonics (TL) and distant (TJ) were recorded but the number was not significant.
POTENTIAL HAZARD
The appearance of ground magmatic eruptions and sudden emissions of volcanic materials as heavy ash fall and incandescent stone throwing began around the crater within a radius of 2.5 kilometers around the eruption center.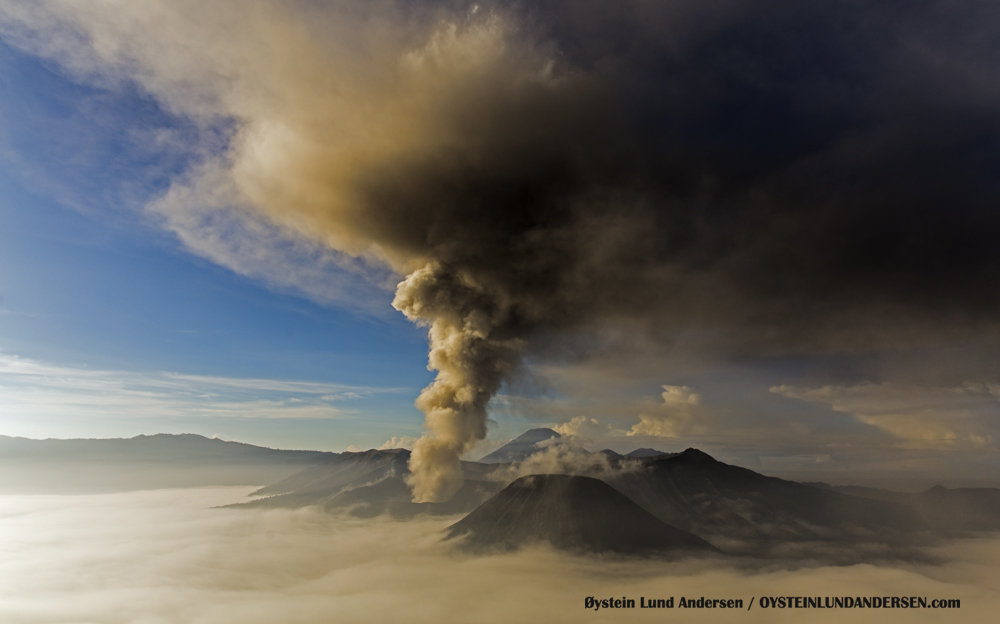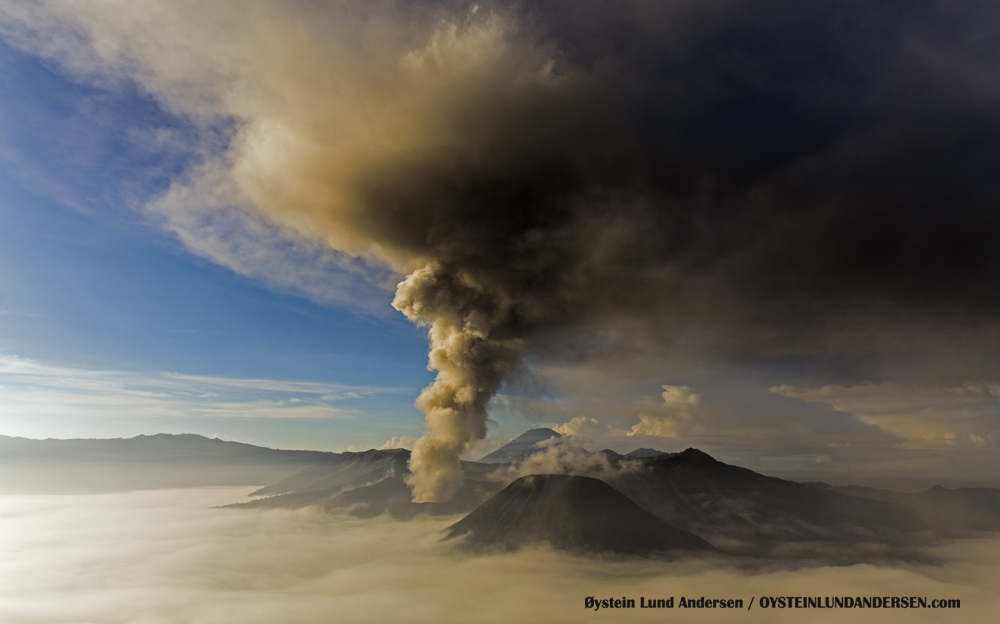 CONCLUSION
Based on observational data, analysis of seismic data, visual, and potential dangers of eruption until the date of January 14, 2016, 18:00, the activity level of G. Bromo is maintained at activity level III (Siaga).
The level of activity of G. Bromo will be raised / lowered if there is an increase / decrease in activity, intensively monitored by volcanic experts of Pusat Vulkanologi dan Mitigasi Bencana Geologi.
Source : VSI
Photos : L K . Adams , Oystein Lund Andersen .