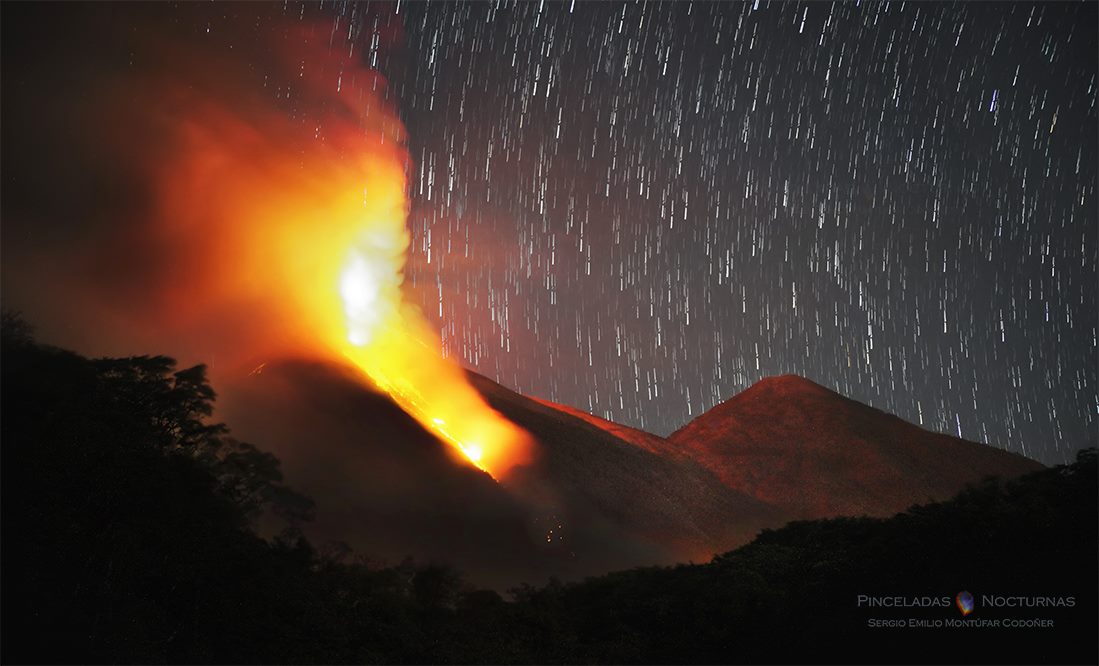 January 17, 2016. EN. Fuego , Sabancaya , Awu .
January 17, 2016.
Fuego, Guatemela :
The Fuego volcano in Guatemala Register a new eruptive phase.

Guatemala City, January 16.
The Fuego volcano, located about 50 km south of the capital of Guatemala, recorded Saturday explosions and sent a plume of smoke that reached the 4,700 meters, an official said.
« There were 14 moderate explosions (which contained a smoke gray) to a height of between 4,700 and 4,400 meters (above sea level), which have spread to a distance of between 8 and 12 km to the southeast and the northeast of the volcanic complex «  said in a bulletin, the National Institute of Seismology.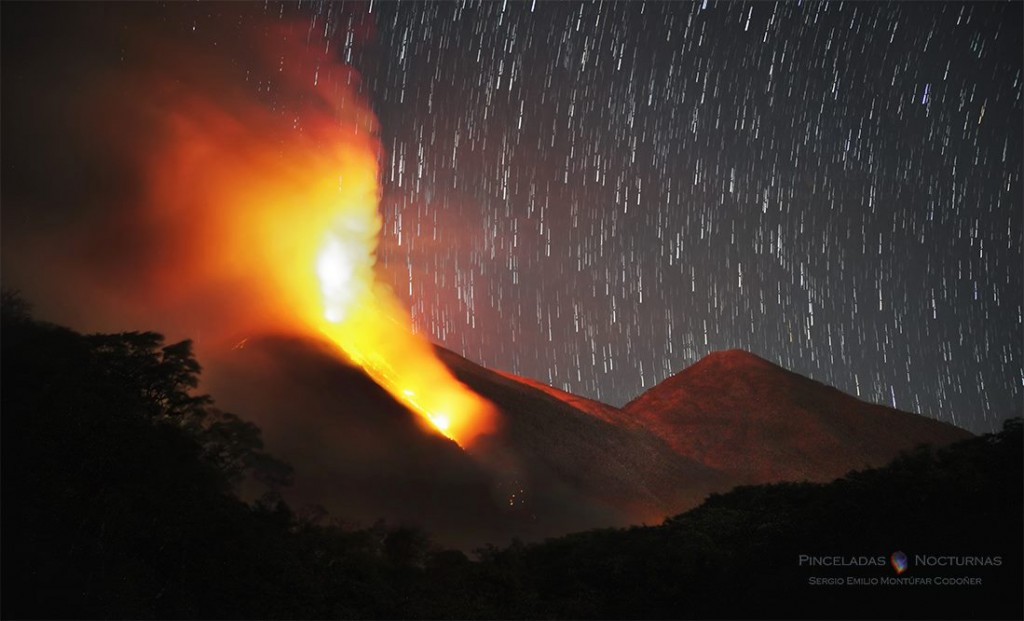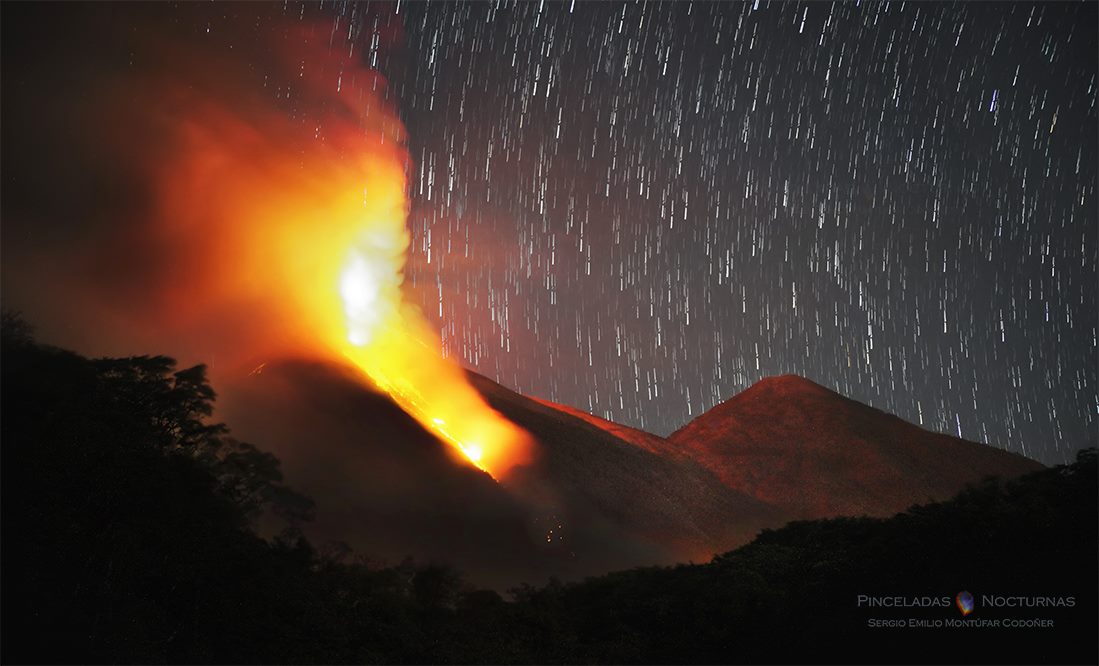 The volcano of 3763 meters, located between the departments of Chimaltenango, Escuintla and Sacatepequez (Southwest), was registered on 3 January, his first powerful eruption of this year, which lasted three days.
In February last year, the eruption of the Fuego volcano had a powerful eruption which forced the authorities to declare early warning and close the airport in the capital because of ash fall, which had also affected the city colonial of Antigua Guatemala.
Sources : Andina .
Photo : Sergio Emilio Montufar Codoner
Sabancaya , Perou :
The LP type of seismicity (associated with the passage of fluids), during this period decreased from an average of 13 LP / day; second, their energy is kept low.
During this period there is no hybrid events (associated with the rise of magma material).
The VTPS events or « proximal volcano tectonic » (very close to the volcano, less than 6 km) have increased significantly in number. Meanwhile, their magnitude experienced a moderate increase. VTPS 19 / day recorded in this period (in Report No. 01-2016, 08 VTPS / day were recorded). On January 10, 02 events were recorded with a magnitude of 3.0 ml at 10h03 p.m. and 10h07 p.m. UTC.
During this period, the type of tremor events have dramatically increased in number compared to the previous period (Report No. 01-2016, an average of 07 TRE / day), with the recording of an average of 14 TRE / day; however , their energy continues to remain at very low levels.

The recording of such VT events (associated with rock fracturing) during this period, continues to be very close to the Sabancaya area, forming two seismic foci. The first home is located less than 6 km towards North-East of the crater; while the second focus (small group) is located 14 km northeast of the crater.
42 VTP events (called proximals) located within 6 km radius, mainly on North-Eastern Sabancaya the crater were recorded. Among them, two earthquakes of magnitude 3.0 ml at a depth of 7 km and 10 km, about, registered on December 10, 2015 at 10h02 p.m. and 10h07 p.m. hours UTC, respectively, stand out. These events have been located at a distance of 3 to 4 km towards north – east of the crater
Seismicity VTD (distal seismicity) totaled 54 events and is distributed mainly in the North – East of the crater of the volcano; an event of magnitude 4.0 ML, meaningful, recorded on January 10, 2016 at 8h43 p.m. UTC and a depth of about 6 km was declared felt by residents in Pinchollo but caused no damage.
Fumarolic Activity  :
• Frequency: The emissions of water vapor continue to be expelled from the Sabancaya steadily. Bluish gas, meanwhile, been sporadically observed in this period.
• Color: Mainly, these emissions are whitish (water vapor), which is characteristic for several months. This week, a bluish gas appeared sporadically at different times of the day.
• Height: The gases expelled by the volcano's crater had a height of between 700 and 1700 meters. It should be noted that in this period (January 5-January 11) abundant clouds covered the volcano for several hours.
Anomalies of SO2: The GSDM NASA satellite–system « EOS Aura«  (Http://so2.gsfc.nasa.gov/) did not record any material anomaly in density of SO2 during this period.
Source : IGP
Photos : Heiner Aparicio/Perú21 , certezadirecto.blogspot.fr
Awu, Indonesie :
Evaluation
During the period from 1 to 14 January 2016 visual observations of G. Awu were hampered by the fog blanket, and this summit was not observed.
Seismicity of G. Awu, during the period from 1 to 14 January 2016, has increased, especially the type of tectonic earthquakes, this last 3 days. The tectonic earthquakes were recorded in as many as 69 episodes per day. Until 14 January 2016 were recorded 46 events, while types of volcanic earthquakes VB were recorded with a maximum of 9 episodes per day. Based on the RSAM data for the period from 1 to 14 January 2016 it was noted an increase in energy on January 12, 2016, it is due to earthquake of January 12, 2016 occurred at 0h38 and 8h27 p.m. on a MMI scale I – II.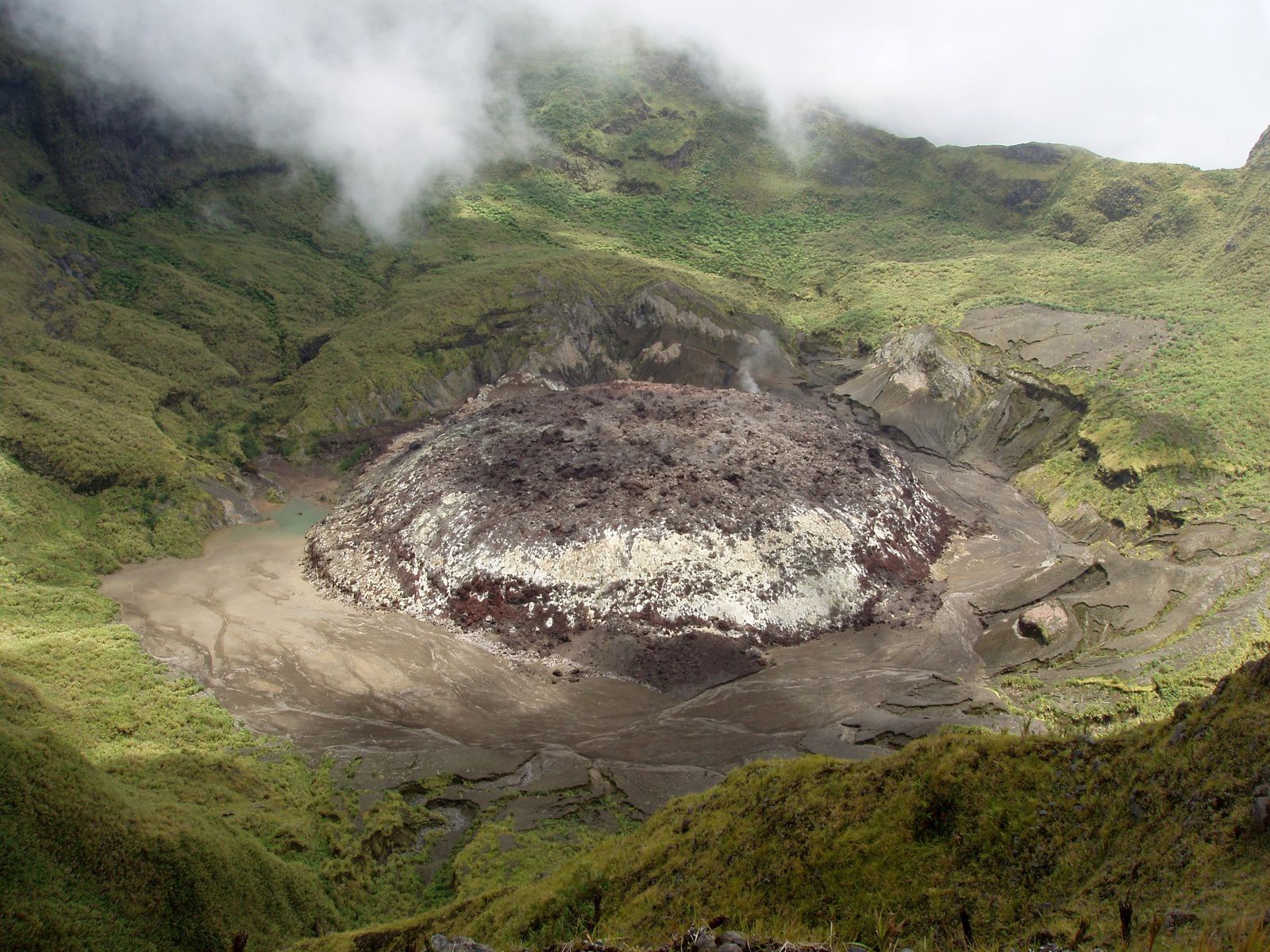 potential Hazards
The potential dangers of G.Awu are as follows:
The character of recent eruptions of Mount Awu are as magmatic eruption, with steam explosions, volcanic gases and incandescent material. Following the eruption, may form a lava dome and fumarolics field of gas CO2 , H2S, N2 and CH4. These gases can be dangerous if they are above the threshold limit value. If there is a magmatic eruption, one must be aware of the risk of lava flow to the north and the southwest. Attention to the appearance of lahars during the rainy season, especially in the course of rivers that discharge from Mount Awu.
Conclusion:
Based on the analysis / evaluation of volcanic activity, seismic and visual of G. Awu to the date of January 15, 2016, the level of activity of G. Awu is held at II (Waspada).
Intensive monitoring is ongoing to evaluate the activity of G. Awu.
If there is a decrease / increase in volcanic activity of G. Awu significantly, the activity level can be lowered / raised in accordance with the level of activity and threats.
The massive Gunung Awu stratovolcano occupies the northern end of Great Sangihe Island, the largest of the Sangihe arc. Deep valleys that form passageways for lahars dissect the flanks of the 1320-m-high volcano, which was constructed within a 4.5-km-wide caldera. Awu is one of Indonesia's deadliest volcanoes; powerful explosive eruptions in 1711, 1812, 1856, 1892, and 1966 produced devastating pyroclastic flows and lahars that caused more than 8000 cumulative fatalities. Awu contained a summit crater lake that was 1 km wide and 172 m deep in 1922, but was largely ejected during the 1966 eruption.

Sources : VSI, GPV
Photos : PVMBG ,  A Solihin .