January 12 , 2016. EN. Chaparrastique , Lokon-Empung , Nevados de Chillán.
January 12 , 2016.
Chaparrastique , El Salvador :
Friday, January 8, 2016, 11:05
The volcano  Chaparrastique present degassing pulses:
After maintaining a stable level of activity, from Thursday, January 7, the San Miguel volcano Chaparrastique maintained a degassing process characterized by pulses of gas.
At 5:45, the surveillance camera on Friday noted the periodic appearance of gas exhalations, which amounted to about 500 m above the crater. A yellowish red color is observed, it is due to the presence of light.
So far it has not been reported by the Civil Protection and local observers, rumbling or ash falls. However, residents of the village of La Piedrita indicate a low sulfur smell.
It has not been reported felt earthquakes associated with the volcano in the past 24 hours. Seismic vibration fluctuated between 55 and 157 RSAM units on average per hour, with an average of 123 units, with a maximum threshold of 150 units of regular occurrence.
According to recent historical activity, this behavior is part of the activity that characterizes the volcano. The MARN maintains real-time monitoring and report any changes that occur.
Source : Marn
Photo : MARN/EPA
Lokon-Empung , Indonesia :
Evaluation:
Based on visual observations of activity, the Mount Lokon was observed emitting thick white smoke diffuses up to a height of 25-250 m.
Seismicity of Lokon is dominated by continuous tremors, volcanic earthquakes, earthquake swarms (VB) and emission tremors. During the period from 30 December 2015 to 7 January 2016, seismicity has tended to fluctuate .The volcanic earthquakes shallow (VB) have increased significantly since January 3, 2016, recording a total of 37 episodes per day, which shows that the volcanic activity comes to the surface. The possibility of great volcanic eruption of energy is increasing. The increased incidence of seismicity in shallow areas is usually transmitted directly as an éruption. The amplitude of tremor shows a relatively constant value of 0.5 to 6 mm. The  RSAM data showed an increase from January 3, 2016 which did not persist and even returned to fluctuating values ​​of the beginning. During the period of 30 December 2015 to 7 January 2016 they have not shown a significant increase of energy.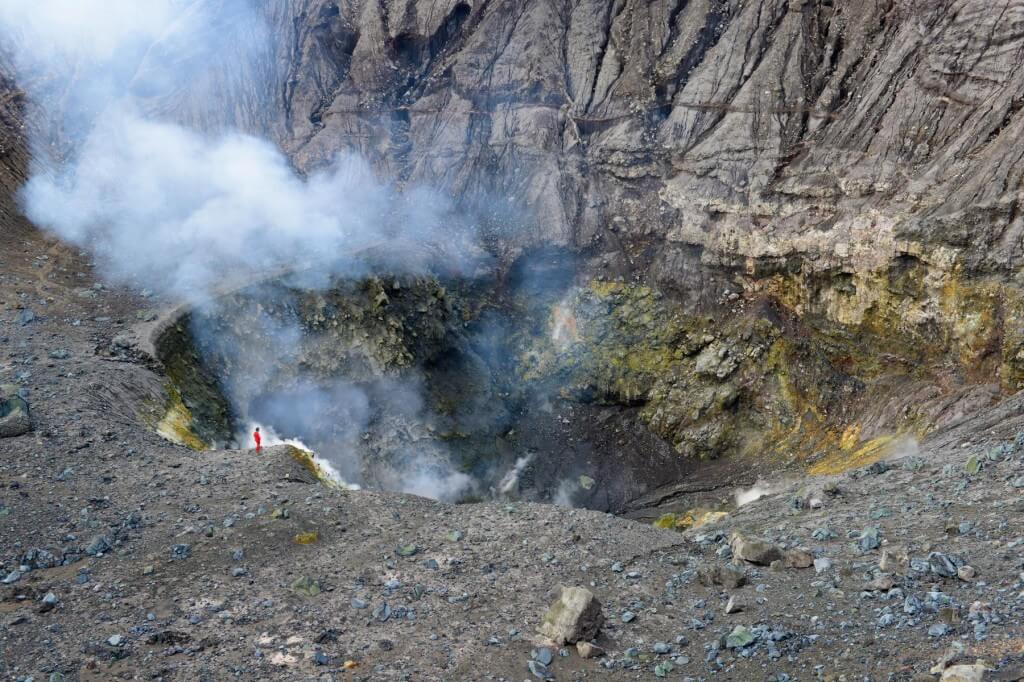 Conclusion:
The potential of eruption danger is still there, but it is impossible to predict when and with what intensity.
This danger of eruption of Mount Lokon currently take the form of emission of volcanic ash that will propagate depending on the wind direction and speed.
Based on visual observations, seismicity, SSAM values and potential threats of eruption of Mount Lokon dated from January 7, 2016 at 18:00, the level of volcanic activity of Lokon is at LEVEL III (Siaga).
Intensive monitoring is ongoing to evaluate the activity of Lokon. The socialization of the danger of eruption of Mount Lokon is intensively pursued so that people around the volcano can get the latest information of Lokon activity.
If there is a decrease / increase change in the volcanic activity of Mount Lokon significantly, the activity level can be lowered / raised in accordance with the level of activity.
Source : VSI.
Photos : P Crochet , Diving Lembeh – Divers Lodge Lembeh
Nevados de

Chillán

, Chile :
Chillán volcano erupts and causes evacuation in southern Chile
January 11, 2016
The Chillán volcano, located in southern Chile, erupted on Friday, so that local authorities recommended the voluntary evacuation of about 500 tourists and banned access to foothills.
« About 500 people were evacuated from their own will. Yellow warning and prohibition of approaching a kilometer radius is maintained, » said the director of the Center for Early Warning of the National Emergency Office (Onemi), Miguel Ortiz.
According to a report by the Volcano Observatory of the Southern Andes (OVDAS) of the National Service of Geology and Mining (SERNAGEOMIN), « it has filed a pulse of short duration of ash from the Volcanic Complex of Nevados de Chillan« .
Also, the agency warns that possibly occurring of new ash emissions, thus maintaining the level of technical alert level to yellow for Pinto and Coihueco communities , the Bio Bio region, which is in force since December 31, 2015.
Source : Sinapred .