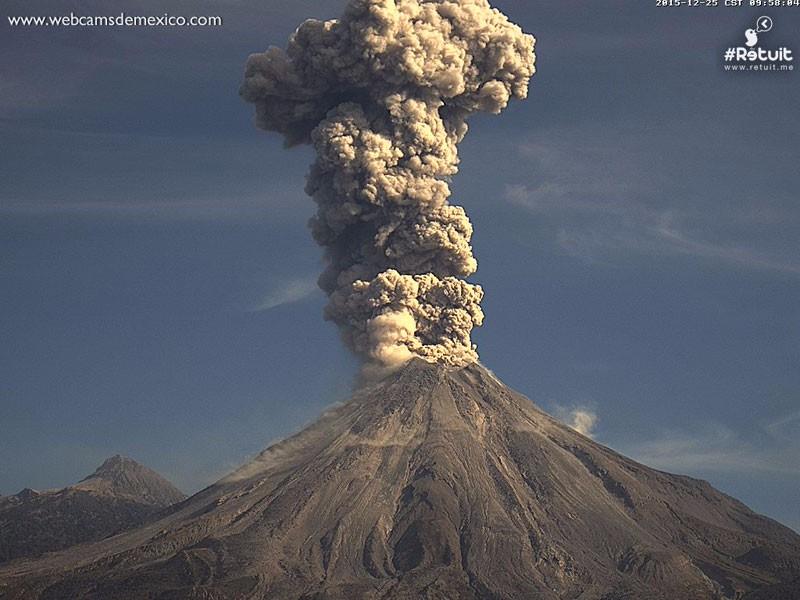 December 27, 2015. EN. Bárðarbunga , Colima , Zhupanovsky .
December 27, 2015.
Bárðarbunga

, Iceland  :
We Icelanders may have taken a Christmas break from our usual routines, but at the now-famous Bárðarbunga volcano it seems to be a case of 'business as usual' with another two 3+ tremors this morning.
The first hit at 2:32 this morning, followed by another at 4:51, and both measured 3.3 in magnitude. This is according to data from the Icelandic Met Office.
Seismic activity at Bárðarbunga has been on the rise since mid-September, likely indicating a build-up of magma in the caldera.
Most recent models suggest that the build-up phase could take some time and that an eruption is not imminent. The site is nevertheless now under day-and-night surveillance at the IMO.
Bárðarbunga is at the center of a 200 km (124 mi) long volcanic system, one of the largest on the planet. The 10 km (6,2 mi) wide caldera is located underneath a 600 to 850-meter (1,968 to 2,788 ft.) thick ice cap in Vatnajökull glacier.
The eruption was in an ice free zone about 41 km (25.5 mi) north of the caldera, and it left a new lava covering 85 square km (32.8 sq. mi). For scale, imagine an area roughly 1.5 times larger than Manhattan island covered with new 7 to 30 meters (21–90 feet) thick lava.
Source :  icelandmonitor.mbl.is
Photo : Árni Sæberg
Colima, Mexico :
The Colima Volcano was looking lively for Christmas with eruptions on Christmas Eve, Christmas Day and again today.
Yesterday's sent ash and smoke skyward to a height of 2.2 kilometers, prompting more warnings from federal Civil Protection authorities. Falling chunks of rock of up to 50 centimeters in diameter and ash are the two dangers to watch for by anyone in the vicinity of the volcano.
Civil Protection, state authorities in Jalisco and Colima and the University of Colima maintain ongoing monitoring of the active volcano, also known as the Volcano of Fire, to keep area residents informed of any danger.
In the event of ash fall, they say, a damp cloth or face mask should be used to cover the nose and mouth and the use of contact lenses should be avoided. The eyes and throat should be kept clean with pure water. The volcano straddles Jalisco and Colima and has been erupting regularly.
Source : Mexico Dailynews
Photos : Webcamsdemexico
Zhupanovsky

,

Kamchatka

:
53.589°N, 159.15°E
Elevation 2899 m
KVERT reported that an explosive eruption that began at Zhupanovsky on 6 June likely finished on 30 November. Only moderate levels of fumarolic activity was observed in early-to-mid December. On 17 December the Aviation Color Code was lowered to Green.
The Zhupanovsky volcanic massif consists of four overlapping stratovolcanoes along a WNW-trending ridge. The elongated volcanic complex was constructed within a Pliocene-early Pleistocene caldera whose rim is exposed only on the eastern side. Three of the stratovolcanoes were built during the Pleistocene, the fourth is Holocene in age and was the source of all of Zhupanovsky's historical eruptions. An early Holocene stage of frequent moderate and weak eruptions from 7000 to 5000 years before present (BP) was succeeded by a period of infrequent larger eruptions that produced pyroclastic flows. The last major eruption took place about 800-900 years BP. Historical eruptions have consisted of relatively minor explosions from the third cone.
Source:  KVERT , GVP.
Photo : S. Samoilenko , IVS, FEB , RAS