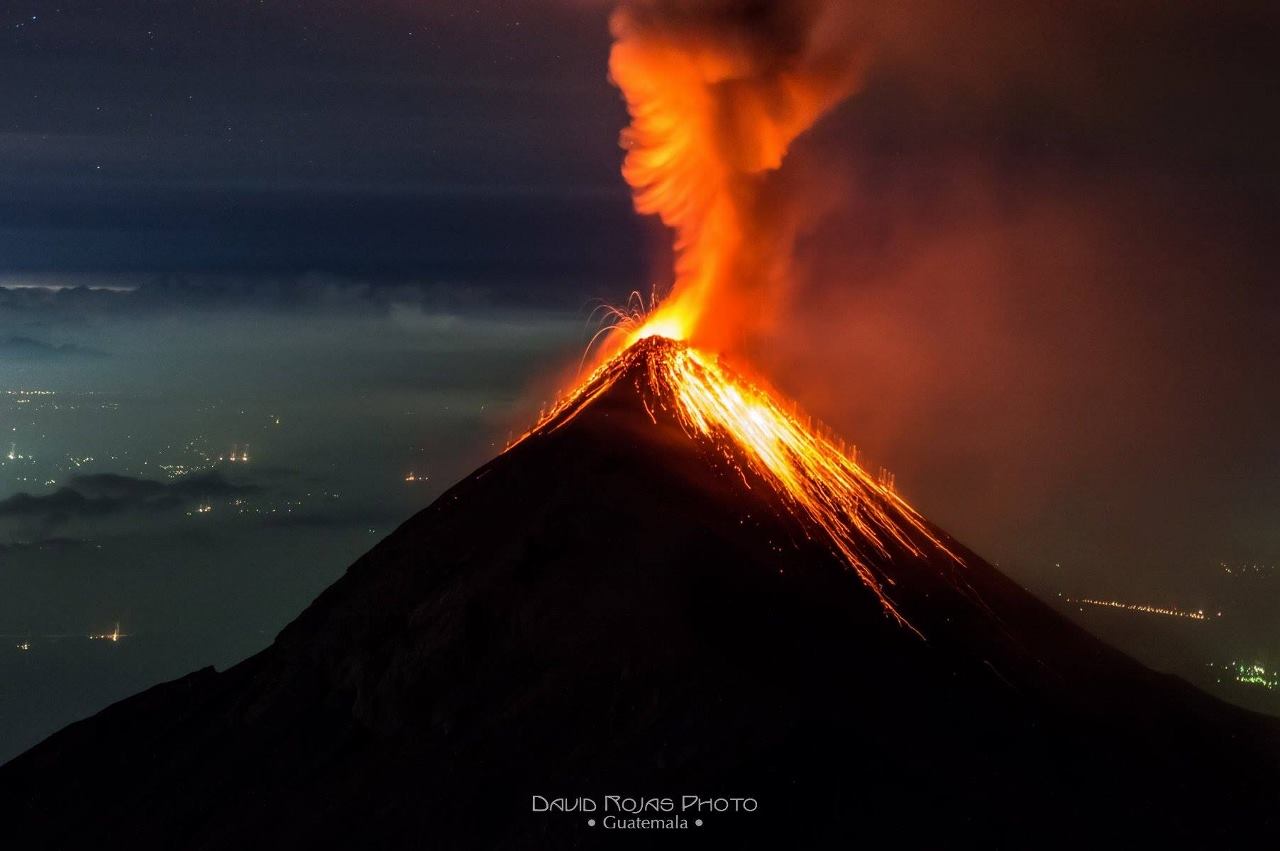 December 17, 2015. EN. Fuego, Momotombo, Egon.
December 17, 2015.
Fuego, Guatemala :

Activity type : Vulcanian
Morphology: Composite Stratovolcano
Geographical location: 14 ° 28 '54 « North Latitude, 90 ° 52 '54 » West Longitude.
Altitude: 3,763m.

The eruptive activity of the volcano Fuego, in the last hours has more and more lava effusion. At present, the lava flows towards the Canyons Trinidad, Las Lajas and Santa Teresa reach 2,000, 1,500 and 1,200 meters long, respectively. In terms of explosions and thunder, continuous and constant sounds generated by the strong degassings are similar to those of a locomotive.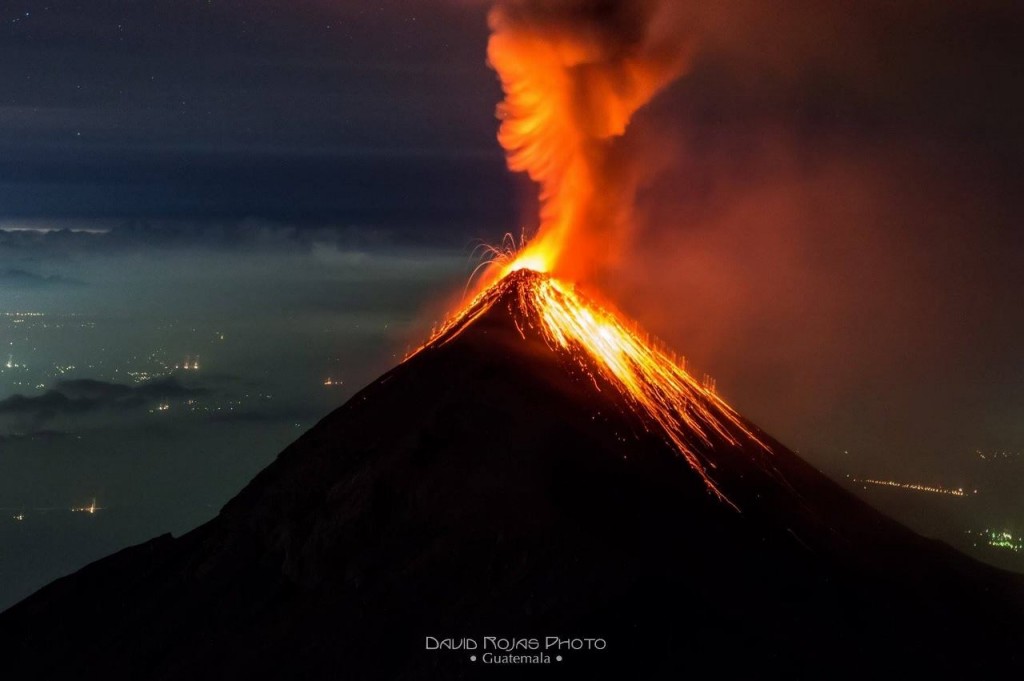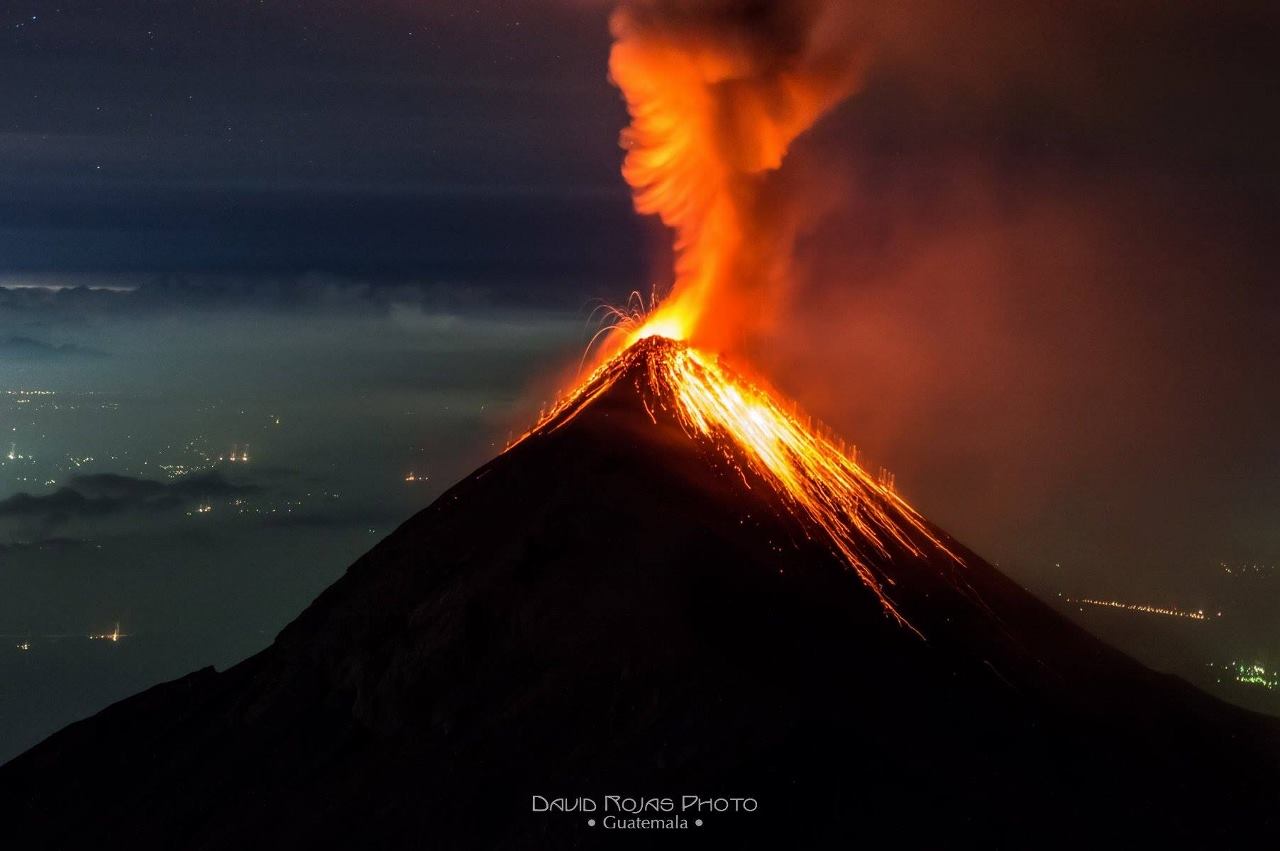 This eruption forms a column of ashes , sustained , from 6000 to 7000 m, moving toward the southwest, over a distance of 30 km . It is reported ash fall in areas of Escuintla, Santa Lucia Cotzumalguapa, Yepocapa, Morelia, Santa Sofia, and Panimache I and II. Because of this behavior, it is likely that the volcano may have greater strombolian eruption with lava flows and pyroclastic effusion generated in Trinidad and Las Lajas canyons.
Therefore INSIVUMEH  recommends to the  Conred:
– To maintain the state of alert necessary following the increase of the activity of Fuego volcano.
A civil aviation to take the necessary precautions with the air traffic following the ash cloud dispersion over a distance of 30 Km towards the West -South West.
Source : Insivumeh
Photo : David Rojas
Momotombo, Nicaragua :
VOLCANO Momotombo.
Since 12:00 yesterday until 12:00 today (December 15), they had not been registered on the Momotombo volcano explosions. However it was noted a moderate gas production, mainly from the lava dome at the moment these gases present no danger to the surrounding towns.

During this period, there was a slight increase in the micro seismic activity of Momotombo volcano, suggesting fluid movement and flow of magma under the volcano.
There was also an earthquake that was recorded in the southeast of the Momotombo volcano, on Lake Managua, of magnitude M 1.9  at 12h48  noon yesterday (14/12).
The seismic amplitude in real time (RSAM) remained at a low and stable level (currently 106 units).
Source : Ineter
Photo : Maria Cristina
Egon , Indonésia :
Based on the analysis of seismic data, observation, nature / type of eruption of G Egon, and potential dangers, from December 15, 2015, 21:00, the activity level of Gunung Egon is raised from level NORMAL (level I) to level ALERT (Waspada, Level II).
If a significant increase in volcanic activity of Egon occurs, the level will be raised.
RECOMMENDATIONS
In connection with the activity level of the Egon Alert (level II), it is recommended:
To the public / tourists to stay away from the crater and do not engage in activities within 1.5 kilometers around the summit crater of G. Egon.
If an eruption occurs, communities doing activities around the river valleys must remain vigilant to avoid the potential danger of lahars, especially during the rainy season.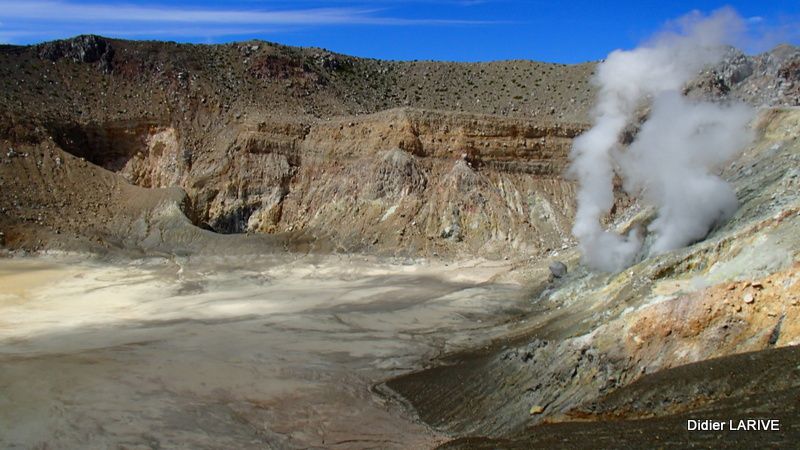 Gunung Egon volcano sits astride the narrow waist of eastern Flores Island. The barren, sparsely vegetated summit region has a 350-m-wide, 200-m-deep crater that sometimes contains a lake. Other small crater lakes occur on the flanks of the 1703-m-high volcano, which is also known as Namang. A lava dome forms the southern 1671-m-high summit. Solfataric activity occurs on the crater wall and rim and on the upper southern flank. Reports of historical eruptive activity prior to explosive eruptions beginning in 2004 were inconclusive. A column of « smoke » was often observed above the summit during 1888-1891 and in 1892. Strong « smoke » emission in 1907 reported by Sapper (1917) was considered by the Catalog of Active Volcanoes of the World (Neumann van Padang, 1951) to be an historical eruption, but Kemmerling (1929) noted that this was likely confused with an eruption on the same date and time from Lewotobi Lakilaki volcano.

Source : VSI, GVP.
Photo : D Larive.