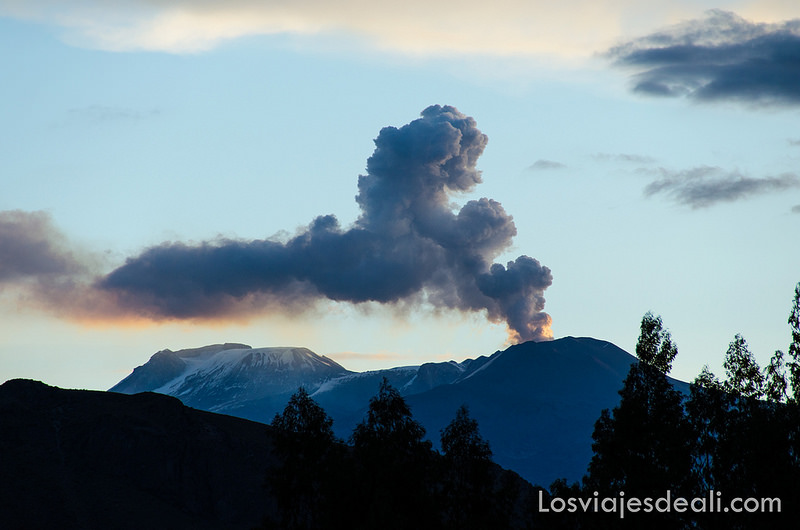 December 11, 2015. EN. Kanlaon , Momotombo, Sabancaya.
December 11, 2015.
Kanlaon, Philippines :
BULLETIN 11 December 2015 8:00 AM
Kanlaon Volcano seismic network detected four (4) volcanic earthquakes during the past 24 hours. Two (2) of these volcanic earthquakes were accompanied by a low-energy ash eruption at 5:13 A.M today which lasted for one minute based on visual observation. This produced a grayish to dirty-white cloud of ash reaching a height of 600m which then drifted southwest. Traces of ash were observed at San Jose, La Castellana on the southwest slope of Kanlaon Volcano.
Alert Level 1 status remains in effect over Kanlaon Volcano, which means that it is at an abnormal condition and is in a period of current unrest. The local government units and the public are reminded that entry into the 4-kilometer radius Permanent Danger Zone (PDZ) is strictly prohibited due to the further possibilities of sudden and hazardous steam-driven or phreatic eruptions.
Civil aviation authorities must also advise pilots to avoid flying close to the volcano's summit as airborne ash from a sudden eruption can be hazardous to aircraft. DOST-PHIVOLCS is closely monitoring Kanlaon Volcano's activity and any new development will be relayed to all concerned.
Source : DOST-PHIVOLCS
Photo : Jigz, Experiencenegros.
Momotombo, Nicaragua :

It reduced his volcanic activity, significantly reducing the output of gases, ash and lava. Seismic amplitude values ​​in real time (RSAM) are kept low and stable, but the eruptive activity of the Momotombo is not over yet , so that new explosions can occur at any time, even with expulsion of lava.
Formation of a volcanic dyke and a lava dome:
The specialists of the Nicaraguan Institute of Territorial Studies (INETER) conducted field studies during which they identified that the lava ejected during the first three days of this eruptive phase (between 1 and 4 December) has formed a lava dome on the volcano's crater floor, completely covering the crater.
This lava is rich in silica and therefore viscous and produces a bulbous mass called dome. This phenomenon is being studied to determine if the dome is growing.
« We want to explain that the dome is caused by the slow eruption of lava, this does not allow the lava to flow away from the crater, which is why the lava becomes solid on the volcano. The domes can develop over time and take more and more height. The concentration of gases and temperatures may cause the explosion of the dome and eject pyroclastic material, in a stronger eruptions « .
« It should be noted that at 1:50 p.m. local time (7:50 p.m. GMT) on Monday, it was an explosion that destroyed the southern part of the lava dome,«  experts said.

During field studies, it was found that on December 6 in the morning, was formed a circular aperture of a few meters in diameter halfway up the eastern flank of the volcano, because of a rise of a cylindrical  magmatic body  known as « volcanic dyke » that broke the volcano wall without going out. It was observed through this aperture the output of volcanic gases and incandescent materials, which indicates that it is possible that if the lava emission is reactivated, the dam may be expelled on the flanks of the volcano facilitating the flow of lava over a greater distance.
Explosions could blow the material accumulated in the dome and in addition to other explosions and lava emissions may occur. So the same level of risk remains and it is recommended not to approach the base of the volcano.
 
Source : Ineter / Avcan
Photos : La Prensa , Jaime M Chamorro.
Sabancaya, Perou :
The overall activity of Sabancaya remains at low levels in major seismic and satellite monitoring parameters. However, increased activity of VTP event type (associated with solid fracturing) in the last two days is observed. The average of seismic events for this period are: 73 LPs / day, 19 VTP and 7 Tremor / day. On the other hand, there have been significant proximal events in the northeast sector of the volcano crater, as a distal event , VT type  , maximum magnitude M4,5, located 9 km from the crater.
The number of recorded events of proximal   volcano tectonic , VTP type have increased on average with 19 VTP / day.   52 events VTP were localized, one of them of magnitude 3.9 M, which was held on December 8 at 7:53 p.m. UTC.
Sabancaya continues to emit steam and magmatic gases regularly. The maximum height of fumaroles showed emissions between 800 and 1600 meters above the crater. He could be discerned whitish fumaroles (steam) and sporadic emissions bluish (magmatic gases).
The satellite monitoring of the density of SO2 and thermal anomalies showed no significant values.
Source : IGP
Photo : Losviajesdeali.