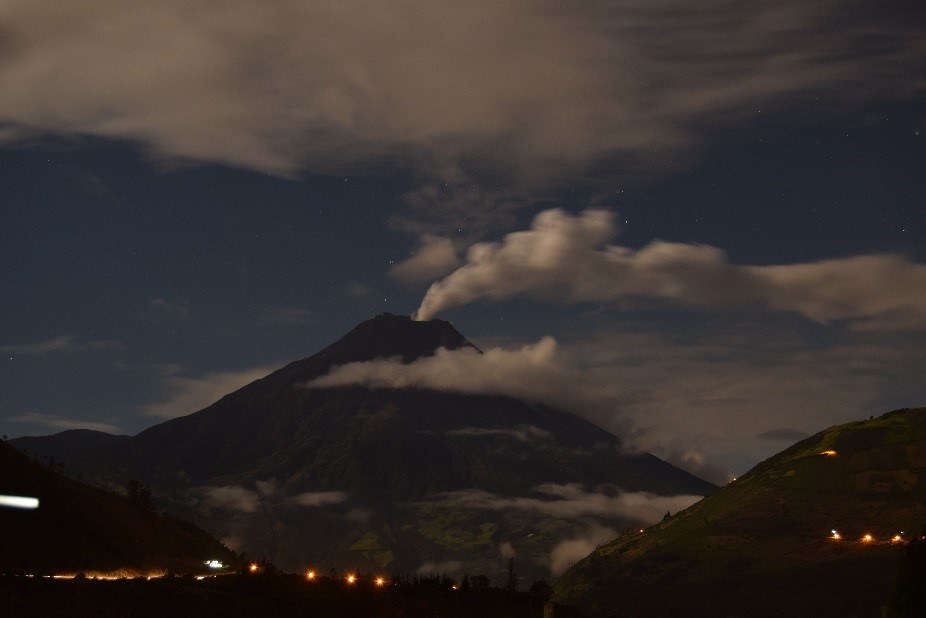 December 01, 2015. EN. Tungurahua , Zao, Karymsky .
December 01, 2015.
Tungurahua, Ecuador :
Increase of internal activity.

After what has been reported in the last newsletter of the Tungurahua volcano, No. 19, published on November 11, 2015, the activity showed a significant increase compared to the numbers of events in the preceding week. At a superficial level, it s' is expressed by continuous ash emissions mainly to the Southwest and Northwest. This caused one of the biggest ash fall since 2010, affecting many cities , agriculture and livestock. Based on this activity, the SGR has declared an orange alert in these areas.
From 19:00 (local time) Tuesday, November 24, was recorded a swarm of earthquakes LP type (fluid movements), accompanied by tremor of emission, which began at 21:00 (TL) and lasted about an hour. At the surface, a continuous emission of water vapor and gas with a very low ash content was observed. This issue did not exceed 800 m above the crater and headed westward through the action of winds.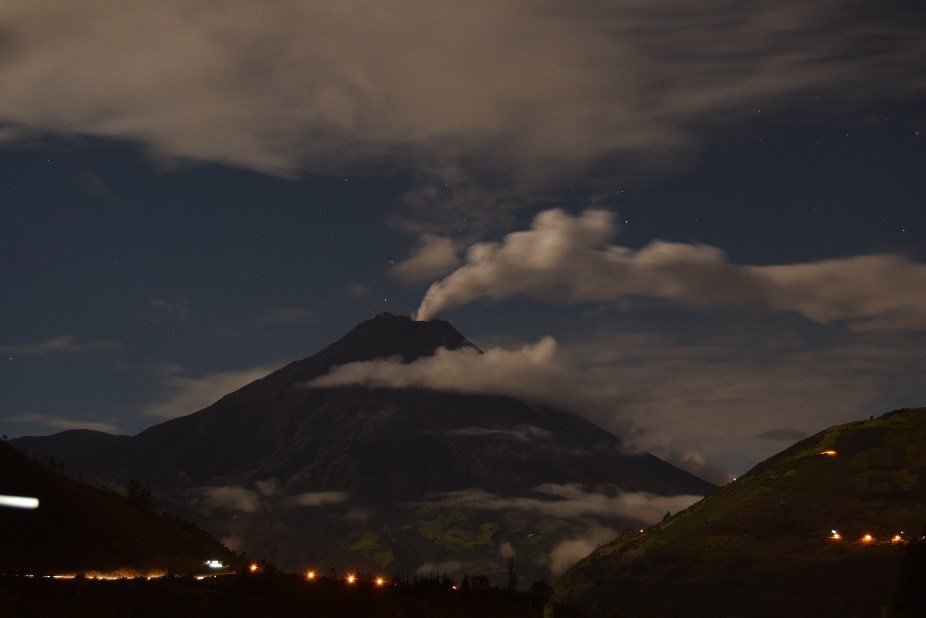 Figure

1.

Emission of

continuous steam

of water

and gas

headed west

.

Photography

:

Vásconez

F.

–

IG /

OVT

,

11.24.2015

)

.
From
1:00
(local time)
today
,
it was clearly
noted an increase
in the number
and magnitude
of
LP type
earthquakes.
The same
situation continued
until the end
of this report.
There were
approximately
582
events,
with an average of
34
events per hour
recorded at
11:00
am.
This remarkable

increase

of the inner

volcanic activity

is related to the

continuous

movement

of

fluid

(

gas

and

magma

)

and

is recorded

mainly

by

the

seismic

station

near the crater

, which

can be described as

a shallow

internal

activity

.

However, this increase

has not

resulted in a change

in

the surface activity

,

which maintains a

column of steam

at the

crater

,

little

energetic

, consisting of

water vapor

and gas.
It is expected that
if
a fluid
elevation
(
optionally
magma
)
into the conduit
, it may
produce
variable
size
explosions,
whose
energy
and vibration levels
would be
rising sharply
.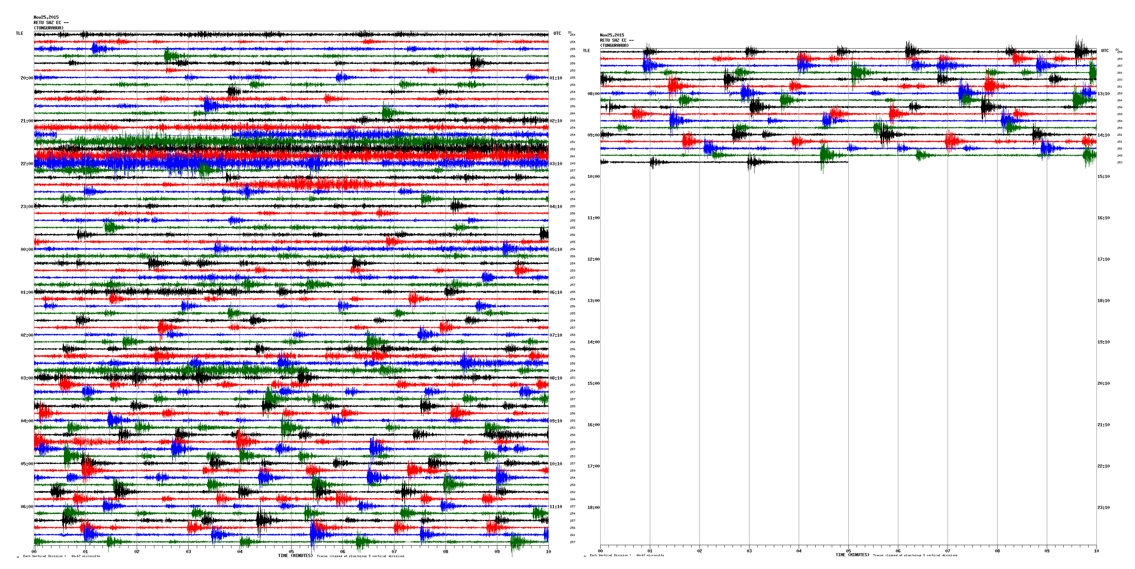 Therefore, the Geophysical Institute, from early morning reported the increase in activity to authorities, to SGR and observers of the volcano Tungurahua (community leaders) to keep an eye on changes that may occur .
The Geophysical Institute maintains a permanent monitoring of the evolution of the activity of the Tungurahua volcano, any level of internal changes or surface activity will be presented in a new report.
Source : IGEPN
Photo : José Luis Espinosa Naranjo . Vásconez F
Zao, Honshu, Japan :
Signs of unrest have been reported from the volcano. According to a news article, new episodes of volcanic tremor were detected under the volcano recently, believed to be signs of increased internal fluid movements.
No volcanic earthquakes or significant deformation of the volcanic edifice have been recorded, that could suggest new magma rising, and currently, no eruption is expected to be likely in the near future. However, the volcano will now be observed with increased vigilance.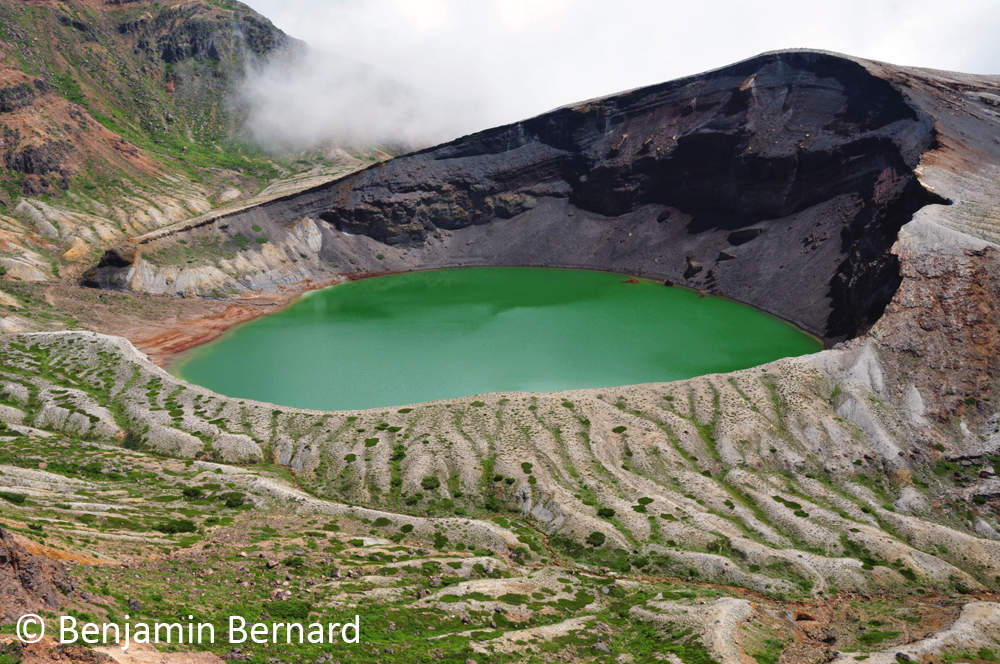 The Zaozan volcano group, the most active of northern Honshu, consists of a complex cluster of stratovolcanoes straddling the Pacific Ocean-Japan Sea divide. The Pleistocene Ryuzan volcano forms the western group (Nishi-Zao), and Byobu and Fubo volcanoes form the southern group (Minami-Zao). The complex was constructed over granitic basement rocks as high as 1500 m and thus has a relatively small volume. The 7 cu km Zaozan volcano proper forms the central group (Chuo-Zao), a volcanic complex topped by several lava domes and the Goshikidake tuff cone, aligned along a NW-SE trend. Several episodes of edifice collapse produced debris avalanches during the Pleistocene. Goshikidake contains the active Okama crater, filled with a colorful, strongly acidic crater lake (pH 1.3). It has been the source of most of the frequent historical eruptions, which date back to the 8th century CE.

Source : nhk.or.jp , GVP , Volcanodiscovery.
Photo : B. Bernard.
Karymsky, Kamchatka :
54.05 N, 159,44 E;
Summit : 4874 pi (1 486 m)
Aviation colour code : ORANGE
According to AMC Elizovo data (pilots report), explosions sent ash up to 7.5 km a.s.l. from Karymsky volcano at 0355 UTC on November 30, 2015. Ash plume extended to the east-southeast of the volcano.


Moderate eruptive activity of the volcano continues. Ash explosions up to 19,700-23,000 ft (6-7 km) a.s.l. could occur at any time. Ongoing activity could affect low-flying aircraft.
Karymsky is one of the most active volcanoes of the Eastern zone. The eruptive style is represented with explosive and explosive-effusive eruptions. The major type of eruptions is Vulcanian, at some periods – Vulcanian-Strombolian.

Source : Kvert.
Photo : Telegraph.co.