August 31, 2015. English. Lokon – Empung, Taal , Popocatepetl .
August 31, 2015.
Lokon – Empung, Indonesia :
Mt. Lokon Ash Cloud Prompts Manado Airport Closure.
Officials at a key North Sulawesi airport were forced to shut down operations on Sunday after a 1,580-meter volcano erupted on Saturday, sending ash into the skies and hampering visibility.
Mount Lokon erupted on Saturday at around 11.50 p.m. local time and gushed volcanic ash across northern and northeastern areas of Sulawesi, forcing officials to close down Manado's Sam Ratulangi International Airport.
« We're closing down the airport until 1 p.m., » Ilham Sakti, spokesman of state-owned airport operator Angkasa Pura I, which runs the Manado airport, was quoted as saying on Sunday by news portal Bisnis.com. Ash clouds were hampering visibility on runways and in the skies, Ilham said.
Thousands of passengers were reportedly stuck at the airport due to the sudden closure, waiting for further information.
Weather: Bright, light winds from the south.
Visual: Rising from the crater, thick white smoke was observed, ranging from 100 to 200m.
Seismicity:
2 Tectoniques distant events, max amplitude between 5-21 mm, 70-90 sec duration.
5 shallow of volcanic events, maximum amplitude between 5 and 21 mm, length 3-6 sec.
6 events of volcanic emissions, max amplitude between 4-41 mm, 5-28 sec duration.
Tremor max amplitude 0.5 to 3 mm, DOM 1 mm.
Conclusions:
A volcanic seismicity and emission puffs are still registered. The level of activity of G. Lokon is on Alert Level 3 (Siaga). A safety zone has been established within 2.5 km around the crater Tompaluan.
Source : Jakarta Globe , Pvmbg.
Photo : Antara  ( 2011)
Taal, Philippines : 
TAAL VOLCANO BULLETIN 31 August 2015 8:00 A.M.
Taal Volcano's seismic monitoring network recorded two (2) volcanic earthquakes during the past 24 hours. Field measurements conducted on 27 August 2015 at the western sector of the Main Crater Lake yielded a decrease in water temperature from 33.3°C to 33.1°C, an increase in water level from 0.32 to 0.49 meter, and a decrease in acidity from pH 3.08 to 3.18.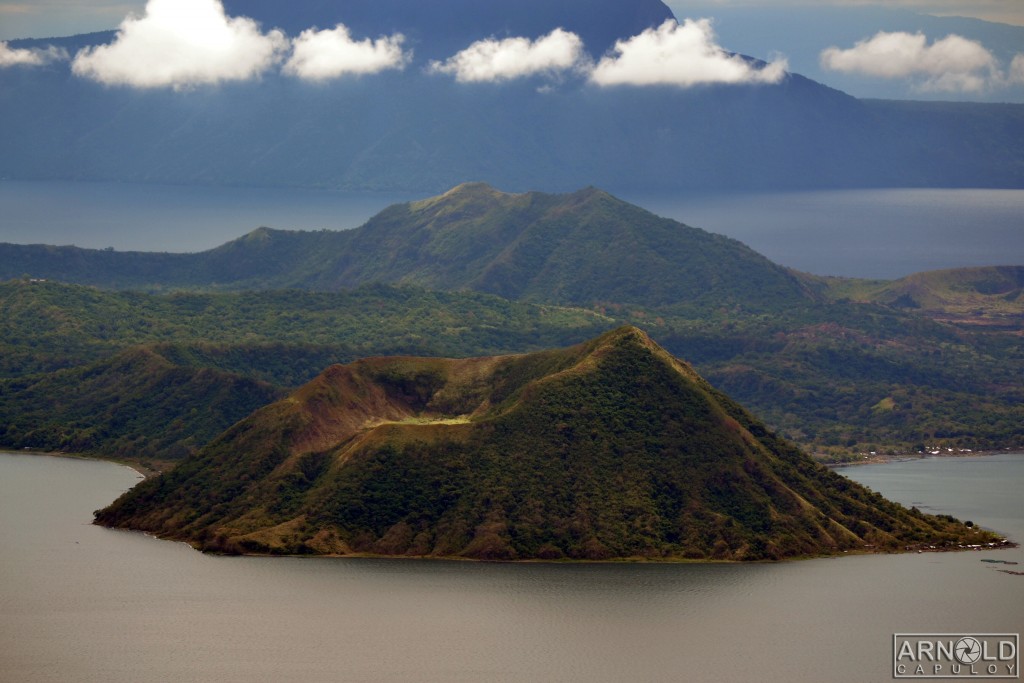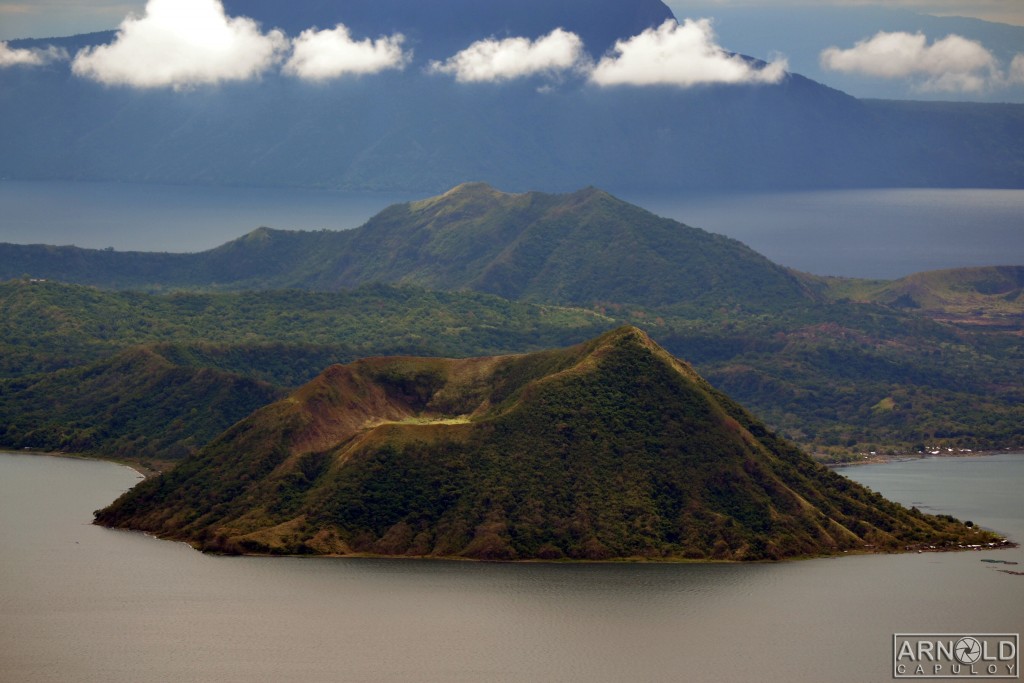 Ground deformation measurements through precise leveling surveys on May 25 to June 3, 2015 indicated slight inflation of the edifice compared to February – March 2015. Ground deformation measurements from GPS data also indicate an inflationary trend since May 2014, with the edifice being slightly inflated compared to February 2011 baseline data. Carbon dioxide (CO2) emission at the Main Crater Lake increased from 1634 tonnes/day in April 2015 to 2300 tonnes/day in July 2015.
Alert Level 1 remains in effect over Taal Volcano.
Source : Phivolcs .
Photo : A Capulo.
Popocatepetl, Mexique :
August 30, 11:00 h (August 30, 16:00 GMT)
In the last 24 hours the seismic records of the surveillance system of Popocatepetl volcano registered 12 low-intensity exhalations, also was registered today one explosion occurred at 10:10 h. Due to the weather condition was not be possible to observed the volcano.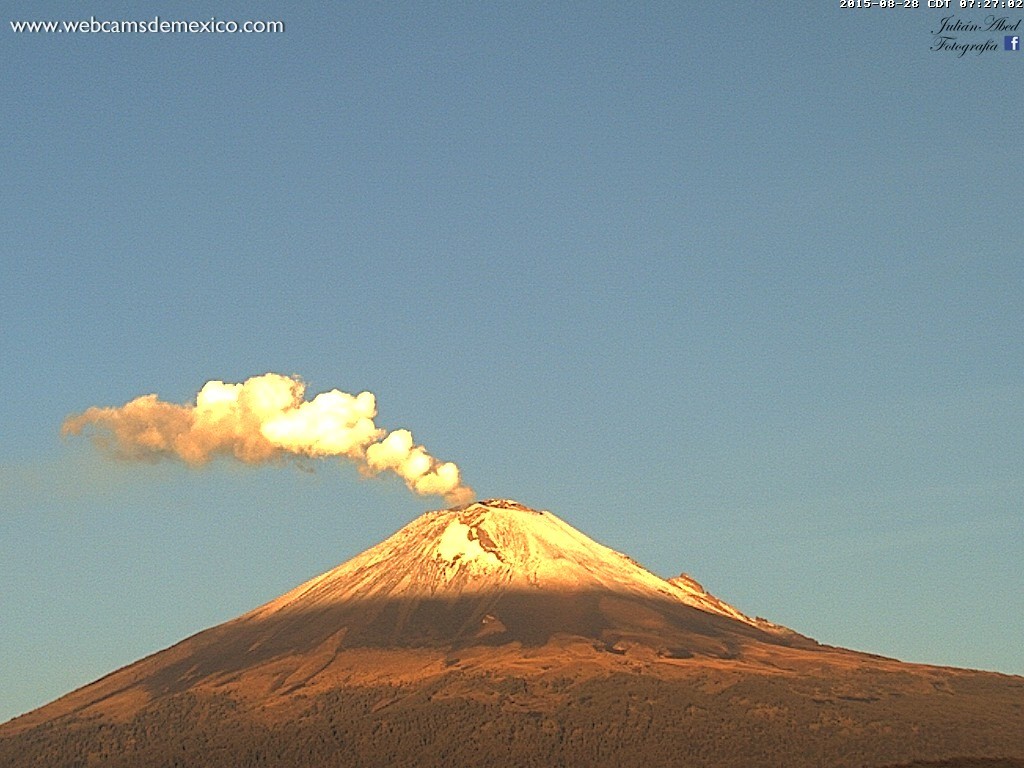 Also, during this night was observed incandescence over the crater .
From this morning was observed the volcano with continuous emission of steam and gas .
CENAPRED emphasizes that people SHOULD NOT go near the volcano,
Source : Cenapred .
Photo : Webcamdemexico