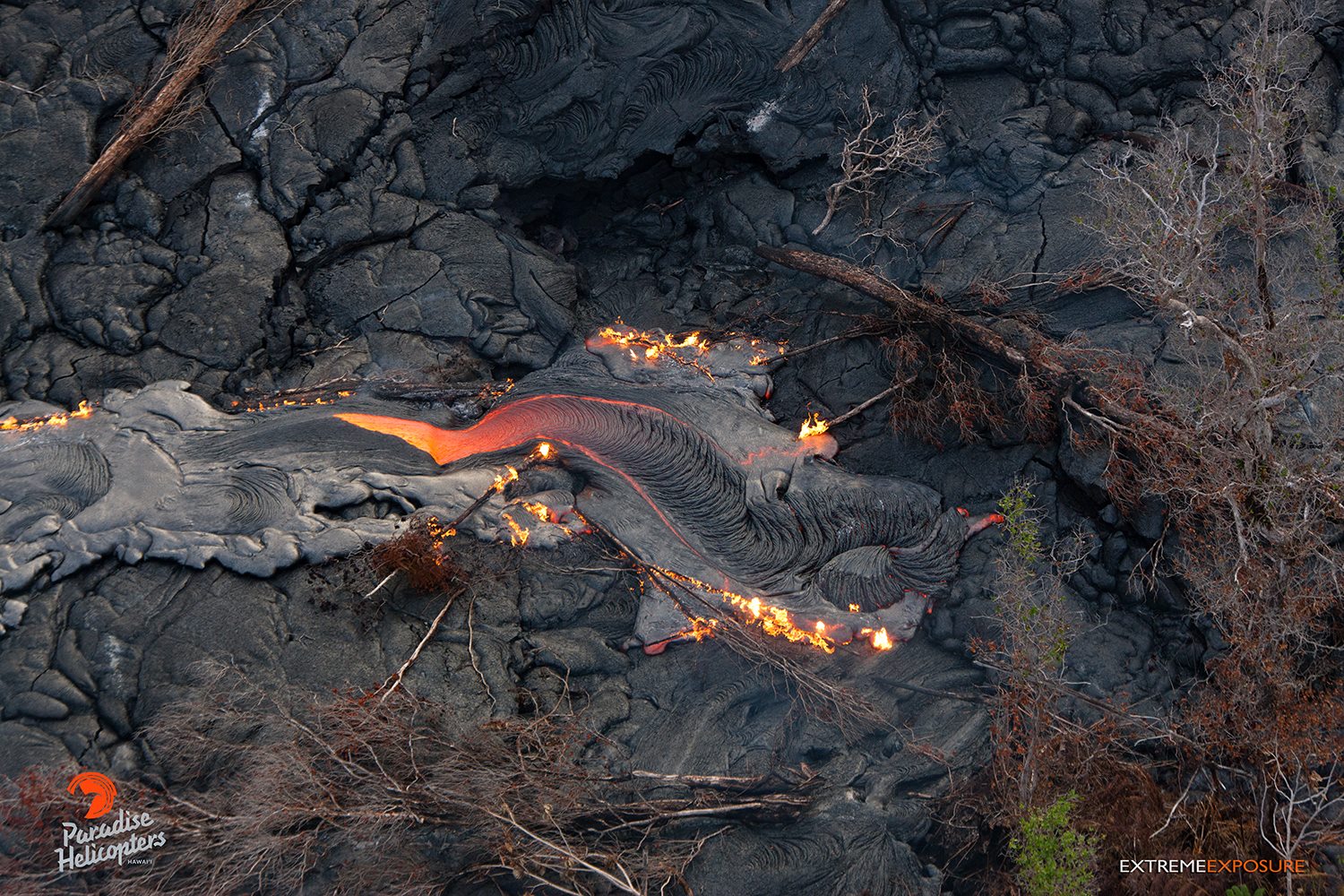 August 12, 2015. English . Kilauea, Sabancaya, Ubinas .
August 12, 2015.
Kilauea, Hawai .
19 ° 25'16 « N 155 ° 17'13 » W,

Summit Elevation 4091 ft (1247 m)
Current Volcano Alert Level: WATCH
Current Aviation Color Code: ORANGE
Activity Summary:
Kilauea summit tilt began a new deflationary episode yesterday just before noon, and the trend is continuing this morning. The summit lava lake remains active, and the level dropped 11 m (36 ft) with the deflation. The East Rift Zone lava flow is active northeast of Pu'u 'O'o, and all breakouts remain within 8 km (5 mi) of the vent. The flow does not currently pose a threat to communities. Low levels of seismic activity continue across the volcano.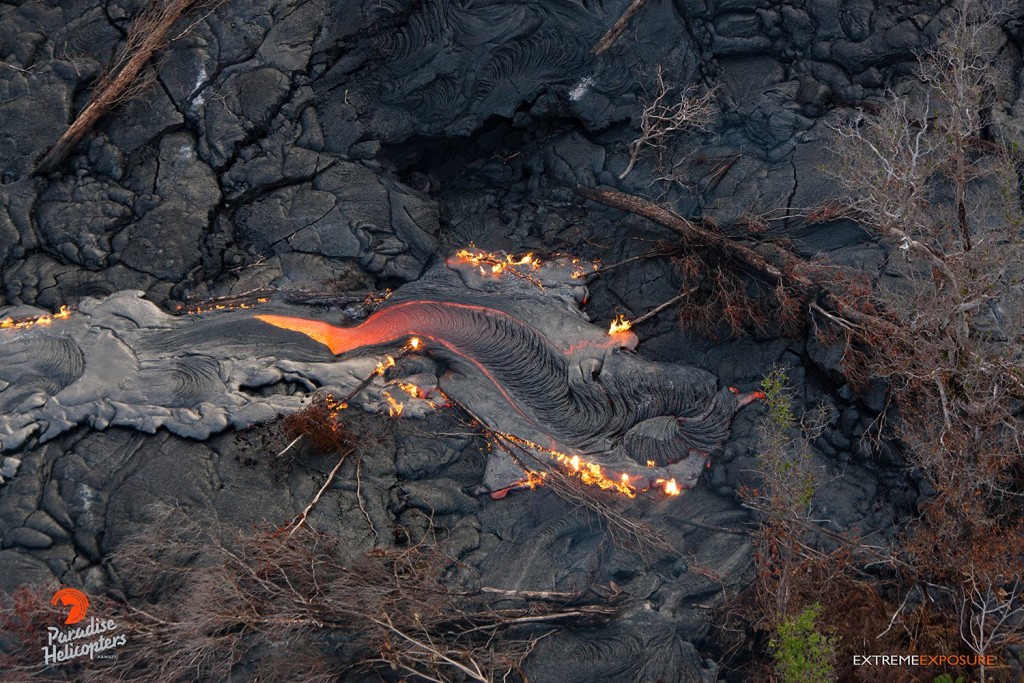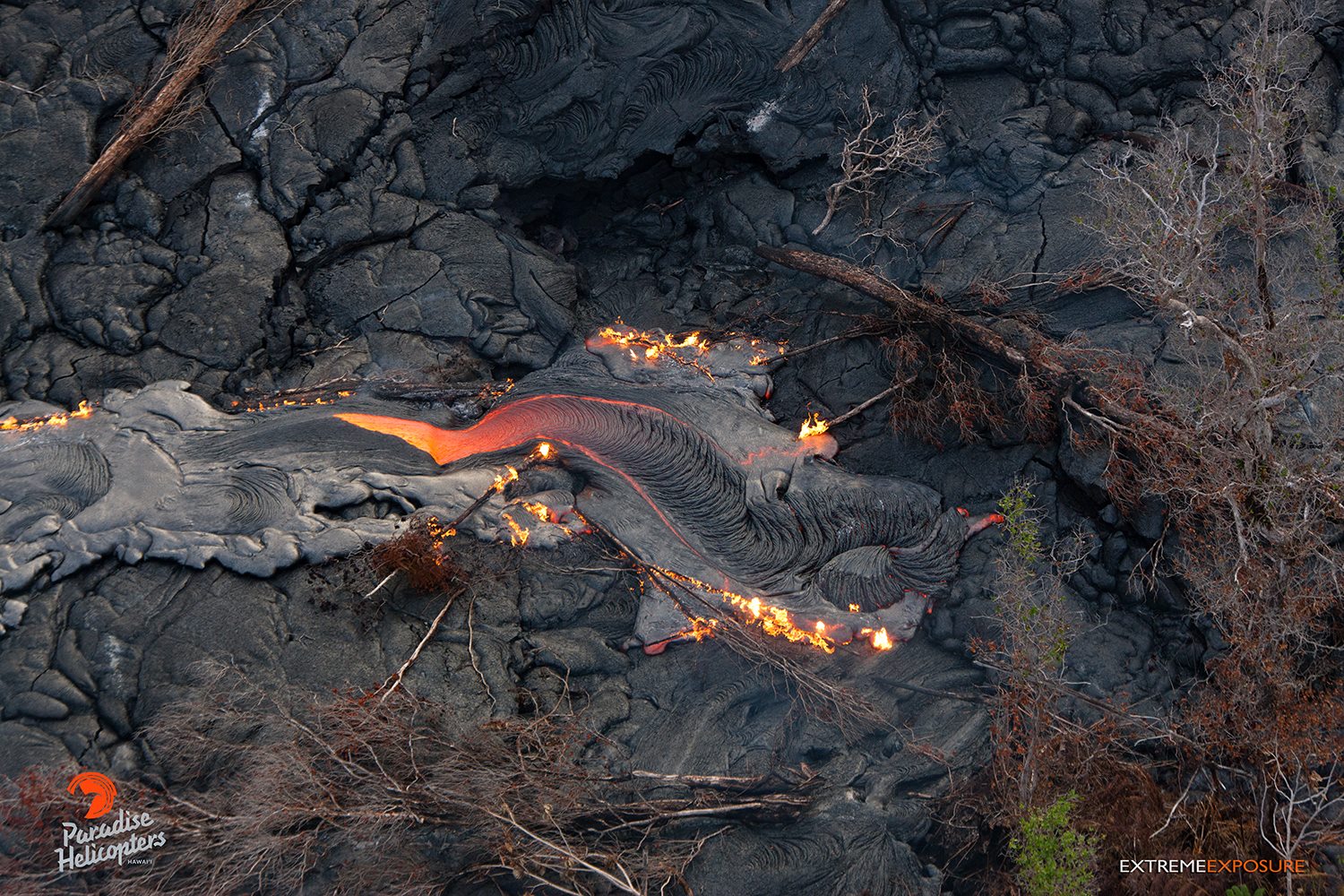 A lava lobe begins to consume the fallen trees lying on a recent flow.

Summit Observations:
Tiltmeters at Kilauea's summit recorded another deflationary episode during the past day, and the deflation continues this morning. The summit lava lake remains active, and the lake level dropped about 11 m (36 ft) between about noon on August 10 and 7:45 am on August 11. The lake level was 63 m (207 ft) below the Overlook crater rim this morning. Seismicity remains at low levels. Summit sulfur dioxide emission rates ranged from 2,600 to 5,500 metric tons/day for the week ending July 28.
Pu'u 'O'o Observations:
Webcam views of Pu'u 'O'o during the past day showed no changes in the persistent incandescent crater vents. Seismic activity remains low. The sulfur dioxide emission rate from all East Rift Zone vents was about 500 tonnes/day when measurements were last possible on July 23, 2015.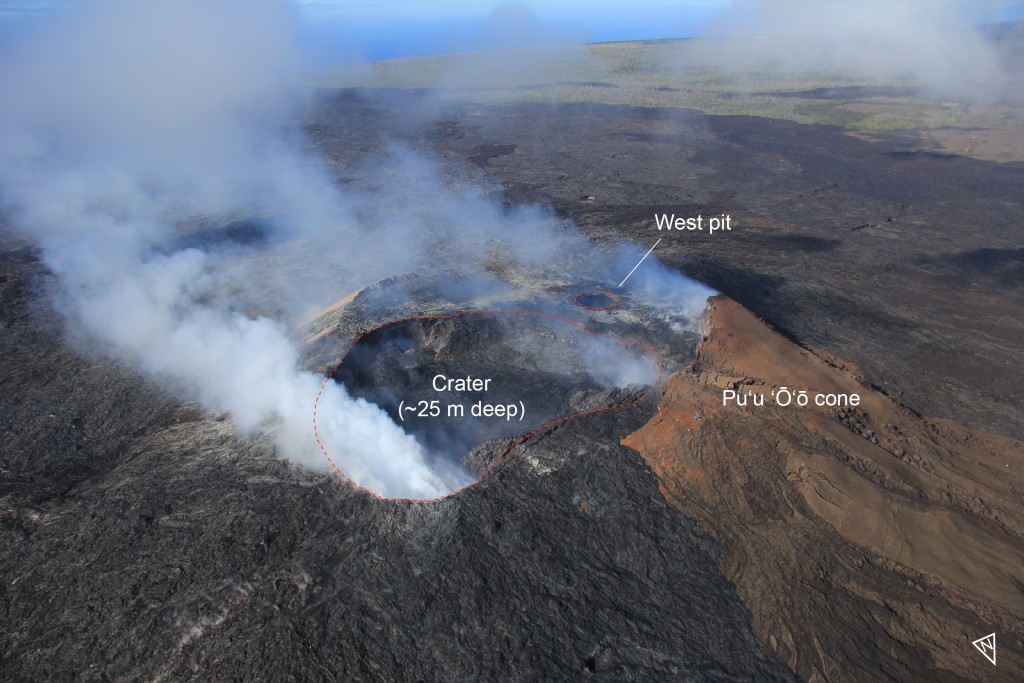 High aerial view of Pu'u 'O'o, looking south-southwest. The current crater at Pu'u 'O'o is about 280 m (~920 ft) long and 230 m (~755 ft) wide, with a depth of about 25 m (~82 ft). To the west of the crater is another pit 49 m (~161 ft) across that contains a small lava pond.

June 27th Lava Flow Observations:
Webcam views overnight show continued activity on the flow field. The June 27th lava flow is active, with surface flows scattered in 3 areas northeast and east of Pu'u 'O'o. As mapped during an overflight of the flow field on August 4, all active flows are within 8 km (5 mi) of Pu'u 'O'o. Location of the most distant flows are marked by smoke plumes that are produced where they are creeping into the forest and burning vegetation.
Source: HVO
Photo: Bruce Omori, HVO.
Sabancaya, Perou .
During this period, earthquakes fracture -type, located less than 6 kilometers from the crater (called VTP or proximal volcano tectonic) showed an average rate of 11 VTP / day with a maximum peak power on 8 August (84 MJ ). The rate of hybrid-type events have reached a peak of 18 events with 1053 MJ on August 5, but declined in the following days.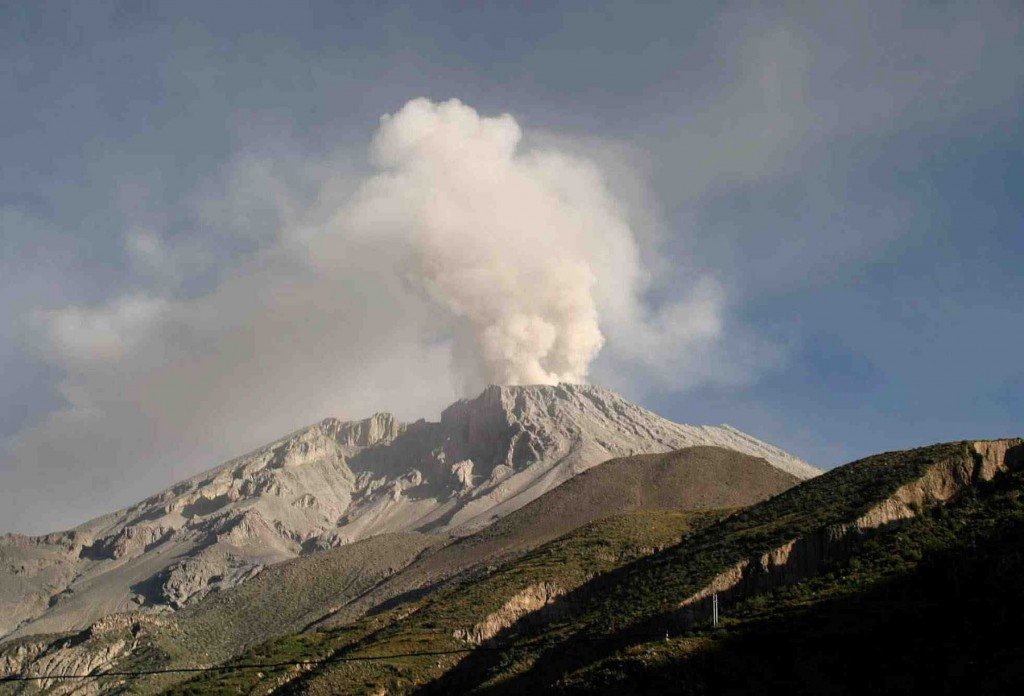 LP seismicity continued to increase for three consecutive periods, recording an average of 99 LP / day (previously, it was 72 LP / day). The maximum height of fumaroles, compared to the previous period decreased in general, and were observed up to 1500 meters above the crater. It was distinguishable whitish gas (water vapor) and sporadic emissions of blue stains (magmatic gases). During this period, it was not detected any type of thermal anomaly or, density variation in SO2 emissions.
Source : IGP Perou
Photo : pachamamaradio
Ubinas, Perou .
As in the previous week, the number and energy of the  earthquakes LP-type , Hybrid and VT have remained similar to those recorded in the values of the previous period. However, since August 10 continuous seismic tremor is registered, persisting until the end of this report, accumulating 36 hours of recording.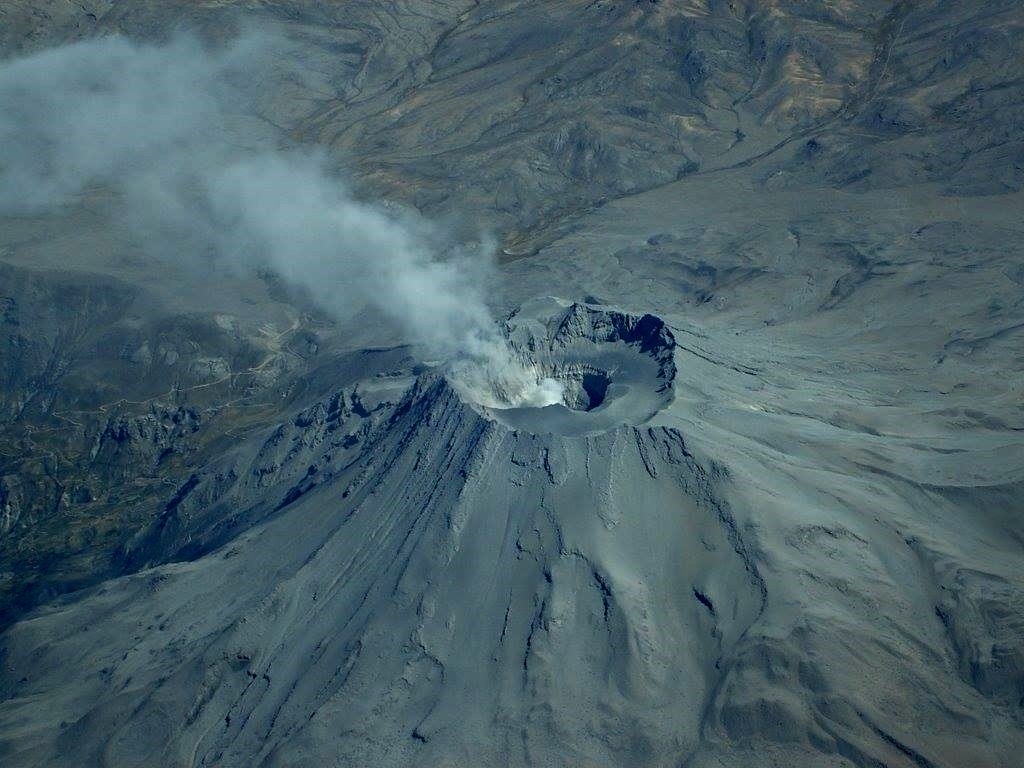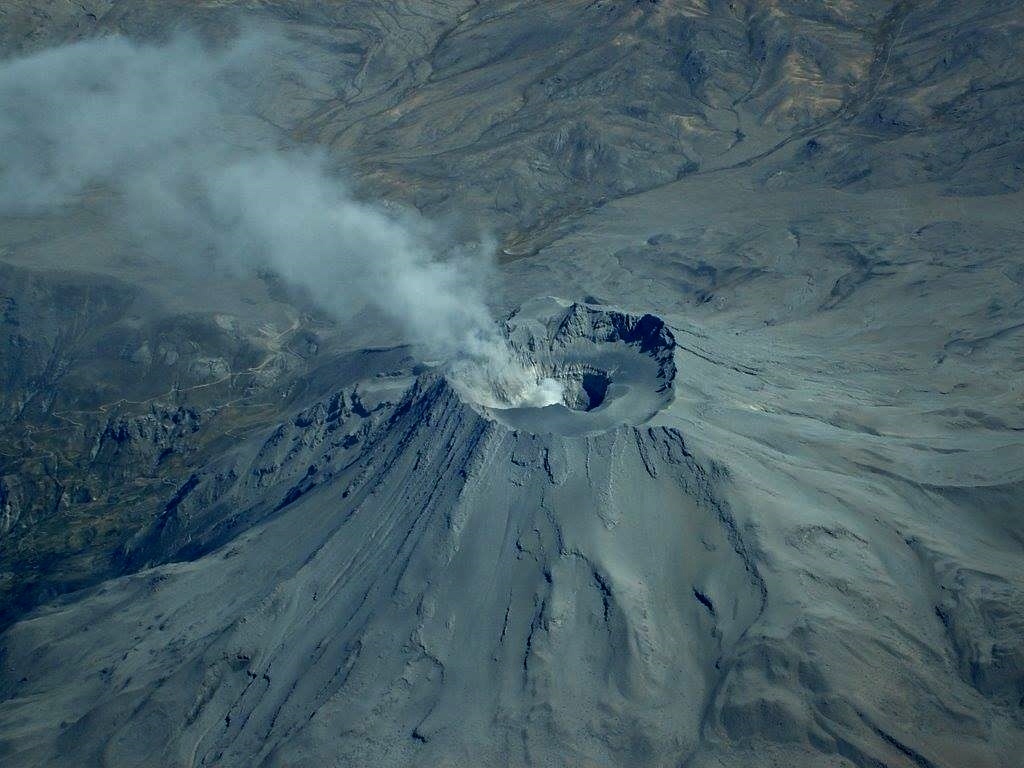 The Mirova system detected two thermal anomalies of 1.5 and 2.0 megawatts the 08 and 11 August. Similarly, the Geological Survey of Japan released two satellite images, thermal infrared kind showing the presence of hot spots in the crater of the volcano Ubinas. These images were acquired the 05 and August 6 All this indicates the presence of a small magmatic body in the crater. This activity was deducted from the geophysical information published in reports No. 33-2015 and Nº31-2015. During this period, it was reported 01 expiration, which took place on August 6 at 3:56 p.m. HL and generated 0.7 MJ of energy. The height of the column reached 2000 meters and was dispersed to the north.
Source : IGP Perou
Photo : Andina