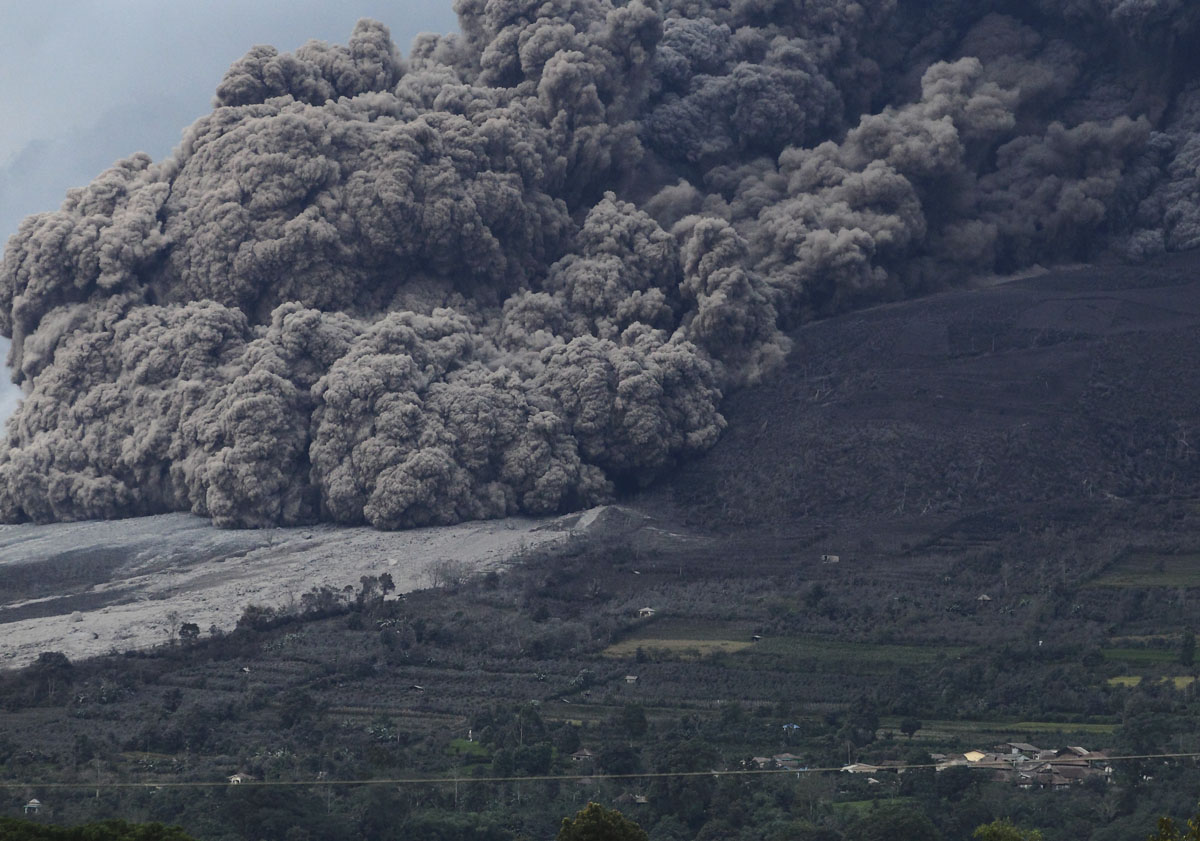 August 10, 2015. English . Fuego, Sinabung, Gamalama .
August 10, 2015.
Fuego , Guatemala :

Special bulletin of the National Institute of Seismology, Volcanology, Meteorology and Hydrology (INSIVUMEH):
Guatemala August 9, 2015, 07:00. (Local time)
effusive eruption
Activity: vulcanian
Body type: composite stratovolcano
Geographical location: Latitude 14 ° N 28'54˝; W. Longitude 90 ° 52'54˝
Height: 3,763m
As has been noted through reports daily bulletins, the Fuego volcano was increasingly active since 1 August, which generated at that time the beginning of a new phase of effusive eruption, accompanied by explosions forming moderate ash plumes 12 km long, west and south-west, with the deposit of fine ash on the villages of Santa Sofia, Panimache, Sangre de Cristo and Morelia.
This activity has also issued an incandescent source of 200 meters high, showing constant avalanches of blocks   on the slopes of the volcano, and lava flow into the Canyon Las Lajas, which reached 2 km long, with a potential in increase   .

This is an effusive eruption, but there is a possibility of an increased activity and even the generation of pyroclastic flows.


The INSIVUMEH recommends:
– At CONRED, to implement the yellow warning phase state (2) and hold it for the activity of the Fuego volcano.
– At civil aeronautics to take precautions for air traffic, because of the dispersion of ash over a distance of 12 km to the southwest and west. « 
Source : Insivumeh .
Photo : G Eduard'o Catalan
Sinabung, Indonesie :
Magma at Sinabung Increases
The movement of magma inside Mount Sinabung has increased in the last two days. This is evident from the high number of low-frequency earthquakes or low frequency is detected Observation Post Mount Sinabung in Karo, North Sumatra. Observation post reported the earthquake low frequency (Lf) on Saturday (8/8) at 00.00 until 06.00 shows the number 55. In the same period was recorded Lf only occurred three times with an amplitude of 4-7 mm.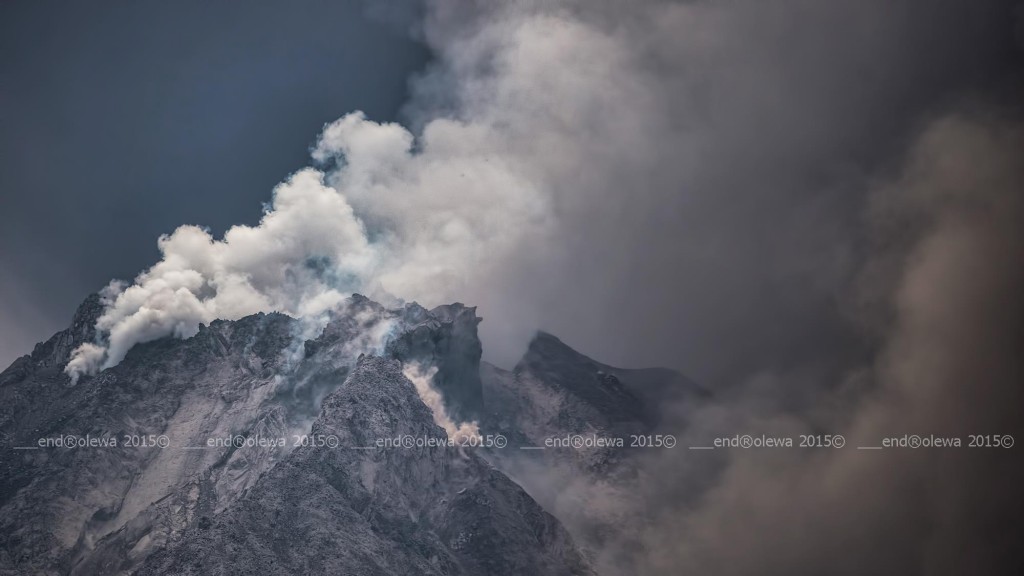 At 06:00 until 12:00 yesterday, Lf increased to 236 times the amplitude of 2 mm to 35 mm. At 12.00 until 18.00 were recorded 99 times Lf and at 18:00 until 00:00 Lf 146 times. At 00:43, Saturday morning occurred incandescent lava along 1,000 meters to the east-southeast. « The movement of magma from deep within the lava urgent Sinabung possibilities that already exist on the surface of the lava to cause long, » said analyst Sinabung Volcano, Deri Al Hidayat, at Observation Post Mount Sinabung.
So far still Awas Sinabung status. Residents are prohibited from activities in the area of 7 kilometers from the peak of Sinabung.
 AUGUST 9 , 2015. Center for Volcanology and Geological Mitigation (PVMBG) gave the alert status for Mount Sinabung, Tanah Karo, North Sumatra. Although, Sinabung PVMBG officer, Ahmad Irfandi said there was still no earthquake and hot clouds happened. Some areas, seven kilometers from Mount Sinabung, must be free from activities.
Those areas are Pasarpinter Gurkinayan, Simpang Sibintun, Perjumaan Batukejan, Jembatan Lau Benuken tigapancur, Pejuman Tigabogor, Pentumbes, and Jeraya. Those villages, are expected to be devastated by the hot clouds because the location are very close to the valleys of Mount Sinabung.
Besides that, six kilometers from the southeast from Sinabung, a village should also be emptied. A village, named Kutatengah, is potentially flowed by hot clouds of Sinabung. « Even though there is still no earthquake and hot clouds, we already announced the alert status of Sinabung to public," said Ahmad Irfandi, Saturday (8/8).
Source :  KOMPAS,  REPUBLIKA
Photo : Mbah Lëwå, baltimoresun.com.
Gamalama

,

Halmahera

, Indonésie

:
0.8°N, 127.33°E
Elevation 1715 m
On 4 August, BNPB reported that Gamalama continued to erupt, although with low intensity. Tremor was continuous. The Alert Level remained at 2 (on a scale of 1-4); visitors and residents were warned not to approach the crater within a radius of 1.5 km. The total number of evacuees in shelters was 1,791.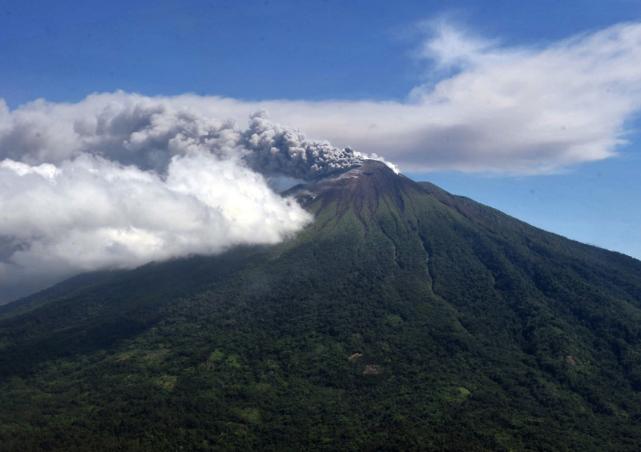 Based on local observations, a SIGMET and wind data, and satellite images, the Darwin VAAC reported that an ash plume drifted over 20 km NW on 4 August.
Sources: Badan Nacional Penanggulangan Bencana (BNPB), Centre d'avis de cendres volcaniques Darwin (VAAC), GVP .
Photo : nasional.news.viva.co.id