January 18, 2022. EN. New Zealand : White Island , Peru : Sabancaya , Ecuador / Galapagos : Wolf , Kamchatka : Karymsky , Costa Rica : Turrialba , Spain / Canary Islands : Cumbre Vieja .
January 18 , 2022.
New Zealand , White Island :
Whakaari/White Island: Vent temperature and gas output decreases; volcanic unrest continues . Published: Tue Jan 18 2022 10:50 AM
Volcanic Alert Level remains at 2
Aviation Colour Code remains at Yellow
Data from an observation flight at Whakaari/White Island last week show a substantial decrease in the active vent temperature and a small decrease in the gas output. The state of moderate to heightened unrest continues. The Volcanic Alert Level remains at Level 2.
Last week GNS scientists undertook flights around Whakaari to collect visual observations, measure the levels of gas being emitted, and the temperature of the active vent area.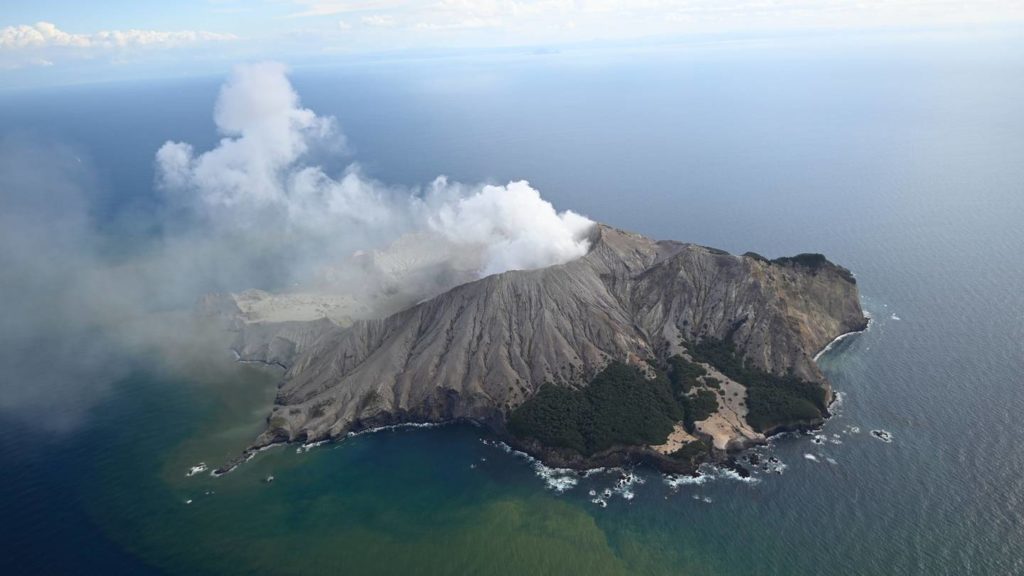 The maximum temperature measured in the active vent area was 191 °C, a decline from 516 °C in December 2021. During September-November 2021, temperatures ranged from 202 °C to 264 °C. Temperatures over 500 °C were also recently observed in July and August 2021.
A gas measuring flight was also made last week recording a slight decrease of the volcanic gas output that was measured at the volcano in December 2021. Both Sulphur Dioxide (SO2) and Carbon Dioxide (CO2) gas emission rates are slightly below a 10-year average.
The temperature and gas emission observations are consistent with hot gas continuing to be released from the molten rock (magma) beneath the volcano at variable rates.
Minor amounts of ash emission continue to be observed, similar to most of our recent observation flights. Ash deposits remain limited to areas close to the active vents. Further intermittent ash emission may continue to occur.
The water level of the lake has receded during the recent spell of fine, dry weather.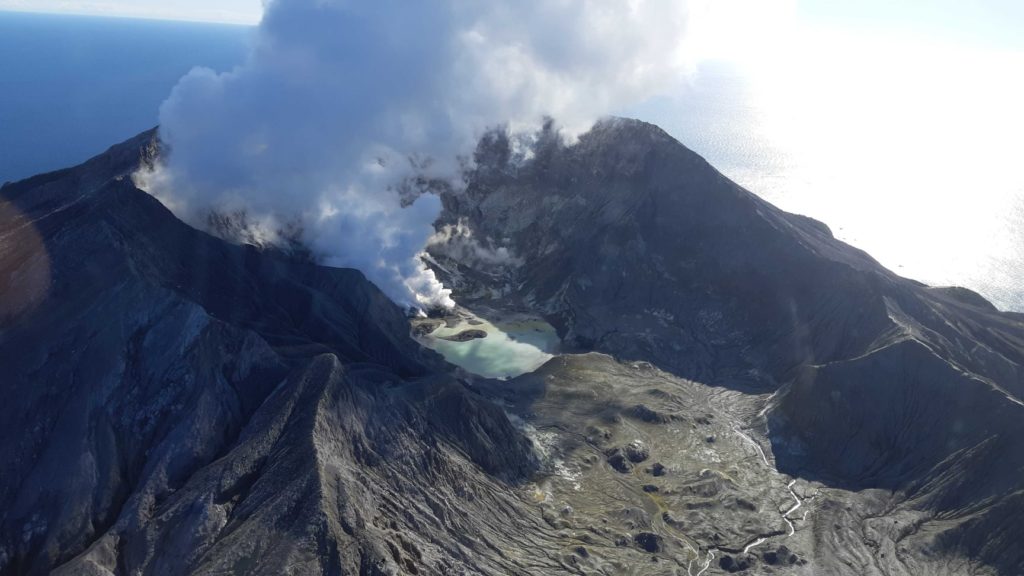 The current level of activity is consistent with moderate to heightened levels of unrest. As such the Volcanic Alert Level remains at 2 and the Aviation Colour Code remains at Yellow.
As noted previously, our on-island equipment has degraded. This means that while we are getting some data, it is not real time and it is not complete. We are continuing to work on restoration options.
Source : Geonet / Steven Sherburn – Duty Volcanologist
Photos : Rotorua Daily Post , geonet 29/07/2020.
Peru , Sabancaya :
Analysis period: from January 10, 2021 to January 16, 2021, Arequipa, January 17, 2021.
Alert level: ORANGE
The Geophysical Institute of Peru (IGP) reports that the eruptive activity of the Sabancaya volcano remains at moderate levels, that is to say with the recording of an average of 41 daily explosions, with columns of ash and gases up to 2.0 km altitude above the summit of the volcano and their consequent dispersion. Therefore, for the following days, no significant change is expected in eruptive activity.
The IGP recorded and analyzed the occurrence of 290 earthquakes of volcanic origin, associated with the circulation of magmatic fluids inside the Sabancaya volcano. An average of 41 explosions was recorded daily. During this period, Volcano-Tectonic (VT) type earthquakes associated with rock fracturing were located mainly in the northwest and southwest of Sabancaya and presented magnitudes of M 3.7.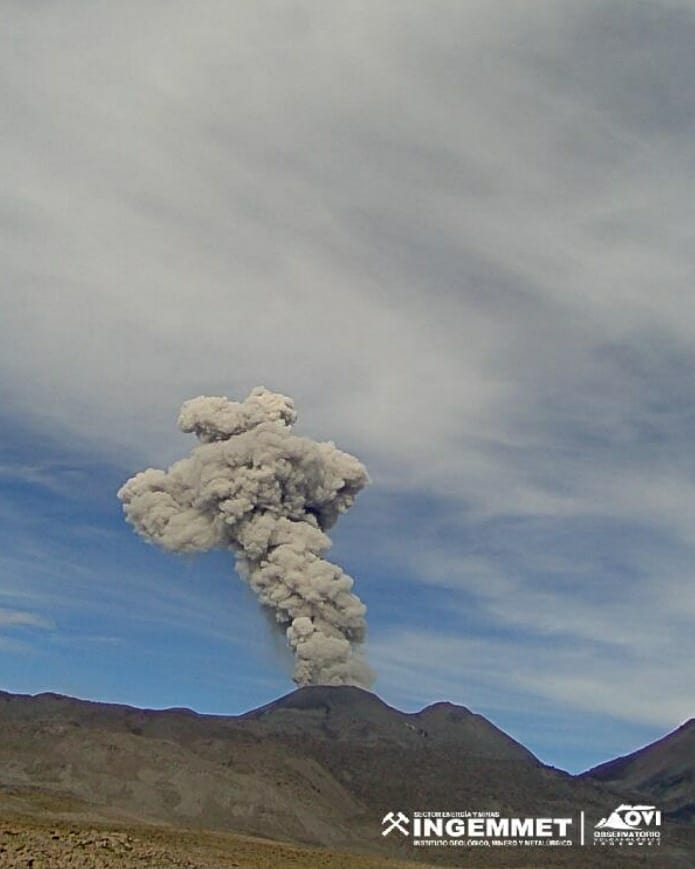 Monitoring the deformation of the volcanic structure using GNSS techniques (processed with fast orbits) does not show any significant anomalies. However, in general, an inflation process was observed in the northern sector (surroundings of the Hualca Hualca volcano). Visual surveillance identified columns of gas and ash up to 2.0 km a.s.l. above the summit of the volcano, which were dispersed to the western, southwest, southern and southeast sectors of the volcano. Sabancaya. Satellite recordings identified the presence of 4 thermal anomalies (maximum value of 4 MW) associated with the presence of a lava body on the surface of the crater of the volcano.
RECOMMENDATIONS
• Keep the volcanic alert level orange.
• Do not approach within a radius of less than 12 km from the crater.
Source : IGP
Photo : Ingemmet .
Ecuador / Galapagos , Wolf :
DAILY REPORT OF THE STATE OF WOlF VOLCANO. January 17, 2022.
Surface Activity Level: High, Surface Trend: Unchanged
Internal activity level: High, Internal trend: No change
Seismicity: From January 16, 2022, 11:00 a.m. to January 17, 2022, 11:00 a.m.:
Volcano-Tectonics ( VT): 6
Emission / ash column:
Slight gas emissions were observed by satellite, with a direction towards the South-West.
Other Monitoring Parameters:
The FIRMS satellite reports hundreds of thermal alerts over the past 24 hours. The MIROVA satellite reports 4 extreme thermal alerts (13651, 12230, 11151 and 17955 MW) in the last 24 hours.
Comments
According to satellite monitoring, it is observed that the thermal anomalies are maintained due to the advance of the lava flows, which are still more than 2 km before reaching the sea.
Source : IGEPN.
Photo : Parque Nacional Galápagos
Kamchatka , Karymsky :
VOLCANO OBSERVATORY NOTICE FOR AVIATION (VONA)
Issued: January 18 , 2022
Volcano: Karymsky (CAVW #300130)
Current aviation colour code: ORANGE
Previous aviation colour code: orange
Source: KVERT
Notice Number: 2022-09
Volcano Location: N 54 deg 2 min E 159 deg 26 min
Area: Kamchatka, Russia
Summit Elevation: 1486 m (4874.08 ft)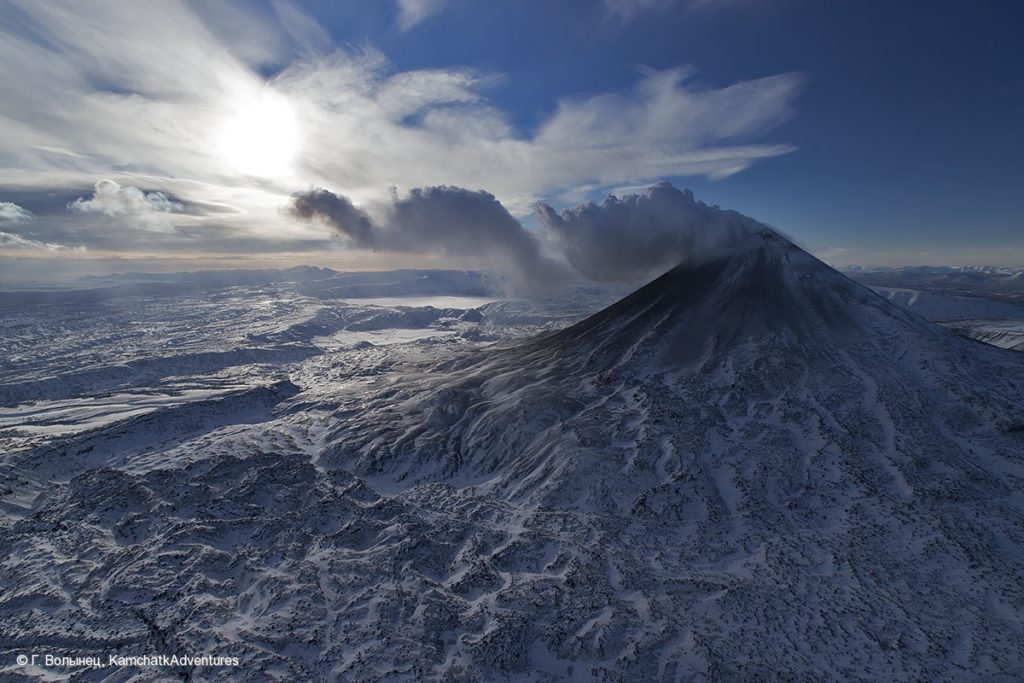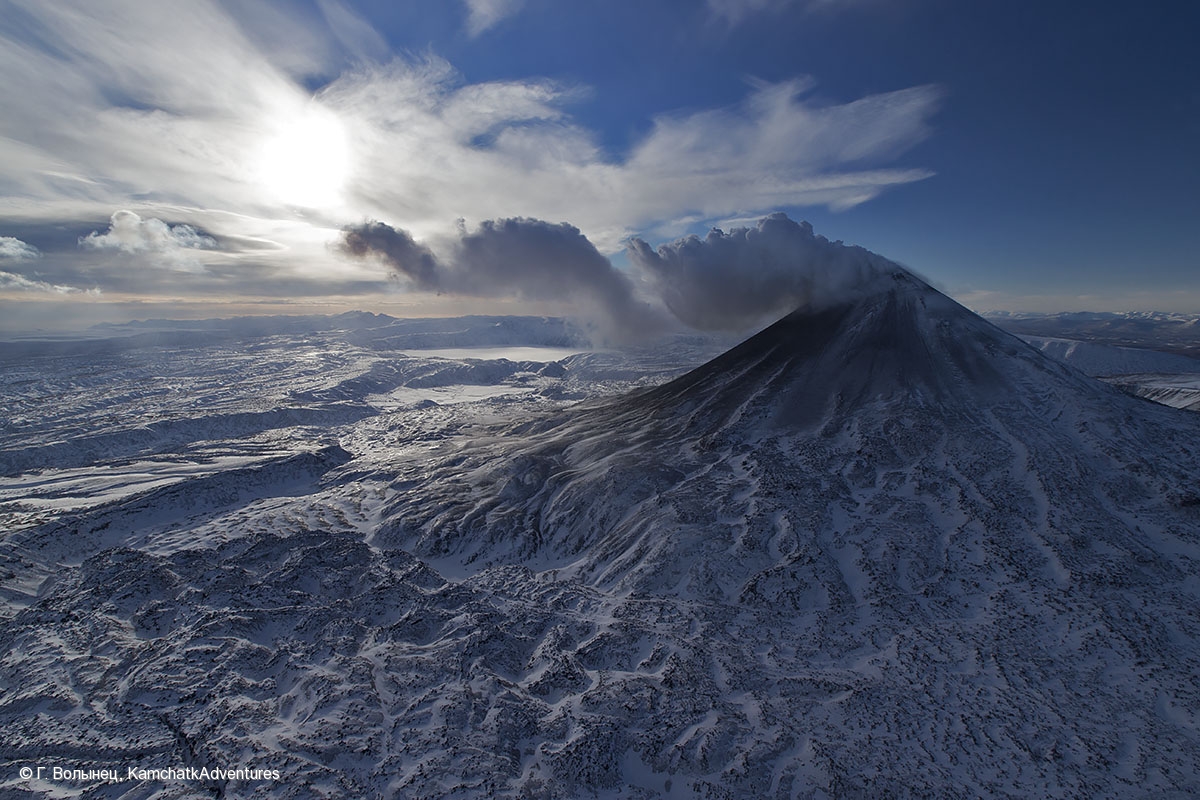 Volcanic Activity Summary:
A moderate eruptive activity of the volcano continues. Satellite data by KVERT showed explosions send ash up to 5.5-6 km a.s.l., ash clouds to drift to the west of the volcano.
This eruptive activity continues. Ash explosions up to 10 km (32,800 ft) a.s.l. could occur at any time. Ongoing activity could affect international low-flying aircraft.
Volcanic cloud height:
5500-6000 m (18040-19680 ft) AMSL Time and method of ash plume/cloud height determination: 20220117/0810Z – Himawari-8
Other volcanic cloud information:
Distance of ash plume/cloud of the volcano: 25 km (16 mi)
Direction of drift of ash plume/cloud of the volcano: W / azimuth 268 deg
Time and method of ash plume/cloud determination: 20220117/0810Z – Himawari-8
Source : Kvert
Photo : G. Volynets, KamchatkAdventures
Costa Rica , Turrialba :
Turrialba volcano activity report, January 17, 2022.
On January 17, 2022 at 9:27 p.m. local time, an eruption was recorded on the Turrialba volcano, with a column that rose 1,000 meters above the height of the crater and 4,340 meters above the level of the sea. (14235.2 feet).
Duration of activity: In progress.
The winds blow to the southwest.
Ash falls reported in: No ash fall is reported
Sulfur odor reported in: No sulfur odor reported.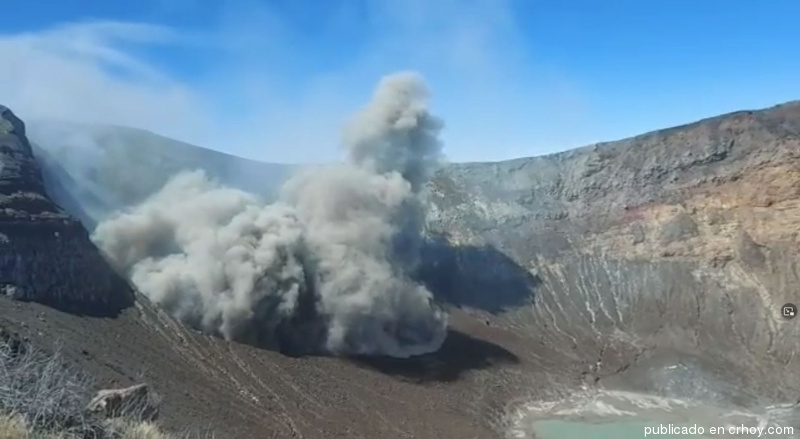 3 exhalations with ash emission were recorded on December 28, 2021. The last recorded « rumbling » occurred on December 29, 2021. Seismic activity continues with frequent low and high frequency volcanic earthquakes. Low frequency earthquakes increased from less than 10 daily events from December 2021, to a maximum of 28 events on January 1, 2022, while the number of high frequency events remains very stable with around 100 daily earthquakes. The maximum amplitudes of the volcanic earthquakes were recorded on December 28, which decreased after the 3 exhalations recorded on the same day. The number of events recorded has remained stable both in amplitude and in the number of events detected since June 2021. Short-term volcanic tremors (not exceeding 5 minutes) remain stable with less than 20 daily events, most of between them are broad tremors- band spasmodic tremors and, to a lesser extent, harmonic tremors of much lower amplitude. Geodetic monitoring shows stability in the deformation of the volcanic edifice, with a slight tendency to deflation and a certain radial extension. The CO2/SO2 ratio remained relatively stable during the months of December and January (average 20.8 ± 3.5) with anomalies recorded in early December (~35 on December 1). The December 28 expirations were not associated with significant anomalies in terms of CO2/SO2 with values ​​<25. The H2S/SO2 ratio showed two clear anomalies (>2) on December 29, 2021 and January 2, 2022 (the average for December and January excluding anomalies was 0.28 ± 0.08). The SO2 concentration measured by the MultiGAS station is stable (December-January average of 5.9 ± 2.9 ppm) with the maximum value of 15.1 ppm recorded on January 1.
Monitoring of the amount of SO2 in the air measured by the TROPOMI Sentinel-5P satellite sensor shows almost daily detection of the volcano's plume, but with relatively low values ​​(less than 50 tons) except for a few days, notably on December 29 2021 (~126 tons) and January 7 (84 tons).
Source : Ovsicori.
Photo : Diego Nunez Salmeron et Reina Sanchez Solano . ( Archive)
Spain / Canary Islands , Cumbre Vieja :
Post-eruptive activity Cumbre Vieja, La Palma, January 11, 2022, 09:00 UTC.
Since the last communication (the 7th at 9:00 UTC), 30 earthquakes have been located on the island of La Palma. The earthquake of the 9th at 4:29 p.m., at a depth of 35 km and with a magnitude of 2.6 mbLg, was felt by the population, with intensity II (EMS98), in the epicentral area. This last earthquake is the largest magnitude of the period considered. The magnitudes are between 1.0 and 2.6 (mbLg).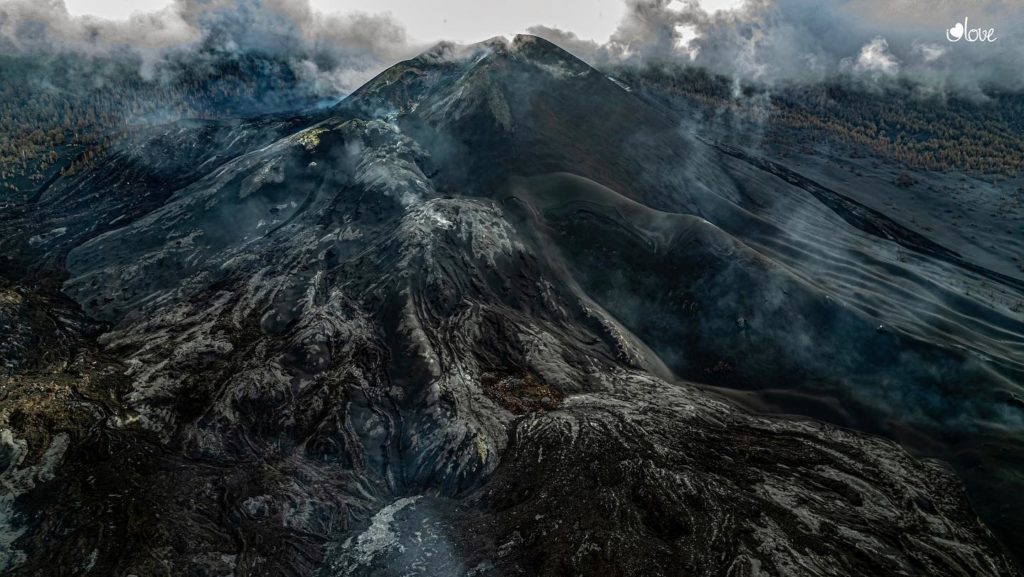 The location of the hypocenters continues under the central area of Cumbre Vieja in the same areas as the previous days. 19 earthquakes were located at depths between 7 and 16 km, 9 at a depth less than 5 km and 2 at a depth of 35 km.
The network of permanent GNSS stations on the island does not show significant deformations that could be associated with volcanic activity.
Source : IGN.
Photo : I love the world .