December 21, 2021. EN. Tonga Islands : Hunga Tonga-Hunga Ha'apai , Spain / La Palma : Cumbre Vieja , Peru : Sabancaya , Alaska : Semisopochnoi , Hawaii : Kilauea .
December 21 , 2021.
Tonga Islands , Hunga Tonga-Hunga Ha'apai :
We had a volcano erupt about 160 miles south of us this morning, and it looks like we might have a white Christmas in Vava'u as the ash has made it to our eastern skies. It should make for a fantastic sunset.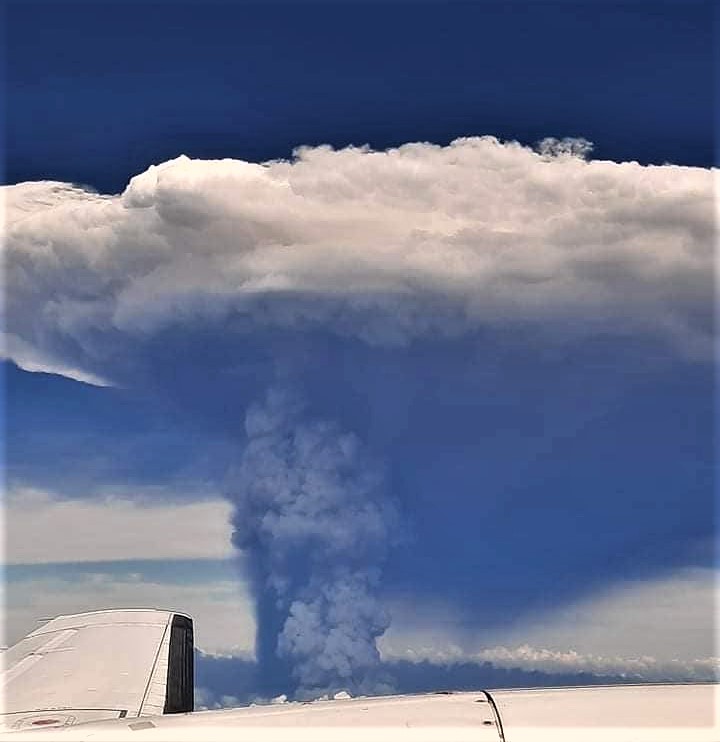 Here is a photo taken by a passenger (credit: Kimberlyn Hoyla) on the domestic flight from Tongatapu to Vava'u.
note: The eruption was so violent and loud that several people here in Vava'u heard them. Our lawn was being mowed at the time, so we missed the blasts.
Monday 20/12/2021.
Submarine volcano 149 m / 489 ft, Location:-20.57°S / -175.38°W
Volcanic Ash Advisory:
AVIATION COLOUR CODE: RED
SUMMIT ELEV: 114M
ERUPTION DETAILS: CONTINUOS PLUME OF SMOKE/STEAM. TOPS
CONTINUING TO RISE.
SATELLITE IMAGERY INDICATES STEAM PLUME WITH NO ASH
IDENTIFIABLE. WILL UPDATE IF MORE INFORMATION BECOMES AVAILABLE.
Sources:NZ MetService,Wellington Volcanic Ash Advisory Centre (VAAC).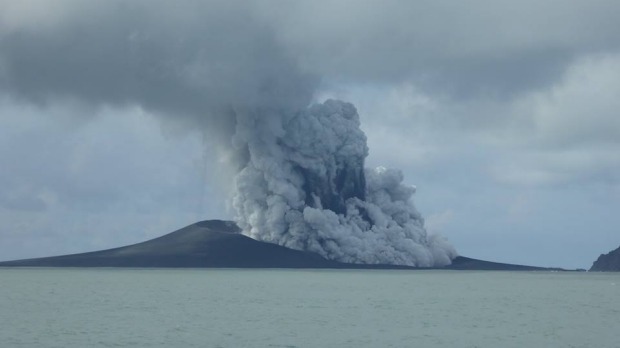 Hunga Tonga-Hunga Ha'apai eruption on January 15, 2015
The small islands of Hunga Tonga and Hunga Ha'apai cap a large seamount located about 30 km SSE of Falcon Island. The two linear andesitic islands are about 2 km long and represent the western and northern remnants of the rim of a largely submarine caldera lying east and south of the islands.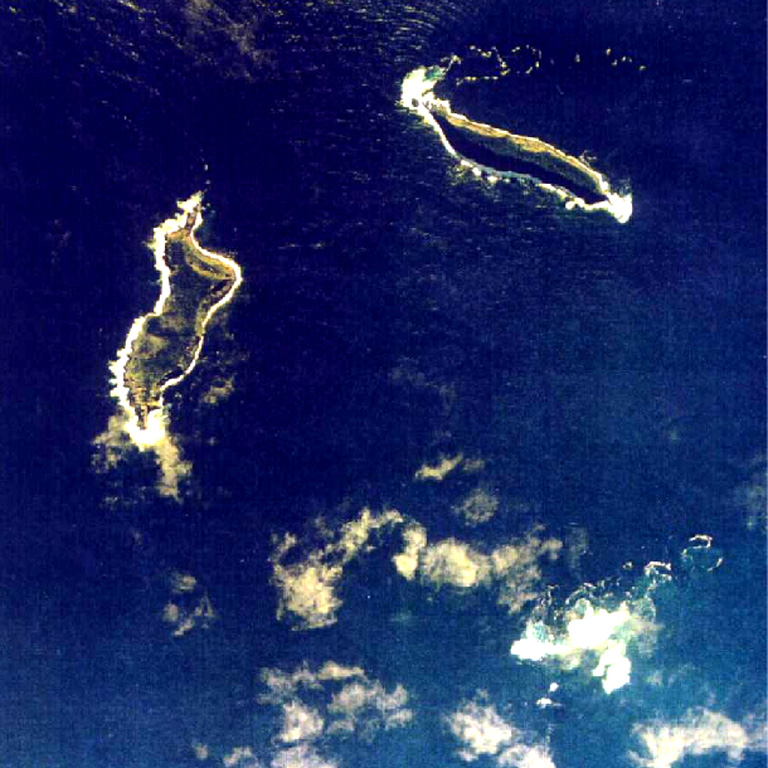 Hunga Tonga reaches an elevation of about 114 m above sea level, and both islands display inward-facing sea cliffs with lava and tephra layers dipping gently away from the submarine caldera. A rocky shoal 3.2 km SE of Hunga Ha'apai and 3 km south of Hunga Tonga marks a historically active vent. Several submarine eruptions have occurred at Hunga Tonga-Hunga Ha'apai since the first historical eruption in 1912. An eruption that began in mid-December 2014 built a new island between the other two large islands.
Sources : NZ MetService, Wellington Volcanic Ash Advisory Center (VAAC). GVP.
Photo : Brian Meikle , Kimberlyn Hoyla , Image credit: New Zealand High Commission – Tonga / The watchers ,Tonga Ministry of Lands, Survey, and Natural Resources, 1991 (published in Taylor and Ewart, 1997)
Spain / La Palma , Cumbre Vieja :
December 20, 2021, 09:00 UTC Volcanic monitoring continues in La Palma.
Since the last declaration, a total of 30 earthquakes have been located on the island of La Palma, none of them have been felt by the population.
The magnitudes vary between 1.3 and 2.5 (mbLg).
The localization of hypocenters continues under the central area of Cumbre Vieja in the same areas as the previous days. 4 shallow earthquakes were located, 17 earthquakes at depths between 11 and 15 km and 9 earthquakes at depths greater than 30 km.
Likewise, low frequency (LP) type events continue to be detected in the recordings of the island's stations in addition to localized volcano-tectonic earthquakes.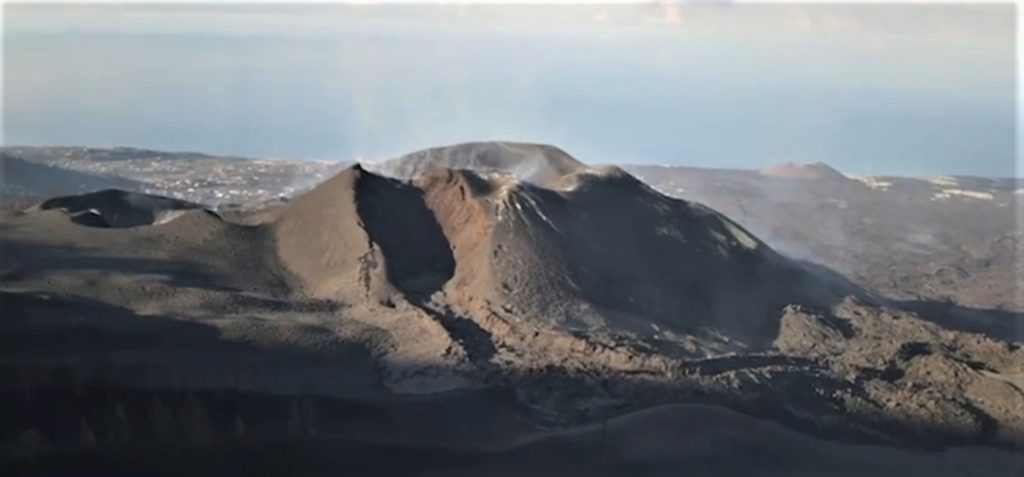 During the past 24 hours, no volcanic tremor has been observed, maintaining the seismic noise at levels close to the pre-eruptive period.
The island's network of permanent GNSS stations shows an elevation of about 6 cm at station LP03, which is closest to the eruptive centers.
In the rest of the stations, there are no significant deformations that could be associated with volcanic activity.
In view of the image calibrated at 08:45 UTC, no type of emission is visible.
The height of the cone is measured by obtaining a value of 1122 m at sea level.
Sources : IGNes , El Pais .
Photos : Instituto Geográfico Nacional de España y CNIG
Peru , Sabancaya :
Analysis period: December 13, 2021 to December 19, 2021, Arequipa, December 20, 2021.
Alert level: ORANGE
The Geophysical Institute of Peru (IGP) reports that the eruptive activity of the Sabancaya volcano remains at moderate levels, that is to say with the recording of an average of 51 daily explosions, with columns of ash and gas up to an altitude of 3.0 km above the summit of the volcano and their consequent dispersion. Therefore, for the following days, no significant change is expected in eruptive activity.
The IGP recorded and analyzed the occurrence of 130 earthquakes of volcanic origin, associated with the circulation of magmatic fluids within the Sabancaya volcano. An average of 51 explosions was recorded daily. During this period, Volcano-Tectonic (VT) earthquakes associated with rock fracturing were localized mainly in the Northwest, North, and East of Sabancaya and presented magnitudes between M 1 , 8 and M 2.0.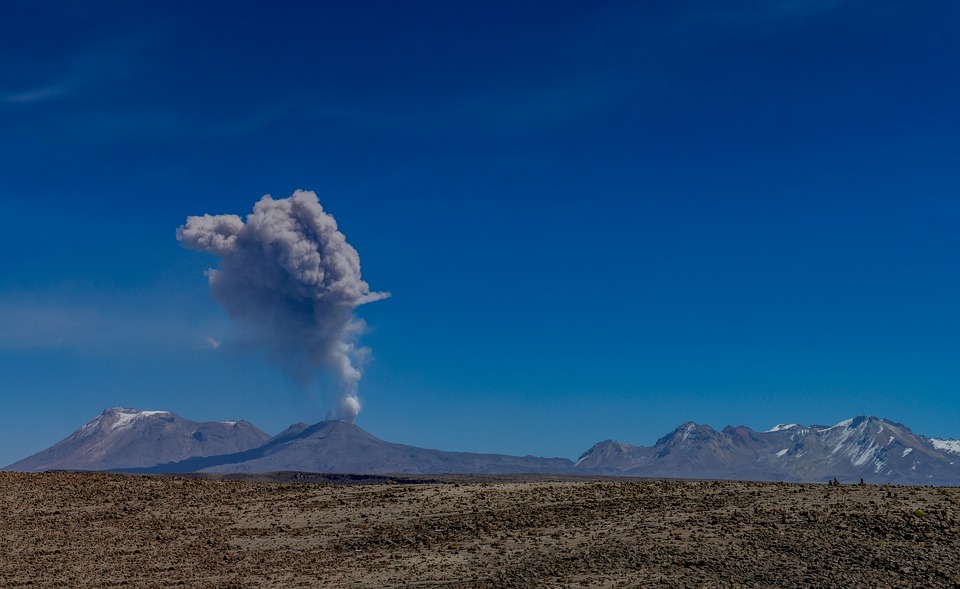 The monitoring of the deformation of the volcanic structure using GNSS techniques (processed with fast orbits) does not present any significant anomalies. However, in general, an inflation process was observed in the northern sector (around the Hualca Hualca volcano). Visual surveillance identified columns of gas and ash up to an altitude of 3.0 km above the summit of the volcano, which were scattered towards the southern, southwest and southeast sectors of Sabancaya. Satellite recordings have identified the presence of 4 thermal anomalies (maximum value 36 MW) associated with the presence of a lava body on the surface of the volcano's crater.
RECOMMENDATIONS
• Keep the volcanic alert level in orange.
• Do not approach within a radius of less than 12 km from the crater.
Source : IGP
Photo : pixabay
Alaska , Semisopochnoi :
51°55'44 » N 179°35'52 » E,
Summit Elevation 2625 ft (800 m)
Current Volcano Alert Level: WATCH
Current Aviation Color Code: ORANGE
Low-level eruptive activity and elevated seismicity continue at Semisopochnoi volcano. Small explosions from the north crater of Mount Cerberus were recorded by seismic and infrasound sensors. Elevated surface temperatures were observed at the north crater in multiple clear satellite views from last night. Low-level ash emissions extending to the northeast are observed in partly cloudy satellite views throughout yesterday and last night. This morning winds shifted and slackened, with very low-level ash headed a bit more south.
Small eruptions producing minor ash deposits within the vicinity of the active north crater of Mount Cerberus and ash clouds usually under 10,000 ft above sea level have characterized the recent activity. Small explosions and associated ash emissions may continue and could be difficult to detect, especially when thick cloud cover obscures the volcano.
Semisopochnoi is monitored by local seismic and infrasound sensors, satellite data, web cameras, and remote infrasound and lightning networks.
Source : AVO.
Photo : AVO /USGS ( Archive )
Hawaii , Kilauea :
19°25'16 » N 155°17'13 » W,
Summit Elevation 4091 ft (1247 m)
Current Volcano Alert Level: WATCH
Current Aviation Color Code: ORANGE
Activity Summary: 
Kīlauea volcano is erupting from a single vent in the western wall of Halemaʻumaʻu crater. The vent is supplying lava to a lava lake in the western portion of the crater. All recent lava activity remains confined within Halemaʻumaʻu crater in Hawai'i Volcanoes National Park.
Summit Observations:
Tilt was slightly deflationary yesterday, December 19, 2021 and is flat this morning. Earthquake activity remains below background. The most recent measurement of sulfur dioxide (SO2) emission rate on December 16, 2021, was approximately 1,400 tonnes per day.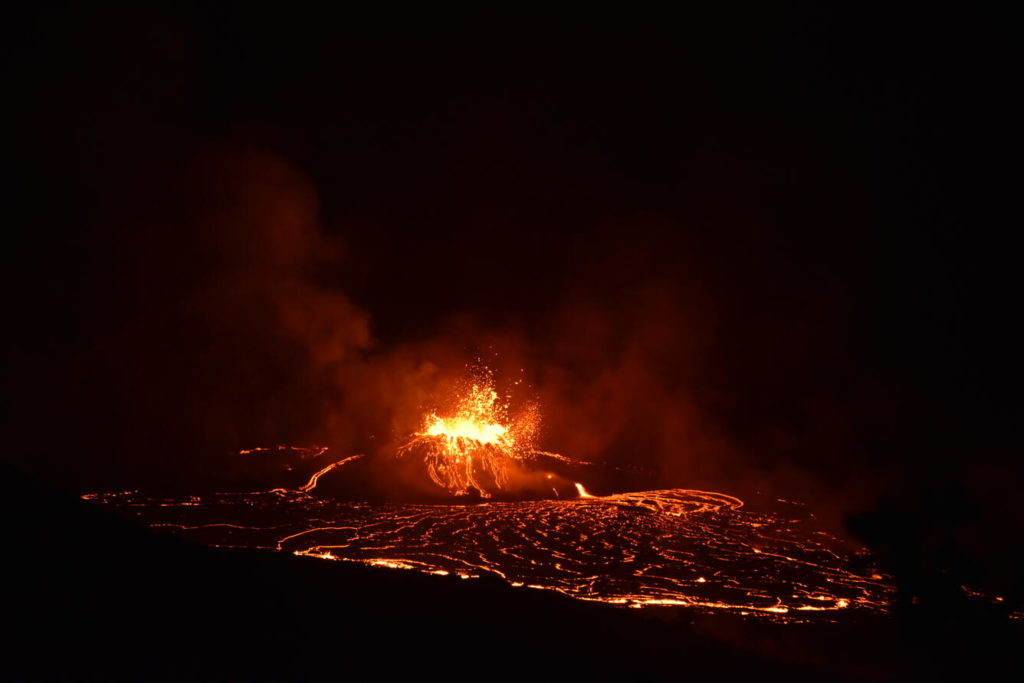 The eruption within Halema'uma'u crater, at the summit of Kīlauea, continues to feed a rising lava lake. During the evening of December 15, 2021 a period of increased eruptive activity included lava entering the lake from multiple sources and frequent large spatter bursts throwing lava onto the sides of the west vent cone. Photo was taken from the public viewpoint near Keanakāko'i crater in Hawai'i Volcanoes National Park.
Halemaʻumaʻu Lava Lake Observations:
Lava is erupting from the same western vent, refilling the former lake area with fresh lava this morning. The lake has seen a total increase of about 69 meters (226 ft) since lava emerged on September 29. The total erupted volume since the beginning of the eruption was estimated to be about 30 million cubic meters (7.8 billion gallons) on November 16.
East Rift Zone Observations:
No unusual activity has been noted in the Kīlauea East Rift Zone. Low rates of ground deformation and seismicity continue along the rift zones. SO2 and hydrogen sulfide (H2S) emissions from Puʻuʻōʻō were below instrumental detection levels when last measured on January 7, 2021.
Source : HVO
Photo : USGS/ B. Carr.