November 06, 2021. EN. Spain / La Palma : Cumbre Vieja , Alaska : Pavlof , Kamchatka : Karymsky , Philippines : Taal , Indonesia : Anak Krakatau , Mexico : Popocatepetl .
November 06 , 2021.
Spain / La Palma , Cumbre Vieja :
November 05, 2021, 09:00 UTC. Eruptive activity continues on La Palma.
Since the last declaration, 54 earthquakes have been located in the area affected by the volcanic reactivation of Cumbre Vieja, 7 of these earthquakes were felt by the population, the maximum intensity having been reached in the epicentral zone IV (EMS98).
The most significant earthquake was the one that occurred at 23:05 (UTC) yesterday, with a magnitude of 4.5 mbLg at 35 km depth and felt with intensity IV on the island of La Palma. In the period considered, 4 earthquakes were located at depths of about 30 km, the rest of the hypocenters of the period are located at a shallower depth, about 12 km.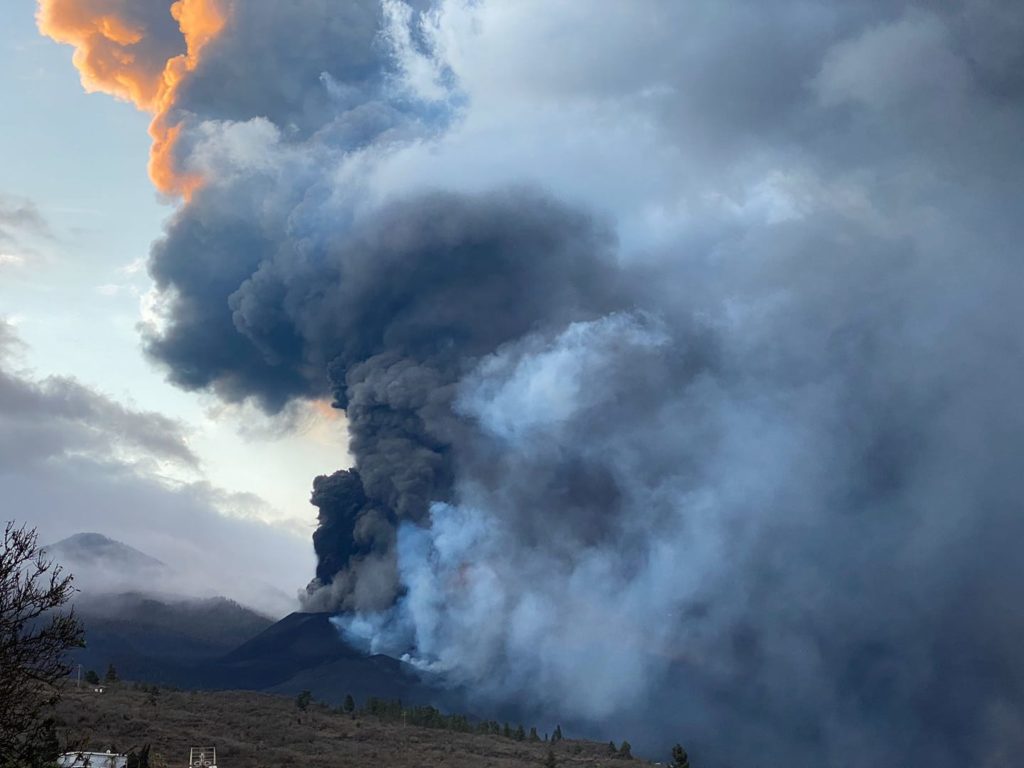 The amplitude of the volcanic tremor signal has low average levels, with intensifying pulses.
The island's network of permanent GNSS stations shows a slight vertical deformation at station LP03, which is closest to the eruptive centers. At the most remote stations, a slight deflation is maintained, possibly related to deep seismicity.
Based on the calibrated image, the ash cloud height of 3,500 m is estimated at 08:48 UTC. with a South-South-East direction.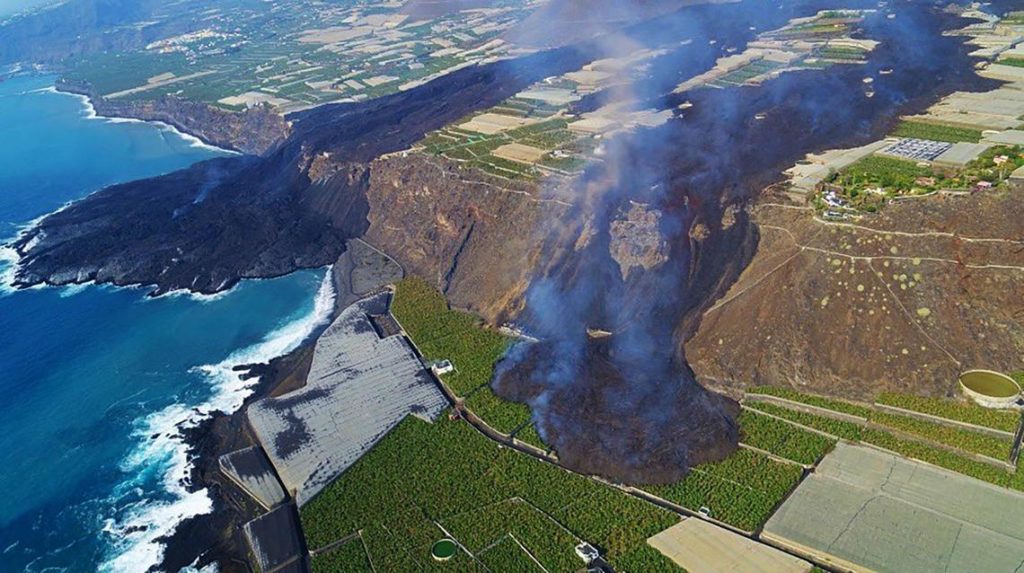 The National Geographic Institute (IGN) detected in the station closest to the eruptive centers of the volcano of La Palma a slight vertical deformation of the terrain. Carmen López, director of IGN's Geophysical Observatory, points out that it is in no way comparable to the sudden 10-centimeter deformation detected 10 days ago, and which scientists then interpreted as a possible indication an increase in the lava channel or the opening or closing of an emission point.
The Cumbre Vieja volcano in La Palma is undergoing a change in its eruptive dynamics. Experts from the Canary Islands Volcanological Institute (Involcan) have detected sulfur deposits for the first time since the eruption began, which can be seen in yellow to the left of the image.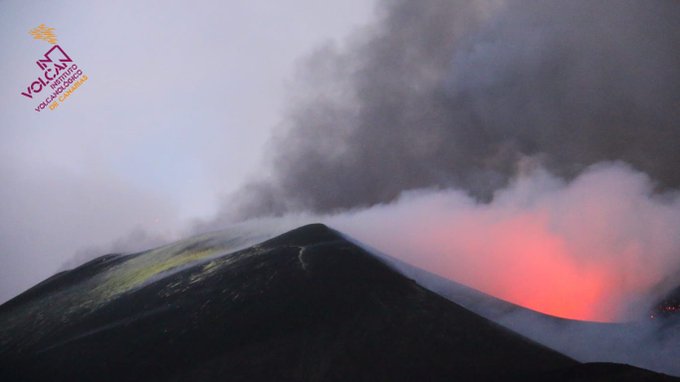 Experts say this is a sign that the magmatic component of the gas may decrease. This means that the temperature of the system is now lower than a few days ago, although this does not imply the end of the eruption, according to the spokesperson for the Volcanological Institute of the Canary Islands (Involcan), David Calvo. "The system now has less deep intake, which implies a lower temperature. Once we do more analysis, we'll know why.  »
Source : IGN es , El Pais .
Photos : Thomas Nagel , USGS , , Involcan.
Alaska , Pavlof :
55°25'2″ N 161°53'37 » W,
Summit Elevation 8261 ft (2518 m)
Current Volcano Alert Level: WATCH
Current Aviation Color Code: ORANGE
Low-level eruptive activity continued throughout the week. Small explosions were detected intermittently in seismic and infrasound data over the past week and seismic tremor continues at fluctuating levels. During periods of clear weather, minor ash emissions were observed in web camera images. These weak emissions only rose a few hundred feet above the vent near the summit and quickly dissipated.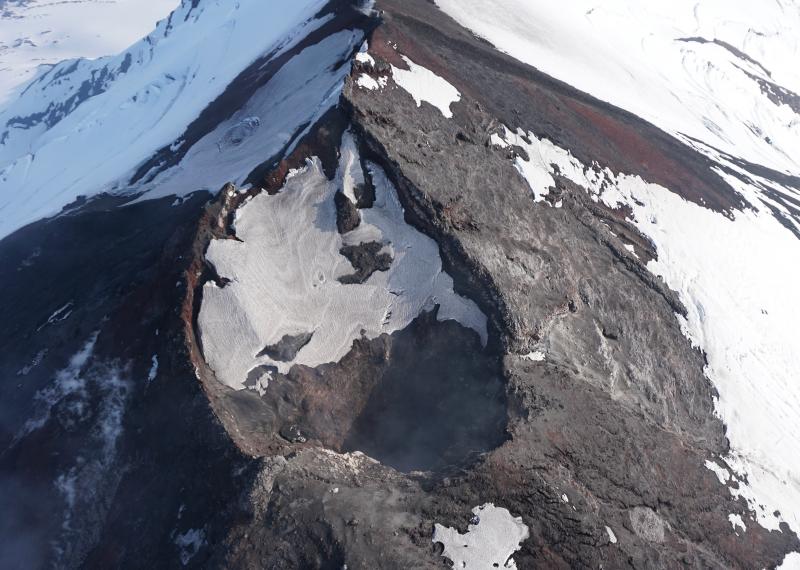 The explosions that have occurred during the current period of activity at Pavlof have been short-lived, with ash deposits confined to the flanks of the volcano. Eruptive activity is focused at a vent on the upper southeast flank of the volcano, near the location of the eruptive vent in 2007. The level of unrest at Pavlof can change quickly and the progression to more significant eruptive activity can occur with little or no warning.
Pavlof is monitored by local seismic and infrasound sensors, satellite data, web cameras, and remote infrasound and lightning networks.
Source : AVO.
Photo : Fee, David , Volcano Observatory / University of Alaska Fairbanks, Geophysical Institute.
Kamchatka , Karymsky :
VOLCANO OBSERVATORY NOTICE FOR AVIATION (VONA)
Issued: November 06 , 2021
Volcano: Karymsky (CAVW #300130)
Current aviation colour code: RED
Previous aviation colour code: red
Source: KVERT
Notice Number: 2021-138
Volcano Location: N 54 deg 2 min E 159 deg 26 min
Area: Kamchatka, Russia
Summit Elevation: 1486 m (4874.08 ft)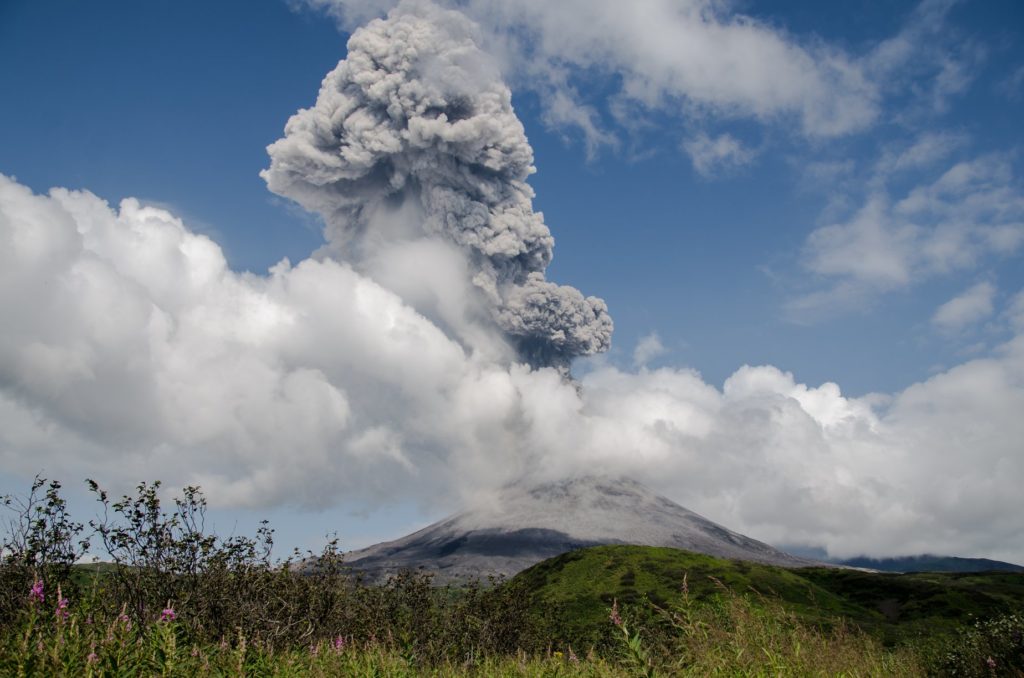 Volcanic Activity Summary:
Explosions sent ash up to 7.5-8 km a.s.l., ash plume extended for 78 km to the east-northeast of the volcano.
This activity of the volcano continues. Ash explosions up to 10 km (32,800 ft) a.s.l. could occur at any time. Ongoing activity could affect international and low-flying aircraft.
Volcanic cloud height:
7500-8000 m (24600-26240 ft) AMSL Time and method of ash plume/cloud height determination: 20211106/0350Z – Himawari-8
Other volcanic cloud information:
Distance of ash plume/cloud of the volcano: 78 km (48 mi)
Direction of drift of ash plume/cloud of the volcano: ENE / azimuth 66 deg
Time and method of ash plume/cloud determination: 20211106/0350Z – Himawari-8
Start time of explosion and how determined: 20211106/0310Z – Satellite data
Source : Kvert.
Photo : Dmitry Melnikov.
Philippines , Taal :
TAAL VOLCANO BULLETIN 06 November 2021 8:00 AM
In the past 24-hour period, the Taal Volcano Network recorded eighteen (18) volcanic earthquakes, including seventeen (17) volcanic tremor events having durations of two (2) to nineteen (19) minutes, one (1) volcano-tectonic earthquake, and low-level background tremor that has persisted since 7 July 2021. Activity at the Main Crater was dominated by upwelling of hot volcanic fluids in its lake which generated plume 1,200 meters tall that drifted south-southwest and west-northwest. Sulfur dioxide (SO2) emission averaged 14,054 tonnes/day on 5 November 2021.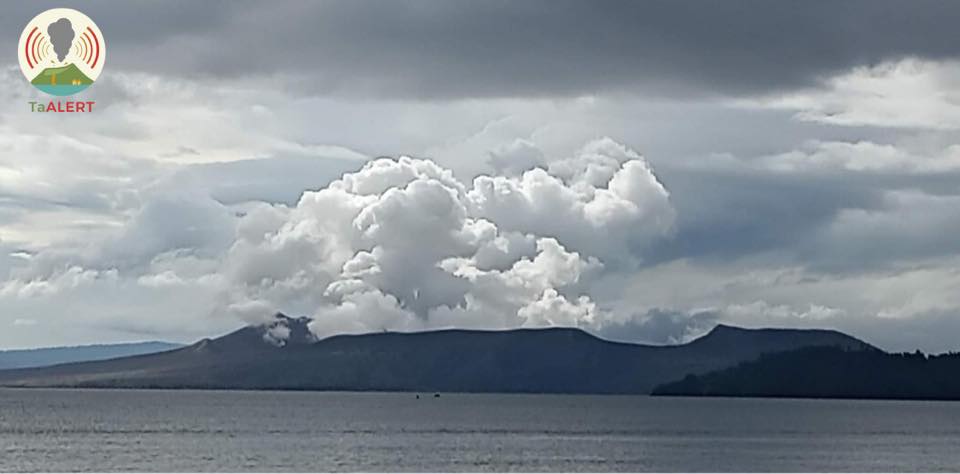 Based on ground deformation parameters from electronic tilt, continuous GPS and InSAR monitoring, Taal Volcano Island has begun inflating in August 2021 while the Taal region continues to undergo very slow extension since 2020.
Alert Level 2 (Increased Unrest) prevails over Taal Volcano. DOST-PHIVOLCS reminds the public that at Alert Level 2, sudden steam- or gas-driven explosions, volcanic earthquakes, minor ashfall, and lethal accumulations or expulsions of volcanic gas can occur and threaten areas within and around TVI.
Source : Phivolcs.
Photo : TaALERT
Indonesia , Anak Krakatau :
Level of activity at level II (WASPADA), since March 25, 2019. Anak Krakatau (157 m above sea level) has experienced an increase in volcanic activity since June 18, 2018, which was followed by a series of eruptions during the period from September 2018 to February 2019. The last eruption occurred on October 26, 2021 with an eruption column height of 500 m. The color of the eruption column was observed to be gray.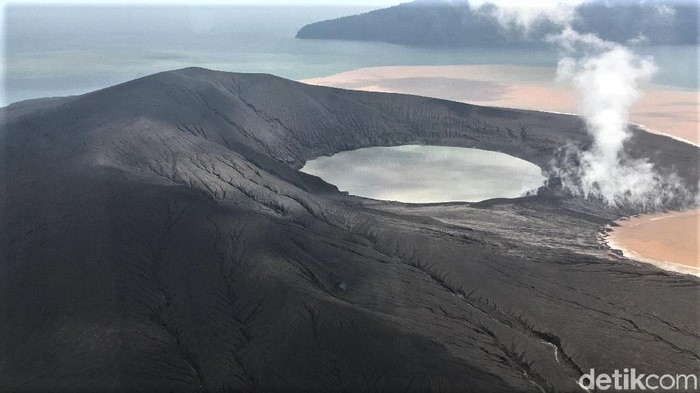 The volcano is clearly visible until it is covered in fog. We note a smoke coming from the crater of white color, observable with a low to medium intensity, at about 25-100 m above the summit. The weather is sunny to cloudy. Weak winds to the northeast. The air temperature is around 26-27.9 ° C. Humidity 49-54%.
According to the seismographs of November 5, 2021, it was recorded:
316 emissions earthquakes
2 shallow volcanic earthquakes
Continuous tremor, amplitude 0.5-10 mm (1 mm predominant)
Recommendation:
The public / tourists are not allowed to approach the crater within a radius of 2 km around the crater
VONA:
The last VONA color code sent was ORANGE, published on October 26, 2021 at 2:13:00 PM WIB. The height of the eruption column was 657 m above sea level or about 500 m above the summit.
Source : PVMBG.
Photo : Arief/detikcom
Mexico , Popocatepetl :
November 05, 11:00 a.m. (November 05, 5:00 p.m. GMT)
During the last 24 hours, according to the monitoring systems of the Popocatépetl volcano, 19 exhalations accompanied by volcanic gases and light amounts of ash have been identified. In addition, 34 minutes of low amplitude tremor and two volcano-tectonic earthquakes were recorded yesterday at 3:27 pm and today at 1:52 am, with magnitudes of 1.6 and 2.1 respectively.
At the time of this report, the volcano is observed with an emission of water vapor, gas and light amounts of ash in an easterly direction.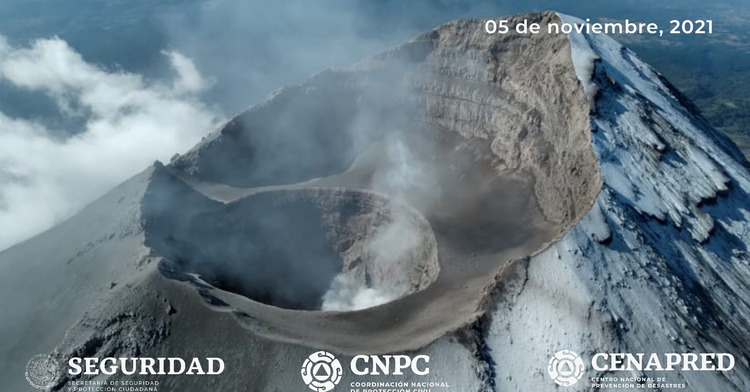 Updated November 05 at 6:00 p.m. (November 06 at 00:00 GMT)
This Friday, November 5, with the support of the National Guard, expert staff from the Institute of Geology of the National Autonomous University of Mexico (UNAM) and the National Center for Disaster Reduction (CENAPRED), an overview of the Popocatépetl volcano was made to verify its morphology.
It has been possible to determine that the inner crater has an approximate diameter of 380 to 400 meters and a depth of 160 to 200 meters. The presence of a new lava body inside the crater could not be observed.
On the basis of the various monitoring parameters and the information obtained during the overflight, it is considered that the ash emissions will continue and that certain explosions which will not exceed those already observed in intensity. These scenarios are considered in the yellow level of phase 2 of the volcanic warning traffic light. Any change in activity will be reported in a timely manner.
Source et photo : Genapred.