October 31, 2021. EN . Spain / La Palma : Cumbre Vieja , Alaska : Great Sitkin , Russia / Kuril Islands : Ebeko , Iceland : Fagradalsfjall , Indonesia : Semeru .
October 31 , 2021.
Spain / La Palma , Cumbre Vieja :
October 30, 2021, 08:00 UTC. Eruptive activity continues in La Palma.
Since the last declaration, 123 earthquakes have been located in the area affected by the volcanic reactivation of Cumbre Vieja, 11 of these earthquakes were felt by the population, having reached the maximum intensity in the epicentral zone IV-V (EMS98 ) with the earthquake which occurred at 6:24 a.m. (UTC) today, with the magnitude of M5.0, mblg, at a depth of 35 km. This earthquake is the largest in magnitude since the start of the eruption.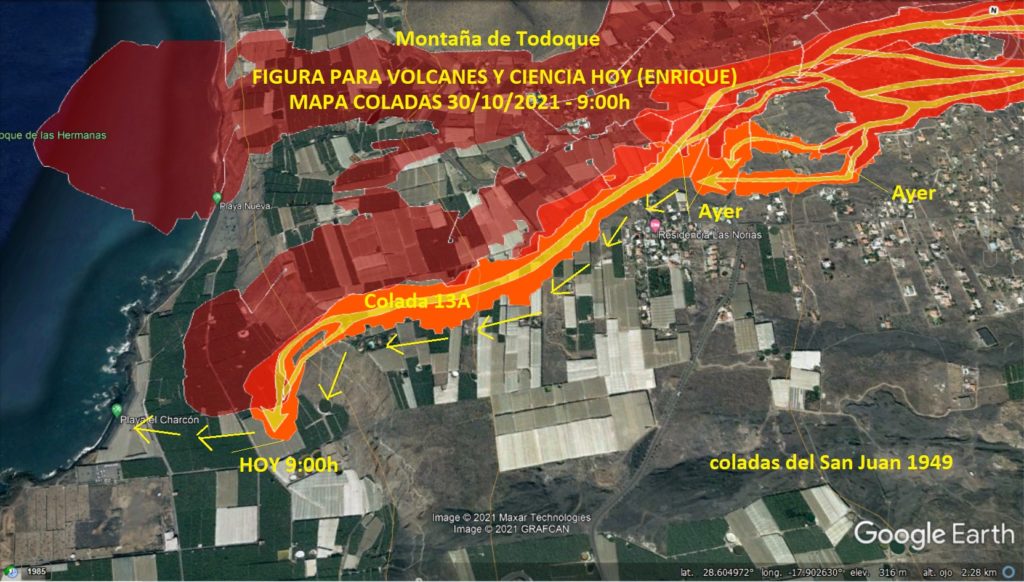 6 earthquakes were located at depths around 30 km, the rest of the hypocenters of the period are located at a lower depth, around 12 km.
The amplitude of the volcanic tremor signal was maintained at high average levels, with intensifying pulses.
The network of permanent stations on the island shows that the elevation recorded on the 25th at station LP03, which is closest to the eruptive centers, has completely disappeared. However, part of the southern deformation recorded by the station has been consolidated.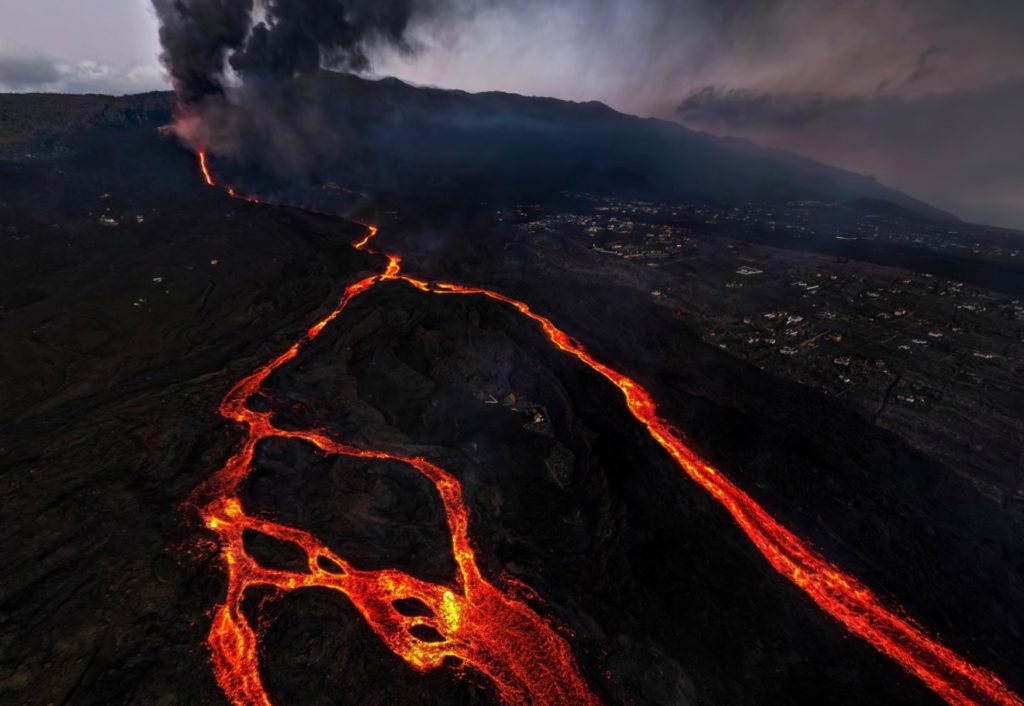 In the most remote stations, a slight deflation possibly linked to deep seismicity seems moderate.
Taking into account the calibrated image, an emission column height of 4000 m is estimated at 7.45 am UTC.
The 24-hour permanent volcanic monitoring network of the National Geographic Institute (IGN) located overnight on the island of La Palma a total of 42 earthquakes associated with the eruption of the Cumbre Vieja volcano, a dozen of them of magnitude greater than 3 (mbLg).
At 07:24, there was an earthquake of M 5 (mbLg), the maximum magnitude recorded since the start of the volcanic crisis, located southwest of the municipality of Villa de Mazo at a depth of 35 km. This earthquake was felt in many points of La Palma as well as in Gomera, El Hierro and Tenerife.
The southernmost lava flow of the Cumbre Vieja volcano approaches the coast. The technical director of the Canary Islands Volcanic Emergency Plan, Miguel Ángel Morcuende, explained on Saturday that it is already less than 400 meters from the sea, having traveled around 1,500 meters in the past 24 hours.
The eruption maintains a pattern of behavior similar to that of the past few days. The morphology of the cone has not changed over the past 24 hours, but remains possible.
· The South flow continues to move over previously unaffected land and has advanced approximately 1,500 meters over the past 24 hours.
The volcano recorded on Friday afternoon and for several hours an episode of audible explosions of great intensity, emitting a considerable volume of ash, covering the entire Aridane Valley, as reported on Saturday by the director of the National Geographical Institute (IGN) in the Canary Islands and spokesperson for the scientific committee of Pevolca, María José Blanco, who explained that this episode was caused by a process of intensification of the degassing.
Source : IGN es , El Pais .
Photos : I love the world
Alaska , Great Sitkin :
52°4'35 » N 176°6'39 » W,
Summit Elevation 5709 ft (1740 m)
Current Volcano Alert Level: WATCH
Current Aviation Color Code: ORANGE
Lava effusion continued this week at Great Sitkin, and lava fills more than half of the summit crater. Satellite imagery through October 27 showed that two lobes of lava, flowing over low points on the crater rim, extend downslope ~600 m (2,000 feet) to the south and west. Lava has also reached the crater rim on its northern periphery. In a few areas, the lava has advanced over snow and is advancing into the glacial ice to the east, but no significant steaming or ponding of water has been observed. This indicates that melt rates are probably low and there are no indications of any imminent hydrologic hazards.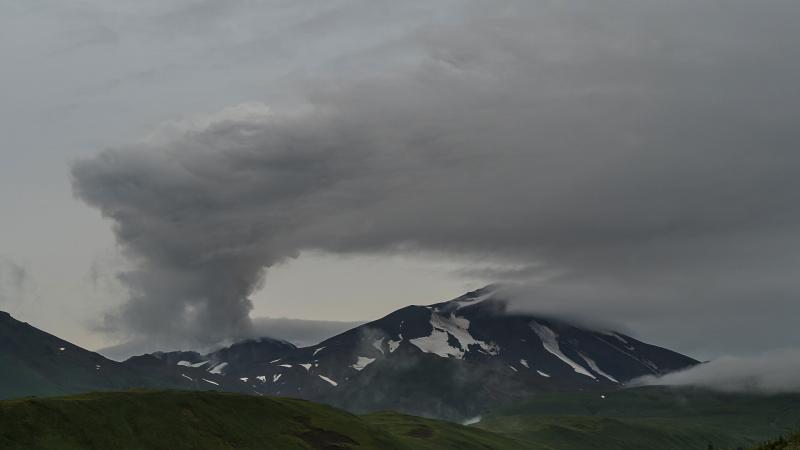 The lava lobes that have overtopped the summit crater rim are flowing into small valleys developed on the volcanic edifice. The terrain is steep in these areas, and blocks of lava and lava rubble could detach from the terminus of the flow lobes without warning and form small rock avalanches in these valleys. Such avalanches may liberate ash and gas and could travel several hundred meters beyond the lava flows; they would be hazardous to anyone in those areas. Satellite imagery shows such a blocky deposit extending downslope beyond the terminus of the west flow lobe.
Local geophysical and web camera data were reestablished this past week on October 23 after a power outage in Adak, Alaska. The level of seismicity was slightly elevated throughout the past week and there were persistent small earthquakes likely associated with the ongoing lava effusion. No explosive activity or ash emissions have been detected in regional seismic, infrasound, or satellite data.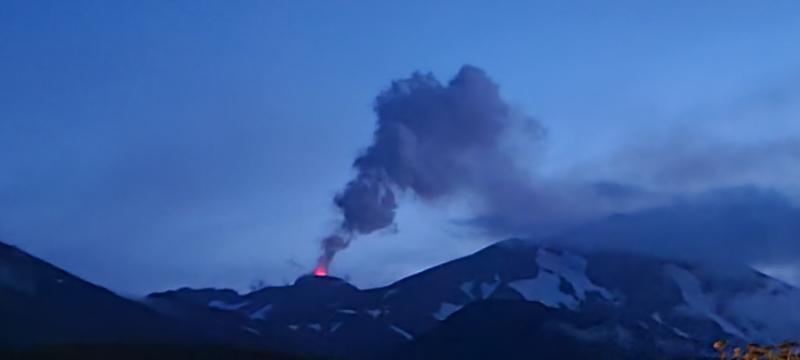 There is no indication of how long lava effusion will continue during the current eruption, and it is possible that explosive activity could occur with little or no warning.
Great Sitkin is monitored by local seismic and infrasound sensors, satellite data, web cameras, and remote infrasound and lightning networks.
Source : AVO
Photos : Ward, Dave , Kruse, Peggy .
Russia / Kuril Islands , Ebeko :
VOLCANO OBSERVATORY NOTICE FOR AVIATION (VONA)
Issued: October 31 , 2021 .
Volcano: Ebeko (CAVW #290380)
Current aviation colour code: ORANGE
Previous aviation colour code: yellow
Source: KVERT
Notice Number: 2021-132
Volcano Location: N 50 deg 41 min E 156 deg 0 min
Area: Northern Kuriles, Russia
Summit Elevation: 1156 m (3791.68 ft)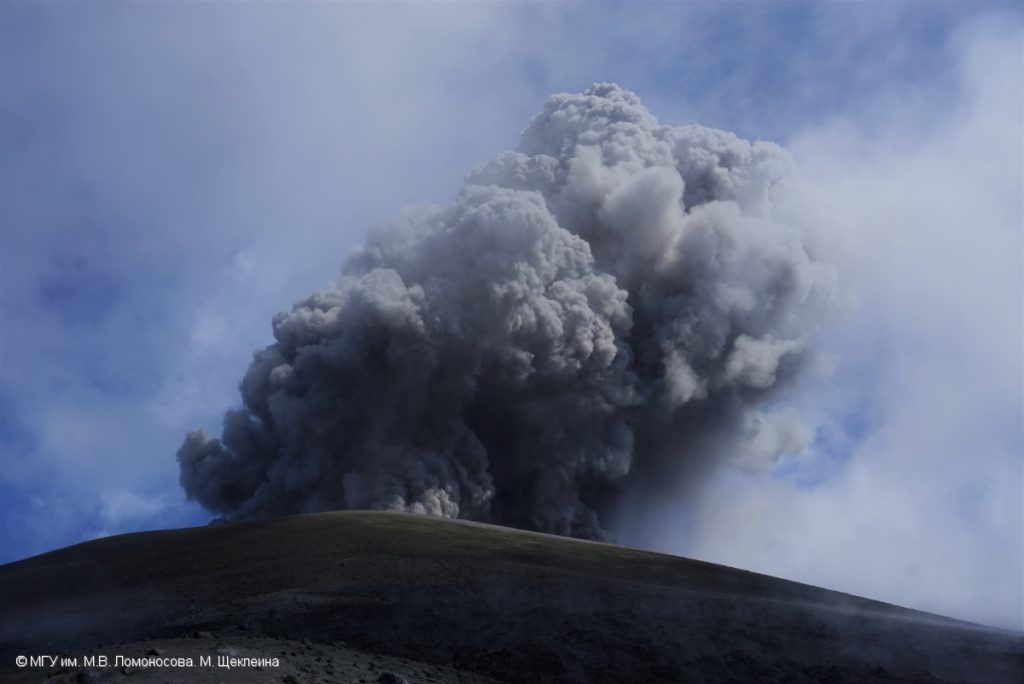 Volcanic Activity Summary:
A moderate eruptive activity of the volcano continues. According to visual data by volcanologists from Severo-Kurilsk, an explosion sent ash up to 1.8 km a.s.l., an ash cloud is drifting to the north-east of the volcano.
This activity continues. Ash explosions up to 6 km (19,700 ft) a.s.l. could occur at any time. Ongoing activity could affect low-flying aircraft and airport of Severo-Kurilsk.
Volcanic cloud height:
1800 m (5904 ft) AMSL Time and method of ash plume/cloud height determination: 20211031/0127Z – Visual data
Other volcanic cloud information:
Distance of ash plume/cloud of the volcano: 5 km (3 mi)
Direction of drift of ash plume/cloud of the volcano: NE / azimuth 50 deg
Time and method of ash plume/cloud determination: 20211031/0127Z – Visual data
Source : Kvert
Photo : M. Shchekleina, M.V. Lomonosov MGU.
Iceland , Fagradalsfjall :
OCTOBER 29, 2021 . Earthquake activity west of Kleifarvatn lake
On 28-October-2021 , two earthquakes with magnitude of Mw3,6 and Mw3,0 took place west of Kleifarvatn lake (in Krýsuvík-Trölladyngja volcano system). The first earthquake with magnitude of Mw3,6 took place at 18:36 UTC and the second earthquake with magnitude of Mw3,0 took place at 23:11 UTC. Other earthquakes that took place where smaller in magnitude.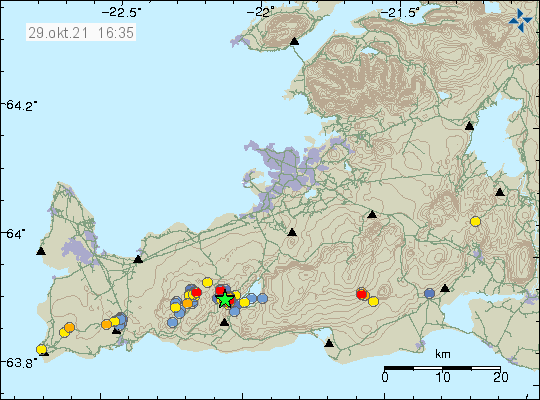 Earthquake activity west of Kleifarvatn lake. Two green stars on top of each other show the strongest earthquakes.
The earthquake activity in Krýsuvík-Trölladyngja volcano system. Copyright of this image belongs to Icelandic Met Office.
This earthquake activity seems to be connected to magma movements in the area. It has not yet and might not result in a eruption since this is in a different fissure area. It is unlikely that this activity is connected to the magma movements that are ongoing close to Fagradalsfjall mountain.
Source : icelandgeology.net
Photo : Icelandic Met Office.
Indonesia , Semeru :
VOLCANO OBSERVATORY NOTICE FOR AVIATION – VONA
Issued : October 30 , 2021
Volcano : Semeru (263300)
Current Aviation Colour Code : ORANGE
Previous Aviation Colour Code : orange
Source : Semeru Volcano Observatory
Notice Number : 2021SMR62
Volcano Location : S 08 deg 06 min 29 sec E 112 deg 55 min 12 sec
Area : East java, Indonesia
Summit Elevation : 11763 FT (3676 M)
Volcanic Activity Summary :
Eruption with volcanic ash cloud at 23h03 UTC (06h03 local)
Volcanic Cloud Height :
Best estimate of ash-cloud top is around 13043 FT (4076 M) above sea level, may be higher than what can be observed clearly. Source of height data: ground observer.
Other Volcanic Cloud Information :
Ash-cloud moving to southwest.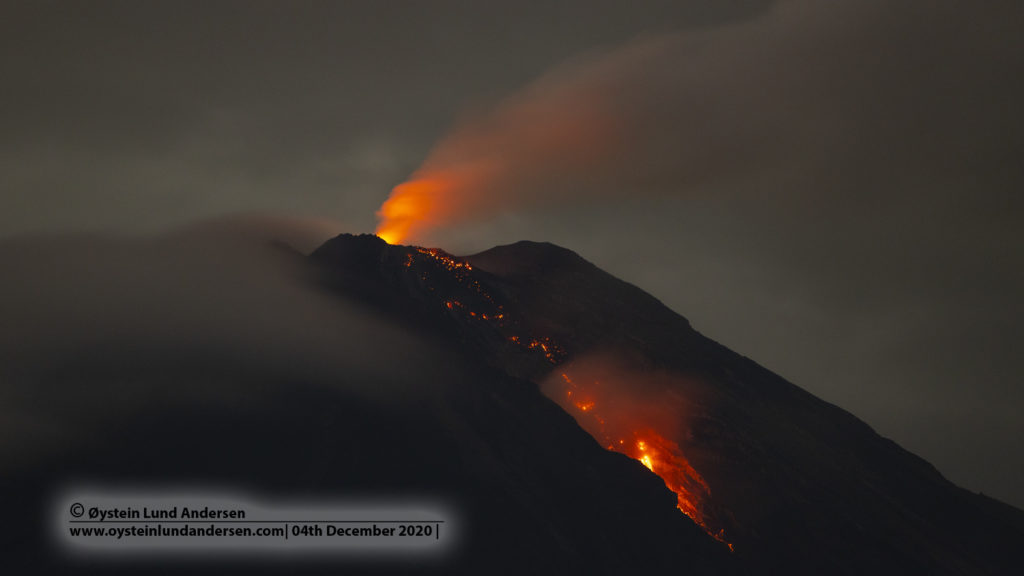 Level of activity at Level II (WASPADA). Mount Semeru (3,676 m above sea level) erupts intermittently. Explosive and effusive eruptions are recorded, producing lava flows towards the south and south-eastern slopes, as well as ejections of incandescent rocks around the summit crater. The last eruption occurred on October 19, 2021, and the height of the eruption column was not observed.
The volcano is covered in fog. No smoke from the crater was observed. The weather is sunny to cloudy. The wind is blowing weak to moderate to the southwest and west. The air temperature is around 22-28 ° C.
According to the seismographs of October 30, 2021, it was recorded:
53 eruption / explosion earthquakes
7 earthquakes of emissions
Source : Magma Indonésie , PVMBG.
Photo : Oystein lund Andersen .