July 27, 2021. EN . Italy / Sicily : Etna , Philippines : Taal , Peru : Sabancaya , Chile : Nevados de Chillan , Iceland : Katla .
July 27 , 2021.
Italy / Sicily , Etna :
Press release on ETNA activity July 26, 2021, 21:17 (19:17 UTC).
The National Institute of Geophysics and Volcanology, Osservatorio Etneo, reports that from 6:20 p.m. UTC, a continuous emission of ash is observed at the level of the Northeast Crater. The volcanic cloud reaches a height of about 6,000 m above sea level and, based on the model forecast, it disperses northward.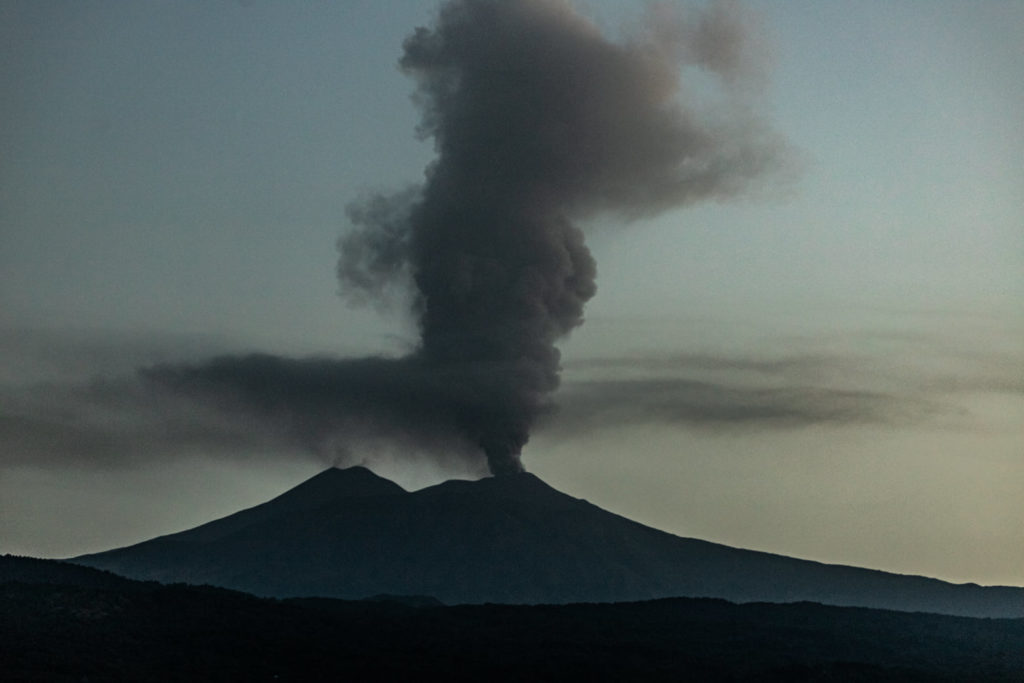 The temporal trend of the mean amplitude of the volcanic tremor does not show significant variations and the values remain low. The centroid of the volcanic tremor sources is currently stationary and is located in correspondence with the craters of Bocca Nuova and Voragine at an altitude of about 2900 m above sea level.
Infrasound activity remains at low and stationary levels; low amplitude events located in correspondence with the Bocca Nuova are recorded.
Signals from permanent GNSS and inclinometric deformation monitoring networks do not show significant changes.
Further updates will be communicated shortly.
Source : INGV.
Photo : Guide Alpine Vulcanologiche Etna.
Philippines , Taal :
TAAL VOLCANO BULLETIN 27 July 2021 8:00 AM
In the past 24-hour period, the Taal Volcano Network recorded seventy-nine (79) volcanic earthquakes, including fifty-five (55) volcanic tremor events having durations of one (1) to eighteen (18) minutes, twenty-one (21) low-frequency volcanic earthquakes, and low-level background tremor that has persisted since 07 July 2021. High levels of volcanic sulfur dioxide or SO2 gas emissions and steam-rich plumes that rose ten (10) meters before drifting to the northeast were generated from the Taal Main Crater. Sulfur dioxide (SO2) emission averaged 1,802 tonnes/day on 26 July 2021. Based on ground deformation parameters from electronic tilt, continuous GPS and InSAR monitoring, Taal Volcano Island has begun deflating in April 2021 while the Taal region continues to undergo very slow extension since 2020.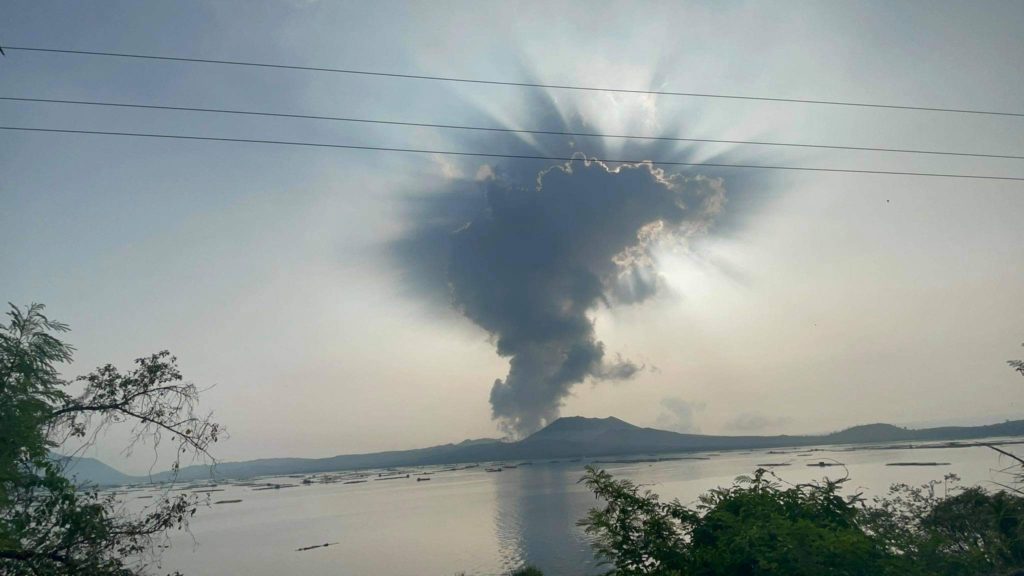 Alert Level 2 (Decreased Unrest) now prevails over Taal Volcano. DOST-PHIVOLCS reminds the public that at Alert Level 2, sudden steam- or gas-driven explosions, volcanic earthquakes, minor ashfall, and lethal accumulations or expulsions of volcanic gas can occur and threaten areas within and around TVI. DOST-PHIVOLCS strongly recommends that entry must be strictly prohibited into Taal Volcano Island, Taal's Permanent Danger Zone or PDZ, especially the vicinities of the Main Crater and the Daang Kastila fissure, and occupancy and boating on Taal Lake. Local government officials are advised to continuously assess and strengthen the preparedness of previously evacuated barangays around Taal Lake in case of renewed unrest. Civil aviation authorities must advise pilots to avoid flying close to the volcano as airborne ash and ballistic fragments from sudden explosions and wind-remobilized ash may pose hazards to aircraft.
DOST-PHIVOLCS is closely monitoring Taal Volcano's activity and any new significant development will be immediately communicated to all stakeholders.
Source : Phivolcs.
Photo : Seys Marasigan / Seys Channel
Peru , Sabancaya :
Analysis period: July 19, 2021 to July 25, 2021, Arequipa, July 26, 2021.
Alert level: ORANGE
The Geophysical Institute of Peru (IGP) reports that the eruptive activity of the Sabancaya volcano remains at moderate levels, that is to say with the recording of an average of 58 daily explosions, with columns of ash and gas up to an altitude of 2.3 km above the summit of the volcano and their consequent dispersion. Therefore, for the following days, no significant change is expected in eruptive activity.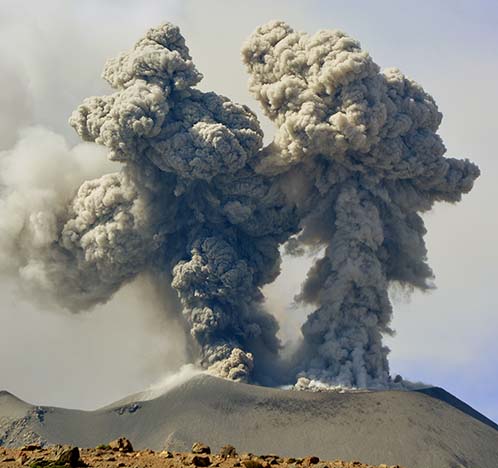 The IGP recorded and analyzed the occurrence of 1,176 earthquakes of volcanic origin, associated with the circulation of magmatic fluids within the Sabancaya volcano. An average of 58 explosions was recorded daily. During this period, Volcano-Tectonic (VT) earthquakes associated with rock fractures were located mainly in the North, Northeast, Northwest and Southwest of Sabancaya and presented magnitudes between M1.8 and M3.9.
The monitoring of the deformation of the volcanic structure using GNSS techniques (processed with fast orbits) does not show any significant anomalies. However, in general, an inflation process was observed in the northern sector (around the Hualca Hualca volcano). Visual surveillance identified columns of gas and ash up to an altitude of 2.3 km above the summit of the volcano, which were scattered towards the South, South-East, East and North-East sectors of the volcano. Sabancaya. Satellite recordings have identified the presence of 9 thermal anomalies (maximum value of 16 MW) associated with the presence of a lava body on the surface of the volcano's crater.
RECOMMENDATIONS
• Keep the volcanic alert level in orange.
• Do not approach within a radius of 12 km from the crater.
Source : IGP.
Photo : IGP
Chile , Nevados de Chillan :
Special Report on Volcanic Activity (REAV), Ñuble region, Nevados de Chillán volcanic complex, July 26, 2021, 3:00 p.m. local time (Continental Chile).
The National Service of Geology and Mines of Chile (Sernageomin) publishes the following PRELIMINARY information, obtained thanks to the monitoring equipment of the National Volcanic Monitoring Network (RNVV), processed and analyzed at the Volcanological Observatory of the Southern Andes ( Ovdas):
On Monday July 26, at 2:44 p.m. local time (6:44 p.m. UTC), monitoring stations installed near the Nevados de Chillán volcanic complex recorded an earthquake associated with fluid dynamics (long period type) in the volcanic system.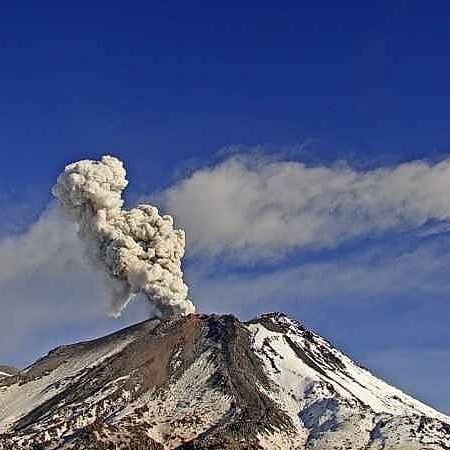 The characteristics of the earthquake after its analysis are as follows:
TIME OF ORIGIN: 14:44 local time (18:44 UTC)
LATITUDE: 36.865 ° S
LONGITUDE: 71.369 ° W
DEPTH: 1.3 km
REDUCED DISPLACEMENT: 532 (cm2)
ACOUSTIC SIGNAL: 0.73 Pascals (Pa) reduced to one km
The characteristics of the surface activity are as follows:
MAXIMUM HEIGHT OF THE COLUMN: 360 meters above the point of emission
DIRECTION OF DISPERSAL: North (N)
OBSERVATIONS:
The volcanic technical alert remains at the Yellow level.
Source : Sernageomin.
Photo : Sernageomin.
Iceland , Katla :
Earthquake activity in Katla volcanoSince 22-July-2021 there has been an earthquake activity in Katla volcano. This earthquake activity has been mostly located to the east of the caldera and largest earthquake so far detected had a magnitude of Mw3,0.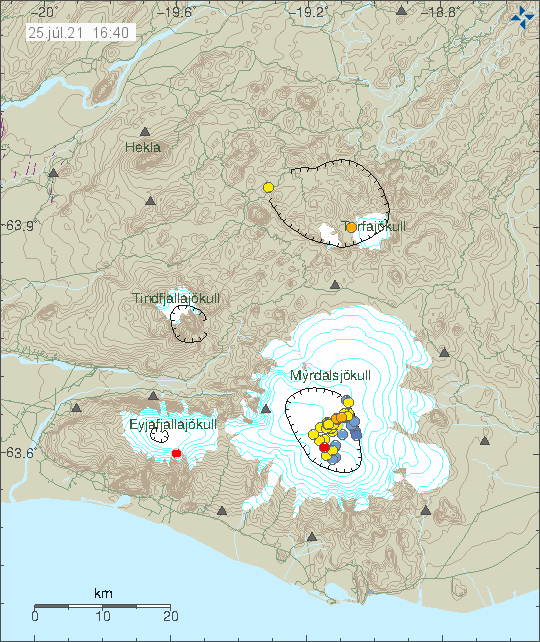 There has not been any change in harmonic tremor activity following this earthquake activity. That strongly suggest that this is normal summer earthquake activity for Katla volcano. Earthquake activity is also far too low for it to signal any eruption risk. That might change if earthquake activity changes and grows in size.
More earthquake activity in Katla volcano
Since yesterday (24-July-2021) and until today (25-July-2021) there has been rather strong earthquake activity in Katla volcano. The earthquakes are not strong with largest earthquakes having a magnitude of Mw2,6. It is unclear what is going on.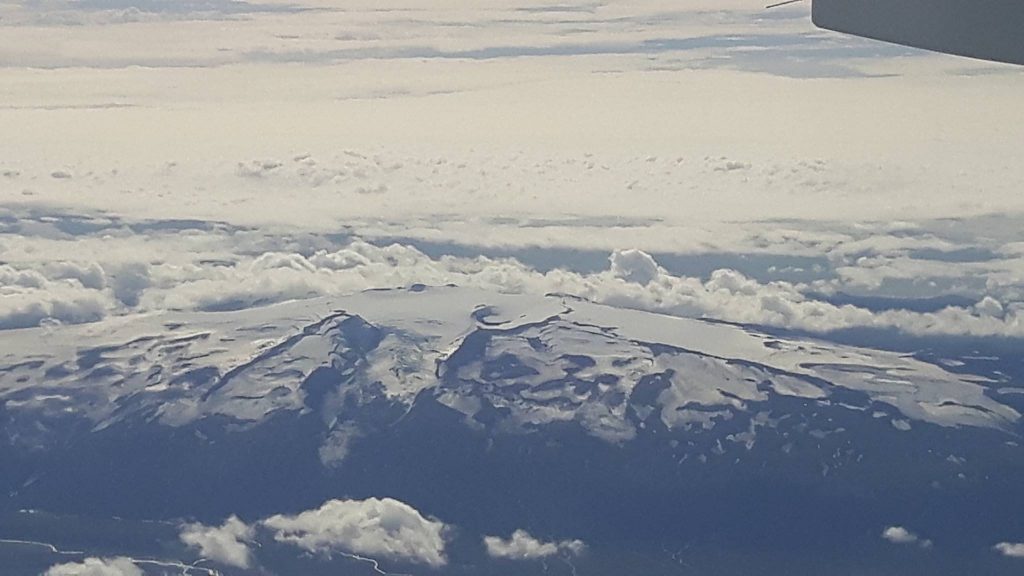 One of the reasons this earthquake activity is happening is that cauldron might be emptying in the Mýrdalsfjökull glacier. That creates a drop in pressure that can start earthquake activity. I don't know if that is what happened now. If that is what is going on it is going to take the melt water few hours to reach the rivers in Mýrdalssandur sand area. There has not been any change in harmonic tremor activity following this earthquake activity.
Source : icelandgeology.net
Photo : Icelandic Met Office. Auteur inconnu .