March 19, 2021. EN . Iceland : Reykjanes Peninsula , Italy / Sicily : Etna , La Réunion : Piton de la Fournaise , Philippines : Taal , Indonesia : Sinabung .
March 19 , 2021.
Iceland , Reykjanes Peninsula :
A volcanic eruption remains a possibility at Reykjanes Peninsula
Updated 18.03 at 11:33
About 400 earthquakes have been detected between midnight and seven AM on the Reykjanes peninsula. This is somewhat less seismic activity in comparison to previous mornings where the numbers have been around 1,000 earthquakes.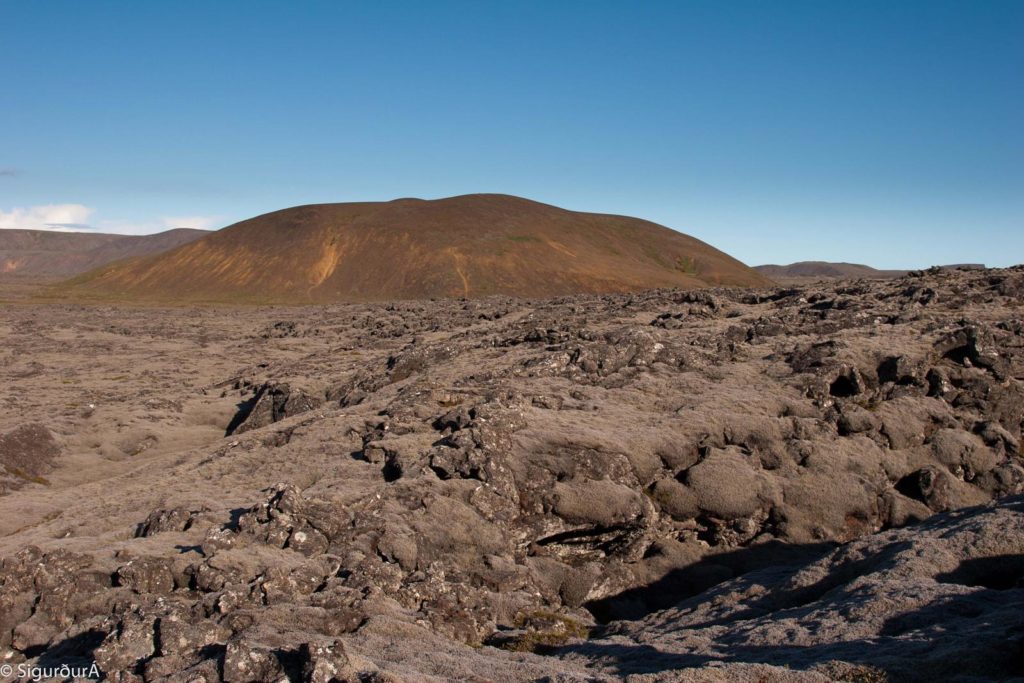 Fagradalsfjall en arrière-plan.
Yesterday around 1400 earthquakes were detected. Three were larger than magnitude 3, the largest M3.3 at 2:37AM locateed around 1km N of Nátthagi valley.
Today at 13:00GMT the Scientific Advisory Board of the Icelandic Civil Protection will meet to evaluate the latest monitoring data. Findings of the meeting are expected shortly after 15:00GMT.
IMO reported that seismicity in the Reykjanes Peninsula remained elevated with thousands of earthquakes recorded during 10-16 March, in the western part of the Krýsuvík-Trölladyngja volcanic system in the Fagradalsfjall fissure swarm area. About 16,500 earthquakes had been detected over the week. Some of the largest events, M 4.3-5.4 recorded during 10-12 and 14-15 March, were felt as far as Hvanneyri (97 km NNE of Grindavik), Hvolsvollur (110 km ESE of Grindavik), and Saudakrokur (250 NE of Grindavik). A few, short-lived pulses of tremor were also recorded. The magma intrusion continued to move SW along a fault between Keilir and Fagradalsfjall, and was as shallow as 1 km below the surface. GPS, satellite, and seismic data indicated that the intrusion had expanded S to Nátthaga, a valley just E of Borgarfjall and S of Fagradalsfjall, and was 3-5 km long. Ground fracturing was visible in the area above the intrusion.
The Aviation Color Code for Krýsuvík remained at Orange.
Source : Vedur Is . GVP.
Photo : Sthrains.
Italy / Sicily , Etna :
On the way to the 15th climax.
Press release on ETNA activity, March 19, 2021, 07:34 (06:34 UTC).
The National Institute of Geophysics and Volcanology, Etneo Observatory, reports that the amplitude of the tremor increases, reaching the high level threshold. The sources of the signals are located under the Southeast Crater at a depth of approximately 2,500 m above sea level. Infrasound activity is currently increasing with 1 to 2 events per minute.
Explosive activity at the Southeast Crater continues. The forecast model indicates the dispersion of the eruptive cloud in the east-northeast direction.
the data from the GNSS network do not show any significant changes, while the inclinometric network shows a change in trend related to the current activity.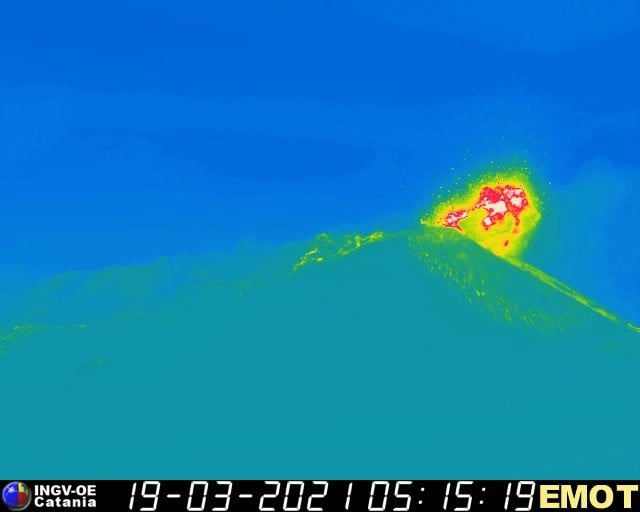 09:15 (08:15 UTC):
There is an increase in Strombolian activity at the Southeast Crater with emission of ash. The forecast model indicates the dispersion of the eruptive cloud in the east-northeast direction.
The amplitude of the tremor continuously increases to high levels.
The sources are located in the area of the Southeast Crater at an altitude of 2500 m.
Planned infrasound activity continues GNSS network data does not show significant variations, while inclinometric network exhibits modest variations (less than 0.1 microradians) concurrently with current activity.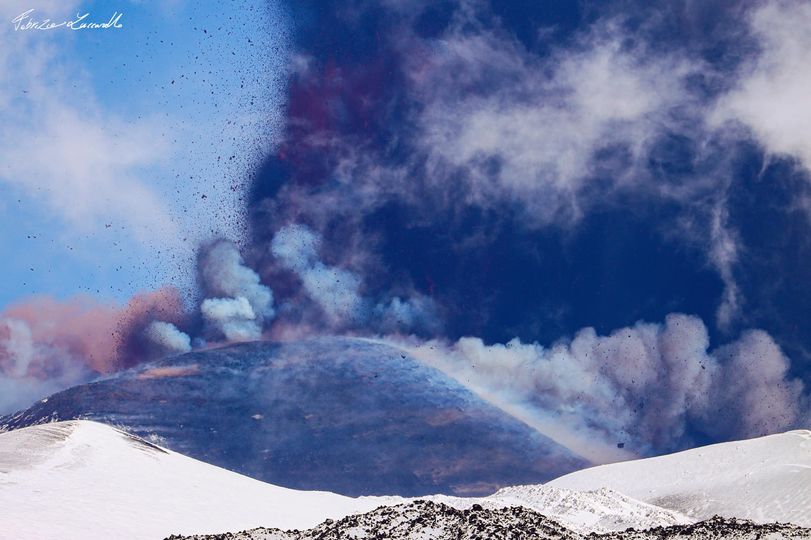 09:35 (08:35 UTC)
The Strombolian activity of the Southeast Crater has turned into a lava fountain. The forecast model indicates the dispersion of the eruptive cloud in the east-northeast direction.
The increase in tremor continues as it reaches the second alarm level.
The sources are still located in the area of the Southeast Crater at an altitude of 2800 m. Intense infrasound activity continues
Source : INGV.
Photo : Fabrizio Zuccarello
La Réunion , Piton de la Fournaise :
Activity bulletin for Thursday March 18, 2021 at 7:30 am (local time).
Since March 13, a resumption of seismicity has been observed under the Piton de la Fournaise. Thus between March 13 and 17, 20 volcano-tectonic earthquakes, of magnitude less than 1, were recorded and located under the eastern part of the Dolomieu crater between 0.3 and 0.9 km above sea level ( ie between 1.6 and 2.2 deep; Figure 2).

Figure 1: Histogram representing the number of superficial volcano-tectonic earthquakes recorded between January 1 and March 17, 2021 (© OVPF-IPGP).
This seismicity is accompanied by a resumption of inflation (swelling) of the top of the Piton de la Fournaise building. This building inflation remains very low for the moment and will have to be confirmed over time in the coming days.
This seismicity and deformation are synonymous with a pressurization of the superficial magmatic reservoir located about 2-2.5 km below the summit.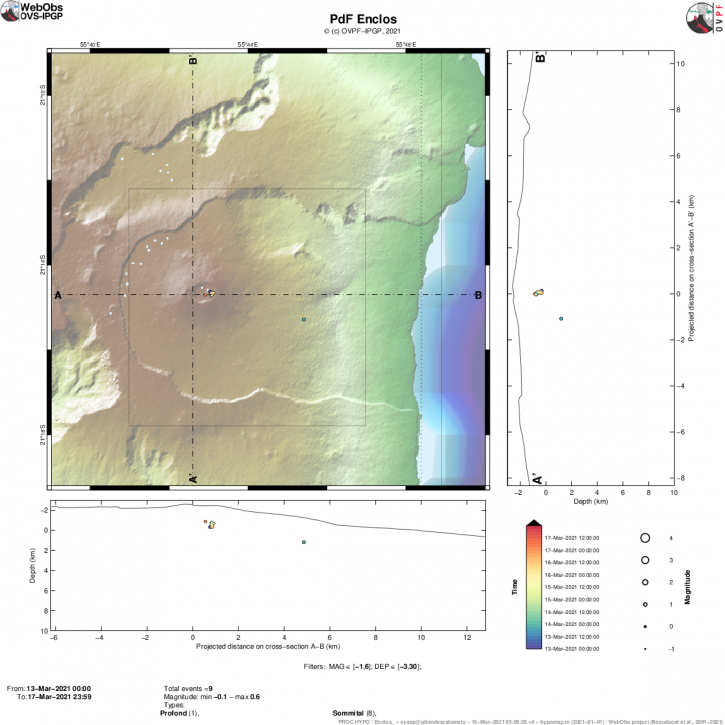 Figure 2: Location map (epicenters) and north-south and east-west sections (showing the location in depth, hypocenters) of the earthquakes recorded and located by the OVPF-IPGP between March 13 and 17, 2021 under the Massif du Piton de la Fournaise. Only localizable earthquakes have been shown on the map (© OVPF-IPGP).
This resumption of seismicity follows a change in the composition of fumarolic emissions recorded at the top of Piton de la Fournaise at the end of February 2021 (presence of small amounts of SO2, coupled with CO2) and an increase in CO2 fluxes in the soil. in March 2021, especially on the sides of the volcano in the far field (Plaine des Cafres and Plaine des Palmistes sectors). Since CO2 is the first gas to be released from magma at great depth (from the mantle), its detection in the far field is often associated with a deep rise of magma.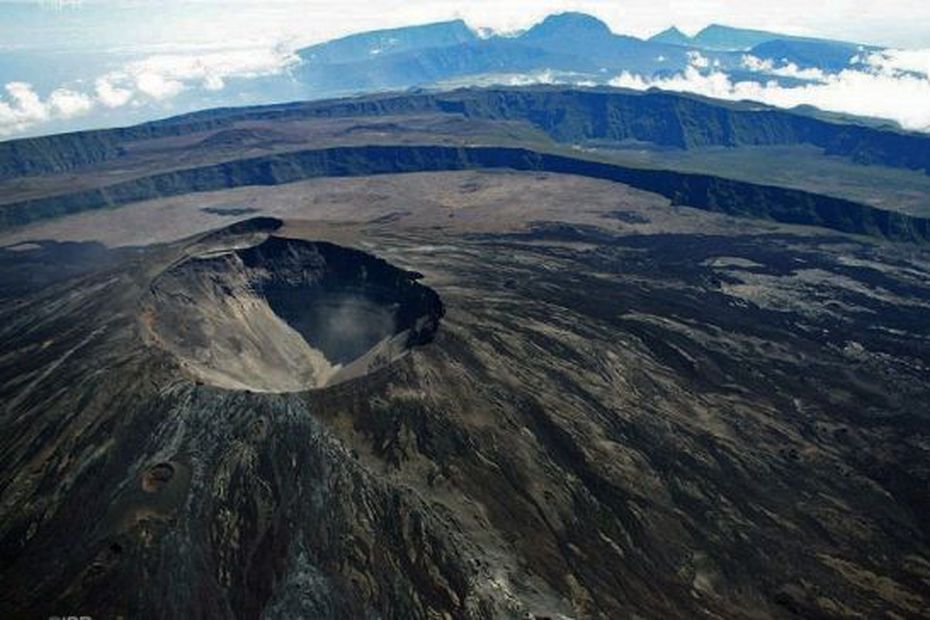 This recharging process from the depths to the shallow reservoir can take several days to several weeks before the reservoir roof weakens and breaks, resulting in an injection of magma to the surface and an eruption, but can also stop without giving rise to an eruption in the short term.
Source : OVPF .
Photo : Imaz Press.
Philippines , Taal :
TAAL VOLCANO BULLETIN: 19 March 2021 08:00 A.M.
In the past 24-hour period, the Taal Volcano Network recorded one hundred ten (110) volcanic earthquakes, including sixty-three (63) episodes of volcanic tremor having durations of one (1) to fifteen (15) minutes and three (3) hybrid events. Activity at the Main Crater consisted of weak emission of steam-laden plumes from fumarolic vents that rose 5 meters high.
Sulfur dioxide (SO2) emission that averaged 754 tonnes/day was measured yesterday, 18 March 2021. Temperature highs of 71.8°C and pH of 1.59 were last measured from the Main Crater Lake respectively on 04 March and 12 February 2021. Ground deformation parameters from electronic tilt, continuous GPS and InSAR data analysis indicated a very slow and steady inflation and expansion of the Taal region since after the January 2020 eruption. These parameters may indicate increased magmatic activity at shallow depths beneath the edifice.
Source : Phivolcs .
Photo : Raffy Tima .
Indonesia , Sinabung :
VOLCANO OBSERVATORY NOTICE FOR AVIATION – VONA
Issued : March 19 , 2021 .
Volcano : Sinabung (261080)
Current Aviation Colour Code : ORANGE
Previous Aviation Colour Code : orange
Source : Sinabung Volcano Observatory
Notice Number : 2021SIN24
Volcano Location : N 03 deg 10 min 12 sec E 98 deg 23 min 31 sec
Area : North Sumatra, Indonesia
Summit Elevation : 7872 FT (2460 M)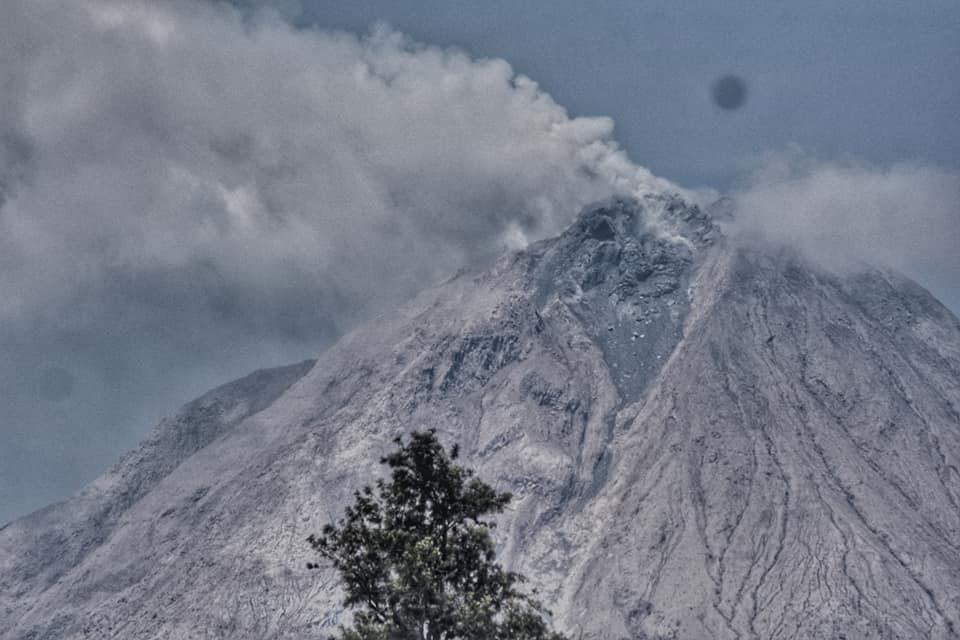 Volcanic Activity Summary :
Eruption with ash clouds at 03:58 UTC (10:58 local time). The eruption lasted for 145 seconds.
Volcanic Cloud Height :
Best estimate of ash-cloud top is around 11072 FT (3460 M) above sea level, may be higher than what can be observed clearly. Source of height data: ground observer.
Other Volcanic Cloud Information :
Ash cloud is moving to W-NW
Remarks :
Seismic activity is characterized by the Deep Volcanic Earthquake, Low Frequency Earthquake, and Hybrid Earthquake.
The activity level has been at level III (SIAGA) since May 20, 2019 at 10:00 a.m. WIB. Mount Api Sinabung (2460 m altitude) has been erupting since 2013. The last eruption occurred on March 13, 2021 with a height of the eruption column that was not observed.
The volcano was clearly visible until it was covered in fog. The crater emits white smoke with thick intensity, about 500 meters above the summit. The weather is sunny to rainy, with weak winds to the southwest, west and northwest. The descent of hot clouds was observed with a sliding distance of 1500 meters from the summit, in an east-south-east direction.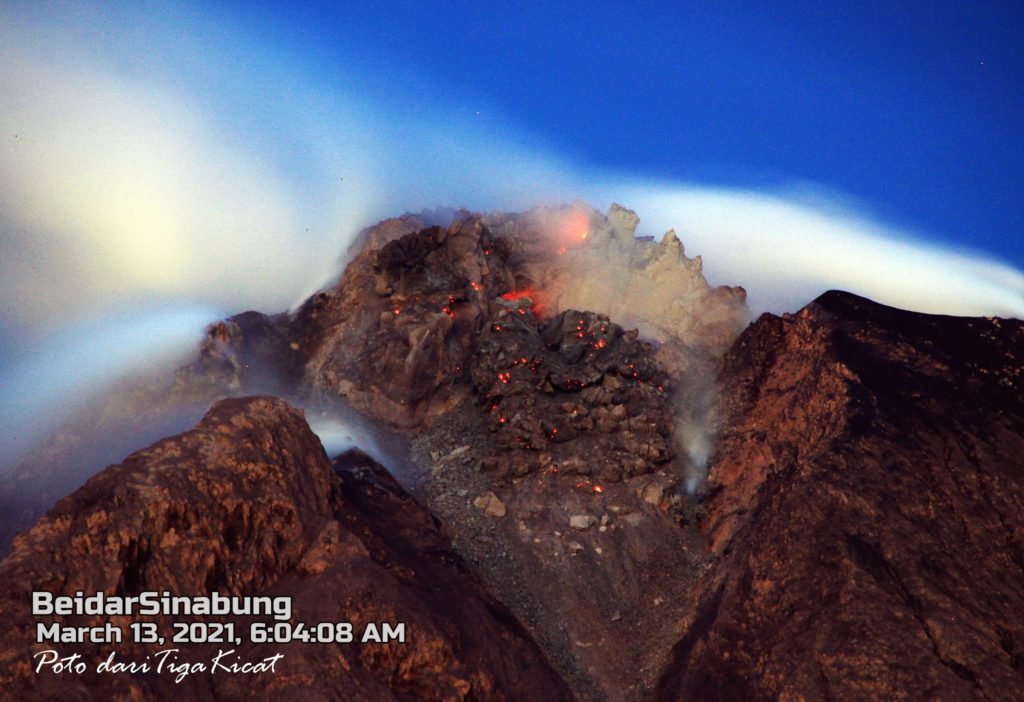 According to the seismographs of March 18, 2021, it was recorded:
45 avalanche earthquakes
11 earthquakes of emissions
8 low frequency earthquakes
26 hybrid / multi-phase earthquakes
1 deep volcanic earthquake
1 local tectonic earthquake
4 distant tectonic earthquakes
1 flood earthquake
Source : Magma Indonésie , PVMBG.
Photo : Nachelle Homestay . Tiga Kicat via Firdaus Surbakti .