November 23, 2020. EN . Philippines : Kanlaon , Chile : Copahue , Guatemala : Pacaya , Kamchatka : Klyuchevskoy .
November 23 , 2020.
Philippines , Kanlaon :
KANLAON VOLCANO BULLETIN: 23 November 2020 08:00 A.M.
Kanlaon Volcano's monitoring network recorded eight (8) volcanic earthquakes during the 24-hour observation period. Very weak emission of white steam-laden plumes was observed. Sulfur dioxide (SO2) emission was measured at an average of 187 tonnes/day on 19 November 2020. Ground deformation data from continuous GPS measurements indicate slight inflation of the lower and mid slopes since June 2020, while short-term electronic tilt monitoring on the southeastern flanks recorded inflation on the lower to mid slopes that began on 21 June 2020. These parameters may indicate hydrothermal or magmatic processes occurring beneath the edifice.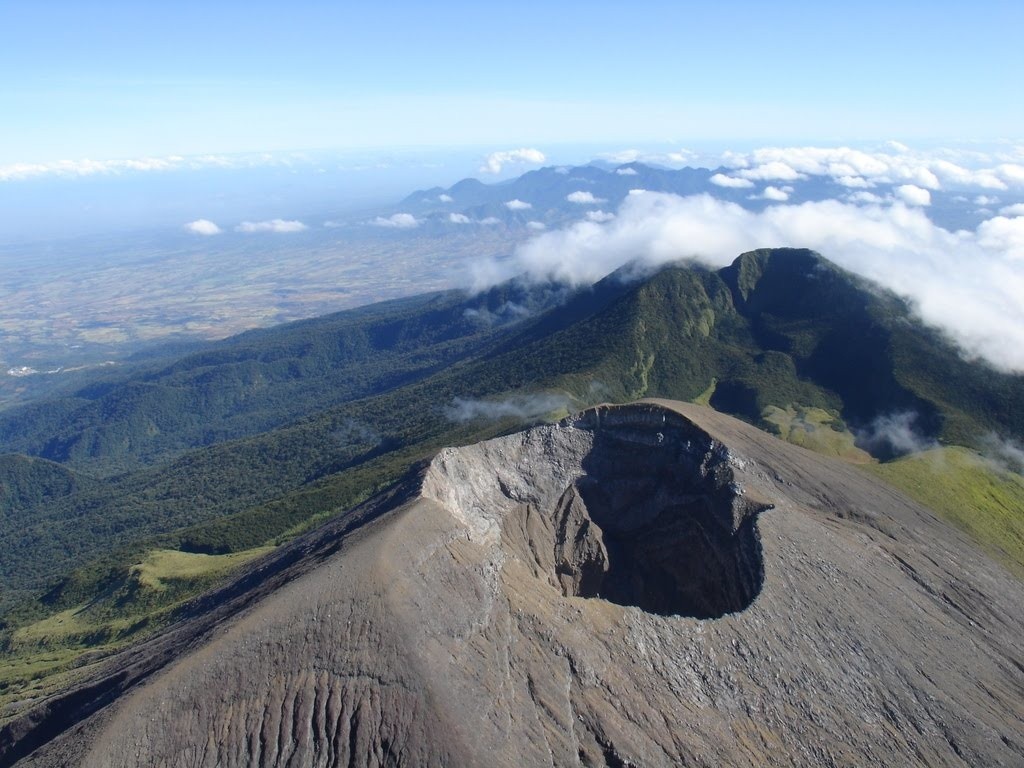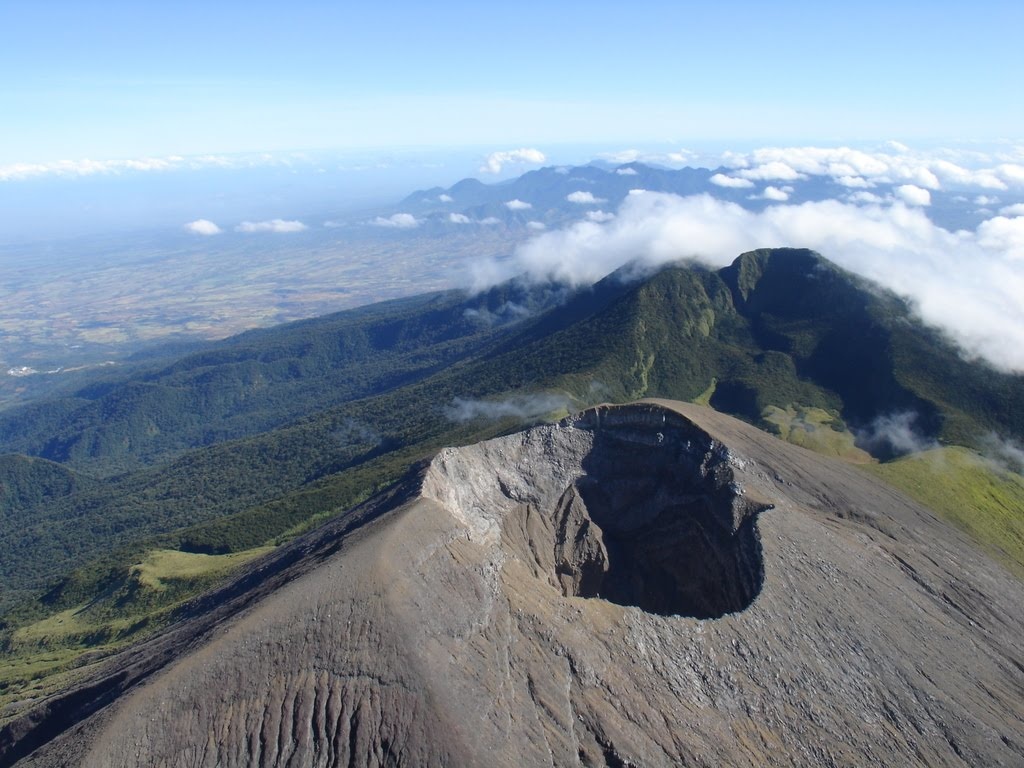 DOST-PHIVOLCS would like to remind the public that Kanlaon Volcano is at Alert Level 1, which means that it is at an abnormal condition and has entered a period of unrest. The local government units and the public are strongly reminded that entry into the 4-kilometer radius Permanent Danger Zone (PDZ) must be strictly prohibited due to the further possibilities of sudden and hazardous steam-driven or phreatic eruptions. Civil aviation authorities must also advise pilots to avoid flying close to the volcano's summit as ejecta from any sudden phreatic eruption can be hazardous to aircraft.
DOST-PHIVOLCS is closely monitoring Kanlaon Volcano's activity and any new development will be relayed to all concerned.
Source : Phivolcs.
Photo : Sunstar .
Chile , Copahue :
During the period, 11 seismic events classified as VT type were recorded, associated with brittle fracture processes in volcanic systems; the most energetic event had a local magnitude (ML) value of 1.9 and was located 13.7 km northeast (NE) with a depth of 7.2 km. In addition, 3 seismic events classified as LP type were recorded, associated with the dynamics of fluids present in a volcanic system; the most energetic event had a reduced displacement value (RD) equal to 1.6 cm2.
– The images provided by the fixed cameras installed near the volcano recorded passive degassing columns, preferably with heights between 200 and 300 m. The maximum value was recorded on November 15 and reached 760 meters above the point of emission; as well as isolated and infrequently recurring columns with low particle content and low
output power. No night incandescence was observed, a situation appreciated since the end of October.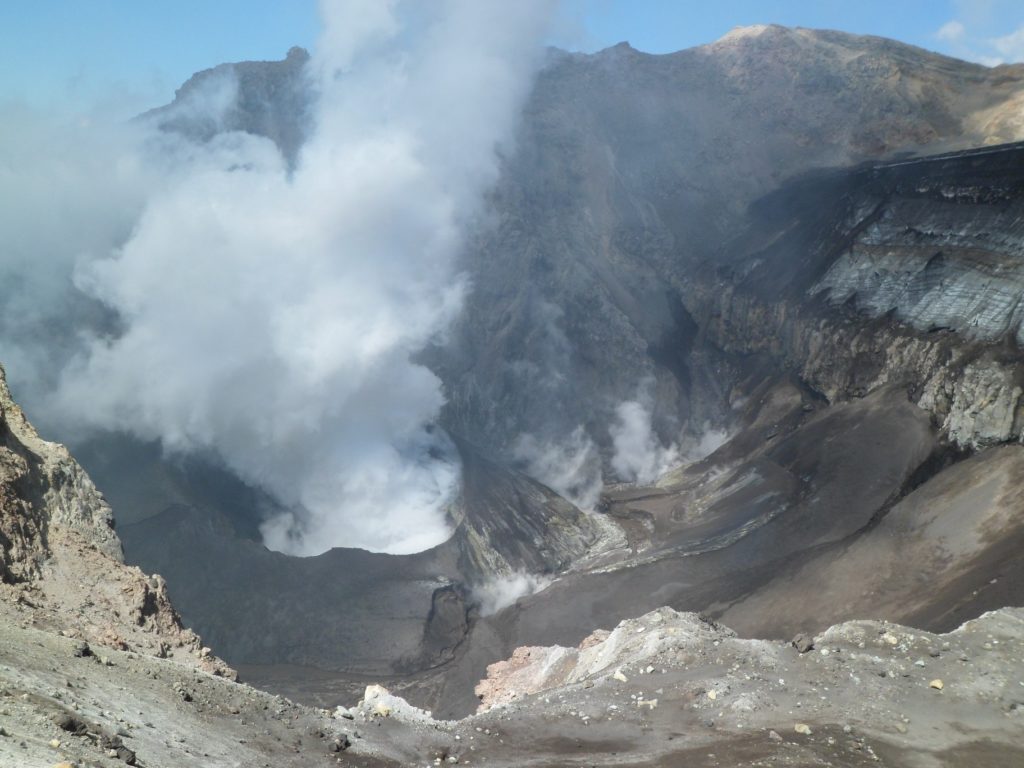 – From the geodetic data provided by the 3 GNSS stations which monitor the surface deformation of the volcano, no significant change linked to the internal activity of the volcanic system is detected. The trends observed during the previous period are maintained, with maximum average displacement rates below 0.1 cm / month.
– 3 anomalies were reported in sulfur dioxide (SO2) emissions into the atmosphere in the area near the volcanic building during the period assessed, on November 1, 6 and 9, according to data published by Tropospheric Monitoring Instrument (TROPOMI) and sulfur dioxide group of the ozone monitoring instrument (IMO)
– During the period, no thermal alert was recorded in the area associated with the volcanic building, according to data processed by Middle Infrared Observation of Volcanic Activity (MIROVA) and by the temporal thermal monitoring of global hot spots (MODVOLC) .
– Data on sulfur dioxide (SO2) emissions obtained by the differential absorption optical spectroscopy (DOAS) equipment, corresponding to the Hito station, located 5 km to the east-south-east (ESE) of the active crater, had an average value of 582 ± 322 t / d; This average corresponds to 2 days of data recording (November 11 and 12), with a maximum daily value of 904 t / d on November 12. Depending on the activity of the volcano, these values ​​remain at levels considered low.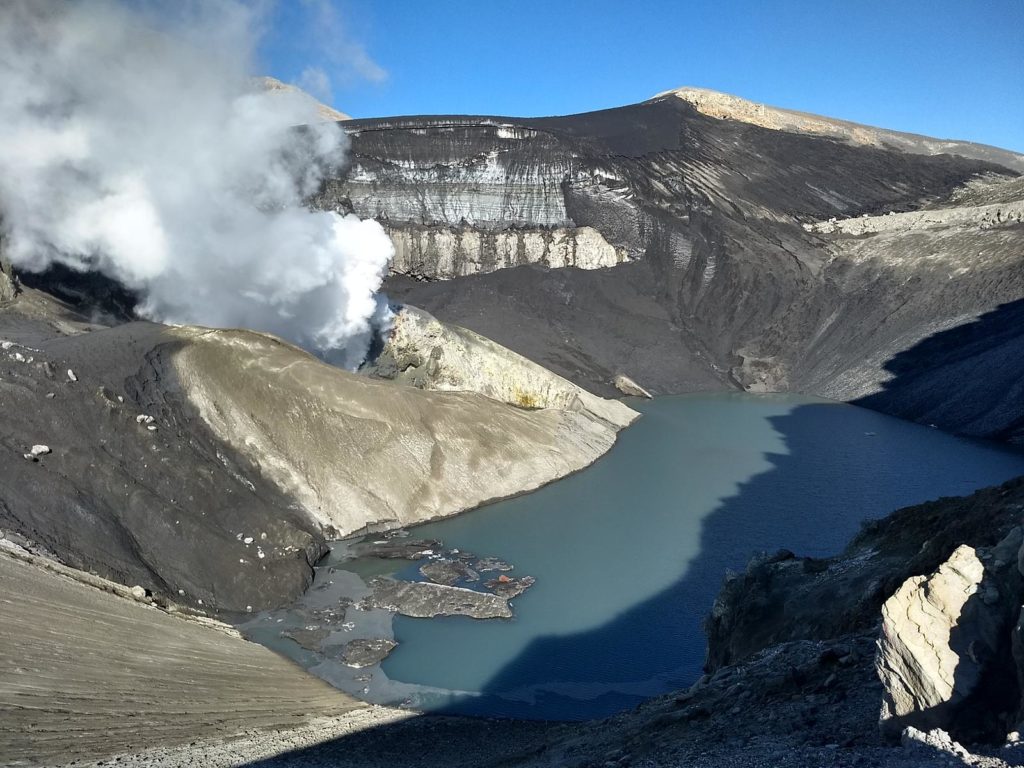 During the period, the activity of the Copahue volcano continues with a gradual decrease in the monitoring parameters represented by the absence of nocturnal incandescence, the partial restoration of the crater lake and the loss of energy of the tremor seismic signal. continuous, as well as the low power and height of the emitted columns with little recurrent presence of particulate matter. The above suggests a calorie loss from the surface system. In this context, energy events with a larger impact area are unlikely. Despite the above and in accordance with what has been observed during the previous phases, this volcanic system could experience temporary increases in its surface activity with the emission of gases and particles which, depending on their power and their dispersion , can be managed at a lower technical alert level.
Consequently, the volcanic technical alert is modified at the level:
GREEN TECHNICAL ALERT: Active volcano with stable behavior – No immediate risk.
Observation: the area close to the active crater within a radius of 500 m is considered as an impacted zone.
Source : Sernageomin.
Photos : Dario G. Lazo , Carpediem1971( Wikiloc).
Guatemala , Pacaya :
Type of activity: Strombolian.
Morphology: composite stratovolcano
Geographical location: 14 ° 22'50˝ Latitude N; 90 ° 36'00˝ Longitude W
Height: 2552msnm
Atmospheric conditions: Cloudy,
Wind: Northwest at 50 k / h /
Precipitation: 0.0 mm.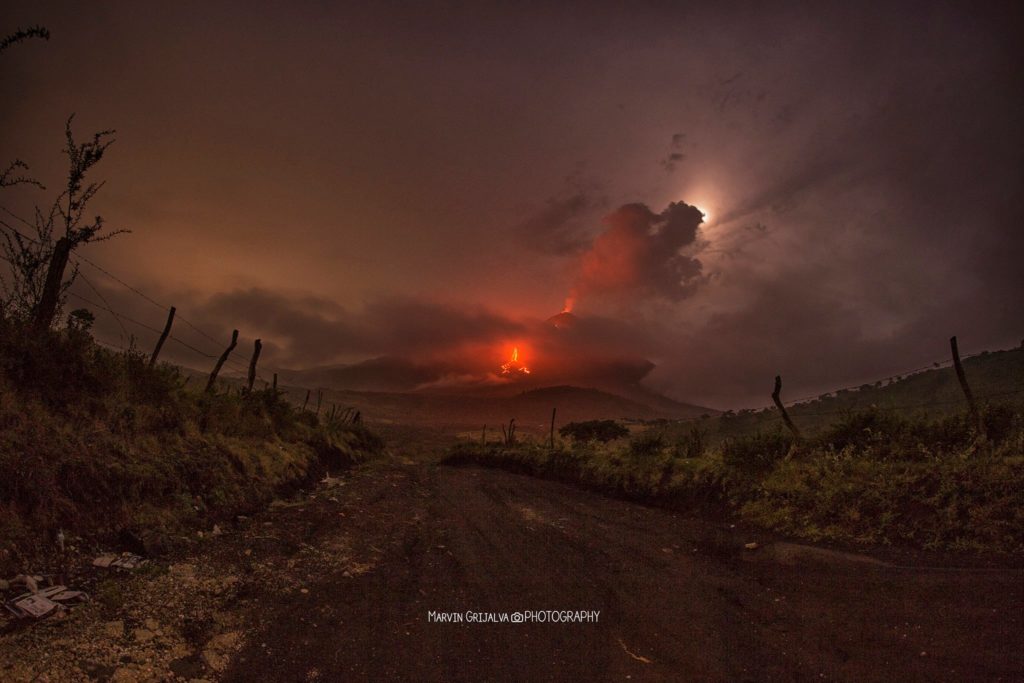 Activity:
The OVPAC, reports that sometimes activity is observed in the Mackenney crater, with small explosions accompanied by white and blue fumaroles, at a height of 50 meters above the crater, sometimes accompanied by weak puffs of ash which disperse towards the South-South-East at low altitude, over a distance of about 10 kilometers. The lava flow generated since October 20 persists on the southwest flank, with a length of 700 meters. The seismic stations of PCG and PCG5 record tremors (internal vibration) associated with the rise of magma, the movements of the lava flow and the pressure of magmatic gases. Due to the wind speed, loose materials are re-immobilized on the slopes of the volcano, forming curtains of ash which are dispersed in the direction of the wind. (The recommendations of special bulletin 116-2020 remain).
Source : Insivumeh .
Photo : Marvin Grijalva Photography / 30 octobre, 00:56 , via Sherine France .
Kamchatka , Klyuchevskoy :
VOLCANO OBSERVATORY NOTICE FOR AVIATION (VONA).
Issued: November 21 , 2020
Volcano: Klyuchevskoy (CAVW #300260)
Current aviation colour code: ORANGE
Previous aviation colour code: orange
Source: KVERT
Notice Number: 2020-214
Volcano Location: N 56 deg 3 min E 160 deg 38 min
Area: Kamchatka, Russia
Summit Elevation: 15580 ft (4750 m)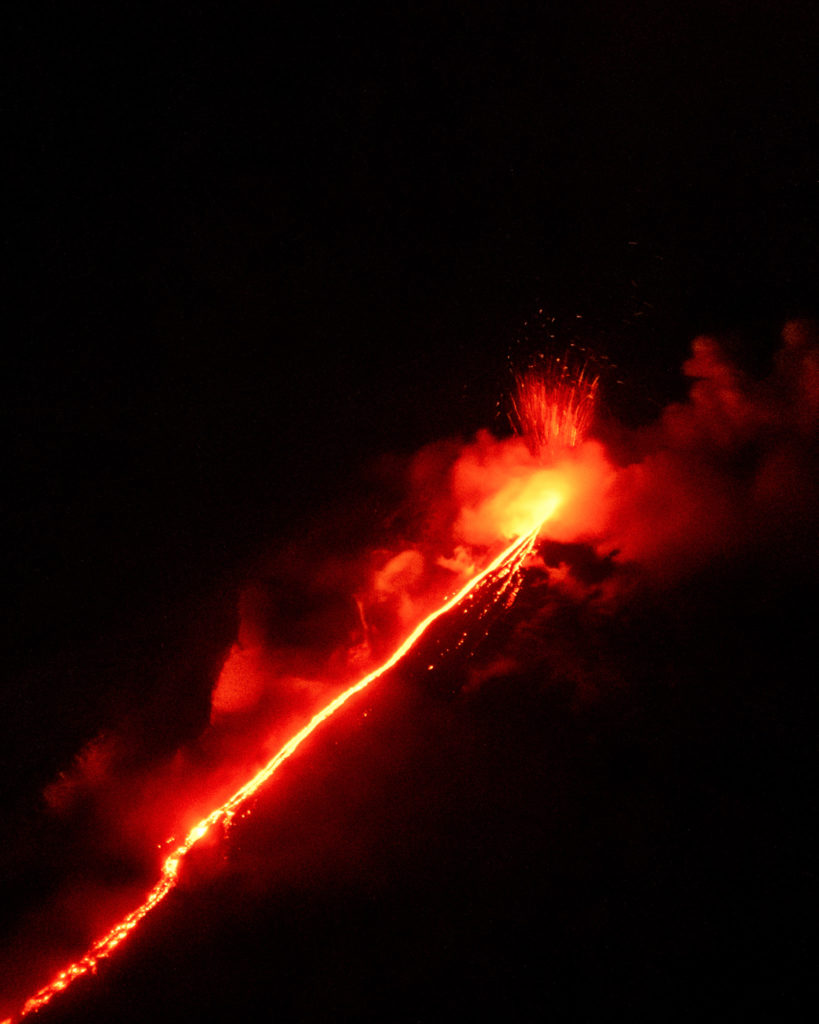 Volcanic Activity Summary:
A moderate explosive-effusive eruption of the volcano continues. According satellite data, gas-steam plume with some amount of ash extended for 85 km to the east of the volcano
This eruption of the volcano continues. Ash explosions up to 19,700-23,000 ft (7-8 km) a.s.l. could occur at any time. Ongoing activity could affect low-flying aircraft.
Volcanic cloud height:
16400 ft (5000 m) AMSL Time and method of ash plume/cloud height determination: 20201120/0043Z – NPP (4m5)
Other volcanic cloud information:
Distance of ash plume/cloud of the volcano: 53 mi (85 km)
Direction of drift of ash plume/cloud of the volcano: ESE / azimuth 106 deg
Time and method of ash plume/cloud determination: 20201120/0043Z – NPP (4m5)
Source : Kvert .
Photo : Александр Панферов