August 06 2020 . EN . Papua New Guinea : Manam , Iceland : Seismicity / Reykjanes Peninsula , Costa Rica : Turrialba / Poas / Rincon de la Vieja / Irazu , Japan / Ryukyu Islands : Suwanosejima .
August 06 , 2020.
Papua New Guinea , Manam :
4.08°S, 145.037°E
Elevation 1807 m
RVO reported that seismicity at Manam began increasing on 16 July and fluctuated between low and moderate levels through the 29th. A slow steady increase of RSAM values was recorded on 30 July, and RVO stated that an observer had reported that incandescent material had been ejected from the summit. The Darwin VAAC noted that a sustained and intense thermal anomaly was visible in satellite images that same day. During 31 July-1 August ash plumes drifted NW at an altitude of 4.3 (14,000 ft) a.s.l. and a lava flow at the summit was visible.
The 10-km-wide island of Manam, lying 13 km off the northern coast of mainland Papua New Guinea, is one of the country's most active volcanoes. Four large radial valleys extend from the unvegetated summit of the conical 1807-m-high basaltic-andesitic stratovolcano to its lower flanks. These « avalanche valleys » channel lava flows and pyroclastic avalanches that have sometimes reached the coast. Five small satellitic centers are located near the island's shoreline on the northern, southern, and western sides. Two summit craters are present; both are active, although most historical eruptions have originated from the southern crater, concentrating eruptive products during much of the past century into the SE valley. Frequent historical eruptions, typically of mild-to-moderate scale, have been recorded since 1616. Occasional larger eruptions have produced pyroclastic flows and lava flows that reached flat-lying coastal areas and entered the sea, sometimes impacting populated areas.
Sources: GVP ,Rabaul Volcano Observatory (RVO), Darwin Volcanic Ash Advisory Centre (VAAC) .
Photo : Jhay Mawengu
Iceland , Seismicity / Reykjanes Péninsula :
Earthquake swarm offshore N-Iceland
At 15:16 yesterday, 4th August, an earthquake of magnitude 3.3 occurred north of Eyjafjörður. It was felt in Ólafsfjörður. The earthquake swarm is still ongoing.
Earthquake swarm in Reykjanes
An earthquake swarm started by Fagradalsfjall in Reykjanes peninsula on the 19th July. The largest earthquake measured in the swarm was M5.0 at 23:36 on the 19th July. The largest earthquakes in the swarm were felt widely in the southwest part of Iceland. The activity has slightly decreased .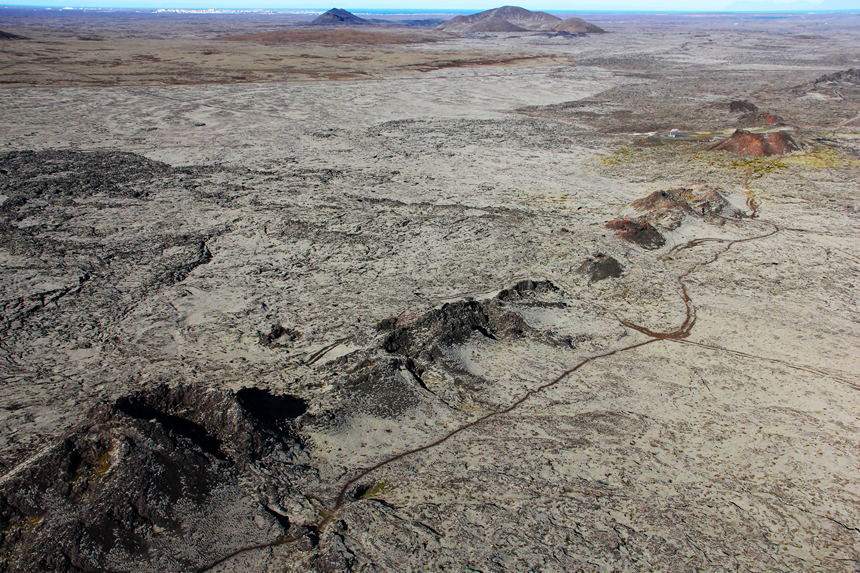 Week overview 27 July – 2 August
Almost 1200 earthquakes were located with IMO's SIL-seismic network this week, considerably less than previous week when they were around 5200. Even though the number of earthquakes has decreased between weeks the seismic activity is still above long-time average. The largest earthquakes of the week were M3.4 and occured in Mýrdalsjökull Ice-cap on 27th of July and by Fagradalsfjall on Reykjanes peninsula on 31st of July. The IMO received felt reports from nearby towns for both of these earthquakes. The earthquake in Mýrdalsjökull is the largest earthquake in there since August 2018. Like recent weeks there are still seismic swarms ongoing on Reykjanes peninsula and offshore N-Iceland. Around 660 earthquakes were detected on Reykjanes peninsula or more than half of all earthquakes detected in Iceland this week. The largest earthquakes there were the previously mentioned M3.4 and an M3.0 earthquake in same location. Most of the earthquakes recorded on Reykjanes peninsula were located by the eastern part of Fagradalsfjall and north of Grindavík. Over 270 earthquakes were recorded at the mouth of Eyjafjörður in north Iceland and the largest earthquake there was M2.9. One minor earthquake, M0.3, was recorded in Hekla volcano and eight earthquakes in Grímsvötn volcano, the largest one M1.3.
Source : Vedur is .
Photo : Ómar Ragnarsson.
Costa Rica , Turrialba / Poas / Rincon de la Vieja / Irazu :
Weekly bulletin of the volcanic monitoring program, August 3, 2020.
Turrialba volcano:
Lat: 10.025 ° N; Long: 83.767 ° W;
Height: 3340 m
Current activity level: 3 (erupting volcano)
Potentially associated hazards: gas, ash emission, proximal ballistic projections.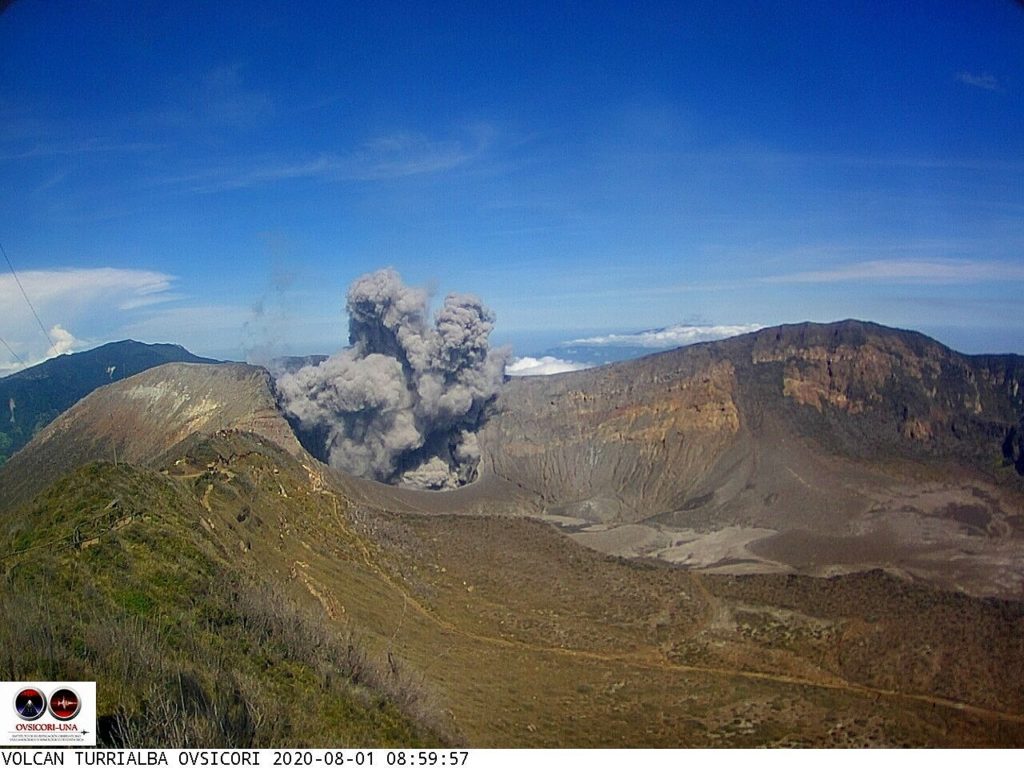 Several dilute ash emissions were observed, and at least one slightly denser short pulse (August 1). Seismic activity has been at a stable background level since at least January 2020, and LP / tremors type events from March to April marked the change in activity over the past 2 months. The contraction and subsidence of the Turrialba-Irazú massif continues. The CO2 / SO2 and CO2 / SO2 ratios are stable, the sporadic peaks recorded in July have appeared. The CO2 / SO2 ratio and the SO2 flow show a slight downward trend. No thermal anomaly was detected by the MODIS analysis.
Poas volcano:
Lat: 10.2 ° N; Long: 84,233 ° W;
Height: 2780 m.
Current activity level: 2 (active volcano)
Potentially associated hazards: gas, subterranean eruptions, proximal ballistic projections.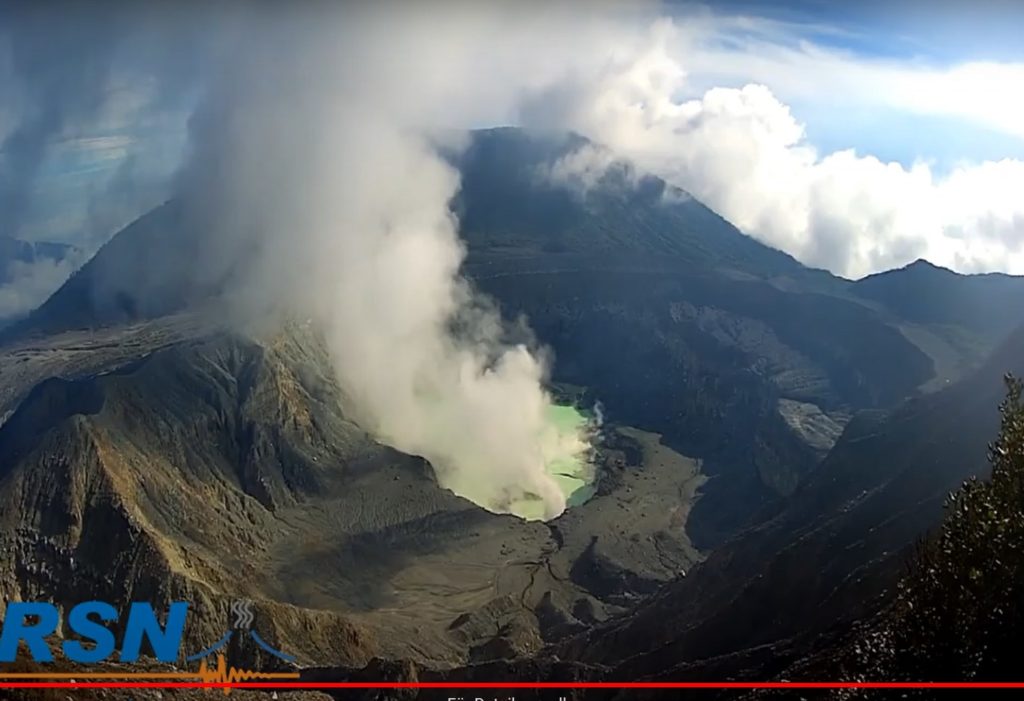 No eruption was detected. Seismic activity has continued to decline since May. A small low amplitude tremor was recorded related to the surface hydrothermal activity. The extension of the volcano observed with GPS measurements in the previous months has stopped. Now there is no significant distortion. The CO2 / SO2 ratio shows an increase with a lot of instability which is related to the interaction with meteoric water. The H2S / SO2 ratio is stable, with fewer sporadic peaks than in April-May. A slight decrease in SO2 flux is observed from May to June. The level of the lake has continued to decline since July 4, but it is estimated that evaporation is not as efficient as in early July. The SO2 concentration of the level from the point of view of the national park has not exceeded 5 ppm in the past week.
Rincon de la Vieja volcano:
Lat: 10.83 ° N; Long: 85.324 ° W;
Height: 1895 m
Current activity level: 3 (erupting volcano)
Potentially associated hazards: gas, phreatic eruptions, proximal ballistic projections, lahars.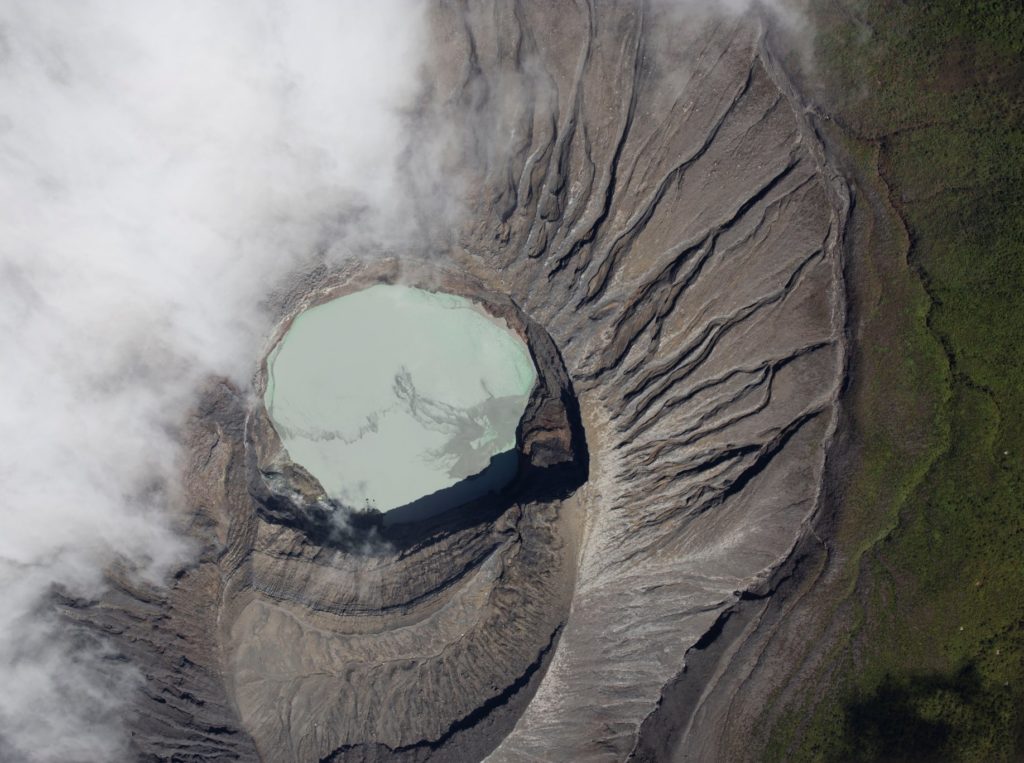 A few small phreatic eruptions were recorded at a frequency of 1 to 2 per day, but rarely with a surface manifestation. The seismic activity is unstable: the RSAM is very
variable, always without clear tendency, the tremor does not present periodicity, the eruptions appear deep (almost no infrasound signal). Geodetic measurements show a significant trend towards expansion and inflation. The oxides reduction potential measured in a hot spring shows a sharp decrease since early July, while the conductivity shows the opposite change. No thermal anomaly was detected by the MODIS analysis.
Irazu volcano:
Lat: 9.979 ° N; Long: 83.852 ° W;
Altitude: 3432 m
Current activity level: 1 (active)
Potentially associated hazards: landslides.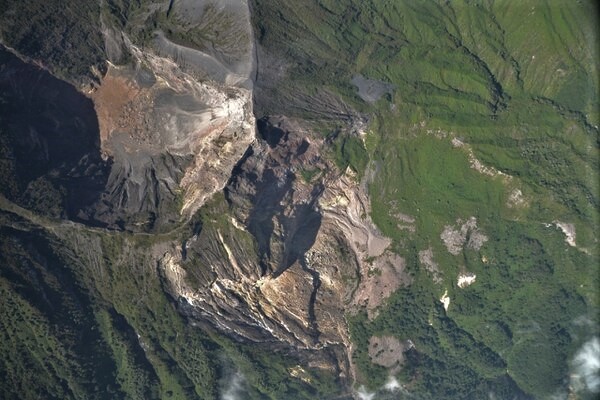 A few days after the last landslide, the Ovisocri made this flyby. At the top left, in a brown tone, you can see some of the material that has collapsed.
Seismicity remains stable. The concentration of CO2 in the North zone shows a slight decrease since July. The number of recorded landslides increased from 1 to 2 per day to 1 every 3 to 4 days. Despite the decrease in precipitation, the main landslide maintains a continuous acceleration, so that the vertical speed now reaches 7 m / year. A total rupture can occur in a short period of time (days to weeks). Although the vast majority of the volume is expected to go to the West and the North, the possibility that part of it will slip into the Prusia sector is not excluded. The estimated moving volume could be of the order of 10 million cubic meters, which could generate dust falls in the Central Valley. The fall of this mass could cause a sudden destabilization of the area to the east of the main crack, that is to say where the operational antennas are located.
Source : Ovsicori .
Photos : Ovsicori , RSN, Federico Chavarría Kopper .
Japan / Ryukyu Islands , Suwanosejima :
29.638°N, 129.714°E
Elevation 796 m
JMA reported that nighttime incandescence at Suwanosejima's Ontake Crater was occasionally visible during 24-31 July. Occasional eruptive events were recorded. An explosion at 1200 on 27 July generated a gray plume that rose as high as 2 km above the crater rim. The Tokyo VAAC reported that during 1-3 August ash plumes rose to 1.8-2.4 km (6,000-8,000 ft) a.s.l. and drifted NW and W. The Alert Level remained at 2 (on a 5-level scale).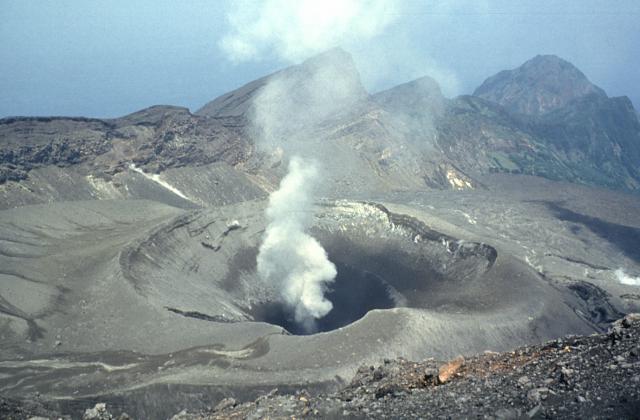 The 8-km-long, spindle-shaped island of Suwanosejima in the northern Ryukyu Islands consists of an andesitic stratovolcano with two historically active summit craters. The summit of the volcano is truncated by a large breached crater extending to the sea on the east flank that was formed by edifice collapse. Suwanosejima, one of Japan's most frequently active volcanoes, was in a state of intermittent strombolian activity from Otake, the NE summit crater, that began in 1949 and lasted until 1996, after which periods of inactivity lengthened. The largest historical eruption took place in 1813-14, when thick scoria deposits blanketed residential areas, and the SW crater produced two lava flows that reached the western coast. At the end of the eruption the summit of Otake collapsed forming a large debris avalanche and creating the horseshoe-shaped Sakuchi caldera, which extends to the eastern coast. The island remained uninhabited for about 70 years after the 1813-1814 eruption. Lava flows reached the eastern coast of the island in 1884. Only about 50 people live on the island.
Sources: GVP , Japan Meteorological Agency (JMA), Tokyo Volcanic Ash Advisory Center (VAAC) .
Photo : Yukio Hayakawa, 1998 (Gunma University).