May 18, 2020. EN. Kamchatka : Klyuchevskoy , Italy / Sicily: Etna , Guatemala : Fuego , Indonesia : Anak Krakatau , Mexico : Colima .
May 18 , 2020.
Kamchatka , Klyuchevskoy :
VOLCANO OBSERVATORY NOTICE FOR AVIATION (VONA).
Issued: May 17, 2020
Volcano: Klyuchevskoy (CAVW #300260)
Current aviation colour code: ORANGE
Previous aviation colour code: orange
Source: KVERT
Notice Number: 2020-86
Volcano Location: N 56 deg 3 min E 160 deg 38 min
Area: Kamchatka, Russia
Summit Elevation: 15580 ft (4750 m)

The Klyuchevskoy seen by sentinel2 on 12/05/2020
Volcanic Activity Summary:
A moderate explosive-effusive eruption of the volcano continues. The Strombolian and sometimes Vulcanian types of volcanic activity is observing. The lava flow continues to move on the southeastern flank of the volcano (the Apakhonchich chute), phreatic bursts and collapse of loose slag material accompany this process. According to satellite data, a gas-steam plume containing some amount of ash is extending about 100 km to the east of the volcano.
This eruption continues. Ash explosions up to 16,400-23,000 ft (5-7 km) a.s.l. could occur at any time. Ongoing activity could affect low-flying aircraft.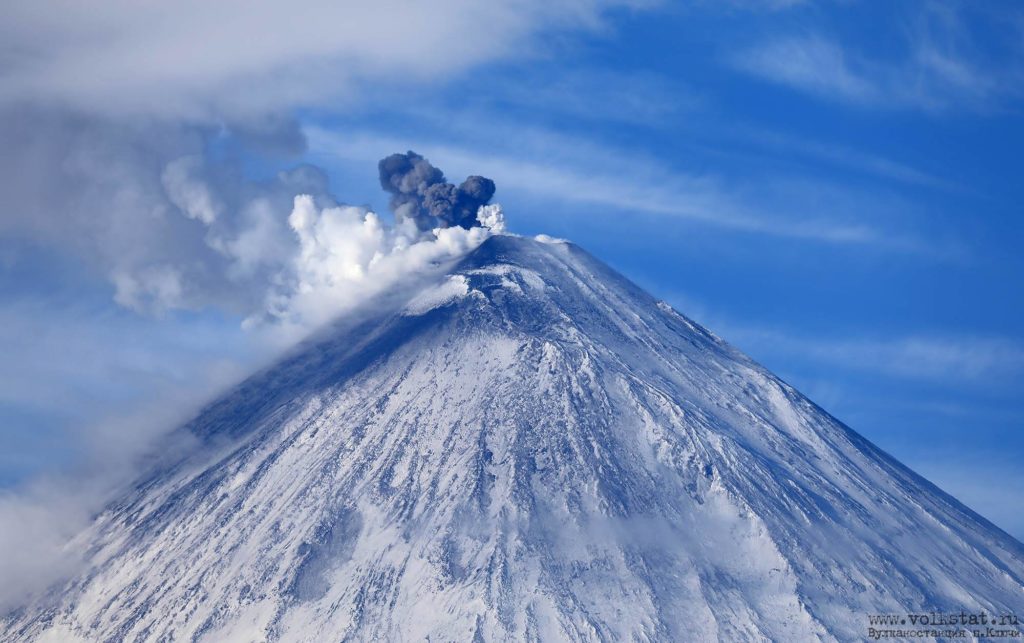 Volcanic cloud height:
16400-18040 ft (5000-5500 m) AMSL Time and method of ash plume/cloud height determination: 20200517/2050Z – NOAA 19 (4m5)
Other volcanic cloud information:
Distance of ash plume/cloud of the volcano: 62 mi (100 km)
Direction of drift of ash plume/cloud of the volcano: E / azimuth 91 deg
Time and method of ash plume/cloud determination: 20200517/2050Z – NOAA 19 (4m5)
Source : Kvert.
Photos : Sentinel2 , Volkstat ru.
Italy / Sicily , Etna :
PRESS RELEASE / ETNA [UPDATE n. 50]
The National Institute of Geophysics and Volcanology, Etneo Observatory, reports that the monitoring networks recorded Strombolian activity at 05:29 (03:29 UTC). From 03:23 UTC, the CCTV cameras showed explosive Strombolian activity in the New Crater of the Southeast, in correspondence with the mouth known as the « saddle ».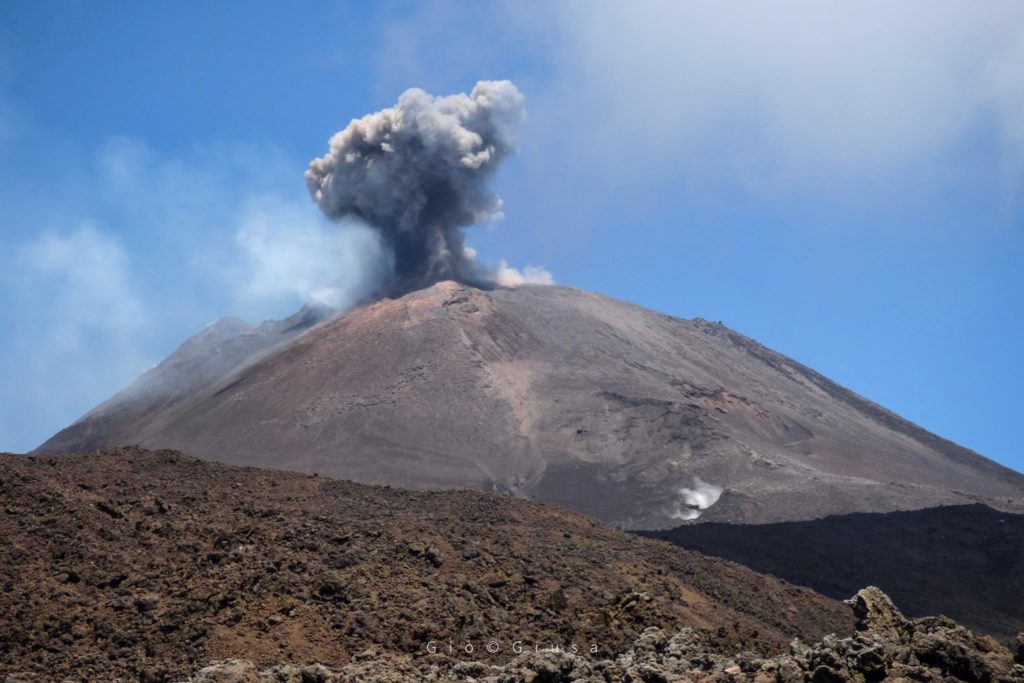 This activity quickly intensified, producing a modest cloud of ash that the winds scatter at high altitude to the northeast. From a seismic point of view, there are no significant variations in the recorded signals. The source of the volcanic tremor is located under the New Southeast Crater, at a depth of about 2900 m above sea level.
Other updates will be communicated shortly.
Source : INGV.
Photo : Gio Giusa
Guatemala , Fuego :
Special volcanological bulletin, May 17, 2020, 3:06 p.m. local time.
BEFGO SPECIAL VULCANOLOGICAL BULLETIN # 15-2020
LAHAR in the SANTA TERESA AND MINERAL ravines.
FUEGO VOLCANO (1402-09)
Type of activity: Vulcanian
Morphology: composite stratovolcano
Location: 14 ° 28'54˝Latitude N; 90 ° 52'54˝Longitude W.
Height: 3763 m above sea level.
The descent of the weak to moderate lahars is reported at 2:15 p.m. (local time) in the ravines of Santa Teresa and Mineral, located on the western flank of the volcano, which in turn are tributaries of the Pantaleón river.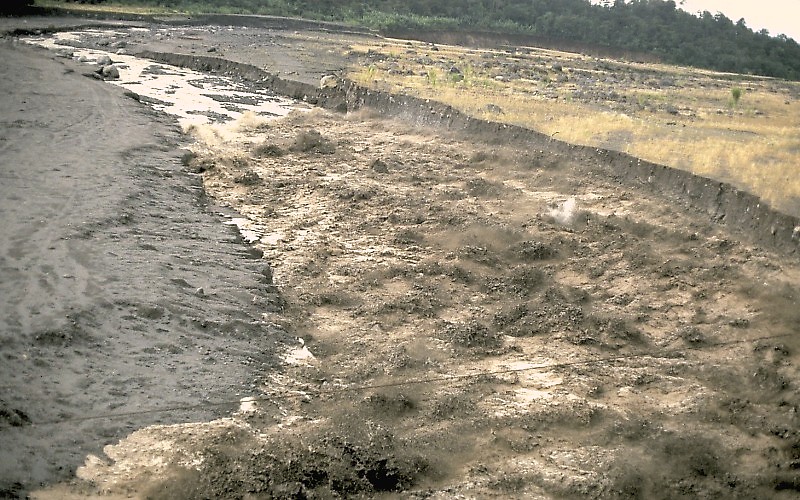 The INSIVUMEH seismic network located on Volcán Fuego records high frequency seismic tremors. Over the past 24 hours, 10.4 mm of precipitation has been recorded at station FG8.
Heavy rains in the upper part of the ravines of the volcanic complex generate the descent of weak to moderate lahars, these can transport tree branches and volcanic materials such as ash and blocks of 1 to 2 meters in diameter which make the ground vibrate. If the rain persists, the generation of a greater number of lahars in this or other ravines of the volcanic complex is not excluded.
Source : Insivumeh , Mis à jour par Jose Jose Leonardo Quexel Hernandez.
Photo : USGS/ Jeff Marso , Guatemala, 1989.
Indonesia , Anak Krakatau :
Level of activity at level II (Waspada) since March 25, 2019. The Anak Krakatau volcano (157 m above sea level) has experienced an increase in its volcanic activity since June 18, 2018, which was followed by a series eruptions in the period from September 2018 to February 2019. The last eruption occurred on April 17, 2020 with a strong eruption column that was not observed.
The volcano is covered with fog, no smoke from the crater is observed. The weather is sunny, light winds from the southwest and northwest.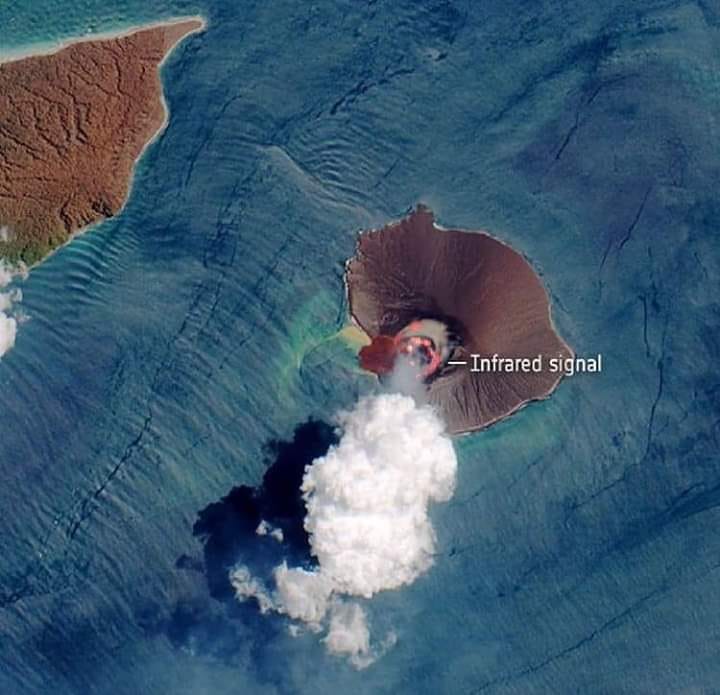 Anak Krakatau April 17, 2020 by Volcano Group
According to the seismographs of May 17, 2020, it was recorded:
17 emission earthquakes.
87 low frequency earthquakes
14 hybrid earthquakes / multiple phases
Continuous tremor, amplitude 0.5 to 5 mm (dominant value of 1 mm)
Recommendation:
The public / tourists are not allowed to approach the crater within a radius of 2 km.
VONA: The last VONA ORANGE color code sent was published on April 17, 2020 at 5:51 p.m. No eruption related to the height of the eruption column was observed.
Source : PVMBG.
Photo : Volcano Group .
Mexico , Colima :
Weekly technical bulletin of the Colima volcano activity Date: May 15, 2020 Bulletin n ° 173
Seismic activity:
Last week, 3 high frequency (HF) events and 1 landslide were automatically recorded.
Visual observations:
During the reporting period, intermittent vapor and gas emissions continued to be recorded mainly on the northeast side of the crater, although fumaroles were also observed in the western part.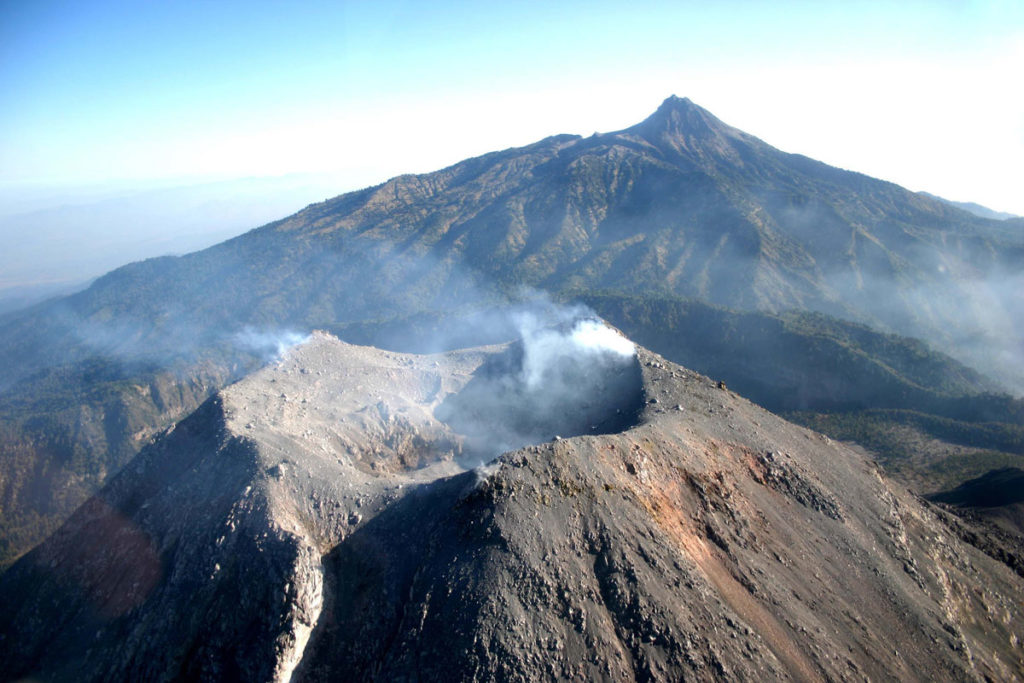 Geochemistry:
The flow of SO2 was not measured during the week.
Remote perception:
No thermal anomaly detected by the MIROVA satellite system was observed during the last week.
Diagnostic :
The volcano maintains a low intensity fumarol activity. The personnel in charge of monitoring the volcano is attentive to any changes that may occur and the evolution of the activity.
Source : UCOL.
Photo : proceso.com.mx