April 27, 2020. EN. Italy : Campi Flegrei , Kamchatka : Klyuchevskoy , Indonesia : Anak Krakatau , Costa Rica : Rincon de la Vieja , Alaska : Cleveland .
April 27 ,2020.
Italy : Campi Flegrei ,
SEISMIC SWARM IN THE NIGHT IN THE AREA OF CAMPI FLEGREI.
April 26, 2020
During the night, from 03.51 h on April 26, 2020, a seismic swarm took place in the Campi Flegrei area, located in the Solfatara-Pisciarelli area, consisting of a sequence of 34 magnitude tremors between M 0.0 and M 3.1, and with a hypocentral depth between 1 and 2 km. The seismologists of the Vésuviano Observatory (Naples Section of the INGV), who analyzed the events, did not detect any anomalies compared to the current development of the current bradisismic crisis.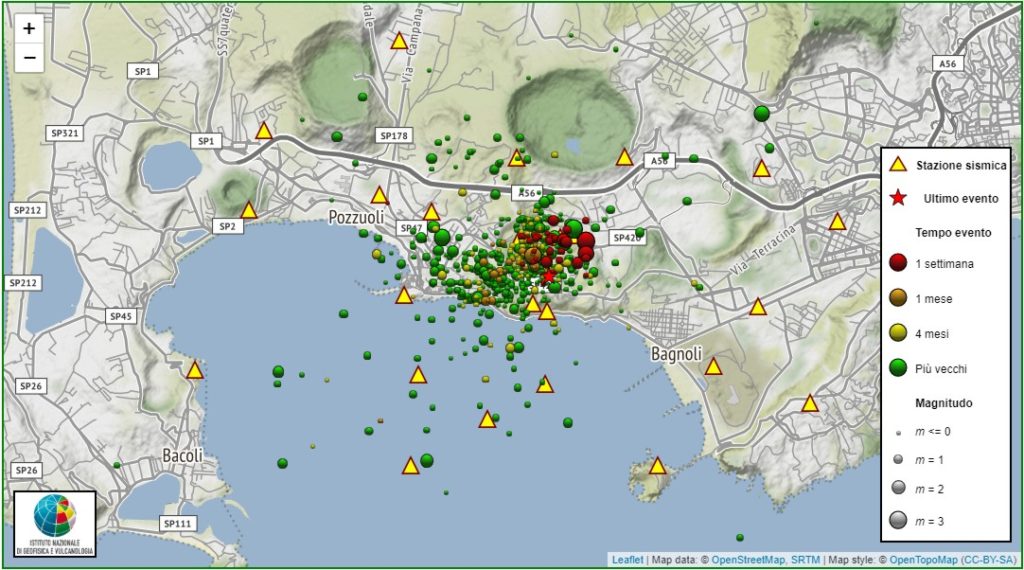 It is reiterated that the appearance of a swarm of seismic events, which may in some cases be likely to be felt by the population, normally occur during a period characterized by bradisismic activity, such as that in progress in Campi Flegrei since 2005, and that there are no new elements in the evolution of the current phenomenon. The geochemists of the Vesuvius Observatory are hard at work to carry out surveys on the fumaroles of the Solfatara-Pisciarelli region and report that there have been no new mouths opened.
Source : INGV .
Kamchatka , Klyuchevskoy :
VOLCANO OBSERVATORY NOTICE FOR AVIATION (VONA).
Issued: April 27 , 2020.
Volcano: Klyuchevskoy (CAVW #300260)
Current aviation colour code: ORANGE
Previous aviation colour code: orange
Source: KVERT
Notice Number: 2020-62
Volcano Location: N 56 deg 3 min E 160 deg 38 min
Area: Kamchatka, Russia
Summit Elevation: 15580 ft (4750 m)
Volcanic Activity Summary:
A moderate explosive-effusive eruption of the volcano continues. The Strombolian and sometimes Vulcanian types of volcanic activity is observing. The lava flow continues to move on the southeastern flank of the volcano (the Apakhonchich chute), phreatic bursts and collapse of loose slag material accompany this process. According to satellite data, ash plume is extending about 424km to the west of the volcano.
This explosive eruption continues. Ash explosions up to 16,400-23,000 ft (5-7 km) a.s.l. could occur at any time. Ongoing activity could affect low-flying aircraft.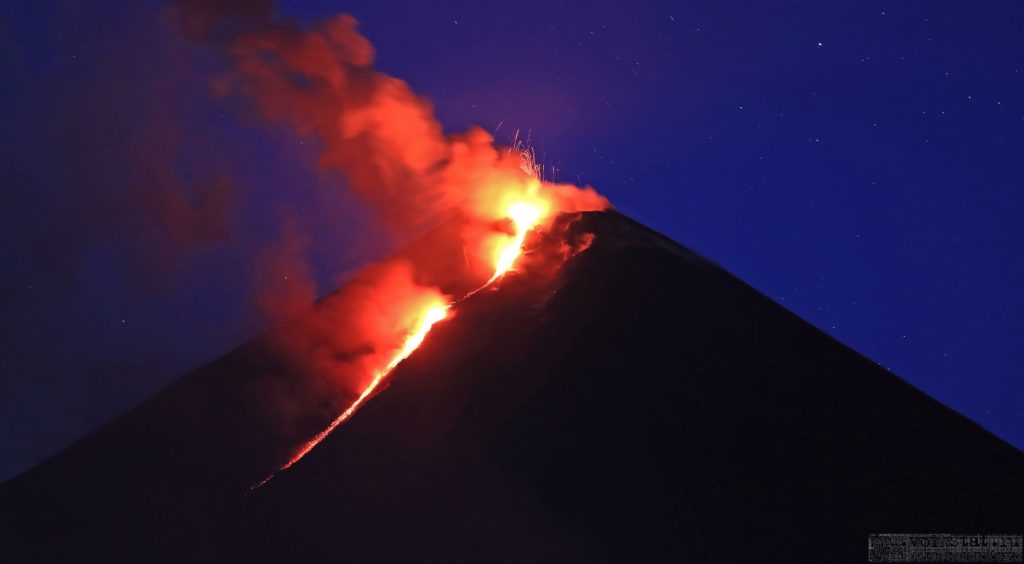 Volcanic cloud height:
18040-19680 ft (5500-6000 m) AMSL Time and method of ash plume/cloud height determination: 20200427/0400Z – Himawari-8
Other volcanic cloud information:
Distance of ash plume/cloud of the volcano: 263 mi (424 km)
Direction of drift of ash plume/cloud of the volcano: W / azimuth 277 deg
Time and method of ash plume/cloud determination: 20200427/0400Z – Himawari-8.
Source : Kvert.
Video : Новости Камчатки – Кам 24.
Photo : Volkstat ru .
Indonesia , Anak Krakatau :
Level of activity at level II (Waspada) since March 25, 2019. The Anak Krakatau volcano (157 m) has experienced an increase in its volcanic activity since June 18, 2018, which was followed by a series of eruptions in the period from September 2018 to February 2019. The last eruption occurred on April 17, 2020 with a strong eruption column that was not observed.
The volcano is covered with fog. No smoke from the crater is observed. The weather is sunny to cloudy, light winds to the east, southwest and northwest. Thanks to Lava93 video surveillance located on the island of the volcano, fine white smoke was observed at a height of 25 to 50 m.

According to the seismographs of April 26, 2020, it was recorded:
8 emission earthquakes.
18 low frequency earthquakes.
Six hybrid / multiple phase earthquakes.
2 shallow volcanic earthquakes
Continuous tremor, amplitude 0.5-5 mm (dominant value 1 mm)
Recommendation: People / tourists are not allowed to approach the crater within a radius of 2 km.
VONA: The last VONA ORANGE color code has been sent, published on April 17, 2020 at 5:51 p.m. No eruption related to the height of the eruption column was observed.
Source : PVMBG.
Video : Umar Krakatau.
Costa Rica , Rincon de la Vieja :
Activity report of the Rincon de la Vieja volcano. April 26, 2020.
On April 26, 2020 at 3:47 pm local time, an eruption was recorded on the Rincon de la Vieja volcano, with a column that rose 300 meters above the height of the crater and 2216 meters above sea level (7268.48 ft).
Duration of activity: less than 20 seconds (less than 0.3 minutes).
Ash falls reported: no report
Reported sulfur odor: no report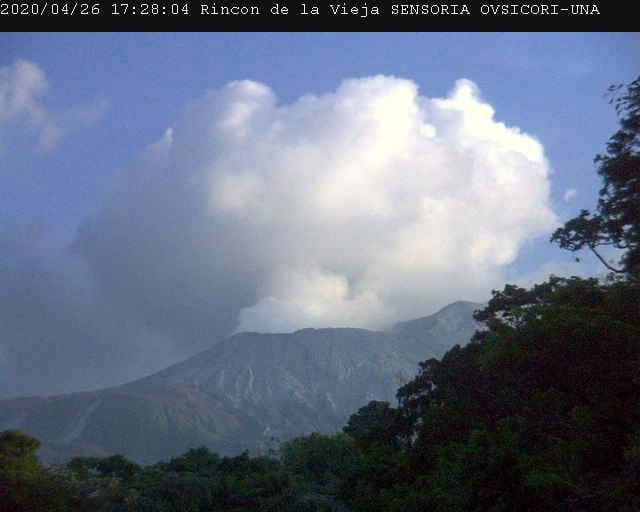 Comments: A small hydrothermal explosion or phreatic eruption with very low seismic and sonic energy was recorded by the seismographs and the infrared sensor system of the Rincon de la Vieja volcano yesterday April 26, 2020 at 3:47 pm local time. This hydrothermal explosion was much less energetic than the previous reported in the last 2 weeks. The OVSICORI web camera located in Sensoria, 4 km north of the crater, recorded an eruptive column composed of 2 plumes: one of sediment and liquid water about 200 m high and another of steam white water and gas which extended and rose approximately 300 m above the crater. No new lahar are reported in the last hours in the rivers north of the volcano
Source : Marie Martínez Cruz / Ovsicori .
Alaska , Cleveland :
52°49'20 » N 169°56'42 » W,
Summit Elevation 5676 ft (1730 m)
Current Volcano Alert Level: ADVISORY
Current Aviation Color Code: YELLOW
The local geophysical stations at Cleveland were unavailable over the past day due to an ongoing network outage. Satellite observations were obscured by clouds over the past day. No explosive activity was detected from the direction of Cleveland on regional infrasound arrays. Web camera views were unavailable due to the network outage.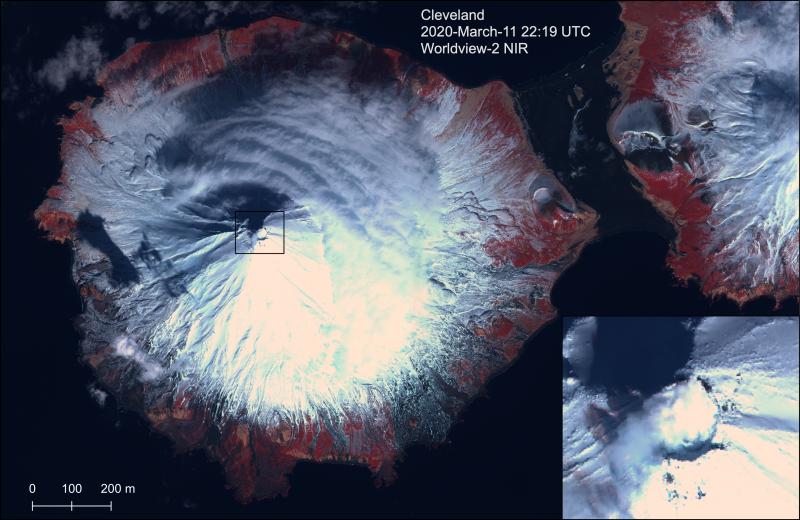 Worldview-2 NIR false color image of Cleveland on March 11, 2020. A small steam plume is visible within the summit crater (see insert).
Episodes of lava effusion and explosions can occur without advance warning. Explosions from Cleveland are normally short duration and only present a hazard to aviation in the immediate vicinity of the volcano. Larger explosions that present a more widespread hazard to aviation are possible, but are less likely and occur less frequently.
Cleveland volcano is monitored by only two seismic stations, which restricts AVO's ability to detect precursory unrest that may lead to an explosive eruption. Rapid detection of an ash-producing eruption may be possible using a combination of seismic, infrasound, lightning, and satellite data.
Source : AVO.
Photo : Loewen, Matt