April 14, 2020. EN. Peru : Sabancaya , Indonesia : Kerinci , Kamchatka : Klyuchevskoy , Ecuador : Sangay , Mexico : Popocatepetl .
April 14 , 2020.
Peru , Sabancaya :
Analysis period: April 6 to 12, 2020. Arequipa, April 13, 2020.
Alert level: ORANGE
The Peruvian Geophysical Institute (IGP) reports that the eruptive activity of the Sabancaya volcano remains at moderate levels; that is to say with the continuous recording of explosions up to 3 km high above the summit of the volcano and the consequent emission of ash and gas. Consequently, for the following days, no significant change is expected regarding its activity.
The IGP recorded and analyzed the occurrence of approximately 510 earthquakes of volcanic origin, associated with the circulation of fluids (magma, gas, etc.) inside the volcano. In addition, on average 7 explosions of low to medium intensity were recorded daily.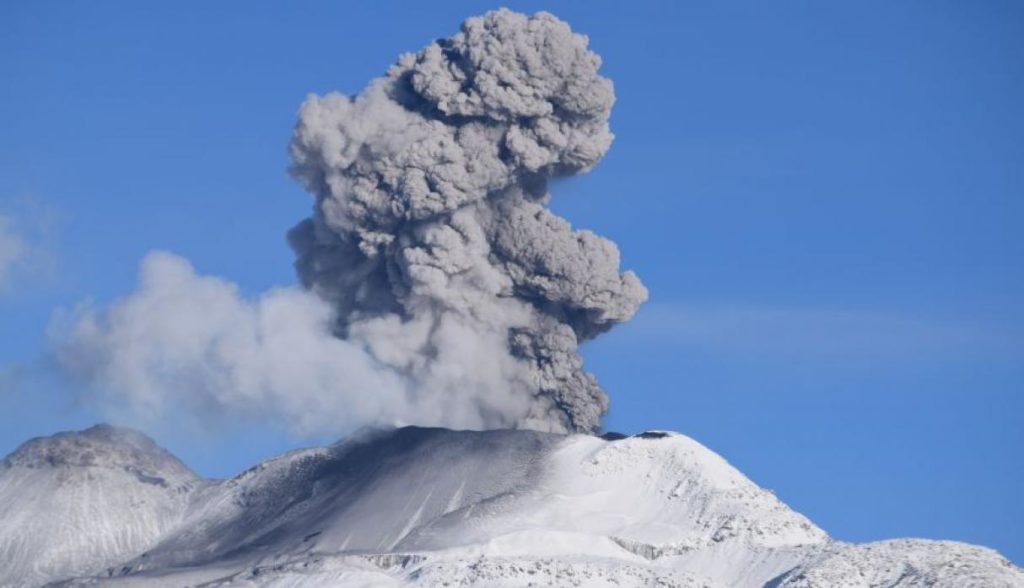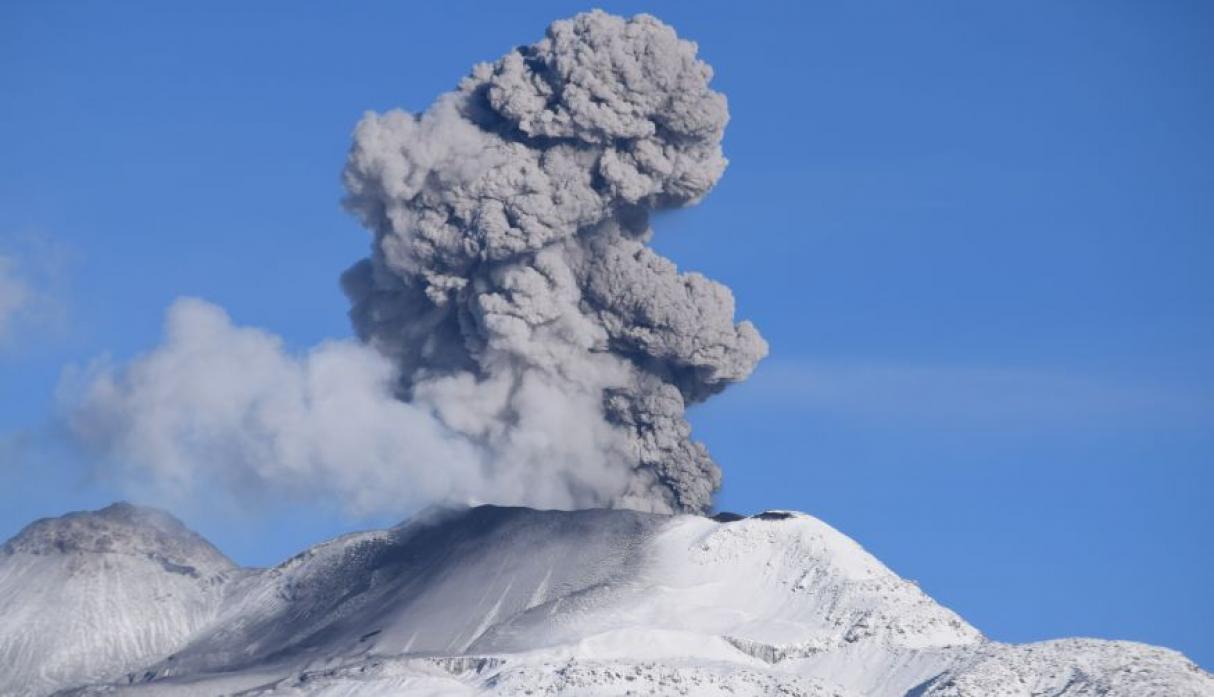 The monitoring of the deformation of the volcanic structure shows a slight inflation process observed since December 2018. The visual monitoring has made it possible to identify columns of gas and ash up to 3 km altitude above the summit of the volcano , which have dispersed to the northeast and east sectors of Sabancaya. Satellite surveillance identified the presence of 7 thermal anomalies with values between 2 MW and 14 MW, associated with the presence of a body of lava (dome) in constant destruction on the surface of the crater of the volcano.
Source : IGP.
Photo : Ingemmet .
Indonesia , Kerinci :
Level of activity at level II (WASPADA). The Kerinci volcano (3805 m above sea level) is experiencing a continuous eruption. The last eruption occurred on March 30, 2019, causing an eruption column height of 600 meters above the summit. The color of the column was observed to be gray.
The mountain is clearly visible until it is covered with fog. Strong smoke under pressure from the crater was observed white and brown with moderate / thick intensity and a height of 300 to 1000 m above the top of the crater. Light rain. Sunny and rainy weather. The wind is blowing from the North East.
According to the seismographs of April 13, 2020, it was recorded:
164 times an earthquake
1 deep tectonic earthquake
Continuous tremor (Microtremor) amplitude 0.5 to 1 mm (dominant value 1 mm).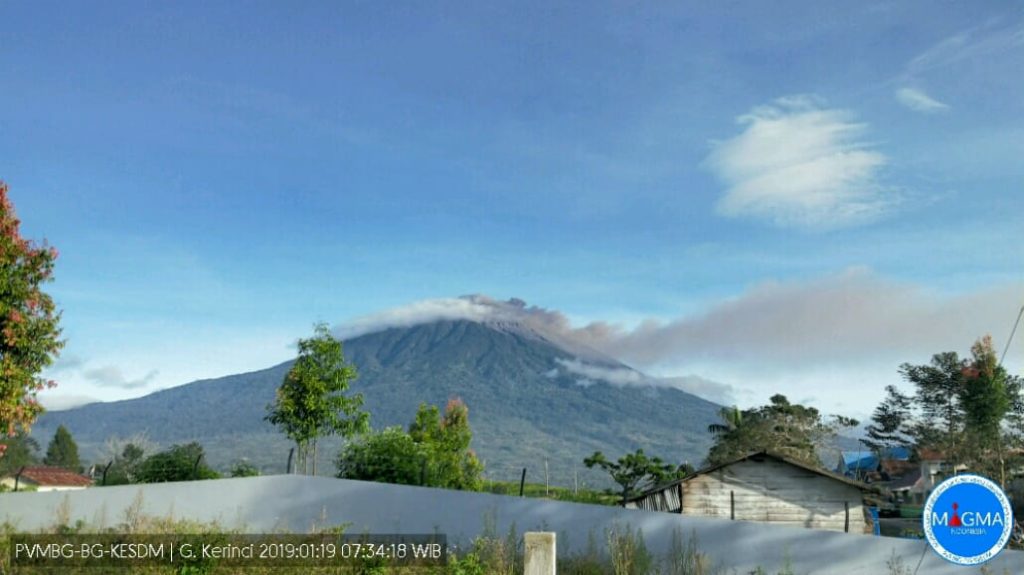 VOLCANO OBSERVATORY NOTICE FOR AVIATION – VONA.
Issued: April 14 , 2020
Volcano: Kerinci (261170)
Current Aviation Colour Code: ORANGE
Previous Aviation Colour Code: orange
Source: Kerinci Volcano Observatory
Notice Number: 2020KER21
Volcano Location: S 01 deg 41 min 49 sec E 101 deg 15 min 50 sec
Area: Jambi, West Sumatra, Indonesia
Summit Elevation: 12176 FT (3805 M)
Volcanic Activity Summary:
On April 14 , 2020, observed brown ash emission at 03:27 UTC ( 10:27 Local Time )
Volcanic Cloud Height:
Best estimate of ash-cloud top is around 14096 FT (4405 M) above sea level, may be higher than what can be observed clearly. Source of height data: ground observer.
Other Volcanic Cloud Information:
Ash emission moving West-Southwest-East-Northeast.
Remarks:
Seismic activity is dominated by gas emission and continuous vulcanic tremor with amplitude 0,5-2 mm (dominan 1mm).
Source : Magma Indonésie .
Photo : Magma Indonésie ( archive 2019) .
Kamchatka , Klyuchevskoy :
VOLCANO OBSERVATORY NOTICE FOR AVIATION (VONA).
Issued: April 13 , 2020
Volcano: Klyuchevskoy (CAVW #300260)
Current aviation colour code: ORANGE
Previous aviation colour code: orange
Source: KVERT
Notice Number: 2020-47
Volcano Location: N 56 deg 3 min E 160 deg 38 min
Area: Kamchatka, Russia
Summit Elevation: 15580 ft (4750 m)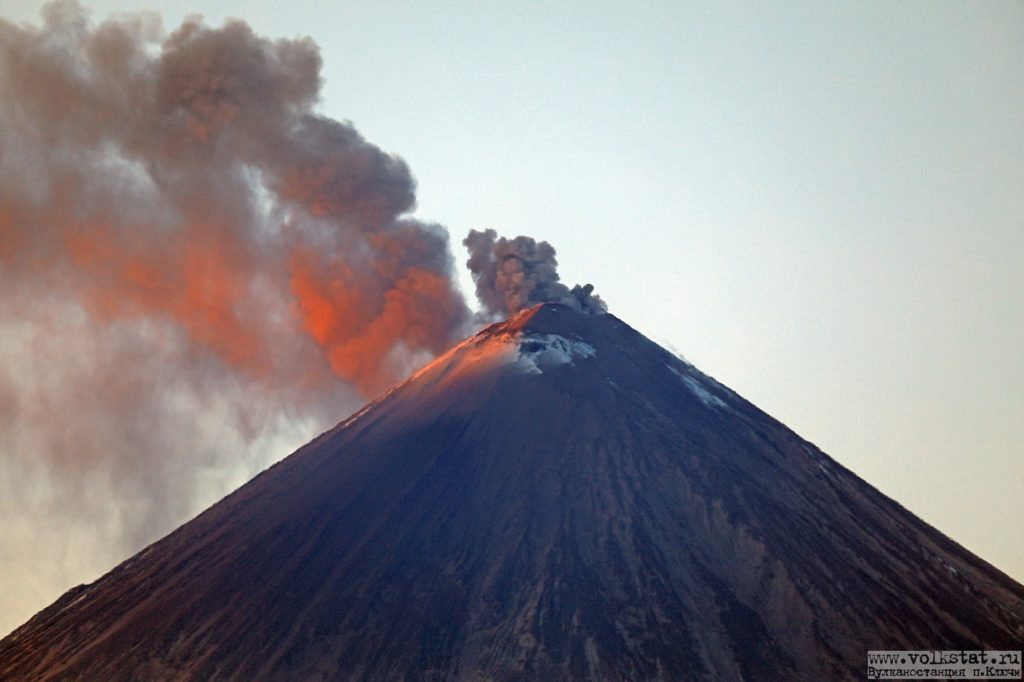 Volcanic Activity Summary:
A moderate explosive eruption of the Strombolian and sometimes Vulcanian types continues on the volcano. According to video and satellite data, a gas-steam plume containing some amount of ash is extending about 47 km to the east-south-east from the volcano.
This activity continues. Ash explosions up to 16,400-23,000 ft (5-7 km) a.s.l. could occur at any time. Ongoing activity could affect low-flying aircraft.
Volcanic cloud height:
18040-19680 ft (5500-6000 m) AMSL Time and method of ash plume/cloud height determination: 20200413/2045Z – NOAA 19 (4m5)
Other volcanic cloud information:
Distance of ash plume/cloud of the volcano: 29 mi (47 km)
Direction of drift of ash plume/cloud of the volcano: ESE / azimuth 106 deg
Source : Kvert.
Photo : Volkstat ru ( archives).
Ecuador , Sangay :
DAILY REPORT OF THE STATE OF SANGAY VOLCANO, Monday April 13, 2020.
Surface activity level: High, Surface trend: No change.
Internal activity level: High, Internal trend: No change.
Seismicity: From April 12, 2020, 11:00 a.m. to April 13, 2020, 11:00 a.m .:
Long Period Type (LP): 30 events
Volcano-tectonic types: 2 events.
Explosions: (EXP): 186 events.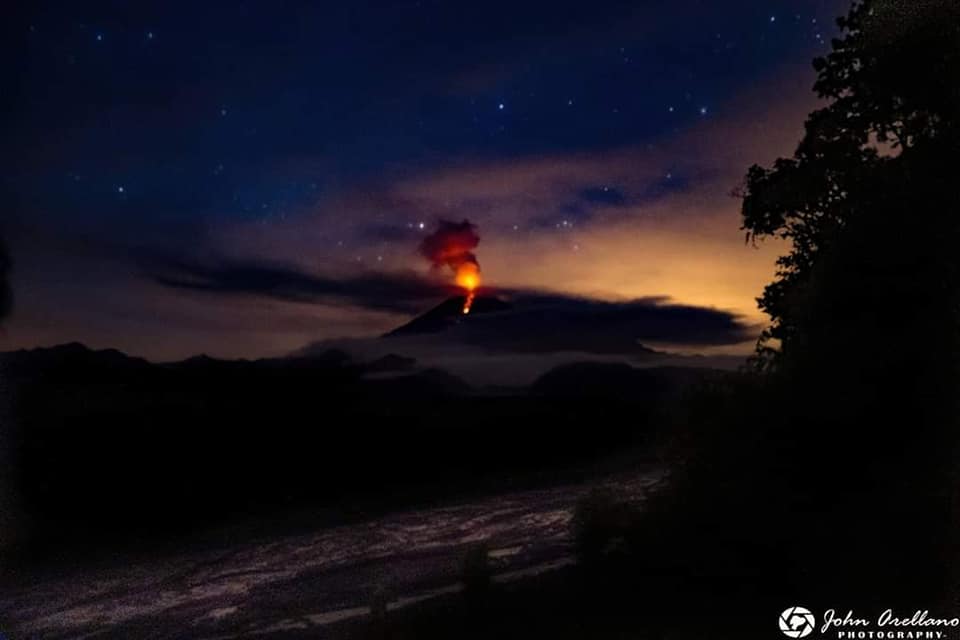 Rains / lahars: In the evening yesterday, a signal was recorded associated with a small lahar.
** In the event of heavy rain, the accumulated volcanic material can be remobilized, generating mudslides and debris (secondary lahars) in the Volcán, Upano and other tributary rivers.
Emission / ash column: Today in the morning between the clouds, an emission of vapor, gas and ash is observed with a maximum height of 700 meters above the summit facing west.
Other monitoring parameters: No changes.
Observations: At the moment, the area is completely cloudy.
Alert level: yellow.
Source : IGEPN.
Photo : John Arellano.
Mexico , Popocatepetl :
April 13, 11:00 a.m. (April 13, 4:00 p.m. GMT)
Over the past 24 hours, using the Popocatépetl volcano monitoring system, 143 exhalations have been identified, accompanied by volcanic gases and sometimes ash. In addition, 68 minutes of tremors were recorded.
At the time of this report, there are constant emissions of volcanic gases and slight amounts of ash scattered east-northeast.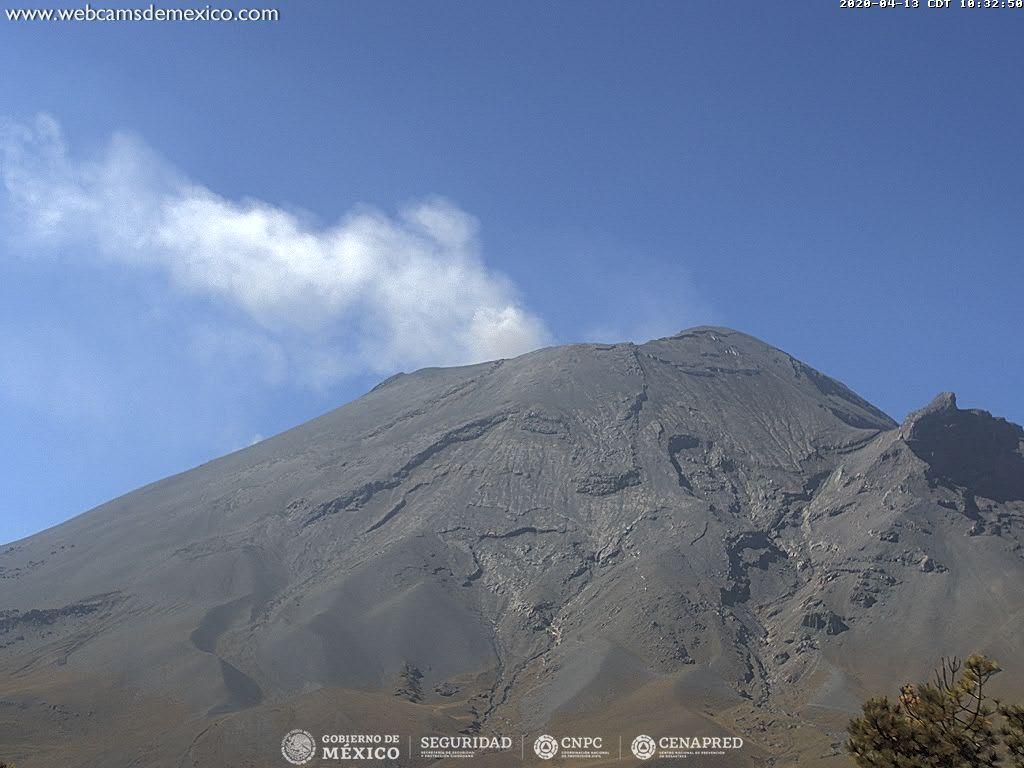 CENAPRED urges NOT to get close to the volcano and especially the crater, because of the danger involved in the fall of ballistic fragments and, in the event of heavy rain, to move away from the bottom of the ravines because of the danger of mud and rubble.
The Popocatépetl volcanic alert signaling light is in YELLOW PHASE 2.
Source : Cenapred .